A wholesale operation is not for the faint of heart. From tracking thousands of products to distributing them to millions of customers, wholesalers go through countless challenges daily.
Luckily, leveraging wholesale distribution software:
Simplifies your daily workflow.
Organizes and manages inventory.
Makes business functions more efficient.
If you're looking for reliable wholesale software suppliers, this guide will help you find the best one for your business.
What is wholesale distribution software?
Wholesale distribution software simplifies your business processes with financial and delivery management tools.
These distribution management systems work by centralizing organizational data so it's easier to access and share. With the right software, your business reduces manual efforts while running operations quicker.
How wholesale distribution software works
Basic warehouse management software comes with standard features like:
Route optimization.
Inventory management.
Dispatching.
Analytics.
Most distribution management systems are modular, so you can purchase only the features you need.
Some software suites cover all aspects of business, including:
Customer relationship management.
Accounting.
Human resources.
Most smaller-scale systems only sustain select departments or offer hyper-targeted features.
What is the best software for wholesale businesses?
The best software for wholesale businesses depends on your unique needs. While some want inventory management software that focuses on automation, others might need an easy-to-use customer relationship management solution.
The ideal software meets your wholesale business requirements and enhances scalability and business growth.
Before settling on one particular software, you need to conduct an analysis of these aspects against your business goals:
Features.
Customer reviews.
Scalability.
Costs.
Benefits of wholesale distribution software
Your wholesale business benefits significantly from integrated software. Regardless of your company size, investing in software for manufacturing is a good idea for the following reasons:
Reduced operational costs: It simplifies complex pricing structures, automates repetitive tasks, and reduces costs. As a result, your team members can focus on more pressing tasks as your software facilitates demand forecasting for a leaner supply chain.
Provides real-time stock visibility: With accurate information and detailed forecasts, this software streamlines inventory management and prevents warehouses from under- or overstocking inventory items.
Real-time information sharing: It improves data analysis and reporting by letting you keep track of low stock levels, active deliveries, and incoming and outgoing inventory items. It also sends instant updates to appropriate departments, who can then begin coordinating quick adjustments.
Improved communications: Good wholesale distribution software facilitates seamless communication between departments. It lets you contact the right people directly through your system dashboard.
Effective quality control: It also lets you pinpoint inventory and product issues as they arise. Monitor every item you move via tracking, lot, or batch numbers.
That said, investing in ERP wholesale software for manufacturing can be an advantage or disadvantage depending on your circumstances.
Features of wholesale distribution software
Not every software for manufacturing shares the same features. However, every basic warehouse management software should have the following:
Inventory control: Distribution software suppliers let you track products — whether something is in the warehouse, in transit, or on backorder.
Accounting: Software with accounting capabilities facilitates efficient order processing, invoicing, and accounts receivable.
Lot tracking: Traceability features help wholesale distributors be mindful of schedules and expiration dates, which is useful for aligning deliveries for perishable or dangerous items they distribute.
Route optimization: Deliveries account for most of a distributor's shipping costs. Optimizing your routes through softwares boosts operational efficiency and ensures that drivers make as many stops as possible on their routes.
Reporting and analytics: Accurate and thorough reports and analytics provide actionable insights that inform decision-making.
What type of distribution ERP software do you need?
Small business distribution software
For budding enterprises, small business distribution software solutions are user-friendly and cost-effective. This software type is designed for companies that don't need complex modules.
Key features include:
Basic inventory control.
Order management.
Customer management.
Given their simplicity, implementing these systems is quicker and doesn't have a steep learning curve.
Mid-sized distribution ERP software
Mid-sized organizations have added challenges and requirements, including increased customer demands and sophisticated supply chain management.
Mid-sized distribution ERP software bridges the gap between basic systems and enterprise-level solutions.
Here are some of its advanced features:
Advanced analytics.
Multi-warehouse support.
Extensive integration capabilities.
Mid-sized distribution ERP software accommodates a mid-sized distributor's growth, ensuring they don't outgrow their system too quickly.
Enterprise distribution ERP software
Larger businesses have complex business needs. Enterprise distribution ERP software offers a variety of tools designed for managing and synchronizing these intricate operations.
These systems include functionalities such as:
Global supply chain management
Complex financials.
CRM integration.
Enterprise ERPs offer powerful scalability by integrating across multiple departments, and across different countries — a robust ERP supports multi-currency and multi-language functionalities. While upgrading to an Enterprise ERP means higher pricing and a steeper learning curve, the capabilities are unmatched for large-scale operations.
How to choose a wholesale software supplier
Scanning through a long list of wholesale software suppliers is daunting. Especially when you evaluate software alternatives for manufacturing that serve the same purpose — to make your operations easier to manage.
However, no two systems are identical. Here are a few tips for selecting the right software for your wholesale distribution business.
Set-up: Most software for manufacturing is available in two set-ups: on-premise or cloud-based. Cloud-based software is more prevalent because of ease of access and future-proofing.
Budget: Some software providers charge monthly, while others require a one-time fee. These fees typically cover a set number of users and features, with additional users costing extra.
Scalability: If your chosen software comes in tiers, it likely supports additional features. As your organization grows, you'll want to use a system that can grow with it.
Customer support: Integrating new software isn't always straightforward. Choose a software supplier that supports quick and efficient customer service to prevent downtime and potential data loss.
Integrations: The best software promotes seamless integration with other business systems, including accounting and communication software.
User reviews: Reviewing what users think gives you an accurate idea about how specific software functions. You'll identify strong and weak points that software vendors may not disclose.
The best wholesale software suppliers
If you want to simplify business operations and see great returns from your distribution strategy, consider the following wholesale software suppliers:
The first on this list of wholesale software suppliers is Method.
Method:CRM is a full-suite manufacturing software that boasts a powerful two-way sync with Quickbooks and Xero. Its robust CRM functionality provides competitive advantage, ideal for small-to-midsize businesses requiring more than a CRM but less than an ERP.
The deep sync with QuickBooks and Xero combines your accounting data with customer information to enhance your customer experience and operations.
Plus, Method's no-code backend means that you can automate any workflow while customizing the software to your business needs.
Perhaps the most appealing feature to manufacturers is that it gives you a 360-view of your customers and suppliers. This lets you:
Collect all the contact information you need.
Schedule follow-up activities.
Assign employees to the best-fit customers.
Generate invoices faster for timely payments.
Method:CRM directly connects with your everyday tools like Gmail, Mailchimp, and Outlook. With the help of Zapier, you can integrate with over 3,000 other applications.
Start your free trial of Method:CRM, the top wholesale software for businesses using QuickBooks or Xero.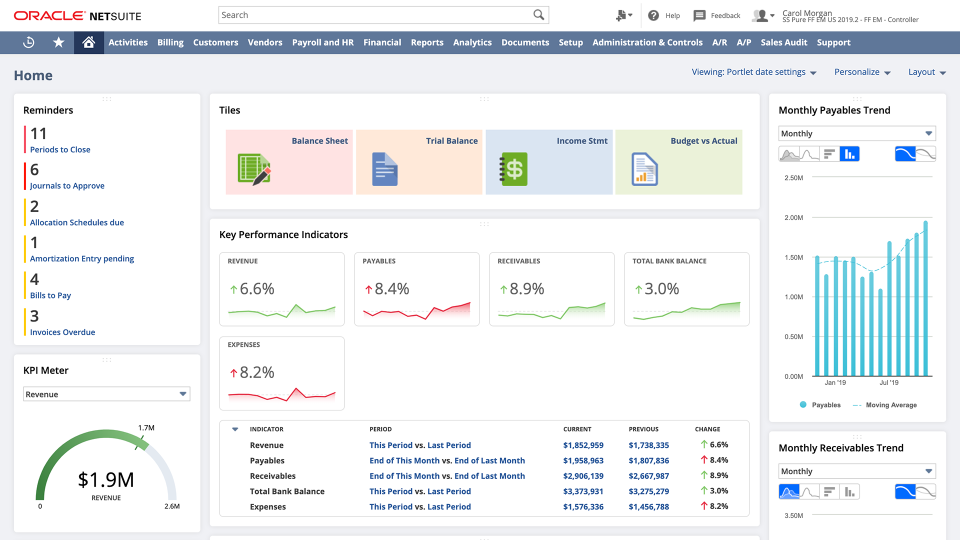 NetSuite is most popular among the manufacturing, logistics, and transportation industries because it improves product tracking and traceability and enhances customer relationship management.
Its real-time supply portal ensures compliance with industry regulations and enhances business process transparency by monitoring data deviation and inventory movement.
Standardizing processes is easy as you optimize inventory through the following ways before your products leave their original location:
Barcode assignment.
Shipping labels.
Warehouse activity dashboards.
NetSuite simplifies supply chain operations, as analyzing demand and knowing when to replenish inventory become effortless. Additionally, you can use supply chain execution tools to ensure your items reach your customers on time.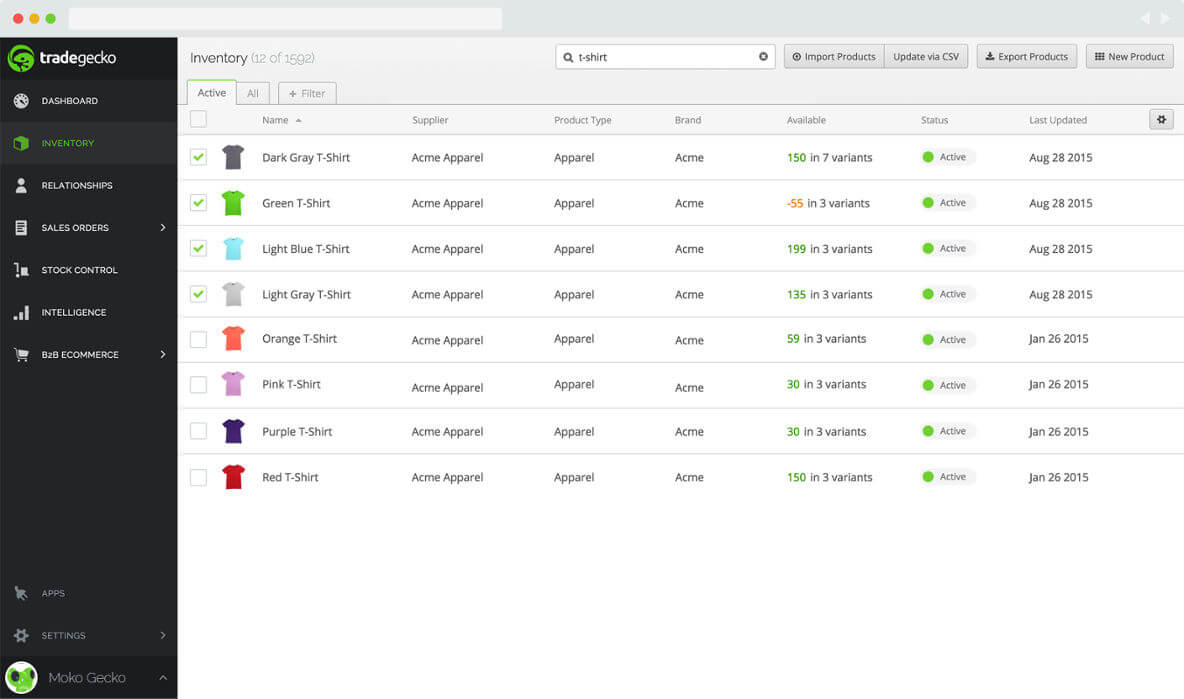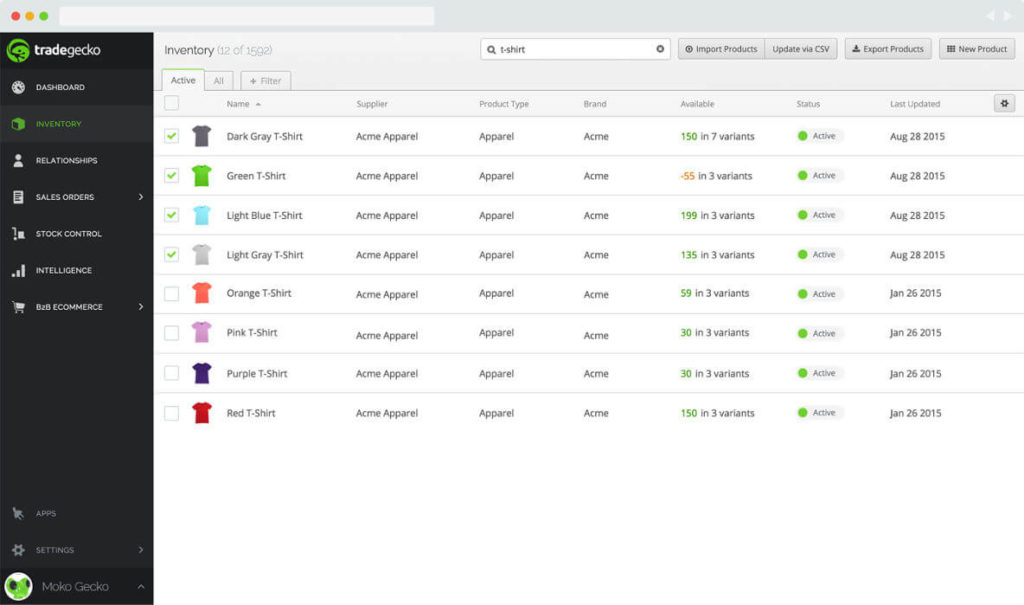 For those seeking a combination of inventory management, business intelligence, and online commerce, TradeGecko is a great solution.
The system offers a built-in B2B eCommerce platform that functions as a distribution center for users to sell directly.
TradeGecko's award-winning inventory features:
Automate your demand forecasts.
Make it easy to set up reorder points.
Tell you what products are selling and what aren't.
TradeGecko integrates with wholesale favorites, including Quickbooks Online, ShipIT, and Xero. The platform also links to popular eCommerce platforms like Amazon, Bigcommerce, and Shopify.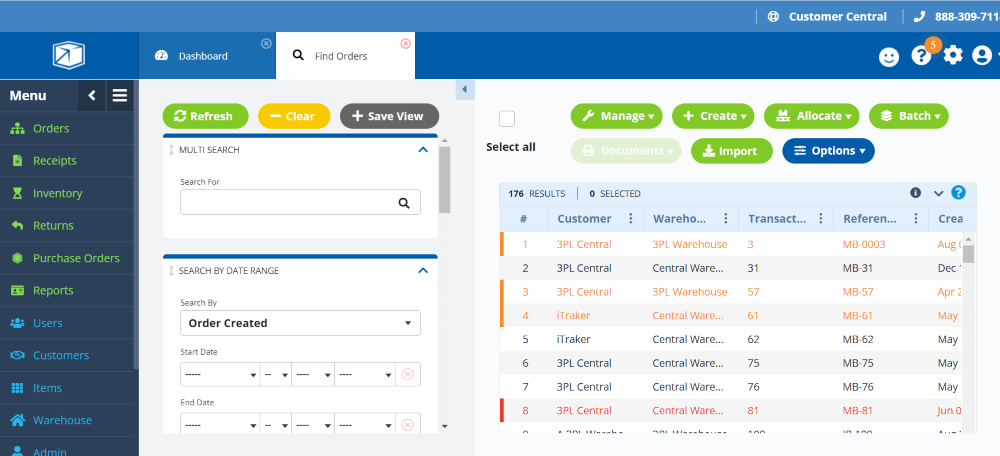 3PL Central Warehouse Management is the first cloud-based distribution system developers have created entirely with logistics providers in mind.
As the trusted technology partner of over 1,500 warehouses, 3PL Central reduces errors in data entry by automating orders and tracking items remotely.
It also boasts segmented inventory and billing features that prevent inventory loss and automatically capture your chargeable hours.3PL supports direct integrations with leading eCommerce sites, which increases accuracy in order fulfillment and verifies all your orders in real time.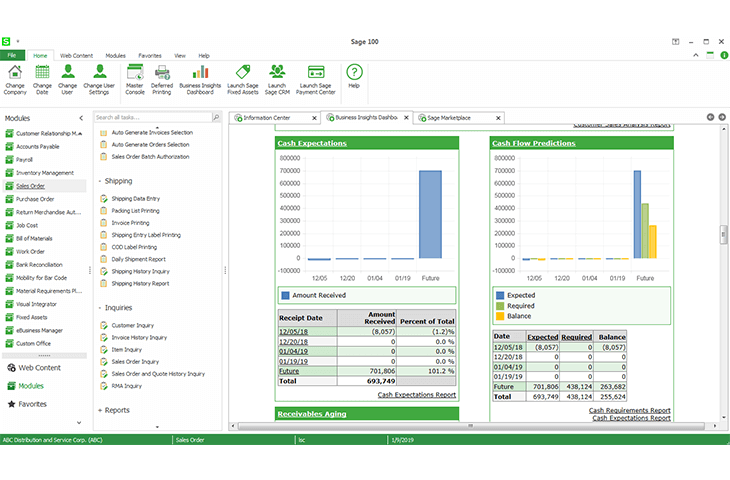 If you've outgrown a disparate legacy system and want to optimize and integrate your databases, Sage Business Cloud is for you.
Track everything from a central dashboard, including:
Profitability.
Warehouse operations.
Supplier quality.
Then, use accurate sales and inventory information to make better purchasing decisions while enhancing performance across the board.
If you want software that enables efficient resource allocation and manages multiple warehouses effectively, Sage is a good solution. Just add all your locations, international operations, and currencies — then consolidate financials for each location on demand.
Which is the best software for wholesale distributors in the convenience products industry?
The ideal software for any business depends on your specific operational needs. While plenty of options are available, Method is the most popular solution for wholesale distributors in the convenience product market, for both retail and B2B.
Here's a few reasons Method stands out:
The best two-way sync with QuickBooks and Xero for accurate financial data.
Advanced analytics to optimize your wholesale strategies.
Drag-and-drop workflow builder for task and sales process automation.
Phone app that provides mobile access for on-the-go management.
Key takeaways
Wholesale distribution companies that want to achieve operational excellence need distribution software.
At a minimum, you'll want to go with a wholesale software supplier that improves financial management and makes controlling inventory effortless.
That said, when choosing the appropriate solution for your business, consider:
Your budget.
What features you need.
How scalable the software is.
The type of software set-up your business can accommodate.
FAQs
How do you choose wholesale software suppliers?
How to choose the best software for manufacturers will depend on several factors.
Do you want to avoid cash flow oversight, track your current inventory, or both? Do you need software with eCommerce integration, or will basic features suffice? You need to ask these questions because wholesale software suppliers provide unique solutions to specific problems.
While some software business distributors use a subscription model and charge per user, others charge a one-time fee. Consider what your business can afford at the moment and whether you plan on scaling up in the future.
First, consider who will be utilizing this software. Some business distributors design software meant for all teams and sales reps, while others only cater to users at a managerial level.
What is a wholesale management system?
A wholesale management system is a software that facilitates the operations and sales of bulk goods to large-scale buyers. Distribution management systems typically include features like:
Customer relationship management.
Inventory tracking.
Sales management.
Their goal is streamlining buying and selling workflows between businesses and vendor accounts.
Which is the best software for a wholesale business?
As an all-around, comprehensive distribution management software, Method is the ideal solution for cash management, sales order fulfillment, and financial management. It supports a robust, two-way sync with QuickBooks and Xero and lets  you monitor all inventory items, accounts, and sales channels.
See what Method:CRM, the best software for wholesalers, can do for you.
Image credit: Adrian Sulyok via Unsplash