Take a step back and think: What would your field services business be without the services you provide? And how would you provide those services without your team?
Considering how much you depend on your field service team to keep your business moving, you need a system to empower them and boost productivity. At the center of every field services management system is service orders.
Service orders have several functions within your business:
Deliver key information.
Keep your work organized.
Act as a point of reference for your team.
With so many purposes, service orders can become difficult to manage if you don't have the right system in place. Luckily, service order software helps you with that.
Keep reading to learn how service order tracking software keeps you organized and enhances your operations. Plus, find a list of software solutions to help you choose the best one for your business.
The basics: What is a service order?
Before we dive into the world of service order tracking software, you have to understand what a service order is.
As you can guess, service orders outline the tasks (or services) that your team performs as part of a job. Service orders are most often used for repair and maintenance tasks, such as plumbing work like fixing a leaky sink.
Service orders usually include labor, material, and any other additional costs of a job. They tell your field tech exactly what needs to be done, ensuring everyone is on the same page.
You can break the cycle into a five-step process:
A customer submits a service request.
You evaluate the request, then create an estimate.
Your customer approves the estimate and you create a service order for dispatch.
The service order is assigned to a field tech.
The job is complete, and you send your customer an invoice.
This may seem like a lot of steps, but if you create optimal service orders, you can use them to make the process run smoothly.
That's where service order tracking software comes in.
Why is service order software important?
Service order tracking software makes your service orders easier to create, deliver, and manage.
Many field service management software solutions have capabilities that streamline every step of the service order process to save time and increase efficiency.
With service order software, you can:
Automate your service orders.
Monitor your service team's progress.
Convert your completed service orders into invoices.
Let's take a closer look at why your business should take advantage of this software.
Benefits of cloud-based service order software solutions
There are multiple ways that service order solutions make managing service orders easier and improve your overall business operations. For one, the right software keeps working even after the job is dispatched.
Service order tracking software connects every step so that you can seamlessly move from estimate to service order, and then an invoice once the job is done. With a web based work order management system, no need to manually create a new document each time.
This smooth workflow saves you time so you can focus on revenue-generating tasks and build relationships with your customers.
What's more is that service order software makes it easy to track job progress. With service order tracking software, you stay up-to-date with the status of each job and remain easy to contact in case any issues arise.
These benefits are possible because of the many features these solutions have. Let's take a look at some of them.
The top service order software features
The best field service management software includes features that enhance every part of your business to improve your bottom line.
Here are the top features to look out for when choosing service order tracking software.
Create invoices with a few clicks
Your service orders contain most, if not all the information you need for invoicing. Knowing this, doesn't copying and pasting information from a service order to an invoice seem repetitive?
With the right software, you can convert a service order into an invoice with just a few clicks. Better yet, the best software solution is useful early in the process by converting estimates into service orders.
With this feature, invoices can be created as soon as the job is done, meaning you get paid faster.
Speaking of getting paid…
A self-service portal for instant payments
What's better than quickly creating invoices? Quickly getting paid!
The right solution centralizes your payment process with an online customer portal. Through the portal, customers can perform invoice actions such as:
View.
Copy and print.
Pay.
Simplifying your payment process with online portals gives customers fewer excuses to not pay you on time. But just in case they do, service order software has you covered.
You can track the status of your invoices, and set up automated reminders for your favorite forgetful customers.
What's left for you to do? Sit back and watch your revenue grow!
Stay organized with service order tracking software
One of the key parts of managing your service orders is tracking job progress.
Choose a solution that notifies you about the job status. It's a bonus if your software solution also has optimized routing so that you can rest assured that your field techs take the most efficient route possible.
What's the best way to track job progress? With real-time updates from your assigned field tech.
Use a mobile app for information on-the-go
Field service businesses rely on mobility to get stuff done. But as much as you trust your field techs to get the job done, they understand that the ability to check in once in a while provides you with peace of mind.
A mobile app means that your field tech can provide you with real-time updates on job progress. With this feature, you know exactly when a job is done and aren't the last to find out when there's an issue.
Instead, you can contribute solutions to enable your tech to get back on track.
What's more is that a mobile app allows your field techs to create invoices on the spot. This makes it possible to get paid even before your tech leaves the job site!
Now that you know what service order tracking software can do, it's time to check out your options.
5 best service order tracking software
Field service businesses are increasingly relying on technology to keep their business running. However, there are now so many software solutions available, and looking for the right one can be an overwhelming process.
To help you out, here are the 5 best service order software solutions with must-have features to drive your business forward.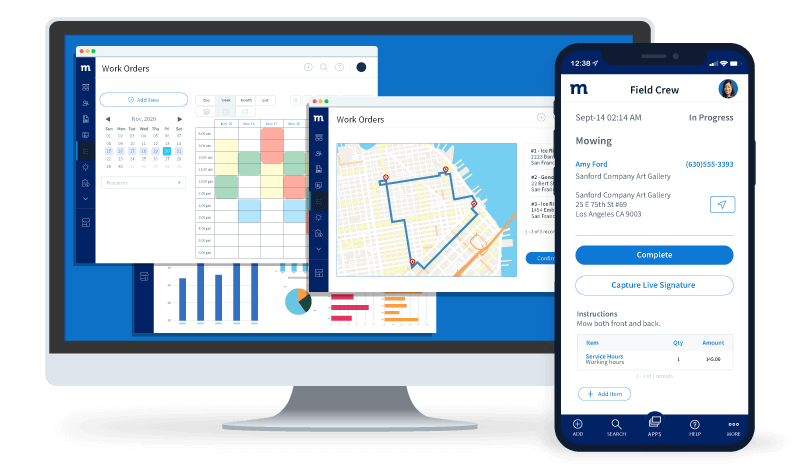 For QuickBooks users, there's a missing link when it comes to service orders.
QuickBooks Online does not have a work order or service order feature, which creates a workflow issue for businesses whose operations rely on service orders.
Luckily, Method:Field Services is that missing link.
Thanks to Method's two-way sync with QuickBooks, there's no need for manual data entry. Method:Field Services does the work for you by pulling your customer and job information from QuickBooks into a service order.
Once you have the information, you can customize your service order form to suit your business needs. Method:CRM doesn't make it complicated to customize work order software for field technicians services, either. All you need to do is drag and drop to create your ideal service order.
The power of mobile service order tracking software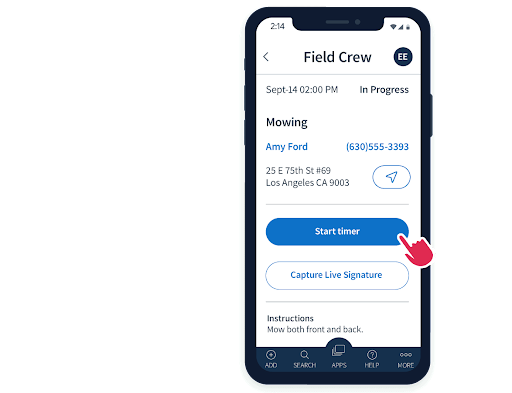 Service order tracking is easy with Method's mobile app. Receive real-time updates from your maintenance team, and ensure that they get to each job quickly with automated routing.
Once the job's done, your field tech can convert the service order into an invoice for your customer to pay through your online customer portal. They can even capture customer e-signatures on-site.
Of course, Method:Field Services isn't just a web based work order management system. It's a field service management solution that improves every aspect of your business with additional features such as:
Job scheduling capabilities.
Recurring service orders.
Custom fields.
Employee time tracking.
Integration with everyday tools, such as Gmail and Google Calendar.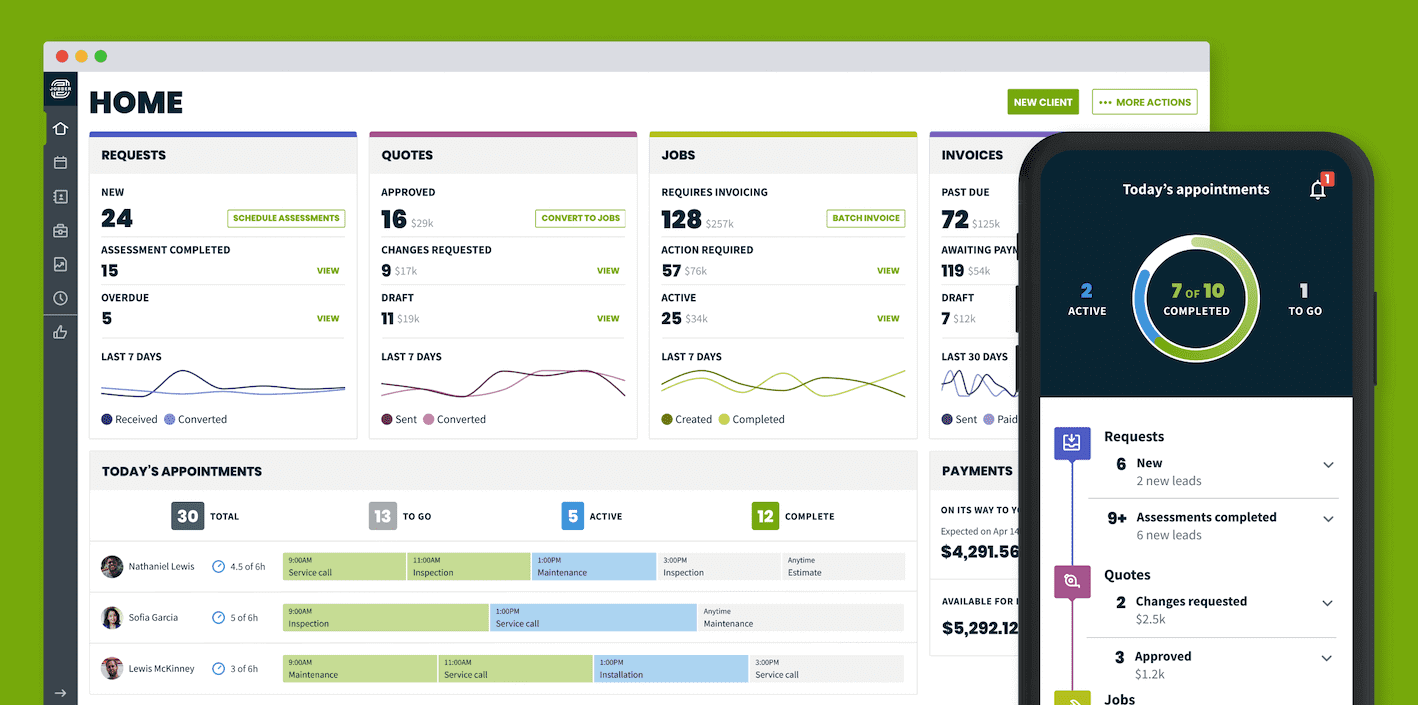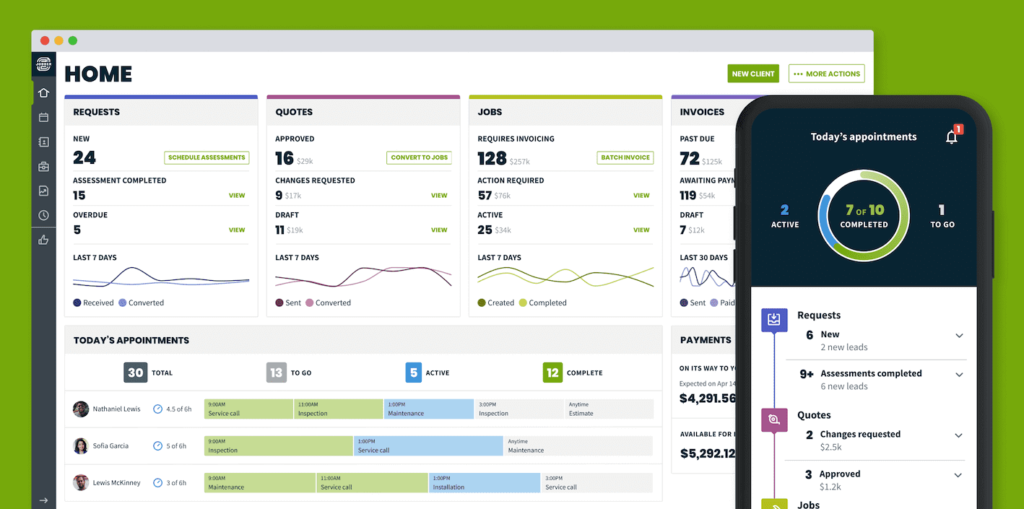 Jobber's field service management software has many of the capabilities you need for efficient service order management, such as:
A mobile app.
Push notifications.
Service order tracking.
With Jobber, you can turn a service request into a service order on the spot, creating a smooth workflow and cutting down on downtime.
Plus, your customer's information is paired with service items and notes to create a comprehensive service order for your field techs.
Whether you're at the office or in the field, Jobber's service order software gives you the tools to complete the job.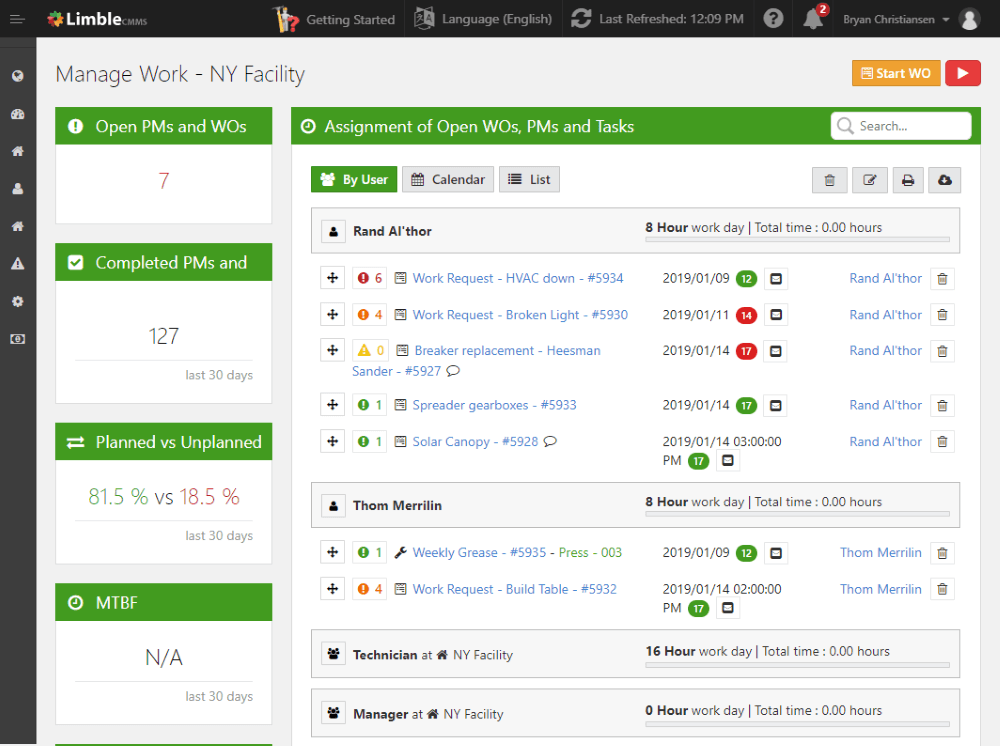 Next on our list of the best service order software is Limble CMMS.
Limble lets you organize your service orders in the way that best suits your business. From there, you can manage them on the go from any device and ensure that your team stays on track.
Use Limble's service order app to quickly start and close out jobs, as well as update your service orders with detailed instructions, pictures, and comments.
Looking for a time tracking software for cleaning companies? Limble's got you covered.
Limble's other key features include:
A calendar view of current or upcoming tasks.
The ability to track asset productivity.
An easy drag-and-drop system.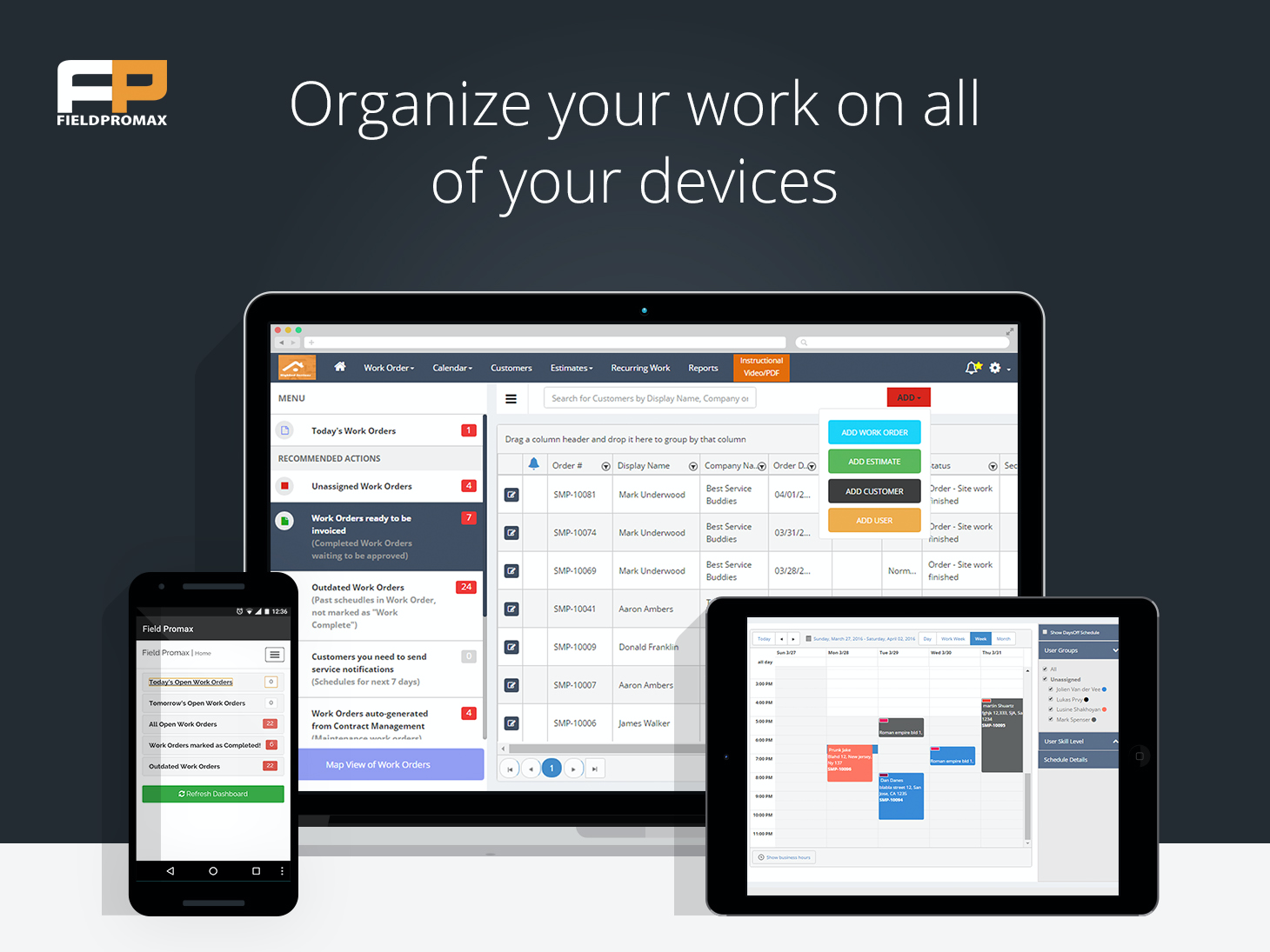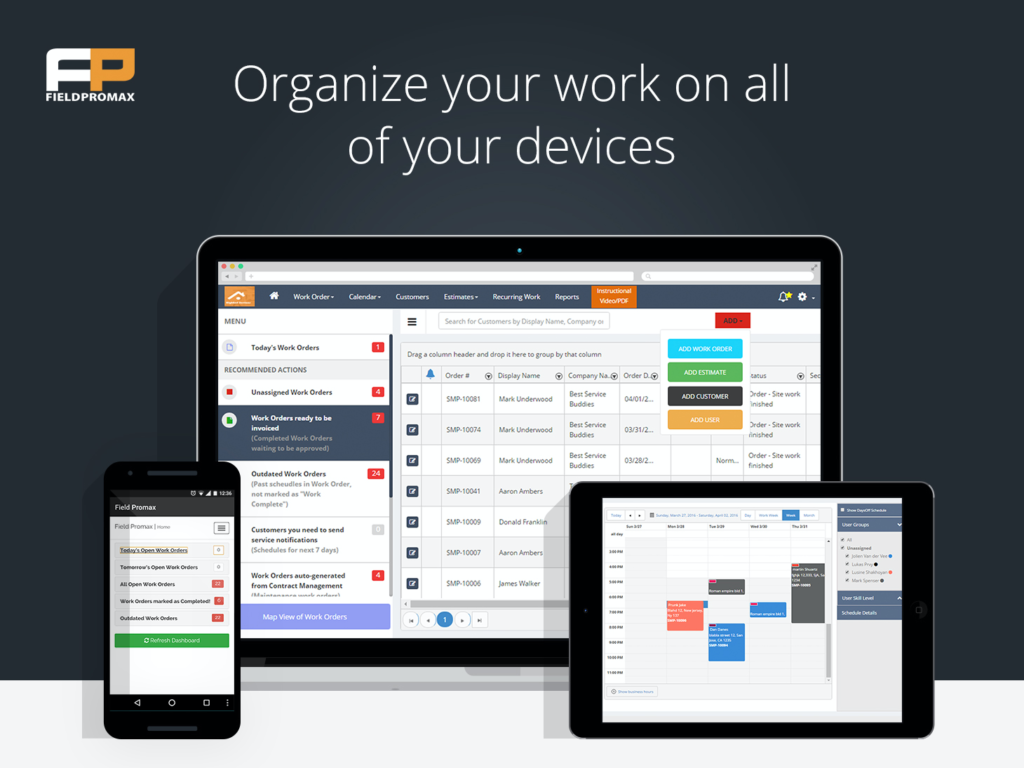 Next on our list is Field ProMax.
Field ProMax makes service order management simpler with the ability to:
Convert service requests into service orders.
Auto-generate recurring jobs.
Integrate employee time cards with service orders.
Dispatching is easy with Field Pro Max's customizable service orders and the ability to categorize jobs based on your preferred calendar view.
What's more is that Field ProMax is another service order software solution that integrates with QuickBooks Online to help service orders fit into your workflow.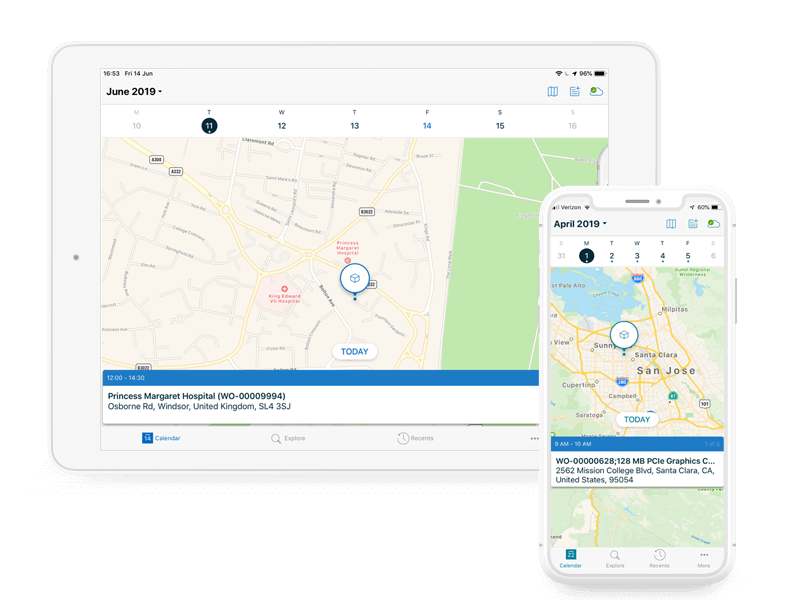 The last service order software solution on our list is ServiceMax.
ServiceMax understands that mobility is a huge part of the field service industry, which is why their mobile app allows access to more than basic service order information.
Whether you need a home service business work order software, or one for your construction field service, ServiceMax is the perfect fit.
Use ServiceMax's mobile app to:
Access asset information.
Create checklists.
Debrief service orders.
Better yet, ServiceMax simplifies scheduling for your dispatch team with one-click recommendations based on the service order information. This minimizes downtime and allows your field crew to get to work sooner.
Wrap up: Important considerations for your service order tracking software
Service order software enables you to create, deliver, and manage your work orders at every step of the process. However, the best software also enhances other aspects of your business to improve your bottom line.
With the right service order software solution, you empower your team to get more done and feel confident doing so.
Get started with your free trial of Method:Field Services today!
Image credit: Anamul Rezwan via Pexels