As an electrical contractor, you need a way to keep track of your expenses and income. QuickBooks for electrical contractors is a great accounting solution that allows you to manage your finances.
Beyond revenue and costs, though, there are a few tasks that QuickBooks on its own can't deliver fully on. Here are the top 7 best electrical software options to fill the gap that QuickBooks for electrical contractors is missing.
But first, here is an overview of what electrical contractor software is.
What is electrical contractor software?
An electrical contractor software system helps manage your business operations by scheduling, dispatching, invoicing, creating reports, and more. Overall it is used to improve your business's efficiency, make admin work a breeze, and finally to get you paid faster.
Other features that electrical software offers include:
Customer portals.
Mobile options.
Integrating with QuickBooks.
Job time tracking.
QuickBooks for electrical contractors: Which version is best?
QuickBooks for electrical contractors offers you two options — QuickBooks Online and QuickBooks Desktop.
There are a few factors to consider when choosing the right QuickBooks software for your business. Some factors to consider include:
The size of your electrical contracting business.
The desired features.
If you constantly need access to QuickBooks outside of the office.
If you need to track your inventory, equipment, etc.
QuickBooks Online is a great option if you constantly work outside the office and need access to your accounting software on the go. The online version of Quickbooks for electrical contractors is often a better choice as it's useful to have access to job and customer information while on the job.
On the other hand, QuickBooks Desktop has a few different features like the ability to create a sales order. The biggest difference is that QuickBooks Desktop is only available for office use which works for some field service businesses.
Beyond QuickBooks: What to look for in electrical contracting software
Before we get into the 6 best software options that sync with QuickBooks for electrical contractors, here are some features of electrical contracting software to look out for.
Powerful time tracking for QuickBooks
Almost half of business owners rely on paper and pen time tracking to record time. With electrical scheduling software, time tracking becomes simple. Time spent on jobs is automatically recorded and synced into QuickBooks for electrical contractors, so you don't have to manually enter the time each job takes.
Not only does this lighten the admin work electrical contractors have to deal with, but it also allows for better accuracy when it comes to tracking time. It is a crucial part of being a profitable business and requires an accurate and consistent process.
Strong timekeeping records
Labor costs are the hardest to estimate. For the majority of field service businesses, it is also the most expensive job cost. Many businesses rely on guessing and not accurate measures to track time.
As mentioned above, good management software will take time tracking information and sync it with QuickBooks in real-time. It makes time tracking even easier so you can focus entirely on the electrical aspects of the job.
Job scheduling for your QuickBooks customers
A good management software lets you schedule jobs for existing QuickBooks customers. It should also make it easy to track leads, create new customers and eventually schedule jobs for them.
QuickBooks for electrical contractors is great for creating estimates and electrical invoices as all of your customers and inventory are readily available to you. But it has limitations when it comes to the job lifecycle and doesn't have certain features like creating work orders.
A management software solution fills that niche and makes job scheduling a complete all-in-one process.
Effective business management
Your expertise is in electrical work, but that doesn't mean that you shouldn't have a set business management process.
A management software synced with QuickBooks for electrical contractors can make a world of difference when it comes to effectively managing your business.
In fact, companies with a formal sales process are more likely to see consistent revenue than those without one.
We discovered that sales forces were most effective at managing their sales pipelines if they had invested time in defining a credible, formalized sales process.
Electrical management software can automate many parts of your sales process, including custom work order forms. All of which translates into higher revenue for your electrical contracting business.
Easy dispatching and job routing
Electrical work requires you to be out in the field a lot of the time. As a result, it's beneficial to have access to job information and customer information while on site.
Having mobile options available can make dispatching and job routing easy and efficient.
A lot of electrical contractor software offers automated routes that integrate with popular mapping apps like Google Maps, Apple Maps, and Waze.
Not only does this benefit you by saving time, but it also saves you from spending too much on fuel and makes mileage more efficient.
If you are working with other electrical contractors, good management software allows you to dispatch jobs in bulk and notify every technician about what work they will be in charge of. You can also easily convert estimates into work orders and have them ready for dispatching with the click of a button.
Estimate creation
Creating estimates is usually the starting point for any new job. Making estimates in QuickBooks for electrical contractors is an option for many businesses. The issue is that QuickBooks does not have a work order form to transition an estimate into a work order.
The best way to overcome this gap is with management software that creates estimates that convert to work orders and also sync with QuickBooks for electrical contractors.
Lead management
Did you know that the majority of overperforming companies use customer management software for managing their leads?
65% of sales professionals use a CRM, and 97% consider sales technology "very important"
With every new customer worth their weight in gold, this makes powerful lead management a must-have feature.
Especially considering how difficult keeping track of leads is when you have tons of admin work and a manual, unorganized lead management system.
With electrical contractor management software, you can be sure that your leads are followed up on and converted to sales.
The top electrical contracting software for QuickBooks users
1. Method:Field Services
Known for having the best Method:Field Services' integration with QuickBooks for electrical contractors makes it easy to manage your accounting, sales, and job details.

Method:Field Services syncs with both QuickBooks Online and QuickBooks Desktop to instantly update your data in both your accounting software and job management software.
This way, you can sync customer and job information from QuickBooks and turn estimates into work orders and invoices with just a few clicks. With Method:Field Services, you don't have to deal with hours of double data entry.
Beyond this, Method's mobile app allows for easy customer approval with on job e-signature capturing.
An electrical contractor software like Method:Field Services also helps you with:
Route optimization and scheduling. Get your jobs done more efficiently with automatic route creation and a built-in mapping system.
Flexible pricing that scales with you. Method works with you to find a price you can afford and that can easily grow with you as you expand your business. They offer solutions for you starting at $15 per month.
Creating a solution that meets your every need. Method:Field Services allows you to create a customizable field service solution for tasks specific to electrical contracting.
Connecting your office and field crews. Get mobile time tracking, route planning, estimate creation, project updates, and more all in the Method:Field Services business management app.
Help every step of the way. The Method team offers stellar customer support and is available to help you create a personalized management system.
Get started with the #1 solution for those using QuickBooks for electrical contractors with your free no-commitment trial.
2. AutoEntry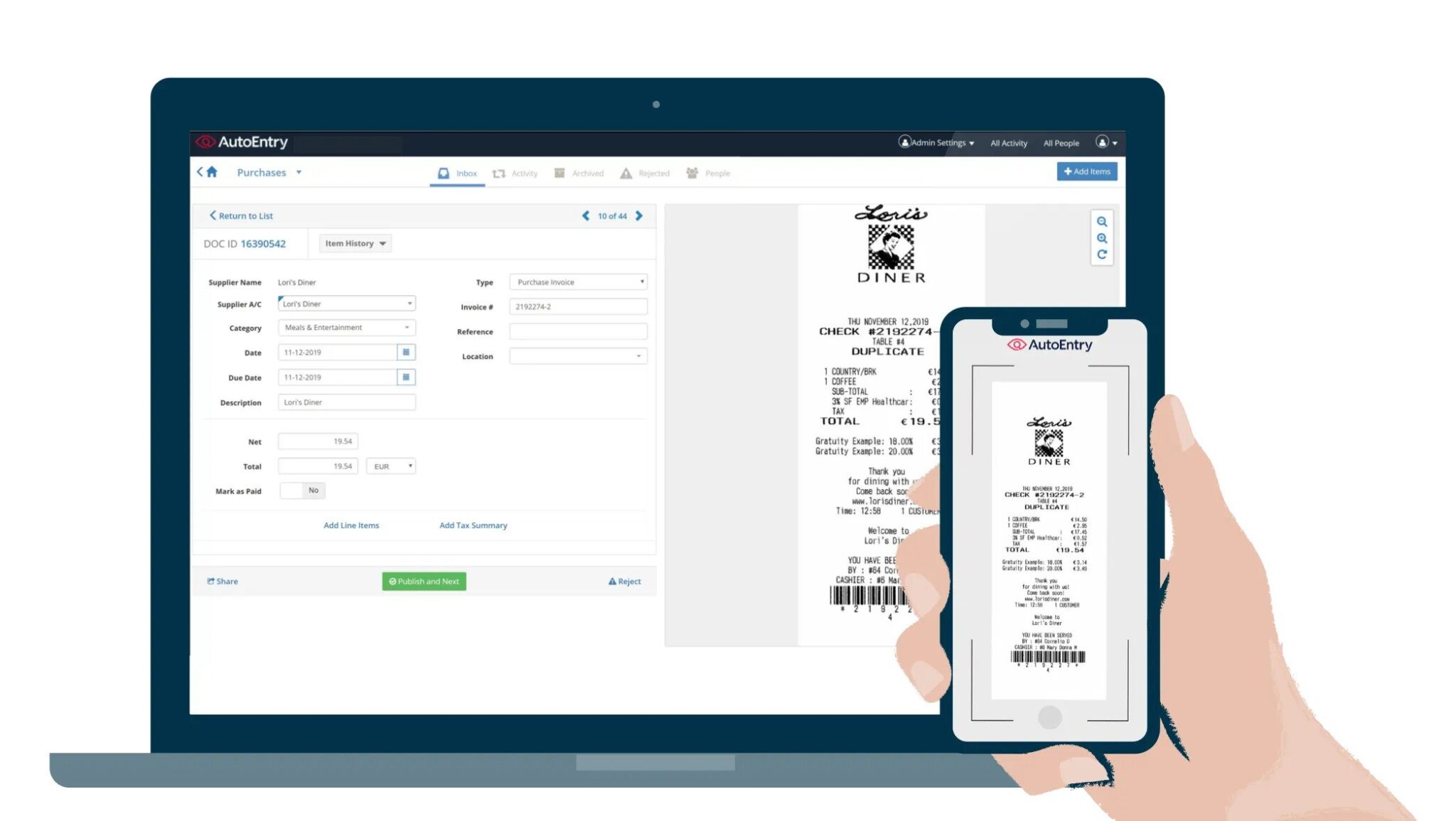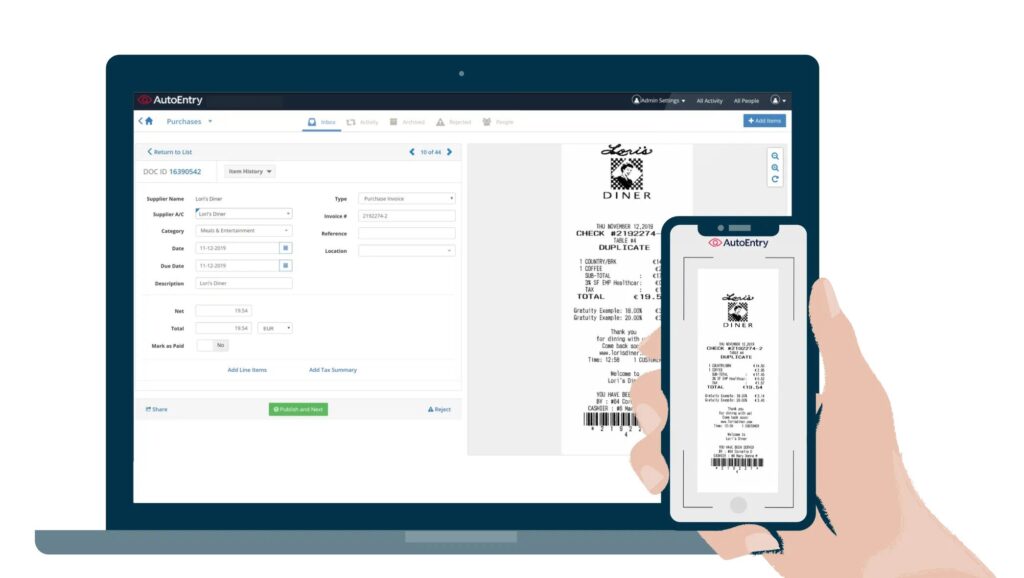 Image credit: Sage
With AutoEntry, you can automate data entry for bills, receipts, invoices, and more. This management software allows you to sync your data for approval in QuickBooks. That means you can avoid double data entry as AutoEntry does the work for you.
With AutoEntry you get the following benefits:
Create your own ready-for email or print invoice templates.
Manage your vendors and customer relationships by creating contacts and notes.
Easily send reminders, track payments, and more.
Track billable hours and easily sync that information to QuickBooks.
AutoEntry uses a credit system in their pricing plans that go from a Bronze plan (starting at $12) to a Platinum plan (starting at $98). Each credit determines an uploaded file to AutoEntry. A single invoice or receipt costs 1 credit, an invoice or receipt with line items to be captured costs 2 credits, and a single page of bank statements costs 3 credits.
Although AutoEntry is known for being user-friendly, many users have a difficult time connecting with their customer support team.
3. Housecall Pro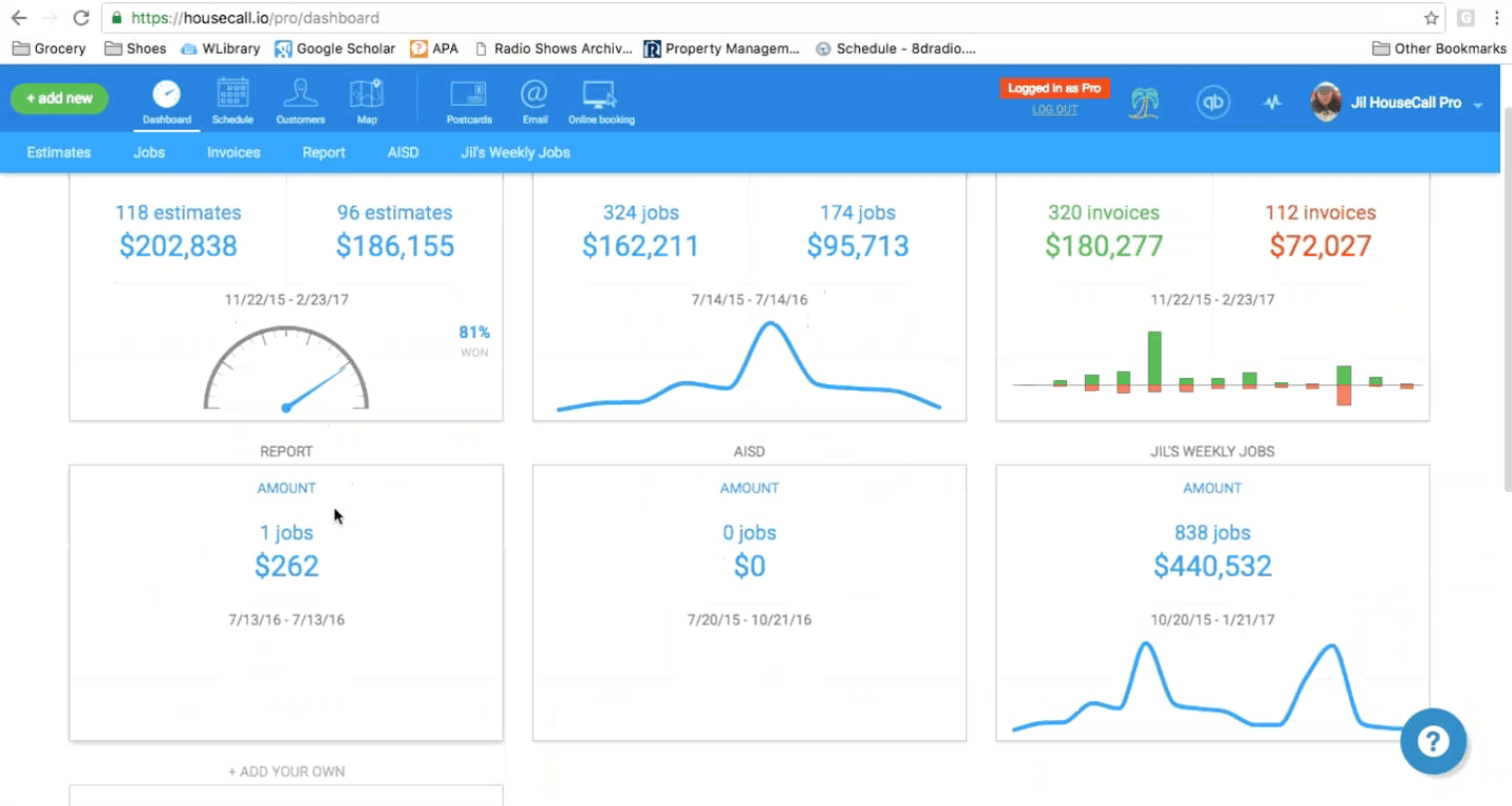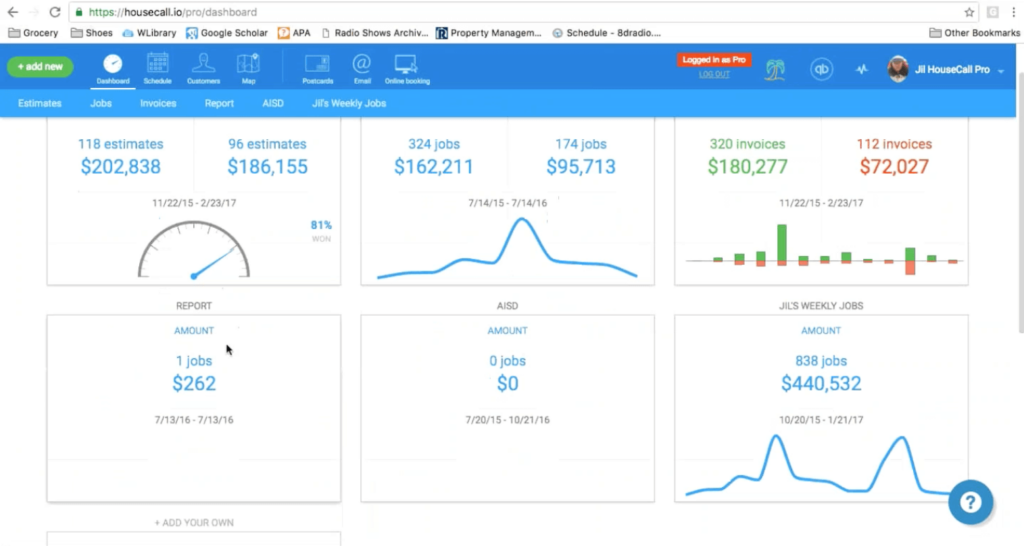 Image credit: Crozdesk
The next notable solution for those using QuickBooks for electrical contractors is Housecall Pro. It is an all-in-one business management tool for electrical contractors looking to run their business on the go.
Housecall Pro has made a name for itself with easy-to-use digital tools for scheduling jobs, managing payments, automating marketing efforts, and more.
Some of the benefits of Housecall Pro include:
Scheduling and dispatching any size project.
Simple invoicing and payment collection.
Mobile app for on-the-go use.
Online portal for easy access to job information.
Housecall Pro is designed to help electrical contractors stay organized and get more work done.
Their pricing model starts at $49 per month with their Basic plan but only offers QuickBooks integration in their Essential plan, which starts at $109 per month.
4. RedTeam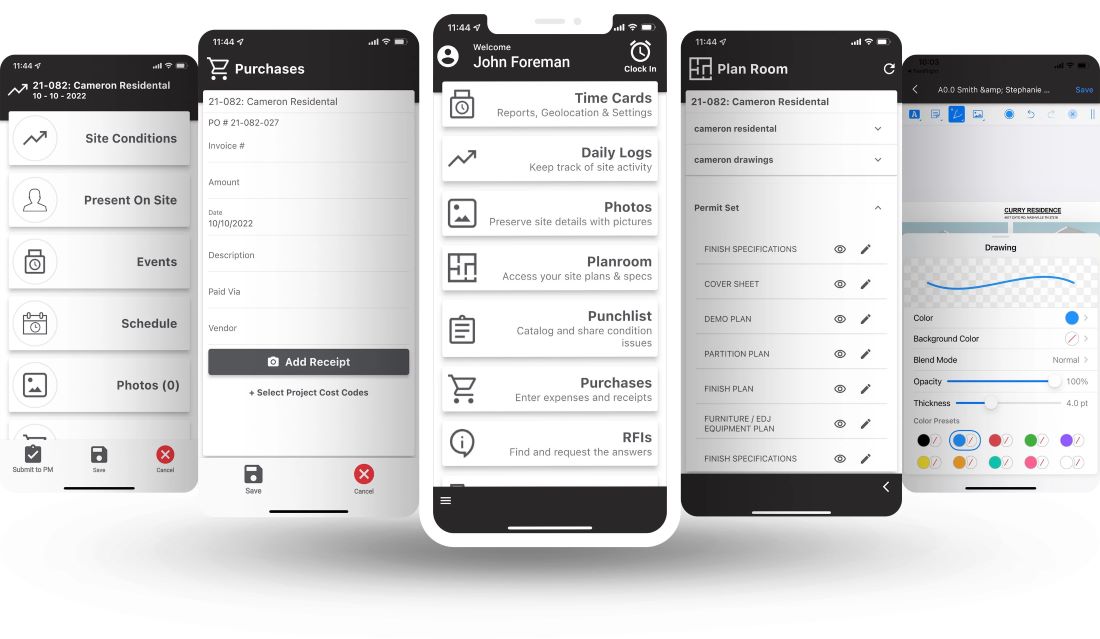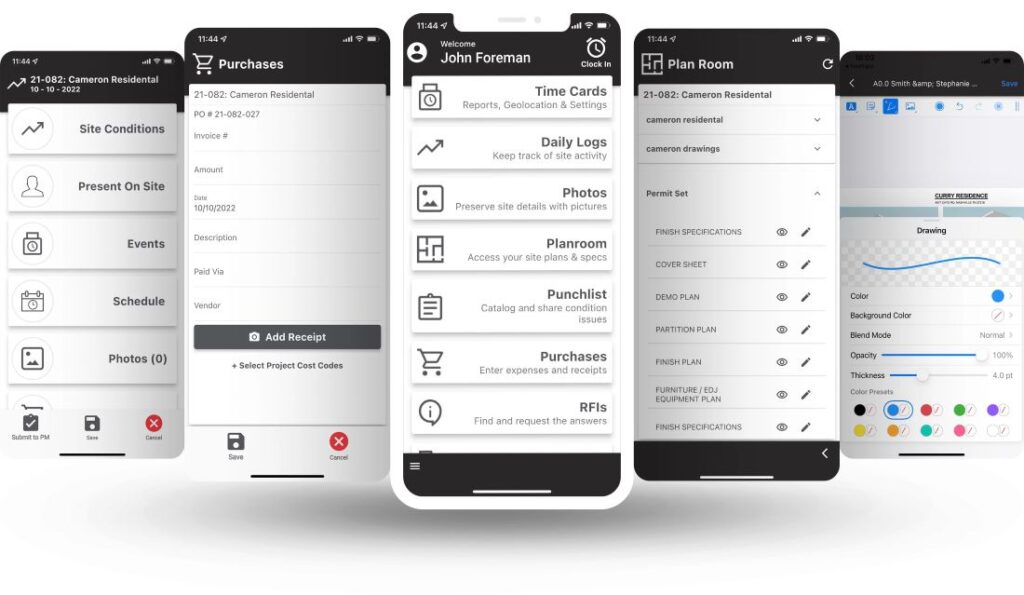 Image credit: RedTeam
With RedTeam you can create estimates and invoices, track time, review job costs, track expenses, and more. This cloud-based management software allows you to access job details from anywhere and at any time.
Some of the benefits that RedTeam offers include:
Paperless contracts and document creation.
A free mobile app.
Offline access to data.
QuickBooks for electrical contractors integration.
RedTeam has two pricing plans, one that's free, and one which costs $500 per month. While they do offer a lot of robust features, this tool is expensive for a lot of electrical contractors.
5. Buildertrend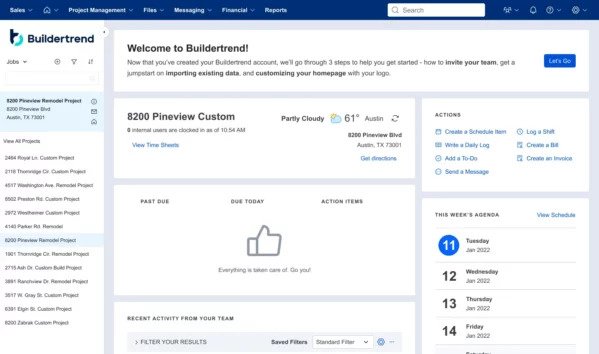 Image credit: Buildertrend
The next solution to consider if you love QuickBooks for electrical contractors is Buildertrend. It offers easy scheduling and dispatching options. Plus, it lets you manage and share job information with customers, associates, and other technicians.
Some of the benefits of using Buildertrend include:
Easily collect payments and digital signatures.
Gather leads from your website's contact page.
Automate your email campaigns.
Import leads, estimates, and customer details from Excel.
Buildertrend offers two pricing plans: the Core and Pro plan. The Core plan starts at $299, and the Pro plan starts at $499.
Overall, Buildertrend offers powerful features but can be a bit on the expensive side for electrical contractors.
6. Corecon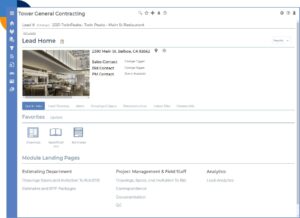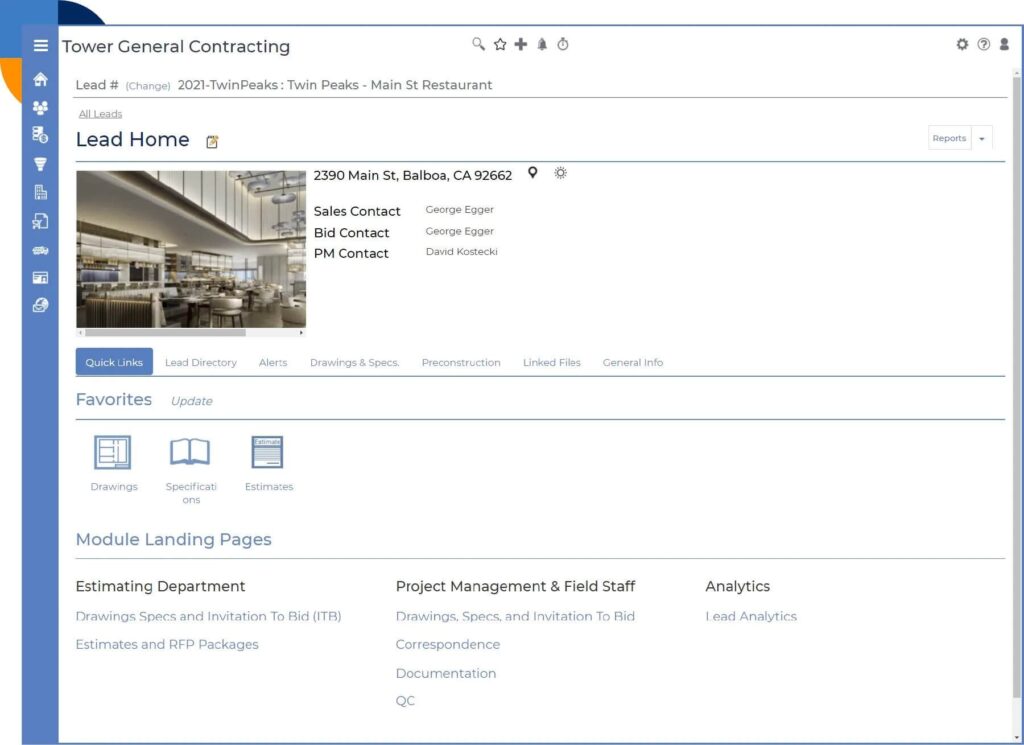 Image credit: Corecon
Last but not least on this list of solutions for those using QuickBooks for electrical contractors is Corecon.
With this tool, you can manage contacts, track leads, and create estimates. Corecon's main goal is to simplify your workflows and give you only the tools that you need to manage your electrical jobs.
Some of the benefits of using Corecon include:
Less manual data entry.
An easy-to-use interface that doesn't require IT staff.
An attentive customer support team.
A mobile app for data at your fingertips.
Corecon offers personalized quotes on individual employee licenses as well as company-wide plans.
One thing to keep in mind about Corecon is that many users have had trouble with Corecon accurately syncing to QuickBooks. This can lead to some manual entry when automation would be useful.
Considerations before you buy
Two of the biggest benefits of using electrical business management software are that it reduces manual errors and empowers you with detailed, real-time reports.
Carefully examine the electrical contracting business software solutions we included in the list above. Then sign on for the electrical business software that fits your business needs.
Wrap up: The electrical contractor solutions you need in your toolbox
Now that you have all the information on software that syncs with QuickBooks for electrical contractors, you are well equipped to find a solution that helps your business grow.
Some of the features to keep an eye out for are:
A seamless QuickBooks integration.
Easy scheduling and route optimization.
A user-friendly mobile app for when you're on the go.
Flexibility to ensure your business needs are met.
See how you can take your electrical contracting jobs to the next level with Method:Field Services.
Image credit: Astrosystem via Adobe Stock