Drawing from our experience, work orders are a staple of any business looking to stay organized and profitable. However, before you learn how to get the most out of your QuickBooks work orders, let's first review what a work order is.
A work order is a document used to keep track of the tasks involved with completing a job. Work orders include details such as:
A forecast for when the job should take place.
Which team member you're tasking with the work.
The materials or tools needed.
Any additional information specific to your business processes.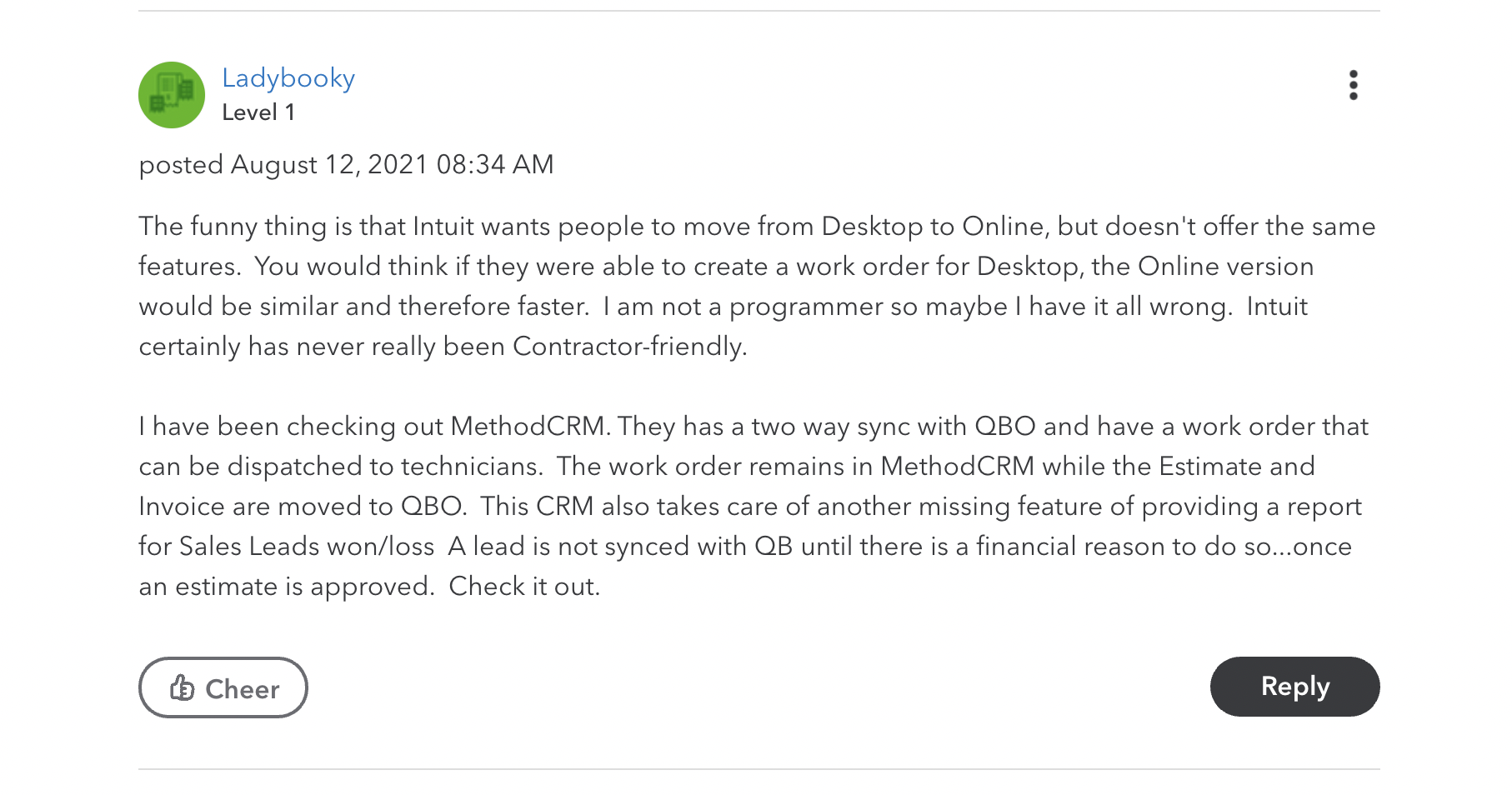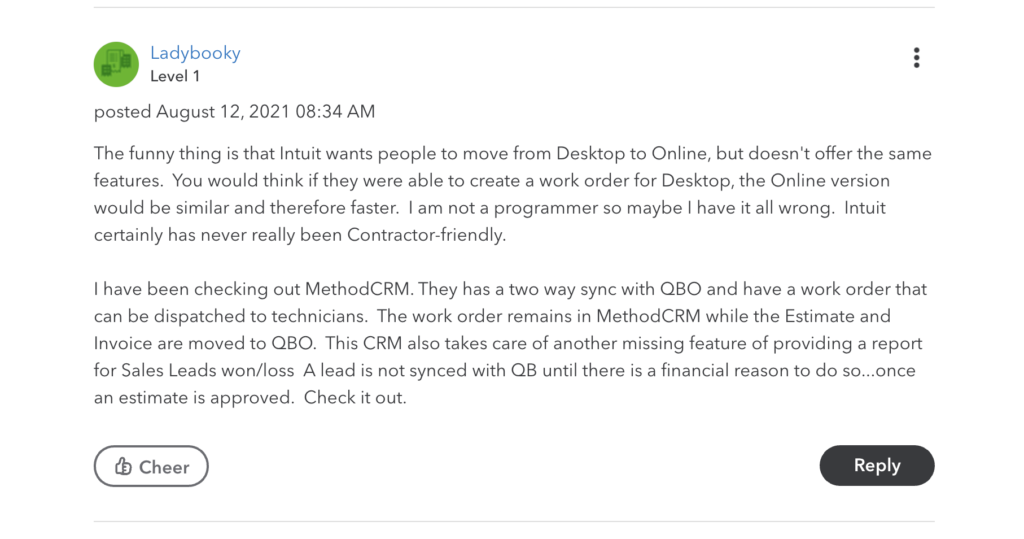 Our investigation demonstrated that there's no designated space to create native work orders — a problem for many QuickBooks users. The good news is that QuickBooks users do have a couple options to solve this problem.
The first is with workarounds in QuickBooks. A not-so seamless process, these hacks do get the job done — likely with a few headaches along the way.
If you're interested, though, here's professional tips and workarounds for QuickBooks Online PDF free download.
The second is with QuickBooks work order apps that integrate seamlessly with your bookkeeping and accounting software. Keep reading to learn how to handle your QuickBooks work orders best.
Creating QuickBooks work orders in Desktop
Let's start at the beginning. As per our expertise, when setting up new businesses, QuickBooks automatically creates a chart of accounts for all your accounts.
From there, you can create a sales order in QuickBooks Desktop, which is similar to a work order.
The sales order tool offers work order features like customer details, job details, line items, employee information, and, if applicable, the cost of the job. Based on our observations, the difference is that sales orders are designed for vendors who provide products, rather than for contractors who provide services.
Note: QuickBooks Sales Order is only available in QuickBooks Desktop Premier and Enterprise versions.
To get started with this QuickBooks work order Desktop hack, turn on Sales Order with the following steps:
Press the Edit button at the top of the screen and then select Preferences.
In the left menu, choose Sales and Customers and then go to Company Preferences.
Check the Enable Sales Orders box and press Ok.
After this, you can create a sales order from scratch or from an existing estimate.
To change your sales order form to become a work order, take the following steps:
In the Create Sales Order window, find and press the Formatting tab, then click Manage Templates.
Select Custom Sales Order and then press Copy.
In the Template Name field, give a new name to the template, such as QuickBooks Work Order.
Check all options after clicking Additional Customizing and then select Header and change it to Work Order.
Next to Ship Date, check both boxes to include a field on the form for scheduling jobs. You can change the name to something that fits your business such as schedule date or job deadline.
For printing purposes, you can click Columns and clear the second checkbox next to Rate and Amount to have your rates and charges not appear on the printed work order. You can still add or edit this information on the computer work order form for invoicing purposes.
Make any additional customization specific to your company.
Select Sales Orders on the Home screen and click Custom Work Order from the Template drop-down menu.
After using QuickBooks Desktop work order forms, we found that creating them in Desktop requires you to jump through many hoops — all for a result that's not as effective as using a work order solution. It's great to have a budget friendly option, but the reality is that these steps can be pretty overwhelming for a rather weak payoff.
If you're just looking to track a job or project you do for your customer, take a look at how to set up jobs in QuickBooks Desktop.
How to create QuickBooks work orders in Online
As mentioned before, QuickBooks work orders do not exist in the Online version of the software. However, users have tried to use the Delayed Charge and Estimate tools to create makeshift work orders in QuickBooks Online.
Let's take a deeper dive into these workarounds!
Delayed Charge in QuickBooks Online
A Delayed Charge is a transaction that looks similar to work orders and invoices but does not account for your profits and losses. This causes confusion when you want to create a balance sheet or reconcile your accounts.
Here's how you can make a Delayed Charge:
Press the + New icon.
Click Delayed Charge under the Customers tab.
Enter job information.
Save and Close.
While the Delayed Charge feature solves the issue of not messing with your cash flow, after putting it to the test, it proved to have many flaws when acting as a QuickBooks work order.
QuickBooks users have noted many times that the Delayed Charge tool does not allow you to print the file or add in customer information.
To give your customers some information when shipping to them, you can find out how to create a packaging slip in QuickBooks for your deliveries. Alternatively, you can learn how to make a delivery note in QuickBooks.
Estimates in QuickBooks Online
Similarly to the Delayed Charge feature, our research indicates that many use the Estimates tool as a QuickBooks work order replacement. The issue with this workaround is that the total and subtotal are visible on estimates which aren't something that every business wants on their work orders. 
Bridge the gap: How to elevate your QuickBooks work orders with a field service solution
The limitations in QuickBooks Online and Desktop shouldn't stop you from seamless work order management.
From QuickBooks drop down menus not working to printing limitations, your bottom line is directly impacted by the efficiency of your work order tracking system.
A great process will maximize cash flow and allow you to invest in people, tools, and technology that support your growth.
The following QuickBooks work order apps are designed to work seamlessly with QuickBooks to bridge the work order gap.
Keep in mind what your business focus is while reviewing these apps. Some will be a better fit for you compared to others based on pricing, customizations, customer support, and additional features.
Best fully integrated QuickBooks work order apps
QuickBooks integrates with applications beyond those in Microsoft Office or Google Workspace. Some third-party companies have noted QuickBooks' lack of work order functionality, and in turn released software solutions that tackle this issue. Our investigation demonstrated that these solutions are among the best of the best: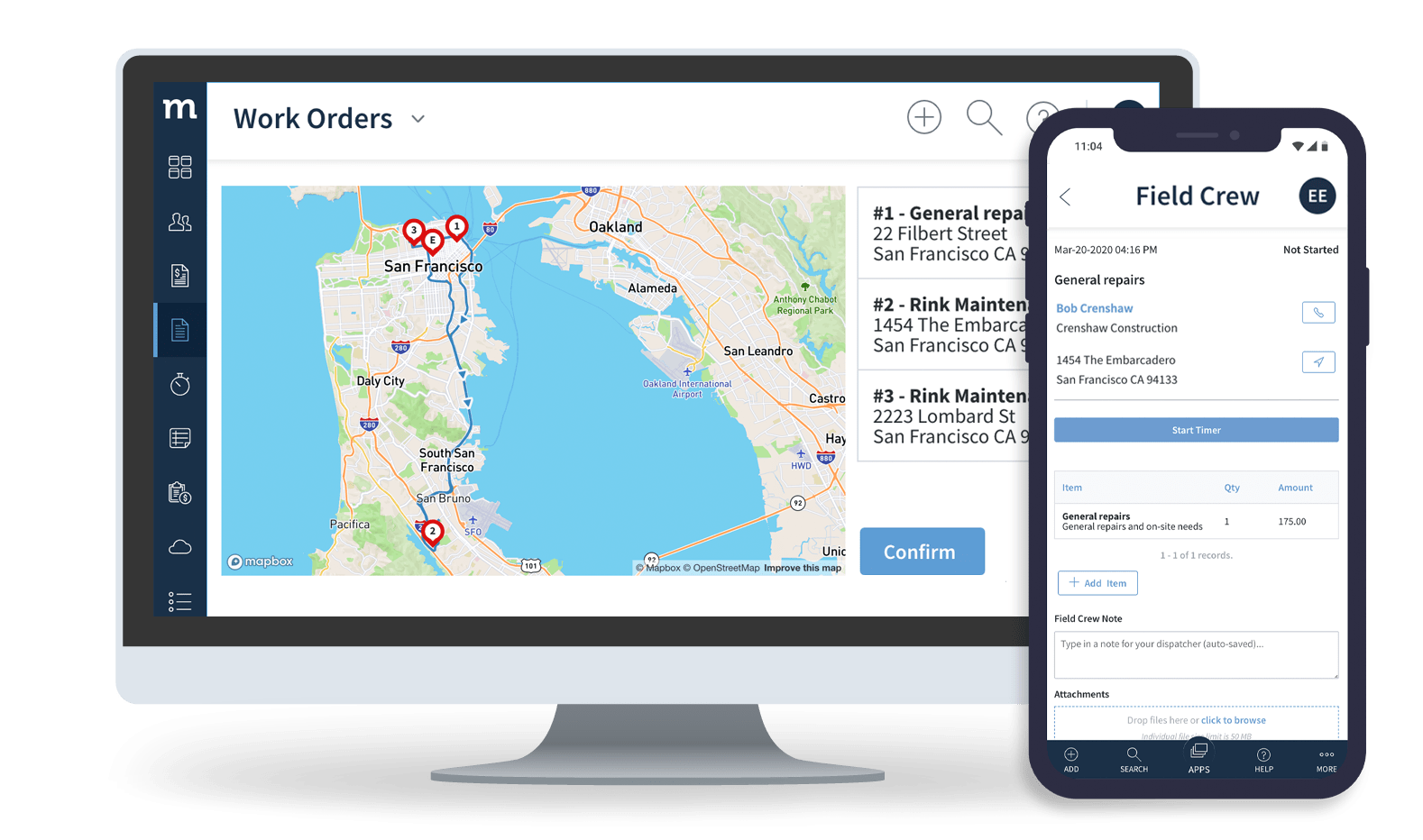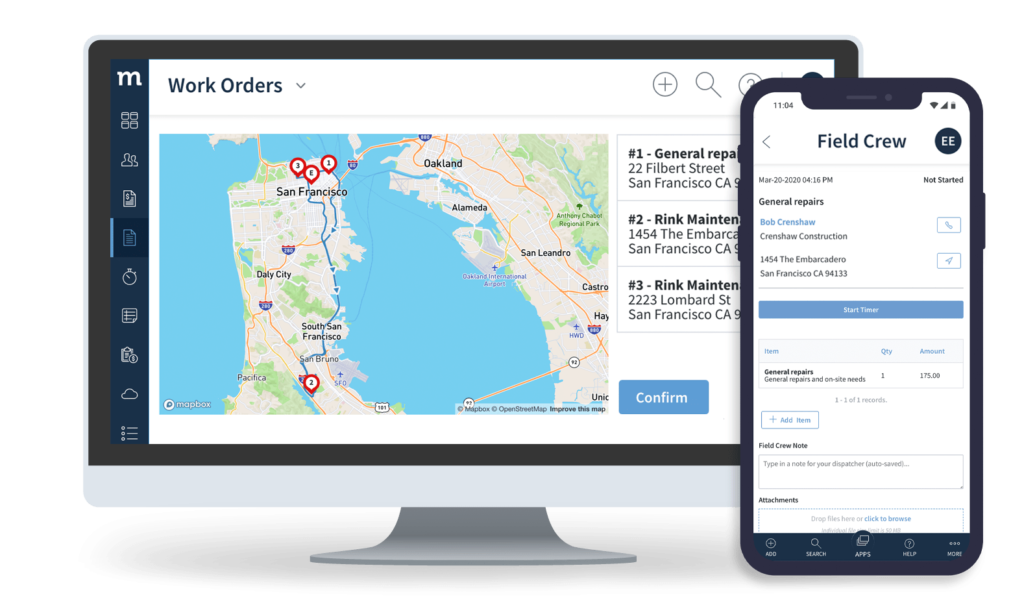 It has never been easier to streamline your job management process end-to-end with Method's integrated QuickBooks work order software. Method:Field Services syncs with QuickBooks Online and Desktop to instantly update your data.
This two-way sync pulls your customer details and job information from QuickBooks into a work order so that jobs can be scheduled and dispatched sooner. After putting it to the test, this cloud-based field service solution ensures that you no longer have to spend hours sifting through old files. Not to mention, you eliminate the issue of double data entry.
With Method:Field Services, you can create work orders using QuickBooks data in the office, then dispatch this information to field technicians on their mobile device of choice. This makes updating schedules a breeze and increases the number of jobs you can complete.
What's more, is that with the Method mobile app, customer approval is immediate as your field crews can get an e-signature before leaving the job site. Take a look at how you can improve your day-to-day by using Method:Field Services below.
After completing jobs, you can convert work orders to invoices in just a few clicks and receive payments through an online customer portal. In these portals, you can record, track, and accept transactions in just a few clicks.
Method portals make things easy for you by centralizing your customer interaction history across all communication channels. Plus, they're designed for self-service, so your customers can answer questions and resolve issues independently, without having to wait for a reply from your support team.
As per our expertise, many portals also feature discussion forums, where your new customers can find and respond to posts from previous ones.
What's more, is that you can sync the time tracking entries associated with each work order to QuickBooks for quick and easy payroll processing.
A work order tracking system like Method:Field Services helps you:
Grow revenue faster.
Retain customers and drive more repeat business.
Maximize productivity with less admin work.
It's not surprising that Method:Field Services is a popular choice for many industries. For example, if you're looking for the best lawn care software compatible with QuickBooks, look no further.
With Method:Field Services, you solve your QuickBooks work order problem and speed up your sales process.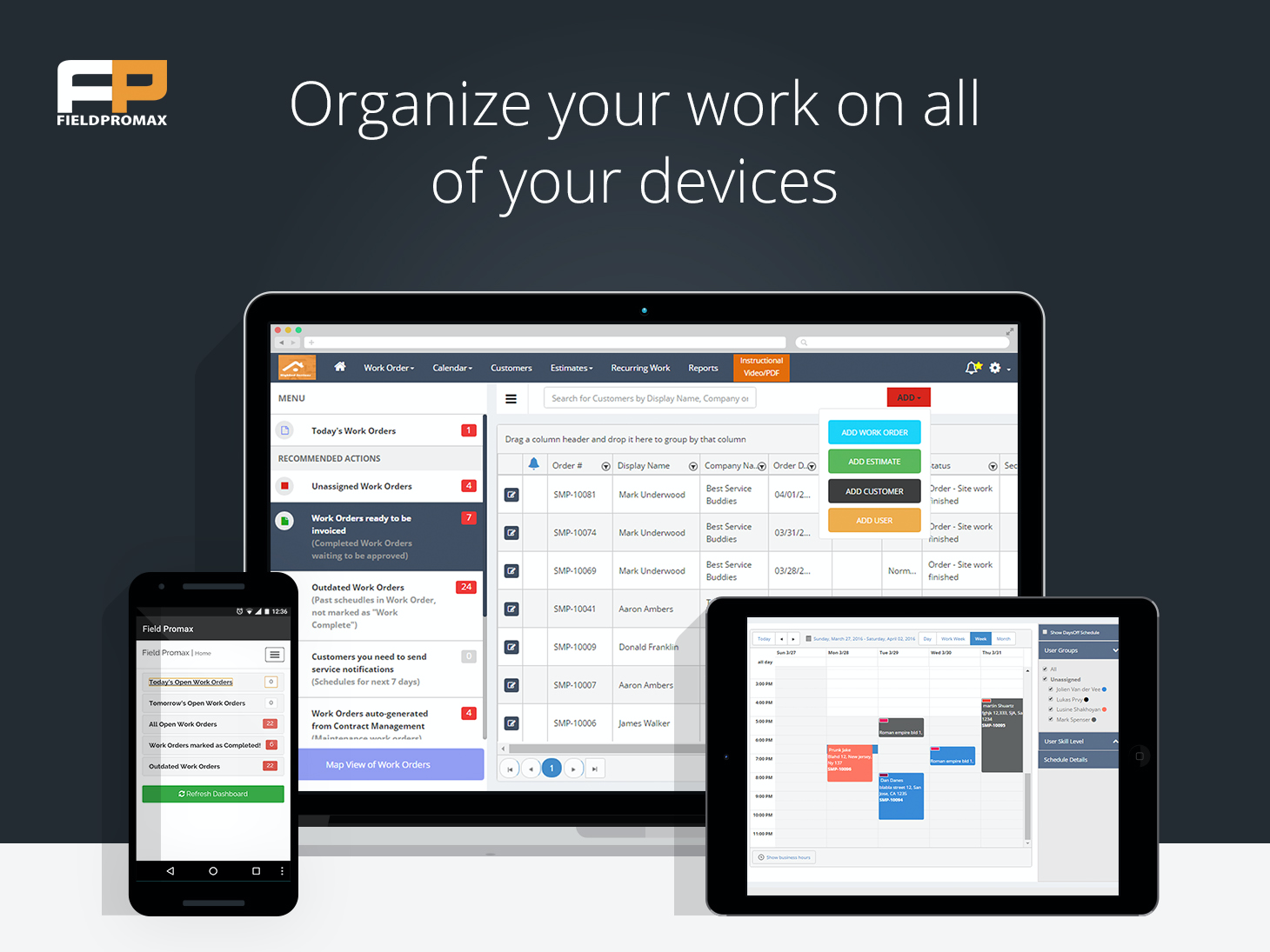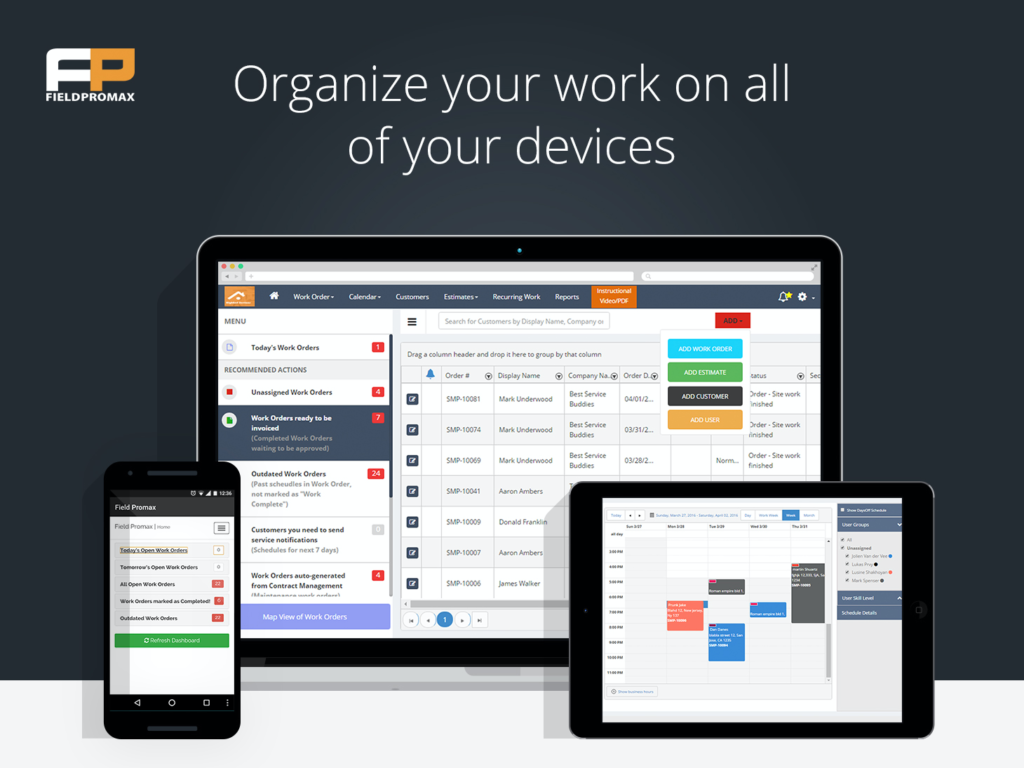 The next solution on this list of top QuickBooks work order apps is Field ProMax.
For those new to Field ProMax, it's a field service management software that integrates with QuickBooks. It benefits your business by maximizing your productivity and efficiency.
Our team discovered through using this product that you can manage your operations better with Field ProMax by:
Creating work orders and dispatching them to on-field teams.
Tracking locations of your crew for real-time status updates.
Generating recurring work orders.
Automating your service requests.
Field ProMax allows you to:
Manage customers and services
Schedule days off.
Assign team leads.
Create inventory lists.
Review analytics.
Download custom reports.
After trying out this product, we found that Field ProMax makes it easy to sync customers and items with QuickBooks. The best part is that you can create work orders online and print them out without any QuickBooks limitations. 
You can start with an estimate in Field ProMax and convert it to a work order.
After completion, the work order will automatically create a QuickBooks invoice.
If you're wondering about the difference between work order and invoice, invoices are generated after the work order is completed to receive quick payments.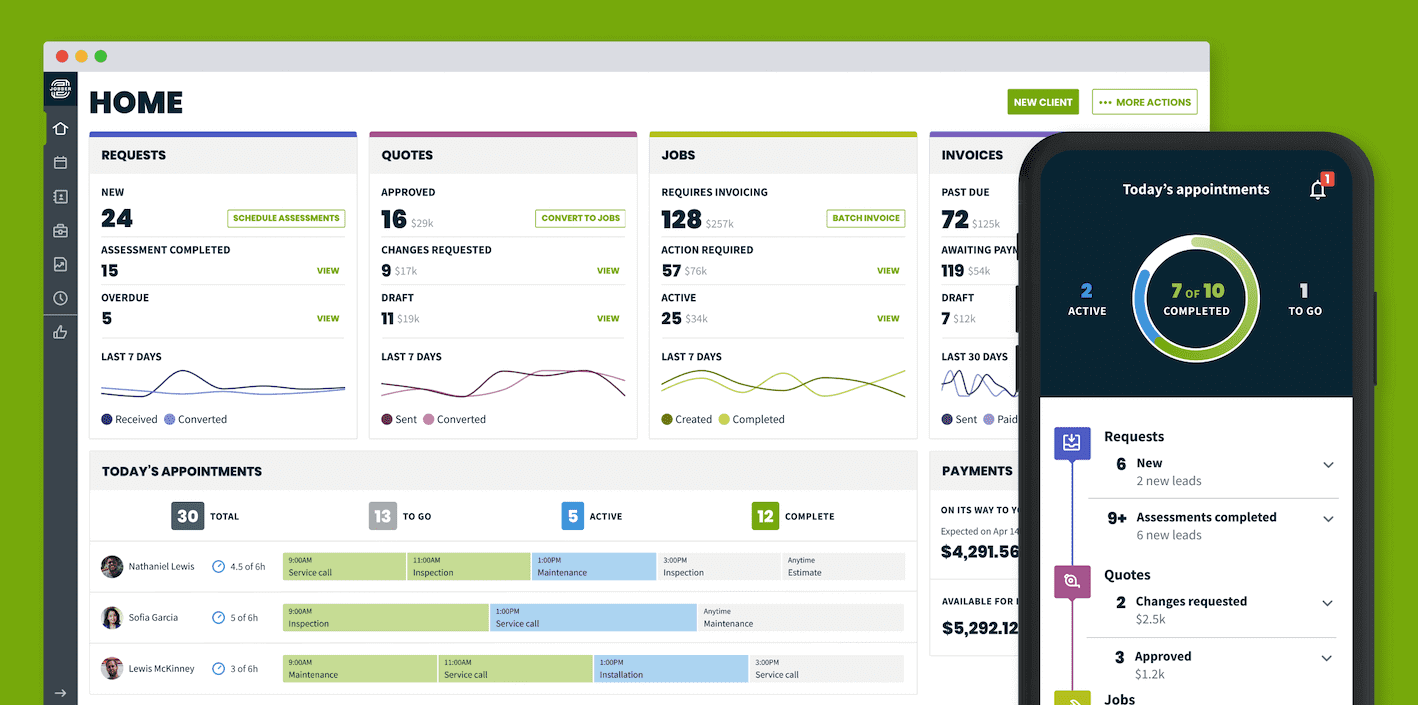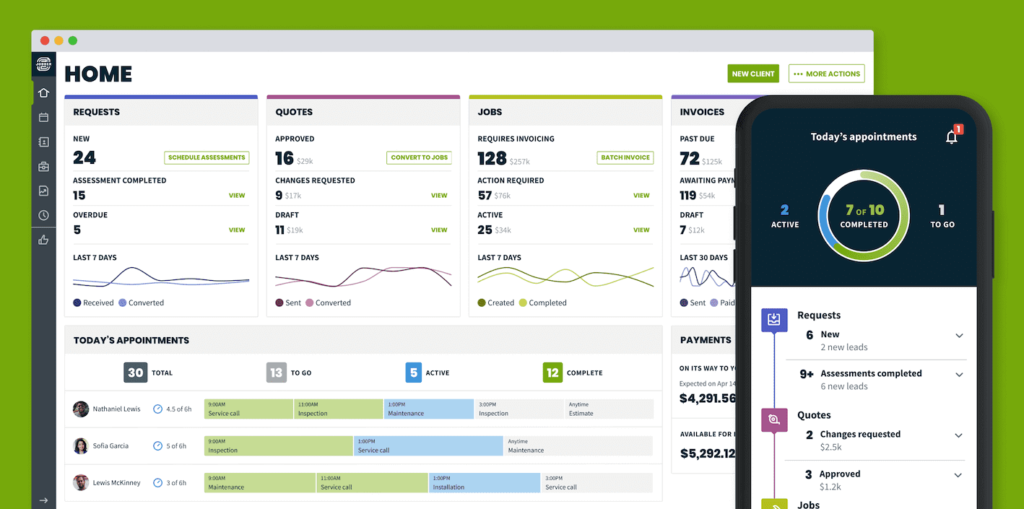 The final solution on this list of QuickBooks work orders app is Jobber. After using Jobber, we have found that you can turn a work request into a job or book a new job on the spot. 
Jobber's work orders include customer information, service items, and additional notes so that you and your employees have a clear idea of what the business day looks like.
When a busy day requires rescheduling, use Jobber to assign and reassign your teams to jobs.  As indicated by our tests, you can also immediately notify your team of schedule changes using the Jobber mobile app.
Your team can track their time and job completion to keep everyone on the same page. All this information then gets synced with QuickBooks to make payroll and invoicing a breeze.
Wrap up: Tips for successful QuickBooks work order integration
Our findings show that selecting the right QuickBooks work order app for your business is an important decision. So, here are a few additional tips to consider when exploring QuickBooks work order solutions. Look for software that:
Integrates seamlessly with your version of QuickBooks.
Captures customer signatures to streamline your approval process and reduce admin work.
Empower your field crew to stay connected, so work order tracking, and scheduling updates are a breeze.
QuickBooks work order FAQs
Where are two places you can search for apps that work with QuickBooks Online?
Find an app that integrates with QBO directly from the QuickBooks App store website. Otherwise, just access them from the 'Apps' menu within your QBO account.
Which menu area allows you to search for apps by the problem or business process they address in QBO?
'Browse by category' in the App Center in QBO allows you to search for apps that address specific business problems or processes.
Through this menu option, browse the app library by category and find apps that offer features like integration with QuickBooks or third-party services. Then, read reviews to choose from popular apps.
Why do I have a charge from Intuit?
You may be seeing a charge from Intuit in your bank account if you've bought any of their products or services. That includes all their software for accounting, taxes, and finance management. Through our practical knowledge, this includes all of Intuit's registered trademarks and services, such as TurboTax, QuickBooks, Mint, ProConnect Tax Online, and others. If you're still unsure what the charge from Intuit is for, contact their customer service center.
Take your QuickBooks work orders to the next level with a free trial of Method:Field Services.
Image credit: Blue Planet Studio via Adobe Stock