If you're a business owner, you probably rely on QuickBooks for your accounting needs. QuickBooks is a trusted and user-friendly accounting software, perfect for managing the financial side of your business. However, if your company has grown significantly, you may find yourself facing limitations with QuickBooks. That's where the idea of QuickBooks to NetSuite data migration comes into play.
In this blog, you'll dive into migrating from QuickBooks to NetSuite, a robust ERP (Enterprise Resource Planning) solution. Keep reading for:
Reasons to consider the switch.
What to remember during the process.
Thoughts on whether it's worth the effort.
Overview of QuickBooks
QuickBooks is an accounting software known for its user-friendly interface and integration capabilities. QuickBooks users often manage their businesses through a robust suite of software solutions that automate different processes, such as Customer Relationship Management (CRM) systems and shipping apps.
Before you get into migration details, let's look at what QuickBooks does.
QuickBooks Online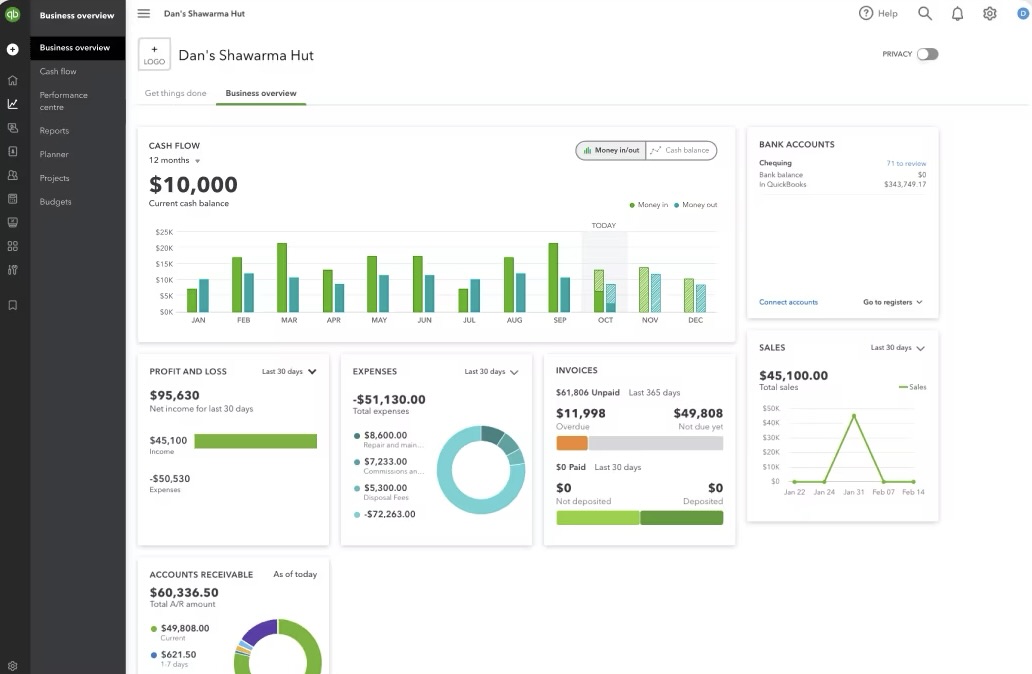 Image credit: Intuit QuickBooks
QuickBooks Online is a popular cloud-based accounting software. It's an excellent choice for small businesses, offering features like:
Invoicing.
Expense tracking.
Inventory tracking.
Financial reports.
It's user-friendly and accessible from anywhere with an internet connection.
QuickBooks Enterprise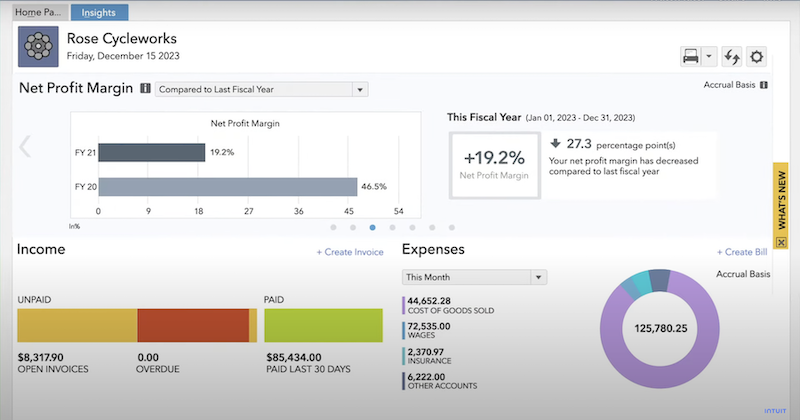 Image credit: Intuit QuickBooks
On the other hand, QuickBooks Enterprise is more suitable for larger businesses with advanced accounting needs. It provides features such as:
Inventory management
Customizable reports.
Batch invoicing.
Up to 30 users.
While this system is powerful, it may need help to keep up with the demands of an enterprise that manages thousands of products and services daily.
A saving grace for QuickBooks users: The apps ecosystem
Most QuickBooks users are fans of the tool and don't want to leave the platform. Especially when the alternative is an expensive ERP with a hefty learning curve.
Thankfully, the QuickBooks ecosystem of integrated apps exists for this reason. It allows growing businesses that use QuickBooks to plug and play solutions to extend the accounting platform's functionality.
With hundreds of apps to choose from on apps.com and the Desktop Marketplace, there's truly something for everyone!
Overview of NetSuite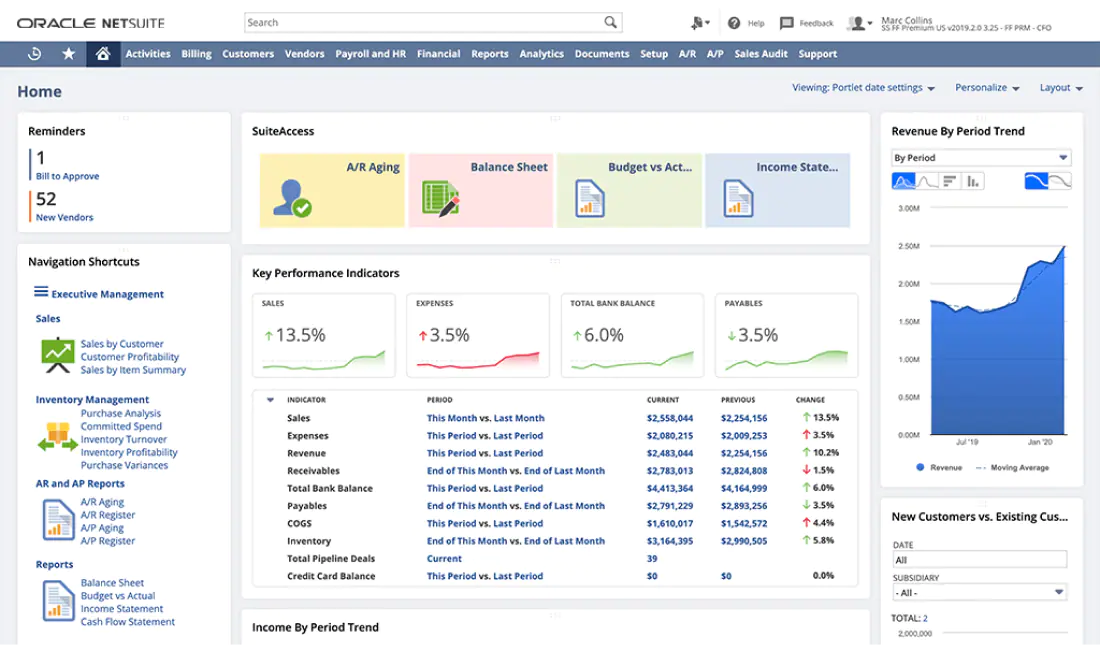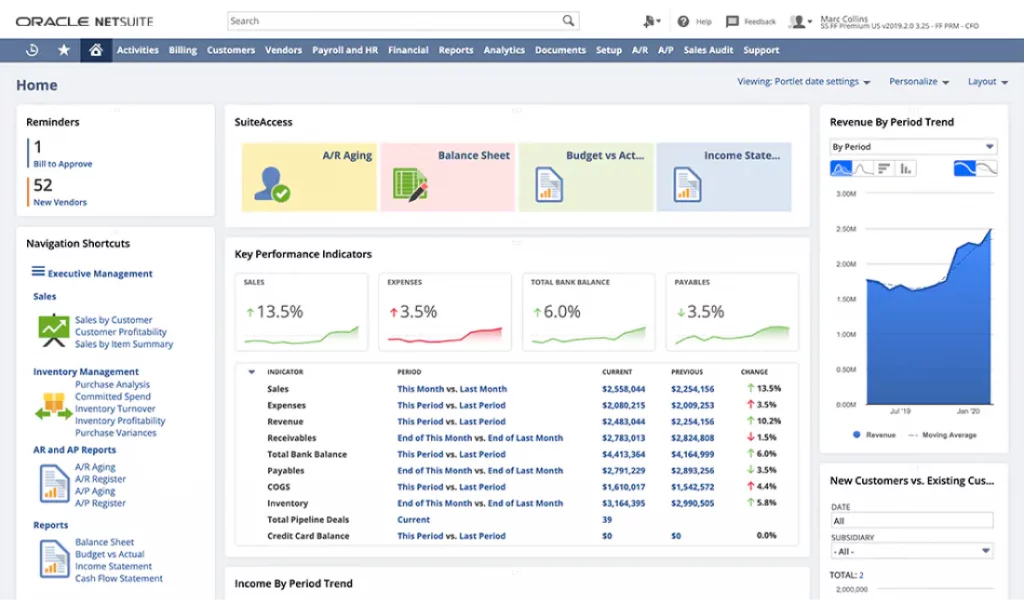 Image credit: Oracle NetSuite
NetSuite is a cloud-based ERP solution that covers a wide range of business operations. It offers accounting, CRM, e-commerce, and inventory management features, making it a comprehensive solution for large companies.
Why switch from QuickBooks to NetSuite?
Let's explore the reasons why you might want to make the transition.
Scalability: Both NetSuite and QuickBooks can sustain large databases and dozens of users. When a company succeeds at a large scale, limited data management and storage is the last thing it needs.

Comprehensive features: NetSuite is an all-in-one solution that eliminates the need for multiple software applications. Where QuickBooks offers many specialized, integrated apps you can use to add functionality.

Advanced reporting: NetSuite offers powerful reporting tools, providing deeper insights into your financial data. QuickBooks reports are more focused on accounting than other business areas.

Control over every process: NetSuite gives real-time business performance metrics across each operation, whereas QuickBooks focuses on accounting.

Automation: Both QuickBooks and NetSuite allow you to reduce manual processes and avoid data entry with automation.

Customization: You can tailor NetSuite to your specific business needs with extensive customization options, but it will cost you. A better option for QuickBooks users looking to personalize their workflows is Method's no-code, integrated platform.

7 things to consider about QuickBooks to NetSuite migration
1. Ensure that you've fully outgrown QuickBooks
Migrating is a significant decision that should be taken seriously. Before taking the leap, evaluate whether your business has outgrown QuickBooks and if NetSuite's features are what you need.
First, assess the limitations you face with QuickBooks, such as:
Are you struggling with complex financial reporting or inventory management?
Do you need to measure the cost of inventory loss automatically?
Would you like to integrate your accounting processes with your sales pipeline?
If QuickBooks is becoming a bottleneck, consider how the app ecosystem can help. Prioritize which business operations you want to automate and simplify based on how they impact your profitability.
After automating one process, your needs might change. QuickBooks' app ecosystem provides flexibility for unpredictable changes. You only spend as much money as you need and don't get involved in pricey contracts that are hard to cancel.
So, if your company can manage all its financial operations through QuickBooks, sticking with this business system is the cost-effective option.
The key is to ensure that you're not buying a system with excessive features and that the move is driven by a genuine need for NetSuite's capabilities.
2. Consult your budget
While NetSuite is known for its extensive features, it has a higher price tag than QuickBooks. As you plan your QuickBooks to NetSuite data migration, you should:
Consult your budget: Ensure it aligns with the transition and ongoing usage costs.
Consider the upfront migration costs and the recurring subscription fees, including software and implementation.
Work with financial experts to get a clear picture of the total cost of ownership.
Following these steps will help you make an informed financial decision and prevent unwelcome surprises down the road.
3. Consider other alternatives
NetSuite is a robust accounting solution, but there are others available to you. Exploring and researching other options is essential to ensure that NetSuite fits your business best. For example, you can integrate QuickBooks with an e-commerce app that tracks your inventory. If you need to register billable hours, you can use an app that records and invoices them automatically. Hundreds of options suit you!
Integrating QuickBooks with apps, such as Method:CRM or Method:Field Services, will expand its capabilities while maintaining a seamless user experience at an accessible cost.
Different systems offer unique features or customizations that cater specifically to your business type. Engage in discussions with consultants, attend software demos, and evaluate the pros and cons of various accounting software products before making your final choice. This thorough evaluation ensures you select the system that aligns perfectly with your business needs.
4. Try before you buy
Before moving from QuickBooks to NetSuite, take advantage of the trial versions and demos that other apps offer. This "try before you buy" approach lets you get hands-on experience to see which software meets your requirements.
During the demo or trial period, assess whether NetSuite's features seamlessly integrate with your existing business processes. Test its usability and ensure it aligns with your team's workflow. Additionally, use this time to gauge the ease of implementation and the vendor's level of support.
Doing this reduces the risk of making a costly decision without clearly understanding how NetSuite will fit into your daily operations.
5. Make backups
Before initiating the QuickBooks to NetSuite migration, take care of data security and integrity. Making backups of your QuickBooks data is a crucial step in this process.
Backups act as a safety net, ensuring you have a secure copy of all your essential financial information before the migration begins. This step is critical because data can be lost or corrupted during the transfer, and a backup allows you to restore your information if anything goes wrong.
Work with IT professionals or data migration experts to ensure that your backup is comprehensive and up to date. It provides peace of mind and minimizes the potential risks of data loss during the transition.
6. Notify your vendors and customers
Transparency is key when undergoing a significant transition like moving from QuickBooks to NetSuite. It's crucial to keep your vendors and customers in the loop and inform them about the upcoming changes.
Notify your suppliers and partners about the switch to NetSuite, and provide them with any information they might need to adapt to the new system. This ensures smooth collaboration and minimizes disruptions in your supply chain.
For customers, especially if you operate in the B2B space, communicate the change to make sure everything is clear regarding invoicing or payments. Keeping your stakeholders informed promotes trust and maintains strong business relationships.
7. Train your staff
A software migration is an adjustment for your team. Invest in staff training to ensure a smooth transition.
This might include modules on financial management, CRM, and inventory management. Encourage your team to ask questions and provide ongoing support as they adapt to the new system.
Is QuickBooks to NetSuite migration worth it?
Now that you've considered these crucial points, you might wonder if the migration is worth the effort.
If QuickBooks' capabilities no longer support your business needs, migrating to a more robust solution is worth it if you:
Can't still manage your processes with QuickBooks and its powerful integrations.
Have the money, time, and resources needed to implement NetSuite.
When to make the switch
Timing is essential when it comes to moving from QuickBooks to NetSuite. The right time to switch is when your business has reached a point where QuickBooks no longer adequately supports your operations, and you don't have any alternatives for extending the power of QuickBooks.
How to migrate from QuickBooks to Netsuite
The QuickBooks to NetSuite migration involves several steps, including data extraction, transformation, and loading into the new system. It's best to consult a professional specializing in QuickBooks to NetSuite data migration to ensure a smooth transition.
Enhance your QuickBooks account with Method
If you're not ready to switch to NetSuite but want to extend QuickBooks' functionality, consider integrating it with Method. Method offers QuickBooks users an enhanced CRM solution to help you manage customer relationships more effectively.
[Method video]
Recap: Should you move from QuickBooks to NetSuite?
When considering this move, you need to evaluate your specific needs, budget, and readiness for a transition.
Take your time to assess your options and, when you're ready, consult with experts to ensure a smooth and successful transition. Your business's financial future may depend on it, so make an informed decision that sets you up for long-term success.
Extend the power of QuickBooks with Method. Get a free demo.
Image credit: Mikael Blomkvist via Pexels