No matter how satisfied your customers are, there's always room for improvement.
Consistently building on and improving your customer experience goes a long way for your business. Just like with your marketing efforts, providing a better customer experience means more sales opportunities down the road.
So, not only will you make your customers happier, but when you provide extraordinary customer service, you accelerate your sales process and increase profitability.
This is why implementing a QuickBooks Online portal will benefit your business. It's your foundation for providing a positive customer experience.
How do online portals improve customer experience?
Online portals improve customer experience in multiple ways. Namely, they ensure customer interaction with your business is as efficient as possible. A QuickBooks Online portal lets your customers:
Access information, documentation, and reusable templates.
Self-serve through support options.
Update account details and preferences.
Read through help resources, training content, and community forums.
Pay bills and retrieve invoices.
In most cases, your customers don't need to contact your company. They get everything they need in a centralized location. Plus, they can access portals any time, anywhere with an Internet connection.
All this added convenience makes a QuickBooks Online portal the perfect tool for improving customer engagement and satisfaction.
Is there a customer-facing QuickBooks Online portal?
While QuickBooks Desktop has a customer-facing portal, there's no native QuickBooks Online portal.
QuickBooks Online users interested in customer portals must integrate a third-party add-on with their accounts. Some companies offer specialized software, but an integrated solution is always your best bet.
With Method:CRM, you can configure a custom portal that instantly syncs with your QuickBooks Online account with whatever features and customer service elements that suit your business best.
Not to mention, you also get a large selection of CRM (customer relationship management) tools to exceed your sales goals and improve efficiency.
How to create a secure web portal for your customers
Those who want to create a secure web portal have three options:
Program it from scratch.
Hire a professional.
Build it in a no-code platform like Method:CRM.
The first choice requires advanced programming knowledge and tons of time, but the customization possibilities are limitless.
The second option is easier but gets expensive. Hiring developers means that you don't need coding skills of your own. However, it also means that you don't get complete control over your portals' design process. And connecting your accounting software is a whole job itself.
The third option combines the best of both worlds regarding customization and simplicity. The Method team helps you create a secure web portal for your customers with ease.
And Method:CRM's two-way sync with QuickBooks means that your QuickBooks Online portal will function seamlessly right out the gate.
Here's an example of a custom portal built in Method:CRM.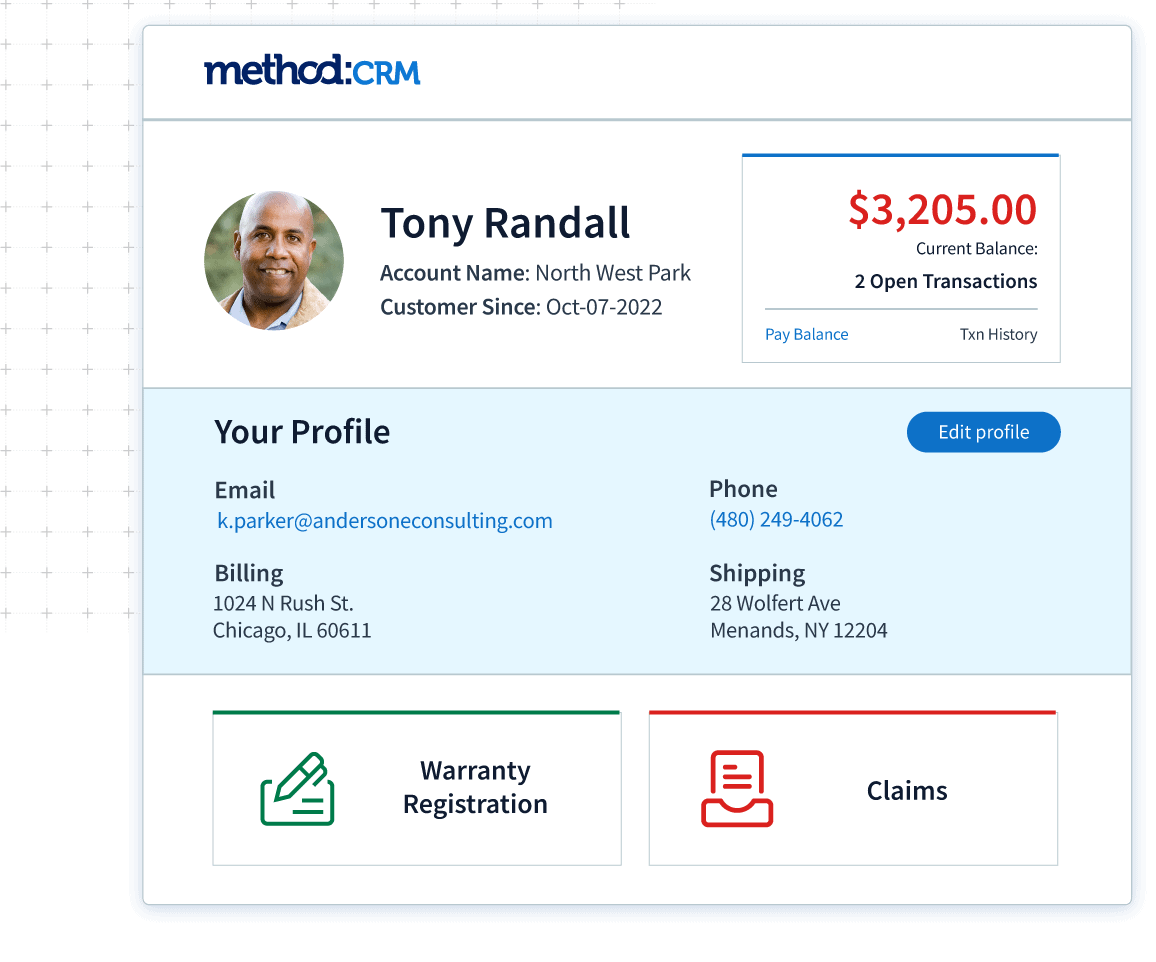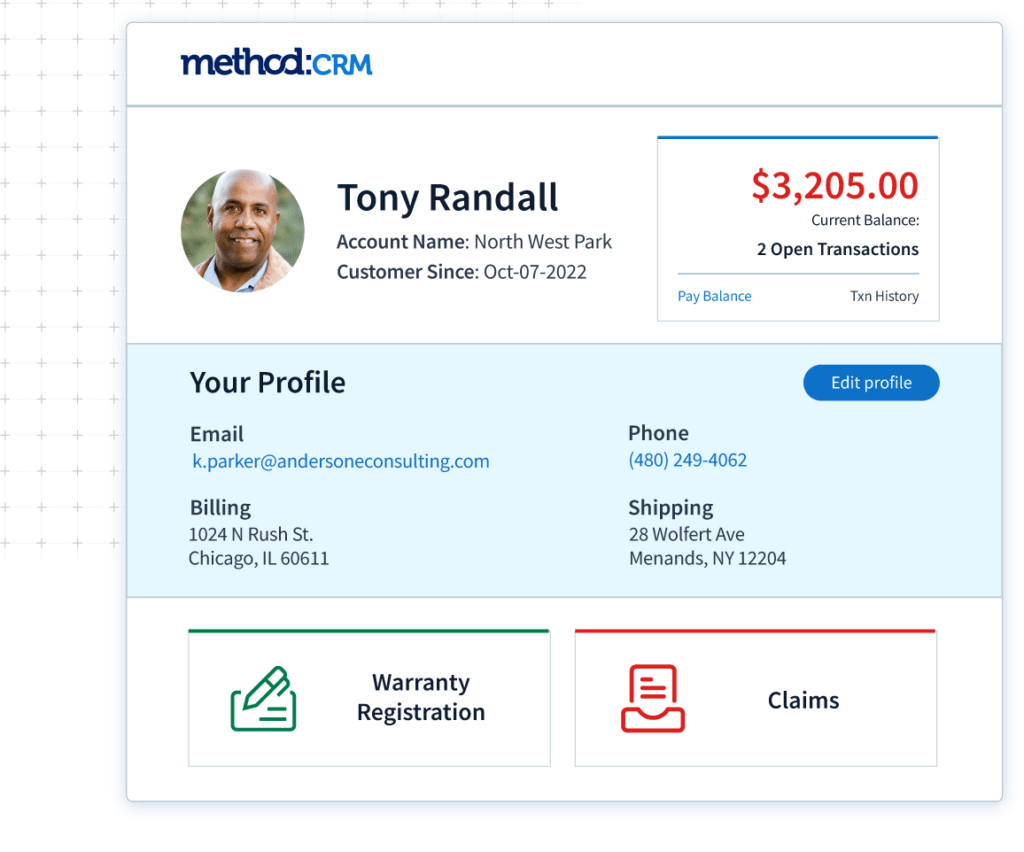 Connecting your QuickBooks customer data
Once you've developed your customer service portal, the next challenge is connecting your QuickBooks customer data. It requires you to code a system that translates data from QuickBooks to your portal databases and vice versa.
On the other hand, Method:CRM's patented automatic, two-way sync with QuickBooks means that your portals will already be connected to your QuickBooks customer data. And whatever change you make in either system will update on the other end.
Check out this video to see how Method portals integrate your QuickBooks information and serve your customers.
What to include in a self-service customer portal
A QuickBooks Online portal has a long list of optional elements, but you'll want to make sure to include:
Access to account settings and information.
Transaction history.
Invoice payment options.
Account information
One of the key elements that online portals provide to your customers is immediate access to their accounts with your business. In their Quickbooks online portal, customers can change their preferences and update information at the click of a button.
If they want to change their billing address, for example, they only need to log into their portal and update their settings. This removes the need to contact your support team, saving time and aggravation on both sides.
Transaction history
Your transaction history is the roadmap to the health of your business. So, naturally, recording and tracking all transactions with your customers is crucial. No matter how small the transaction, tracking sales activity in your portals keeps you and your customers organized.
Not to mention, when money is involved, your customers should stay fully informed on their history with your business. This way, there's never any confusion about previous bills and payments.
So for both your and your customers' sake, customer service portals should include a detailed transaction history for every account.
Invoice payments
Getting paid for your products and services is the most important step in keeping your business afloat. So, making the payment process easier for your customers is a no-brainer.
Luckily, you can build a QuickBooks Online invoicing portal where your customers can access and pay their bills with ease. You can also notify your customers when they have outstanding payments due.
So, incorporating a QuickBooks Online payment portal means you get paid faster and more consistently.
Why the #1 QuickBooks CRM is your best bet
Method:CRM, the #1 QuickBooks CRM software is your best bet for a few reasons, primarily because of our patented two-way sync.
This means that any change you make to either system will automatically update in the other. This way, you can be certain that your information is always up to date.
Taking advantage of Method:CRM means you get advanced QuickBooks portal options and a range of CRM tools.
Recap: Benefits of a QuickBooks Online customer portal
Implementing a QuickBooks Online portal is great for your business for several reasons, but the most notable benefits are:
Self-service options for your customers that save you time and money.
Personalized customer-facing workflow automation.
Improved customer convenience and satisfaction.
Integration with your QuickBooks account.
Robust file sharing and storage.
QuickBooks Online portal FAQs
Does QuickBooks Online have a customer portal?
QuickBooks Online does not have a native customer portal. Instead, those who want a portal that connects with their QuickBooks Online account must choose from a third-party application that offers such a feature, like Method:CRM.
What is the difference between a customer portal and a partner portal?
The difference between a customer portal and a partner portal is, first and foremost, who uses it.
A customer service portal is designed exclusively for customers of an organization, providing them with access to self-service options and information.
A partner portal is designed to connect businesses that have growing relationships. It offers features that make interactions between partners more efficient.
What is the best way to track customer payment issues?
The best way to track customer payment issues is with Method:CRM. Method keeps you up to speed with who owes what and when payments are due, so things never get lost in the shuffle.
Method also makes it quick and easy for your sales team to reach out to customers when they have overdue payments. And you can set up automatic payment reminders to prevent issues in the first place.
Interested in a QuickBooks Online portal? Start your free trial of Method:CRM today.
Photo credit: Andrea Piacquadio via Pexels