Customer service is something that businesses overlook far too often, especially as they grow over time.
Customer service refers to the way you engage with customers and the support you provide them. Better customer service means happier customers. And happier customers means bigger business opportunities down the road.
However, as your business grows, it gets harder and harder to provide a consistent level of customer service to your clientele.
This is where implementing a customer service portal saves the day.
What is a customer service portal?
A customer service portal is a web-based, centralized hub where your customers can access information and perform key functions.
It's a secure and personalized space for your customers to engage with your company on their own terms, resulting in a much better customer experience.
Why do you need an advanced customer support portal?
An advanced customer support portal is a good idea for companies of any size. Incorporating portals makes your customer interactions more efficient and reliable through:
Secure self-service options.
On-demand access to information.
Reduced wait times for support.
Empower your customers to self-serve
A customer service web portal allows your customers to access information and solve problems on their own. With the option to self-serve, customers don't have to contact your company to get what they need.
Some popular self-serve features that a customer service portal offers are:
Access to documentation like estimates and bills.
Adjustable account settings.
The ability to make and track payments.
On-demand information
A customer service portal lets its users log in and access whatever data or information they need, anywhere and at any time.
This way, your customers don't need to do any external research when they have questions or concerns. Instead, they can jump into their personal custom client portal and look through the resources.
Examples of on-demand information that you can provide your customers include:
Educational resources for your products or services, such as guides and FAQs.
Regular customer feedback surveys and their previous results.
Community discussion forums that enable communication between your customers.
Because client portals are accessible 24/7, your employees don't need to be on the job in order for your customers to get what they need immediately.
Faster support for your customers
A customer service web portal also gives your customers the opportunity to get support much quicker. In fact, portal users can solve many of their problems instantly and independently. In some instances, you can set your portals up to solve common requests without the need for human intervention.
Giving your customers self-sufficient support tools is something that they are sure to appreciate. Only when they've exhausted these portal options will they seek interpersonal support.
This makes your business way more efficient. An advanced customer support portal reduces your support team's workload, resulting in improved employee experience, as well as employee productivity. This is because your team can then focus all their attention onto support requests that your portals can't fix.
What results is that your customers receive better support not just through their portals, but from your employees as well. And in turn, you exceed customer expectations and drive customer loyalty.
Top 9 customer portal solutions
Without further ado, here's our list of the top nine customer service portal software solutions.
1. Method
Method:CRM is the number one advanced customer service portal solution. Along with its impressive catalog of CRM tools and integrations, Method offers its users a complete customer service portal set-up.
So, you don't have to worry about coding anything yourself. Method also ensures that your portals are fully customizable and individually catered to your business needs.
Not to mention, it also automates your accounting processes through its powerful two-way sync with QuickBooks and Xero.
Key features
Customizable, cloud-based customer portals with features like transaction tracking and customer payment processing.
Estimates, invoices, and payments instantly sync with QuickBooks or Xero.
Automated customer workflows (i.e. lead collection via web-to-lead forms).
360-degree view of contact information and history.
Drag-and-drop workflow automation.
Mobile app for those on the go.
Pros
Opens up new possibilities for customer support.
Powerful, two-way QuickBooks and Xero integrations.
Unlimited customization options.
Reusable templates streamline your reporting, invoicing, and emailing.
Converting estimates into invoices is a breeze.
Integrates with popular third-party applications.
Cons
English is the only currently supported language.
Available only to QuickBooks and Xero users.
Pricing
Method:CRM offers three pricing plans:
Contact Management: $25 per user per month.
CRM Pro: $44 per user per month.
CRM Enterprise: $74 per user per month.
Method:CRM also offers a 14-day free trial with no credit card required.
2. Huddle

Image credit: Semrush
The next top customer service portal provider is Ideagen Huddle. It's a collaboration software that provides bespoke cloud-based portals to its users.
Key features
Custom client portal solutions.
Secure file management capabilities.
Versatile, invite-only workspaces.
App for mobile devices.
Pros
Visually appealing dashboard.
Intuitive and easy to use.
Uploading and downloading large files is quick and efficient.
Contains helpful word processing tools.
Cons
Lacks important features like timelines, document collaboration tools, and time tracking.
Files can be difficult to find on the desktop application.
Limited third-party integrations.
No capacity for reporting.
Weak customer service.
Pricing
Huddle has three pricing plans, beginning at $10 per month:
Huddle Starter.
Huddle.
Huddle Plus.
Huddle has a bespoke pricing model, which means you need to contact its parent company, Ideagen, for your specific price. It also offers a free 30-day trial.
3. Accelo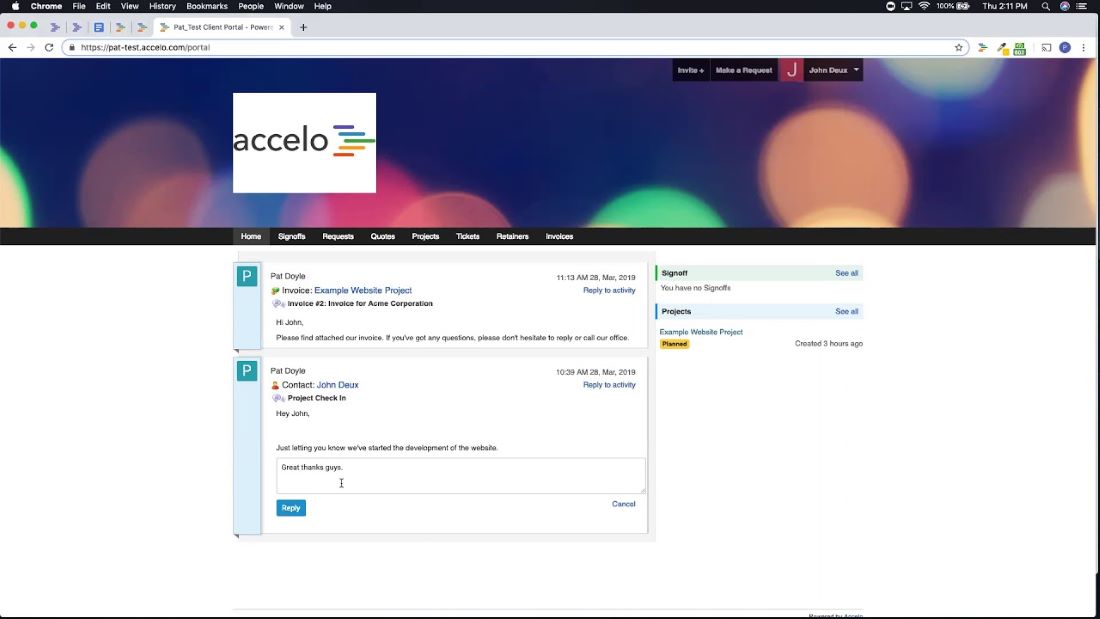 Image credit: Accelo
Accelo is the third customer service web portal on our list. It's an end-to-end CRM software that focuses on speedy business growth. It's also a dedicated space for you to configure your own customer service portal system.
Key features
Customer portals with near-limitless customization.
Ability to automate daily employee workflows like billing.
Accounting software integrations.
Project management tools such as drag-and-drop Gantt charts.
Mobile app.
Pros
Portal customization options are limited only by your team's programming skills.
Strengthens billing and reporting functionality.
Converts quotes into invoices easily.
Emphasis on your company's branding for a more unified experience.
Cons
Setting up portals is time-consuming and requires some coding background.
Recurrent performance issues on mobile devices.
Informative resources like guides and tutorials are nonexistent or outdated.
Steep learning curve to fully understand the software.
Pricing
Accelo has two pricing plans:
Plus: $24 per product per user per month, with a 5-user minimum.
Premium: $39 per product per user per month, with a 5-user minimum.
Accelo also offers a 14-day free trial.
4. Zendesk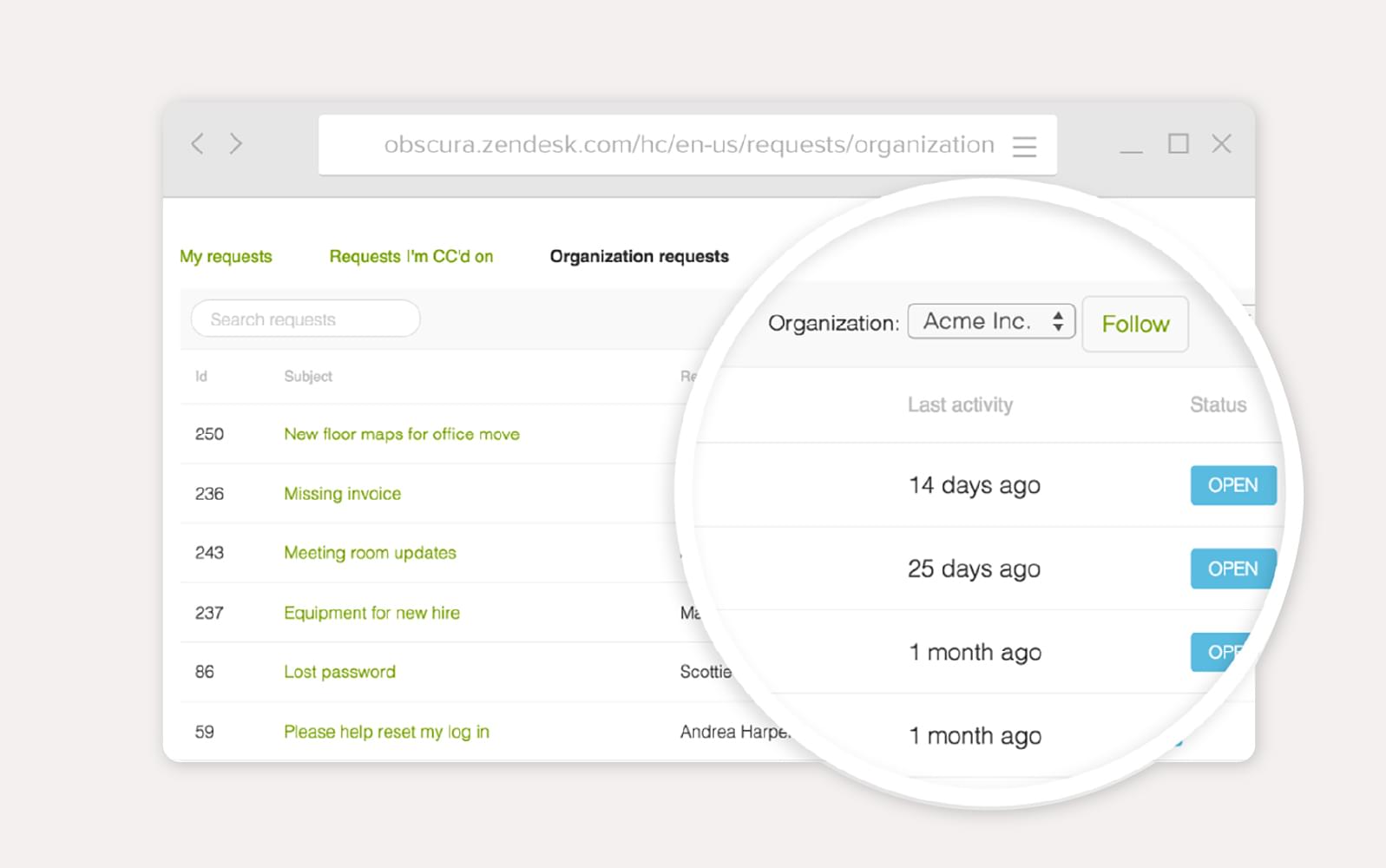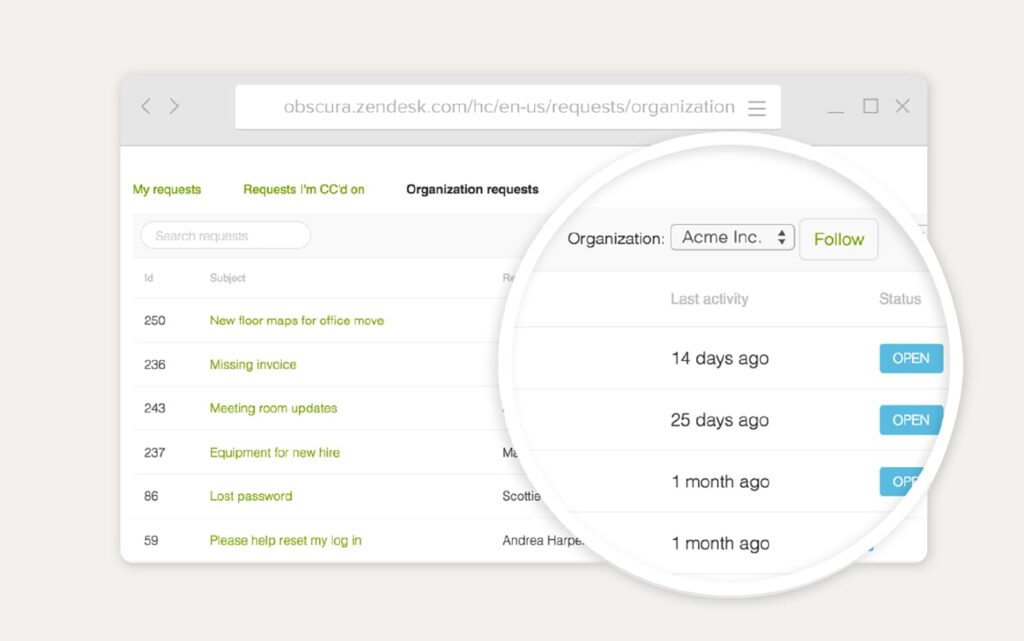 Image credit: Zendesk
Zendesk Suite is a software bundle that offers a wide array of tools across its Support, Guide, Chat, and Talk platforms. Among these features is the option for an effective customer portal.
Key features
Customizable self-service portals.
Help center page builder that builds self-service knowledge bases through AI.
Email marketing features (i.e. syncing, alerts, templates, and tracking).
Pre-built dashboard with reporting options and company metrics.
Call and text log.
Pros
Strong customer support resources for its users.
Efficient, easy-to-use ticket management system.
Well-polished time tracking.
Concise reporting.
Cons
Steep, time-consuming learning curve, particularly for customization.
Costly for small to midsize businesses.
Recurrent performance issues.
Needs more support resources, like tutorial videos and help articles.
Pricing
Zendesk has three pricing plans:
Team: $19 per user per month.
Growth: $49 per user per month.
Professional: $99 per user per month.
Zendesk also offers a 14-day free trial.
5. Flowlu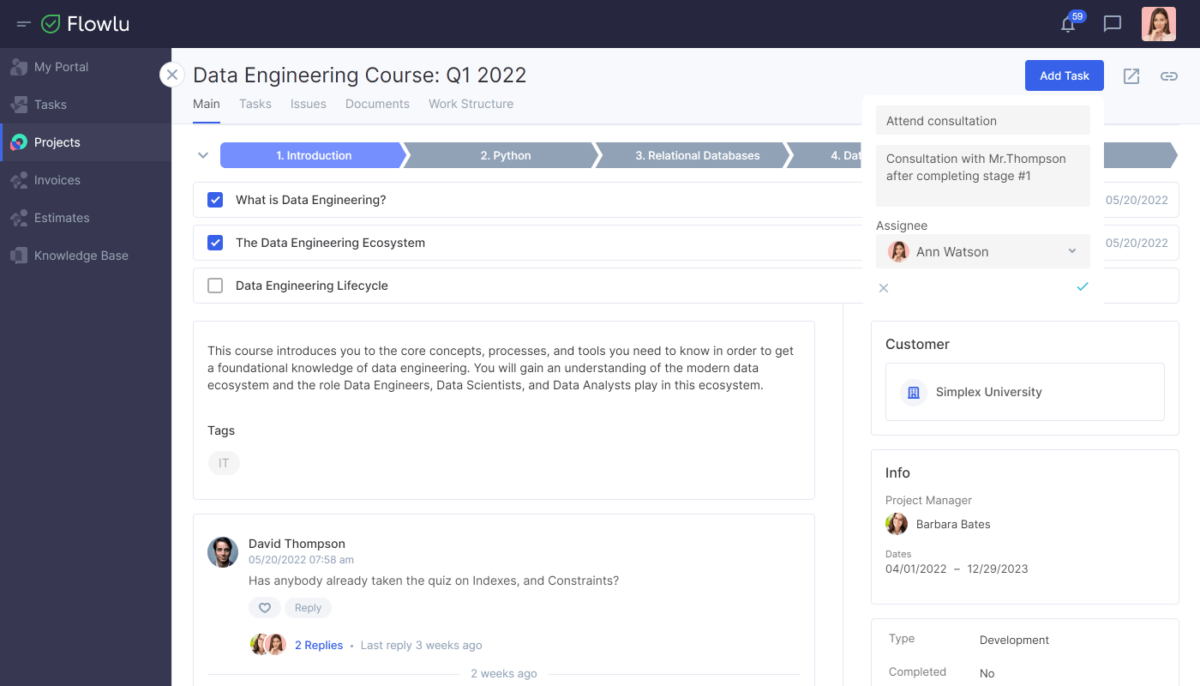 Image credit: Flowlu
Flowlu is another all-in-one business management company that gives its users customer service portal options.
Key features
Multi-purpose custom client portal.
Project management automation.
Lead generation functions.
Collaboration tools such as mind maps and designated workspaces.
Pros
Good functionality, with very few speed bumps.
Solid customer engagement and support.
Great range of features.
Friendly and accessible user interface.
Cons
No email automation functionality.
Limited storage space, even in the premium plans.
Lacks informative resources such as how-tos and blog articles.
Limited third party integrations.
Pricing
Flowlu has five pricing plans:
Free: Maximum 2 users and 1GB storage.
Team: $39 per month, maximum 8 users and 10GB storage.
Business: $74 per month, maximum 6 users and 50GB storage.
Professional: $149 per month, maximum 25 users and 100GB storage.
Enterprise: $249 per month, unlimited users and 1000GB storage.
Flowlu also offers discounted rates on annual subscriptions, and a 14-day free trial.
6. SuiteDash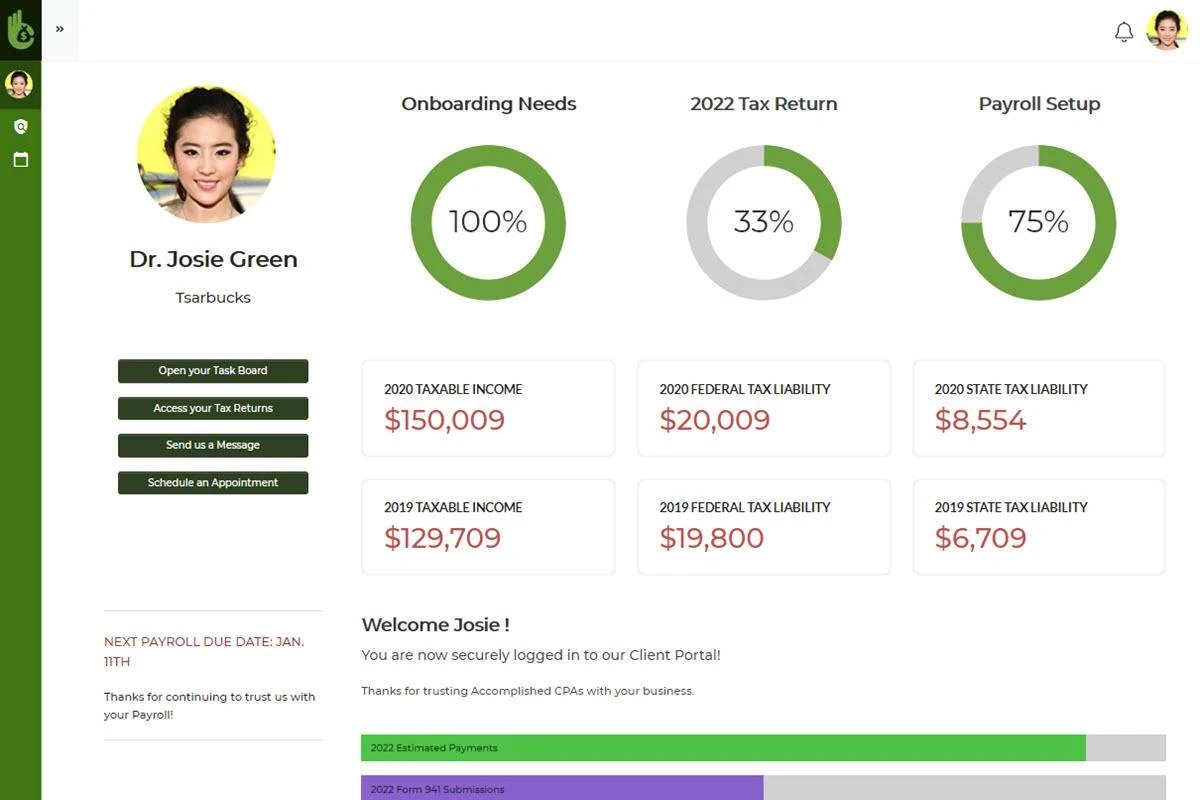 Image credit: AppSumo
The next top customer service portal on the list is SuiteDash. It's a comprehensive cloud-based business management software, but is particularly praised for its client portals.
Key features
Advanced customer service portal that's easily configurable.
Online course creation through a learning management system (LMS).
CRM functionality like contact monitoring and data management.
Pros
Nearly endless customization options.
Reliable customer service.
Affordable pricing plans.
Cons
Lacks some fundamental CRM tools such as billing processes.
Steep learning curve.
Occasional performance issues.
Built-in dashboard is visually unapealing.
Poor e-signature formatting.
Pricing
SuiteDash has three pricing plans:
Smart: $19 per month.
Thrive: $49 per month.
Pinnacle: $99 per month.
SuiteDash also provides discounted rates on annual subscriptions, and a lifetime price lump sum for each plan. Plus, it offers a 14-day free trial.
7. SupportBee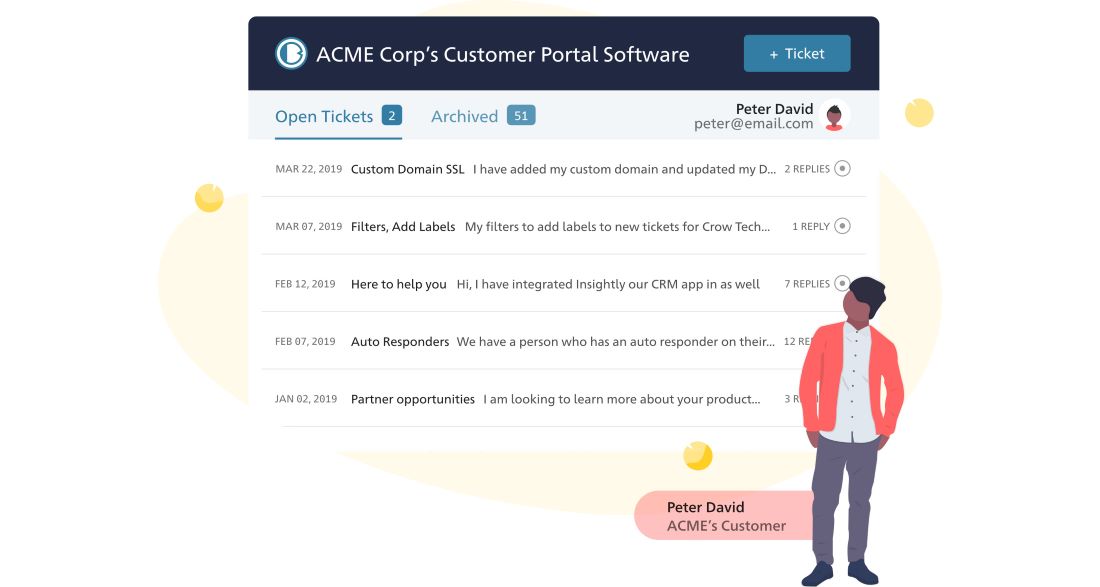 Image credit: SupportBee
SupportBee is also another good option for those seeking a customer service portal. It's renowned for its unique customer support email management capabilities, but its cloud-based customer portal is impressive as well.
Key features
Self-service portals that revolve mainly around tracking and sending support tickets.
Automated knowledge base.
Great customer support email management and tracking.
Pros
Unique pricing based on the amount of tickets you use, rather than user count.
Automated ticket management removes the need to manually track ticket IDs.
Tons of information and help resources available online.
Advanced categorization, such as differentiating between multiple product lines.
Cons
Limited capacity for customization.
Slow browser loading times.
Lacks areas for client feedback or discussion.
Automated tickets are especially easy to overlook.
Lacks meaningful form options, like web-to-lead forms.
Pricing
SupportBee has two pricing plans:
Startup: $15 per user per month.
Enterprise: $20 per user per month.
SupportBee also offers a 13% discount on annual subscriptions, and a 14-day free trial.
8. Freshdesk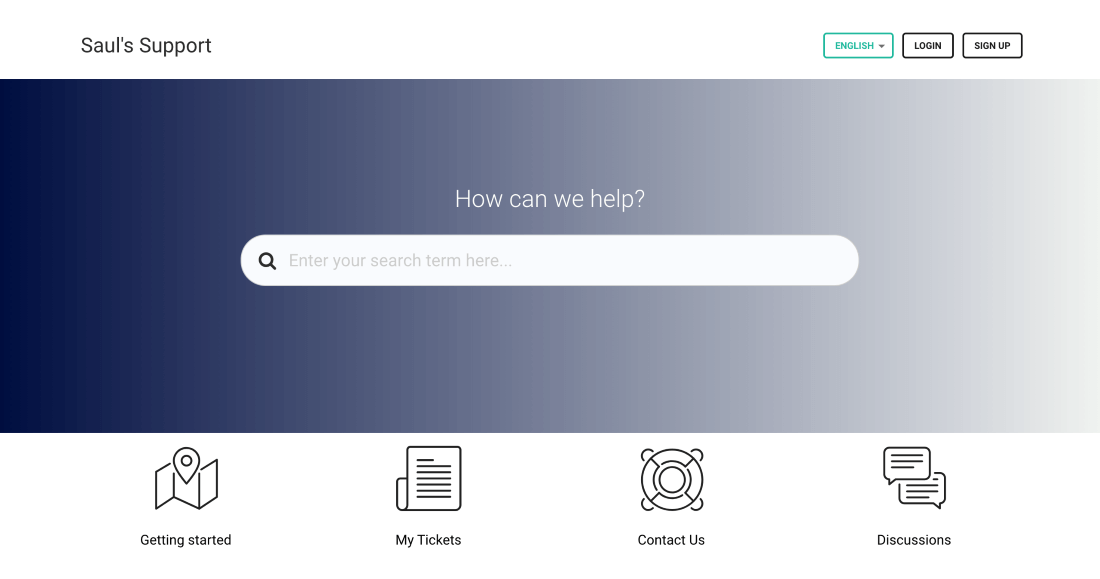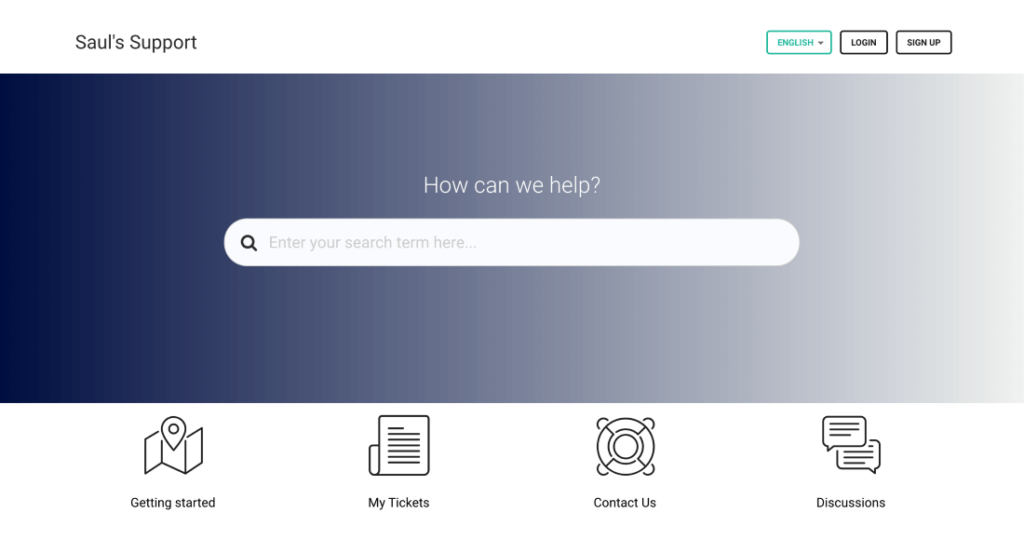 Image credit: Freshdesk
Next up is Freshdesk. It's a popular cloud-based help desk platform that improves employee experience. Users can create their own custom client portal within their accounts.
Key features
Customer service portal configuration, and a 360-degree view of all your users' portals.
Ticket management system that emphasizes collaboration.
Pre-built templates for various communication methods.
"Freshchat", which merges all a customer's messages across different channels into an omnichannel for customer service.
AI-powered chatbots that require limited coding.
Pros
Accessible and user-friendly interface.
Solid email management tools.
Strong ticketing system that facilitates interdepartmental collaboration.
Plenty of third party integrations.
Cons
Customer service portal configuration requires customers to write some code themselves.
CRM functionality is lacking (i.e. poor contact search and management).
Recurrent performance issues with little customer support.
Limited reporting options.
Pricing
Freshdesk has four pricing plans:
Free: $0 and up to 10 users.
Growth: $18 per user per month.
Pro: $59 per user per month.
Enterprise: $95 per user per month.
Freshdesk also offers a discounted rate on annual subscriptions, and a 21-day free trial.
9. SuperOkay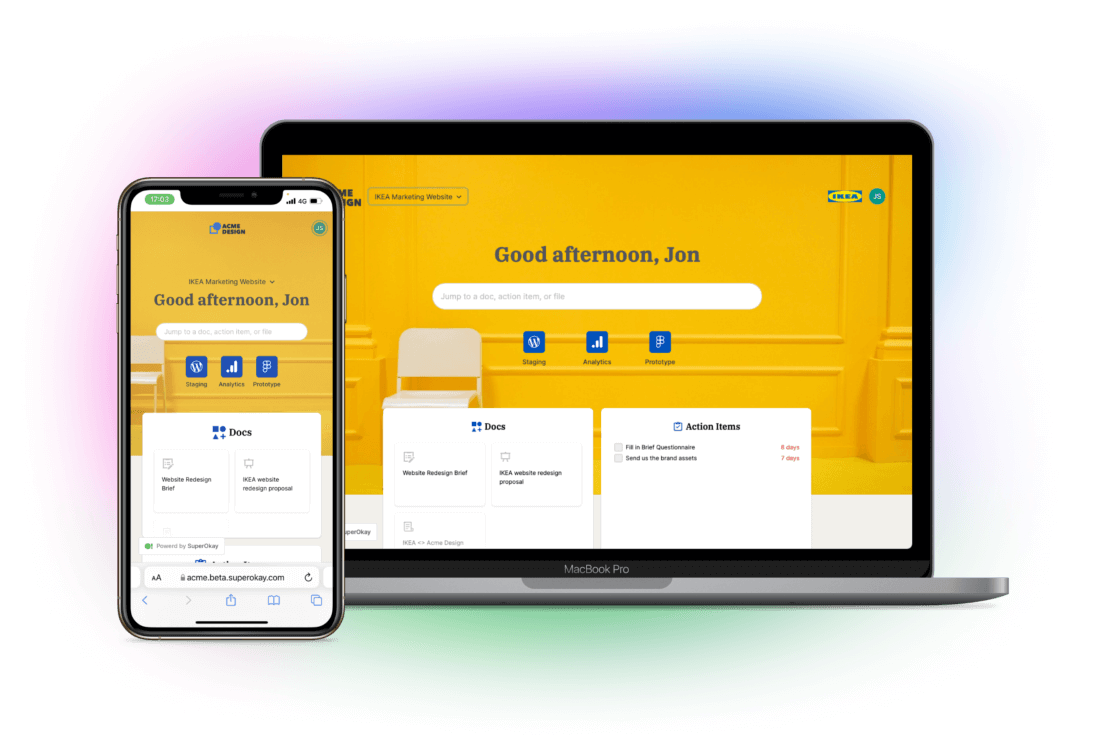 Image credit: SuperOkay
Our final top customer service portal solution is SuperOkay. It's a unique software in that it focuses entirely on providing users with advanced customer support portal options.
Key features
Custom branded client portals.
Secure file sharing, and the option to personalize links to those files.
Straightforward document creation.
Pros
Customizing portals is easy and nearly limitless.
Quick and easy set-up.
Visually attractive interface, even for default portals.
Embedding most external files is a seamless experience.
Cons
Offers no other business management tools aside from customer service portals.
Limited customer engagement or social presence, and an absence of help resources.
Lacks two-factor authentication (2FA) for secure log-ins.
Would benefit from incorporating webhooks.
Reports of performance issues.
Pricing
SuperOkay has three pricing plans:
Solo: $25 per month, 1 user, 2GB storage.
Solo+: $79 per month, 3 users, 10GB storage.
Business: $149 per month, unlimited users.
SuperOkay also offers a 20% discount on annual subscriptions, and a 14-day free trial.
How to choose the best customer service web portal for your business
Ultimately, the best customer service web portal is different for every business — it depends on your specific company's needs. You'll want to use a customer service portal solution that caters to your business' purpose and values.
You should consider the aspects of your business' customer support that need work, and then choose a portal solution that will best handle those shortcomings.
That being said, we recommend Method:CRM as the number one advanced customer support portal provider.
Method recognizes the importance of customer support. It also acknowledges that a custom user portal with self-service options, on-demand information. Plus, branding makes for a more personalized experience, which will develop customer trust and generate more business opportunities down the line.
Customer service portal FAQs
What are the benefits of client portal software?
The benefits of client portal software include, but are not limited to:
A 360-degree view of customer information for you and your customer.
Customers can self-sufficiently solve most issues, freeing up your customer service agents to do other tasks.
Cloud-based file sharing and storage.
Faster turnaround time on support requests.
Instantaneous, online payment processing.
Unified branding helps drive customer loyalty and trust in your services.
How can you build an advanced customer support portal?
You can build an advanced customer support portal using one of three methods:
Program it entirely on your own.
Hire a specialist to code it for you and make an electronic delivery.
Set it up using no-code tools in a dedicated system like Method:CRM.
The first option allows for endless customization, but requires coding experience and a sizable amount of time to create.
The second option is much easier, but the creation and delivery of technology like this quickly becomes expensive. Plus, it's more difficult to get exactly what you want from a source that's external to your business.
The third option is the best of both worlds, giving you a nice balance between vast customization options and ease of set-up.
Using a dedicated system like Method:CRM opens up the floor for customizations in a way that does not require any programming knowledge and is easy to follow.
Not to mention, Method:CRM offers to do the customer service portal setup process themselves, free of charge.
Here is an example of a custom portal built in Method:CRM no-code platform.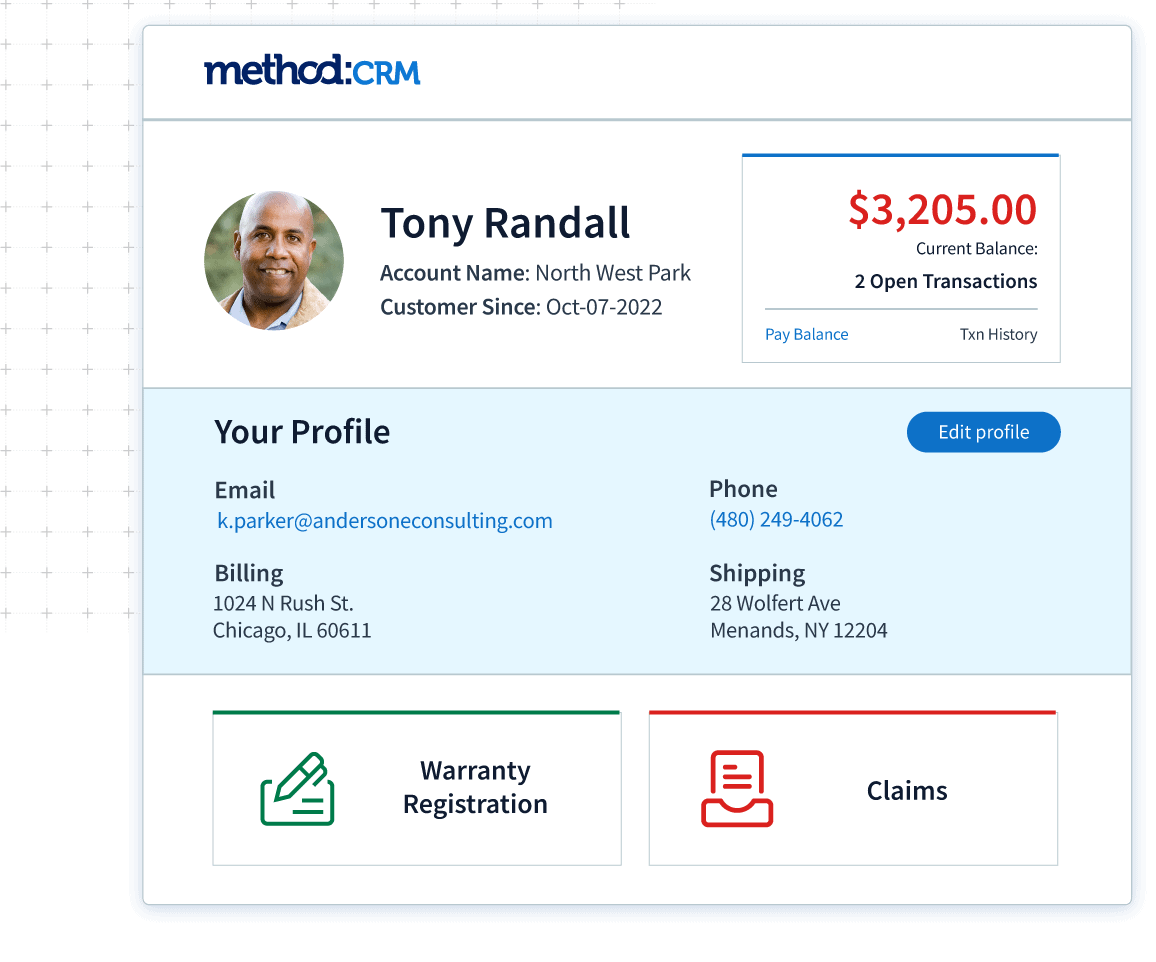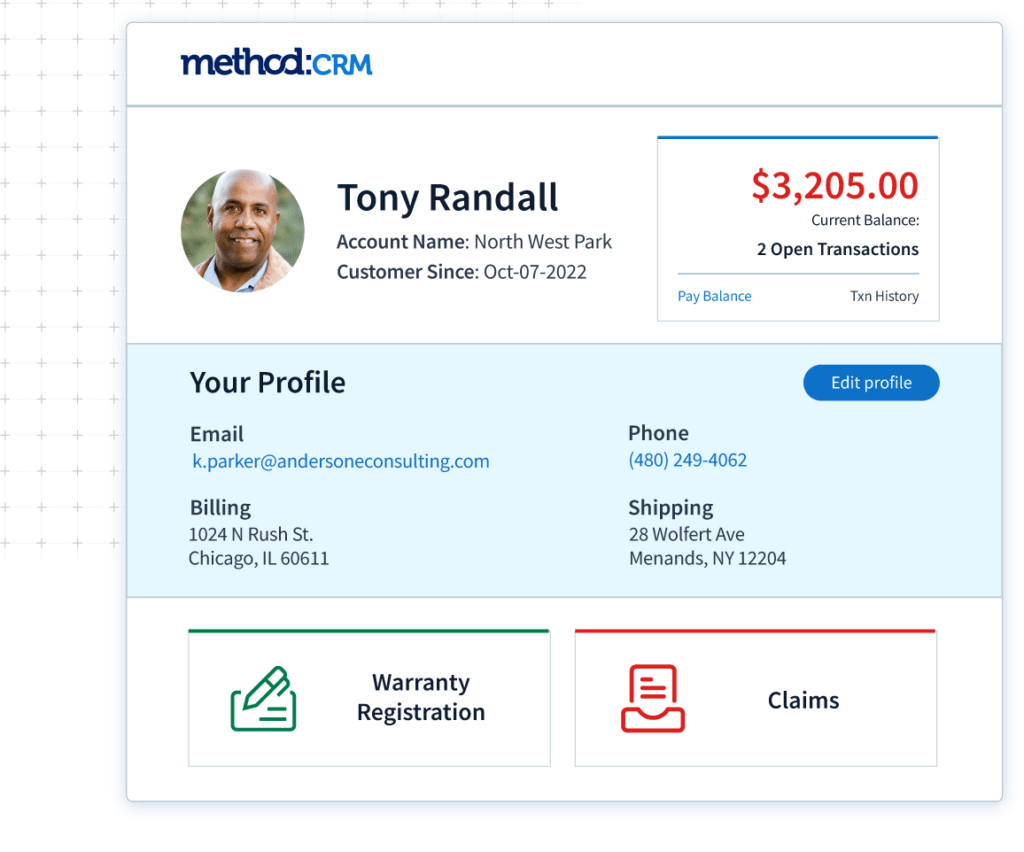 What are the common features of a customer service web portal?
The common features of a customer service web portal are:
Self-service tools.
Knowledge bases around your products and services, like how-to guides and FAQs.
Secure online access to customer data and documentation.
That being said, all customer service portal providers are different, and come with their own unique balance of benefits and limitations.
Consider how you can build on all levels of your business' customer service when picking the right customer portal solution for you.
Start your customer service portal journey with a free trial of Method:CRM!
Image credit: Andrea Piacquadio via Pexels