Running a small business comes with challenges. Whether it's finding clients, structuring processes, or analyzing the market, these responsibilities can take up all your time. This is why automating your day-to-day business processes is key.
Two popular choices to automate your workflows are NetSuite and QuickBooks. In this blog, we'll break down the NetSuite pricing vs. QuickBooks pricing, making it easier for you to make an informed choice.
Overview of QuickBooks
This is one of the most popular options for accounting software. It's renowned for its user-friendly interface and handy set of features. It offers two main options: QuickBooks Online and QuickBooks Enterprise.
QuickBooks Online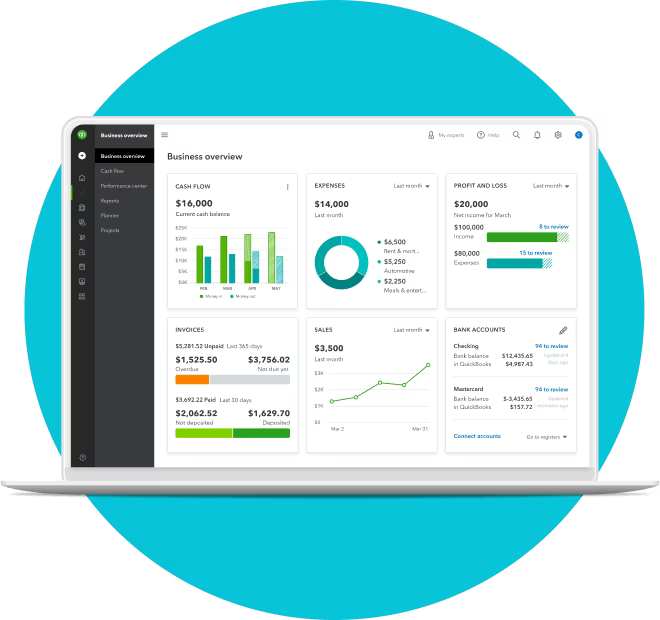 Image credit: Intuit QuickBooks
QuickBooks Online is a cloud-based solution, making it accessible from anywhere with an internet connection. This convenience is a game-changer for businesses that need flexibility and to collaborate with remote teams. Its key features include:
Tax management.
Customizable dashboards, financial reports, and analytics.
Income and expense tracking.
Multiple payment methods.
Payroll automation.
QuickBooks Enterprise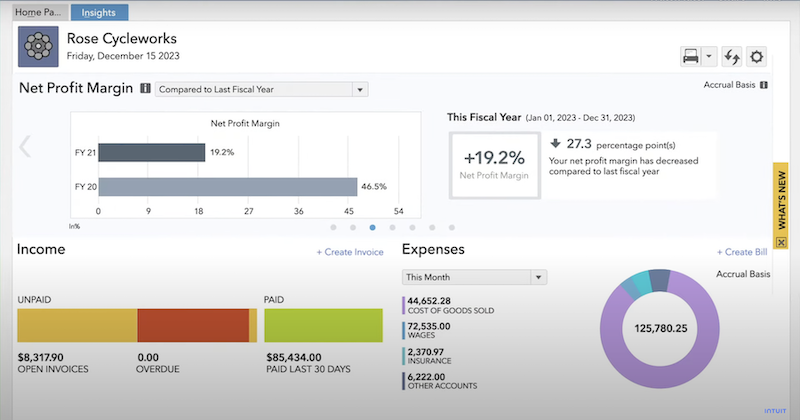 Image credit: Intuit QuickBooks
QuickBooks Enterprise is designed for larger businesses with more established processes. The pricing is tiered and includes a wide range of features, such as:
Advanced inventory management capabilities.
Specific user permissions.
Multi-factor product cost calculations.
Automated payment reminders.
Overview of Oracle NetSuite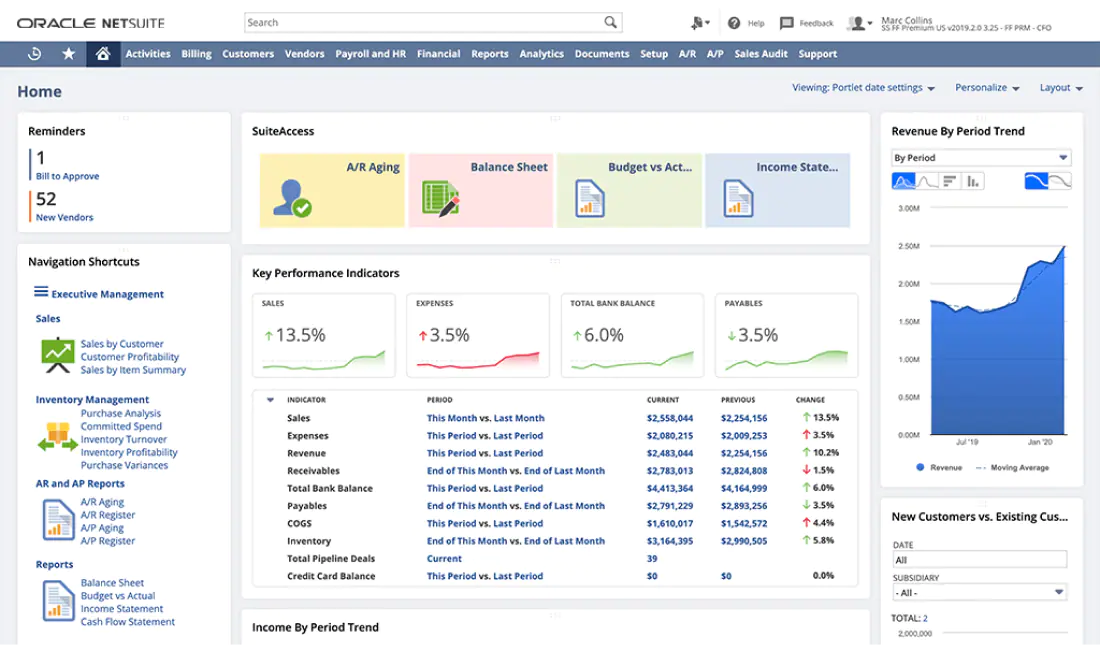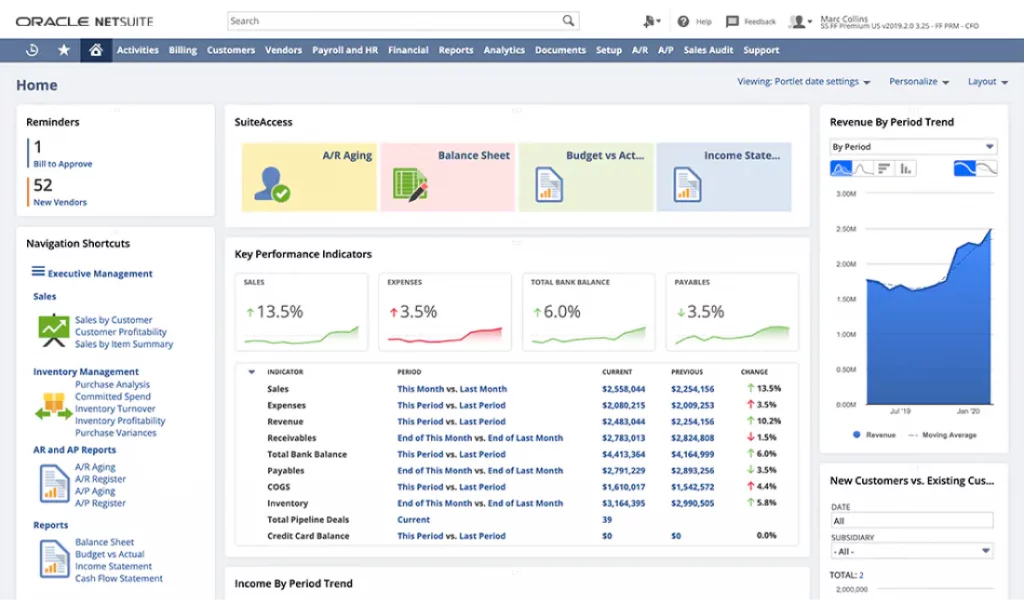 Image credit: Oracle NetSuite
NetSuite is a robust, cloud-based Enterprise Resource Planning (ERP) system. It's for large businesses with multi-step processes. NetSuite offers:
Advanced reporting.
Cash flow management.
Balance sheets.
Asset management.
Cost tracking.
Cost of NetSuite vs. QuickBooks
Now that you know the capabilities of each system, let's explore NetSuite pricing vs. QuickBooks.
NetSuite pricing
NetSuite pricing typically involves a customized quote based on your business's specific needs. This flexibility ensures you only pay for the features you require. However, it's essential to note that NetSuite is more expensive than QuickBooks.
When subscribing to Netsuite's Accounting Software, you pay an annual license and a one-time implementation fee. After that, the price per month depends on the:
Core platform you buy.
Optional modules.
Number of users.
NetSuite trial
NetSuite doesn't offer a trial period for new users, but you can take a product tour to get an idea of how it works before deciding.
QuickBooks Online pricing
QuickBooks Online pricing is subscription-based, with various plans available depending on your needs. The cost ranges from $24 per month to $140 per month for more advanced services. This price includes a fixed number of users, but you can increase it if needed.
QuickBooks Online trial
QuickBooks also offers a 30-day free trial period for its online version, allowing you to test the platform before making a financial commitment.
Get started with QuickBooks Online here.
QuickBooks Enterprise pricing
QuickBooks Enterprise's pricing is higher than the online version due to its more extensive feature set. The cost starts at around $1,830 per year and can increase based on the number of users and the required features.
QuickBooks Enterprise trial
Like QuickBooks Online, QuickBooks Enterprise provides a trial period to help you evaluate if it fits your business correctly.
Feature comparison: NetSuite vs. QuickBooks pricing plans
Now that we've touched on the pricing details, let's look at NetSuite's and QuickBooks' features.
QuickBooks is known for its affordability, user-friendly interface, and excellent support, making it an attractive option for small businesses. It offers essential accounting tools such as invoicing, expense tracking, and financial reporting.
NetSuite, on the other hand, includes features for larger businesses. While QuickBooks focuses primarily on accounting, NetSuite's functionality extends beyond finance.
The good news for QuickBooks users is that integrated point solutions exist to increase QuickBooks' functionality to that of an ERP. Below is an example of how just one integrated tool lets QuickBooks users overcome growing pains.
QuickBooks gets you started, Method lets you grow
Method is the #1 lead-to-cash automation tool for scaling businesses that use QuickBooks Online and Desktop. Its real-time, two-way sync with QuickBooks builds upon the strong foundation QuickBooks sets to give you the power of an ERP at a fraction of the cost.
Whether you need to convert website visitors into leads or obtain customer approval on quotes via e-signature, Method grows your business, not your stress. Start your free trial here.
How to choose between NetSuite pricing vs. QuickBooks pricing
Deciding factors to consider
Setting key performance indicators for your accounting processes and monitoring your financial performance is crucial to understanding new software's impact on your business.
To make the right choice between NetSuite vs. QuickBooks pricing, you should conduct a cost analysis. Consider the factors that influence how long it takes to get a return on your investment:
Degree of business complexity and size: For small businesses with straightforward financial needs, QuickBooks is an affordable option. Especially when you consider that NetSuite users often pay for capabilities they don't take advantage of.

Industry-specific needs: Some industries require specialized features to manage daily business operations. Software customization options and third-party integrations can satisfy your needs. Keep these options in mind when considering the NetSuite vs. QuickBooks price.

Budget constraints: QuickBooks is more budget-friendly for your business. This is the right choice if you're looking to save on costs.

Pro-tip: Don't take choosing between NetSuite and QuickBooks lightly, as system migration can often be a long, stressful process.
Your financial health and strategy
Ultimately, your budget and financial management will significantly influence your decision. It's crucial to balance the cost of the software with the value it provides to your business. Remember to account for potential future growth and the need for additional features and business tools.
Recap: NetSuite pricing vs. QuickBooks
When evaluating NetSuite pricing vs. QuickBooks pricing, consider not only the cost per user but:
Data migration fees.
Set up time and cost.
Staff training expenses and impact on productivity.
Remember that the choice between NetSuite pricing vs. QuickBooks pricing depends on your business requirements, budget, industry, and long-term goals. QuickBooks is a cost-effective and user-friendly choice for small businesses with straightforward financial needs. NetSuite is a pricier option for complex enterprises.
By weighing these factors, you can make an informed decision that ensures your business's financial health and success.
Drive your business forward with Method. Start free trial.
Image credit: Vlada Karpovich via Pexels