Choosing the right software to manage your business processes is not simple, especially when choosing between NetSuite vs. QuickBooks Online. In this blog, you will find a complete guide to picking the right business system for you.
Overview of QuickBooks Online:
Let's start by taking a closer look at QuickBooks Online and QuickBooks Online Advanced.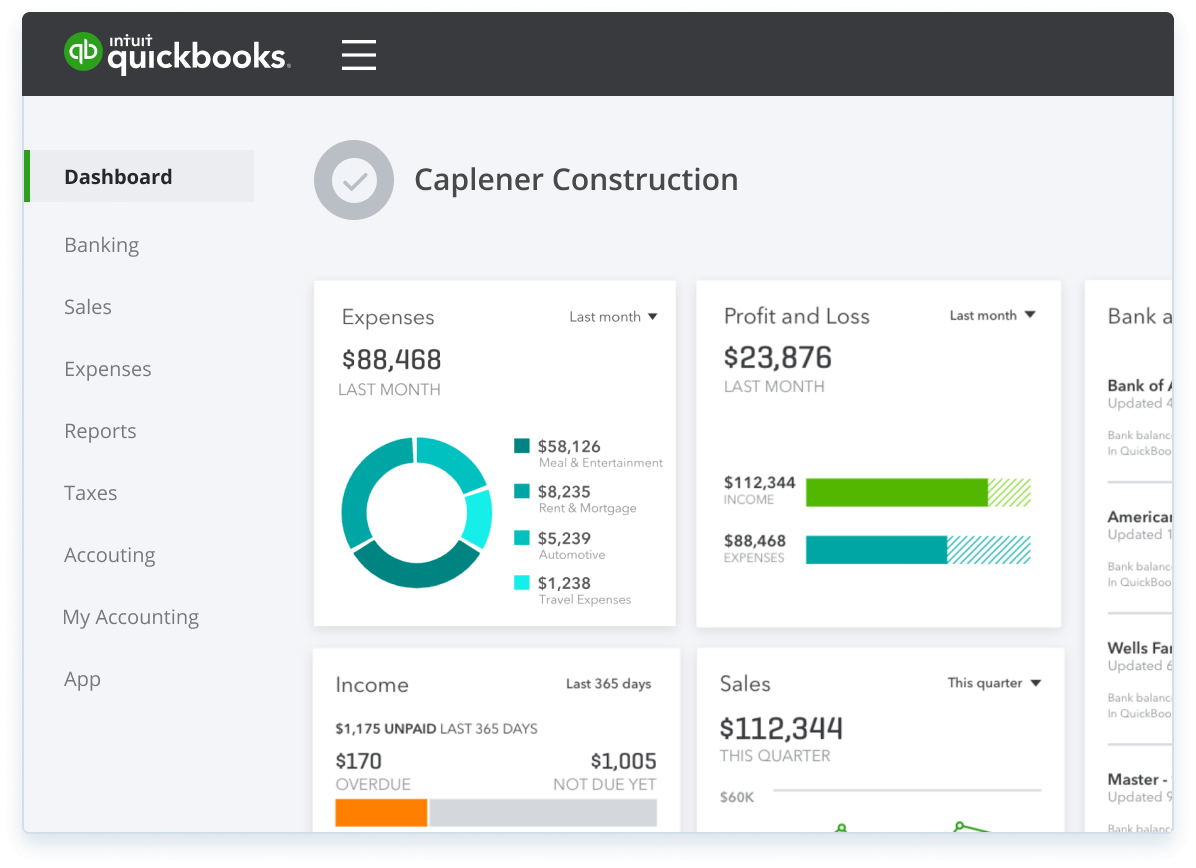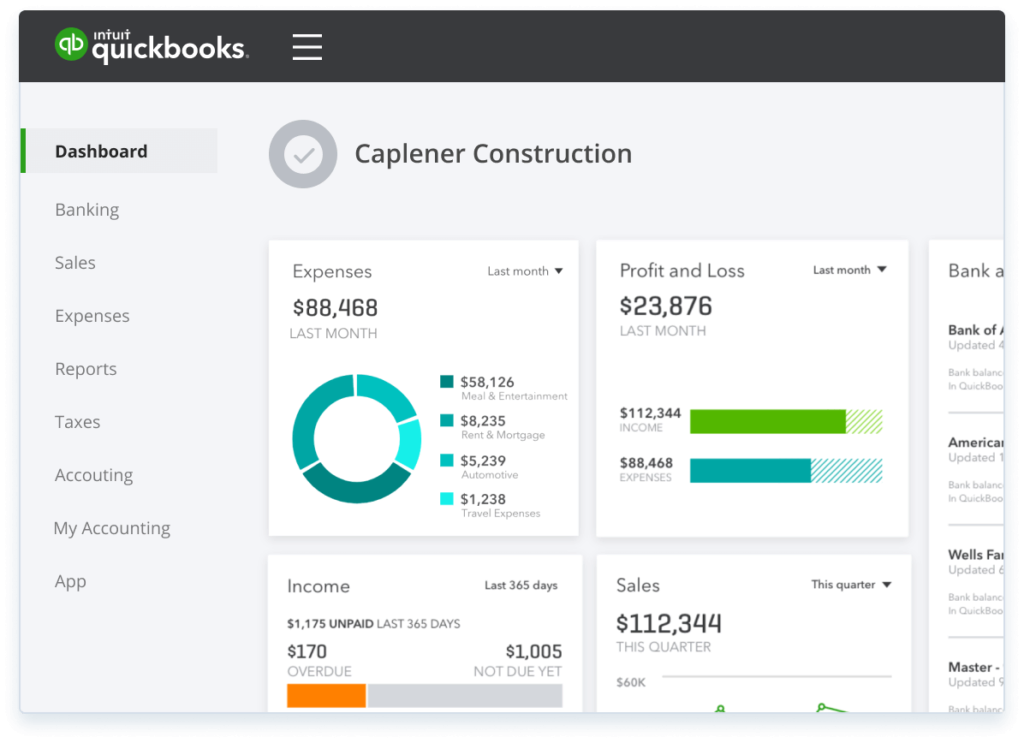 Image credit: Intuit QuickBooks
QuickBooks Online is Intuit's cloud-based accounting software. It simplifies financial management for small businesses with a range of features, including:
Cash flow management.
Invoicing.
Financial reporting.
Expense and inventory tracking.
QuickBooks Online is accessible from anywhere with an internet connection, making it a favorite among on-the-go entrepreneurs. It helps business owners simplify their accounting and financial processes by providing them with accessible best management practices.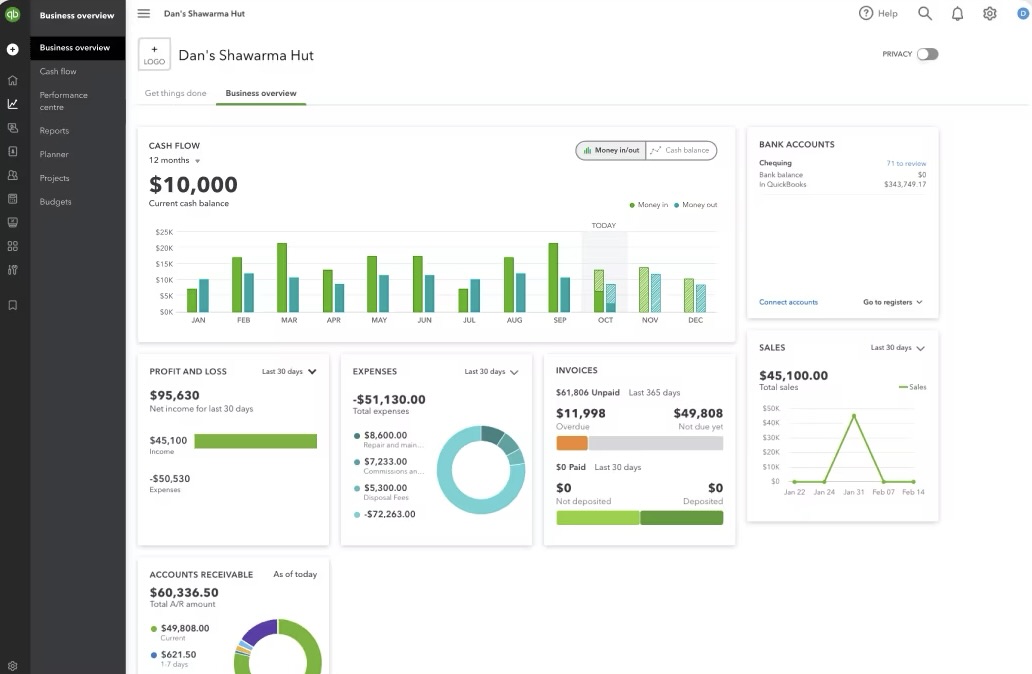 Image credit: Intuit QuickBooks
On the other hand, QuickBooks Online Advanced is designed for businesses with more complex needs. It offers advanced reporting and analytics, workflow automation, and robust user permissions. It is an excellent option for companies with growing pains that demand more from their accounting software.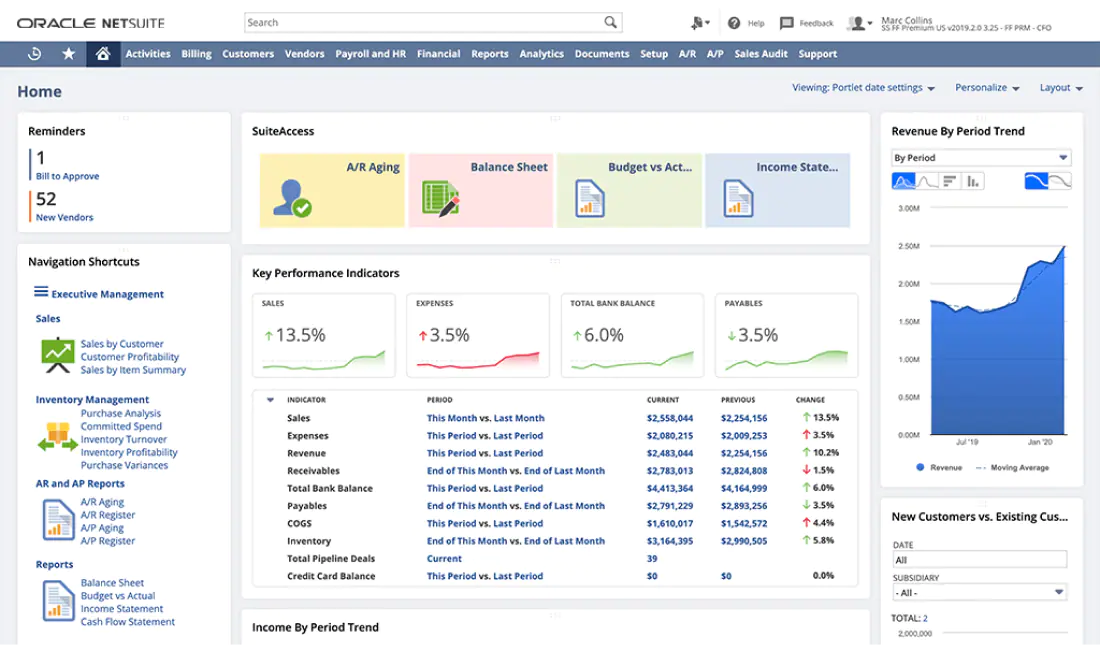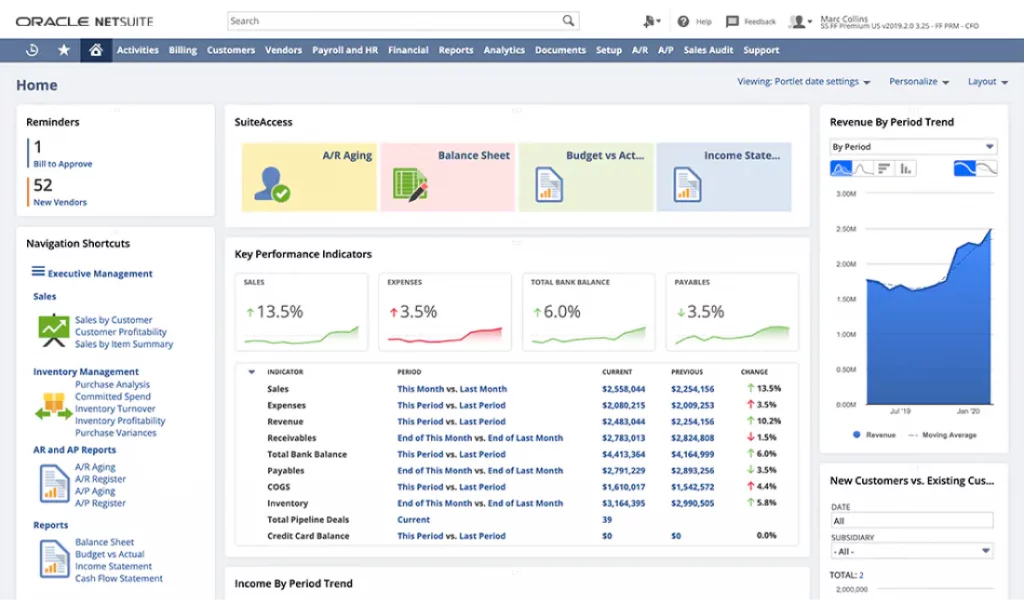 Image credit: NetSuite
Oracle NetSuite is a cloud-based business management suite that integrates accounting, Customer Relationship Management (CRM), and Enterprise Resource Planning (ERP) into a single platform.
NetSuite is best for large businesses or companies that have complex internal workflows. Having everything on one platform simplifies bureaucratic processes, such as approvals and requests that would typically take more time.
Oracle NetSuite vs. QuickBooks Online: What's the difference?
The main difference between QuickBooks vs. NetSuite lies in their capabilities and the scale of businesses they cater to.
QuickBooks focuses on accounting processes and is a user-friendly tool that is easy to implement. It is a versatile accounting software that simplifies financial management for businesses by providing tools for tracking income and expenses, managing cash flow, and generating financial reports. Its ease of use and range of features make it a popular choice for many small and medium-sized businesses.
Meanwhile, NetSuite manages the tasks for several business areas and involves a longer implementation process. It is a more expensive option that businesses are usually locked into long-term.
Can you integrate QuickBooks Online and NetSuite?
It's possible to integrate QuickBooks Online and NetSuite through third-party integrators. Keep in mind that while integration can provide a bridge between the two systems, they remain distinct platforms with similar functionalities.
Switching from QuickBooks Online to NetSuite
Switching from QuickBooks Online to NetSuite is a significant move that should be carefully considered. While NetSuite offers a broader range of capabilities, it also comes with a steeper learning curve and higher cost. Businesses contemplating this switch should be prepared for a comprehensive transition process involving data migration, training, and adaptation to new workflows.
Pro-tip: If you're a QuickBooks Online user looking to extend the power of QuickBooks, turn to apps.com for hundreds of integrated apps that add functionality to your account!
NetSuite vs. QuickBooks Online: Feature comparison
Now, let's dive deeper into the capabilities of each software solution.
Accounting and financial management
QuickBooks Online excels in accounting and financial management. It provides a user-friendly platform for tracking income and expenses, managing invoices, and generating financial reports. It's particularly well-suited for small to medium-sized businesses looking for streamlined accounting processes.
On the other hand, NetSuite goes beyond accounting, offering a full suite of ERP capabilities. It's a comprehensive solution for businesses looking to integrate accounting with broader operational needs like inventory management, order processing, and supply chain management. NetSuite is a robust choice for mid-sized and large enterprises with complex requirements across business departments.
The good news for QuickBooks users who think they're outgrowing the tool? You can build ERP functionality with the help of the vast ecosystem of apps that integrate with QuickBooks Online. All at a fraction of the cost of NetSuite!
Customer relationship management (CRM)
QuickBooks Online is primarily an accounting software, so CRM isn't its strong suit. However, this software is easily integrated with powerful lead-to-cash automation tools such as Method:CRM. See why QuickBooks Online and Method:CRM are the perfect pair for your growing business below.
NetSuite also offers a comprehensive CRM module with features like sales force automation, marketing automation, and customer service management.
Customization and integrations
QuickBooks Online boasts many integrations and third-party applications to extend its functionality.
On the other hand, NetSuite offers extensive customization options that allow you to tailor the software to your specific needs. It also integrates with several external solutions and applications to broaden its range of action.
Pros and cons of QuickBooks Online vs. NetSuite
Now, let's break down the pros and cons of each system.
QuickBooks Online
Primary benefits
User-friendly: QuickBooks Online is convenient even for users with limited accounting and software knowledge.
Accessibility: It offers cloud-based access, allowing you to manage your finances from anywhere with an internet connection.
Cost-effective: QuickBooks Online provides competitive pricing, making it budget-friendly for small businesses.
Limitations
Scalability: While suitable for small to medium-sized businesses, QuickBooks Online only scales well for large enterprises when you take advantage of the app ecosystem.
Limited CRM: Although integrating it with third-party CRMs is very simple, its native CRM features are basic.
Data centralization: Given its focus on certain processes, managing all business operations through the same platform is not an option. Instead, you must extend QuickBooks' power with integrated apps.
Pricing
QuickBooks Online pricing varies based on your subscription plan. It starts with a cost-effective tier for basic accounting needs and increases based on the number of users and functionalities.
QuickBooks Online Advanced
Primary benefits
Enhanced reporting: QuickBooks Online Advanced offers comprehensive reporting and analytics, ideal for businesses seeking deeper insights into their financial data.
User permissions: Say hello to more user controls and permissions that are crucial for larger organizations.
Limitations
Cost: QuickBooks Online Advanced comes at a higher price point, which may not be suitable for businesses with small budgets set aside for business systems.
Complexity: The advanced features may not be fully used by early-stage businesses or those new to accounting processes.
Pricing
QuickBooks Online Advanced supports more users and several functionalities across processes, which makes it more costly than the standard QuickBooks Online plans.
NetSuite
Primary benefits
Comprehensive solution: NetSuite offers an all-in-one solution for accounting, CRM, and ERP, reducing the need for multiple software solutions.
Scalability: It can grow with your business, accommodating the needs of both mid-sized and large enterprises.
Customization: NetSuite is highly customizable, allowing businesses to adapt it to their unique processes. However, NetSuite customization is expensive and time-consuming.
Limitations
Complexity: The amount of features in NetSuite may be overwhelming for smaller businesses.
Price: NetSuite's robust functionality comes at a higher cost, making it less budget-friendly for some organizations.
Pricing
NetSuite offers an annual license with a varying price based on the number of users, optional modules, and the core platform. There is also a one-time implementation fee to get the system up and running.
NetSuite vs. QuickBooks Online: Which is best for you?
Factors to consider
Business size: QuickBooks Online alone is well-suited for small to medium-sized businesses with straightforward processes. However, with the powerful ecosystem of QuickBooks apps, you can increase QuickBooks' functionality as needed. NetSuite is ideal for mid-sized and large enterprises with complex, multi-step processes.
Budget: Consider your budget constraints. QuickBooks Online offers more budget-friendly options, while NetSuite has a hefty price tag.
Complexity: NetSuite is a great option for companies with intricate, multi-step operations that require direct communication between business departments. On the other hand, QuickBooks Online supports straightforward workflows with a user-friendly interface.
Who should use NetSuite vs. QuickBooks Online?
Use QuickBooks Online if you have a small to medium-sized business with straightforward accounting needs and a small budget.
Consider QuickBooks Online Advanced if you need comprehensive reports and user permissions but still have a relatively simple business model.
Opt for NetSuite if you're a large enterprise with complex financial and operational needs.
Get the best of both worlds with Method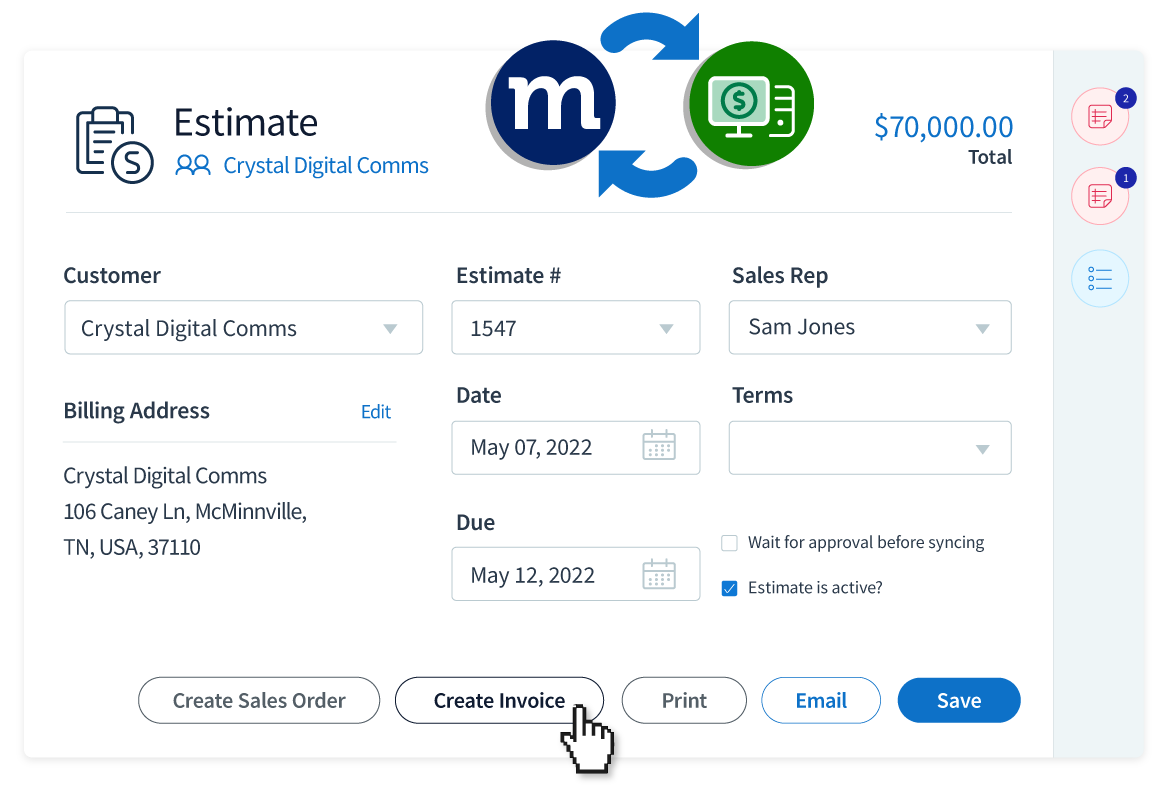 If you want to bridge the gap between NetSuite vs. QuickBooks Online, consider exploring Method, the #1 lead-to-cash automation tool for QuickBooks users.
Thanks to its real-time, two-way QuickBooks Online sync, Method builds on the strong foundation that QuickBooks offers. A customizable solution, Method can be tailored to handle any workflow so you can finally build your business instead of just running it.
Whether that's by instantly turning your website visitors into leads or automating your customer approval process, Method lets you grow your business, not your stress.
Gain control and scale your business with confidence by starting your free trial today.
Recap: Oracle NetSuite vs. QuickBooks Online — Who wins?
Ultimately, the choice between NetSuite vs. QuickBooks Online comes down to your business needs:
Size: Pick the system that is made for your business' size to use it to its full extent and get the most out of your money.
Complexity: Consider whether you have the available resources to launch a long-term implementation process with NetSuite. QuickBooks Online will let you get started from day one.
Budget: Calculate your budget carefully to avoid overextending your resources.
Growth plans: Choose the option that will suit your needs at every growth stage.
QuickBooks Online is a fantastic choice for small to medium-sized businesses seeking efficient accounting processes.
NetSuite shines as an all-encompassing solution for large enterprises looking to streamline operations and gain deeper insights into their business processes.
Remember, there's no one-size-fits-all answer, so take your time to evaluate your specific needs and goals before making a decision. Whichever path you choose, you're on your way to smarter business management.
Investing in the efficiency and financial health of your organization is critical, so gather all the information you need before making a decision.
Automate your way to stress-free days with Method. Try for free.
Image credit: Lukas via Pexels