Running a lawn care business isn't as simple as mowing people's lawns. Contrary to what you might think, it involves a lot of careful planning, communicating with employees and clients, managing equipment, and marketing your business. Fortunately, lawn care business apps exist to make your job easier by automating repetitive administrative tasks and allowing you to focus on the bigger picture.
If you're on the hunt for the best lawn care business apps out there, this guide is for you!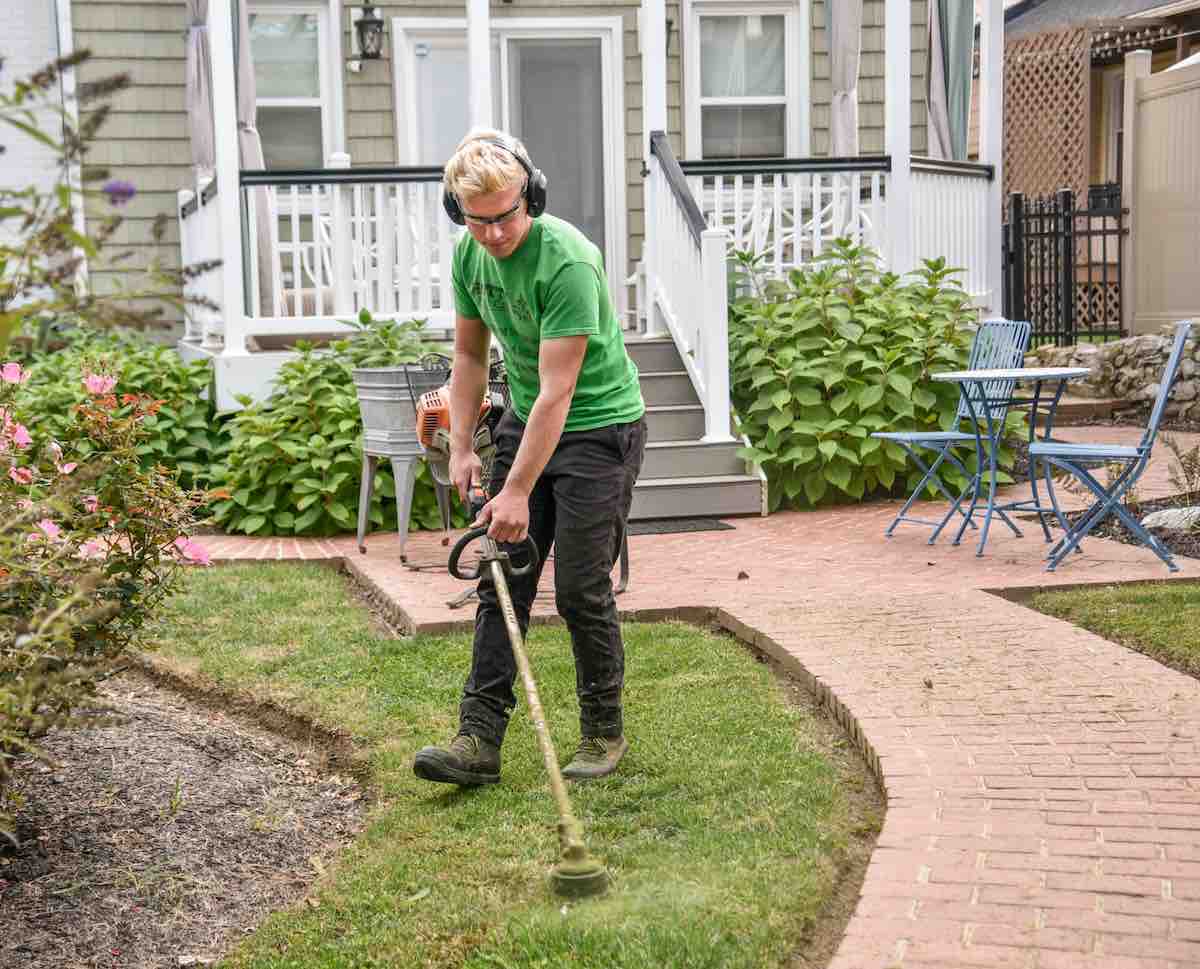 What you'll learn in this article
Before you start shortlisting the best lawn care software for your business, here is what this guide will teach you.
Why you need a lawn care app
Sometimes, even the most experienced lawn care professionals overlook the challenges of running an independent landscaping business. If you're running into the following problems, it might be time to invest in lawn care business management software.
Low customer acquisition
Landscaping jobs can be challenging to come by, especially if you live in a climate that gets snow. Not to mention, competition is stiff, so acquiring new customers is not as easy as it looks.
The good news is that lawn care apps provide a unique opportunity to simplify your daily business operations and increase bookings. By automating administrative tasks and providing a more seamless customer experience, you can get jobs done faster and more reliably.
Features like real-time reports and customer feedback give you an idea of what works and aspects of your business that might need improvement.
Trouble managing equipment
Keeping track of your equipment can be challenging, especially if you're doing things the pen-and-paper way. By keeping a digital inventory of what's in use, you can schedule jobs more efficiently.
You can also monitor what equipment might need maintenance or replacement.
Strict government compliance
Government regulations are constantly changing and can make it challenging for landscaping businesses to keep up. By tracking regular updates, lawn care companies can make the necessary adjustments on time.
Slow payments
Everyone wants to be paid on time, but keeping track of invoices is not as easy as you might think. If your business is behind on payments, using payment processing services can automate payroll, send customers notifications, and ensure that you get paid on time.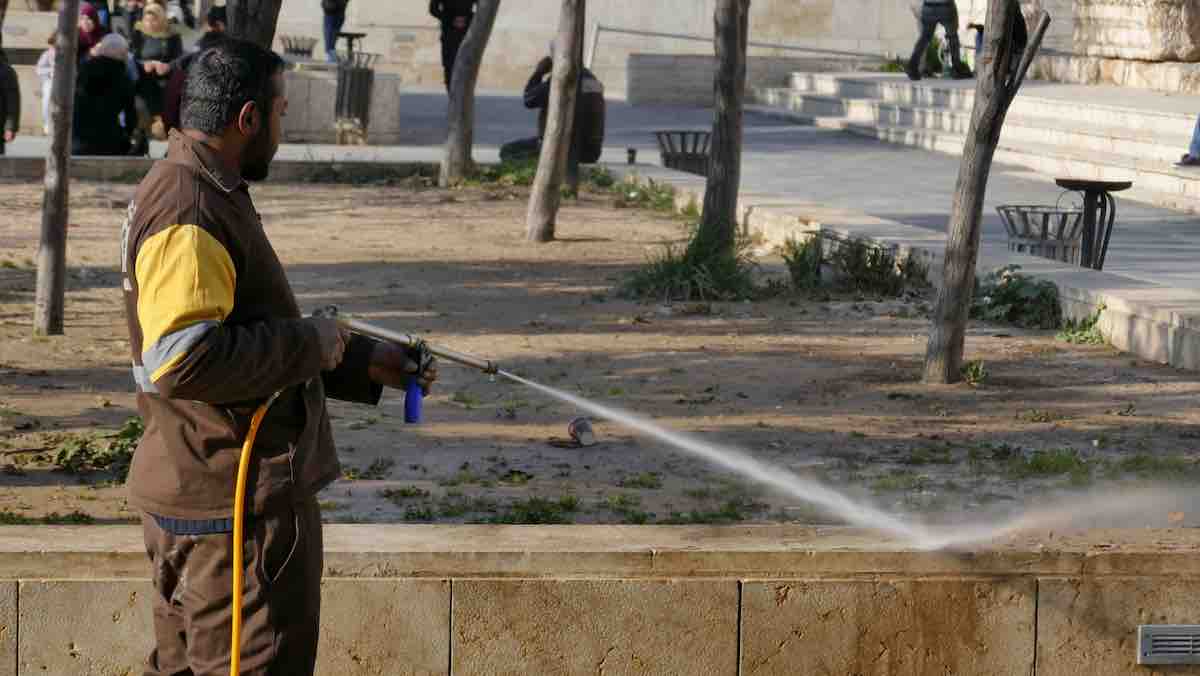 Benefits of using a lawn care app
Using an app for lawn care purposes doesn't just solve administrative problems — it also puts you one step ahead of your competitors. Here are a few benefits you can enjoy with a comprehensive lawn care platform.
Easy scheduling
Without project management software, something as simple as scheduling jobs can take up most of your time. Luckily, advanced features like drag-and-drop, calendar integrations, and automated recurring jobs can take a lot of the weight off your shoulders.
Improved productivity
By improving communications between team members, you also increase productivity. A good lawn care business app lets you interact with staff whenever you need to. By keeping track of who is doing what, your employees are more accountable and provide more opportunities for new jobs.
Better customer relationships
To run a successful lawn care business, you need to keep your customers happy. The good news is the best lawn care business apps can help you do just that by collecting customer feedback and maintaining records of your completed jobs. Use this information to pinpoint areas of improvement and best practices.
Organized information
Say goodbye to lost lawn care invoices, inventory lists, and cheques. With an app for lawn care, you can centralize all your documents and save more time on paperwork.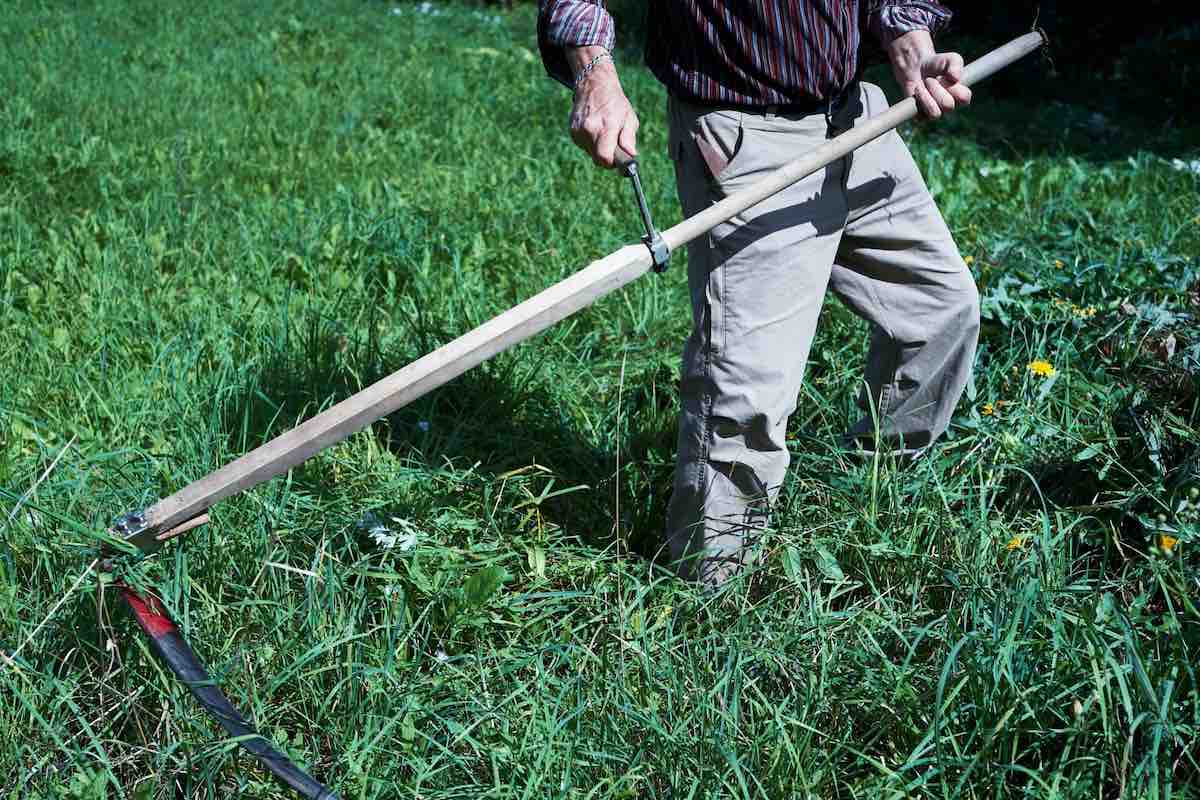 The challenges of choosing a lawn care app
There is no shortage of dependable apps for landscapers on the market. However, choosing one is not as simple as you might think. Below are a few factors that can make your choice a difficult one.
Vague business goals
As a lawn care business owner, it's your responsibility to set defined, concrete goals. With no discernible direction for your company, it'll be just as challenging to pick out the right software for your lawn care business needs.
Small budget
While most lawn care apps come with affordable plans, additional features come at a price that businesses think they can't afford. This is often the case with expectations and goals are unclear, making it difficult to understand the impact an app could have.
Unrealistic deadlines
Setting unachievable deadlines for major projects not only stresses out your employees but also throws your schedule off track. The best lawn care business apps should help you improve your job scheduling processes, not cut corners.
Is a lawn care app affordable?
As a lawn care business owner, how much you pay for software will ultimately depend on the features that you need. However, most software is priced according to a per user, per month basis, with basic plans starting at $10 – 25.
The top apps for lawn care service businesses
If you need a dependable lawn care scheduling app, here are the top 12 we recommend.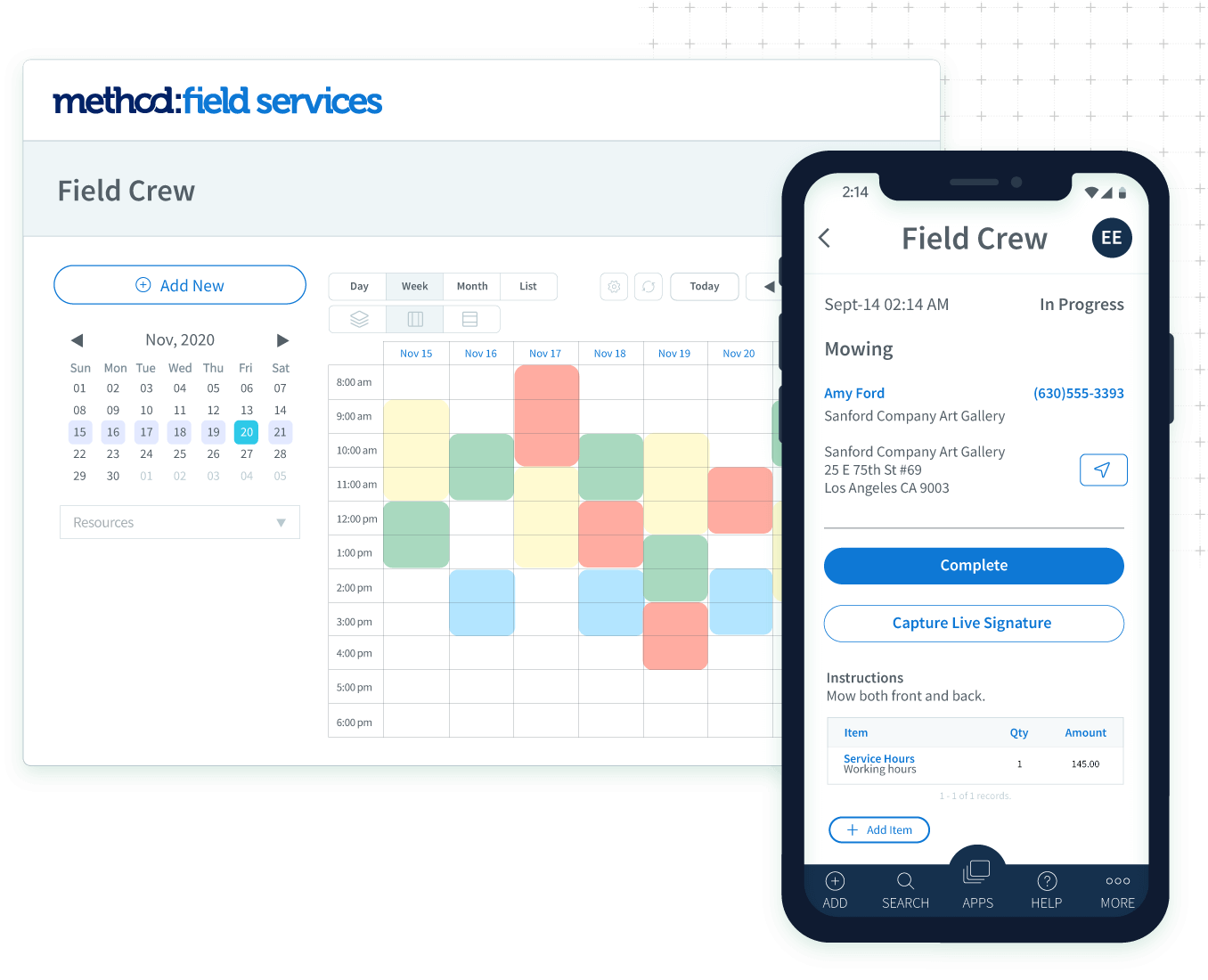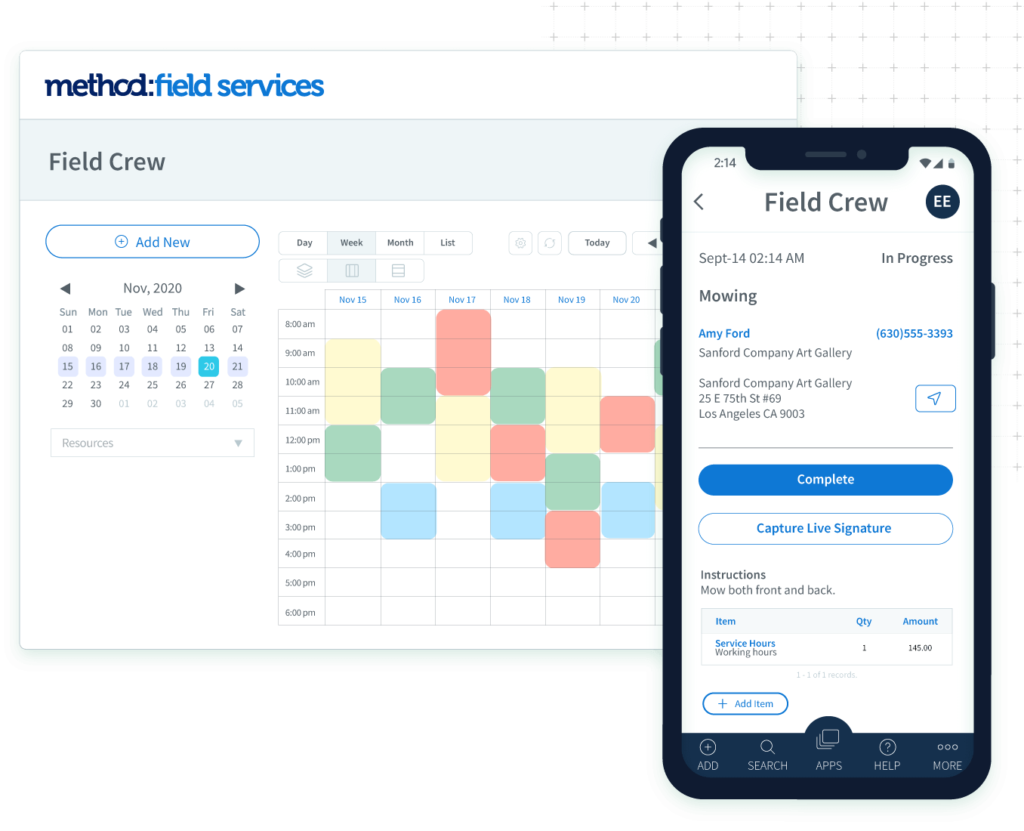 If you need an app to manage your contacts, track jobs, and provide accurate cost estimations, Method:Field Services is for you. This lawn care business app offers the following features:
QuickBooks integration: Create estimates, sales orders, invoices, and everything you need to get paid faster.
Time tracking: Eliminate the need for time sheets by monitoring jobs, projects, and customers from your mobile time tracking app.
Dispatch management: Assign start and end locations to individual technicians and minimize travel time through automatic routing.
Method:Field Services starts at $15 per month and the payment plans scales with you as your business grows.
Method:Field Services offers a free no-commitment trial, that includes:
A free hour of customization services.
Unlimited support resources.
Access to all features and the Method mobile app.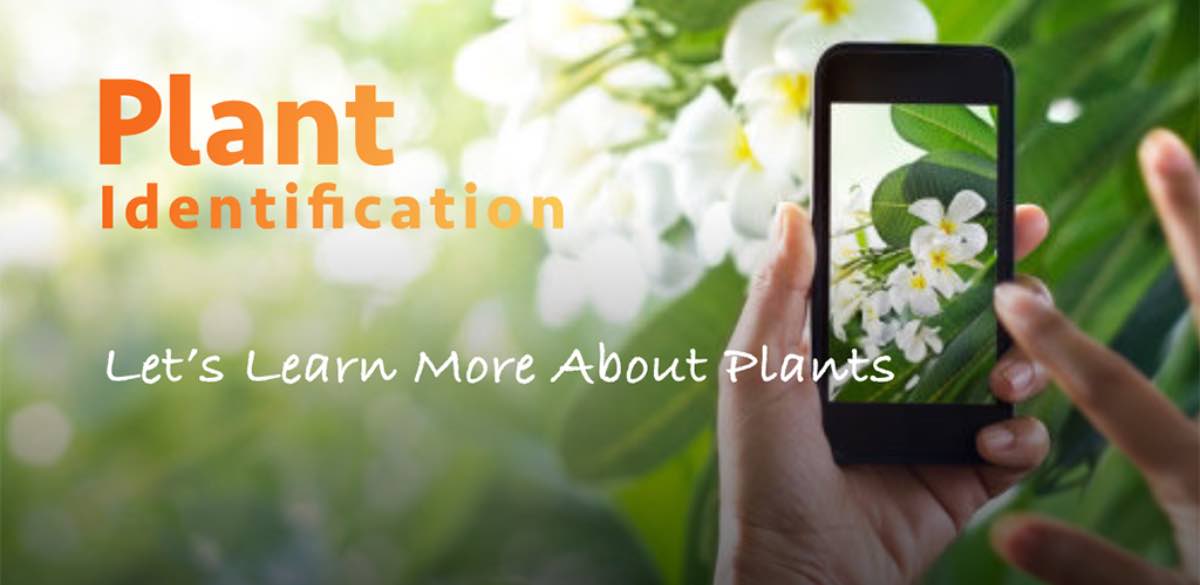 Leafsnap is a unique electronic field guide for landscape professionals who work with a collection of tree and plant species. It is a mobile app with the following capabilities:
Species glossary: Identify tree and plant species from the United States, Canada, and the United Kingdom.
Information sharing: Exchange high-quality images, species identifications, and geo-coded stamps with other users.
Educational materials: Learn more about specific biomes and explore evolution patterns.
Leafsnap is free to use for mobile users
Image credit: Jobber
For landscaping business owners who want to scale their companies up, Jobber can increase profits with the following features:
Payment processing services: Send invoices and transact from anywhere – accept online payments or get paid on the field.
Job scheduling: Schedule jobs and dispatch teams according to client requests and staff availability. Create recurring jobs for regular customers.
Project management: Equip your team with everything they need on a single platform. Provide customer information, optimized routes, and task lists on one screen.
Jobber's Core plans cost $35 per month, while Connect and Grow plans cost $98 per month and $196 per month, respectively.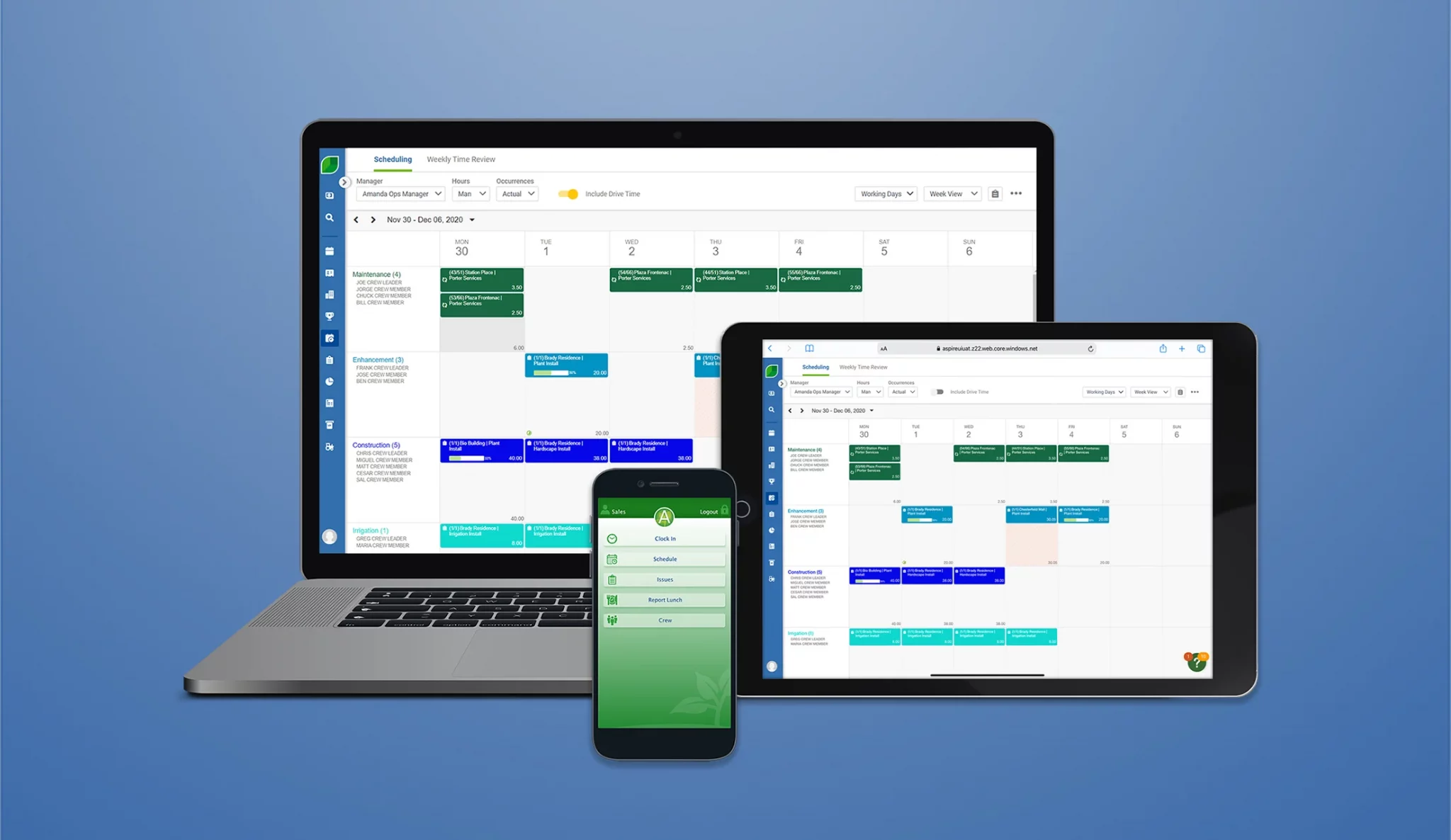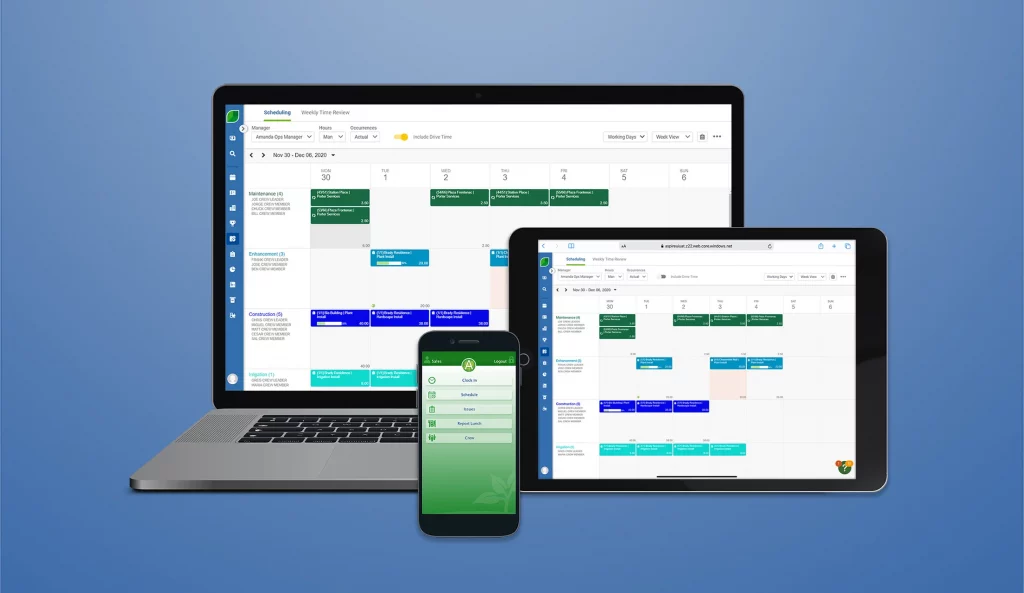 Do you want to replace manual and outdated procedures with automated workflows? Try Aspire, which provides these unique features:
Training and support: Access unlimited resources through Aspire's Knowledge Base. Get tips from other professionals and build business partnerships.
Crew control: Set and adjust schedules from a single dashboard. Keep track of staff productivity to optimize future jobs.
Custom integrations: Integrate custom features according to your needs. Benefit from dashcams, GPS tracking, integrated electronic payments, early wage access, and more.
Aspire's pricing plans are available upon request.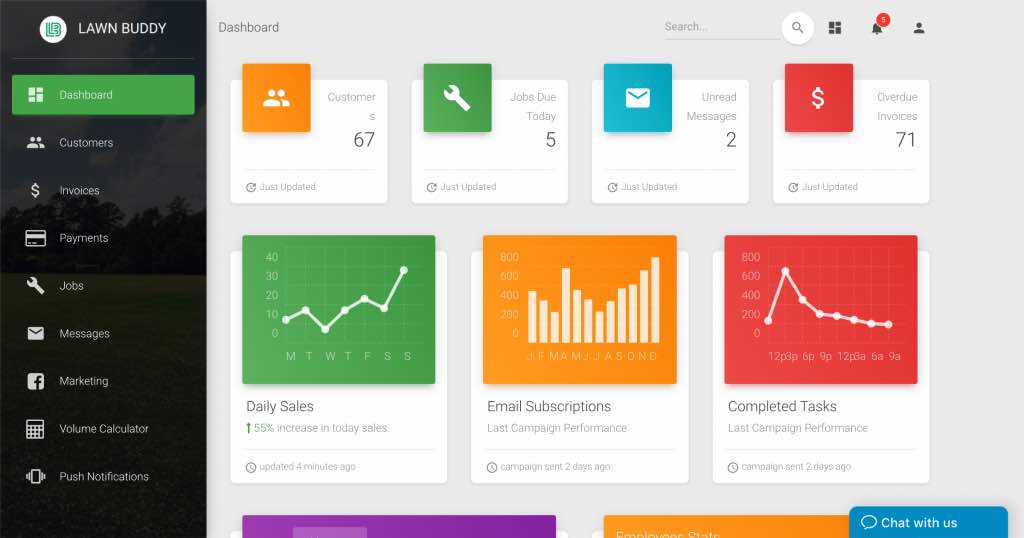 Managing landscaping projects can be time-consuming, especially when they involve many menial tasks. Fortunately, Lawn Buddy can help optimize your time with these impressive features:
Customer management: Centralize all your customer information. Easily access data like jobs, contact details, invoices, and payment history.
Daily reporting: Keep track of your entire team and assets through daily reports. Note details like miles traveled, equipment usage, jobs completed, and money earned.
Route optimization: Send your field team the best possible route with automatic navigation.
Their Lite plans are free, while Standard plans cost $5 per month. Pro plans cost $30 per month, and Exclusive plans cost $60 per month.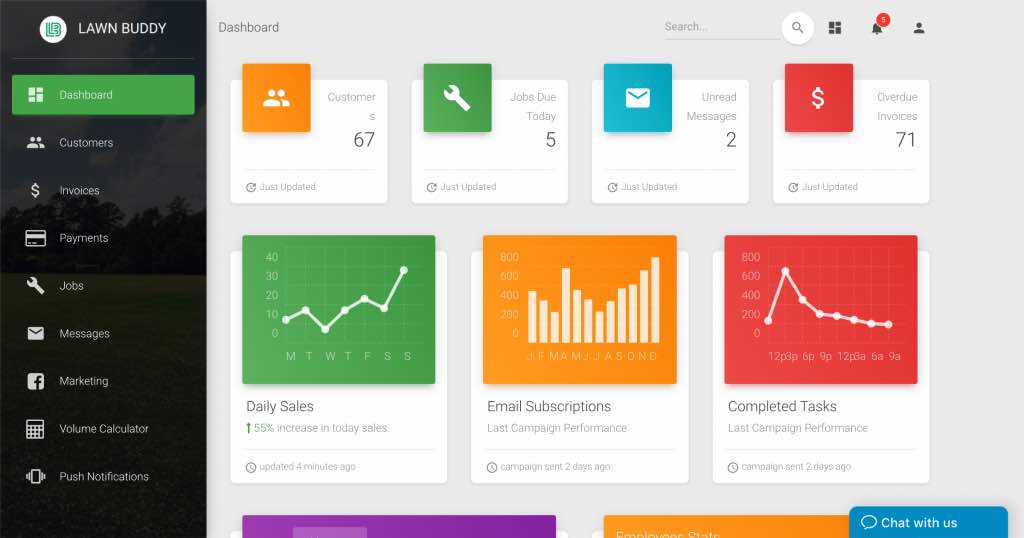 YourGreenPal bridges the gap between independent contractors and customers. You can book more jobs on a daily basis with these powerful features:
Free bids: Say goodbye to paperwork and hello to more free bid opportunities. Automatically bill clients as soon as you get the job done.
Job filters: Connect with lawn care customers who benefit from your specialties. Filter through jobs according to location and the work required.
Price comparison: Price your services according to competitor fees.
YourGreenPal is free to use.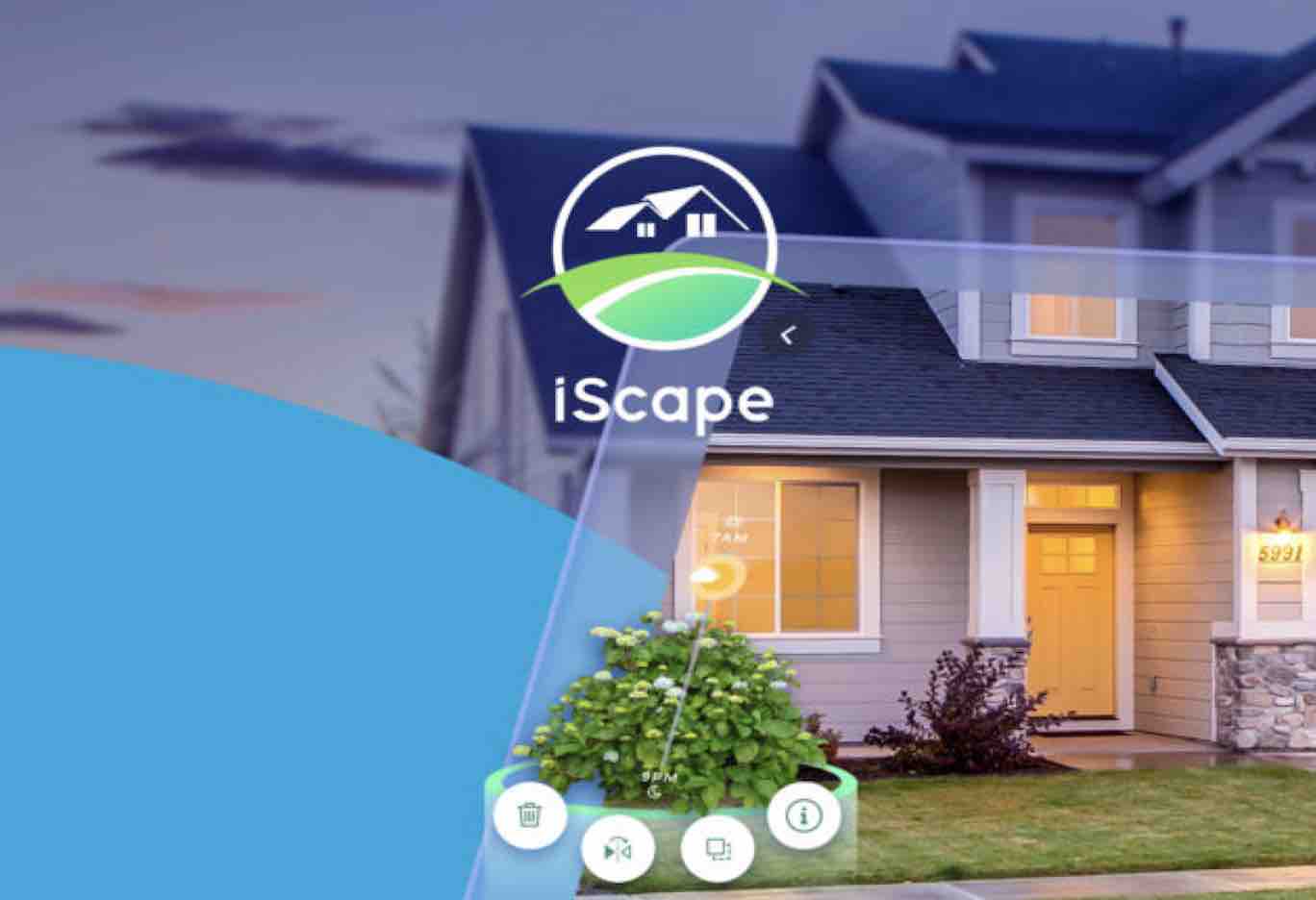 iScape is an app for landscapers who specialize in garden design. Some of its easy-to-use design features include:
Visualization tools: Project your pre-made designs onto building locations and make necessary adjustments.
Custom proposals: Use proposal templates and edit them according to your price range. Collect e-signatures and waste no time getting started.
Lead generation: Link up with potential needs through the iScape Pro Designer network.
iScape offers free plans, a Pro plan that costs $29.99 per month, and Enterprise plans with prices available upon request.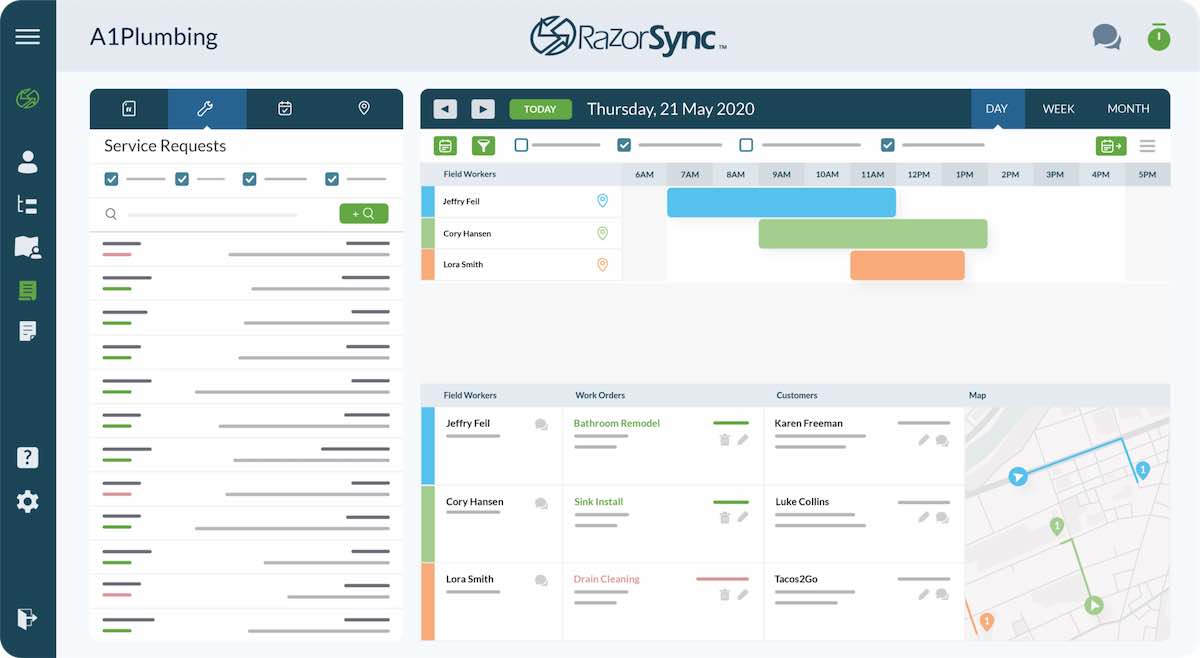 If you're looking for affordable lawn care team management software, RazorSync should be on your radar. You can stay on top of all your moving parts with these helpful features:
Customer portals: Keep clients up-to-date by providing portal logins and uploading reports.
Time tracking: Track what your entire team is working on and get geographical information via map view.
Hyper-fast transactions: Enable one-click payments and automatic billing notifications to get paid faster.
Their Solo plans cost $55 per month, while Team and Pro plans cost $145 per month and $300 per month, respectively. Enterprise plan prices are available upon request.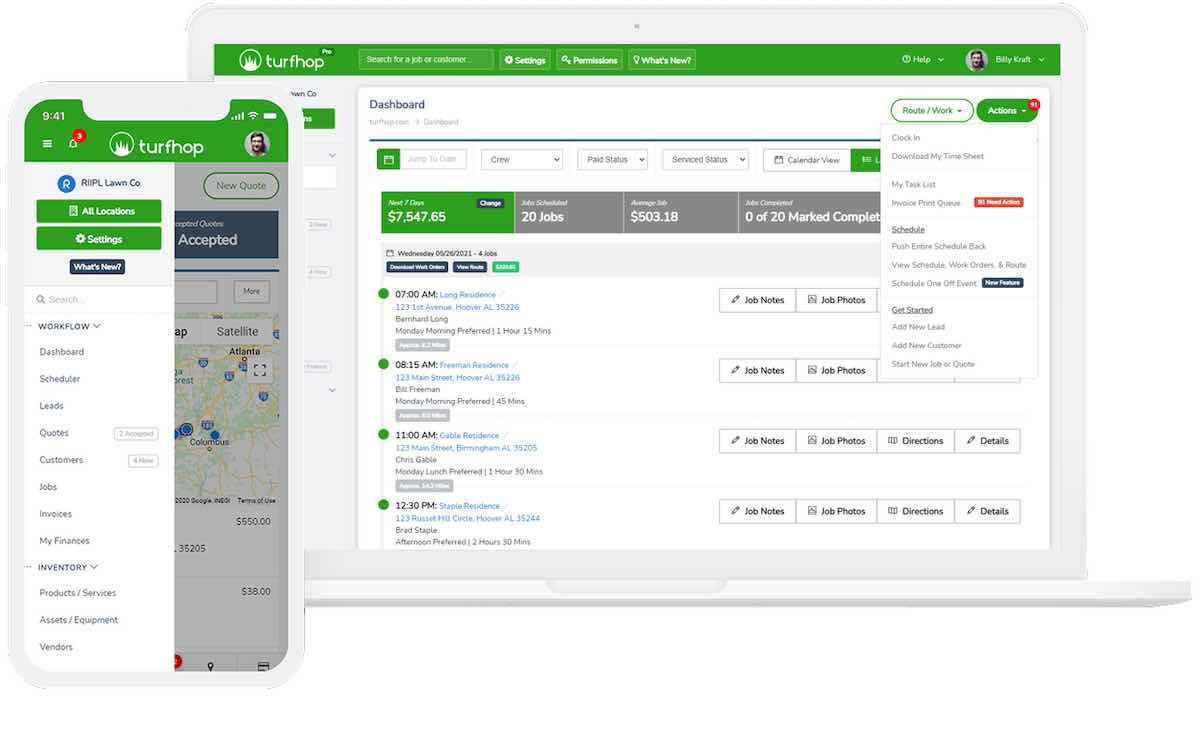 TurfHop is an award-winning software for lawn care pros looking for a mobile-centric project management solution. It is available on both iOS and Android devices and provides the following benefits:
Third-party integrations: Sync your TurfHop account with apps like Google Workspace, Google Meet, Stripe, QuickBooks, Zapier, and more.
Automated communications: Send clients scheduled texts, emails, and payment reminders.
Multi-location support: Separate teams and schedules according to branch.
You can try TurfHop for free or get a Solo plan for $24 per month. Team plans cost $99 per month.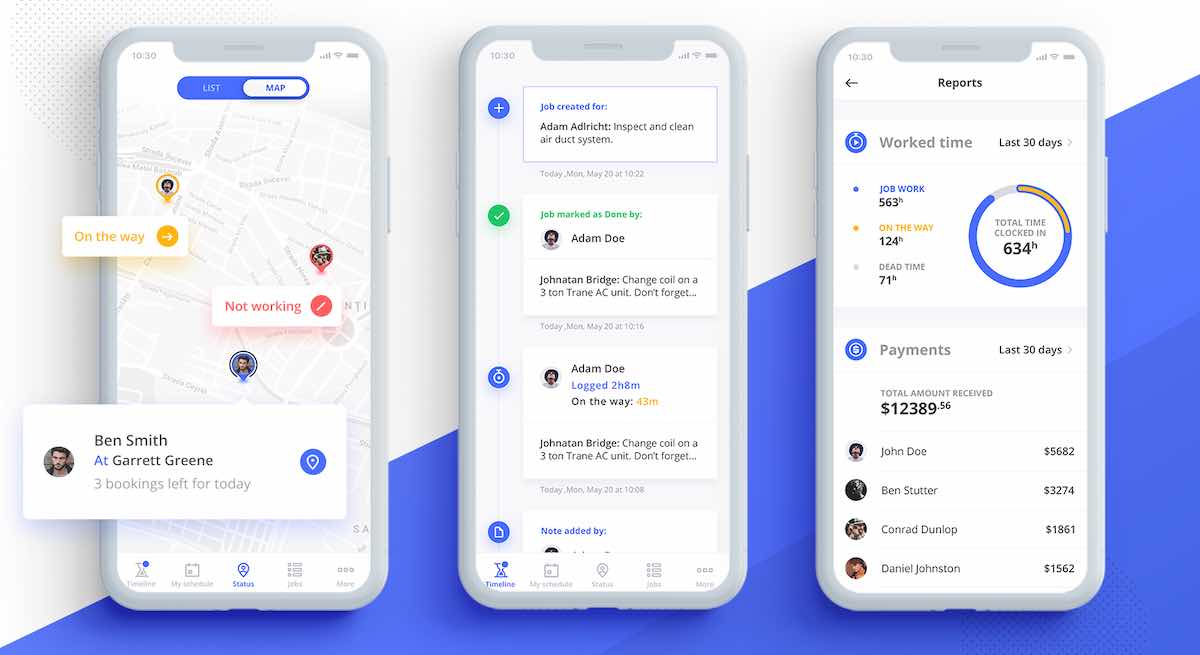 If you're experiencing scheduling problems and want to eliminate administrative headaches, FieldVibe can help you keep it simple. Get countless benefits like:
On-the-go scheduling: Schedule jobs even when on the phone with your clients. Set durations, job locations, descriptions, and more.
Map tracking: Get an overview of your team, where they're located, and what they're working on.
Job attachments: Upload photos, videos, blueprints, and notes onto ongoing tasks.
Subscriptions to FieldVibe are made on a pay-as-you-go basis. The first customer is free — prices scale up according to the number of users on your team.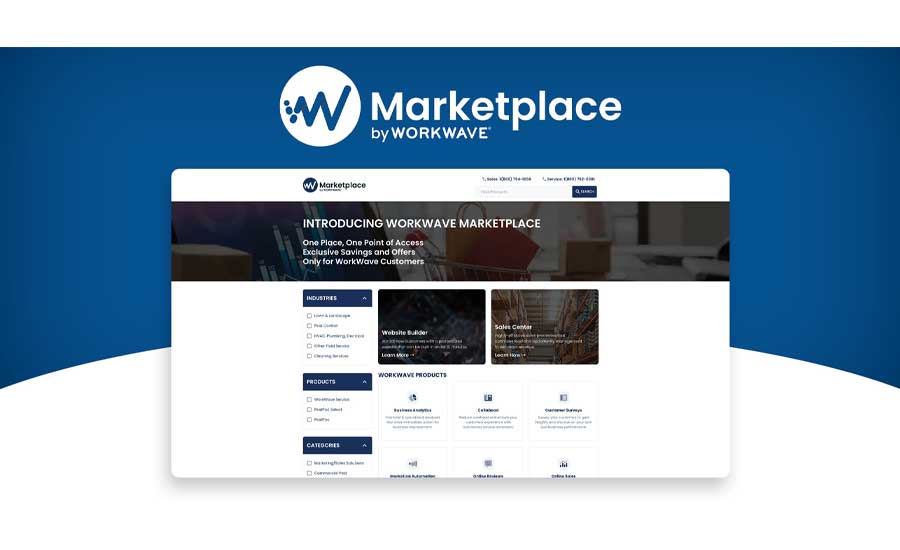 Growing teams will love WorkWave for its powerful automation and collaboration tools. You can get more tasks done quickly with these standard features:
Dashboard widgets: Get at-a-glance overviews of your active jobs, earnings, and expenses with customizable widgets.
WorkWave payments: Lower processing costs and eliminate hidden fees with a flat processing rate for every credit card.
GPS tracking: Know where your team is and what equipment is in-use with advanced GPS tracking.
WorkWave pricing is available upon request.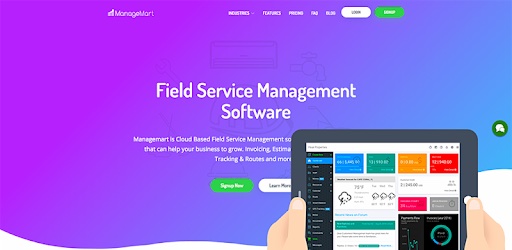 Are you manually tracking too much data? Automate monetary transactions and other accounting tasks with Managemart's services:
Landscaping calculators: Calculate anything from the cost of processing per square foot to aeration, sod, and mulch required for a given area.
Scheduling software: Keep better track of your day by assigning tasks to users, color-coding your schedules, and using filters.
Accounting services: Sync expenses with over 1,400 banks, create automatic invoices, and set payment reminders.
Managemart users pay $16.25 per month and can enjoy a 7-day free trial.
Lawn care apps FAQs
How do you run a successful lawn care business?
To succeed in the landscaping industry, you need more than a business mindset and good equipment. The fundamentals to any successful landscaping business are:
Clearly defined goals.
An organized staff.
Excellent communication.
A robust team management software.
Regular training.
What is lawn care software?
Lawn care software is a tool that allows business owners to manage teams, automate administrative tasks, manage billing and invoices, schedule jobs, and more.
How do you start a lawn care business?
Becoming a landscaping professional is one thing, but starting a business is another – and it's even more challenging. To create a lawn care business, you'll first have to scope out your competition and determine what makes you stand out. From there, you'll have to constantly hone your skills, purchase the right equipment, obtain a business license, register your company, and seek out your first clients.
Maintaining your business won't always be easy. As such, investing in robust project planning software can help pinpoint areas of improvement and help you come up with actionable steps.
How do you price lawn mowing services?
There is no universal formula for pricing your services. However, you can account for factors like:
Time spent on a project.
Equipment required.
Number of staff.
Square footage of the working area.
Additional services.
To get a better idea of how much you should price your services, study similar companies and how they're pricing themselves.
Using lawn care business apps — final thoughts
Running a landscaping company is no easy feat, but finding the best lawn care business apps can make your job a lot easier. With the lawn care business apps listed above, you can improve overall productivity, satisfy more customers, and increase your profits.
Reach your business's potential with a free trial of Method:Field Services!
Image credit: Boris Debusscher via Unsplash