Choosing the right small manufacturing ERP software can be daunting. But it's crucial for small businesses that want to maximize operations and the bottom line.
In this blog post, you'll take a look at 10 of the best small manufacturing ERP software programs on the market. You'll learn what sets each program apart to help you decide which one is right for your business.
What is small business manufacturing ERP software?
ERP stands for enterprise resource planning. It's a set of integrated applications or business manufacturing software that manage core business processes, such as:
Accounting and finance.
Procurement and order fulfillment.
Production management.
Supply chain management.
Inventory and warehouse management.
Sales and customer relationship management (CRM).
Human resource management.
How small manufacturing businesses benefit from ERP software
By automating your processes, small manufacturing ERP software improves efficiency and accuracy while reducing costs. It gives small businesses an edge in the competitive market and fuels growth.
Small manufacturing ERP software centralizes your business data and processes into one hub to give a real-time view into all aspects of the manufacturing process, from raw materials to finished products.
This visibility identifies bottlenecks and inefficiencies to help you make more informed decisions.
Key features of ERP for small manufacturing businesses
With limited resources and a small team, you'll need all the help you can get to efficiently run your small business. These are the tools you should look for in a small manufacturing ERP system.
Project management dashboard
Most small manufacturing ERP solutions provide a project management dashboard to give you a 360-degree view of your operations. With this feature you can improve your quality control.
Comprehensive solution for inventory management
Inventory control and management are essential to keeping your entire supply chain in tip-top shape. Some of the functionalities you should look for in an inventory management module include:
Stock tracking and transfer management.
Procurement management.
Sales order management.
Order distribution and fulfillment.
Payment gateway integration.
Logistics and shipping management and tracking.
Analytics and forecasting tools.
Accounting and financial management modules
Most ERPs are equipped with accounting and finance modules that automate and streamline basic tasks like accounts receivables, accounts payables, and payroll management.
One thing to look out for in an accounting module is integration with popular accounting software solutions such as QuickBooks or Xero.
Customer relationship management (CRM) tools
A business is nothing without its customers. And in this fast-paced world, you need to make sure to provide fast and reliable customer service if you want to compete.
CRM tools consolidate customer data and interactions into a central hub so that you can pull up information on purchase histories, past issues, and more without wasting time.
Types of ERP software for small manufacturing business
There are three types of small manufacturing ERP systems to choose from.
On-premise ERP
This type of system offers near-total control and responsibility, with the ability to install and maintain software at your headquarters.
Cloud-based ERP
These small manufacturing ERP solutions allow anyone with access to log in and make changes to your company's information, whether via their desktop computer, laptop, or mobile device.
Cloud-based ERP data is stored in the cloud so you don't risk damage to physical servers and aren't confined to your office.
Hybrid ERP
Also known as a two-tier ERP, this type of ERP can be accessed both on-site and in the field.
It is popular for businesses that are looking for two layers of protection for their manufacturing software.
How we selected the best ERP systems for small manufacturing companies
The top 10 small manufacturing ERPs are based on the following factors.
Features: A good small manufacturing ERP provides a project management dashboard, inventory management, accounting capabilities, and a reliable CRM.
Pricing: Small businesses don't always have big budgets, so we looked for software systems that come at a reasonable price.
Flexibility: No two businesses are alike. That's why you'll want a system that can be customized to fit your business needs.
Best manufacturing ERP for small businesses
Here are some of the top-rated small manufacturing ERP software you can find on the market.
Method is a cloud-based solution for small manufacturing businesses. It lets you access customer data, automate tasks, keep tabs on orders, send invoices, and more.
With a strong focus on CRM, Method allows you to manage leads and sales opportunities from an easily-accessible central hub.
Better yet, Method allows users to create custom reports and choose what kinds of tasks should be automated to increase efficiency and eliminating manual data entry.
Features
Real-time data sync with QuickBooks and Xero: Method boasts powerful, real-time, two-way syncing with QuickBooks and Xero to make your accounting a breeze.
The best of CRM + ERP: Method is a powerful automation tool that you can tailor to your needs. You immediately get CRM features but can automate any other workflows that you need.
Pricing
Method starts at $28 per month per user. You can also sign up for a free trial.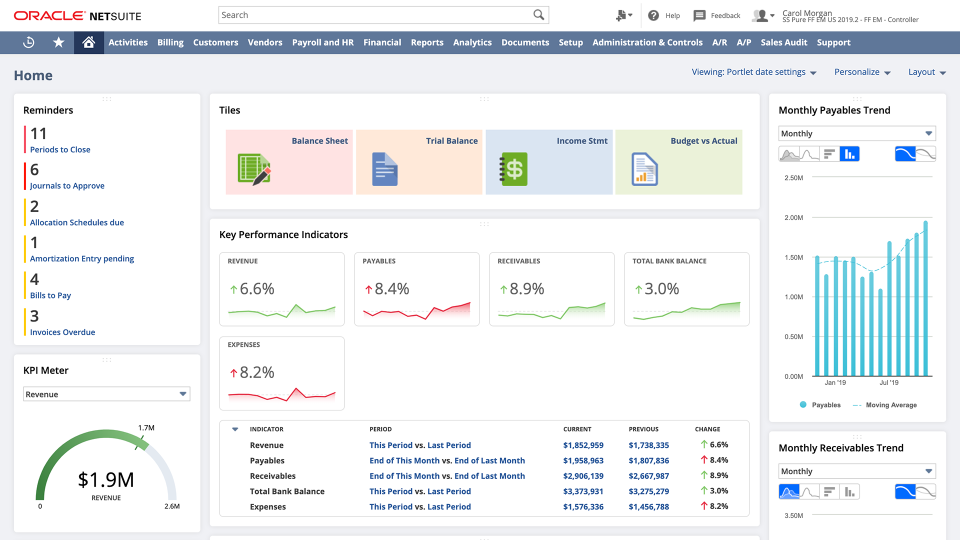 Oracle NetSuite is a manufacturing cloud ERP that helps "growing manufacturers control, coordinate, and manage every aspect of their operations in one place".
Features
Planning and scheduling tools: Choose from a traditional calendar view or Gantt chart to keep track of upcoming products and build production schedules with intuitive drag-and-drop tools.
A global ERP solution: NetSuite has multi-language and multi-currency capabilities, allowing businesses around the world to make the most of the system without the need for clunky third-party apps.
Pricing
Pricing information is not available on NetSuite's website, so you'll have to contact the vendor directly for an estimate. You can also register for a free product tour on its website.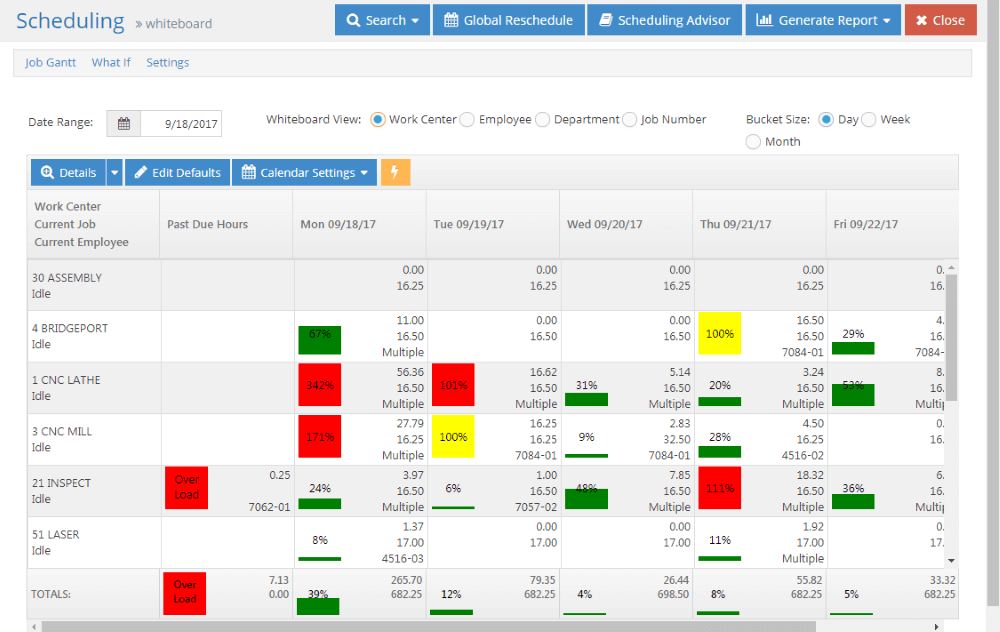 E2 ERP by ECI ShopTech is a module-based manufacturing system for small-to-midsize businesses. This flexible small manufacturing ERP system allows users to pick which module works best for their business.
Features
A flexible estimating and job costing module: A customizable module that lets you pre-set codes that automatically generate rates and costs for items like burden rate, labor rate, set-up time, etc.
A mobile shop suite: Apple and Android-compatible apps allow you to view critical data, collaborate with shop managers, and communicate with customers and vendors from their mobile devices.
Pricing
Pricing information is not available on the website. However, you can contact ShopTech for a personalized demo or information on pricing plans.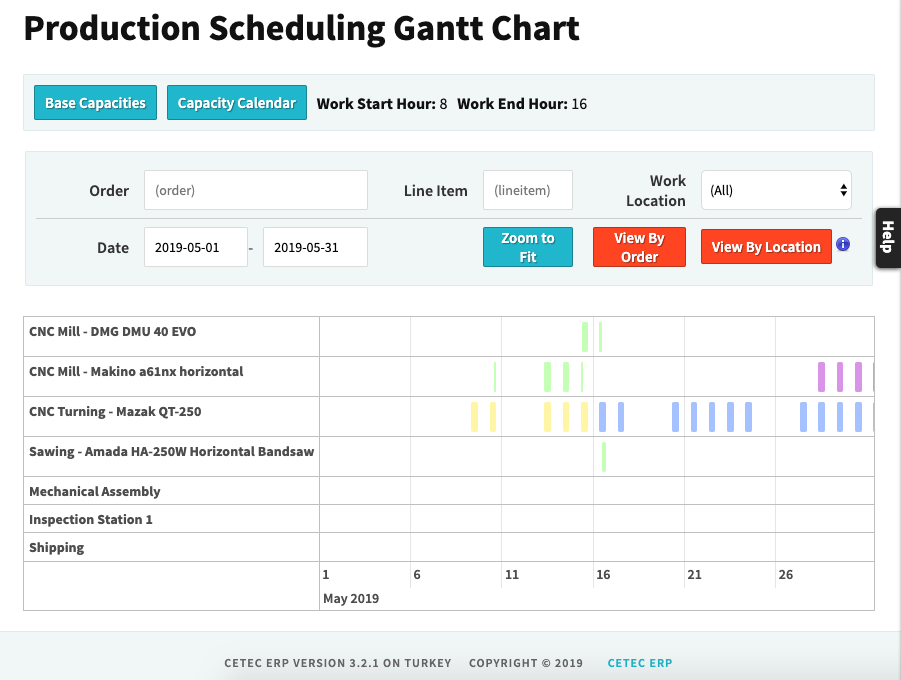 This cloud ERP is an affordable and simple business solution that can be run on a web browser. It boasts an all-in-one software platform that combines ERP, MRP, CRM, and QMS capabilities.
Features
Mobile warehousing: A package of advanced automation tools like barcode scanners and mobile printers that empowers warehouse personnel to strengthen their throughput and accuracy.
Real-time reporting tools: Using business intelligence tools, users can turn data into visualized custom reports and gain a better understanding of their key metrics.
Pricing
Cetec recommends businesses to go for their Enterprise plan, which is $40/month per user and $3,200/month per company.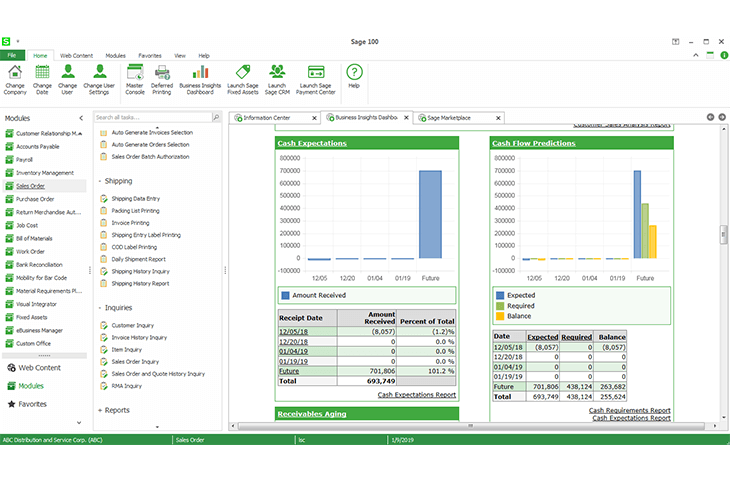 Sage 100cloud is an enterprise resource planning software for all small to midsize manufacturers, whether your forte is in simple assembly or custom fabrication.
Features
Inventory requirements planning: Track the supply of your raw materials, open purchase and sales orders, and more.
Custom scripting: Create automation for basic and complex processes, then import files into third-party applications with ease.
Pricing
Sage does not provide pricing for its products online, but you can request a quote through its website.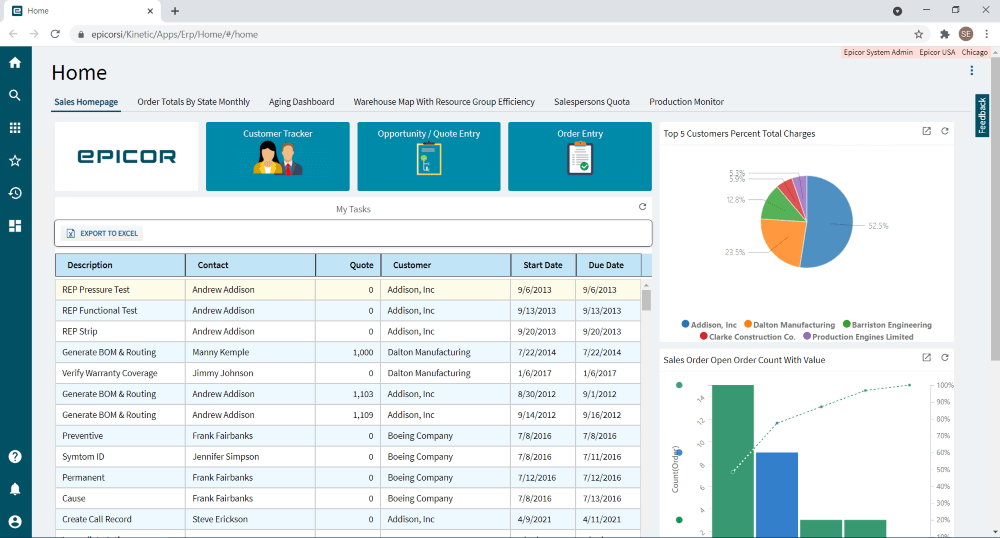 Epicor Kinetic is a "future-focused" cloud-based manufacturing software solution that can be customized to your needs. The software offers integrated capabilities such as APS, CRM, and CPQ.
Features
Human capital management capabilities: Offer self-service HR processes and give your employees self-managing goals.
Governance, risk, and compliance software: This module helps you comply with legal, supply chain, and regulatory mandates to minimize the risks involved with compliance.
Pricing
Epicor does not publicly disclose pricing for its products. But you can get in touch with the software provider to get a quote.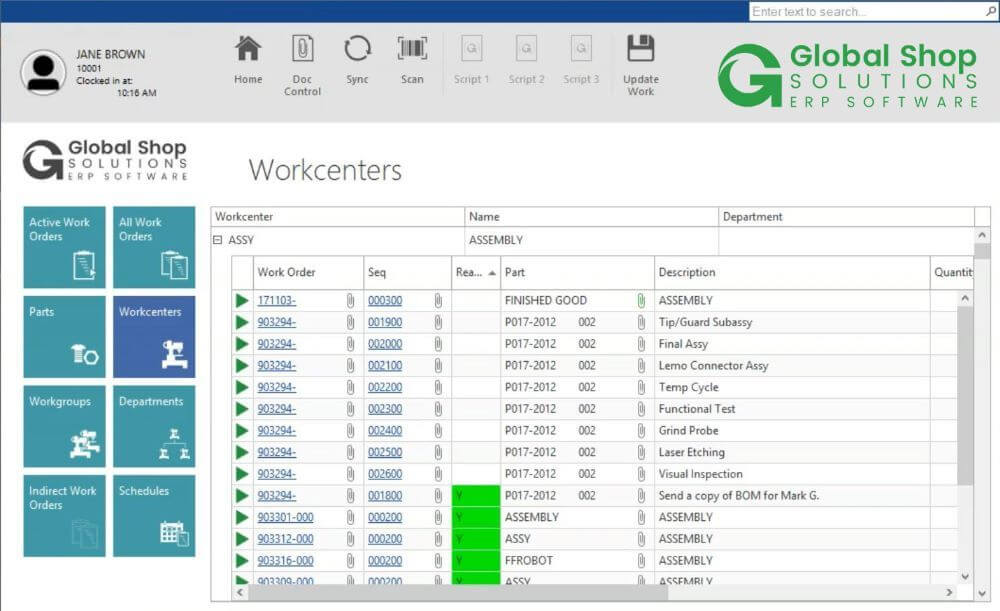 Global Shop Solutions offers both on-premise and cloud-based small business ERP for manufacturers. Its all-in-one multi-modular application that boasts 30+ modules such as CRM, accounting, estimating and quoting, routing, shipping, sales, etc.
Features
Unlimited reporting: Forecast business trends and gather key insights into your business' performance.
Planning and scheduling tools: With a drag-and-drop scheduling system, you can easily schedule jobs and manage your resources without wasting any time or effort.
Pricing
Global Shop Solutions does not publicly offer pricing information. You must contact the vendor directly to get a quote.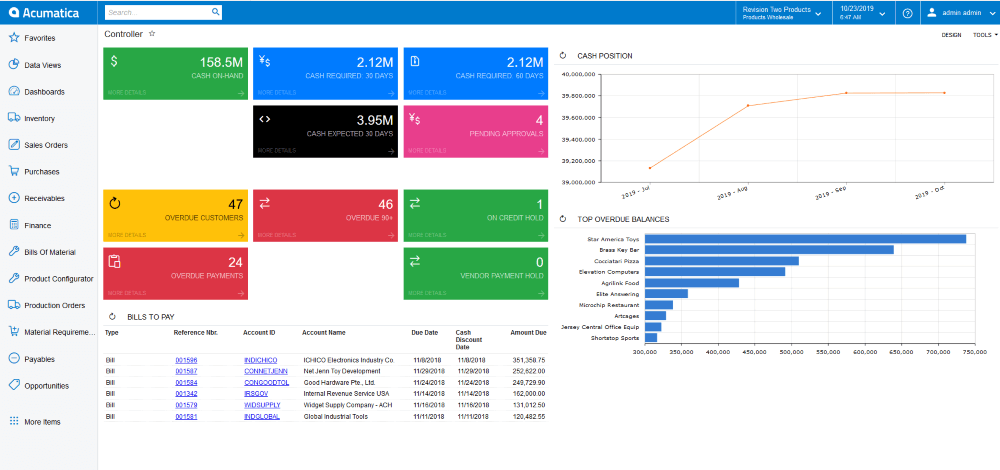 Acumatica is a cloud-based solution that provides businesses cross-team workflows and AI-powered automation to make collaboration and coordination easy.
Features
Integrations with dozens of pre-built software: The Acumatica Marketplace features dozens of third-party software integrations, from MES software by LYNQ to sales order automation by OrderAction.
Flexible licensing plans: Pick and choose what functionalities to pay for, leading to greater cost savings.
Pricing
For pricing information, contact Acumatica directly through its website.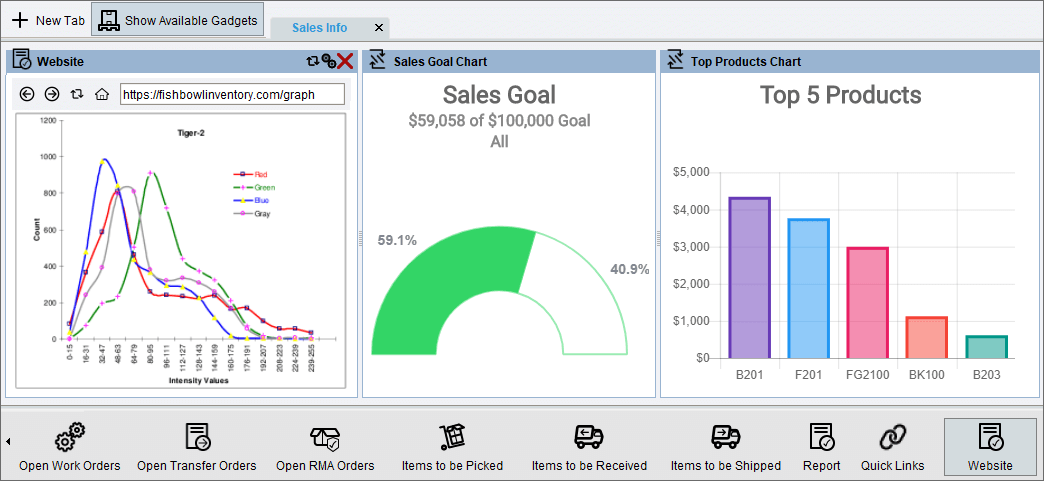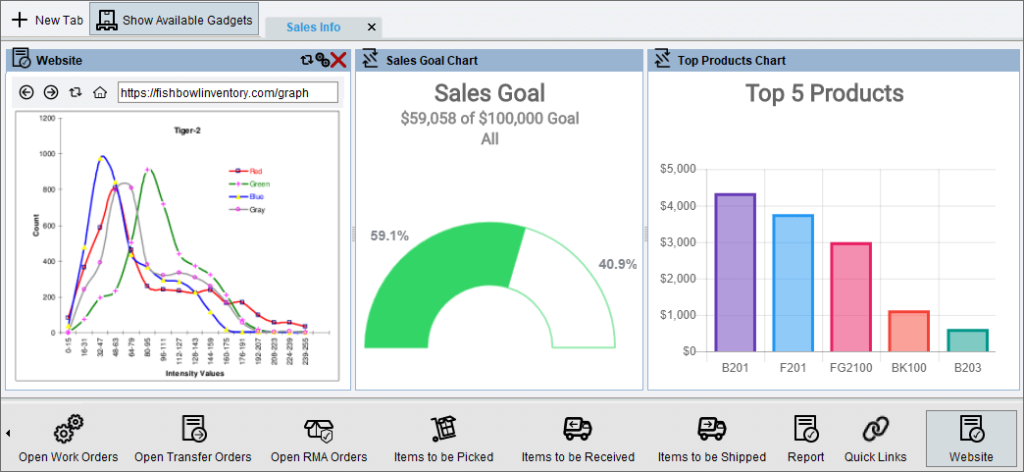 While not a traditional small manufacturing ERP, Fishbowl is a manufacturing inventory management software. It offers advanced work order and bill of materials management as well as a QuickBooks accounting software integration.
Features
Barcode scanning: Turn your phone or tablet into a barcode scanner using the Fishbowl Go for iOS mobile app.
Inventory management: Stay on top of your inventory across multiple warehouses with parts tracking, auto reorder points, automatic order creation, and more.
Pricing
For pricing information, you may request a demo or quote from the Fishbowl website.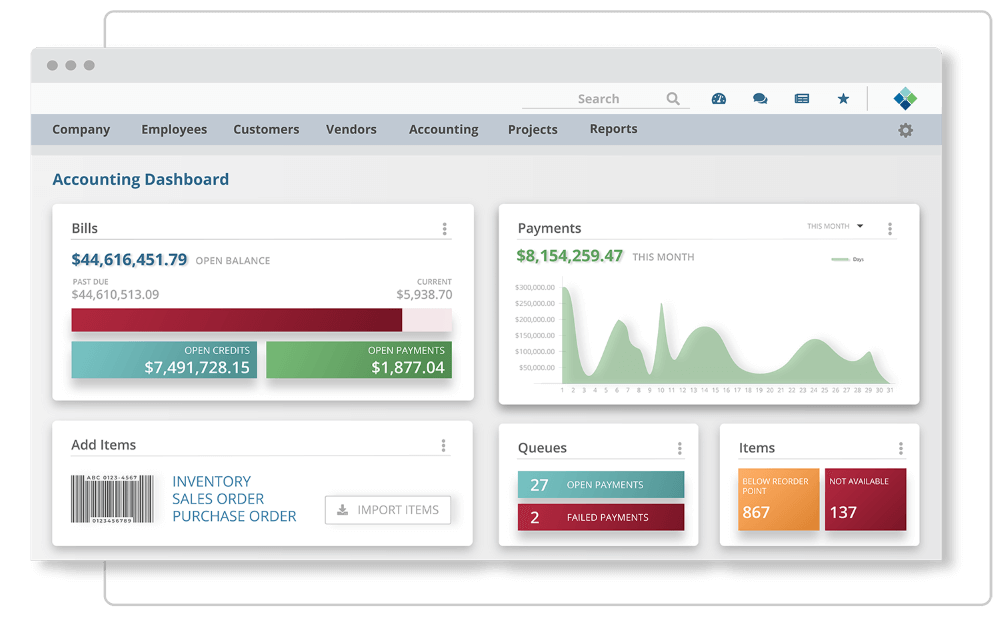 Striven is an integrated cloud-based platform for manufacturers with "all types of products and builds".
Features
Business intelligence tools: Get real-time analytics and key insights to improve your production time and decrease manufacturing costs.
Bills of material: This feature lets users track parts for builds, no matter how simple or complex.
Pricing
Striven offers a 30-day free trial to all first-time users. The program is:
$20 per month for up to 20 users.
$15 per month for up to 50 users.
$10 per month for 51+ users.
Monthly hosting fees are not included.
Which small manufacturing business software is best for you?
There are a variety of quality management software programs available to small businesses in the manufacturing sector.
However, the best one for your business will depend on several factors, including the size of your business and your specific needs.
The bottom line:
Know the ins and outs of your business before looking for a small manufacturing ERP.
Carefully consider each provider's products and features before making a decision.
ERP Software FAQs
How do ERPs benefit small manufacturing businesses?
ERPs help small businesses save time and money by:
Reducing manual tasks.
Improving coordination between teams.
Consolidating data into a central dashboard.
Enhancing efficiency by generating reports with AI-driven tools.
What are the limitations of small manufacturing ERPs?
Generally, ERP systems designed for small businesses offer a bit more than most companies need at this stage of growth. The result is that you get a solution that's more than you need. As a result, implementation is often slower than you expect and costs remain high.
Instead, consider an alternative to a small manufacturing ERP like Method. With it, you get:
A CRM
Deep connection with your accounting software
Automation for the workflows you need it for.
What is cloud-based ERP software?
A cloud-based ERP system is a software solution that allows businesses to access and manage their data in the cloud.
Image credit: Drazen via Adobe Stock