Commission provides your employees an incentive to deliver the best results for your company. However, employee commission is a little trickier to calculate for payroll than consistent periodical salaries, since commission changes every paycheck.
Luckily, many accounting software solutions accommodate commission tracking, including QuickBooks Online. The key is knowing how to set up QuickBooks Online commission tracking in a way that makes the most sense for your business.
Keep reading to find out how to set up commission in QuickBooks Online, as well as how to automate the commission tracking process to ensure that you get more done in less time.
The importance of sales commission tracking
Before learning how to set up commission in QuickBooks Online, you must first understand the importance of sales commission tracking.
Sales commission tracking is the process of recording your employees' sales for the purpose of calculating their commission.
Accurate commission tracking is essential for payroll and employee motivation. On an individual level, sales commission tracking allows your sales reps to track their progress. It provides a clear indication of how close they are to their goals.
On a broader level, sales commission tracking enables you to evaluate your business' success and the efficiency of your sales teams.
For QuickBooks users, tracking commissions is important for accounting and payroll purposes. This begs the question: How does QuickBooks Online commission tracking work?
Does QuickBooks Online track sales commissions?
The short answer is yes, QuickBooks Online can track sales commissions. However, it's a manual process. This is because you can't calculate commission on QuickBooks.
While you're limited on commission calculation in QuickBooks, you can still track your sales in a way that simplifies commission tracking. Let's walk through the steps that outline how to set up commission in QuickBooks Online.
How to set up commission in QuickBooks Online
You can set up commission in QuickBooks Online in three simple steps.
Step 1: Choose between commission as salary or additional pay
In QuickBooks Online, you have two options for recording commission. You can set them up as part of your employees' salary or as additional pay. The one you choose depends on your business' pay structure.
You'll want to record commission through employee salary if your employees' entire pay is based off commission.
If your employees have a base salary and you pay commission on top of that, you should choose additional pay.
Step 2: Start recording commissions in Payroll
Here's how to set up commissions in QuickBooks Online:
From the 'Payroll' menu, go to 'Employees'.
Select your employee.
You should see 'Pay Types'. Select 'Start' or 'Edit'.
From here, the process depends on whether commission is your employee's salary or additional pay.
Step 3: Process commissions depending on your chosen type
If you choose to set up commission as employee salary, select 'Commission only' from the 'Pay types' drop-down menu. Then, hit 'Save'.
If you choose to set up commission as additional pay, look for the 'Common pay types' section and select 'Commission'. You can change the commission name by selecting 'Edit'. Save the new details and you're done!
While these steps for recording commissions are easy enough, the process is a lot simpler with a commission tracker. This isn't a current offering for QuickBooks, but there are tools that you can use for QuickBooks Online commission tracking without disrupting your workflow.
Let's take a look at how to track commissions in QuickBooks with a tracking tool.
QuickBooks Online commission tracking tools
If how to set up commission in QuickBooks Online is your first concern, the next should be how to improve the commission process in QuickBooks Online. The answer is simple: A commission tracker.
A commission tracker is a tool used to track your sales reps' commission. The top commission tracking tools calculate your commission to simplify QuickBooks payroll and ensure that your team gets paid on time.
With QuickBooks Online, you can record commission and pay it out, but you must calculate it manually. The classic way of doing this is by using spreadsheets such as Excel or Google Sheets. However, this method is time-consuming and inefficient.
Commission tracking software automates your commission process for maximum efficiency. It also ensures accuracy and provides transparency for your sales representatives.
The only problem with commission tracking software is that every business is different. A one-size-fits-all solution might not suit your current QuickBooks Online commission tracking process. Luckily, there's a way to solve this: Custom sales commission software.
Strengthen your commission tracking process with Method
If you're looking for flexible sales commission software, Method is the solution for you.
Method is a fully customizable software solution that simplifies the way you manage your customers, sales, and overall business. As the #1 QuickBooks CRM, Method enhances QuickBooks Online commission tracking and makes it one smooth process.
With Method, you can build a commission tracker that's specifically modeled after your business. You can build the software yourself or get Method's customization team to bring your vision to life.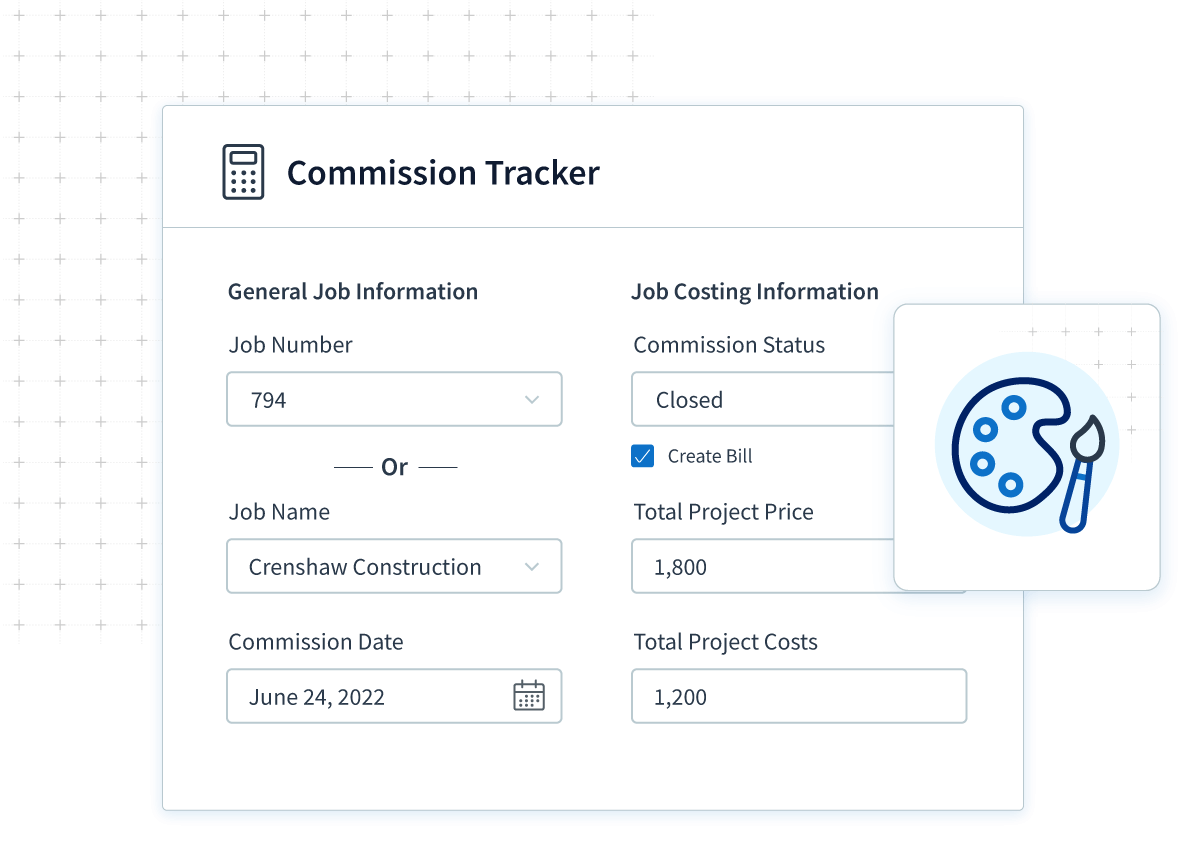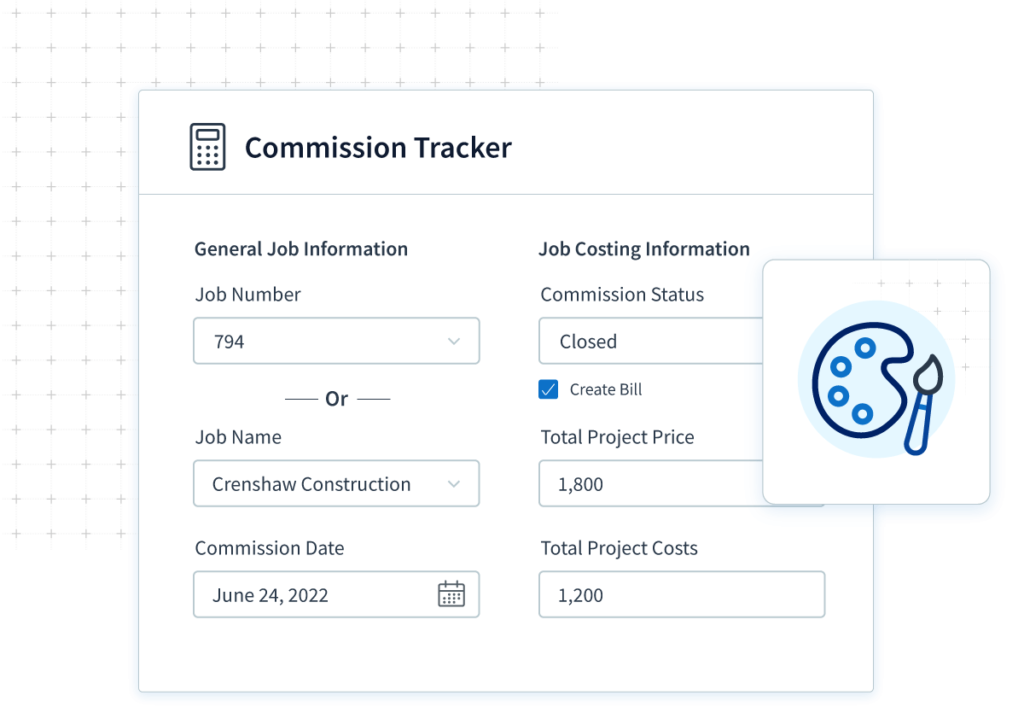 Here are some features you can include in your commission tracker:
Search function to easily find commission amounts.
Commission management (i.e. organizing by date range).
Custom commission reports.
As a result, you save time and gain a clearer view into the work your sales reps put in and the commission they get paid.
The best part is that your Method tracker can integrate with your QuickBooks Online account thanks to Method's two-way QuickBooks sync. This way, you'll never lose track of your sales reps' commissions.
Wondering how to track sales commission in QuickBooks Desktop? Good news — Method also integrates seamlessly with QuickBooks Desktop.
QuickBooks Online commission tracking FAQs
Here are other questions that users wondering how to set up commission in QuickBooks Online ask.
How do I create a commission report in QuickBooks?
To create commission reports in QuickBooks, follow these steps:
Go to the 'Reports' menu.
Select 'Sales'.
Click 'Sales by Rep Detail'.
Select 'Customize Report', then choose 'Cash basis' under the 'Display tab'.
Go to the 'Filters' tab.
In the 'Search Filters' field, enter and select 'Transaction type'.
Under 'Transaction Type', select 'Invoice'.
Set the 'to' and 'from' dates, then select 'Refresh'.
If you're already tracking commission in Method, you can create custom commission reports in just a few clicks.
How do I set up sales reps in QuickBooks Online?
To set up sales reps in QuickBooks Online, start from your 'Sales' page under 'Settings'. From there, select 'Custom fields'. Name the field 'Sales rep' and save.
Now, when you process invoices, you should see a 'Sales rep' field where you can write the name of your assigned sales rep.
How do I categorize sales commissions in QuickBooks?
Since QuickBooks does not have a robust commission tracking feature, it's difficult to categorize sales commissions outside of categorizing your sales.
That said, with Method's personalized solution, you can categorize your sales commissions in a way that makes the most sense for your business.
Bottom line: Simplify your sales commission calculations and save time
If commission is at the core of your employee payment process, knowing how to set up commission in QuickBooks Online is only the beginning.
It's important to track commission accurately and efficiently to ensure that your employees get paid what they're worth, and on time. Commission tracking software is the best way to achieve these results and make commission payroll quick and easy.
This way, your sales reps spend less time worried about their pay and more time bringing in revenue.
Tracking commission in QuickBooks is a breeze with Method:CRM. Start your free trial today!
Image credit: Anna Shvets via Pexels