No matter what, as your business grows, it gets more and more difficult to stay on top of things. One of the hardest aspects of managing your scaling business is keeping track of sales commissions. Luckily, you don't need to handle things on your own any longer.
With sales commission tracking software, you automate the process of managing commissions, saving you time, money, and aggravation.
In this article, we're covering the top 5 commission tracking software to boost your business and reduce costly mistakes.
But first, what is sales commission tracking all about?
How does sales commission tracking work?
Sales commission tracking is your system for monitoring employee performance and managing commission payouts.
It records data about your sales activities, including customer purchases, discounts, and commission rates for each sale. This allows you to track how much money each salesperson has earned in commissions throughout their time at your business.
You can use sales commission tracking software to calculate commission payments more accurately, as you can tailor it to your business. For example, it can account for factors such as seasonal sales fluctuations or special promotions at certain times of the year.
Proper sales commission tracking ensures your employees receive fair compensation for their efforts, and that everyone's base salary remains competitive within industry standards.
Is commission tracking software worth the investment?
Commission tracking software is absolutely worth the investment because it pays itself off over time and then some. This is because you:
Save valuable time and reduce human error.
Ensure complete openness with and between your team.
Close deals faster and more reliably.
Save time and reduce human error
With sales commission tracking, you automate your commission entry process and make manual spreadsheet entry a thing of the past. This means you significantly reduce the chances of human error. So, you don't have to worry about someone adding an extra zero, deleting important information, or making an incorrect calculation.
What results is that you and your employees save valuable time, not only because you have less mistakes to fix. But also, because you eliminate the time-consuming process of entering commissions manually.
This means that your sales reps have greater capacity to take on more deals and earn more commissions.
Increase transparency with your team
When you use software to track commissions, there's never confusion or mistrust from your team about their pay. Establishing your sales commission policy early on with your sales team is crucial, and configuring it in an automatic system sets that policy in stone.
There won't be any suspicion or jealousy between your employees, because you've laid everything out on the table for them. With a commission tracking system, your sales reps know exactly how they're performing and how you're rewarding that performance.
This transparency improves employee morale and increases loyalty. Openness and honesty regarding pay go a long way, especially when it concerns those who are bringing in revenue to your business.
Close more deals
Commission tracking software boosts productivity and efficiency at your business. Its capacity for automation saves you valuable time, as it means one less manual workflow to worry about.
So, not only do you close deals faster, but you can reinvest the time you save into generating more of them.
Also, when your sales reps have a centralized dashboard view of their performance and commissions, they're more likely to generate results. Laying out your commission pay structure in an easily readable interface makes it clear to your employees that better performance yields better financial results.
So, it's easier for your team to set and track sales goals, which will only increase their bank accounts — as well as that of your business.
Top 5 commission tracking software solutions
Method:CRM is our top choice for sales commission tracking. With Method, not only do you get effective sales commission tracking tools, but you also have a wide range of CRM tools to boost business performance and strengthen your operations.
Plus, all your data, including sales commissions, instantly syncs with your accounting software, so you don't have to worry about double data entry. With Method:CRM, you stay on top of your finances and keep your employees happy.
Key features
Sales commission tracking and management that syncs with QuickBooks and Xero.
Self-serve, personalized customer portals.
Customizable commission calculator to suit your business needs.
360-degree view of contact details and history.
Drag-and-drop, no code workflow automation.
Mobile app for those on the go.
Benefits
Powerful, two-way QuickBooks and Xero integrations (i.e. estimates, invoices, and payments).
Nearly endless customization.
Easy to convert estimates into invoices.
Robust third-party integrations.
Offers helpful reusable templates.
Limitations
Only available in English.
Limited to QuickBooks and Xero users.
Pricing
Method:CRM offers three pricing plans:
Contact Management: $25 per user per month.
CRM Pro: $44 per user per month.
CRM Enterprise: $74 per user per month.
Method:CRM also offers a 14-day free trial with no credit card required.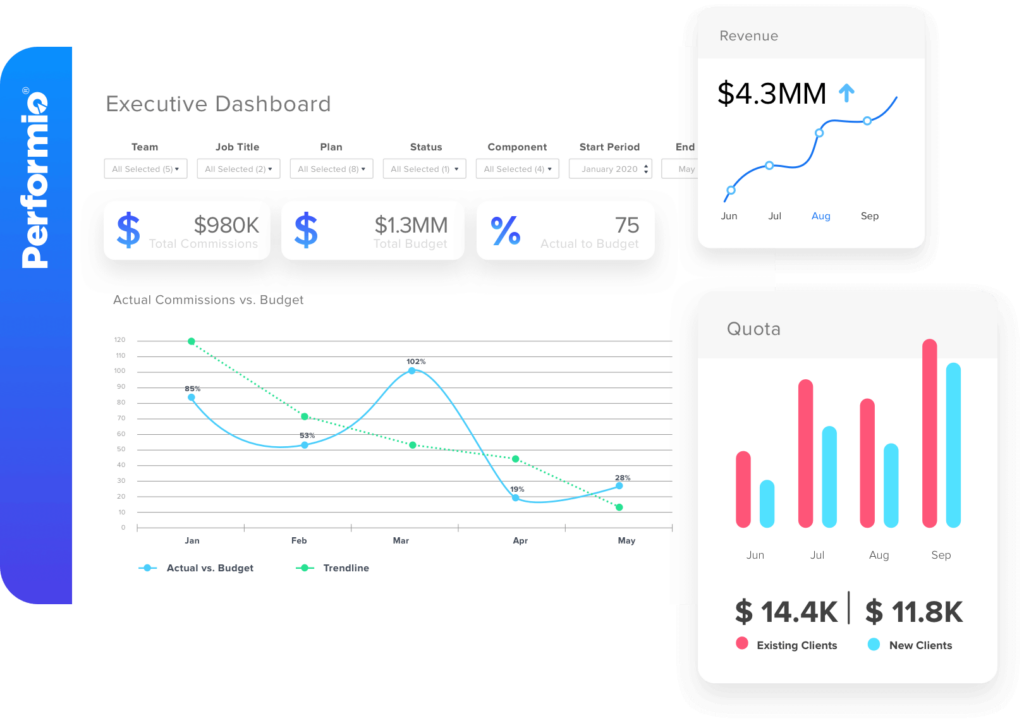 Image credit: Performia
The next best sales commission software is Performio. It's designed for sales commission tracking, and focuses on driving stronger sales performance. Performio's sales commission management is best used for mid-sized businesses and large enterprises.
Key features
Calculate, track, and manage sales commissions according to your specific process.
Detailed sales commission and performance reports with key insights.
Download commissions by line item.
Audit logs to monitor for compliance.
Mobile app.
Benefits
Breaks down intricate data and delivers it to your reps simplistically.
Handles complex compensation plans and processes.
Friendly, easy-to-use user interface.
Makes data reconciliation easy.
Good customer support.
Limitations
Very basic functionality.
Limited integration capabilities.
Does not show your commission in real time (only updates bi-monthly).
Reports of inaccuracies.
Sales must be within sales targets for proper calculation.
Pricing
Performio does not have pricing information available on their website. You'll need to reach out to their sales team for a personalized quote. Performio does not offer a free trial.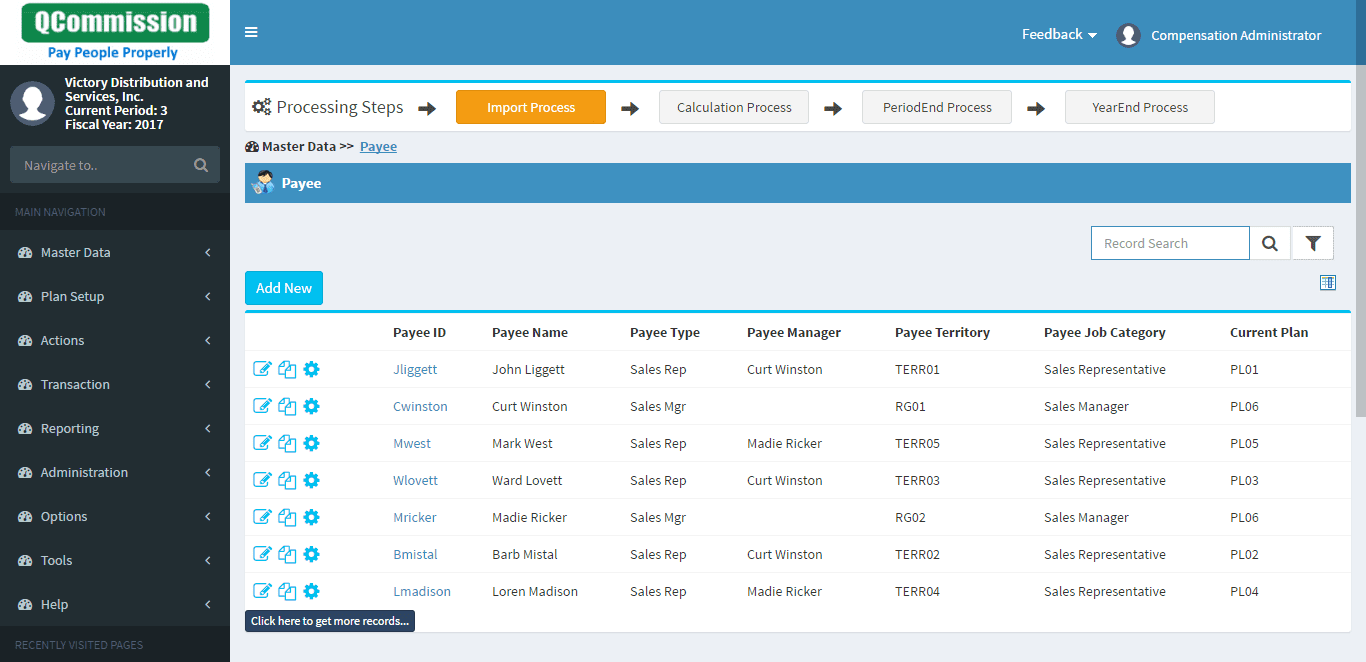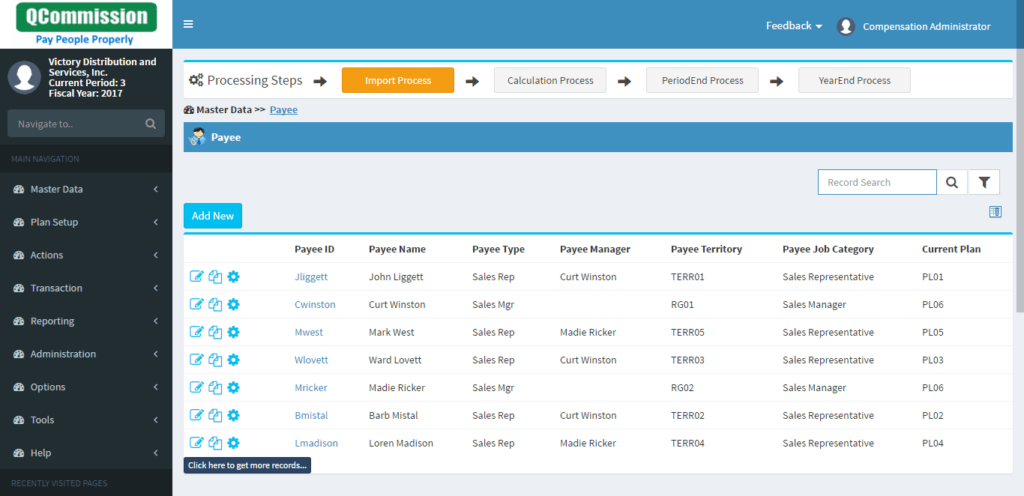 Image credit: QCommission
QCommission is next up on our list. It's another commission management solution that tailors to your business' sales commission process.
Key features
Sales commission process automation including entry, tracking, and management.
Comprehensive sales commission reporting.
Flexible, rule-based system that handles complex commission structures.
Self-serve tools to change commission processes without requiring support.
Benefits
Operates stand-alone, but allows for integrations.
Tracks commissions and bonuses together and independently.
Affordable pricing.
Strong customer service.
Limitations
Has a bit of a learning curve, and implementation takes time.
Not web-based.
Deleting simple mistakes requires unnecessary work.
Features are limited to their respective packages.
Reports of bugs.
Pricing
QCommission starts at $15 per month, but they don't have exact pricing information available on their website. You have to contact their sales team, and they'll provide you with a personalized quote. They offer three pricing tiers, all with a five-user minimum:
QCommission Pro: 1,200,000 transaction lines/fiscal year, and a 500-user maximum.
QCommission Premier: 12,000,000 transaction lines/fiscal year, with no maximum.
QCommission Enterprise: Unlimited transaction lines/fiscal year.
QCommission does not offer a free trial.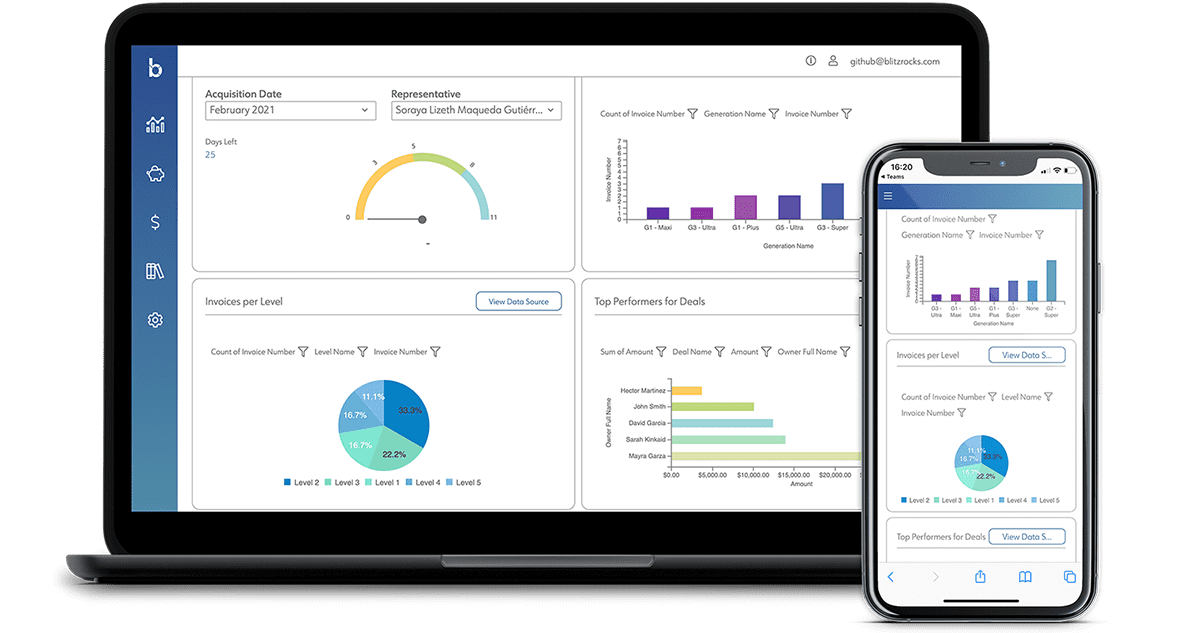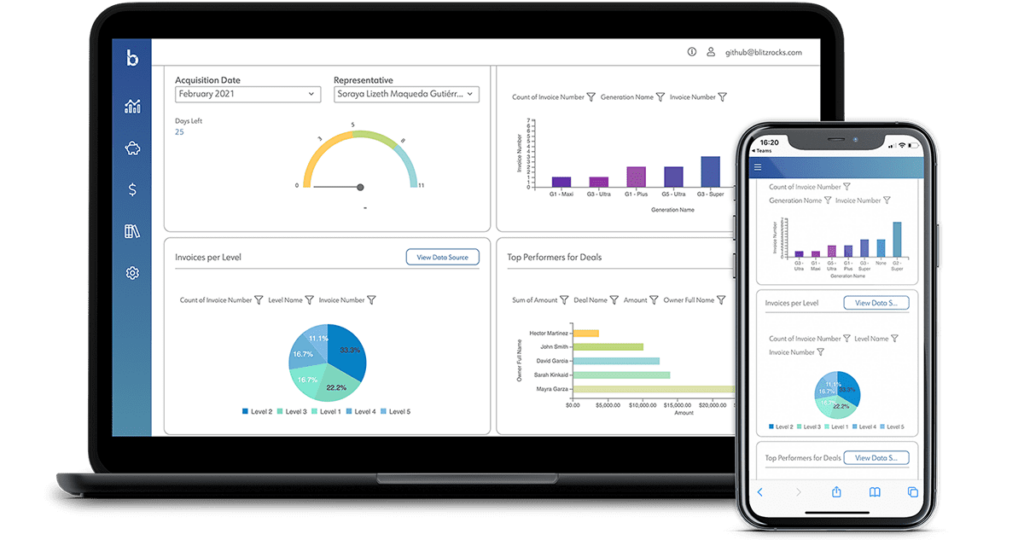 Image credit: Blitz
The next best sales commission tracking software is Blitz. It's a commission management solution that tailors solutions for complex commission plans and processes.
Key features
Automated sales commission calculation and tracking.
Real-time, centralized dashboard with all your commission information.
Detailed commission reporting.
Inquiry module for sales teams.
Offers an expert assessment of your commission plans.
Benefits
Easy to input and search for information.
User-friendly interface.
Great capacity for categorization (i.e. tags, multiple lists).
Good CRM/ERP integration.
Ability to configure expected payments forecasts.
Limitations
Difficult to view individual payments.
Having multiple sales reps use the software causes easy-to-make issues.
Syncing with accounting software is tricky and time-consuming.
Back end requires a lot of work.
Pricing
Blitz starts at $28.75 per user per month, but they don't have exact pricing information available on their website. They offer three pricing tiers:
Blitz Lite.
Blitz Elite.
Blitz Enterprise.
For more information on what separates these packages and their pricing models, you have to contact their sales team. Blitz also offers a 30-day free trial.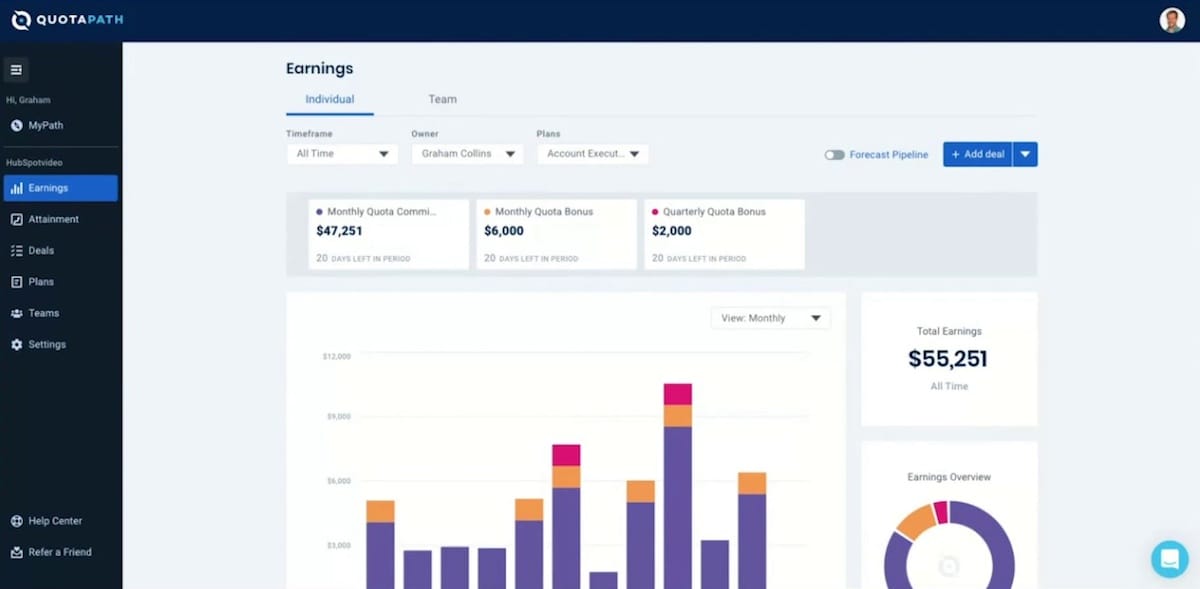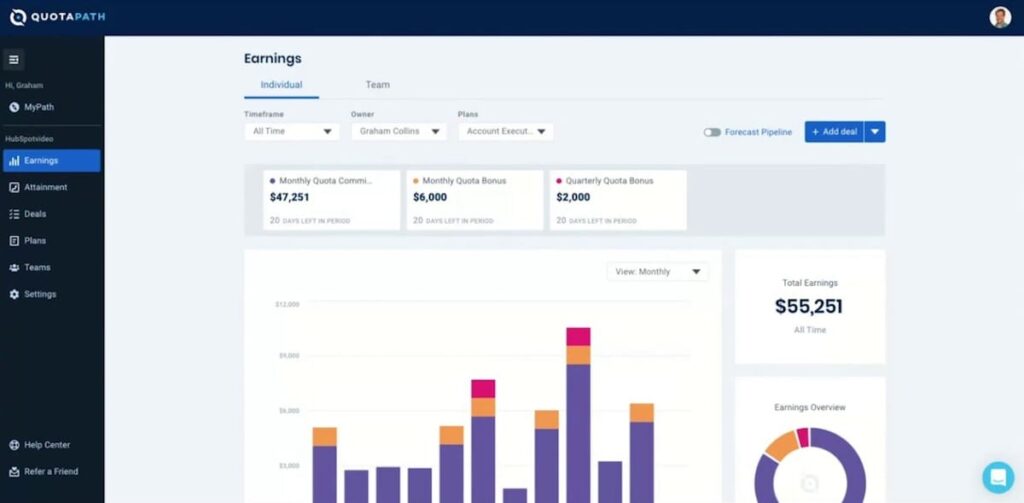 Image credit: QuotaPath
QuotaPath is our final top commission tracking software. It's built to make your sales commission process more efficient and transparent, particularly if you have a complex commission structure.
Key features
Automates your sales commission processes, including calculating, tracking, and payouts.
Free strategy consultations through their Compensation Hub.
Comprehensive log of commission history.
Streamlined exporting and importing Excel spreadsheets.
Benefits
Scalable and customizable sales commission setup.
Improves transparency across your business.
Good CRM integration.
Simple to set up and use.
Good customer service.
Limitations
The product is still in its early stages.
Software configuration takes time and requires both a QuotaPath CSM and Account Manager.
Lacks customizable reporting options.
Limited capacity for comp plan terms and conditions.
Pricing
QuotaPath offers two pricing plans:
Startup: $30 per user per month.
Scale: $40 per user per month.
QuotaPath also offers a 30-day free trial.
Recap: How to choose the best commission tracking solution for you
Overall, the best commission tracking solution for you depends on the requirements and intricacies of your business' commission plan. There's no one-size-fits-all solution to sales commission tracking.
So, only once you've weighed the pros and cons of each solution, should you make your decision. Commission tracking software boosts efficiency and saves valuable time, but it's up to you to find the right fit for your business.
Commission tracking software FAQs
What does sales commission tracking software do?
Sales commission tracking software keeps an automatic record of the money your salespeople earn when they make a sale. It ensures that everyone on your sales team gets the right amount of commission for their work.
How does commission tracking software differ from sales management software?
Commission tracking software differs from sales management software in that it helps you manage employee compensation, rather than your sales. It reads data from your sales management system to ensure that all your employees are paid commissions fairly and on time.
Should I track my sales commissions manually?
You should not track your sales commissions manually. When you do, you risk jeopardizing your business over even the smallest mistake. Instead, you should consider sales commission tracking software that eliminates issues caused by manual entry.
See for yourself how Method:CRM helps you track your sales commissions!
Image credit: LinkedIn Sales Navigator via Pexels