Many want to know how to add signature line on QuickBooks invoice. In fact, adding signature lines to QuickBooks invoices is a must for any business owner looking to grow.
However, the next level up from a line for physical signatures is — electronic signature QuickBooks invoice.
Based on our expertise, E-signature allows you to save time on tedious tasks like manual document signage and improve your customer experience.
Keep reading to understand:
How to add signature to QuickBooks invoice.
Why Method is the best electronic signature QuickBooks invoice option.
Reasons to add signature to QuickBooks invoice
If you're a small to mid-sized business, your plate is already full of responsibilities. Your time is valuable, and manual tasks are not the best way to spend it.
Our research indicates that adding signature lines to your QuickBooks invoices with an app integration like Method:CRM creates more efficient workflows for you and your sales team. 
Here are some key reasons to add signature lines to your QuickBooks invoices:
Completed digital signature lines illustrate that both parties read, understand, and oblige by the terms of the agreement.
The signage will be stress-free for your customers, reducing back-and-forth communication.
Process agreements and online payments in a more timely manner.
Spend more time improving customer relationships with top customers.
E-signatures are more secure than manual signatures and paper checks.
You're less likely to misplace signed documents and other essential company files when they're online.
Can you add a signature to QuickBooks invoice?
After putting it to the test, adding signature lines to estimates and invoices is not yet an option in QuickBooks.
Sure, you can use the 'Message on invoice' or 'Message displayed on estimate fields' as replacements to indicate what documents need signage.
But it's more efficient to add the E-signature feature directly to your estimates and invoices.
And that's what Method:CRM delivers for QuickBooks Online and Desktop users!
Benefits of integrating e-signature software with QuickBooks
With QuickBooks app integrations for E-signature, it's a breeze to add signature line to estimates and invoices.
With only the click of a button, there are many benefits to investing in E-signature software beyond knowing how to add signature on QuickBooks invoice.
Lower transaction cost
Over time, we found that integrating e-signature software with your QuickBooks Online account saves your business a lot of money.
Say goodbye to the expenses of hard copy signatures, like paper, printer cartridges, check printing, and wasted office space.
Speed up your signage processes
No more long processing times for agreements in QuickBooks Online and Desktop! Instead, simplify your agreement process with digital signatures to save time and sign agreements faster.
Plus, customers can pay you from anywhere and have agreements approved in real-time using digital signature software, like Method:CRM.
Increased security for digital documents
There are automated processes to validate that someone signed a record with legitimate credentials when it comes to digital signature software.
Drawing from our experience, added security reassurance will encourage your clients to do business with you again. 
Single time activity
Once you've integrated an e-signature software with QuickBooks Online or Desktop and downloaded a digital signature, the feature is there to stay.
You can enjoy a stress-free signage process and implement signature lines in estimates without trouble.
Greater accuracy of information
Avoid easy errors like double entry and miscalculated expense tracking with a QuickBooks e-signature integration.
How to add signature line on QuickBooks invoice with Method
Know how to add signature line on QuickBooks invoice with a comprehensive solution like Method:CRM. First, set up an account and talk to your Customer Success Manager (CSM) about implementing the electronic signature QuickBooks invoice feature (pictured below).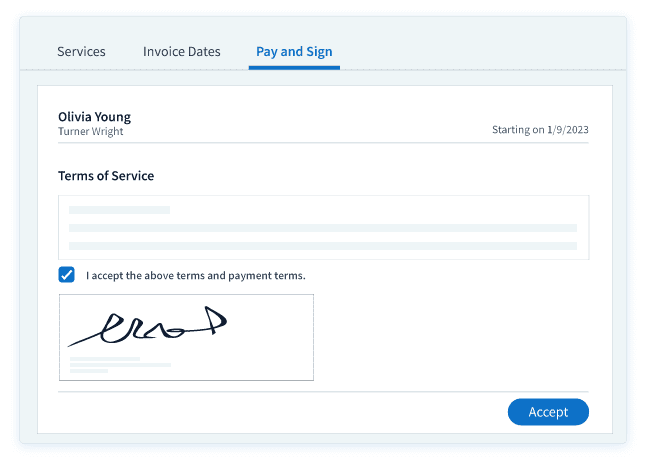 If you're wondering how this is possible, it's all thanks to Method's powerful two-way QuickBooks data sync.
With a bi-directional flow of information between both platforms, you can access the most up-to-date data on what documents were signed and which still need signing, and have a quicker approval process. 
How electronic signatures on QuickBooks invoices automate your business processes
Based on our firsthand experience, automating e-signature approval speeds up all ends of your business so you can focus on the important stuff. Among these benefits are the following. 
Better cash flow
According to Chicagoland CPAs, a typical small business in the United States holds more than $80,000 worth of unpaid invoices. That's a lot of outstanding revenue for your business!
With electronic signatures in QuickBooks invoices, however, you speed up the time it takes to receive payment.
Improve contract process efficiency
Through our practical knowledge, when you know how to add signature line on QuickBooks invoice, you simplify the contract management process and your business maximizes the potential of its operations. 
Especially, if you choose the electronic signature QuickBooks invoice option. Here's why.
E-signature lets you:
Issue digital payments through payment links.
Accept customer signatures online.
Create sales receipts and forms in real-time to improve your contract process efficiency.
With a digital signature process in place, you can dedicate your efforts to expanding your customer base!
Draw up estimates and invoices faster
Nobody enjoys drawing up manual sales receipt templates or invoice templates.
Luckily, some E-signature software options like Method:CRM offers custom branding templates for:
Invoices
Estimates
Credit memos
Sales receipts
And more!
Here's an example of what a personalized invoice template in Method:CRM can look like.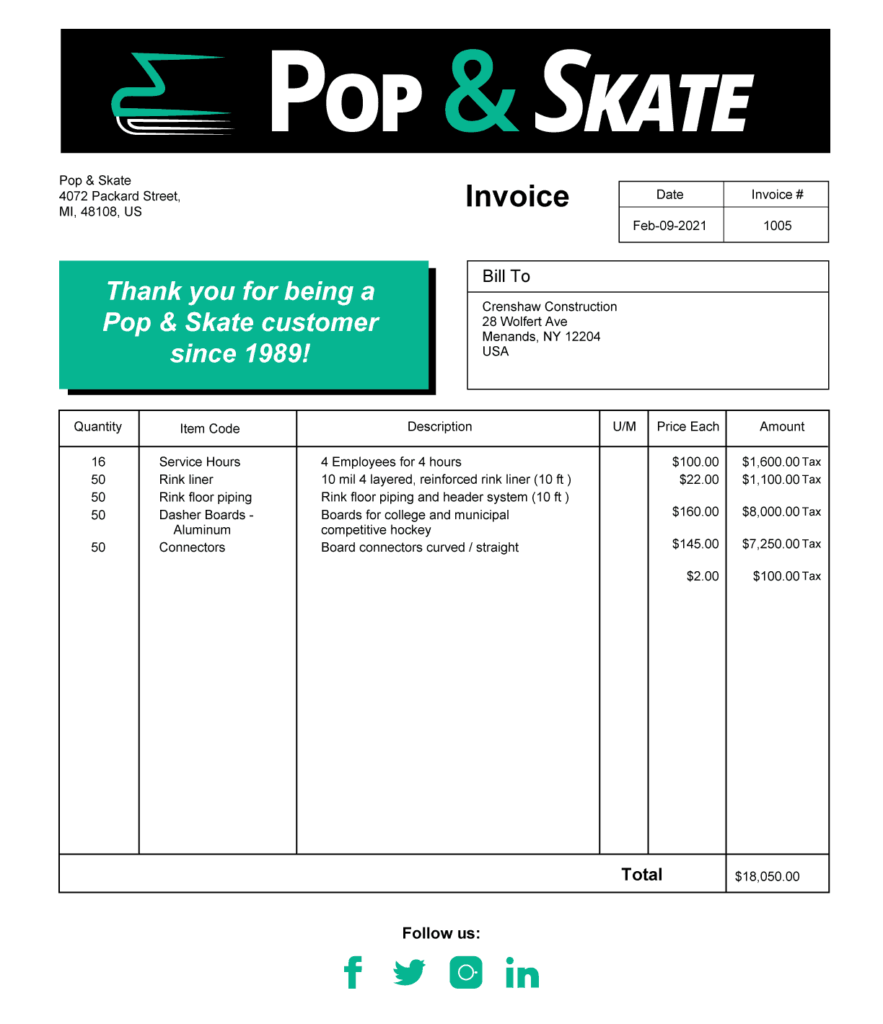 This capability helps you issue documents to your customers quickly and keep your document branding on point!
Electronic signature QuickBooks invoice: It's possible with Method
Choosing Method as your how to add signature line on QuickBooks invoice software option means a seamless integration process and the following benefits.
Unlimited document signage
Unlike other options like DocuSign E-signature Connector, Method allows you to sign as many documents as needed! This is important when looking to grow your customer base and your invoice volume.
No additional costs
Once you set up a Method account, implementing the QuickBooks Online or Desktop E-signature feature is completely free.
All you have to do is request it from your Customer Success Manager.
Compatible with QuickBooks Online and Desktop
Our findings show that many e-signature software solutions, like DocuSign E-signature, require you to be a user of QuickBooks Online Advanced.
However, Method allows you to add e-signatures onto invoices in all versions of QuickBooks, including QuickBooks Desktop, QuickBooks Online, and QuickBooks Online Advanced.
Recap: How Method + QuickBooks makes life easier
Method isn't just a tool for how to add signature line on QuickBooks invoice. It offers E-signature for signing agreements and makes accepting online payments simple.
Abundant with powerful tools, it's also your one-stop shop for optimizing your:
Sales pipeline.
Lead management.
Customer data.
Activity tracking.
Reporting.
Plus, you have access to an entire community of experts well versed in QuickBooks, ready to help you enrich your data as a Method user.
With Method's long list of powerful integrations and automation tools, you can spend less time entering data and more time growing your business.
Start your free trial with Method:CRM today — no credit card required!
Image credit: Mikhail Nilov via Pexels