In this digital age, almost every aspect of marketing your cleaning business is done online. However, flyers are still used by business owners to this day because they are relatively cheap to make, and customers get a physical reminder that your business exists.
But how do you make effective cleaning company flyers? Read on for important tips and cleaning flyer examples to ensure you make the most memorable and impactful flyers!
Do flyers work for cleaning service businesses?
You may be asking, do flyers still convert leads into paying customers in this digital age? You might be surprised to know they still do! Flyers are cheap, easy to print, and quick to distribute. Once you have a design ready, you can print them and spread the word about your business within days.
Moreover, flyers have a physical presence unlike digital ads. Even if a customer doesn't book a cleaning appointment when they first receive a flyer, there's a chance that they'll do so in the future when they come across the flyer again.
The advantages of using cleaning services flyers
Still on the fence about investing in cleaning service flyers? Here are three main benefits of marketing with flyers:
Increase awareness
To even be considered by customers, they need to know your company exists. Flyers are a powerful branding tool to spread awareness by publishing your company's name and logo in public. Even if they don't need cleaning services now, they may recall your company name and contact you for a booking later.
Entice customers
Put in promotions like 10% off the first cleaning job or a free cleanup for every successful referral. This creates an incentive for people to book or otherwise engage with your services.
Market to certain areas
It's very simple to market to a certain area with flyers. All you need to do is do flyer drops in areas you're marketing to. This gives you control over your marketing reach and lets you target specific neighborhoods.
How to make a professional flyer for cleaning services
Now that you've decided on making flyers, here's a quick four-step guide on how to make your cleaning service flyer:
Look for inspiration: Look up cleaning flyer templates and designs from other companies to get yourself started. Keep the audience in mind and think about what elements they might like.
Brief your designer: Compile the information you need to convey and what graphic design elements should be included in a document called a brief. This brief should contain everything you or your designer needs to bring your flyer idea to life.
Evaluate the design: Once the design is done, check it against your brief. Some key points to examine include the information placed in the flyer and whether the design fits your company colors.
Proofread and print: Do some final checks before you send the design to the printer. After you're 100% sure that there are no typos, they're ready to print!
What should you put on a cleaning services flyer?
Your advertising flyers should contain everything a prospective customer needs. Here are several important things to put in your flyer:
Company name and contact details: This one is self-explanatory. If people don't know what your company is called and how to reach you, they won't even consider booking your services.
Short description of services: You only have so much space in a flyer, so just include key information you think potential customers need.
Service breakdown: In smaller font, break down the services you provide. For instance, if your flyer advertises kitchen cleaning, you can include things such as appliance cleaning and utensil polishing.
Call to action: A call-to-action tells the readers what to do next. Calls to action typically tell people to either call a number or visit a website.
Pricing and discounts: You don't have to include your whole price book. Advertise your discounts and special offers so potential clients are more curious.
Specializations: What sets your company apart from the others? Highlight the uniqueness of your company like the cleaning products used or a specific service you offer that others don't.
How to design appealing cleaning services flyers
To get the most bang for your buck, you need to know how to design effective cleaning flyers. Here are three ways to ensure your flyer catches people's attention:
Know your potential clients
Pick a target market and design your cleaning company flyers according to their preferences. This way, you'll make flyers that resonate with your target audience. For instance, a modern flyer with bright color graphics is more likely to attract the attention of young people while traditional designs are better suited to older people.
Make attention-grabbing flyers
Most people only spend several seconds looking at a flyer. If you don't catch their attention with an interesting headline or a great offer, you'll potentially lose out on a customer. Craft catchy headlines or use big, attention-grabbing font choices that pique the reader's curiosity and make them want to read the rest of the flyer.
Keep it concise
There's only so much space on a flyer. You don't have to include everything you want to say because that usually results in an overly wordy flyer. Instead, simply offer a quick overview of your house cleaning service in easily readable, clean fonts and end with a call-to-action directing readers to your hotline or website. If they want more info, they can get it from there.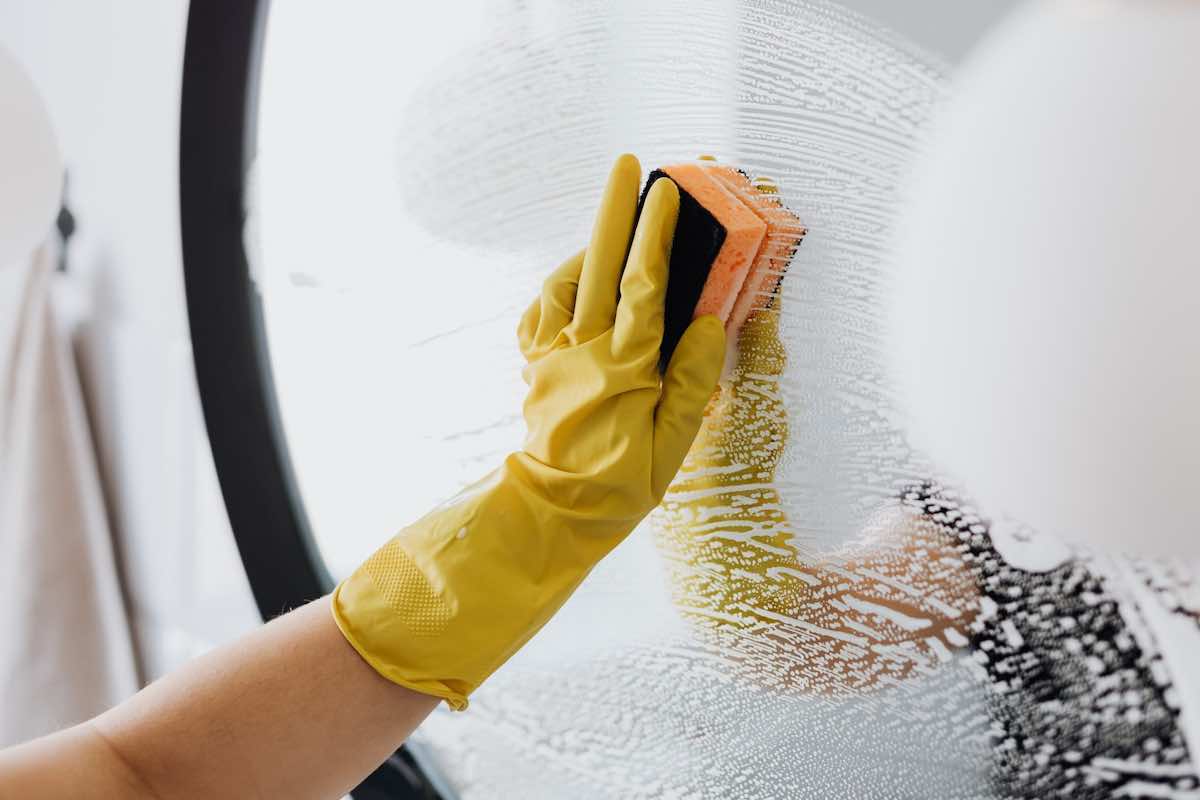 Image credit: Karolina Grabowska via Unsplash
Six excellent cleaning services flyer ideas
Need more references to craft your cleaning service flyers? Here are some cleaning flyer templates and examples you can take inspiration from, as well as why they're good:
Sky Blue Cleaning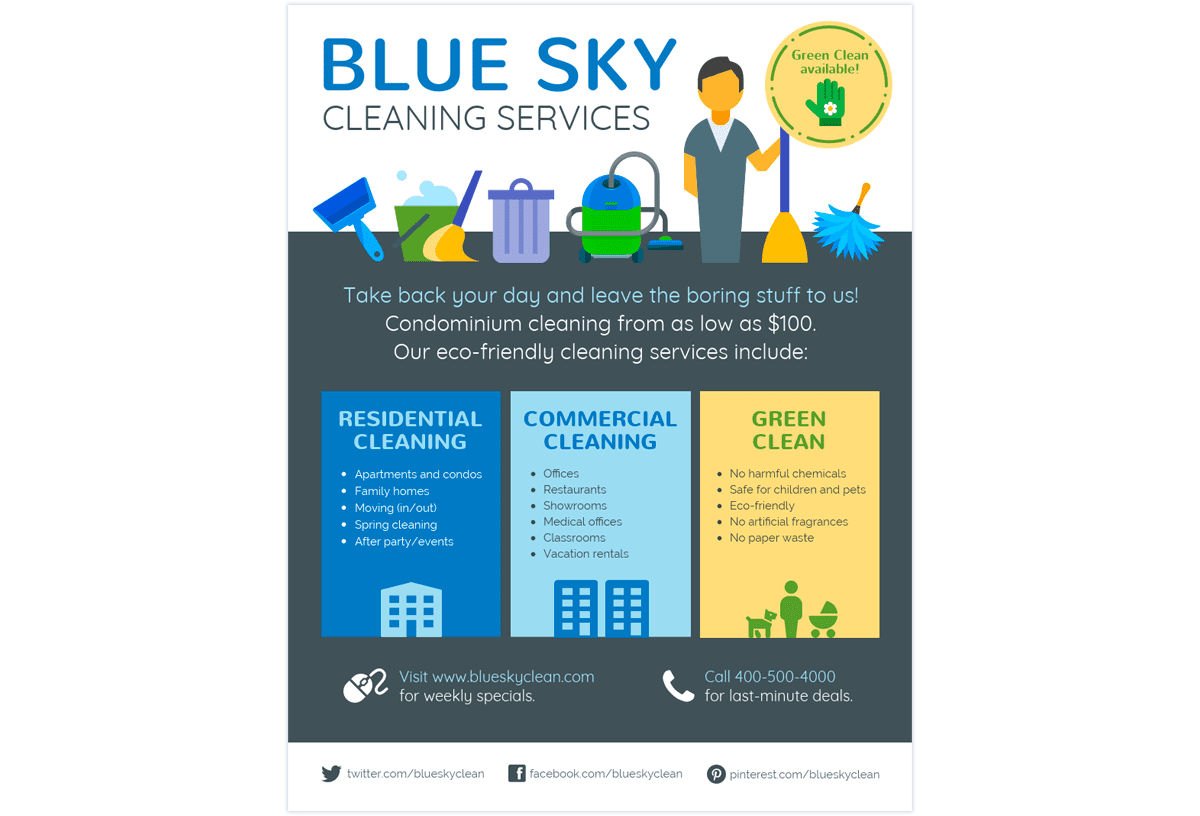 Image credit: Sky Blue Cleaning
This flyer clearly separates the company's services into two segments: residential and commercial cleaning. It also provides information that it offers green cleaning services.
Diamond Cleaners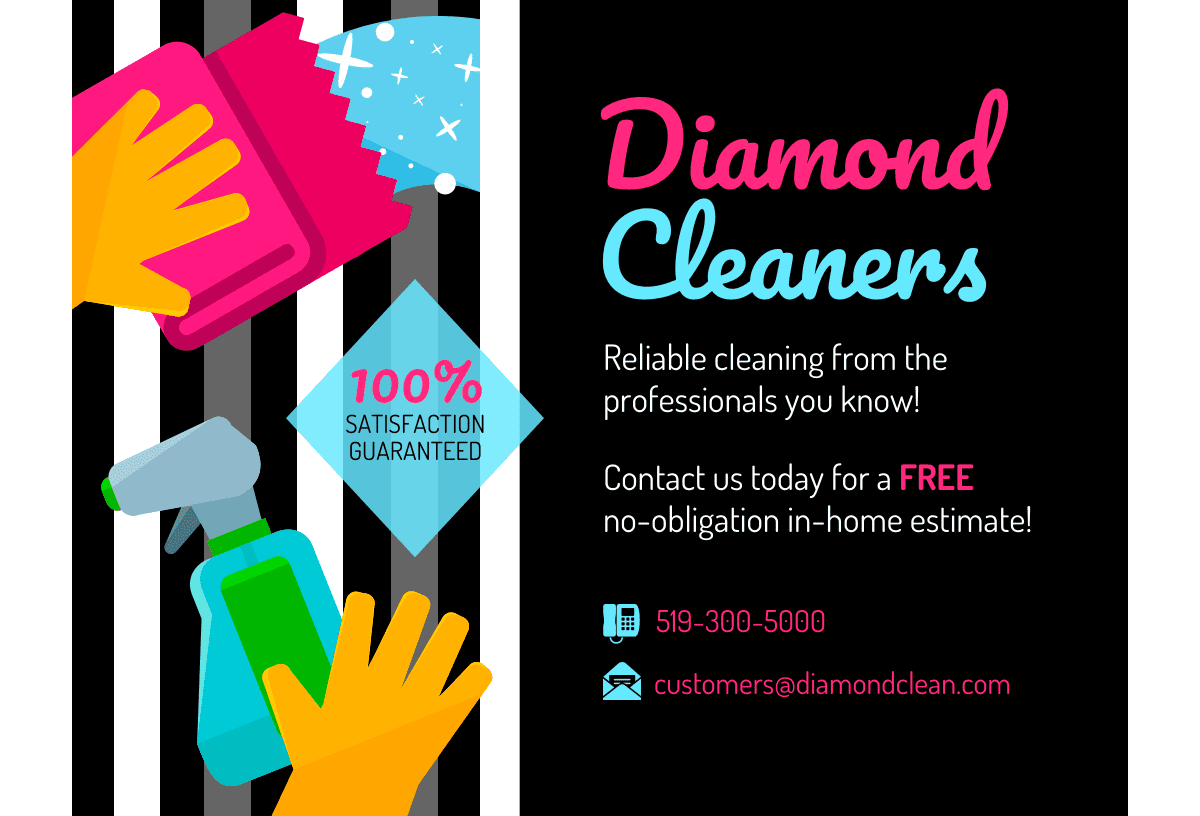 Image credit: Diamond Cleaners
The simple, eye-catching flyer design focuses on what you can get by contacting the company. It also clearly provides its email and phone number so customers can contact the company right away.
Bron's Window Washing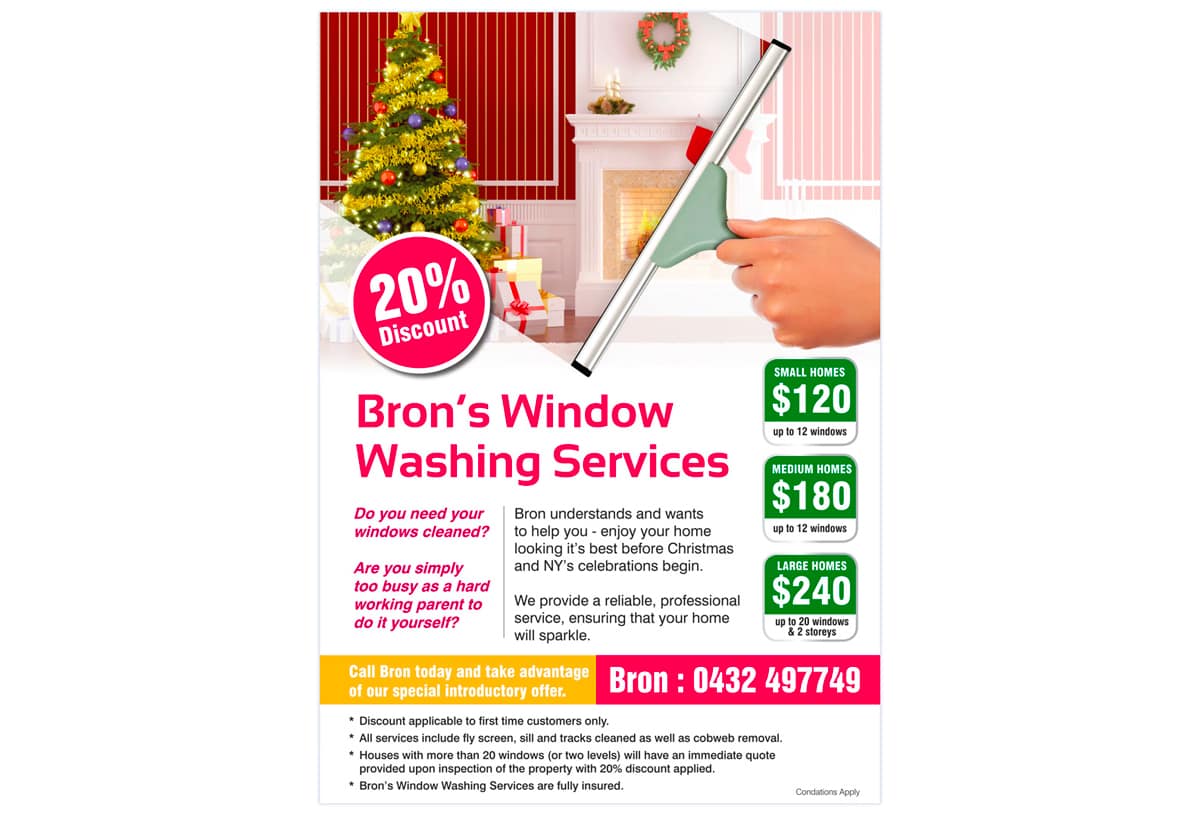 Image credit: Bron's Window Washing
This flyer shows the company's services as well as its prices at a single glance. Moreover, its big discount sticker will entice more potential customers to contact the company.
JG Window Cleaning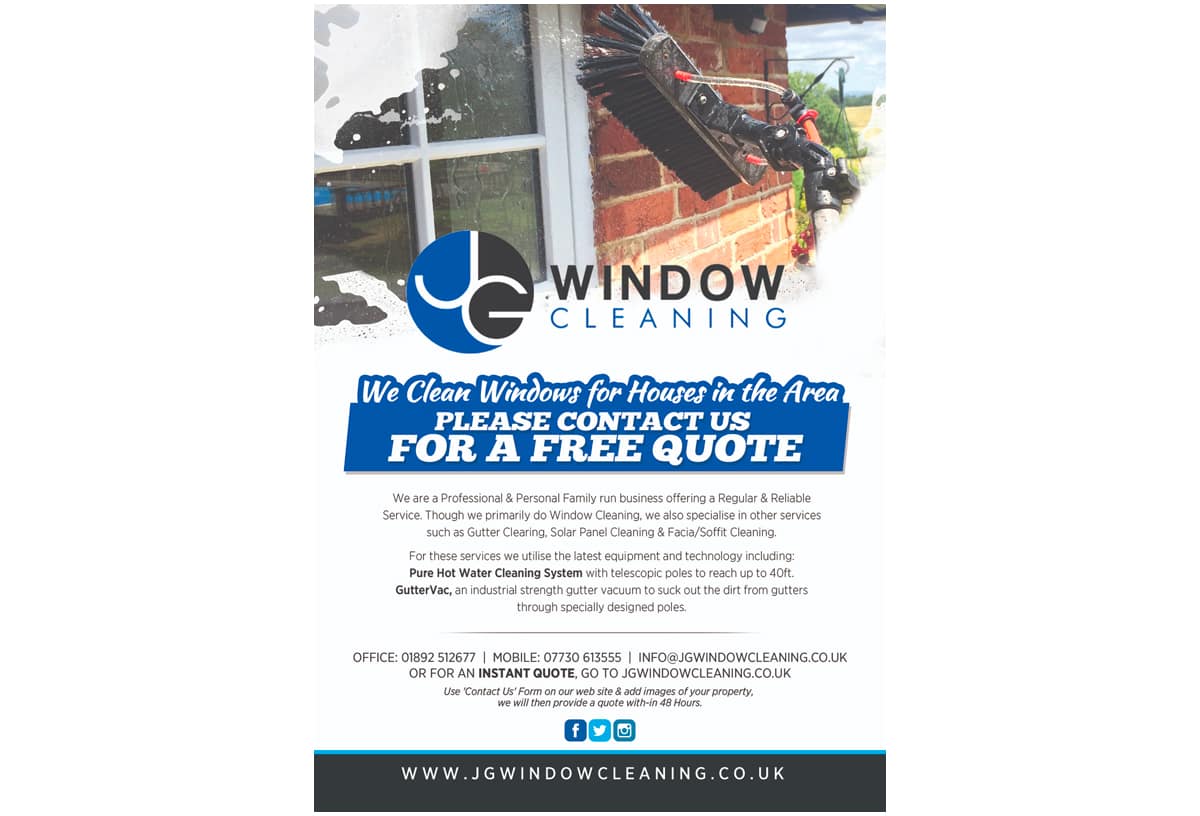 Image credit: JG Window Cleaning
The large call-to-action for a free window washing quote is bound to catch a lot of eyes. In addition to that, this company also provides multiple contact points so people can choose to call, email, or go to the company's website.
John's Disinfecting Service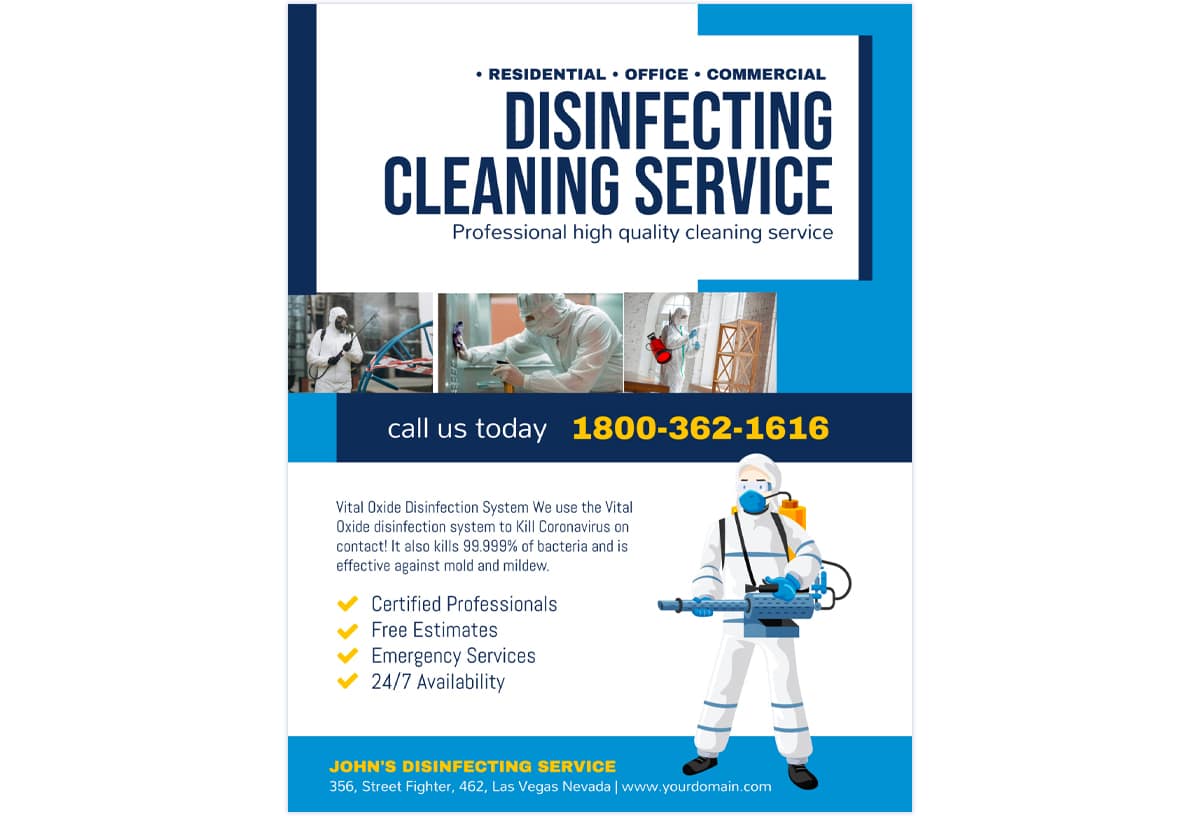 Image credit: John's Disinfecting Service
The title of this flyer accurately describes the house cleaning services provided, giving readers that information instantly. Reading further down, it also lists four key selling points of the business, convincing people to call.
ChemDry Duct Cleaning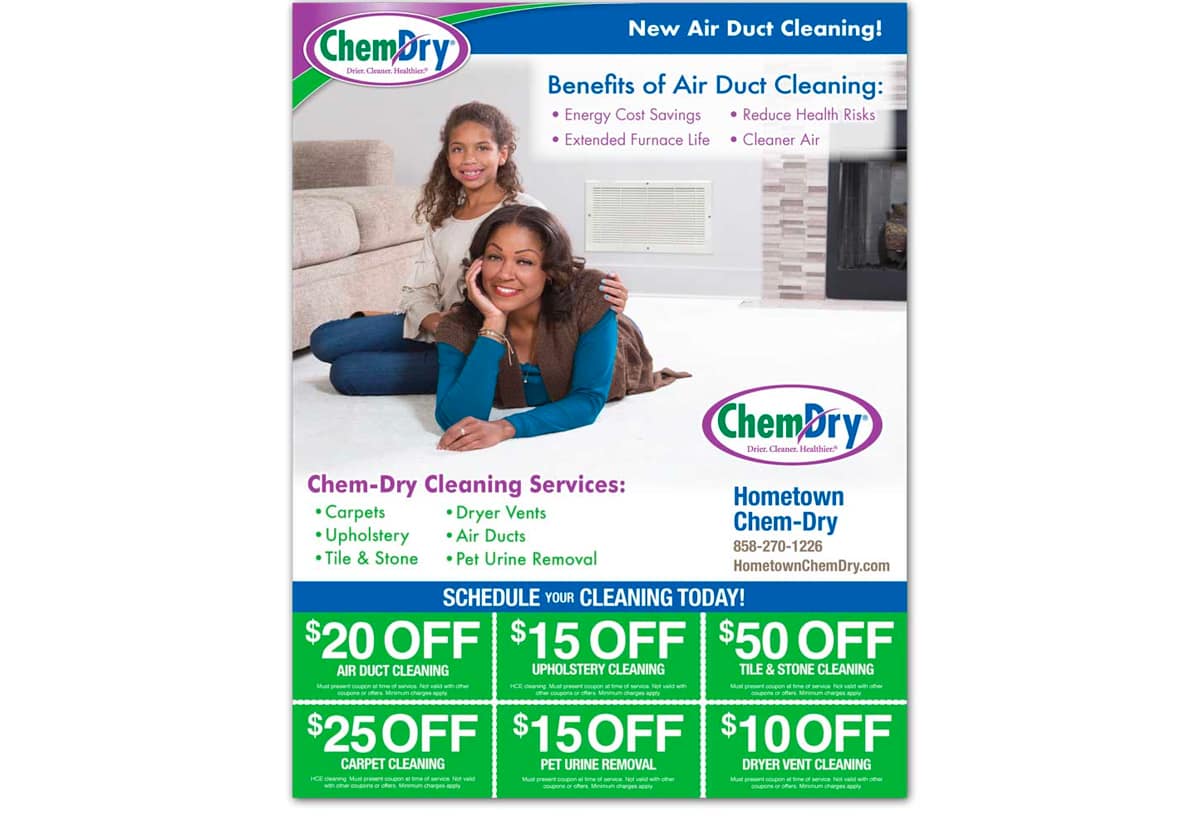 Image credit: ChemDry Cleaning
This flyer clearly outlines what the company offers as well as the benefits it offers. It also provides cutaway coupons you can use to get discounts on its services.
Frequently asked questions about cleaning business flyers
How do cleaners advertise?
You can advertise cleaning businesses in numerous ways. Some of the most popular ones include:
Word of mouth.
Flyers.
Online ads.
Social media presence.
How do you make a good flyer?
Once you get the hang of it, making cleaning business flyers that attract your audience isn't hard. You just need to remember these three things:
Create a pleasing design in a color scheme that fits your target demographic.
Attract their attention at first sight.
Keep it concise and lead them to your hotline or website.
Discover how you to strengthen your cleaning company marketing strategy with Method:Field Services!
Image credit: Pixabay via Unsplash