Once only accessible to large organizations, enterprise resource planning (ERP) software is now widely available to small businesses. Today's best small business ERP software is easy to integrate and has become a staple for financial management and other business functions.
If you're on the market for an affordable, easy-to-learn full-service ERP for your business, this guide shortlists the best small business ERP software available.
What is small business ERP software?
ERP is a modular business management solution that is customizable to suit your unique business processes.
Many organizations use ERP software for customer relationship management, accounting, inventory management, and other critical areas.
The best small business ERP software solves the problem of managing too many separate tools, enabling small businesses to handle everything from payroll to human resources as a single, cohesive whole.
Benefits of ERP software for small manufacturers
The benefits of the best small business ERP software include the following.
Centralized data: The concept behind ERP software is to keep company information within a single interface. By centralizing data, your staff always have the information they need. Plus, standardizing information prevents inconsistent formats and reporting discrepancies.
Data security: The best small business ERP software lowers the risk of data leaks by organizing information in one place instead of multiple sources. Cloud ERP systems are even more robust, distributing information across several remote servers to prevent single points of failure.
Government compliance: Using accredited ERP systems, helps you adhere to governmental and financial standards and remain compliant within your industry.
Enhanced productivity: By automating repetitive and administrative tasks through an ERP, you increase your team's capacity. .
Scalability: Because ERP systems are modular, you pay for only what you need at any moment, scaling up or down as necessary.
Cost-efficiency: You significantly lower costs with an ERP by minimizing paper use and saving time on administrative tasks.
ERP software key features to look for
The best small business ERP software is incredibly versatile and supports every aspect of your business. Below are a few common and advanced features within a standard ERP system.
Supply chain management: Obtain reasonable cost estimates from suppliers and keep track of goods as they move across your supply chain. Get total inventory control by optimizing your demand and supply ratio, booking transportation, and arranging distribution.
Accounting software and financial management: Create accurate financial reports that you can quickly distribute. Process payments and track expenses as they happen.
Business intelligence: Analyze the appropriate data to make better-informed decisions regarding your business.
Complex manufacturing: Allocate your budget more accurately by producing detailed manufacturing forecasts that anticipate future needs.
Customer service: Manage interactions with prospects and your existing customer base. Keep an eye on new leads as they move through your sales funnel.
Types of ERP software for small businesses
The best small business ERP software can be split into three primary types:
On-premise: This kind of ERP software is only accessible at the site of the server. Suppliers install this software on office computers, enabling complete control through organization servers. However, this is at the cost of remote access to your ERP software.
Cloud-based: Cloud-based ERPs send data to service providers, who encrypt this information for safety. Unlike on-premise solutions, cloud-based ERPs are typically subscription-based, access remotely, and offer continual support.
Hybrid: Hybrid systems combine on-premise and cloud-based functionalities, offering flexibility to scale and migrate according to your business needs.
To us, the best small business ERP software are those that are cloud-based.
How we selected the best ERP system for small business
We made the following considerations to make a fair and accurate small business ERP software comparison.
Cost: ERP software specific to small businesses generally have lower upfront costs, with some plans as low as $20 a month. We chose software without hidden fees and flexible payment plans.
Functionality: We selected software that applies to most industries and is compatible with general day-to-day business processes.
Scalability: Not all small businesses need full-scale functions. We picked scalable software that you can customize to suit your specific needs.
Best ERP software for small businesses
If you're having trouble selecting the appropriate ERP software solution for your business, we've narrowed the list to the best small business ERP software contenders.
Often, your small business isn't ready for a full-fledged ERP. Instead, using a powerful automation tool in conjunction with your accounting software is enough.
And that's exactly the case with Method.
Method is best known for its superior, two-way sync with QuickBooks and Xero. The tool enables users to improve customer satisfaction and operations through automation that mirrors your exact way of working.
In addition, Method is compatible with over 3,000 third-party applications from Gmail to Outlook.
Features
End-to-end invoicing: Automatically create invoices using data from sales orders, work orders, and cost estimates. Then, send your invoices directly from Method for quicker payment collection.
Powerful automation: Tailor Method's workflow automation to your specific business needs thanks to Method's no-code platform.
Drive sales: From generating new business to processing orders and managing customers, Method makes life easy for manufacturing companies.
Pricing
The Contact Management plan starts at $25 per month, while the CRM Pro plan costs $44 per month. CRM Enterprise Plans are $74 per month.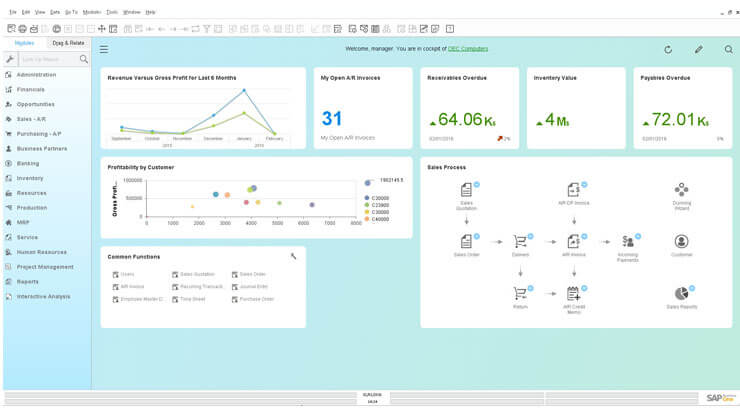 SAP Business One is a favorite within the IT sector thanks to its hyper-accurate pay calculation and complex business analytics.
SAP ERP is one of the most globally implemented software on the market but has a relatively steep learning curve that demands a lot of customization.
If you're looking for cheap ERP software for a small business, SAP Business One also offers flexible and customizable payment plans.
Features
Multicurrency capabilities: Keep currency divisions in assigned geographical locations and support various payment gateways.
Common function widget: Create custom shortcuts per user instead of manually searching for the most-used functions.
Benefits management: Configure basic and complex employee benefits plans in just one dashboard. Use your benefits management and SAP's payroll module to make HR administration more manageable.
Pricing
A limited license costs $56 per month, while a professional license costs $108 per month.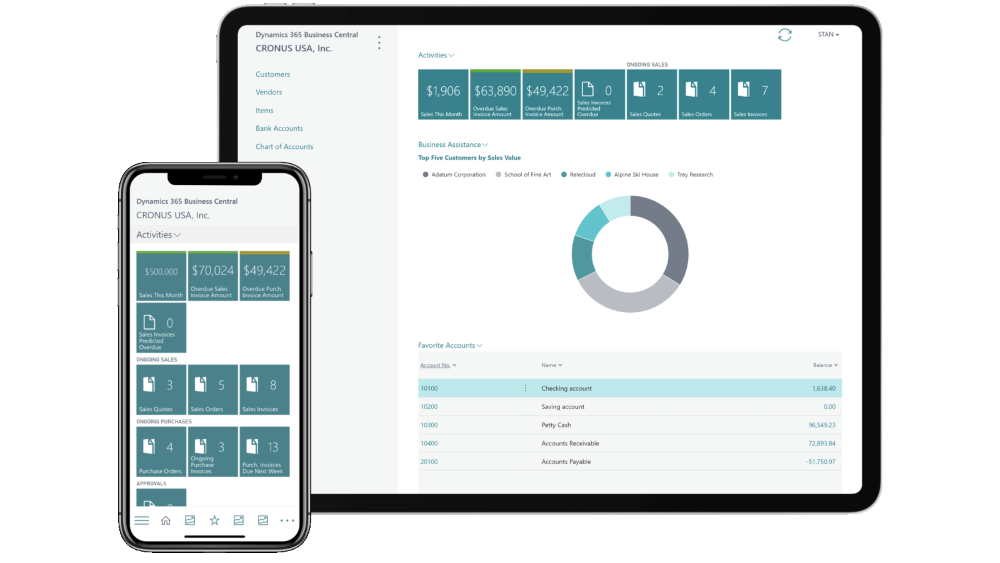 If you already operate in a Microsoft-based workplace, it's natural to choose Dynamics 365 Business Central as your small-scale ERP.
This cloud-based solution integrates seamlessly with the Microsoft ecosystem. Plus, it is compatible with hundreds of other third-party applications.
That said, while it makes for an excellent go-to finance solution, Dynamics 365 lacks comprehensive customer experience features.
Features
Easy custom reports: Easily produce custom reports with Microsoft Office applications you already use like Outlook and Excel.
Sales and purchases: Instantly turn quotes and estimates into invoices and purchase orders. Then, tie purchase orders back into your inventory to track whether your stock is sufficient or requires back-ordering.
Summarized launch screen: Access critical information like KPIs, company data, and project summaries as soon as you launch Dynamics 365.
Pricing
This best small business ERP software doesn't come cheap.
The Essentials plan costs $70 per month per user, while a Premium account costs $100 per month per user.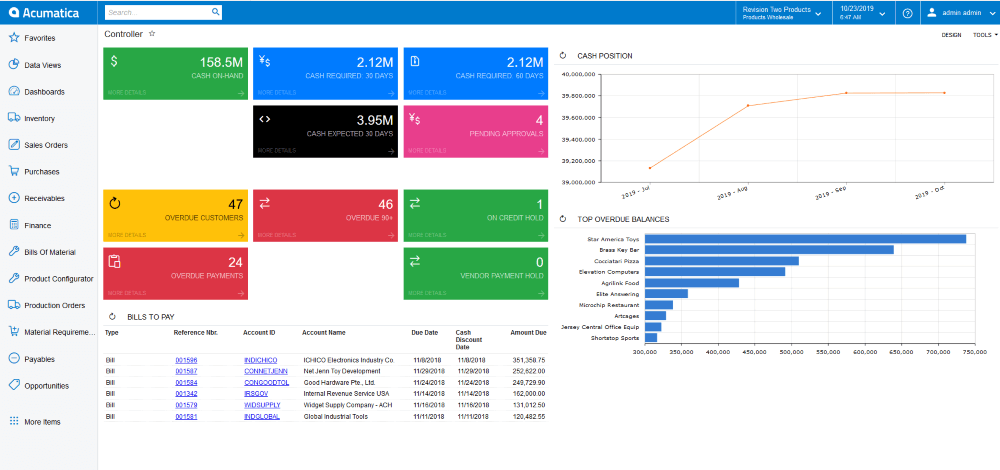 If you're looking for a small-scale ERP that is flexible and scalable, try Acumatica Cloud ERP. Thanks to its SaaS structure, Acumatica keeps up with rapid industry changes.
Features
Multiple dashboards: Get a comprehensive overview of specific aspects of your business by switching dashboards. For instance, quickly review KPIs on the Controller dashboard and get a budget process chart on the Financial dashboard.
Account subsegments: Easily locate accounts according to assets, income, liabilities, equities, and expenses. Create as many as ten other subsegments to categorize accounts.
Detailed production tracking: Track inventory efficiently through lot and serial number scanning. Quickly make two-step transfers to indicate goods in transit (GIT).
Pricing
As one of the best small business ERP software, Automatica doesn't come cheap.
Automatica bases its license fees on resource consumption instead of per user, so most small businesses pay roughly $1,000 per month.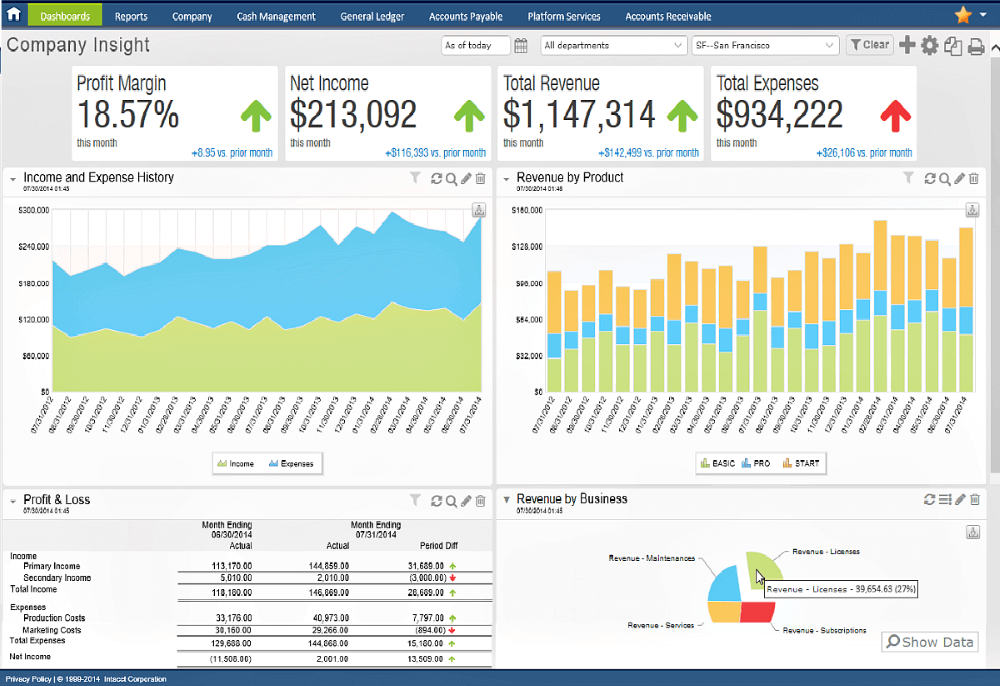 As far as the best small business ERP software goes, Sage Intacct is a reliable financial management solution.
It focuses on automating manual financial processes like data entry and reporting to improve your decision-making capabilities.
Many prefer Sage Intacct for its accounting-based capabilities like budgeting and cash flow management, but it does lack other critical features like e-commerce and human resources.
Features
Accounts payable: Manage various payments, including cash, credit card, check, and bank transfers. Track penalties and adjustments.
Advanced budgeting: Report actual operational spending and include any variances to improve future forecasting. Get monthly or quarterly budgetary estimates.
Job costing: Get accurate depictions of potential job costs through time and expense tracking. Note project accounting milestones and schedules.
Pricing
Pricing plans are available upon request.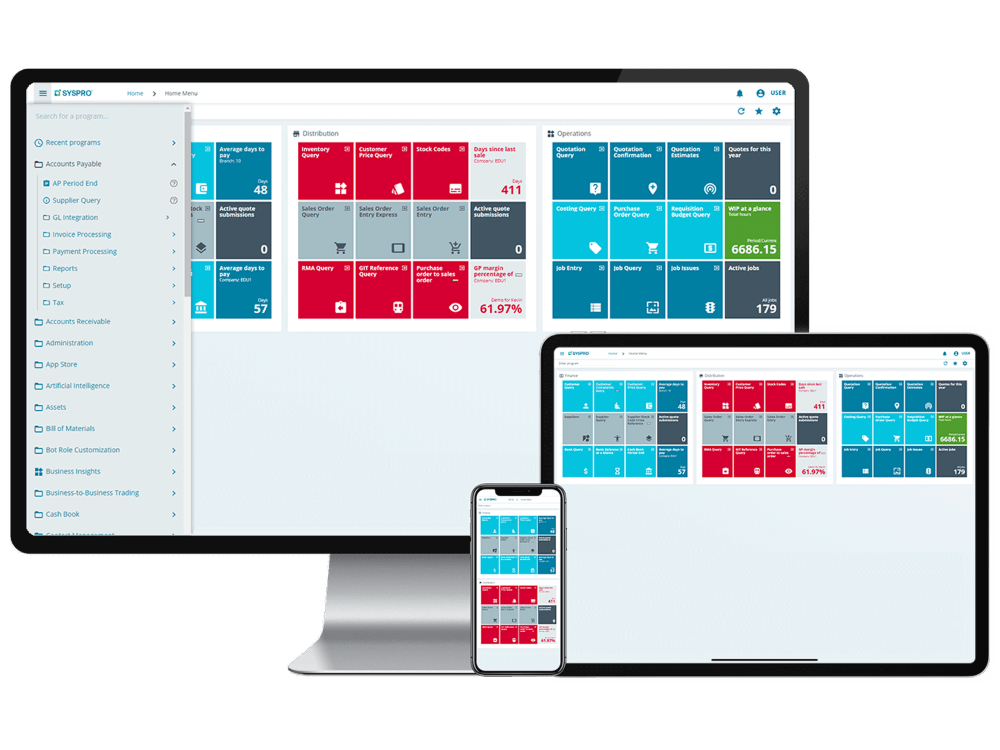 SYSPRO's versatile menu and navigation options make it highly intuitive. It is a modular system, so the platform is easily customizable to your specific business needs without forcing you to spend more than you can afford.
However, while it's buildable, SYSPRO lacks payroll features and human resources management.
Features
Program list menu: Get a quick and helpful overview of all the available SYSPRO modules and their add-on tools.
Preconfigured dashboards: Use over 380 preconfigured dashboards and view your processes or information as lists, graphs, flowcharts, timelines, gauges, scorecards, and other formats.
General Ledger Chart of Accounts: Create up to nine user-definable groups with 35 alphanumeric characters to label and access accounts.
Pricing
This best small business ERP software option requires significant investment with plans starting at $199 monthly per user on top of an on-site installation fee of $12,000.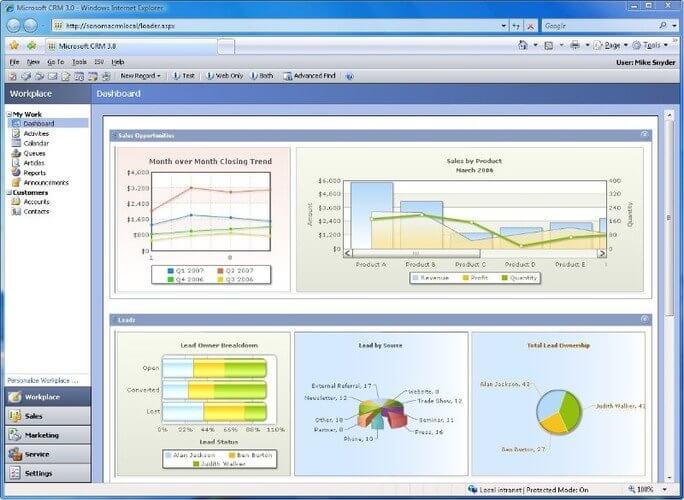 If you operate on a Microsoft ecosystem but prefer an on-premise solution, Dynamics GP is one of the best small business ERP software.
It has built-in human resources capabilities and operations management to tie the moving parts of your organization into a single dashboard.
Dynamics GP is generally easy to use but poses a slight learning curve if poorly implemented. This is a risk to consider as part of your best small business ERP software evaluation process.
Features
Entry-level accounting: Track financial data like cash, assets, and budgets. Then, spend less time worrying about your financial reports with hundreds of analytics templates.
Power BI integration: Integrate with Power BI to analyze business data in more detail. Get AI-based guidance on your next steps and areas of improvement.
RapidStart implementation: Get your Dynamics GP system installed, set up, and deployed with all your existing data in just a few days.
Pricing
A Dynamics GP Starter Pack costs $5,000 for three users. The Extended Pack costs $10,000 with additional full-access users at $3,000 each. Read-only users cost $600 each.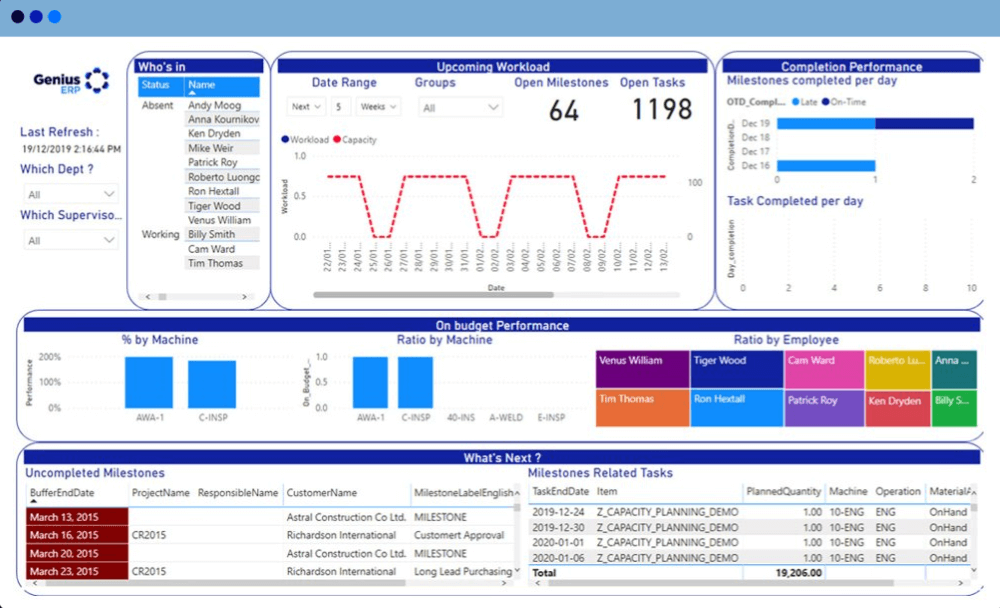 Genius ERP is one of the best ERP vendors for a small business in manufacturing.
It is most notable for its compatibility with make-to-order and custom-to-order business formats, providing companies with automation tools that help reduce operational costs.
Features
Product engineering: Take your products from concept to deployment with the Genius ERP ecosystem. Upload CAD files and convert them into BOMs or RFQs in just a few clicks.
Vendor management: Send price inquiries to multiple vendors simultaneously, comparing them in a single interface before making bids.
Quality control: Ensure all your products and complex processes perform as they should by generating NCRs and monitoring outcomes.
Pricing
Genius ERP plans start at $125 per month per user.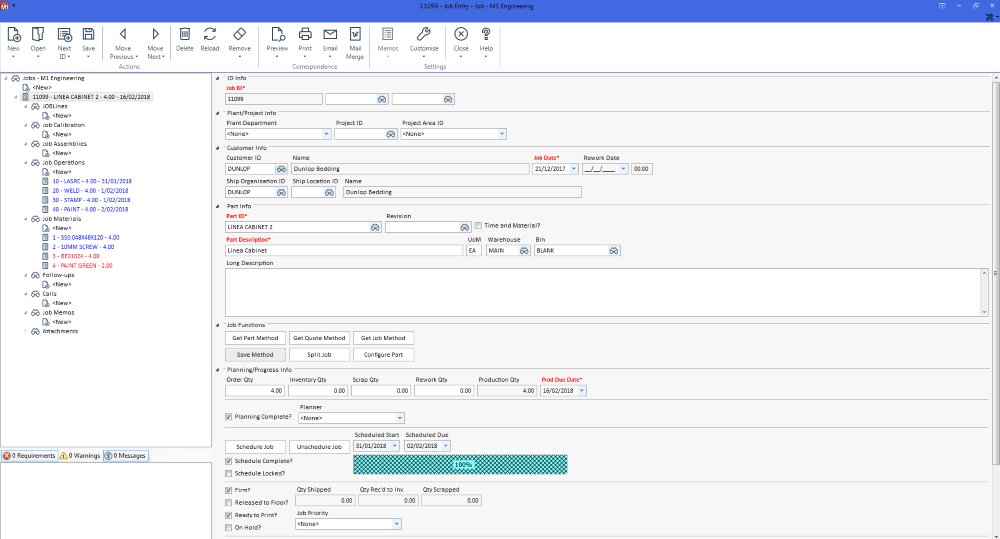 Next on our list of best small business ERP software is ECI M1.
ECI M1 analyzes and improves pre and post-sales activities, providing actionable insights for major business decisions.
Features
Real-time information: Get all your business data (e.g. schedules, moving inventory, new vendors, warranties, etc.) in real-time to monitor any changes or discrepancies.
Advanced Planning and Scheduling System (APS): Create finite and infinite schedules that you can drag and drop to change at any time. Use "what if" scheduling to quote jobs more accurately and create detailed forecasts.
360 CRM: Integrate seamlessly with Microsoft Office to closely monitor customer interactions and collate contact information and the appropriate documents.
Pricing
ECI M1 plan pricing is available upon request, though prices typically start at $5,000.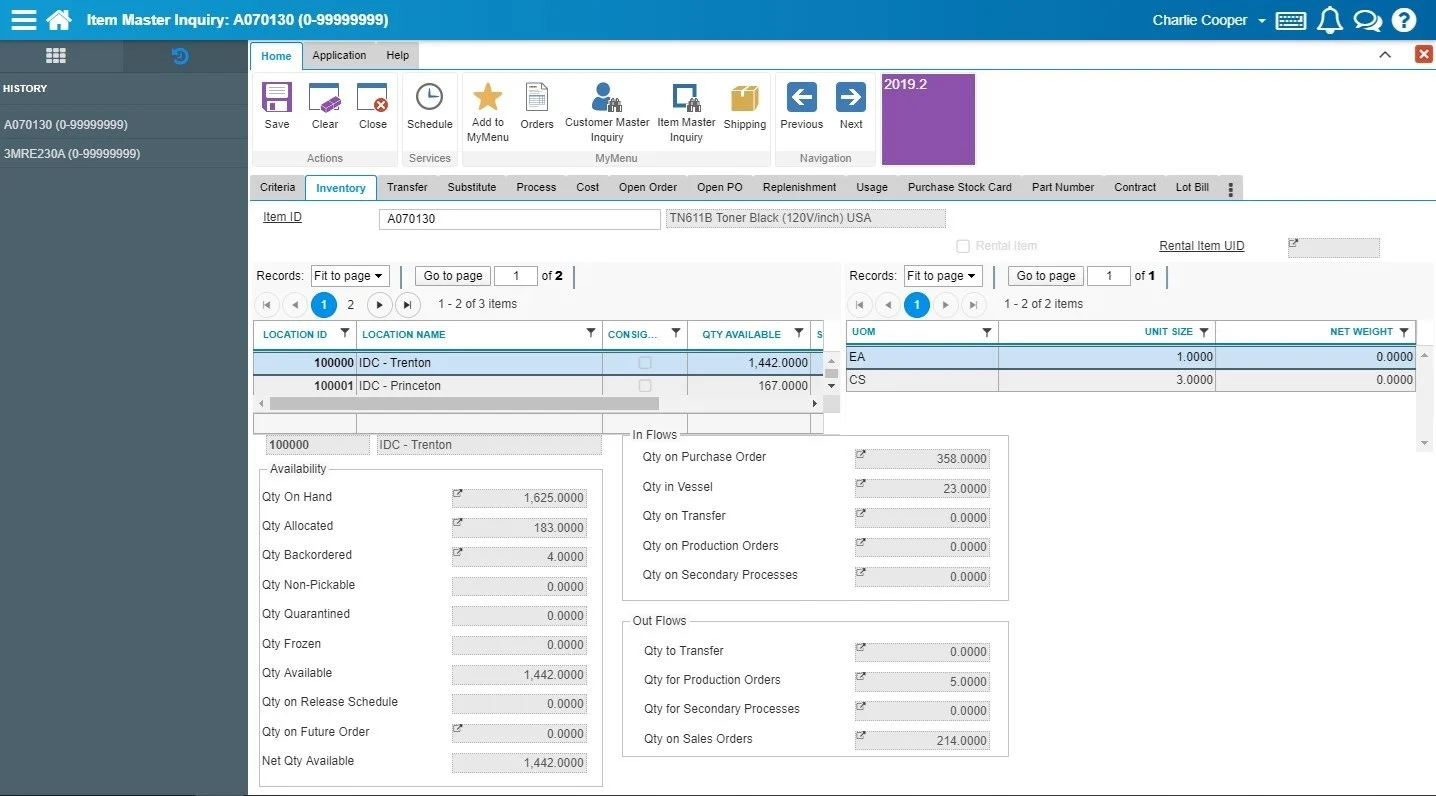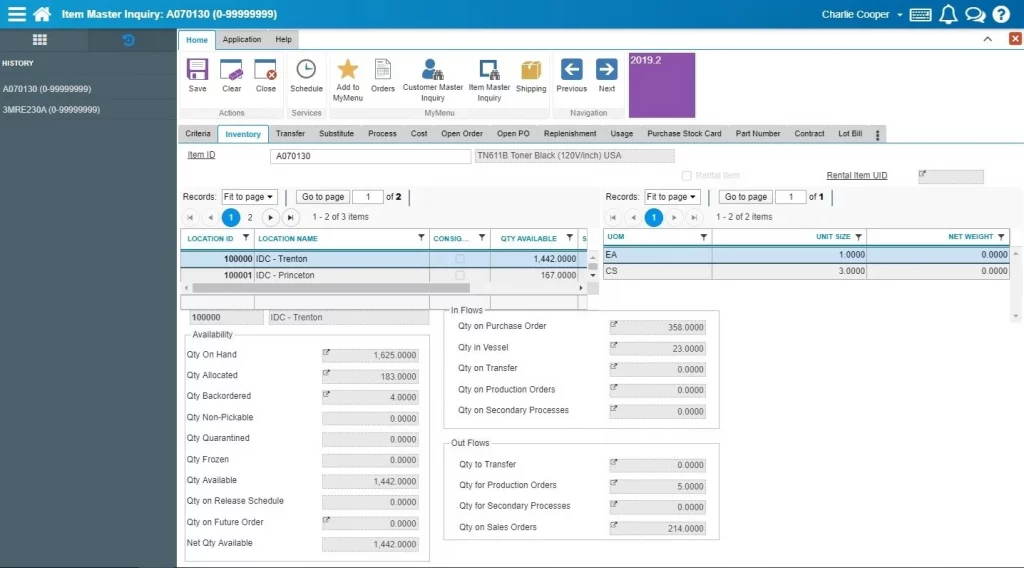 Epicor Prophet 21 is the last contender on this best small business ERP software list. It is ideal for businesses in the retail and manufacturing industry.
Epicor Prophet 21 focuses on improving customer experiences and driving growth within digital spaces through end-to-end visibility.
Features
API: Connect seamlessly to other business systems that you already use. Epicor's full .NET stack supports SOAP and REST connectivities.
Wireless Warehouse Management System (WWMS): Get real-time updates on all your warehouse processes, including receiving, adjustments, cycle counting, and inventory movement.
Pricing
Epicor Prophet 21 costs a one-time fee of $20,000 plus $2,500 for a perpetual license.
Which small business ERP software is best for you?
Determining the best small business ERP depends on your industry, current systems, and budget.
If you don't have the time to learn something complex, SYSPRO ERP has a minimal learning curve and is easy to implement. However, you must already have a robust HR program, as SYSPRO ERP lacks significant HR features.
On the other hand, if you're looking for something more customizable and have time to learn its complexities, Epicor Prophet 21 has unbeatable distribution compatibility.
If you already operate on a Microsoft system, your business might benefit most from Dynamics GP or Dynamics 365 Business Central.
Overall, the best general solution for small-to-medium businesses in any industry is Method, which integrates with over 3,000 third-party applications and provides full-service features that meet all your business requirements.
What if you're not ready for an ERP?
Whether it's budget constraints or a steep learning curve that scares you about an ERP — you're not alone.
Even the best small business ERP software can be intimidating when you have limited resources.
Instead, think about a smaller scale automation tool like Method. By combining your accounting and customer data, you can gather data-driven insights with a set-up that takes only a few minutes.
Just start your free trial and sync your QuickBooks or Xero account to get started.
Once you create your account, you get the following capabilities immediately:
Lead and customer management.
Reporting.
Estimates and invoices.
Online portals.
Better yet, use Method's no-code backend to grow your ERP capabilities to include features like e-signature approvals, commission calculations and order management.
Small business ERP software FAQs
How can ERP help a business?
ERP systems improve your existing business process by identifying discrepancies automating manual tasks, and providing actionable insights.
The best small business ERP software also provides detailed visibility into supply chain operations and makes vital information more readable.
How do you implement ERP systems in a company?
ERP implementation typically occurs in six stages:
Plan: Determine priority business requirements that an ERP system can solve.
Design: Review existing workflows and determine how you plan to migrate your data.
Development: Prepare documentation and start importing existing data.
Testing: Test the functions of your new system and address potential problems early.
Deployment: Complete your configurations.
Support: Ensure you have the appropriate support, updating your system as necessary.
What is a cloud-based ERP system?
Cloud ERP software functions similarly to on-premise systems — just without upfront implementation fees. A cloud-based ERP system allows you to access key business data from any device, at any time.
Better yet, it can upload and analyze significant amounts of data in real time, enabling businesses to respond to changes immediately.
See how Method:CRM gives you the power of an ERP system.
Image credit: Blue Planet Studio via Adobe Stock