Based on our firsthand experience, ERP systems for midsize companies are in demand.
Midsize business owners have to juggle multiple tools to get a complete picture of their business.
But with ERP systems for midsize companies, you increase your capacity by bringing your sales, inventory, finance, and customer management functions into one platform.
Over time, we found that while ERP software is generally targeted at large companies, midsize businesses can use them too. Read on to learn the top ERP systems for midsize companies!
What is an ERP system?
An ERP system integrates multiple business functions into one platform. It gathers information from core functions like accounting, sales, marketing, enterprise asset management, and others.
ERP lets employees access data from other teams without spending time to request them. Many ERP systems for midsize companies offer automated data syncs to save time and reduce human error.
As per our expertise, ERP systems are traditionally designed for larger companies and take the form of servers installed in their offices. However, on-premise ERP systems have high upfront installation costs and require extra space on your company's premises.
Fortunately, you have an alternative called cloud ERP.
Cloud ERP vendors that focus on medium-sized businesses provide the infrastructure needed to deliver service through the web.
Cloud ERP systems for midsize companies usually feature a per-user monthly subscription cost that's cheaper than its on-premise counterpart.
ERP software for midsize companies
After putting it to the test, while ERP is traditionally seen as a tool for large enterprises, small and medium companies can also use it to achieve their business goals. Here's why you should consider implementing ERP systems for midsize companies.
Assist in decision-making
Our investigation demonstrated that ERP systems for midsize companies offer advanced analytics tools to help you gather data-driven insights. These insights help you identify new trends, gauge customer satisfaction, and decide what to do next.
In addition to assisting in on-the-spot decision-making, your ERP software creates periodic reports to help you learn where the company is heading and whether you need to change course to capitalize on new opportunities and improve business growth.
Reduce operational
ERP systems for midsize companies offer automatic data entry capabilities, so you can reduce employment costs.
Once your ERP automatic data entry is up and running, you can assign the employees who previously worked there to other jobs that require a human touch.
Improve data integrity
It's tough to reconcile information between teams when each division has its own independent database.
ERP combines all those separate databases into a single source of truth accessible to all employees. Open data sharing prevents data mismatches because each division can double-check for discrepancies or inconsistencies.
Gain competitive advantage
The best ERP system for medium businesses improves efficiency and decision-making through task automation and data analysis. Adopting an ERP system gives you the edge over competitors who haven't done so.
Advantages of ERP systems for midsize companies
You must understand ERP's advantages and disadvantages to decide whether it's right for your company. Here are some competitive advantages you'll get by implementing ERP systems.
Smoother flow of information
Based on our observations, ERP systems for midsize companies merge all of your company's separate databases in one place. Instead of asking other teams to get the information you need, you can find it yourself on the company-wide database.
Better data access also helps teams correct each other when there are mistakes or inconsistencies.
Improved employee productivity
Manual data entry is tedious and time-consuming.
ERP systems for midsize companies automate these tasks so your employees can work on other things that require a human touch. Automating data entry also prevents human error, which is common with repetitive manual tasks.
Easier reporting
Having a single source of truth means you don't have to deal with dozens of spreadsheets from multiple teams when creating reports.
The business intelligence functions of the best ERP systems make report generation faster, and some platforms even offer report templates that fulfill compliance and auditing requirements.
Timely decision making
ERP systems provide a complete view of your business operations in real time.
With the full picture of what's happening in your company at any time, you can make informed decisions based on the most recent information.
Scalability and flexibility
As indicated by our tests, most ERP platforms are modular, meaning you can implement each feature individually or together.
ERP platforms' flexibility allows you to install only the necessary modules. Because you don't have to buy unnecessary features, you save money.
Thanks to their modularity, ERP systems are also highly scalable, meaning you can purchase new modules as your business grows and new requirements arise.
Better customer experience
ERP platforms work with CRM (customer relationship management) to:
Record customer interactions.
Gauge their satisfaction.
Create a better experience.
ERP systems also save customer preferences and purchase behavior to refine your targeted sales campaigns, ensuring you sell the right product to the right people.
Key features of ERP systems for midsize companies
ERP systems are highly customizable. However, there are some core features available in most, if not all, ERP systems, which are listed below.
Business function integration
Some business software can integrate with each other, but ERP platforms are purpose-built and merge a wide range of business functions.
ERP systems for midsize companies are fully integrated platforms that combine functions like accounting, finance, human resources, and customer relationship management into one dashboard.
This integration also eliminates data inconsistencies that may cause issues in the future.
Manual task automation
ERP software solutions come with various task automations, including:
Payroll entry.
Data recording.
Invoicing.
These features save time so your team can focus on more important work. Automating these manual processes reduces human error and prevents costly mistakes.
Data analysis and reporting tools
ERP systems for midsize companies make organizing information much easier, thanks to a centralized database.
ERP platforms can analyze real-time data for trends and patterns to spot potential business opportunities.
Drawing from our experience, most ERP platforms offer reporting tools that visualize business insights taken from raw data. Reports created by these tools help business leaders and investors understand your company's status.
Industry-specific business modules
Midsize company ERP offers customizability through numerous business function modules.
You can build your perfect ERP platform by choosing the individual modules you need or following the software vendor's recommendations and installing the essential features.
Some business function module examples include:
Warehouse management.
Business intelligence.
Supply chain management.
Work order and time management.
Finance and accounting.
Quote and invoice management.
Human resource management.
Sales and marketing.
Customer relationship management.
Contract management.
How we selected the best ERP systems for midsize companies
You have numerous options for midsize business ERP platforms from various software vendors. Here's how we chose the best ERP platforms on this list:
Features: The best ERP systems offer features that satisfy your business requirements. Some essential features include company-wide integration and individual business modules.
Price: The best ERP systems should have a reasonable subscription price for their features.
Scalability: The best ERP systems should be scalable and grow with your business.
Best ERP system for medium businesses
It can be tough to pick the best ERP system. To help you choose, here are the best ERP systems for midsize businesses available.
Method is a powerful solution for growing companies that need more than a CRM but less than a full-fledged ERP. It offers a high ROI, quick implementation, and enhanced flexibility for your niche business processes.
Plus, it integrates deeply with your QuickBooks or Xero account to connect your accounting and customer data.
Method offers workflow automation for:
Lead and customer relationship management.
Reporting.
Estimates and invoices.
Online portals.
Better yet, you can tailor the solution to do whatever you need it to thanks to its no-code platform.
Here's an overview of what's possible with Method.
Features
Automatic lead collection: Method captures customer information from your email inbox and website forms, then exports it into your CRM within minutes.
Field service management tool: Method's scheduler feature prevents double-booking your field teams and creates the most efficient routes to ensure they get to work faster.
Time tracker dashboard: Method provides an intuitive, easy-to-use time tracking app, accessible from computers and mobile devices.
Pricing
Method's subscription plans start at $28 per month per user. You can sign up for your free trial — no credit card or contract required.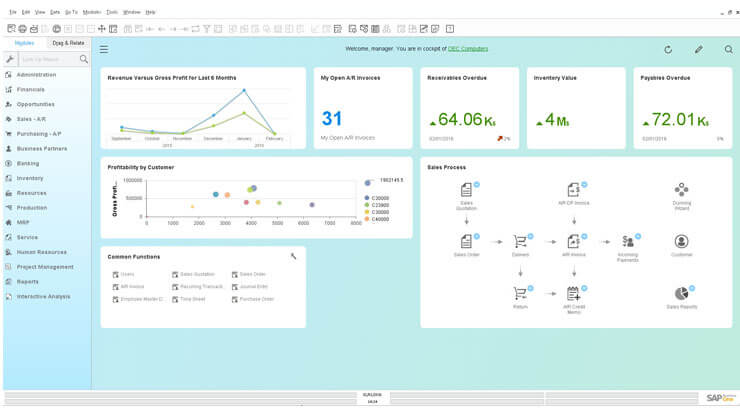 SAP Business One is an ERP system for midsize companies. It has modules like accounting, inventory management, sales, and CRM.
When we trialed this product, we discovered that it offers on-premise and cloud deployment options, so you can choose which option suits your needs better.
Features
Accounting automation: SAP Business One automates key accounting tasks like journaling and accounts receivable management to save time.
Customer database integration: SAP Business One connects with Microsoft Outlook to synchronize critical customer data.
Report creation tool: SAP Business One compiles data from multiple divisions to create holistic business performance reports.
Pricing
SAP Business One doesn't list pricing information on its website, but you can contact a sales representative for more information.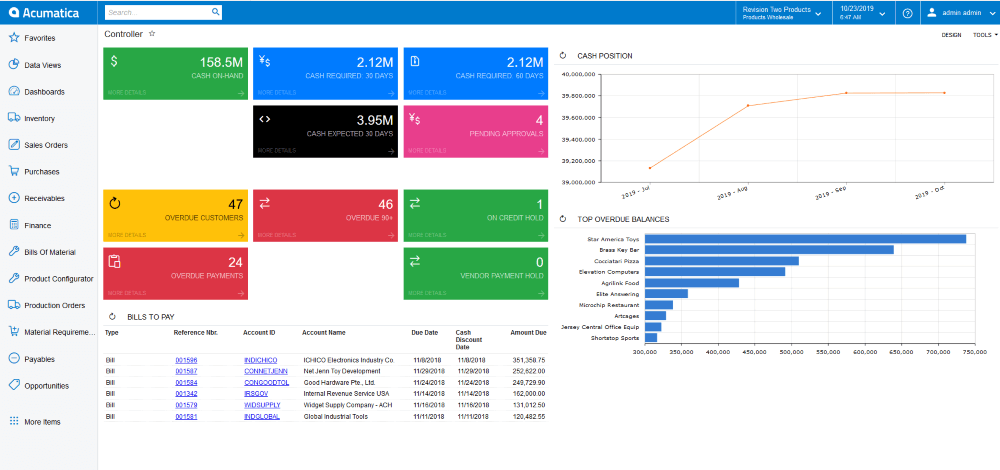 Acumatica is a cloud-based ERP platform that offers integrations with other software through its Acumatica Marketplace. After using Acumatica, we noticed that it also boasts a customizable cloud system that your team can modify without coding.
Features
E-commerce connectivity: Acumatica connects with major e-commerce vendors like Amazon, BigCommerce, and Shopify to automatically capture data and process fees.
Real-time manufacturing management: Acumatica's manufacturing dashboard offers real-time coordination to help you manage your business from anywhere.
Distribution and sales dashboard: Acumatica helps you sell more products to customers with AI-assisted item substitutions, cross-selling, and up-selling.
Pricing
Acumatica doesn't publish its pricing information, but you can request a demo on its website.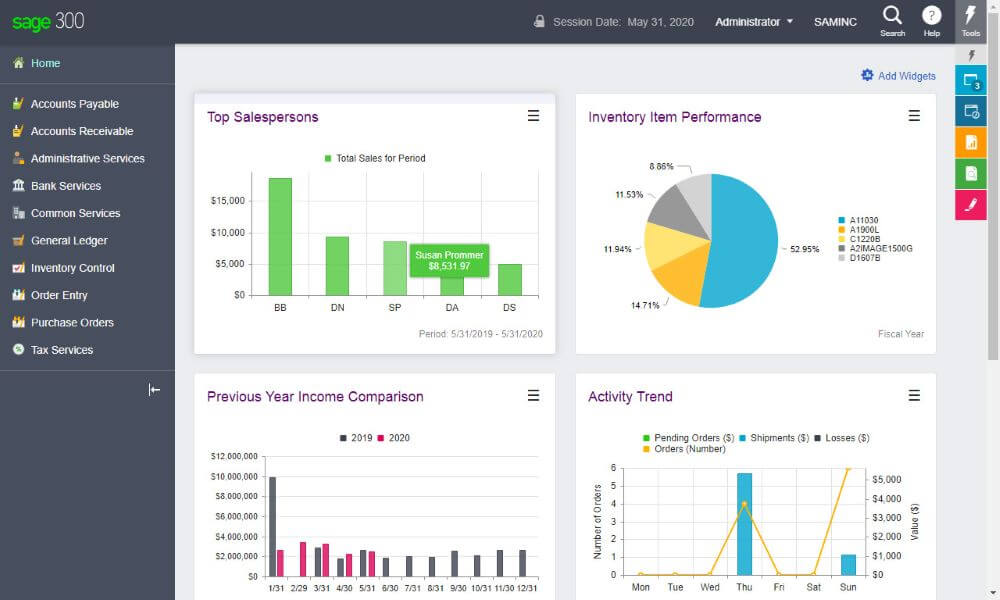 Sage offers cloud ERP services that can also be bought as individual modules.
Our analysis of this product revealed that Sage 300 can prevent accounting mistakes by detecting unrecorded transactions and discrepancies, preventing costly issues down the line.
Features
Multi-currency financial management: Sage makes international business easy with a multi-currency and multi-lingual accounting function.
Job costing tool: Sage's job costing tool monitors project timelines, contractor expenses, and work progress.
Payment processor integration: Sage makes customer purchases simple through integration with major payment processors like PayPal and Stripe.
Pricing
Sage 300 doesn't publish pricing information, but you can get pricing information by contacting a sales representative.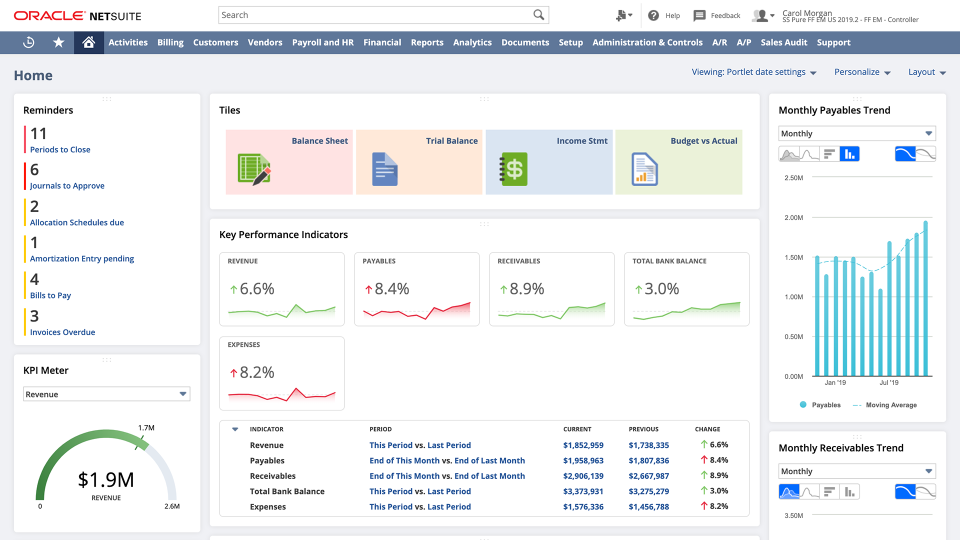 Oracle's NetSuite is a cloud solution that offers order processing, accounting, production, supply chain, and other important business modules.
We have found from using this product that NetSuite's report tool lets you create in-depth reports and big-picture overviews within minutes.
Features
Real-time financial insights: NetSuite gives you key financial metrics like profitability and inventory margins to gauge business performance.
Inventory management tool: NetSuite estimates product demand based on historical sales and forecasts to ensure you always have enough items in stock.
Order shipping optimization: NetSuite identifies the best shipping location for your product based on proximity to customers and product availability to improve delivery time.
Pricing
Oracle NetSuite doesn't offer public pricing information. However, you can sign up for a free product tour.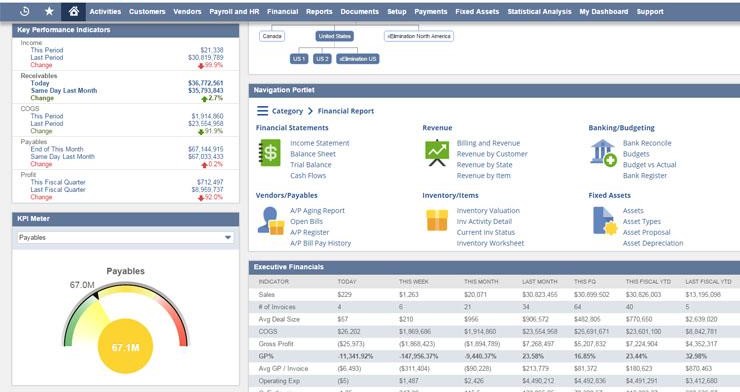 Oracle NetSuite Oneworld is a version of NetSuite for global businesses. It lets you manage multiple subsidiaries and business units across several countries simultaneously.
Features
International compliance support: NetSuite Oneworld supports global and country-specific auditing standards to ensure you always follow local and international regulations.
Real-time global business insights: NetSuite Oneworld brings the information from your various business units into one dashboard to give you an overview of your company.
Global tax engine: NetSuite Oneworld's tax engine supports taxation reports in over 100 countries, so you don't have to create tax reports from scratch each time.
Pricing
NetSuite Oneworld does not publish its pricing publicly, but you can contact a sales representative.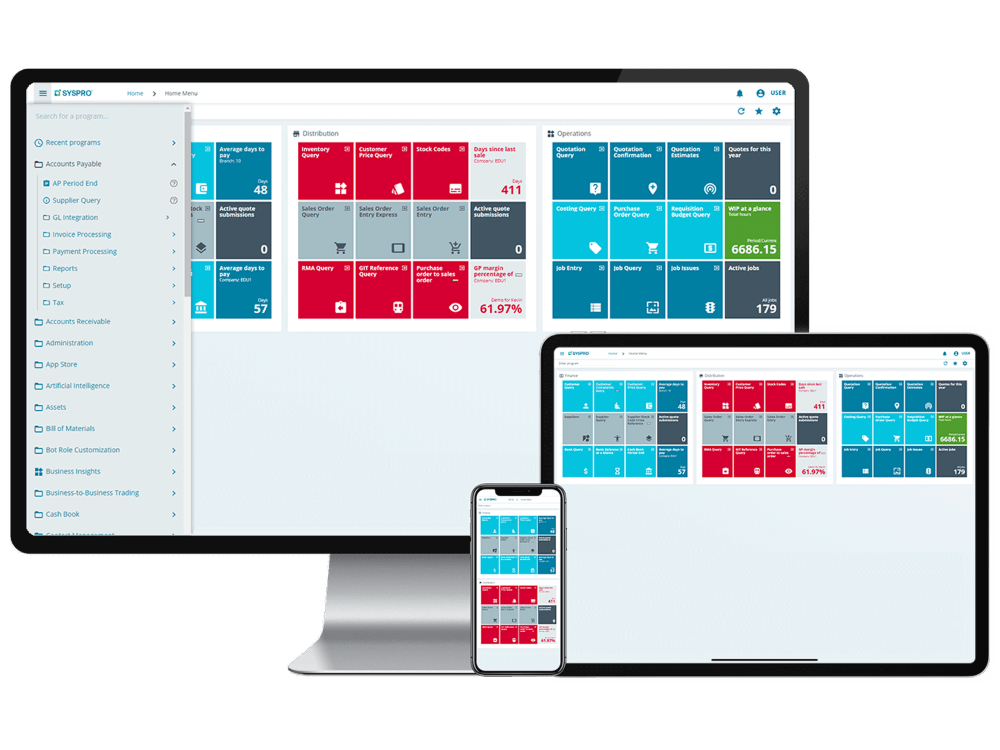 SYSPRO ERP is a platform for manufacturing and distribution companies that offers both cloud-based and on-premise implementation.
Based on our observations, SYSPRO provides business trends and insights to give you the information necessary to make good business decisions quickly.
Features
Manufacturing operations management: SYSPRO minimizes loss and lowers costs by helping you monitor the entire manufacturing process.
Interactive supply chain portal: SYSPRO's portal facilitates safe transactions between you and suppliers to prevent fraud.
Cash-and-carry support: SYSPRO assists your retail subsidiaries by collecting cash securely and recording all transactions in the system.
Pricing
SYSPRO doesn't publish pricing information on its website, but you can contact a representative for further information.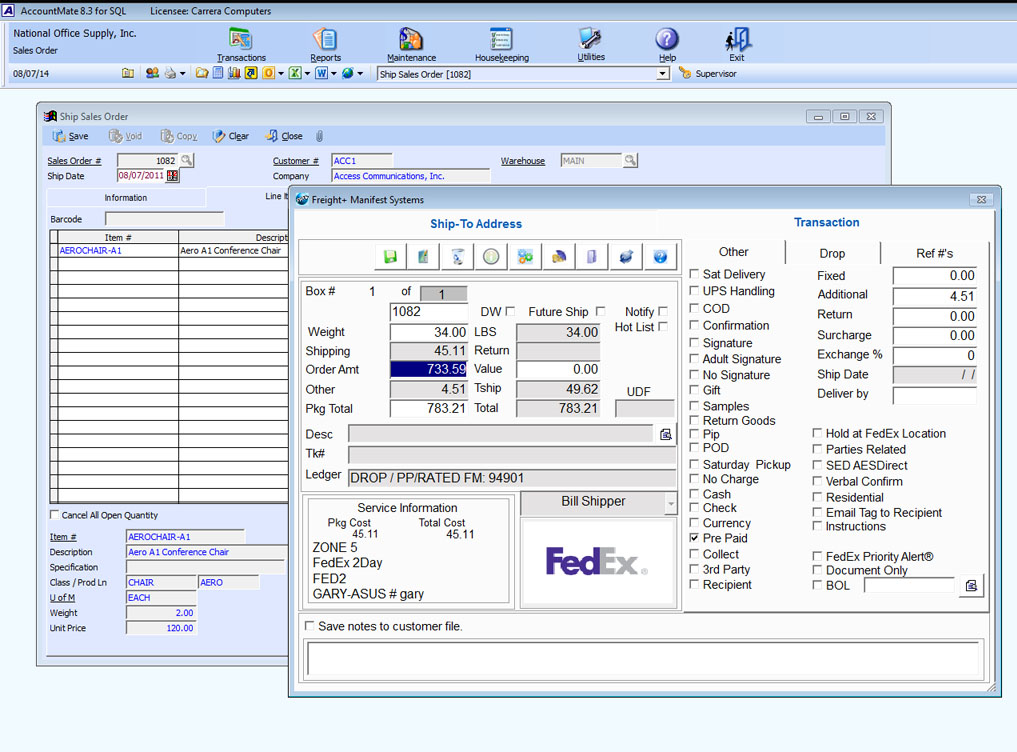 AccountMate is a financial and business management solution for small and medium businesses. Our research indicates that it has robust fraud protection and a strong password policy to ensure Sarbanes-Oxley compliance.
Features
Currency consolidation: AccountMate makes international transactions easier by consolidating different currencies into one base currency.
Multiple security levels: AccountMate lets you define access rights for each account to view, add, and edit company records.
Bank reconciliation: AccountMate helps you reconcile your accounting records and bank balances to eliminate inconsistencies.
Pricing
AccountMate doesn't share pricing information, but you can contact its customer representative for more information.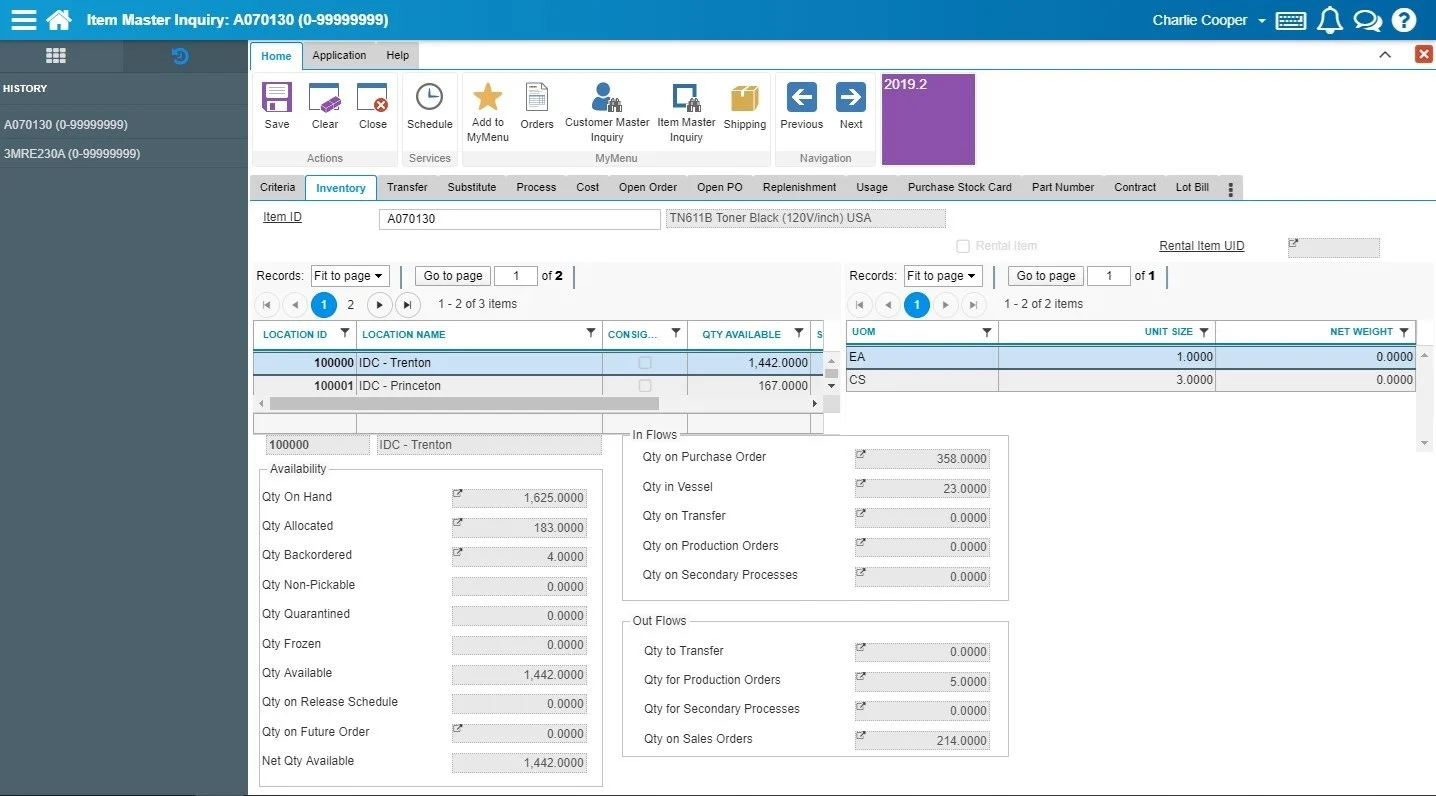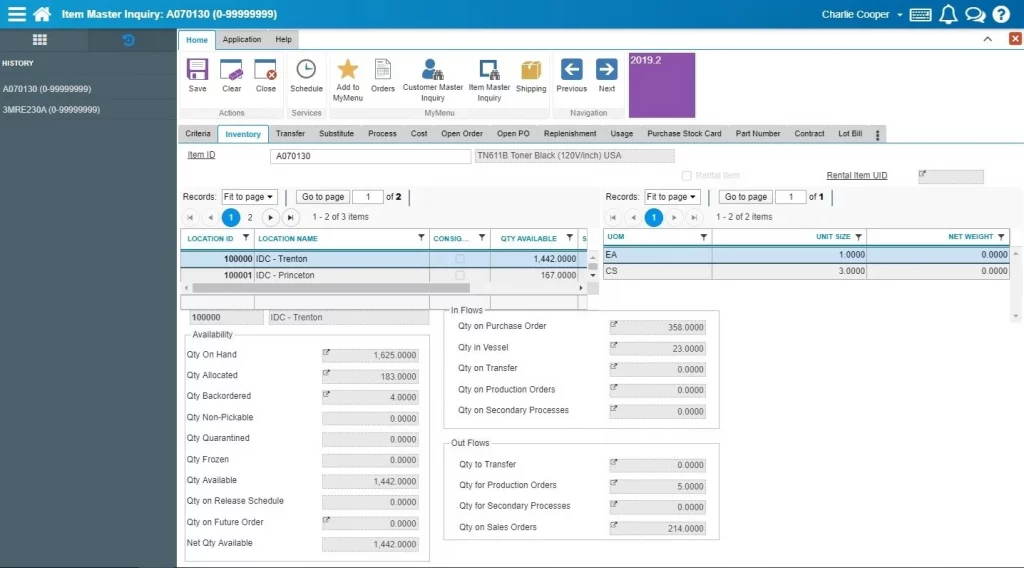 The last contender on this ERP systems for midsize companies list is Epicor.
It is a manufacturing business cloud system that lets you manage multiple teams and divisions from a single dashboard. We determined through our tests that Epicor also gives employees a communication hub in a social network-style app.
Features
Manufacturing management dashboard: Epicor lets you monitor work progress in real-time to ensure business goes well.
Business intelligence solution: Epicor converts raw data into insights to assist in decision-making.
Collaborative product lifecycle management: Epicor connects your team so they can create and refine product designs in real time.
Pricing
Epicor doesn't publish pricing information, but you can chat with a sales representative to get a quote.
Which ERP system for midsize companies is best for you?
The best midsize company ERP system for you must merge all your information to give you a complete picture of what goes on in your company.
It also needs to automate time-consuming core processes and promote collaboration between teams.
If you need a solution that's quick to deploy and extends the power of your accounting software, our findings show that Method is your best bet when it comes to ERP systems for midsize companies.
ERP systems for midsize companies FAQs
Are ERP systems useful for midsize companies?
ERP systems for midsize companies are useful because they give you a big picture understanding of your business performance. Better yet, they are key to improve interdivisional communication.
What ERP systems do midsize companies use?
Different midsize companies use different ERP systems. However, most midsize companies prefer cloud ERP because they have lower upfront costs.
Some midsize companies may use ERP alternatives like standalone CRM or accounting software to fulfill their business needs.
Why use ERP for midsize companies?
You should use an ERP for midsize companies because they're more affordable than their large company counterparts.
Even with a more affordable price tag, you'll still get the full suite of benefits, like core business process integration and information transparency.
Get started with your free trial of Method.
Image credit: RODNAE PRODUCTIONS via Pexels