Let's face it: there are a lot of CRM systems out there. But why would you want anything other than the best? Well, the truth of the matter is that there isn't just one answer to the question "What is the best CRM system?"
Every organization has different needs and workflows, and some CRM systems are better equipped to handle those differences than others. That being said, it's in this adaptability that the question of a best CRM system becomes a bit clearer.
Even the best CRM systems have their downsides, but finding the one that's right for you is all about weighing the good against the bad. With that in mind, this blog covers the top 10 best CRM systems for 2023.
What is a CRM system?
But first – let's review what a CRM system is all about.
A CRM (Customer Relationship Management) system is software that lets you:
Track interactions with customers.
Create invoices, quotes, and mailing lists.
Manage sales pipelines.
CRM systems are all about maintaining and growing customer relationships. This boosts sales performance, and accelerates growth and profitability.
Benefits of CRM systems
As your business grows, it's difficult to keep track of its moving parts. More growth also means more invoicing, billing, and sending communications. So, how do you keep up?
This is where the benefits of using a CRM system come in. It helps you:
Stay organized.
Automate business workflows.
Improve sales performance.
Minimize human error.
The best CRM system is the one that will grow your business and relieve you of its daily stresses.
What are the components of an ideal CRM system?
But what is it about some business CRM systems that make them a cut above the competition? Many CRM software systems excel in one specific area, while they lack in others.
So, consider what different types of businesses value the most when choosing between the best CRM systems. Ideally, a CRM system offers:
Sales and marketing automation features.
Lead management to track and nurture prospects.
Marketing capabilities.
Cloud functionality.
Business reporting and analytics.
Customer service features.
Integrations with Google apps and other third-party plug-ins.
A CRM system might have tons of bells and whistles, but only those that possess most, if not all, these qualities deserve to make this list.
How we chose the best CRM systems
So, what criteria went into this list? There are three main considerations:
Key features.
Pros and cons.
Pricing.
There is no objectively best CRM system. But with this list of the top options, you're sure to find the best CRM system for you.
The 10 Best CRM Systems for 2023
Here are the best CRM Systems:
Method:CRM is the top CRM system for QuickBooks and Xero users. It provides you with a totally customizable experience to improve efficiency and productivity.
With Method:CRM, you can track leads with ease. And its automatic two-way sync with QuickBooks and Xero means that once those leads become customers, they won't be entered into your database more than once.
It also allows for advanced automation that rivals other sales and marketing automation platforms.
Key features
Method:CRM has a wide range of advanced features available to you. Here are some of the most significant:
Drag-and-drop automation of your business workflows.
Estimates, invoices, and payments instantly sync with QuickBooks or Xero.
Online portals for your customers to serve themselves at their convenience.
Automated lead collection via web-to-lead forms.
Vast contact management capabilities, including a 360-degree view of contact details and contact history.
Mobile app for those on the go.
Pros
Powerful, two-way QuickBooks and Xero integrations.
Tailor the solution to your needs with unlimited customization.
Reusable report, transaction, and email templates.
Many advanced automation features that strengthen sales performance.
Easy to convert estimates into invoices.
Several third-party integrations, such as the Google apps, Zapier, and Outlook.
Cons
Only available in English.
Limited to QuickBooks and Xero users.
Pricing
Method:CRM offers three pricing plans:
Contact Management: $25 per user per month.
CRM Pro: $44 per user per month.
CRM Enterprise: $74 per user per month.
Method:CRM offers a free trial with no credit card required. Give it a try today!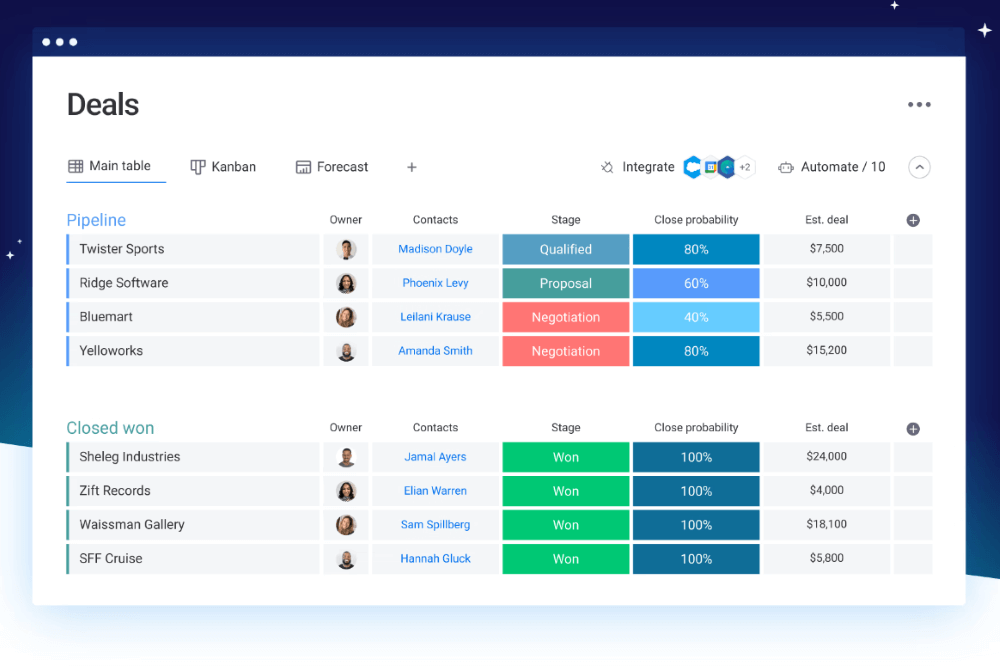 Image credit: monday.com
Next up is monday sales CRM, a software solution that emphasizes sales growth. This is a solid option for smaller types of businesses that value simplicity and organization.
Key features
Import leads through integrations with multiple platforms.
Send quotes and invoices to clients.
Custom Kanban boards and Gantt charts.
Email marketing features like automation and templates.
Centralized communication and interaction tracking for customers and leads.
Pros
Intuitive user interface.
Great for sales team collaboration.
Simple time-saving automation features are easy to configure.
All plans come with 24/7 support.
Offers a student program.
All plans include unlimited boards to organize projects, clients, and tasks.
Cons
Recurrent performance issues.
Limited customization.
Lacks integrations with popular email and social accounts.
Needs stronger reporting.
All plans have a three-seat minimum.
Automation features are limited to a set number of actions per month, which can impede sales growth.
Pricing
monday sales CRM has five pricing plans available:
Individual: Free — 2 users max.
Basic: $14 per user per month.
Standard: $17 per user per month.
Pro: $27 per user per month.
Enterprise: Contact the company.
You can try the first four plans with a free 14-day trial, and there is often an 18% discount for those who opt for annual billing plans.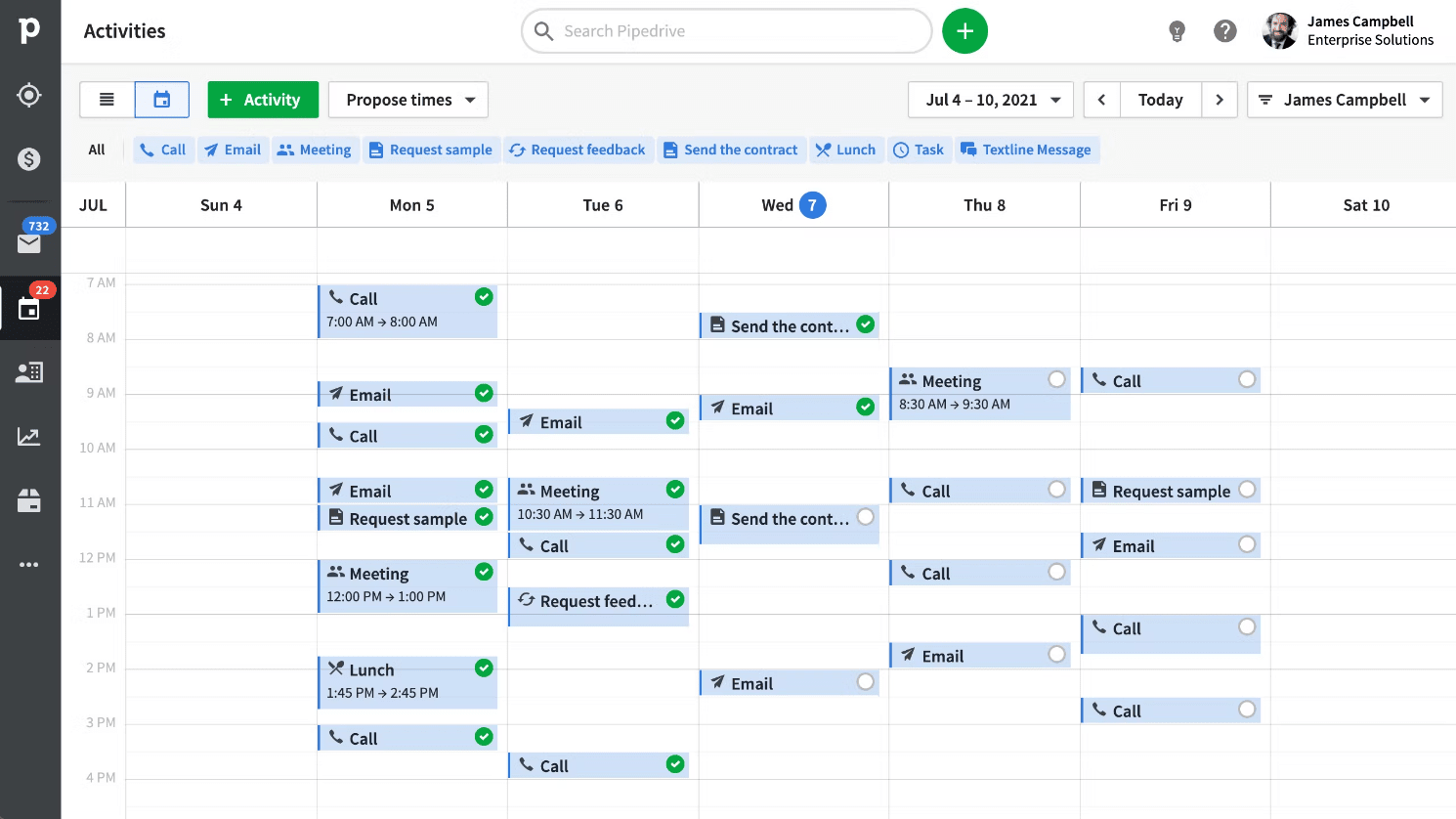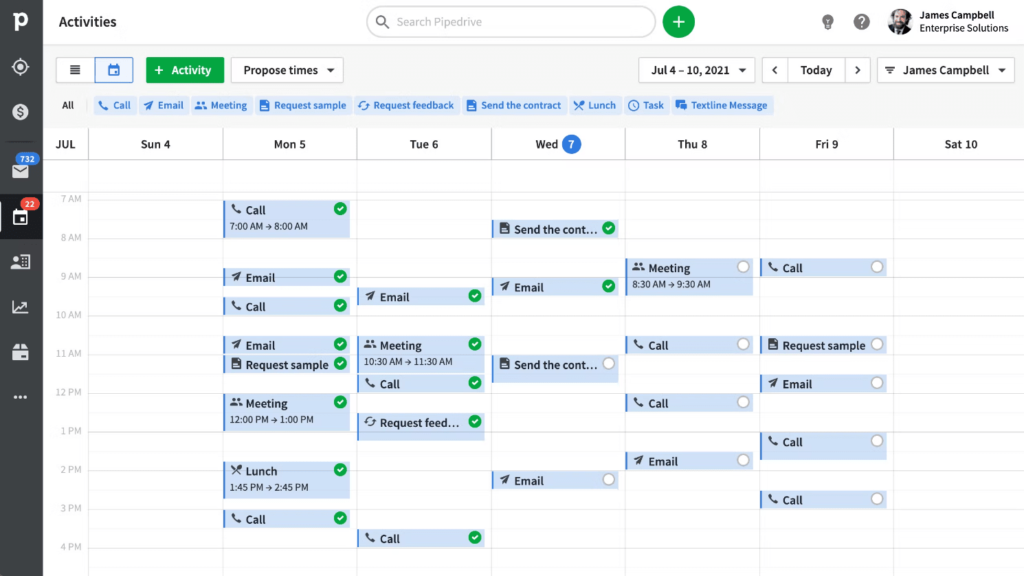 Image credit: Pipedrive
Another top CRM system is Pipedrive. It's a basic, client-friendly software solution perfect for small business owners seeking their first CRM. It is sales-focused, improving how you monitor each step in the sales funnel and serve your customers.
Key features
Advanced lead capture capabilities, with chatbots that automate communication with web visitors.
Email segmentation to tailor messages to specific customers, even with bulk emails or email campaigns.
Drag-and-drop automated sales pipelines.
Bulk editing to change multiple fields at the same time.
Live dashboards with metrics for a real-time look at your business processes, including lead management.
Has a mobile app for Android and iOS.
Third-party integration with the Google apps, Slack, social media accounts, and more.
Pros
Very simple to learn and use on a daily basis without requiring much time.
Affordable paid plans.
Improved sales performance with custom sales pipelines that use an easy drag-and-drop interface.
Option to add LeadBooster for custom chatbots, which eases the load on customer service teams while still offering a personalized customer experience.
Cons
Limited capacity to handle rapid growth.
Customization options don't measure up to other CRMs at a similar price point.
Phone support is only available at the highest tier.
Most plans have limited custom fields and sales reports.
Doesn't separate leads from contacts – making it difficult to distinguish between new and qualified leads in your sales funnel.
Pricing
Pipedrive has four pricing plans available:
Essential: $14.90 per user per month.
Advanced: $24.90 per user per month.
Professional: $49.90 per user per month.
Enterprise: $99.00 per user per month.
It also offers a 14-day free trial.
Image credit: Zendesk
Zendesk Sell is a part of the larger Zendesk Suite. It's a CRM designed to improve sales management and sales performance.
Key features
Some of Zendesk Sell's features include:
Sales reports and analytics metrics on a pre-built dashboard.
A call and text log.
Email marketing features like sync, alerts, templates, and automatic email tracking key for bulk emails and email campaigns.
Help center page builder to create self-service knowledge bases.
Custom sales pipelines to help sales reps.
Pros
Great ticketing system.
Easy onboarding and sales team creation in the CRM.
Extensive time tracking options.
Ability to set conditional triggers.
Useful sales reports.
Smart list generation through filtered data when reviewing client info.
Cons
Has a steep learning curve.
Expensive for small to midsize businesses.
Some have reported a lack of customization and limitations with the pipeline feature.
Recurrent performance issues.
Customer engagement is slow and at times unreliable.
Lacks training resources for its customers.
Can be time-consuming to use, especially when customizing.
Pricing
Zendesk Sell has three pricing plans:
Team: $19 per user per month.
Growth: $49 per user per month.
Professional: $99 per user per month.
It also offers a free 14-day trial.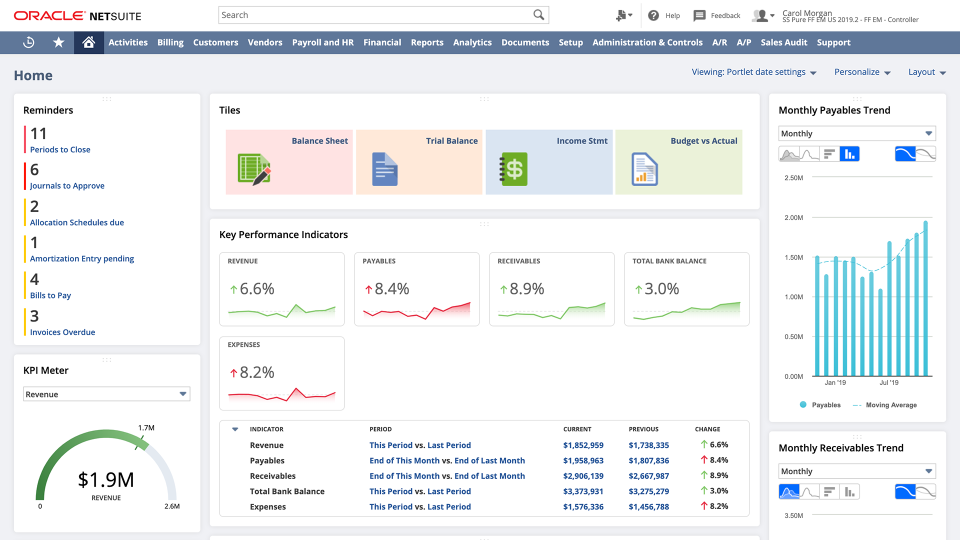 Image credit: Oracle NetSuite
The next best CRM system is Oracle's NetSuite CRM, a great choice for wholesalers. It automates core manual tasks and gives real-time visibility into your operational and sales performance.
However, NetSuite is really an ERP solution vs. a CRM. So keep that in mind if this software is on your radar.
Key features
Management of quotes, commissions, sales forecasting, and partner relationships.
Marketing and sales process automation features.
Customer service management.
Has a mobile app.
Reporting and analytics options.
Many third-party integrations (i.e. Google apps, mail, calendars, etc.).
Pros
Very customizable.
360-degree view of customer data, including contact info and contact history.
Tight integration with several accounting software.
Ability to automate repetitive tasks and edit multiple records at a time.
Cons
Complex and not client-friendly – there's a steep learning curve.
Unreliable company support on bug and crash reports.
Third-party integration setup can be a challenge without a specialized support team.
Help resources are often inconsistent and incomplete.
Quickly becomes costly.
Pricing
There is no exact pricing information available on the NetSuite website. It works through an annual license fee, with a one-time implementation fee for initial setup.
The cost of the license depends on three main factors: core platform, optional modules and the number of users on the account. Based on that information, NetSuite will send you a quote.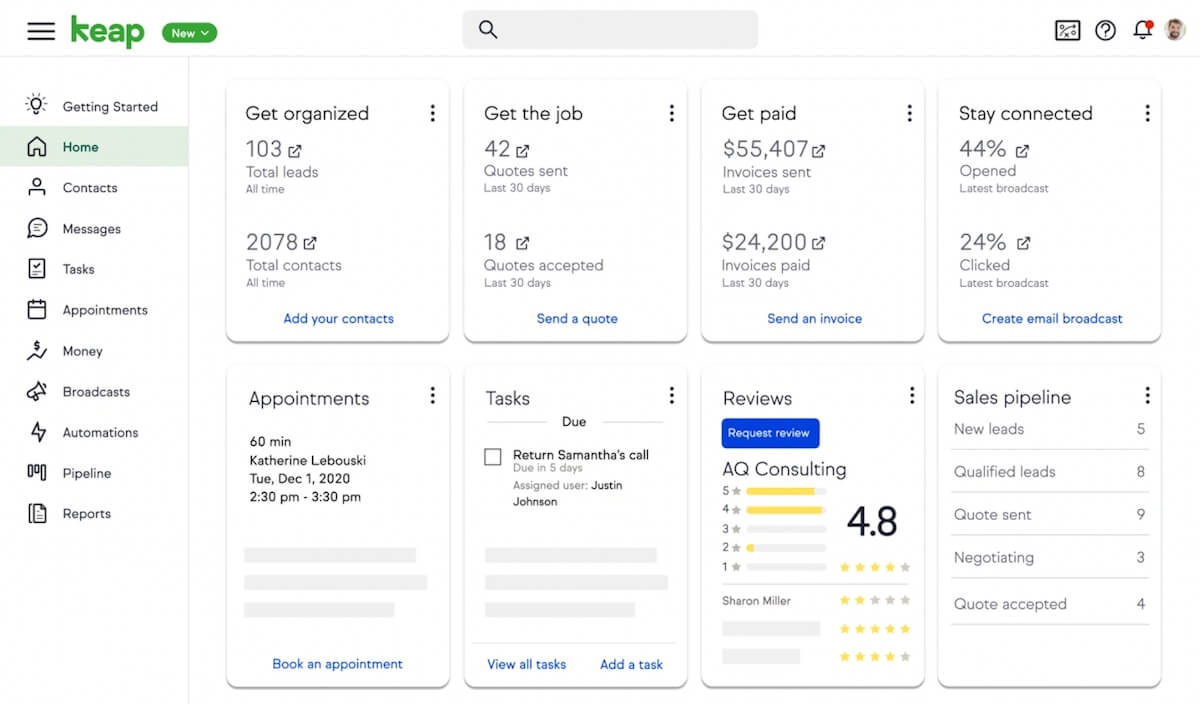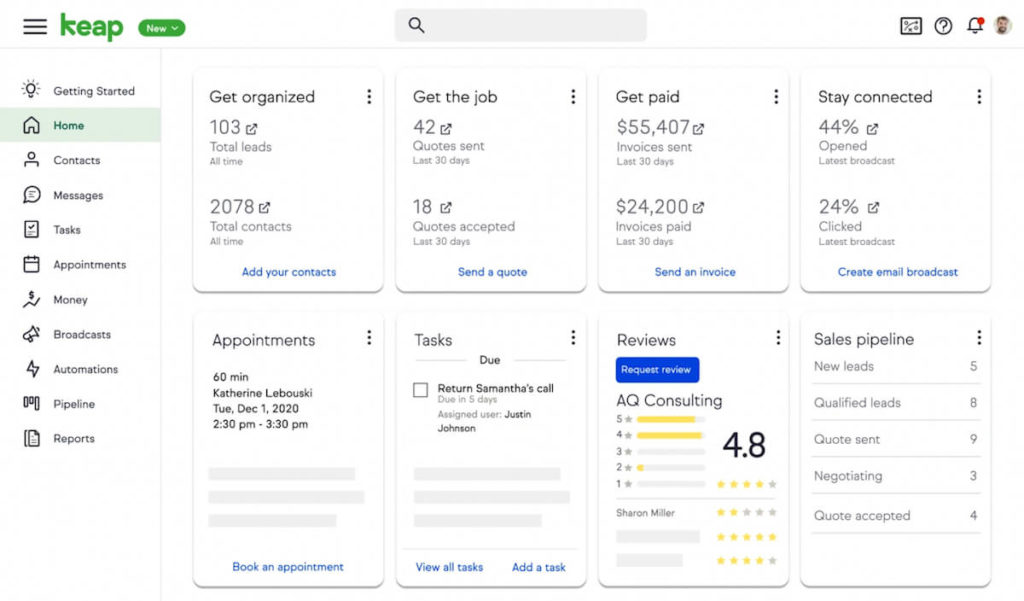 Image credit: Keap
Keap is our next best CRM system. It's a solid, well-rounded choice for a CRM for a small business. It's a jack-of-all-trades software solution, offering basic yet robust CRM business tools.
Key features
Custom reports specific to your business.
Triggers that automate marketing workflows through client action.
Individualized follow-ups to hot leads.
Third-party integration like with the Google apps, Outlook, Zapier, and more.
Real-time contact updates as you submit new actions and client info.
Sales management and marketing workflow automation features.
Customer segmentation through tags for contact types and actions.
Automatic payment collection using apps like PayPal, WePay, or Stripe.
Pros
Plenty of instructional resources.
Built-in email templates and capabilities for email tracking.
Reliable customer service, including live chat and premium consulting.
Efficient customer segmentation features.
Good automation features like with long-term lead nurturing.
SMS messaging for your customers (only available in the U.S.)
Cons
Prospect nurturing and auto-marketing tools are difficult to use.
Very contact-centric, making it harder to handle business-to-business relationships.
Steep learning curve which is often time-consuming.
Lacks advanced search capabilities.
No autosave functionality.
Inflexible appointment setting feature.
Firefox does not support Keap's Campaign Builder.
Pricing
Keap offers the following pricing plans:
Pro: $169 for 2 users per month.
Max: $249 for 3 users per month.
Max Classic: Contact the company.
Plus, you get 20% off if you opt to pay annually. The Pro and Max plans cost an additional $29 monthly for every new user on your account.
Keap also offers a 14-day free trial.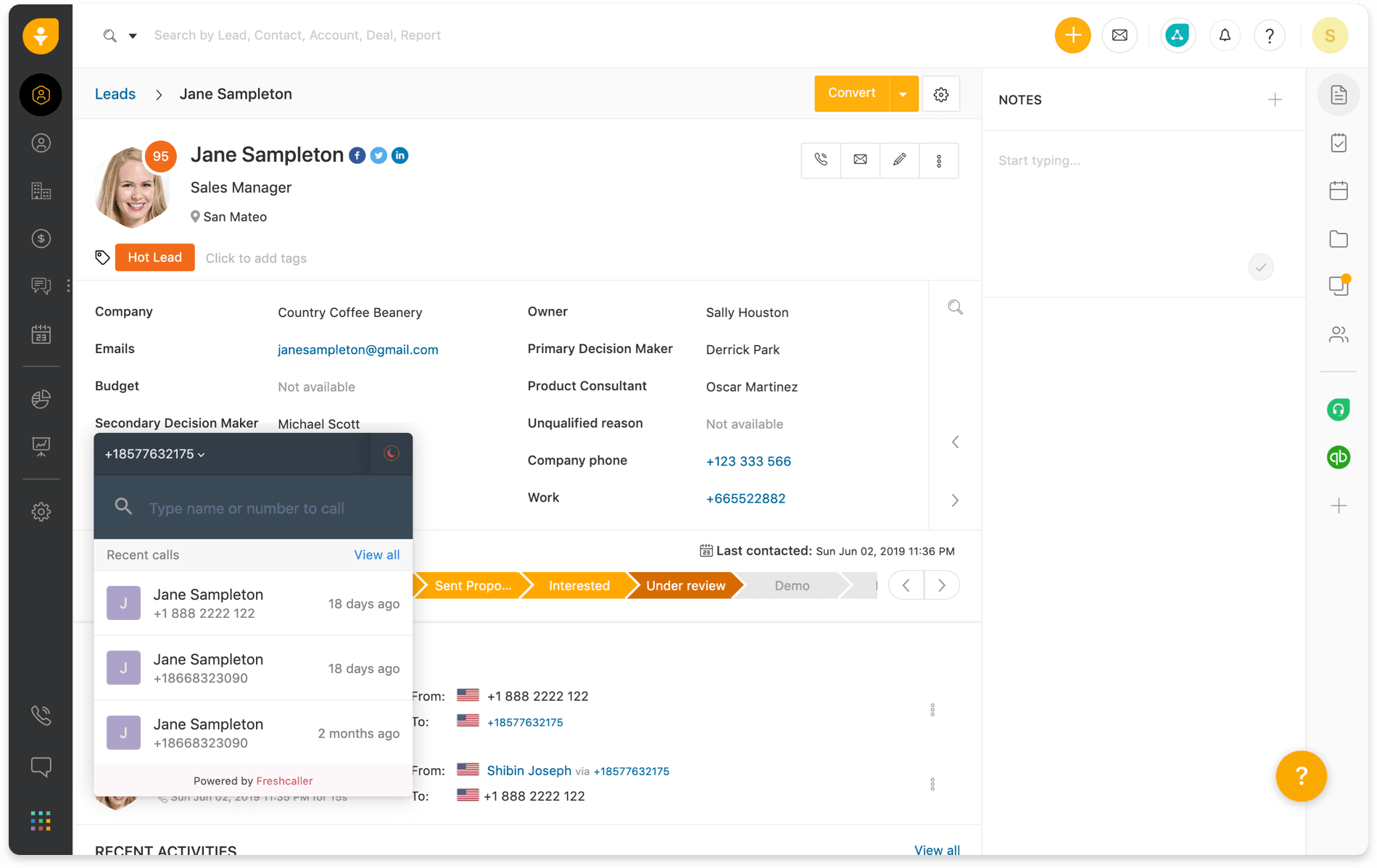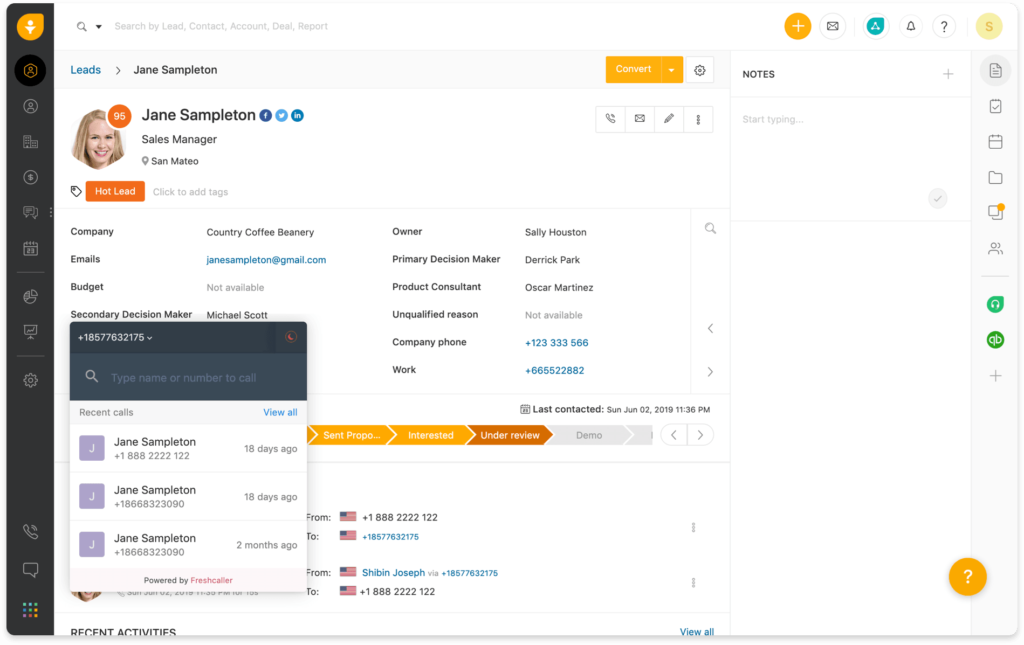 Image credit: Freshsales
Freshsales (formerly known as Freshworks) is another top all-in-one platform that emphasizes sales growth. It focuses on helping your sales team close deals and generate revenue through workflow automation features.
Key features
Unique sales funnel mapping with contact lifecycle stages.
Automate sales and marketing processes.
360-degree view of all your customer data, including contact info and contact history.
Solid third-party app integration with the Google apps and more.
In-depth analytics and AI.
Has a mobile app.
Pros
Clean and user-friendly interface.
Advanced analytics and reporting options for sales activity and sales performance.
Supports multiple languages and currencies.
Attractive price point.
Cons
Weak customization options relative to its competitors.
Few social media integrations.
Hard limit of 1000 contacts for any marketing actions.
Lacks meaningful customer engagement.
You cannot create multiple pipelines.
Pricing
Freshsales offers four pricing options:
Free: $0 per user per month.
Growth: $18 per user per month.
Pro: $47 per user per month.
Enterprise: $83 per user per month.
There is a 21-day free trial available for Freshsales.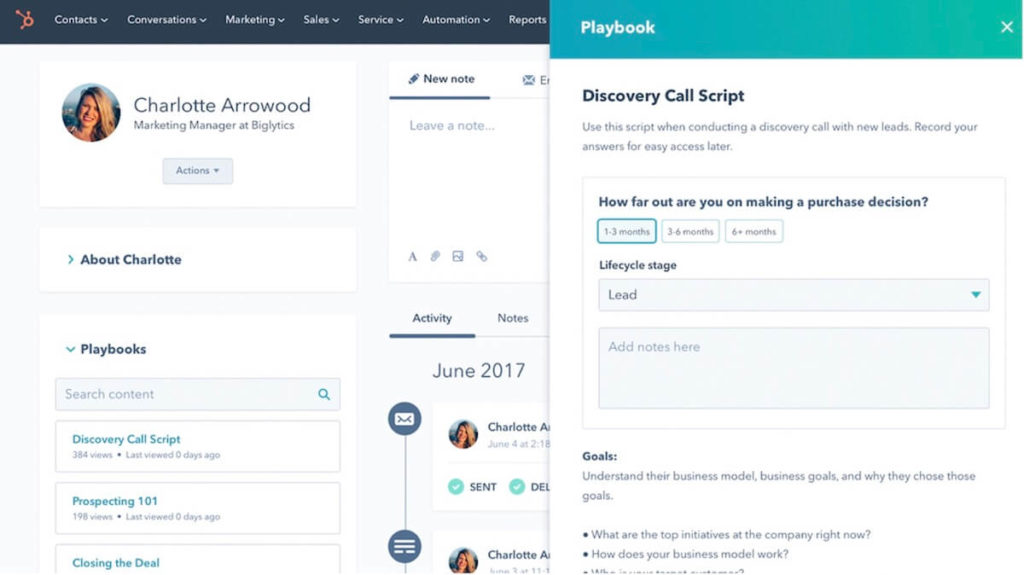 Image credit: HubSpot
HubSpot is one of the best CRM software systems for those who like contact segmentation. The software is broken down into different hubs which include marketing, sales, service, and more. 
You can choose how many of these hubs to purchase. Each works well on its own, but they work better when used together.
Key features
Centralized view of client info.
Contact deal and task management.
Email marketing features like tracking and scheduling, as well as pre-made email templates.
AI-powered sales assistant and chatbots for customer support.
Capturing and segmenting leads.
Pros
Courses and certifications available through HubSpot Academy.
Clean, simple dashboard.
Has a large third-party app marketplace (integrates with the Google apps, mail, calendars, etc.).
Team inboxes for easy collaboration.
You can purchase a hub without committing to the full suite of products.
Nearly unlimited contacts.
Cons
Costly compared to other CRM systems.
Limited specialization for different industries.
Its many tools can be overwhelming to new users.
Limited templates means starting from scratch anyway.
Reporting features only give vague insights.
Strict limit of 1,000 custom fields.
Pricing
HubSpot sells its software by hub or in bundles. Pricing is dependent on how many hubs you require. You can buy one of the premade bundles or create your own.
There's no real trial, but HubSpot offers a free version of its CRM software. The idea is that you upgrade your plan as your company grows.
The Starter CRM Suite costs $50 per month or a discounted $540 annually. This plan includes their marketing, sales, and service hubs with two paid users.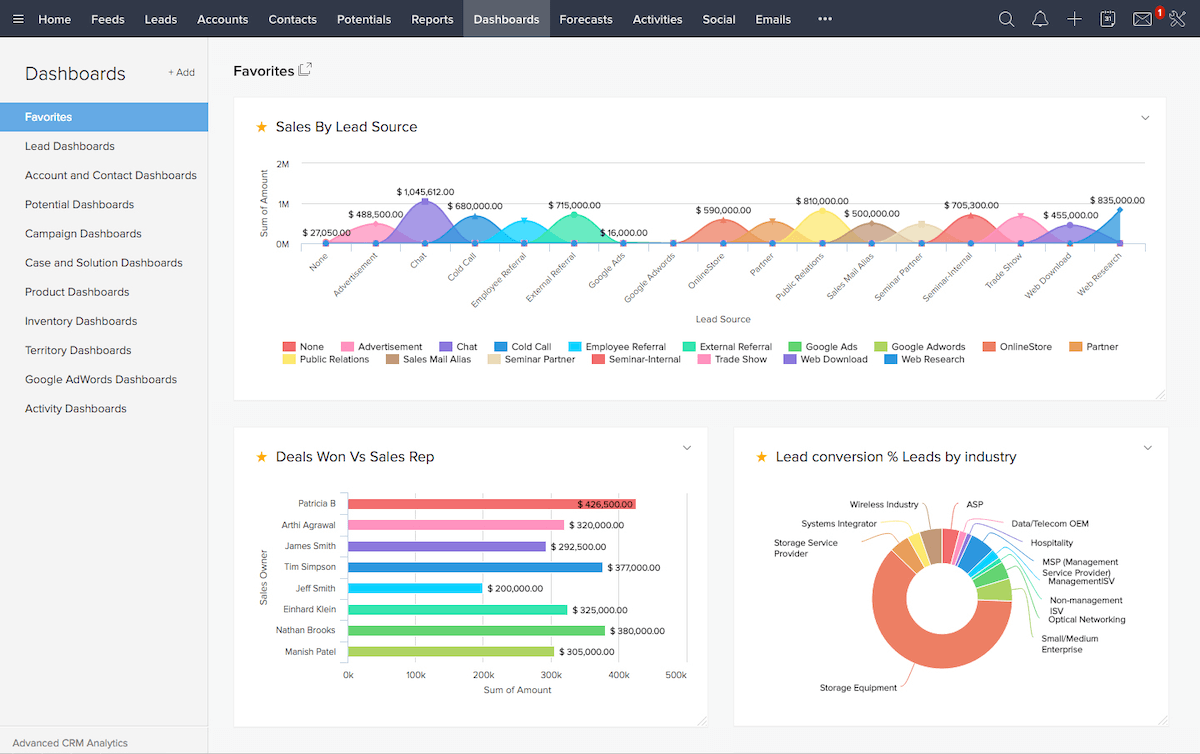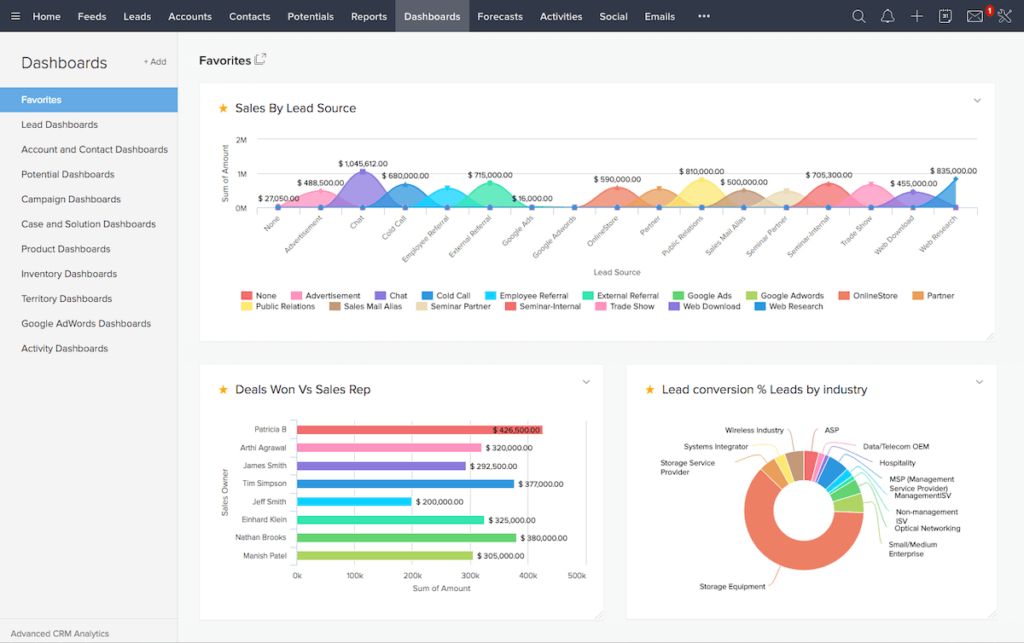 Image credit: G2
Zoho is the top CRM system to streamline business workflows and improve efficiency.
Key features
Live client info notifications as customers interact with your business.
Canvas — a new customization tool.
Third-party integrations with Slack, Shopify, social media accounts, and more.
Client-friendly mobile app.
ZIA — an AI-powered sales assistant.
Pros
Centralizes and analyzes communications across channels.
Personalized customer journeys.
Nearly endless customization.
Free online video guides to get you set up.
Cons
Customization is a steep learning curve and there's no specific support for it.
Clunky and unappealing user interface.
You often need to purchase other Zoho tools for an all-in-one solution.
All the bells and whistles can be overwhelming.
Lacks customer support in some areas.
Limited custom fields in cheaper plans.
Basic workflow automation features.
Pricing
Zoho has four pricing options:
Standard: $20 per user per month.
Professional: $35 per user per month.
Enterprise: $50 per user per month.
Ultimate: $65 per user per month.
Zoho often offers a 34% discount for those who pay an annual fee. A 15-day free trial is available.
Image credit: Quickbase
Finally, the 10th best CRM system is Quickbase. Quickbase is a great option for those looking for an easy-to-understand software solution that meets their basic daily needs.
Key features
End-to-end visibility of all client info, including customer activity and interactions.
Ability to automate several business workflows.
No code, customizable interface.
Easily configure sales pipelines and third-party integrations.
Pros
Quick and easy to understand.
Centralized, cloud database.
Good customer support and a long trial period.
Data entry and updating are simple and straightforward.
Customizable through no code app development.
Improves sales performance through pipeline configuration.
Cons
Plain default interface that can be off-putting.
Reports of bugs.
Lacks the features that many CRM software have.
Minimum of 20 paid users per account.
Pricing
Quickbase has three pricing plans available:
Team: Starts at $30 per user per month, with a 20-user minimum.
Business: Starts at $50 per user per month, with a 40-user minimum.
Enterprise: Contact the company
These fees are all priced annually. Quickbase also offers a 30-day free trial for the Team plan. Contact them about trials for the premium plans.
Which CRM system should you use?
There is not one best CRM system for every person. Every organization is different, and all CRM business companies have a different product strategy.
That being said, we recommend Method:CRM for most growing businesses.
Its two-way, cloud based sync with QuickBooks or Xero means that only those who need access to your accounting data will have it. And double entry will never be a problem again.
Plus, Method:CRM has unlimited customization potential, meaning your CRM will be uniquely yours, catered perfectly to what your business needs.
Key takeaways
There is not one single "best CRM system" out there — only one that's best for you.
All Customer Relationship Management software work to:
Streamline your business workflows.
Build strong relationships.
Improve sales performance
Keep you better organized.
Implementing a top CRM system (like Method:CRM) into your business is a no-brainer, because it will:
Automate manual tasks in sales and marketing.
Visualize your customer interactions and activity.
Integrate the apps you use daily into one interface.
Best CRM system FAQs
What is the most popular CRM?
HubSpot is the most popular CRM due to its freemium model, which attracts tons of new users who just want to give CRMs a try. However, if you're a QuickBooks or Xero user, Method:CRM is your best bet.
Who is the global leader in CRM?
As one of the first cloud CRMs on the market, Salesforce is often thought of as the global leader for CRM system companies. However, if your business uses QuickBooks or Xero, Method:CRM is the tool you need.
Why is Salesforce so popular?
It has plenty of great features, but Salesforce is so popular largely through word of mouth.
As an older software company, Salesforce managed to get their name out there as CRMs began gaining traction across different industries.
Most people opt for Salesforce simply because it's a CRM they've heard of. See how it compares to Method:CRM here.
Get your hands on a top CRM system with a free trial of Method:CRM!
Image credit: Christina Morillo via Pexels