If you're in the construction business, you know that managing projects and customers can be a daunting task.
Investing in a CRM system is essential for managing your business more effectively.
But with so many construction CRM systems on the market, how do you choose the best one?
First ensure it suits your needs and is user-friendly. But that's not all.
Read this blog to compare the best construction CRM systems.
What is a CRM system for construction?
A construction CRM system is a software that manages customer relationships and your business processes.
Using a CRM system for construction, businesses can automate the following:
Lead generation.
Project management.
Customer service.
Benefits of CRM systems for construction
Every person, from the estimator to the project manager, must access data on contracts, customer relationships, costs, and transactions.
Here are some benefits of having a construction CRM system:
Centralizes all available data on clients and projects.
Accelerates productivity by reducing paperwork.
Offers better solutions to track leads and close deals.
Fosters better client relationships to increase profitability.
Automate routine tasks such as follow ups.
You can build a custom CRM system to meet your business needs.
What are the components of an ideal CRM system for construction?
To select the best software, you'll need to make sure your construction CRM system has the following components:
Complements your existing project management software to track bids.
The ability to view a customer's entire history in one location.
Customizable workflows to automate your business.
Syncs with your existing software, such as QuickBooks or Xero.
Simplifies payment processes to allow faster payments.
Integrates with existing email services.
How we chose the best CRM systems for construction
Below is a list of the top 10 construction CRM systems. Each of the best CRM systems were chosen based on:
Features.
Pros and cons.
Price.
What's important when evaluating a CRM system depends on you and your business needs, but the top ones are listed below to guide you!
The 10 best CRM systems for construction
Here are the best CRM systems for construction:
From tracking bids to managing documents, Method:CRM simplifies every part of the building process.
Here's how.
Manage your leads in Method:CRM, then automatically sync them to QuickBooks or Xero once they become paying customers to eliminate double data entry.
This keeps your accounting data clean and secure while empowering your sales team to drive deals forward without QuickBooks or Xero access.
What's more, Method's deep integration with Gmail and Outlook allows you to take care of customers and leads with ease. Check it out below!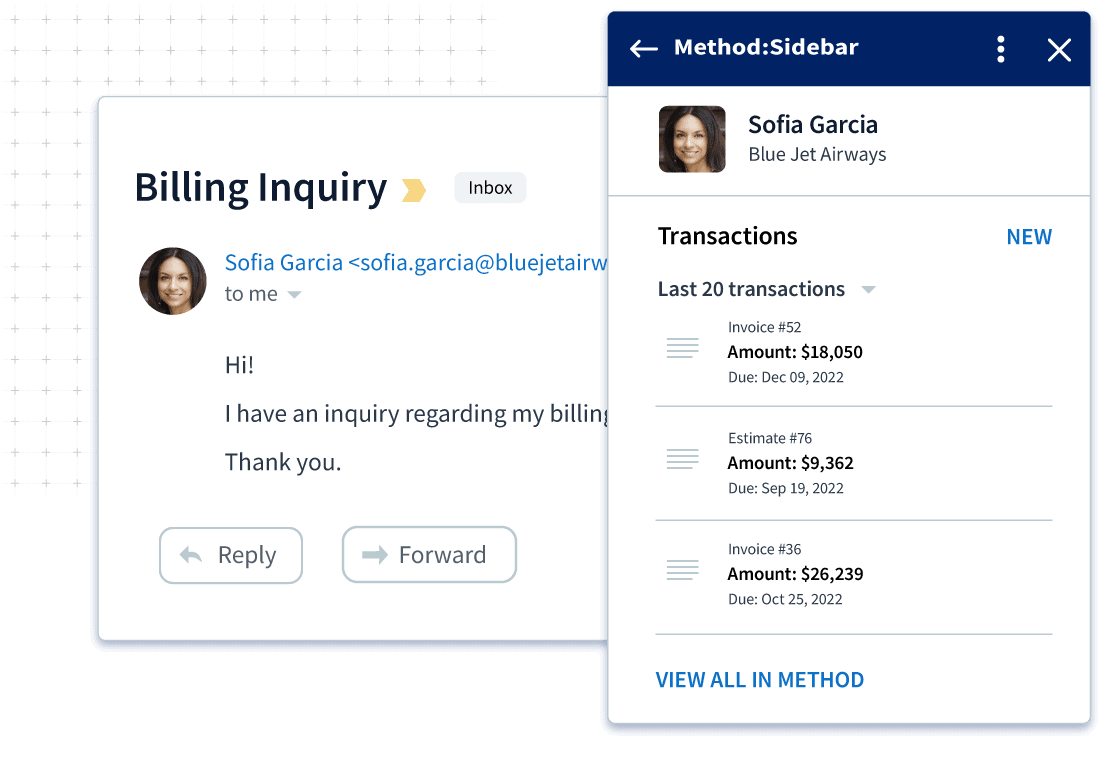 Key features
Automated lead collection.
360-degree view of past interactions and transactions.
Payments and invoices sync to QuickBooks or Xero in real-time.
Mobile project management app to stay connected on the go.
Add custom forms to your website to get project information.
Pros
Powerful, two-way QuickBooks and Xero integrations.
Unlimited customization.
Reusable email, report, and transaction templates.
Convert estimates into invoices in a few clicks.
Several third-party integrations, such as Gmail, Zapier, and Outlook.
Cons
Only available in English.
Limited to QuickBooks and Xero users.
Pricing
Method:CRM offers the following pricing plans:
Contact Management: $25 per user per month.
CRM Pro: $44 per user per month.
CRM Enterprise: $74 per user per month.
Method:CRM offers a free trial with no credit card required. Get started today!
ConstructionOnline is a top construction CRM system for growing contractors. Let's dive deeper into why!
Key features
Fully-customizable lead tracking to monitor your sales pipeline.
Lead calendar to schedule activities like site visits.
Detailed filters to quickly find leads.
Easy Microsoft Excel exports.
Create professional proposals from your estimates.
Pros
Wide range of features.
Project logging application effectively replaces spreadsheets.
Great customer support.
Cons
Steep learning curve
Doesn't generate cash flow reports.
Two separate programs are needed to use the software.
Pricing
ConstructionOnline has various different pricing options based on the type of construction business, including Residential, Specialty + subs, Commercial, Multi-family and Industrial. Each option includes various pricing tiers.
You can find out more about pricing information on their website.
Unanet CRM by Cosential is a cloud-based CRM used by construction businesses to drive growth.
It understands the complex system your industry requires with features such as the following.
Key features
Create contacts on the go with a quick business scan.
Easy drag-and-drop to edit Opportunity data.
Proposal automation.
Pros
Visual charts and dashboard widgets.
Great customization ability.
Straightforward system.
Cons
Lacks technical support.
Some features aren't usable.
Mobile app and email marketing need improvement.
Pricing
Base edition: $55 per user per month.
Sales leader edition: $75 per user per month.
Buildertrend's CRM system for construction connects teams and improves project efficiency with these features.
Key features
Seamless integration with other tools.
The contact form captures lead information.
Lead scoring to prioritize the best leads.
Large storage space.
Pros
User-friendly.
The filter feature is practical.
Scheduling is easy.
Cons
Weak user interface.
GANTT chart and financial features are difficult to use.
Pricing
Essential: $99 per month ($399 after 2 months).
Advanced: $399/mo ($699 after 2 months).
Complete: $899/mo ($1,299 after 2 months).
BuilderConsole is a construction CRM system best suited for residential builders and master-planned communities.
Key features
Automated contract approvals.
Seamless integration with Brix accounting software.
Automated communication with leads and customers.
Pros
Client portal access from start to finish.
A great option for growing your leads.
Specialized for residential builders.
Cons
Weak user interface.
Lacks equipment tracking.
No mobile app.
Pricing
The pricing information is not available on their website, but you can contact them for more details.
InTouch's CRM system for construction helps you close more deals and grow your business.
Key features
Generate leads with integrated web forms.
Create custom fields to gain client information.
Pre-built automated marketing campaigns.
Pros
Speedy customer support.
Easy to use.
Customer trends are determined easily.
Cons
Templates are challenging to use.
UI is overwhelming.
Steep learning curve.
Pricing
Basic: $23.15 per user per month.
Intermediate: $30.46 per user per month.
Advanced: $42.65 per user per month.
Bespoke: Price available upon request.
The TopBuilder CRM system for construction makes it easy to manage your sales and preconstruction process with the following features.
Key features
Forecast and schedule job resources.
Manage, monitor, and send quotes in one place.
E-signature capabilities.
Include photos, project notes, and more with quotes.
Pros
User-friendly.
Effortless training for using the tool.
'Manage Leads' and 'Accounts' feature is impactful.
Cons
Tracking inputs in a project is difficult due to the number of fields.
Limited customization for email marketing.
Unable to assign a non-user to allocate bids.
Pricing
The following pricing options are available:
Essentials: $35 per user per month.
Professional: $50 per user per month.
Enterprise: $90 per user per month.
JobNimbus is a construction CRM system built for contractors and takes businesses to the next level with the features below.
Key features
Automated updates and emails.
Sync everything to the mobile app while you're on site.
Virtual whiteboard to gain visibility.
Create estimates on the go.
Pros
User-friendly.
Learning to use the software is simple.
Good customer support.
Cons
Mobile app needs to be fixed.
Custom template building is limited.
Dashboards and reminders are overwhelming.
Issues with QuickBooks sync.
Pricing
JobNimbus does not display their pricing information on its website, but you can request the details by contacting them.
JobProgress is known as a must-have platform for home improvement contractors. You can see why below.
Key features
Fully-customizable job and workflow manager.
Track multiple jobs per customer.
Automated estimates and proposals.
Contract template builder.
Pros
User-friendly.
Highly customizable.
Great customer support.
Cons
Issues with email templates.
Inability to delete jobs.
Potential for more features and integrations.
Pricing
JobProgress prices its CRM at $65 per user per month. There is also a $500 one-time set up fee.
Kommo (previously known as amoCRM) makes it easy to crush your goals with its powerful features.
Key features
Messenger-based sales.
Automatic lead grabbing from all sources.
Flexible sales chatbot.
Pros
Intuitive and easy to use.
A large amount of valuable features.
Excellent capabilities for collaboration.
Cons
Customer support is slow.
The platform is unusable during updates.
Pricing
Kommo CRM offers the following pricing plans:
Base: $15 per user per month.
Advanced: $25 per user per month.
Enterprise: $45 per user per month.
Which CRM system for construction should you use?
Now that you've looked at the top construction CRM systems, you may wonder which one is right for you.
Your choice depends on factors such as:
Your individual priorities.
Budget constraints.
Your business needs.
Method:CRM is a popular construction CRM system because it effectively captures and organizes your leads. Better yet, you can tailor the software to your exact needs whether that's equipment management or bid tracking.
Rather than passing disconnected spreadsheets and emails back and forth, Method:CRM captures prospects automatically through a web-to-lead form. See how below.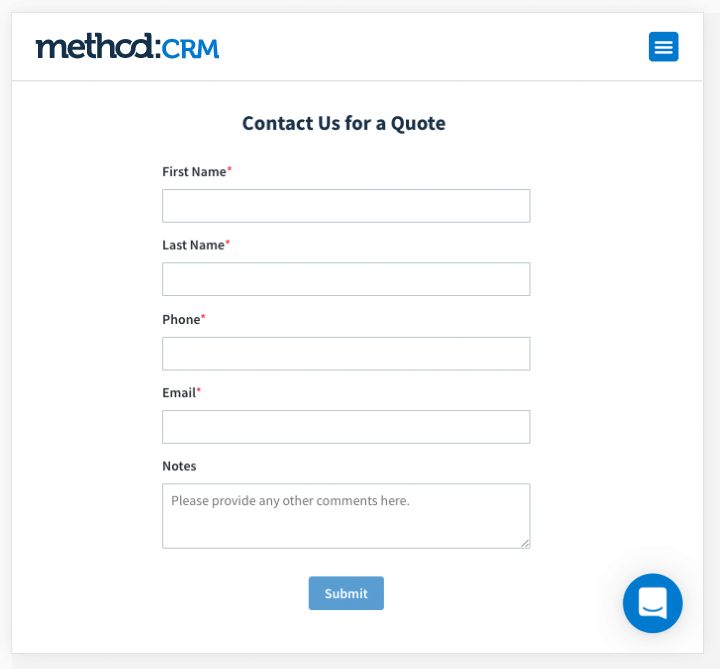 You then have all your lead data in one place, including:
Contact details.
Past interactions.
Quotes.
Method:CRM also offers powerful integration with QuickBooks and Xero.
Add customers, create quotes, and receive payments in Method:CRM. Then, watch the changes sync instantly to QuickBooks or Xero — no double data entry required.
Even your payments sync to QuickBooks or Xero in real-time!
Without the added paperwork, you'll never worry about paying suppliers and staff inaccurately.
Your clients view and sign documents through Method:CRM online portals, keeping everything organized.
What's more, your client's details are always at your fingertips. Stay connected with the Method app to update quotes and send follow-ups from anywhere.
With a 360-degree view of every customer, you have a centralized view of past transactions, project details and all your QuickBooks or Xero transactions.
Key takeaways
The main purpose of using a CRM system is to simplify sales, grow your business faster and build long-lasting customer relationships.
Using one of the best CRM systems for small businesses like Method:CRM simplifies your construction business with capabilities such as:
Powerful workflow automation.
Two-way, real-time sync with QuickBooks and Xero.
Online portals for immediate customer service.
A 360-degree view of every customer for improved client interactions.
CRM system for construction FAQs
What is a CRM in construction?
A CRM system for construction is an essential tool for any construction company.
It keeps track of customer relationships and manages your projects more efficiently.
With a CRM system, you nurture past, current, and potential customers, thanks to having important project information like milestones, timelines, and budgets accessible.
Is Salesforce good for construction management?
Salesforce is a popular option if you're looking for a CRM system for construction management. However, if you're a QuickBooks or Xero user, Method:CRM is a better choice.
Salesforce offers an array of features for construction projects, including:
Powerful contact management.
Automated lead nurturing and tracking.
Customizable dashboards and reporting.
The ability to build custom apps.
But all of the above will cost you a pretty penny. Instead, check out Method:CRM for a construction CRM that's:
Tailored to your business' needs.
Offers a two-way sync with QuickBooks or Xero.
A powerful automation tool.
What CRM do construction companies use?
There's no shortage of construction CRM systems available, so when it comes to choosing one, consider your needs.
Method:CRM is a popular CRM system for construction businesses as its powerful two-way sync with QuickBooks and Xero allows you to have your accounting data at your fingertips without the risk of double-data entry.
With its no-code backend, you'll automate any workflow you need. All of this means, doing more with less thanks to Method:CRM!
What's more, the 360-degree view of customers and suppliers transforms your customer experience and operations. So what are you waiting for?
Get the best CRM for construction with a free trial of Method:CRM!
Image credit: Scott Blake via Unsplash