Method:CRM — The best Salesforce alternative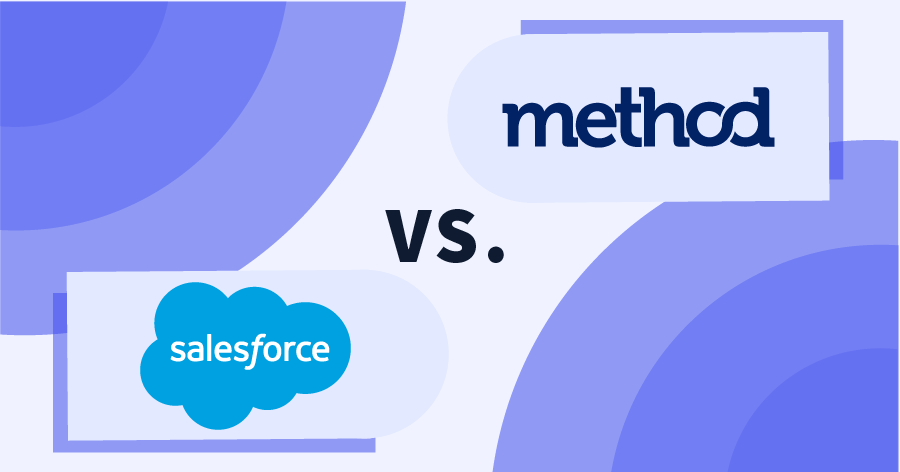 Decide whether Salesforce or Method:CRM is the best choice for your business.
Salesforce is a huge player in the CRM space but there might be a better solution for your small business.
Whether you're looking into CRMs and assume Salesforce is the best choice, or are a current user that wants to explore other options, your first move should be to look into Method:CRM as an alternative to Salesforce.
Here is your guide for deciding whether Salesforce or Method:CRM is the best choice for your business.
Why consider alternatives to Salesforce?
While Salesforce offers a lot of choices regarding customizations, features, and resources, many are overwhelmed by the learning curve.
For small businesses especially, you're likely to need assistance from a Salesforce support member every step of the way as you look to automate your processes.
With a CRM system like Method, you get educational resources that are straightforward and no-code tools that allow you to build your perfect solution. Method also offers a free session with an in-house customization expert to get you started.
Method:CRM vs. Salesforce
The main difference between Salesforce and Method:CRM comes down to a few fundamental differences. They both offer solutions for mid-sized and small businesses and have similar features. But even their similar features work slightly differently.
Let's go through each CRM to help you make the right choice for your business.
Method:CRM overview
Method:CRM is the #1 CRM for QuickBooks users that transforms your accounting, sales, and operations for the better.
You can replace your repetitive and timely admin tasks with automation that works seamlessly in the background with powerful automation capabilities.
How Method:CRM works
Method syncs data from your accounting software into your CRM with ease for QuickBooks and Xero users.
Updates in either software are automatically available for your team to leverage. This way, you always have the most up-to-date information at your fingertips.
Alongside its powerful sync, Method's customization abilities let you design a CRM that works best for your unique business. They also offer in-house experts that can help you with personalization.
With Method, you can automate:
Estimates and invoices.
Lead capture.
Follow-ups.
Payments.
Lastly, Method:CRM's integrations with third-party tools like Google Calendar, Gmail, and Outlook take your workflow to the next level.
Salesforce overview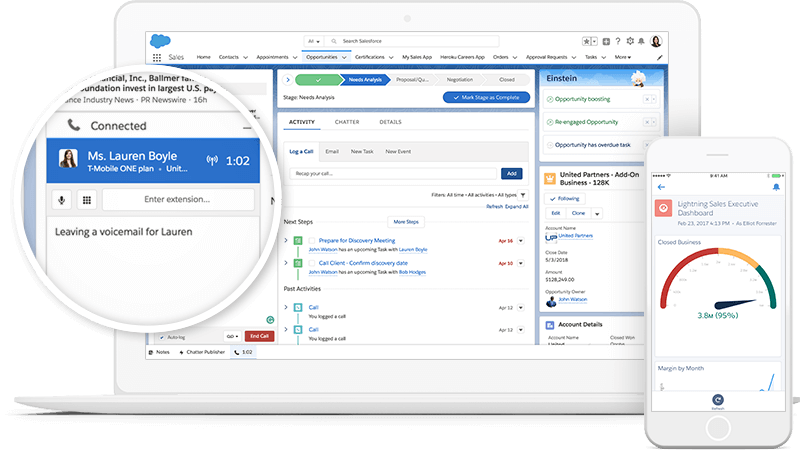 Salesforce connects your business and focuses on making every aspect of your business simpler. This includes your sales process, marketing, and other areas of your business.
How Salesforce works
Salesforce uses cloud technology to allow businesses to reach their customers, leads, and other contacts.
Salesforce offers a multitude of different ways to use the software, but mainly works by letting you:
Track customer activity.
View reports and analytics.
Sort potential customers.
Market to customers through automated emails.
Comparing Method:CRM and Salesforce
With the basics discussed, it's time to compare Method:CRM and Salesforce to see which solution is best for your business.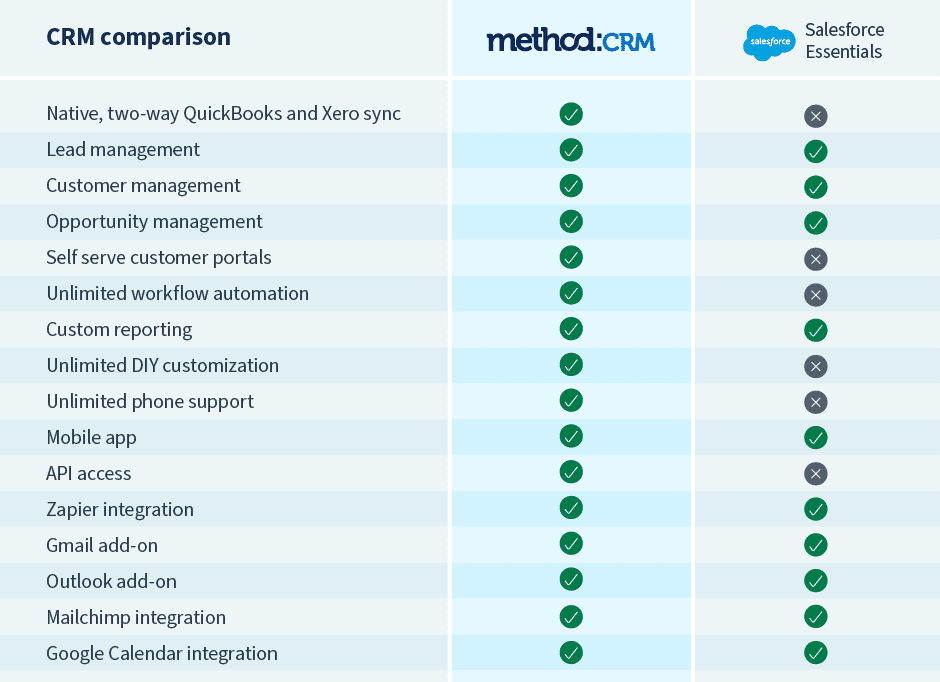 Have another CRM software you're looking to compare? We've got you covered:
Key features
Two-way sync with QuickBooks and Xero for consistently updated data.
Automatic lead capture from multiple channels.
Custom reporting for your unique needs.
Mobile app to put CRM data at your fingertips.
Multiple payment gateways and a self-service customer portal.
Native integrations with Outlook, Gmail, Google Calendar, Zapier, and more.
Primary benefits
Business and growth insight through tailored reporting.
Personalized email, invoice, and estimate templates.
Easily convert estimates into invoices to avoid double-data entry.
Easy-to-navigate online portals for a smooth customer experience.
Endless customizations to create a CRM that fits your business.
free trial with unlimited features and users.
Limitations
Method is currently only available in English.
To benefit fully from Method:CRM, you must be a QuickBooks or Xero user.
Key features
Powerful reporting tools.
Templates specific to a variety of industries.
Easy to use interface.
Primary benefits
Advanced marketing and sales automation tools.
Large customer community and forums for support.
A lot of choice when it comes to business reporting.
Limitations
Difficult to speak with a real customer support rep.
A Salesforce consultant is a necessity for customization.
No self-service portals for customers.
Only offers a 14-day free trial.
Method:CRM pricing
Method offers three subscription pricing plans:
Contact Management plan: $25 per user per month.
CRM Pro plan: $44 per user per month.
CRM Enterprise plan: $74 per user per month.
Method also has a free trial, with full access and no credit card required.
Salesforce pricing
Salesforce offers four pricing plans for small businesses:
Essentials plan: $25 per user per month.
Sales Professional plan: $75 per user per month.
Service Professional plan: $75 per user per month.
Pardot Growth plan: $1250 per month up to 10,000 contacts.
Who should use Method:CRM?
Method:CRM is the perfect solution for QuickBooks or Xero users that are looking to automate their workflows and sync customers, transaction histories, and more.
It is a great software solution for small to mid-sized businesses that fuels growth for a variety of industries ranging from accounting to field services.
Who should use Salesforce?
Salesforce can be a lot to take on and is best for larger companies that:
Have a budget for customizations for their CRM.
Put aside budget for personalized customer support.
Have multiple employees looking at their reports and analytics.
Have experience with other CRMs in the past.
Bottom line
While Salesforce offers a lot of great features and is a popular CRM solution, it might not be the right choice for your business.
Both are worth consideration as Salesforce is a CRM that makes running your business simple once set up right, while Method:CRM offers QuickBooks and Xero users a powerful automation capabilities.
Pro-tip: See the difference a suitable CRM makes for your business by trying it out.
Start a free trial of Method:CRM today for 30 days.