As a contractor, you need to track your expenses and income. Enter: QuickBooks and Xero — two of the most popular accounting software.
Although both offer similar features, including tax management, file storage and financial reports, the two have some key differences.
In this article, you'll get a Xero vs. QuickBooks comparison and learn about the features makes each stand out. You'll also find out about the pros and cons of each software.
Xero vs. QuickBooks for contractors: At-a-glance comparison
QuickBooks offers both online and desktop versions, where Xero is just an online tool. So, consider how and where your team usually completes accounting or bookkeeping tasks from when debating between the software.
Next, think about how many people will need QuickBooks or Xero access at your company. For example, QuickBooks Desktop highest-tiered plan allows up to 40 users.
When comparing Xero vs. QuickBooks Online, Xero allows for unlimited users where QuickBooks Online has a cap of 25. This makes Xero an ideal solution if you plan to have a large team of bookkeepers and other employees using your accounting tool.
However, 25 users is plenty for most contractors' accounting needs. Generally speaking, you don't want too many cooks in the kitchen when it comes to your accounting software.
Now, think about who will be using the tool.
QuickBooks interface is more intuitive than Xero as it was designed for those of you who don't have an accounting background. Xero, on the other hand, was built with accountants in mind.
If you need to track project profitability, Xero is a better option. It allows you to see how project costs in real time and compare that to estimated profits.
When considering Xero vs. Quickbooks Online for contractors, both capture and organize receipts.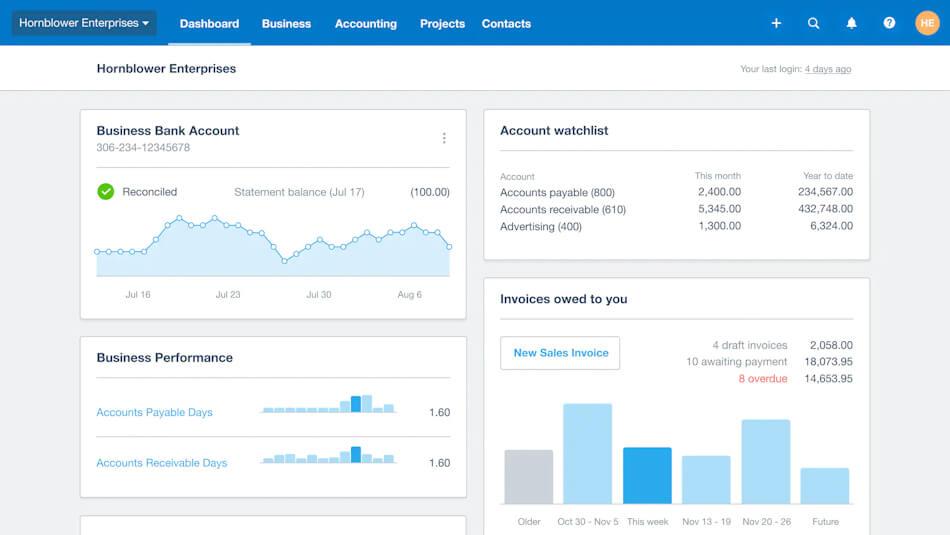 Xero is known as one of the top accounting software on the market with a strong value proposition: its customers love it.
Aside from being user-friendly and simple, its powerful features make it stand out from the crowd.
Key features
Fixed asset management to keep track of your assets and work in one place. Xero automatically calculates depreciation of your assets. Then, run reports to see the value of your fixed assets any time.
Plus, Xero Projects allows you to get started by quickly setting up a project.
Here's how it works:
Create as many projects as needed.
Estimate your time and materials.
Send off a quote to your potential customer.
It's that easy. Then record your time on the job and make that into an invoice.
To keep up with project costs, add bills and deposits to a job. The best part: your invoices stay up-to-date if anything changes.
Next, let's review Xero's reporting capabilities. Use reports to manage your projects and see which jobs are making money and which aren't.
This way, you'll accurately quote for future projects.
Now let's look at Xero Expenses. Use it to capture costs by taking photos of receipts or record mileage instantly.
All the key information is then pulled into a claim to inform you about every expense immediately.
Pros
It features a clean, user-friendly interface.
The application runs smoothly as Xero was built for the web.
Xero has strong integrations with many applications.
Cons
The reporting function could be simplified.
Limited in graphic and visual charts.
Weak customer support without live chat.
Pricing
The following pricing plans are offered by Xero:
Early: $13 per month.
Growing: $37 per month.
Established: $70 per month.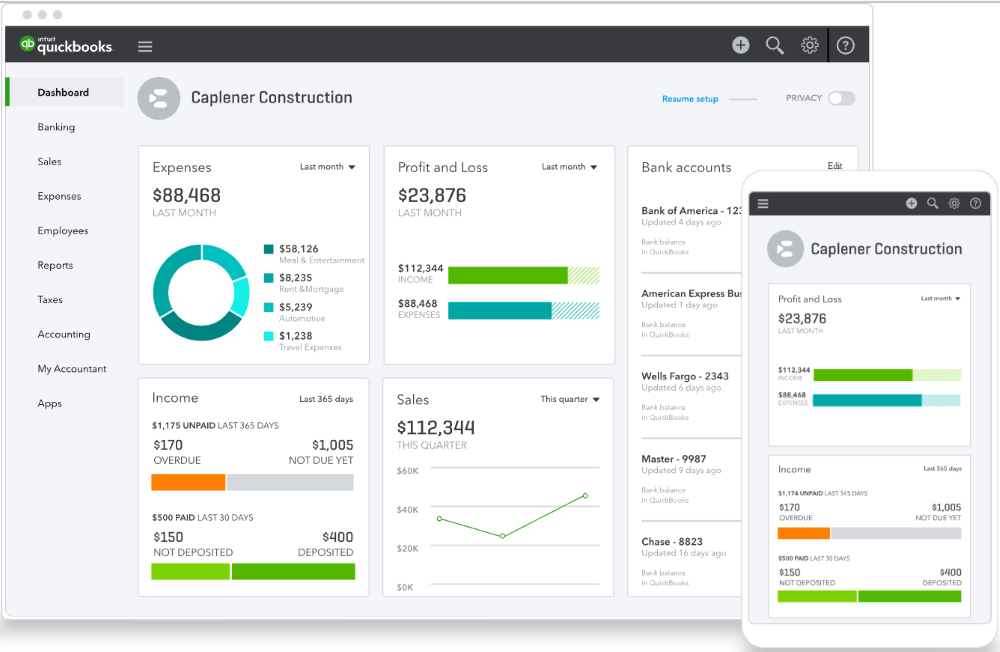 QuickBooks Online offers a cloud-based system which allows you to streamline many repetitive accounting tasks and processes.
It's an ideal choice for contractors as you can:
Manage bills and invoices.
Track projects and miles with a smartphone.
Key features
Reporting complexity: QuickBooks Online features advanced financial reports to give you snapshots of various areas of your business. For example, you can run reports such as Project profitability to see how much you're making or losing.
Other reports include:
Budget overview.
Profit and loss by location.
Invoice and received payments.
With the QuickBooks Online app, you can enable mileage tracking and drive. Your phone automatically detects that you're driving and uses GPS to measure the distance.
Your trips are then stored in one location for you to see your detailed mileage reporting and tax savings estimates at any time.
You can also post your time and project records every day with the QuickBooks Time app. Whether you're a contractor, handyman, plumber, or painter, the app allows you to track time from any location using devices you already have.
This manages your employee time data for payroll, invoicing and scheduling.
QuickBooks Project tracking capture signatures for project sign-offs as well! Once you're done working on a project, capture a signature effortlessly using the app.
Plus, all your QuickBooks Time data syncs to your QuickBooks account in real-time so your data is always accurate.
Pros
Easy to use and set up with many training videos.
The reporting feature is informative and easy to navigate.
The software is regularly updated with new features.
Cons
Difficult to navigate through past transactions for previous years.
Their e-Commerce plugin isn't fully functional.
Pricing
QuickBooks Online offers the following three plans at a discounted rate for three months:
Simple Start: $5.10 per month.
Essentials: $7.80 per month.
Plus: $10.80 per month.
QuickBooks also offers flexible plans for freelancers and independent contractors:
Self-employed: $7.50 per month.
Self-employed tax bundle: $12 per month.
Self-employed live tax bundle: $17 per month.
Who should use Xero?
Xero is ideal for contractors with fixed assets that are looking for a lot of users at a low cost.
What differentiates Xero is its fixed asset manager, which calculates the depreciation of your machinery. It allows you to claim the proper gain or loss when you dispose of the asset.
If you're on a budget, Xero offers many of the advanced features that QuickBooks Online does, at a lower price.
And if you're working in a team: Add your whole team of in house-accountants or company partner to Xero for free.
Who should use QuickBooks Online?
QuickBooks Online is best for those in need of advanced reporting. QuickBooks includes a great reporting suite, and it's even better if you can get the Pro plan for enhanced reports and project profitability.
If you want live customer service, QuickBooks Online is also the right choice.
With Xero, you should need to email customer service or look to online resources to solve the problem.
And if you want other QuickBooks products or a product suite such as QuickBooks Payroll, QuickBooks Payments or QuickBooks Time, this is also a good reason to choose QuickBooks.
Xero vs. QuickBooks for contractors: What to look for
Invoicing
As a contractor, reliable invoicing features are crucial.
Whether it's Xero vs. Quickbooks Online, you get reliable features to process invoices and quotes.
With Xero, easily create an invoice and preview it before sending it via email. That email also includes online payment options so your cashflow remains strong.
With QuickBooks Online, update details about the client directly in the invoice instead of navigating to their contact record. It's simple and offers the option to add a card of bank account number to a customer's account so you can immediately process the payment.
Inventory
Having an inventory management in place as a contractor is important for profitability, as delayed, misplaced or lost materials incur delays and unnecessary costs.
However, when evaluating Xero vs. QuickBooks Online, it's important to note that QuickBooks Online's lower-tier plans don't come with inventory management.
If you're unwilling to go for the QuickBooks Online Plus plan to get that feature, then you'll be glad to know that all of Xero's plans come with inventory management.
Unlike QuickBooks Online's inventory feature though, you can't set up reorder points when stock is running low.
Job scheduling
When making the Xero vs. QuickBooks comparison, consider the job scheduling features.
After all, the success of your projects — from allocating resources to managing finances efficiently— lies in proper scheduling.
QuickBooks Time job scheduling is a game-changer when it comes to planning and setting multiple schedules on the go. Add clients, dates, times and alerts all from your phone.
With everything in the cloud and use insights about hours worked and estimated for future job costing.
With Xero, you can view start and end times of jobs as well as milestones in an interactive gantt chart.
Payroll
As a small business contractor, you need payroll that's accurate, automatic and easy to use.
Gusto is Xero's preferred payroll partner that's integrated with Xero accounting. It automates payroll taxes, deductions, and filings. Another benefit is that it handles payroll emails and pay stubs.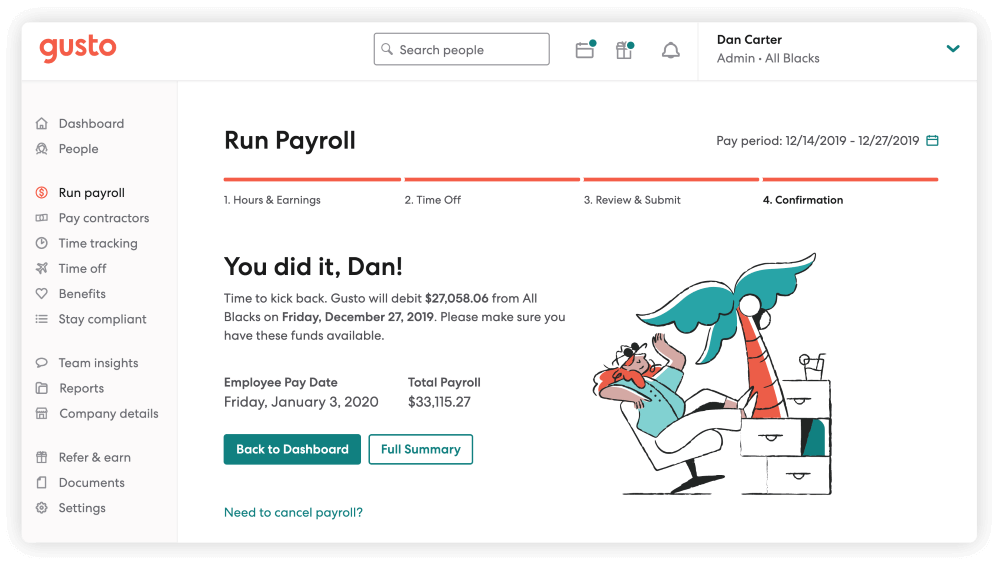 QuickBooks Payroll for contractors processes payments quickly and easily. It allows you to manage payroll, calculate taxes and make direct deposits directly from QuickBooks Online.
It also includes employee self-service portals and direct deposit capabilities so you have more time to focus on your day-to-day, instead of paying your subcontractors.
Integrations
When it comes to Xero vs. QuickBooks for contractors, be sure not to overlook the importance of integration.
As your accounting software is one of your core tools, it should integrate with all your other systems, including:
Your CRM system.
The reporting tools you use.
Your email applications.
Your project and time-tracking tools.
When debating Xero vs. QuickBooks for contractors, make sure you select the one that offers integrations with the tools you need.
How Method helps small business contractors using QuickBooks and Xero
Method:CRM is a robust solution that manages your accounting, sales and job details. Its cloud technology and mobile access make it an ideal software for contractors.
Method:CRM boasts a two-way sync with both QuickBooks Online and Xero. Here's a breakdown of how it works:
Data is entered once.
Carried through the workflow.
Synced appropriately to your QuickBooks or Xero account.
As a result, you save yourself from hours of double-data entry.
Your customer and job information is synced from QuickBooks and Xero and your estimates are turned into work orders and invoices in a few clicks.
Method:CRM empowers you to focus on delivering great service to your customers rather than managing paperwork
Bottom line: Xero vs. QuickBooks for contractors
Overall, QuickBooks and Xero are both great options for accounting software for contractors with attractive features and pricing plans.
The choice really depends on your needs.
If you're a contractor on a budget that's looking to add a lot of users, then Xero is a better fit.
But if you need features such as advanced reporting or live customer service, then QuickBooks Online is the right pick for you.
Xero vs. QuickBooks FAQs
Is Xero or QuickBooks better for small businesses?
Xero and QuickBooks have its advantages and disadvantages, so it's important to consider which features suit your small business best.
For example, QuickBooks Online offers more detailed reports and analytics than Xero does. This makes it better for businesses with complex financial tracking needs.
However, if you just need basic data to monitor your cash flow and profitability, then Xero can be a good option.
Another difference between Xero vs. QuickBooks Online is platform flexibility. For contractors who deal with multiple currencies, Xero is the better choice.
When undertaking a Xero vs. QuickBooks comparison, it really depends on your small business needs and budget.
Is Xero easier to use than QuickBooks?
Xero has been praised for its intuitive user interface and ease of use, while QuickBooks Online offers more robust features suited for larger businesses. Ultimately, when deciding between Xero vs. QuickBooks, it depends on the complexity and size of your business.
With either solution, you can access your accounts anytime and anywhere. Your choice depends on which features you need the most.
What is the difference between Xero and QBO?
When it comes to Xero vs. QuickBooks Online (QBO), one of the biggest differences is pricing. With Xero, you pay a flat monthly fee with three pricing packages to choose from.
However, with QBO you have several subscription tiers with varying features and add-ons.
For contractors dealing with complex financials, another key difference between Xero and QBO is the availability of industry-specific features.
For example, Xero offers an extensive suite of features specifically designed for contractors, such as job costing tools and time tracking, whereas QBO's offerings are not as robust in this area.
Watch our demo to get started with Method:CRM!
Image credit: Shutter B via Adobe Stock