If you work in the construction industry, you know the challenges that come with keeping your finances and accounting in check.
Chances are, you're working on several projects simultaneously, spending hours, even days on each. You deal with issues such as:
Having employees who come and go.
Payroll that changes on a weekly basis.
But with the use of proper technology, this can change.
This article explores Xero as an accounting software for construction contractors. Keep reading to understand:
Is Xero good for small business?
The key features that make Xero for contractors an ideal solution.
How connecting Xero with your CRM takes your business to the next level.
Xero for contractors overview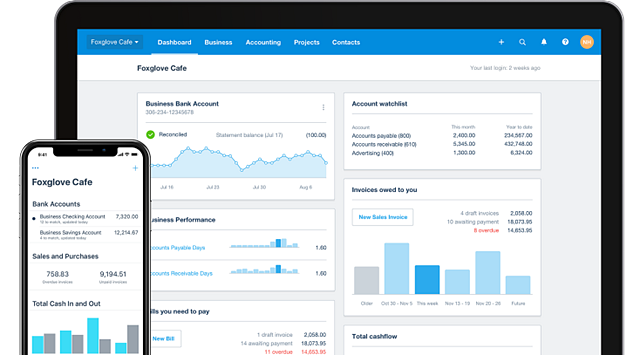 Xero is one of the most popular cloud-based accounting software. When it comes to Xero for contractors, it's easy to use and less expensive than competitors such as QuickBooks Online.
One of its most notable benefits is that you don't get charged for additional users with any of its subscription plans.
What also makes Xero for contractors ideal is that it includes a robust mobile app and suite of reporting tools, allowing you to see your business performance while you're on-site.
Another plus is that Xero allows you to create and customize invoices quickly Xero also integrates with over a thousand different applications, making it easy for you to get the most out of your software.
How online accounting helps small businesses
Online accounting makes managing your small business finances simpler and more efficient.
Rather than losing track of disorganized spreadsheets, you access up-to-date financial information quickly through a software. Even better, through its integrations, you get to stay on top of scheduling your employees at all times without any stress.
The best part is that you don't need to install any software on your desktop — all you need is an internet connection.
A good accounting software manages and automates tedious work so that you save time. With Xero for contractors, you get easy-to-use invoicing, automated tax returns, and online payment collection.
Is Xero good for small business?
With all the software options available, you may wonder, "Is Xero good for small business?"
Your business may start small, but as it grows, you need an accounting program like Xero.
It's pricing plans aren't based on the number of employees, so it's easy to accommodate the changing stages of your business.
So whether you're a handyman starting out in your business or a project manager looking to grow your company, you won't ever need to stress about additional costs.
As you scale your business and move into high phases of growth, you'll likely require integrations and add-ons to keep things running smoothly. Xero connects with over 1,000 third-party apps, which is among the most of any accounting software.
What's more, Xero keeps its interface simple and user-friendly to help you even if you're new to running a business. It makes the most complex accounting information easy to grasp.
Xero features for trades and construction
Invoicing and quotes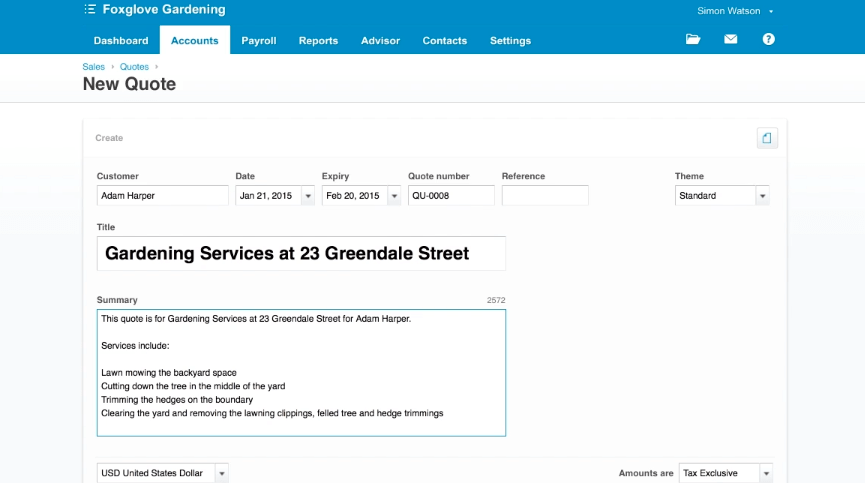 Generate detailed quotes from templates in minutes with Xero for contractors. Then, send them online to customers for fast approval.
Once accepted, turn your quote into an invoice within the mobile app or by logging into Xero from a web browser.
Once your job is done, customize and send professional invoices from your desktop or app.
Another benefit is that you won't need to chase customers for payments anymore. Give them a gentle nudge with Xero's automatic reminders.
Track project profitability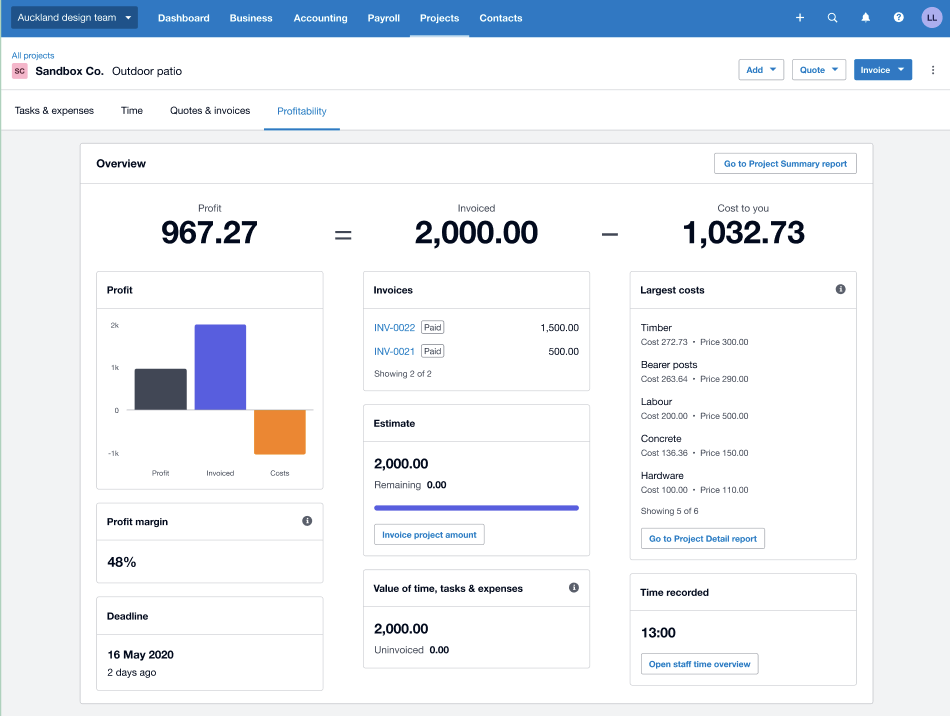 Xero Projects allows you to manage your business projects and keep track of their profitability in real time.
Use the profitability dashboard in Xero Projects to get a clear view into the state of your project. The visual charts give a detailed breakdown of a job's costs vs. the amount invoiced to your customers.
Xero Projects integrates with the rest of the Xero platform to make creating and sending invoices simple.
The profitability dashboard also tracks the time spent on each project, as well a link to quickly see which members of your crew is working on that project.
Budgeting
Access built-in budgeting features in Xero Budget Manager and compare budgets against performance for different periods.
Once your budgets are entered for each month, generate comprehensive reports to get a clearer picture of your revenue.
For example, with the budget variance report, you see the budget and actuals for a specific period, as well as the variance in dollars and percentage.
With Xero Budget Manager, your budgeting tasks as a general contractor gets a whole lot simpler.
Integrations
Xero connects thousands of the most popular apps, so that you save time for what matters most — growing your business.
For example, its integration with Beyond takes your budgeting to the next level. It allows employees to see what's important to them and create budgets in many ways including top-down and bottom-up.
If you're a small business, building entire payment infrastructures to power your online business is just not feasible.
That's why Xero's integration with Stripe makes it possible for cloud-based businesses to accept debit and credit payments from your customers.
Do even more and improve your customer experience with Xero's powerful CRM integrations.
How Method:CRM improves Xero for contractors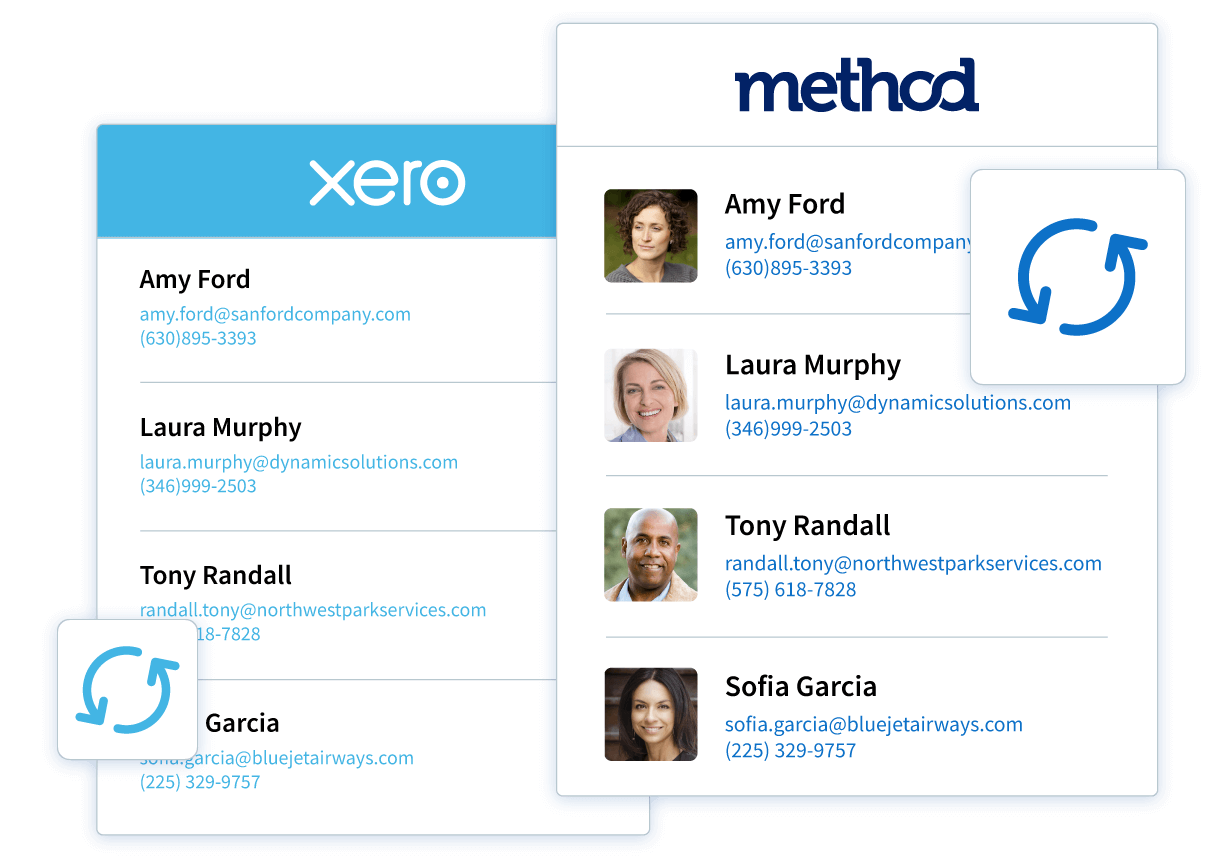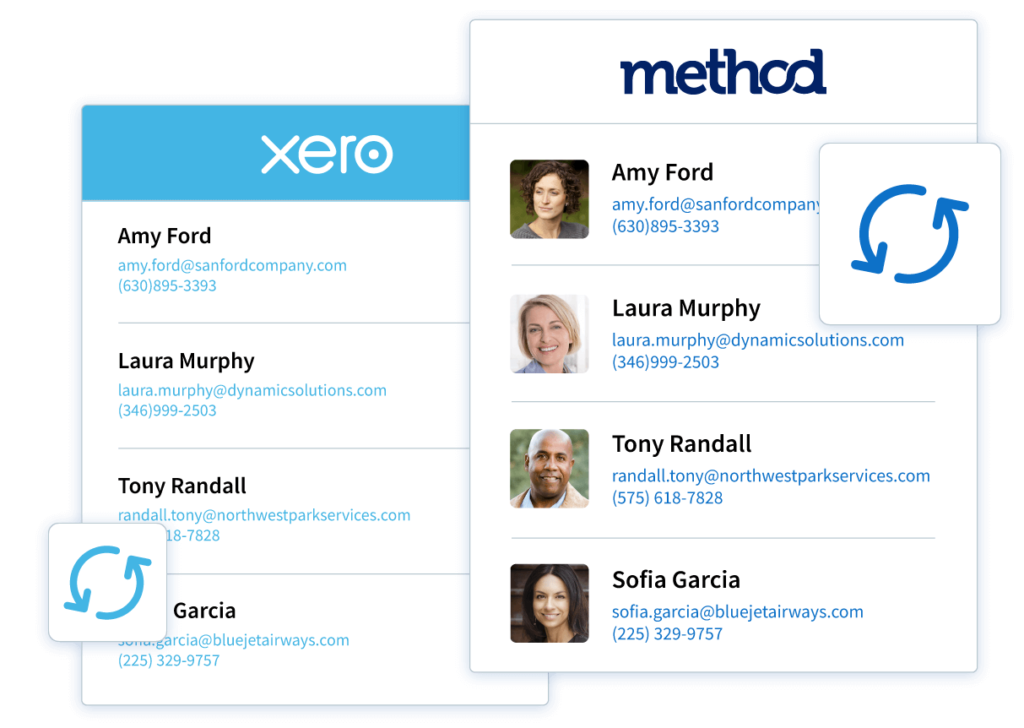 When it comes to Xero for contractors, connecting to a CRM simplifies your construction workflows even more. It allows you to understand your customers through data-driven insights.
Use Method:CRM to extend the power of Xero with:
Personalized workflow automation.
Email marketing capabilities.
Online portals for your customers to self-serve 24/7.
And you no longer have to jump between platforms as Method:CRM integrates with popular tools you use such as Gmail and Outlook, making communication easier. Below is an example of how Method:CRM brings the customer data you need from your CRM and Xero into your inbox.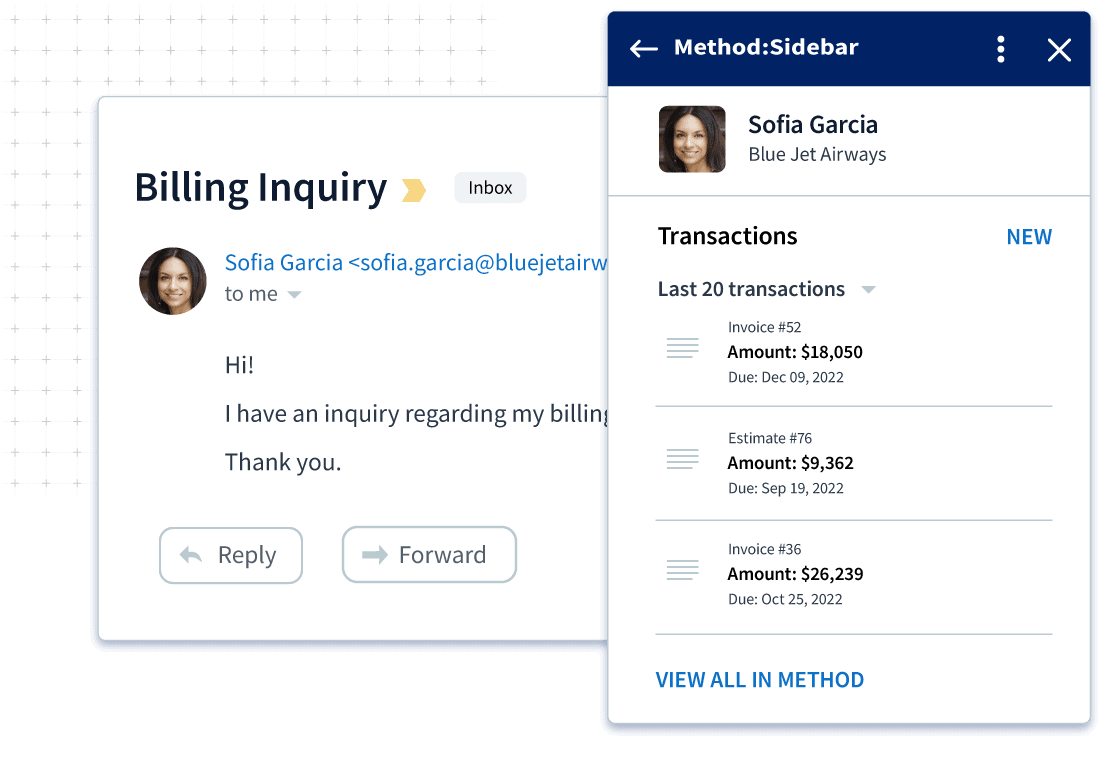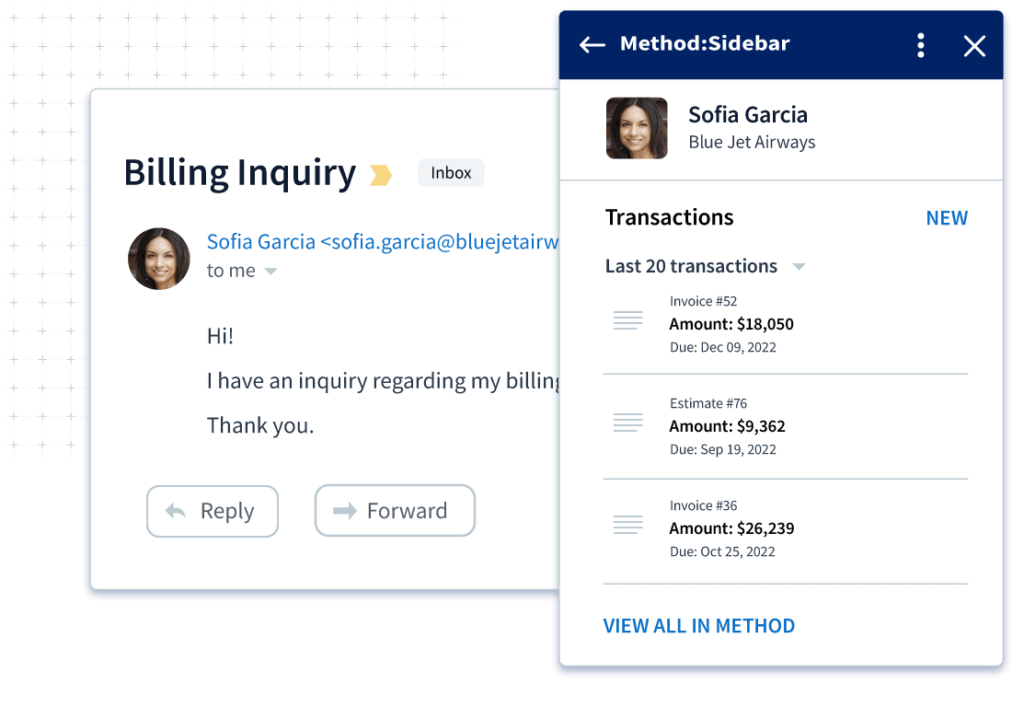 Aside from communication, Method:CRM, simplifies every aspect of your building process, from winning bids sooner to automatically creating quotes. Stop spending your time verifying data and re-keying information thanks to Method:CRM's powerful two-way sync with Xero. This feature allows you to focus on growing your business and closing sales.
What's even better is that you get to customize your software to fit exactly to your business needs as you grow. And if you're stuck, Method:CRM offers incredible support systems to guide you. That's why Xero users love Method:CRM.
Bottom line: Is Xero the best accounting software for contractors?
Xero is your go-to cloud accounting system when it comes to running your business more efficiently.
But it can't do everything. Maximize how Xero helps you run your business with Method:CRM. It simplifies your workflows with capabilities such as:
Two-way, real-time sync with Xero.
Poweflow workflow automation.
360-degree view of customer data.
Xero for contractors FAQs
What size business is Xero suitable for?
Xero is suitable for all sizes of businesses, from sole traders to large corporations.
Xero for contractors provides a straightforward accounting system that makes it easy to manage on your business finances.
If you're wondering 'Is Xero is good for small business?', the answer is yes. It provides the financial insights and automation you need along with a user-friendly interface.
Is Xero good for a construction company?
Absolutely! Xero for contractors is one of the most comprehensive accounting solutions for construction companies.
With features such as invoicing, payroll, budgeting, and project management it's no surprise so many businesses in this sector choose use Xero.
It also offers best-in-class security, making Xero for contractors a safe and reliable choice.
What is the best software for a small construction business?
The best accounting solution for your small construction business is Xero. Here's why.
The software gives you powerful features and automation capabilities. Its pricing plans are not based on the number of users, so rest assured that you're costs never go up as you grow.
If you struggle with understanding accounting statistics, worry not! Xero has an easy-to-use interface, making the most complex information easy to understand. So is Xero good for small business? Definitely, yes.
Want to know how Xero integration takes your business to the next level?
Get your free download of our Xero e-book.
Image credit: Cherryandbees via Adobe Stock