Xero is a popular cloud-based software that makes it easy to manage all your business' finances in one place. With its wide range of features, it's no wonder Xero is among the most popular options for accounting software.
But when it comes to Xero commission tracking, there are limitations. That's why you need a CRM that integrates with Xero to track sales commissions more efficiently. A CRM takes your sales tracking process to the next level.
In this blog, you'll learn how Xero commission tracking works, and the biggest benefits of integrating Xero with a CRM. You'll also explore the top 7 software for Xero commission tracking and sales tracking.
Can I use Xero to track sales commissions?
Using its tracking feature, you can set up commission structures for Xero to track sales commissions. You can then generate invoices and payments for your sales staff.
But while you can capture sales commissions within Xero, the system can't track sales performance with sales goals or quotas. And Xero can only capture sales commission-related invoices, orders, and receipts. It doesn't allow you to track sales commissions beyond that.
How does Xero commission tracking work?
To use Xero to track sales commissions, you need to manually set up your sales representatives as a tracking category in Xero.
You can export a filtered sales report per tracking category and apply your commission percentage manually. Xero does not have a built-in function for this.
As this is a necessary, basic functionality for businesses, using a sales commission software for Xero commission tracking is the ideal solution.
And although you can add as many employees as you like to your sales commission tracking category, it's important to note that Xero allows a maximum of just two categories. If you have pre-existing categories, this can be a challenge.
Sounds complicated, right? Well, this is the reality of Xero commission tracking.
Why should I integrate Xero with a CRM?
Integrating a CRM with Xero to track sales commissions overcomes many of the limitations of the accounting software. Additionally, a CRM can take your sales process and business to the next level with the following benefits.
Meet your customers' needs
With Xero CRM integrations, you consolidate your information in one place to understand your customers' behavior and enhance your relationship with them.
Plus, you can take advantage of segmented customer lists and added marketing capabilities such as automation to target specific customers with special offers and discounts.
Integrating Xero with a CRM boosts customer loyalty and retention. Your customers feel valued because of your personalized offers tailored to their needs.
Optimize your sales process
Meeting your customers' needs is essential, but so is being efficient. With a CRM for Xero commission tracking, you save time on the manual process of inputting and sending data from Xero to your CRM.
Integrating with a CRM saves you time so that you can increase your output. And by automating processes like lead generation, your sales team can focus on what's important to them – closing deals.
And your sales team's productivity immediately improves once they no longer need to switch between tabs and programs.
Make data-driven decisions
CRMs are proven to increase revenue as well as customer loyalty. And a large part of this success comes from the data they provide you.
Once you connect all your information to a centralized location (your CRM), you can recognize what works and where you can improve. This allows you to make better-informed decisions to boost your bottom line.
Go beyond Xero's sales tracking limitations
Xero can only track sales prospects once they become paying customers. It's also unable to measure the effectiveness of sales activities or campaigns in creating customer interest and loyalty. But combining a Xero CRM and sales tracking system can overcome these limitations.
Xero's commission tracking capabilities are limited as well. For example, you can't track sales commission-related transactions across multiple sales reps or departments. But with a CRM, you can run calculations across all sales reps in your company in just a few clicks.
Additionally, Xero doesn't have functionality for calculating sales commissions based on complex rules and criteria that exist for some companies. That's why integrating a CRM with Xero to track sales commissions is crucial.
And finally, a Xero CRM and sales tracking allows extended reporting capabilities. Whereas this isn't a feature in Xero, you can generate detailed reports to track sales and sales commissions with a CRM.
Top 7 Xero commission tracking CRM software
Method:CRM is the first on our list of the top CRMs for Xero to track sales commissions. The software allows custom Xero commission tracking to fit each business' unique sales process.
Also, its comprehensive suite of features makes it the ideal Xero CRM and sales tracking software.
Key features
Powerful, two-way sync with QuickBooks and Xero to eliminate double-data entry.
Customizable commission calculator to suit your business needs.
Best Xero CRM integration that pulls sales and customer information to make calculations easier.
Benefits
Two-way Xero sync.
Unlimited customization.
Reusable email, report, and transaction templates.
Several third-party integrations such as Gmail, Zapier, and Outlook.
Great CRM customization support services for complex commission structures.
Limitations
Only available in English.
Limited to QuickBooks and Xero users.
Pricing
Contact Management: $25 per user per month.
CRM Pro: $44 per user per month.
CRM Enterprise: $74 per user per month.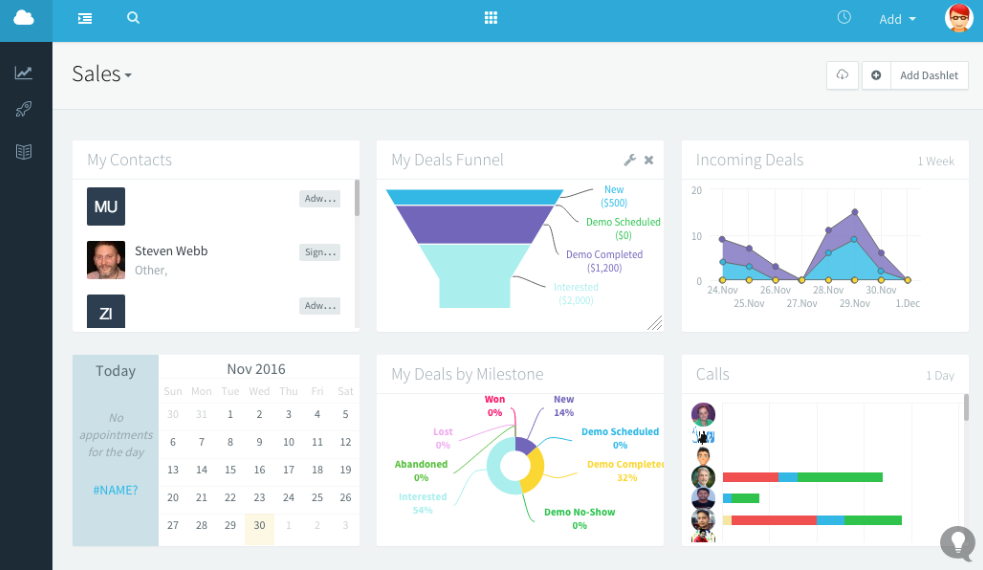 Image credit: Agile CRM
Next on our list is Agile CRM, an all-in-one CRM that automates your sales, marketing, and service in one platform. Although Agile CRM doesn't include options specific to sales commission tracking, it simplifies sales tracking with its impressive features.
Key features
Drag-and-drop workflow to drag deals between milestones.
Create multiple tracks with different milestones for each track.
Add deal nodes and triggers to automate follow-ups.
Benefits
Includes gamification to improve employee efficiency.
Fast and efficient technical support.
Easy integration with other software.
Limitations
Email builder is inflexible and requires workarounds.
Lacks on-demand educational resources for advanced features.
Pricing
Agile CRM is free for up to 10 users. Beyond that, the software includes the following pricing plans:
Starter: $8.99
Regular: $29.99
Enterprise: $47.99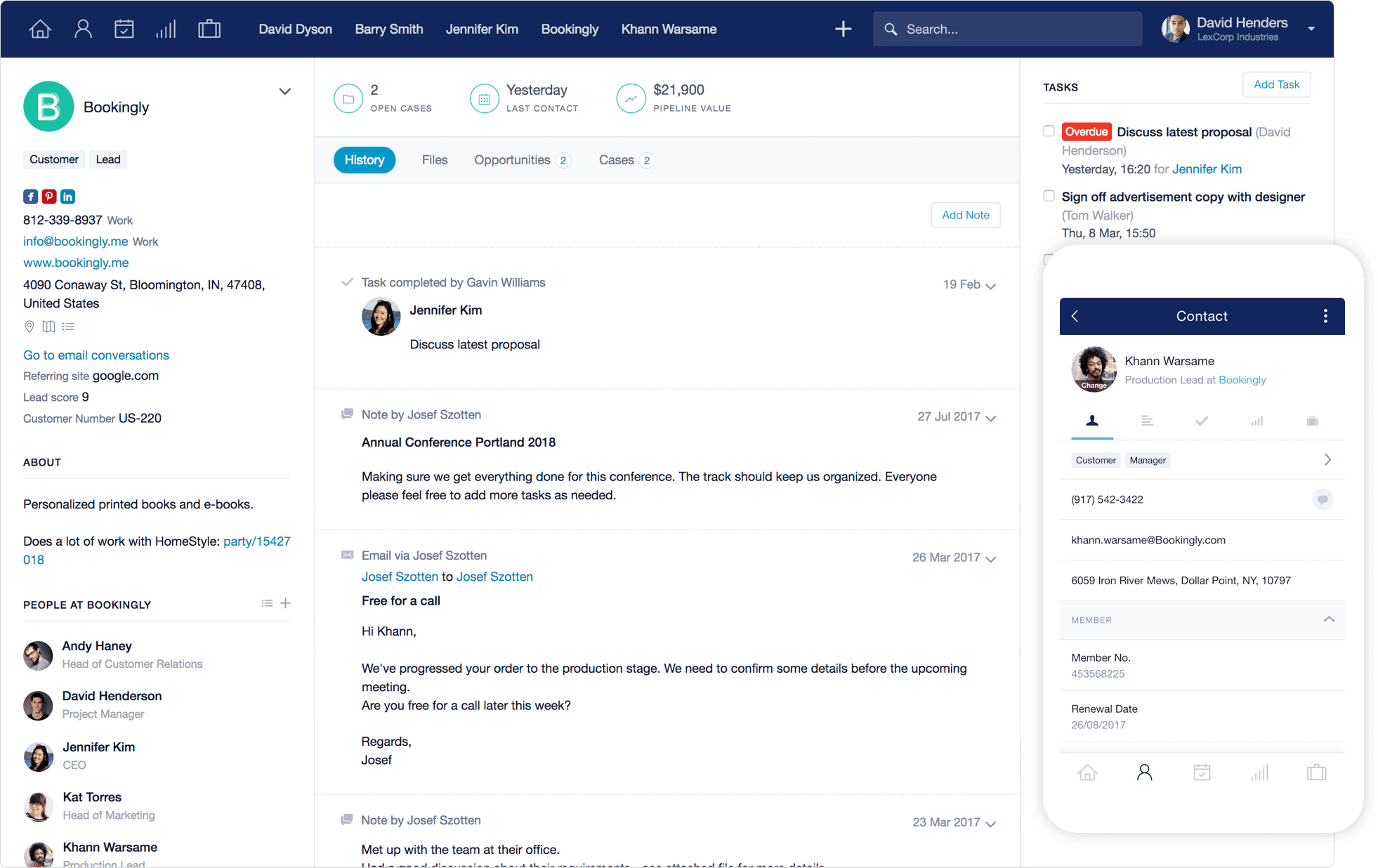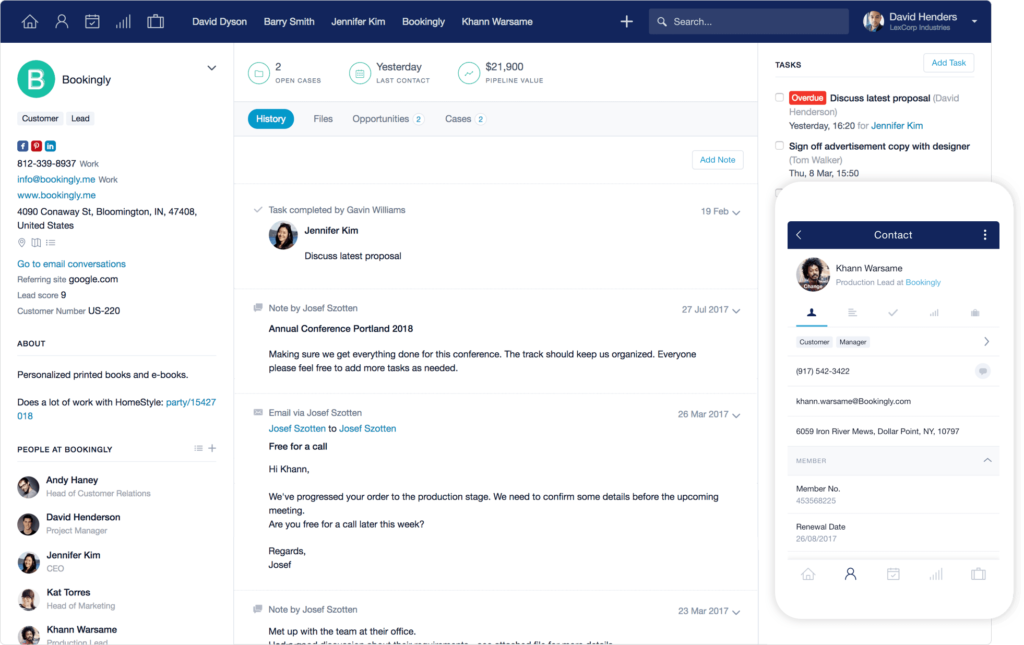 Image credit: CRM.org
Similar to Agile CRM, Capsule is not used for Xero commission tracking. But it's an ideal solution in terms of Xero CRM and sales tracking that makes the most of every sales opportunity that comes your way with its range of features.
Key features
Customizable visual sales pipeline to show sales opportunities.
Sales dashboard that shows pipeline forecast and conversion rate.
Activity reports that show metrics like calls, notes, and emails.
Benefits
Easy to use and intuitive.
Includes a robust contact management system.
Highly flexible and customizable.
Includes an efficient mobile app.
Limitations
Lacks key third-party applications to meet customer needs.
Dashboard and user interface need improvement.
Pricing
Capsule offers three pricing options:
Enterprise: $54 per user per month.
Teams: $36 per user per month.
Professional: $18 per user per month.
It also offers a 14-day free trial. No card required.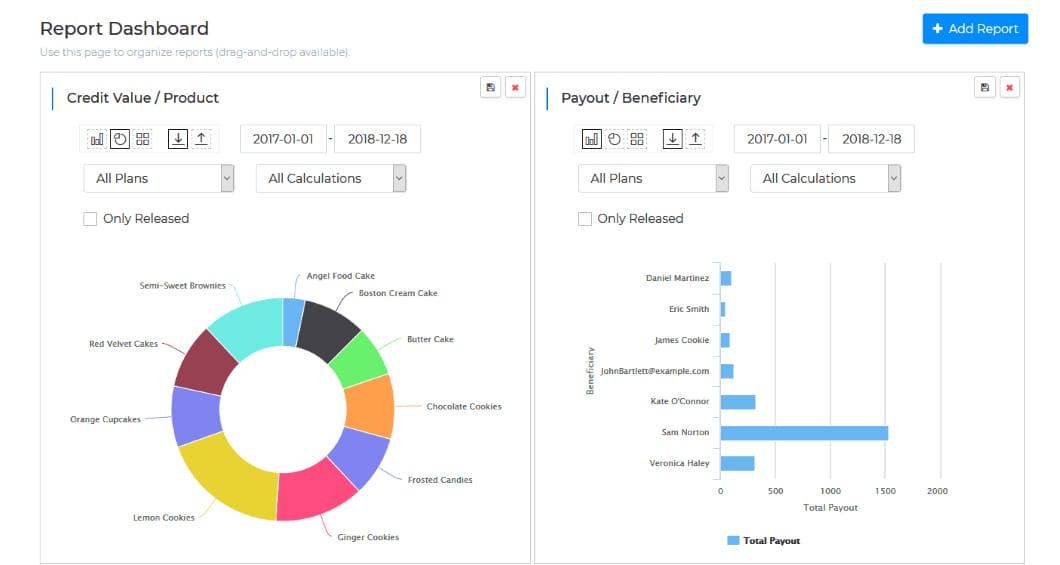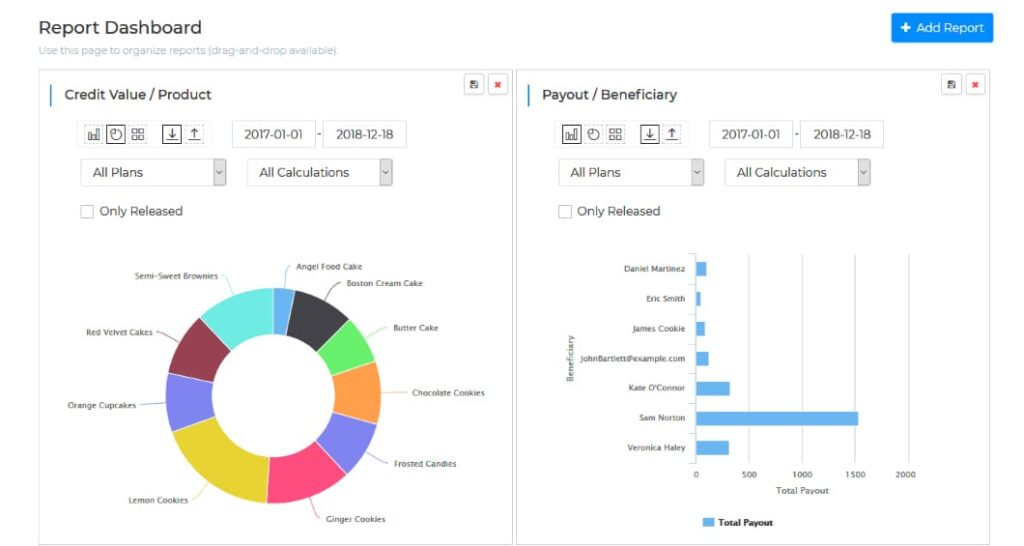 Image credit: Sales Cookie
Next up on our list of Xero commission tracking software is Sales Cookie. It's a powerful software that makes it easy to design and manage sales incentive plans — including complex ones.
Key features
Personalized dashboard for each sales rep that includes goals, crediting, and rewards.
Communication tools for payees to enroll in incentive plans, submit inquiries, and more.
Run one-shot commission calculations across all reps.
Benefits
Intuitive and user-friendly interface.
Efficient and responsive customer support.
Accommodates complex compensation plans.
Limitations
Only available in English.
Lacks a range of features to meet customer needs.
Pricing
The Xero commission tracking software offers the following pricing plans:
Business: $30 per user per month.
Business+ : $50 per user per month.
Sales Cookie also offers a 14-day free trial of the software.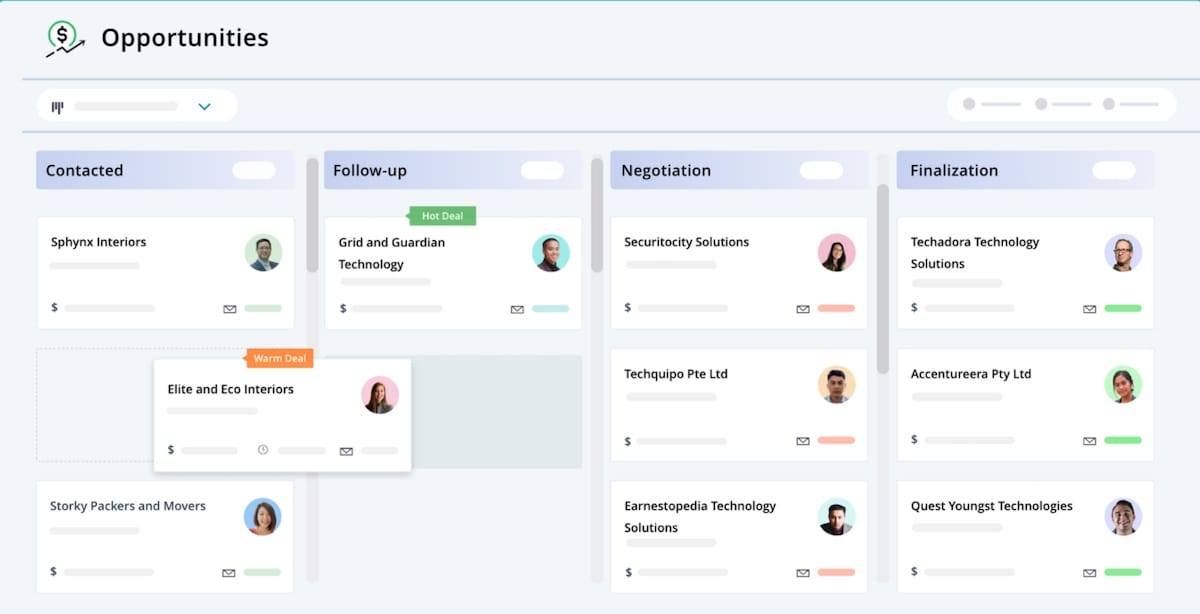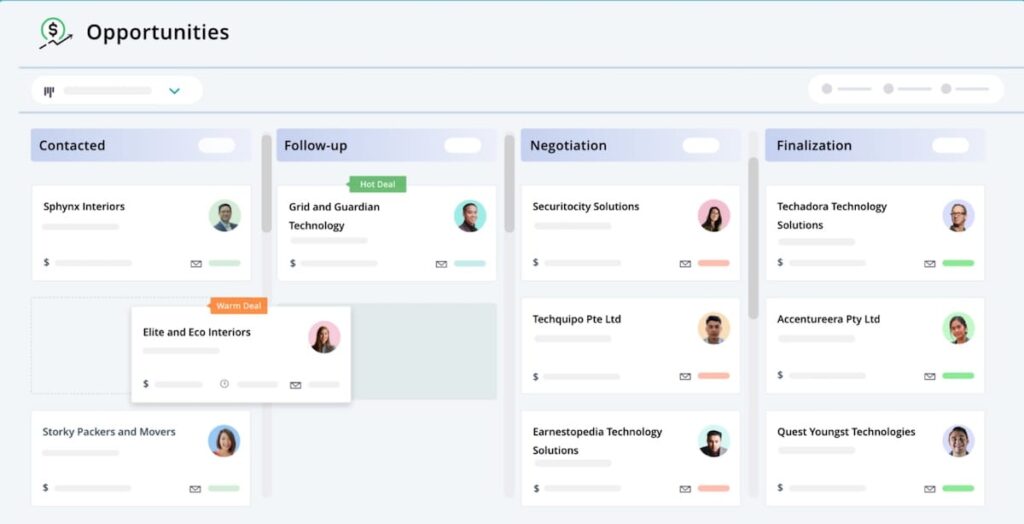 Image credit: Pepper Cloud CRM
Pepper Cloud is another great integration for Xero CRM and sales tracking. It connects all your customers from a central platform to interact, respond, and close deals faster.
Key features
Customizable fields, stages, and pipelines for unique needs.
Intuitive sales leaderboard to display top and bottom opportunities.
Performance reports with real-time stats.
Benefits
Several third-party integrations such as Gmail, Mailchimp, and Outlook.
Highly customizable to suit your business needs.
Multi-layered security to protect your data.
Limitations
Lacks live customer support.
Limited reporting capabilities.
Pricing
Pepper Cloud does not include pricing information on their website, but you can contact them for information.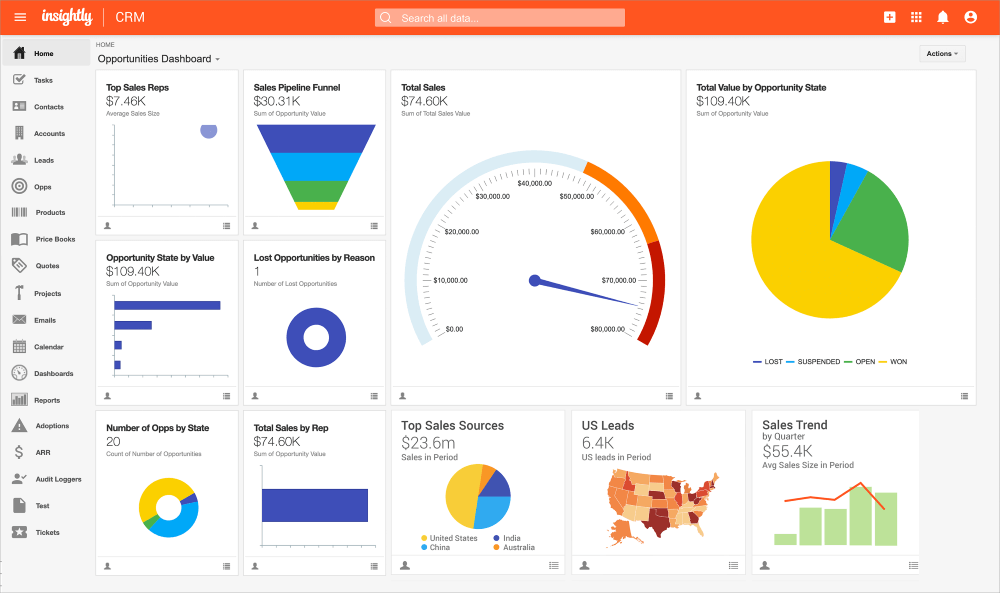 Image credit: Insightly
Insightly streamlines the day-to-day operations of your business with its full suite of sales tracking and management features.
Key features
Custom fields to store data that don't fit into premade fields.
Ability to create graphs and data visualizations in minutes.
Advanced lead management tools.
Benefits
Intuitive customization abilities.
Highly adaptable to existing workflows.
Generates clear and easy-to-read reports.
Great email campaign and tracking features.
Limitations
Requires extra payment for live support.
Custom reporting and dashboard options only allow a top-level overview of your business
Lacks customization ability to build your own boards.
Pricing
Plus plan: $29 per user per month.
Professional plan: $49 per user per month.
Enterprise: $99 per user per month.
Insightly also offers a free plan, but it only allows two users and has limited features.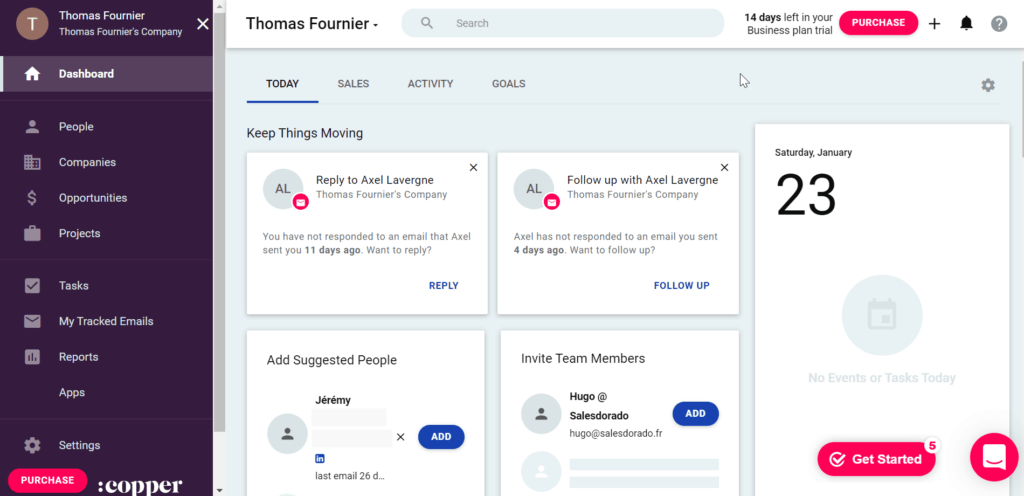 Image credit: Empirical Data
Copper automates sales tracking throughout your entire sales funnel, with capabilities that allow you to increase efficiency and close more deals.
Key features
Easy-to-build pipeline views of sales activities.
Trigger notifications for when action is needed from your team.
Add leads, update deals, and create Google Calendar events from your Gmail inbox.
Benefits
Very intuitive as it works like your favorite Google apps.
Seamless integration with Google suite.
Simple and easy-to-follow help resources such as articles.
Limitations
Weak customer service.
Constant updates result in how-to resources becoming quickly outdated.
Pricing
Copper offers a free 14-day trial for all of its plans. Beyond the free trial, the following pricing plans are available:
Basic: $29 per user per month.
Professional: $49 per user per month.
Business $99 per user per month.
Bottom line: Why Xero CRM and sales tracking go hand in hand
Xero CRM and sales tracking go hand in hand because they give you the visibility and control necessary to grow your customer base.
Software such as Method:CRM allows you to simplify your Xero commission tracking, monitor leads, and improve the progress of your sales reps with features such as:
A powerful two-way sync with Xero.
The ability to make custom commission calculations to suit your unique needs.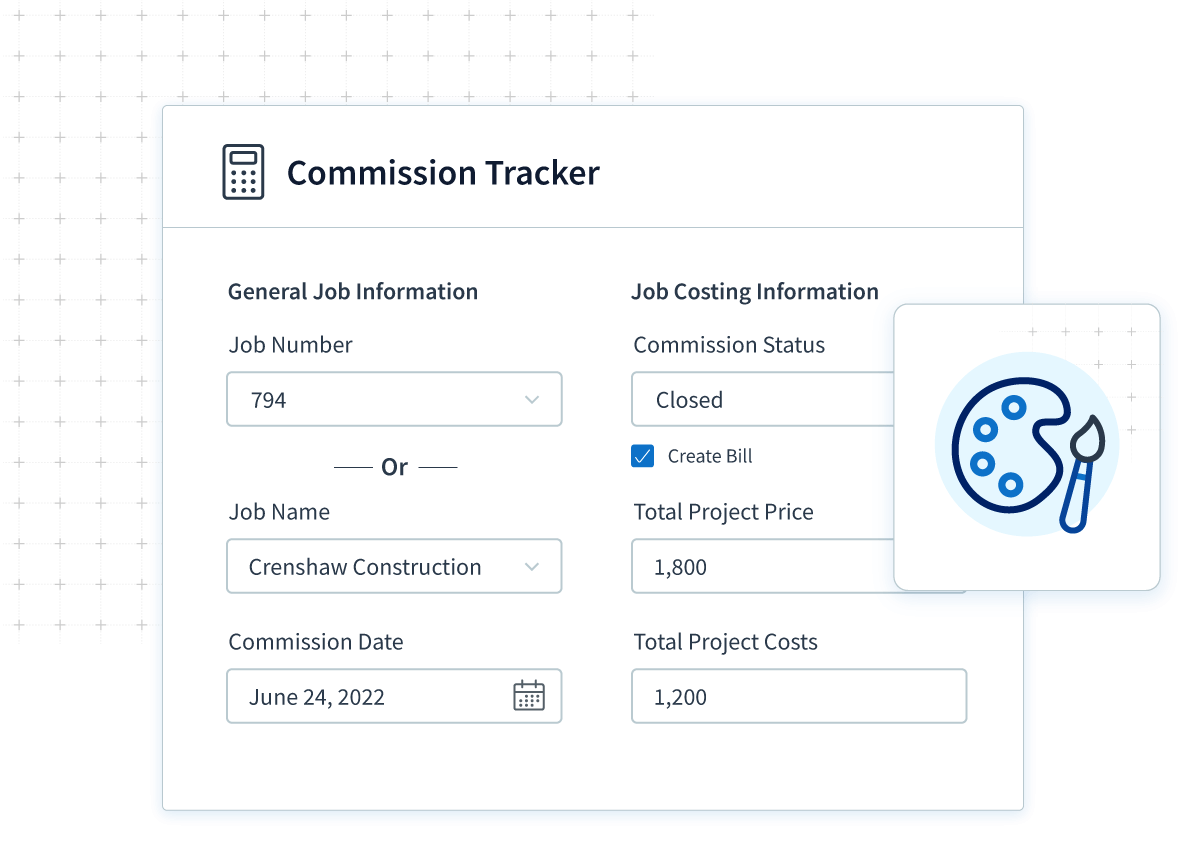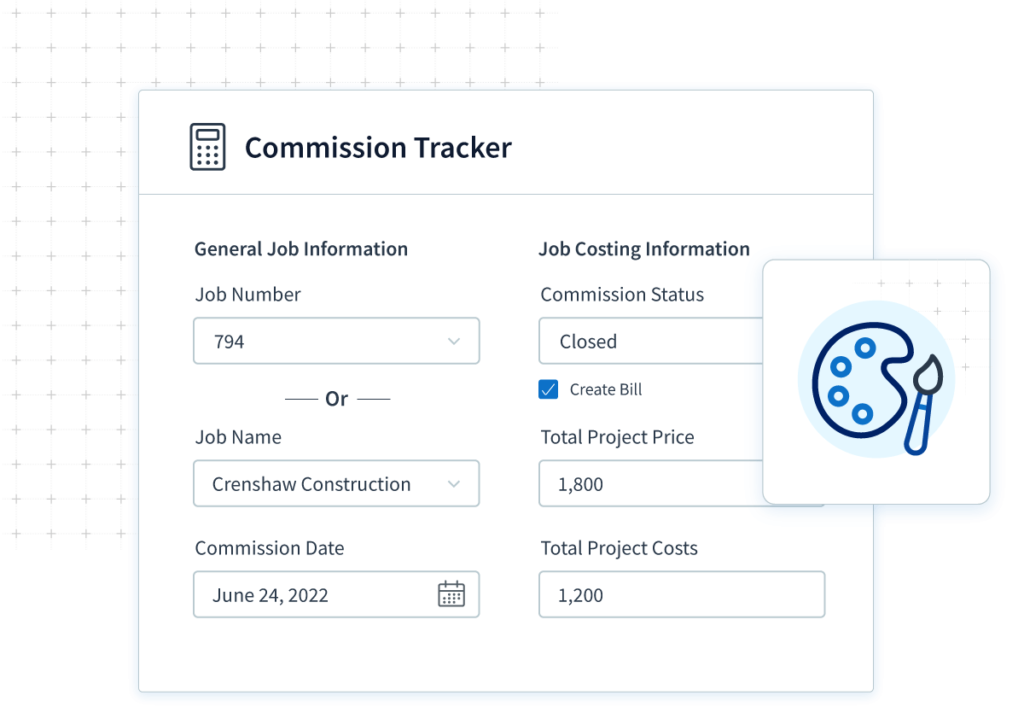 Xero commission tracking FAQs
Can I use Xero as my CRM?
Although Xero helps you keep track of customer inquiries and organize contacts, it does not offer the same range of features as a dedicated CRM.
It lacks basic customer relationship management capabilities such as contact segmentation, lead scoring, and automated marketing campaigns.
Additionally, Xero's reporting capabilities are limited compared to CRMs that provide more in-depth analytics and insights into customer behavior. There are also several limitations when using Xero to track sales commissions.
What does sales commission tracking software do?
Sales commission tracking software automates calculating and tracking commissions based on your business' commission model and other defined metrics, such as frequency and taxes.
With the help of software, companies can easily calculate how much to pay in terms of sales commissions.
Using software such as Xero commission tracking makes tracking, managing, and analyzing sales commissions in one place easy. Along with a CRM, businesses of any size can save time and money by automating commission calculations.
What are the benefits of Xero CRM?
Xero CRM helps your business increase efficiency and improve customer relationships. With Xero CRM, you can keep track of clients, contacts, and leads in one place.
As well as that, you can manage tasks and automate processes to make customer interactions faster and smoother. Xero CRM also allows you to create custom reports quickly to gain valuable insights on your business performance.
Additionally, you can use Xero to track sales commissions effectively with a CRM. Whereas Xero commission tracking has some limitations, a Xero CRM is a solution that automates commission tracking and provides real-time insight into sales performance.
Simplify my commission tracking with a free trial of Method:CRM!
Image credit: Flamingo Images via Adobe Stock