A work order is a helpful form used by field service businesses to keep track of the tasks involved with completing a job. Unfortunately, the work order QuickBooks Online offers is limited to a series of makeshift forms.
Which isn't enough for most field service companies:
The good news is that QuickBooks users can keep their workflows smooth by using field service management software like Method:Field Services and other field service business solutions. More on this later on.
First, you'll dive into the type of work order QuickBooks Online currently offers and then explore the options that ProAdvisors recommend for solving the work order gap.
Creating QuickBooks Online work orders
QuickBooks work orders aren't already built into the Online version of the software. As a result, many users use features like the Delayed Charge and Estimate tools to make work orders in QuickBooks Online.
However, this isn't a perfect solution, so let's take a look at alternative options.
Creating a Delayed Charge in QuickBooks Online
A Delayed Charge looks pretty similar to an invoice but does not disturb your profits and losses.
Here's how to create a Delayed Charge:
Click the + New icon and press Delayed Charge under the Customers tab.
Enter the job information, which can include products/services and customer details.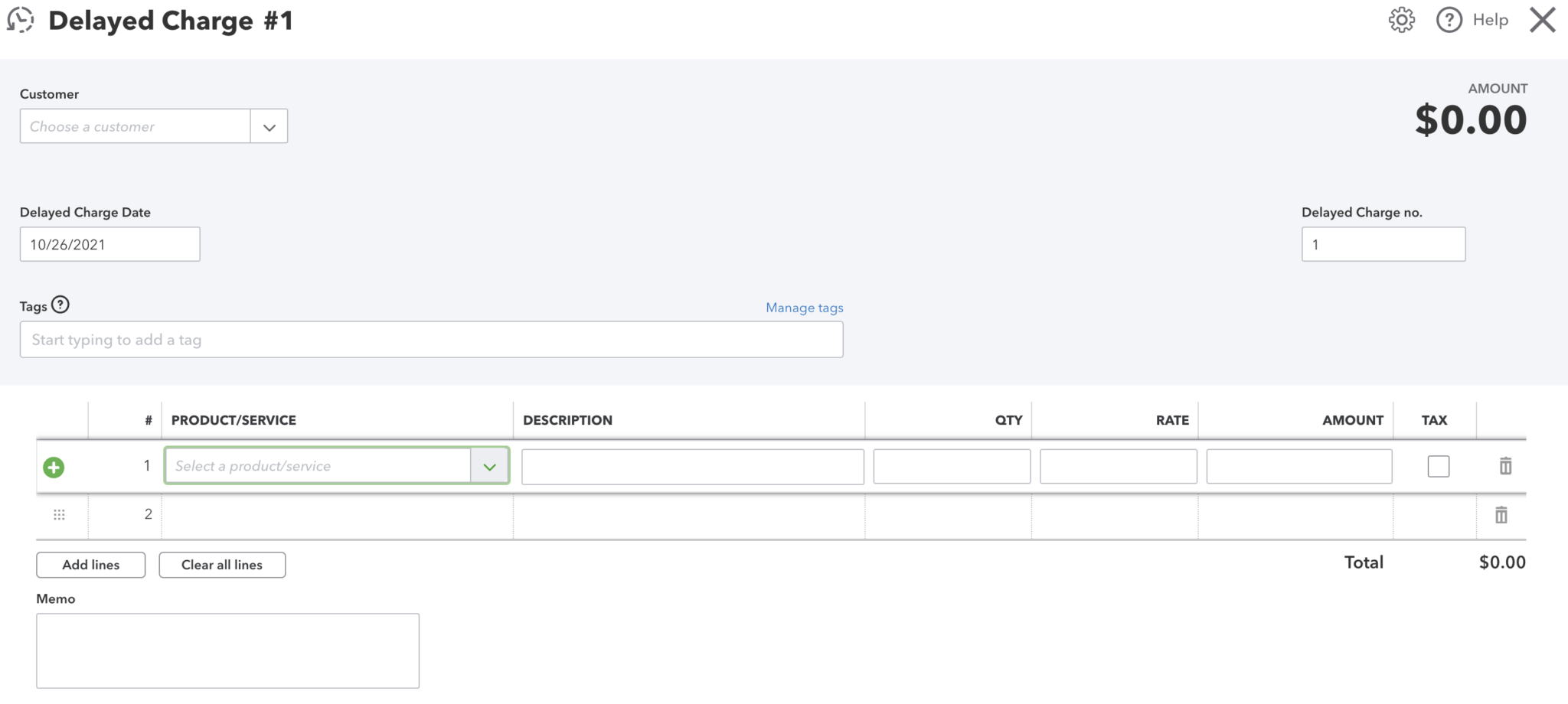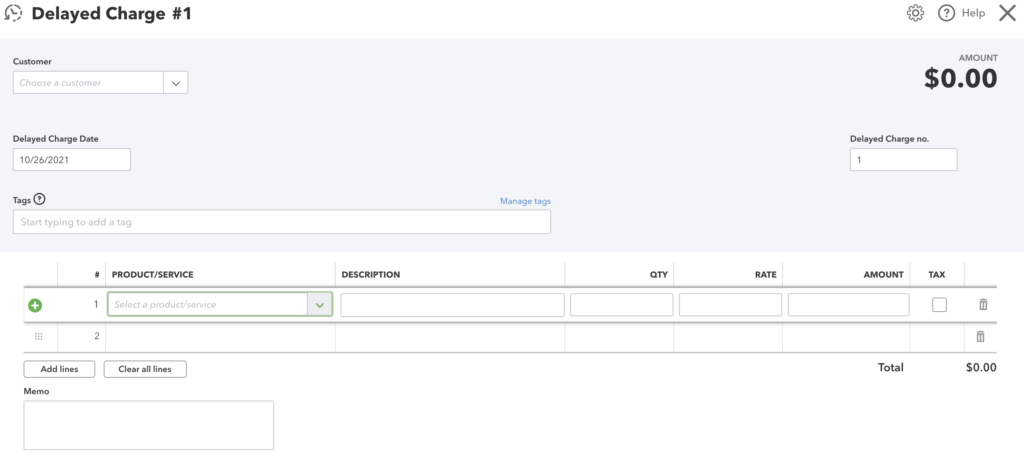 Click on the Save and close button.
Using a Delayed Charge to replace a QuickBooks work order has its flaws and can only offer a few basic work order features.
In fact, QuickBooks Online users have concerns that the Delayed Charge tool does not allow you to print your form — a problem for many businesses.
Creating an Estimates in QuickBooks Online
Using an Estimate as a work order replacement in QuickBooks Online is also a popular workaround.
Similarly to a Delayed Charge, Using estimates as QuickBooks work orders create problems. One being that the form's total and subtotal are not customizable for businesses that don't want the cost of the job on the work order.
QuickBooks ProAdvisors caution businesses not to spend too much time on these workarounds if they do not fit your business processes. Instead, they recommend solutions that offer a headache-free way of creating QuickBooks work order forms.
ProAdvisors share that apps.com is a great place to start your search, as the 600+ solutions listed here are known for integrating well with QuickBooks Online.
Keep reading to find out how you can get hours back into your business with the following work order apps for QuickBooks Online.
Best work order apps for QuickBooks Online
QuickBooks Online ProAdvisors will tell you how customizable and accurate you can make your work orders with Method:Field Services. Not only can you seamlessly integrate this work order app for QuickBooks Online, but Method:Field Services offers tools to save you time and give your business a competitive edge.
Kayla from Savvy Bird Consultancy is an Advanced Certified QuickBooks Online ProAdvisor. She is a firm believer that concise processes will give your business the best chance to focus on growth and sees Method:Field Services as the way to achieve this.
Creating QuickBooks Online work orders has never been easier with Method:Field Services tools. Here's why:
You can convert estimates into work orders and invoices in a few clicks.
Customer approval is as easy as collecting an e-signature from your customer.
You can dispatch, schedule, and invoice your work orders in bulk.
With this quick video, let's go through how Method:Field Services can simplify your work order QuickBooks Online process.
Key features
Every business is different, and Method:Field Services has you covered for repeat customers and recurring jobs. You can speed up work order creation in bulk to save your business valuable work hours.
Even when your field crew is on the go, you can connect them with your office team using the Method mobile app. This way, your office team can update customers on work progress or delays. If any schedule changes happen, it's easy for your office team to reach your field crew and dispatch new work orders.
Beyond this, you can get paid faster by getting customer sign-offs for work order completion via e-signatures. Whether in the field or the office, your team has access to customer information and work orders, so you can give your customers the best possible service.
Method:Field Services work orders are also equipped with a time tracking app to make your payroll process as easy as possible. These entries have two-way sync with QuickBooks for a quick and easy payroll.
Key benefits
The possibilities for how you can customize Method:Field Services to boost efficiency for your business are endless, but a few of the key benefits are:
Revenue comes in faster.
Admin work is minimized.
More repeat business.
Consistent accuracy and a reduced chance of manually mistyping info.
Get data-driven insights from work order reports With Method:Field Services.
Fishbowl is a work order app for QuickBooks Online that offers a full-service business management software equipped with inventory management, barcode scanning, and bills of materials.
This management software integrates with QuickBooks with two-way sync for accurate and efficient work order creation.
When looking for a QuickBooks Online work order solution, think of the price range your business is looking to fall into and see if Fishbowl pricing options fit.
With Fishbowl, you can expect the following key features:
Inventory management.
Barcode scanning and inventory tracking.
Purchase orders and invoice creation.
With Fishbowl, you get a full-featured work order QuickBooks Online app at a low cost. It includes everything from invoicing to reporting.
Jobber is a QuickBooks Online work orders app that allows you to turn a job request into a job on the spot.
There work order forms include a lot of the key sections a good work order needs. Some of these include customer information, service items, and additional notes for you and your team to communicate about custom jobs easily.
You can also use Jobber to organize and assign team members to jobs. Jobber also allows you to immediately notify your team of changes in their work schedule, all on their mobile app.
Tracking time for job completion is also a breeze with Jobber as it can easily sync with QuickBooks, which makes payroll and invoicing lighter work.
Some of the benefits of using Jobber for your work order needs are:
More revenue for your business.
Less admin work for your team.
Fewer errors from manual data entry.
Jobber can help your business stay on top of business operations and offers a standard customizable work order QuickBooks Online integrated form.
What to look for in a work order app for QuickBooks Online
Seamless customer signature capture
You want to choose a work order app for QuickBooks Online that gives your team access to work order information for when they are out in the field. This way:
Less admin work needs to be done back at the office.
Your sales cycle is faster — which means you get paid faster.
Customer questions get answered in real-time.
Turn QuickBooks Online work orders into invoices
Turning work orders into invoices with the click of a button will save your business valuable time and get you paid faster.
Not only are you avoiding the manual task of double data entry, but you are also ensuring the data from your work order is the same on the invoice.
Strong customer support
Be mindful of the customer support offered when looking for a work order app for QuickBooks Online, as some vendors only offer expensive training and customer support.
Instead, you want a field service management solution with free resources like tutorials and help articles to help your team learn the software.
Moreover, you also want to have ways to contact your provider that work for your business hours and style of operations. Whether through phone, email, or online chat, this is an important factor to consider.
Wrap up: How to elevate your QuickBooks Online work order process
The work order QuickBooks Online offers can cause some frustration as it doesn't allow for customizations and leaves out important details.
Here's what to look for in a QuickBooks work order solution:
Scheduling and dispatching capabilities.
Seamless integration with QuickBooks.
A mobile app.
Customizable forms.
Take the work order QuickBooks Online offers to the next level with a free Method:Field Services trial.
Image credit: Sittinan via Adobe Stock