From Pro to Premier to Enterprise, QuickBooks offers powerful accounting solutions for busy small business owners. When it comes to any transaction that involves money changing hands, QuickBooks definitely has you covered. 
But where does that leave you when you're dealing with non-financial matters like your lead management process?
The challenge: A disconnected lead management process
There's no doubt that your lead management process is a crucial part of being profitable. After all, you can't increase your revenue unless you continuously find and nurture new leads. 
The challenge here is that leads are potential customers who aren't yet associated with real dollars. As a result, it's tricky to determine how and where to manage your relationships with them. 
Many QuickBooks users handle their lead management process in one of two places: 
QuickBooks itself 
In spreadsheets
If you use QuickBooks for your lead management process 
Since you can't create estimates or proposals for leads in QuickBooks, they often get added to QuickBooks as customers. 
The problem with this is two-fold:
You have leads in QuickBooks as real customers — which is optimistic but not accurate. 
Potential sales are recorded as real revenue — which causes confusion and makes you think you have more money coming in than you actually do. 
This makes for a disorganized lead management process as, over time, your QuickBooks account becomes cluttered with "customers" who have never purchased an item for you. 
If you use spreadsheets for your lead management process 
The second lead management process that's popular with QuickBooks users is the spreadsheet strategy. 
And while it works for some, it's not without its limitations. 
Here are just a few problems that arise when you use a spreadsheet for your lead management process. 
You waste labor. Admin work is never fun or a value-add to your business. So, this isn't something you want to  your sales teams' time going towards. 
Your data is outdated. Spreadsheets need to be constantly updated to be effective. With the chaos of daily life, however, this is often unrealistic. The result of this outdated information can be calling a lead that's already converted to a customer or badgering a lead who's clearly stated that they aren't interested in your product. Neither of which are desirable.
Leads slip through the cracks. Like any manual process completed by humans, there's bound to be errors made. In this case, leads get missed, overlooked, or have their contact details recorded incorrectly. The impact of this — you miss out on potential revenue and sales. 
How a QuickBooks CRM improves your lead management process
If you're looking for a better lead management process, a QuickBooks CRM is the way to go. Here's why. 
A QuickBooks CRM, like Method:CRM, offers:
A more organized and accurate system for tracking leads 
A 360-degree view of each lead and customer
An instant, two way sync with your QuickBooks account
Here are the top 7 reasons why Method:CRM (the #1 rated CRM for QuickBooks users) is a game-changer for your lead management process.
1. Keep potential business separate from real business
Your leads aren't customers (yet!), so don't confuse your accountant by labeling them as such.
Instead, track your leads in Method:CRM and keep them out of QuickBooks until they're ready to make a purchase.
An added bonus is that with Method:CRM's real-time, two way QuickBooks sync, all of your classes, items, and terms are in your CRM. 
Plus, with your leads and estimates living only in Method:CRM you also avoid cluttering your QuickBooks file with potential purchases.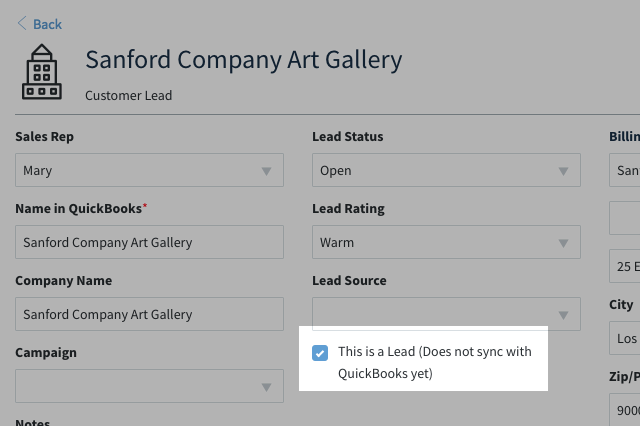 2. Streamline your data entry and lead management process
The beauty of using a QuickBooks CRM is that data entry is a breeze. 
With Method:CRM, you can record information about each lead's company, source, rating, and more. Method:CRM is also 100% customizable, so you can easily add new fields to track data specific to your business.
Plus, a QuickBooks CRM offers a much better data viewing experience than spreadsheets — particularly if you need to access that data on the go. 
3. Automate your lead management process
Speaking of easier data entry, why not take advantage of sales workflow automation with a QuickBooks CRM? 
For example, you can use Method:CRM's web-to-lead form to automatically capture lead details from your website visitors. Here's how it works. 
A website visitor submits a lead gen form.
This person becomes a lead in Method:CRM. 
This lead is assigned to a sales rep and they receive a notification about the new lead.
A follow-up activity is automatically created for this sales rep. 
4. Link your leads to sales opportunities
QuickBooks is built around financial transactions. So, it's not a great tool for managing leads who aren't yet at the buying stage. 
Sales opportunities in Method:CRM, however, offer a convenient alternative for tracking what your prospects are interested in purchasing.
As you learn more about a lead's needs, you can create an opportunity in Method:CRM that details the:
Current stage of the deal
Anticipated closing date
Expected amount of revenue
As your business grows, this information will help your sales reps prioritize leads and focus on the most promising deals in the pipeline.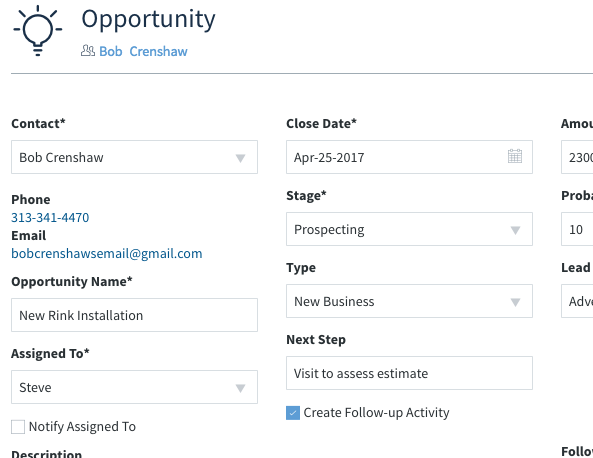 5. Never miss out on a potential sale
When you enter leads into a shared spreadsheet, it's hard to assign responsibility and schedule tasks effectively.
Sure, you could put your name next to each lead you intend to follow up with — but will you remember this the next time you open the document? Probably not…
This is where a QuickBooks CRM comes in handy. 
With Method:CRM for example, your lead management process is streamlined as every time a new lead comes through:
It is automatically assigned to the sales rep of your choice
A sales activity is instantly created for the rep to follow up with the lead
When the follow-up is complete, you can record the details of the activity to ensure transparency and continuity throughout your lead management process.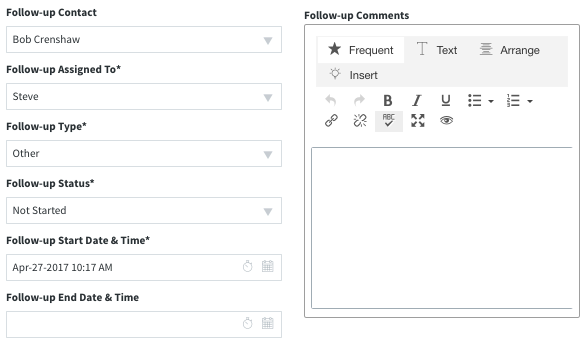 6. Market directly to your leads
If you mix your leads with QuickBooks customers or isolate them in spreadsheets, lead marketing is a challenge. 
In the first scenario, it's hard to filter your true leads from your paying customers. 
In the second, your lead database is disconnected from the rest of your business applications.
Luckily, you can solve this challenge with Method:CRM's convenient integration with Mailchimp.
Use this integration to make sending targeted email campaigns to your potential customers a breeze. Simply:
Filter your CRM contacts based on your desired criteria
Send your mailing lists over to Mailchimp in just a few clicks.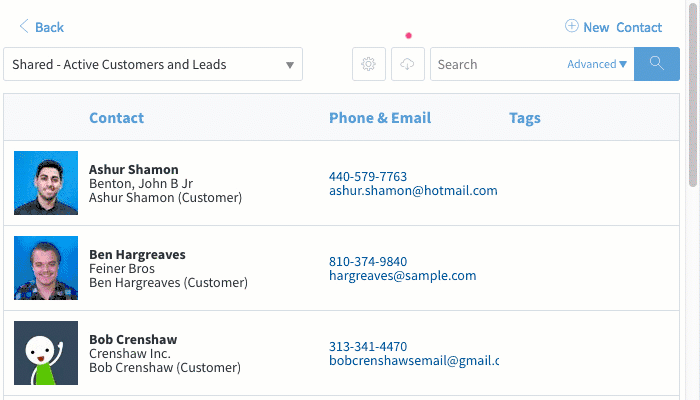 7. Seamless integration with the accounting software you love
With a successful lead management process, your potential customer becomes a paying one — hooray! 
And now that you're officially into dollars and cents territory, it's time to get your new customer into QuickBooks. Luckily, the two-way sync between Method:CRM and QuickBooks makes this quick and easy. 
With the click of a button, your lead becomes a customer, their estimate becomes an invoice, and their data automatically syncs to QuickBooks — no double data entry required.
Wrap up
The goal of every lead management process is to convert your leads into customers.
This, however, is tough to do if you can't properly identify, track, or follow up with your prospects. 
That's why you should use a QuickBooks CRM like Method:CRM to:
Gain a 360-degree view of a contact's journey from lead to repeat customer
Automate your lead management process
Drive a better bottom line
 Want to take your lead management process to the next level? Start your free, trial of Method:CRM.