Take a moment to think about your business's approach to sales opportunity management. Do any of the following statements ring true?
You don't know if the opportunities in your pipeline are viable.
You don't know which opportunities to focus on.
You take hours or days to follow up on opportunities.
You don't know your ratio of won to lost opportunities.
If you answered yes to any of the above, potential deals are likely slipping through the cracks.
Luckily, this blog will equip you with the top 5 best practices for opportunity management so that you never leave revenue on the table again.
Keep reading for a complete overview of what opportunity management is and how it can help you grow your business faster. Let's dive in!
What is opportunity management?
To kick things off, let's look at what opportunity management is. Simply put, opportunity management is the process of managing and organizing your potential sales.
Sales opportunity management (or sales pipeline management) involves tracking potential sales as they move down the funnel. When managing sales opportunities, you want to prioritize your efforts on the highest-value deals that are most likely to go through.
Why does sales opportunity management matter for my business?
Sales opportunity management is important because it helps you be more efficient with your sales. Effective sales opportunity management allows you to better understand your customers, which then enables you to prioritize your interactions with them based on their potential.
Now that you're familiar with what opportunity management is and its importance in your business, let's look at what leads and opportunities are.
What are leads and opportunities?
In short, a lead is a sales prospect, while an opportunity represents a potential deal with a qualified prospect that has a high chance of converting to a customer.
A sales opportunity should have a pain point that is a good fit for the product or service that you are selling. A lead, on the other hand, is someone with a general interest in your product or services.
Next, let's dive into the role of leads and opportunity in sales.
Lead and opportunity management in sales
When it comes to sales, opportunity management is about converting your potential customers and leads into recurring revenue. And to achieve this, a good sales team isn't enough. Instead, Sales Managers need to have the proper system in place to keep track of their opportunities as they progress through the pipeline.
Using opportunity management for your business has several benefits:
Optimize your opportunity pipeline workflow: you will be able to standardize your sales process and keep your opportunities moving forward.
Increase your win rate: by seeing what you need to do next in each step, you will be able to apply proper sales techniques.
Gain a better understanding of your opportunities: it will be much easier to see which opportunities matter the most.
For small businesses using QuickBooks, the opportunity management process may be messy or nonexistent. After all, accounting software is set up to track real sales from confirmed customers, not potential business from prospective customers.
And that's where a CRM comes in handy.
Elevate your opportunity management with a CRM
For those of you asking yourself "What does CRM stand for?" The answer is simple: Customer relationship management. And in this case, it refers to CRM software.
For many business owners, a CRM is a great way to keep track of leads and opportunities at every stage of the sales pipeline. Better yet, a QuickBooks CRM like Method helps you:
Streamline your finances end-to-end.
Instantly capture sales prospects with lead gen forms.
Eliminate double data entry.
Gain a 360-degree view of every customer.
Stay organized with information that's always up to date.
Regardless of the CRM you choose, using one is definitely a best practice when it comes to managing your sales pipeline, opportunities, and process effectively.
Now that you understand the foundation that a strong opportunity management process needs, let's look at how you can build your sales pipeline up.
How to find new sales opportunities
Let's start by saying that identifying new sales opportunities is different from identifying leads.
A lead, for example, is any individual who may eventually want to buy products or services from you. Leads, however, don't always result in an immediate sales opportunity because the individual may not be ready to make a purchase right away.
In the case of sales opportunities, you already know that the potential customer is interested in your product and looking to buy.
The first stage of finding new sales opportunities involves doing your research. You want to learn as much about your current leads as you can.
Next, you'll want to qualify your leads and determine whether they currently fit your company's sales criteria. This is important as you don't want to spend too much time on unqualified leads.
It is in these first stages that a CRM becomes useful for organizing your leads as they enter the sales funnel and gives you a quick way to prioritize your sales opportunities.
Breaking down your opportunity into stages
Depending on your industry, your sales cycle can be anywhere from a few days to a few months. This is why it's important to separate your opportunities by stage.
Here are the sales stages to consider when it comes to opportunity management:
Qualification: before you put all of your efforts towards a lead, you want to make sure that the lead is qualified. You will want to use pre-established criteria to make sure that your prospect's level of interest and marketing persona align with your product or service. Once you determine that your lead is qualified, they then become associated with a sales opportunity.
Find pain points: you want to determine how valuable a customer would find your product or services based on their pain points. Doing so will position you to promote your product or service in a way that speaks to the buyer.
Identifying key decision makers: you can build a positive relationship with any contact at a company, but if they are not the person who has the power to pay you, then your efforts may be wasted. You must build a relationship with the person who makes the purchasing decisions at the company to progress towards closing the sale.
Create a quote for review: at this point of the sales cycle, you are getting close to sealing the deal. Be sure to create a personalized quote that addresses your customer's pain points and matches their specific needs.
Close: once you finalize the details, you are ready to close the deal! Hopefully you were successful in converting the opportunity! Even if you failed, it is important to see the opportunity through the end.
How to effectively manage your sales pipeline
Now that you have opportunities in your sales pipeline, you need a good way to manage them to ensure they convert into revenue. This is where the importance of opportunity management comes in.
Ready to get organized? Keep reading for five best practices in sales opportunity management.
1. Do your research
Although opportunity management isn't the same as lead management, sales opportunities are closely related to leads.
To determine whether an opportunity is worth pursuing, you need to identify some key facts about your lead. These include their:
Responsiveness.
Budget.
Purchase process.
Authority.
This information will give you a realistic perspective on the likelihood of a deal going through with them, as well as insights into what sales techniques your sales reps may want to use.
During the sales process, you want to keep your sales pipeline organized by assigning a stage to each opportunity, such as "Needs Analysis" or "Identify Decision Makers". As you learn more about your lead and their needs, you can update the opportunity stage accordingly.
In Method:CRM, the sales pipeline consists of nine built-in opportunity stages, each of which represents progress towards closing a deal.
As a fully customizable CRM , you can even create your own opportunity stages in Method to reflect the sales process steps and terminology used in your industry.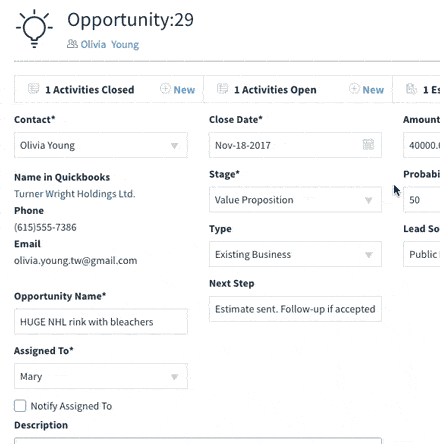 2. Stay focused on the most promising sales opportunities
There are only so many hours in a day, so you need to use them wisely.
However, this doesn't mean spending an equal amount of time on each opportunity.
To effectively manage your pipeline, use the data you've gathered to identify your most promising opportunities and prioritize those. These may be the:
Highest-revenue deals.
Deals that are closest to closing.
Deals with the most engaged decision-makers.
Or all of the above!
Regardless, the key to success is to have a process for recognizing which opportunities need special attention.
To help you identify your hottest deals, each opportunity stage in Method:CRM has an assigned probability percentage. Multiplying this percentage by the value of the opportunity gives you the amount of potential revenue in your pipeline.
For example, if you have a $1000 opportunity at the "Negotiating/Review" stage (90% probability; $900 in the pipeline) and a $1000 opportunity at the "Prospecting" stage (10% probability; $100 in the pipeline), it's clear which one you should focus on.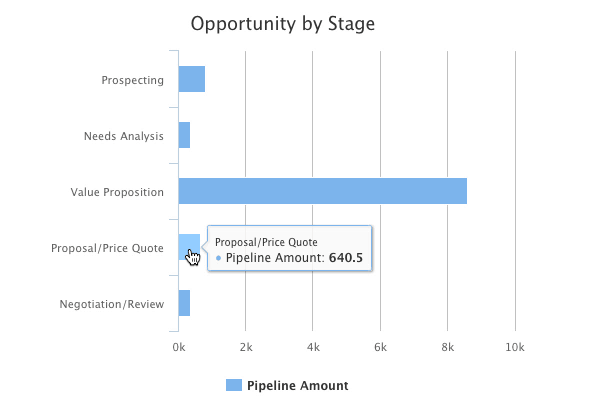 3. Stay in touch with your prospects
The odds of a web lead entering the sales process are 21 times greater if the company contacts the lead within 5 minutes, compared to responding after 30 minutes.
The same principle applies to existing sales opportunities in your pipeline. If you wait too long to follow up with your prospects, they may turn elsewhere.
So you need to ensure that you're answering questions and that your sales team is scheduling appointments in a timely manner.
At every stage of the sales process, each opportunity should have a clear next step or follow-up activity. This may be an email, a phone call, or something more industry-specific like a pitch presentation or product demo.
Logging these sales activities in your CRM helps to keep your team in the loop so you're not accidentally contacting the same lead repeatedly.
Luckily, Method:CRM makes it easy for you to see which users have upcoming and overdue activities. Plus, with Method:CRM you can also filter your list of opportunities to view those with no scheduled follow-ups as shown below.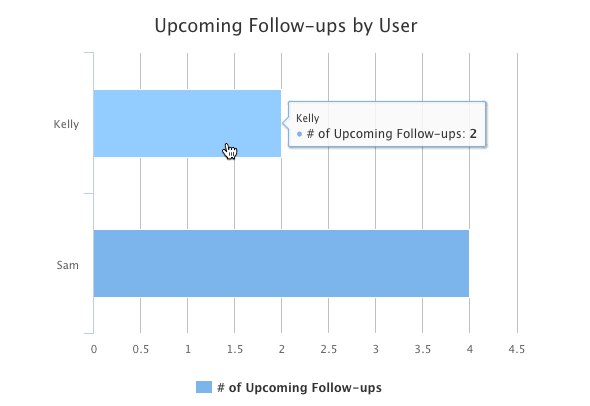 4. Keep your estimates organized
Nothing spoils an opportunity faster than promising to send your customer an estimate and failing to do so.
Whether you were waiting on someone else, didn't have the necessary info, or were reluctant to clutter up QuickBooks, it doesn't look good when you can't deliver early in the sales process. This is a key indicator that you need a clearer opportunity management process.
Using a CRM that integrates with QuickBooks solves these problems by making it easy to send as many estimates as you need. Not only can you create estimates using QuickBooks items (without needing direct access to QuickBooks) but these estimates live only in Method:CRM so they don't clutter your QuickBooks account.
Better yet, once you close a deal, you can instantly convert the final estimate to an invoice. This means that your opportunity stays in Method while your invoice automatically syncs to your QuickBooks account.
5. Evaluate your opportunity management process
To win more deals and increase sales, it's critical to review your process for managing sales opportunities and identify areas for improvement. These reviews should occur at regular intervals, so you can track your progress over time.
The more insight you can gain into your process, the better equipped you'll be to optimize it. Thankfully, Method:CRM displays several key metrics for opportunity management. These include:
The ratio of won to lost opportunities.
The average deal size per sales rep.
The amount of revenue per opportunity source.
You can also dive deeper into your CRM data to look at other valuable metrics, like the number of follow-ups per opportunity, the length of your sales cycle, and your leads' satisfaction with your sales approach.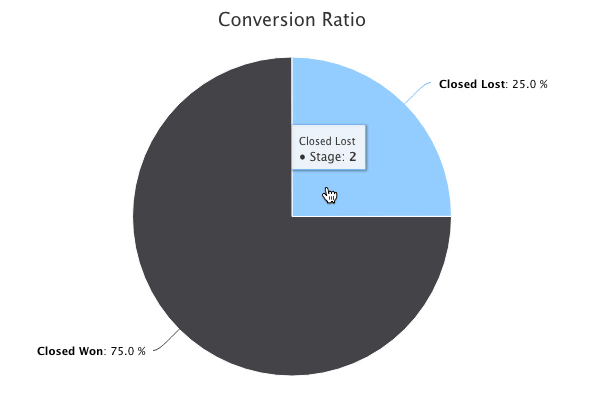 What's next: What to do with leads and opportunities after you close a deal
Congrats! You have successfully closed the deal and your lead is now a customer. But your work is not yet over. Your focus should now be on your customer retention rate.
To keep your customers returning to your business, you must continue to nurture them to ensure that they continue to buy your products and services. Offering a special 2nd purchase discount or repeat customer perks are two easy ways to make sure you secure future sales opportunities from your existing customer base.
Recap: Why you need a CRM for your opportunity management
Effective opportunity management takes time and effort but the payoff is well worth it. If your business is struggling to manage sales opportunities within or outside of QuickBooks, it may be time to adopt a new solution.
A CRM not only streamlines your opportunity management but gives you instant insights into your potential customers. For example, Method:CRM helps you manage opportunities more effectively by:
Tracking every interaction part of the journey from lead to customer.
Providing you with a 360-degree view of every contact.
Giving you an at-a-glance understanding of your sales pipeline and opportunities.
With Method:CRM, it's easy for you to take a data-driven approach to sales and close as many opportunities as possible.
Ready to streamline your opportunity management? Start your free trial of Method:CRM today!