Take a moment to think about your business's approach to sales opportunity management. Do any of the following statements ring true?
You don't know if the opportunities in your pipeline are viable.

You don't know which opportunities to focus on.

You take hours or days to follow up on opportunities.

You don't know your ratio of won to lost opportunities.
If you answered yes to any of the above, it's likely that potential deals are slipping through the cracks. Opportunity management (or pipeline management) is the process of tracking sales opportunities as they move through your pipeline, as well as reviewing key metrics about closed opportunities. For small businesses using QuickBooks, this process may be messy or nonexistent. After all, accounting software is set up to track real sales from confirmed customers — not potential business from prospective customers.
That's where a QuickBooks-integrated CRM like Method:CRM comes in. Method lets you manage your opportunities separately from your accounting data, while making it easy to send sales info to QuickBooks after closing a deal. Ready to get organized and start winning more deals? Keep reading for four best practices in opportunity management.
1. Do your research
Although opportunity management isn't the same as lead management, sales opportunities are closely related to leads. To determine whether an opportunity is worth pursuing, you need to identify some key facts about your lead. These include their responsiveness, budget, and purchasing process, as well as their authority to make purchasing decisions. This information will give you a realistic perspective on the likelihood of a deal going through.
During this process, keep your sales pipeline organized by assigning a stage to each opportunity, such as "Needs Analysis" or "Identify Decision Makers". In Method:CRM, the sales pipeline consists of nine opportunity stages, each of which represents progress towards closing a deal. As you learn more about your lead and their needs, you can update the opportunity stage accordingly.
Method:CRM users: Create your own custom opportunity stages to reflect the sales process and terminology used in your industry.
2. Stay focused on the hottest deals
There are only so many hours in a day, so you need to use them wisely. However, this doesn't mean spending an equal amount of time on each opportunity. To effectively manage your pipeline, use the data you've gathered to identify your most promising opportunities and prioritize those. These may be the highest-revenue deals, the deals that are closest to closing, the deals with the most engaged decision makers — or all of the above. The key is to have a process for recognizing which opportunities need special attention.
To help you identify your hottest deals, each opportunity stage in Method:CRM has an assigned probability percentage. Multiplying this percentage by the value of the opportunity gives you the amount of potential revenue in your pipeline. For instance, a marketing agency might create a "Client Pitch" stage and assign it a 75% probability. As a result, if they have a $1000 opportunity at the Client Pitch stage (75% probability; $750 in the pipeline) and a $1000 opportunity at the Prospecting stage (10% probability; $100 in the pipeline), it's clear which one they should focus on.
Method:CRM users: Examine your sales pipeline using the built-in opportunities charts, including "Opportunity by Stage" and "Opportunity by User".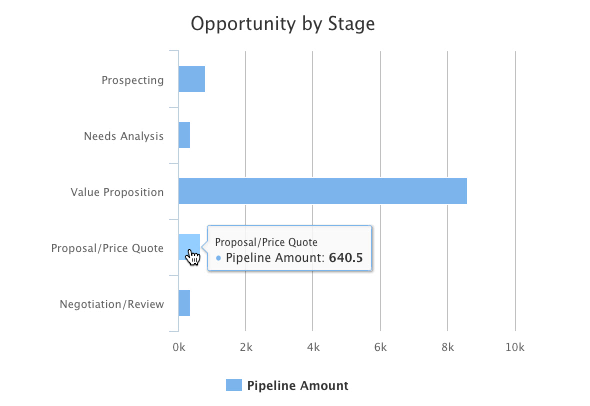 3. Stay in touch with your prospects
The odds of a web lead entering the sales process are 21 times greater if the company contacts the lead within 5 minutes, compared to responding after 30 minutes. The same principle applies to existing sales opportunities in your pipeline. If you wait too long to follow up with your prospects, they may turn elsewhere. Ensure that you answer questions and schedule appointments in a timely manner. Logging these interactions in your CRM also helps to keep your team in the loop.
At every stage of the sales process, each opportunity should have a scheduled follow-up activity. This may be an email or phone call, or something more industry-specific (like a pitch presentation for a marketing agency). The activities charts in Method:CRM make it easy to see which users have upcoming and overdue activities. You can also filter your list of opportunities to view those with no scheduled follow-ups.
Method:CRM users: When you create an estimate during the follow-up process, check the "Wait for approval before syncing" box on the estimate screen. This will prevent the estimate from syncing to QuickBooks until you close the deal and uncheck the box.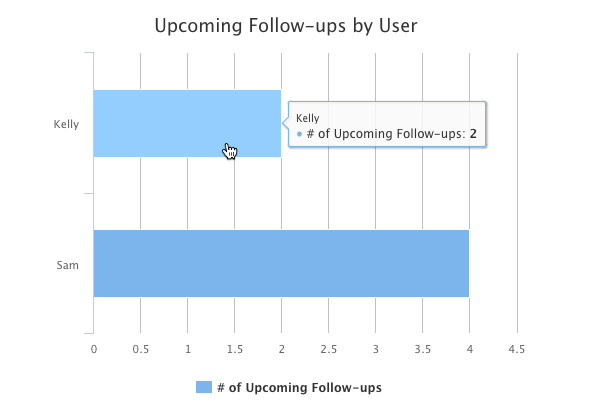 4. Evaluate your performance
You've likely heard that "insanity is doing the same thing over and over again, but expecting different results". To win more deals and improve sales, it's critical to review your opportunity management process and identify areas for improvement. These reviews should occur at regular intervals, so you can track your progress over time.
The more insight you can gain into your process, the better equipped you'll be to optimize it. The won charts in Method:CRM display several key metrics for opportunity management. These include the ratio of won to lost opportunities, the average deal size per sales rep, and the amount of revenue per opportunity source. You might also look at the number of follow-ups per opportunity, the length of your sales cycle, and your leads' satisfaction with your sales approach.  
Method:CRM users: When you win a deal, use the app ribbon on the opportunity screen to create an invoice that is automatically linked to the opportunity. The opportunity will stay in your CRM, but the invoice will sync directly to QuickBooks.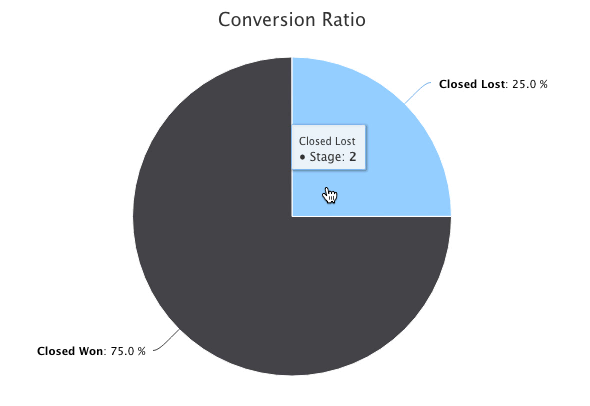 Proper opportunity management takes some time and effort, but the payoff is well worth it. If your business is struggling to manage sales opportunities within or outside of QuickBooks, it's the perfect time to transition to a QuickBooks-integrated CRM. Sign up for your free 30-day trial of Method:CRM today!
---
Ready to get started?
Sign up for a free 30-day trial of Method:CRM, the #1 rated CRM by QuickBooks users on apps.com.
Includes a free demo and 1 free hour of customization.