Looking for the best small business CRM to hit your business goals this year? Then, you've come to the right place!
In this blog, you'll learn what a small business CRM can do for you and discover the best CRM solution for your business.
What is CRM?
CRM stands for customer relationship management, which is an essential component of the success of any business.
Managing your customers is the key to scaling your business and sustaining that growth long-term. However, as your customer base grows, it becomes more difficult to keep up and ensure a positive customer experience.
That's where small business CRM software comes in.
The solution: Small business CRM software
There are several elements to a good CRM for small business, including:
Separating your leads from your paying customers.
Maintaining communication with your contacts.
Keeping up with sales opportunities as they come up.
Ensuring customer satisfaction from first contact to close.
That's a lot of work to do with only 24 hours in a day. The good news is that small business CRM software simplifies the process to create a smooth workflow.
Why consider upgrading to small business CRM software?
Although it may seem like spreadsheets work for your business now, they are a method of the past.
To keep up with today's fast-paced world, you need to leverage technology when operating your business. And a CRM is the easiest way to achieve that.
Here are the top reasons why you should consider a CRM for your small business:
Streamline your sales process from first contact to invoicing.
Automate repetitive tasks to save time and increase productivity.
Organize your contacts, ensuring that each one gets the attention they need.
Improve customer retention by delivering exceptional customer service.
Keep your team on the same page using one central platform for data.
This is all possible thanks to the variety of CRM software features.
What does CRM software do?
CRM software assists — and in some cases, fully takes on — your customer relationship management tasks. This allows you to build better relationships with your customers and gives you time to generate more revenue.
A small business CRM simplifies tasks thanks to features such as:
Contact management: Segment your contacts to make sense for your business.
Lead generation: A CRM that allows you to create lead gen forms is a great way to capture demand.
Payment collection: Expand your payment options and make it easier for your customers to pay to strengthen your revenue.
Mobility: A CRM with a mobile app takes your business on the road so that you never miss an update.
Reporting: Pull data into detailed reports for a comprehensive view of your customers, sales, and revenue to improve your business.
Integrations: Connect your CRM to your favorite tools to create an all-in-one platform for your business operations.
Small business CRMs are scaling up
Did you know that 91% of businesses with ten or more employees use a CRM? CRM software has become a must for growing companies.
To continue to push the limits of your success, you need a CRM that enhances your favorite business tools and grows with you.
Better yet, a customizable small business CRM ensures that your software solution keeps up with your growth and stays personalized to your business.
Plugging in third-party integrations
The best small business CRM software takes you beyond just a CRM by combining with other tools to create an all-in-one solution. Through native integrations, you can connect your workflows and accomplish tasks quicker.
Common CRM integration options that strengthen your workflow include:
Accounting software integrations such as QuickBooks or Xero.
Calendars such as Google Calendar and Outlook.
Email tools such as Gmail and Mailchimp.
Popular payment gateways such as Paypal.
Taking CRM on the road
Business doesn't stop just because you aren't in the office. In today's environment, mobility is everything. So taking your business with you on the road is a powerful advantage that a CRM provides.
Choose a CRM that has a mobile app so that you can stay connected no matter where your business takes you.
What's more, if you have a field service crew who spend most of their time at customer sites, a mobile app empowers them to stay connected with your office team.
Now that you're a CRM expert let's explore your options.
Small business CRM players to watch in 2024
Choosing a CRM is a big decision, so you want to take your time selecting the right one for your business.
But with so many solutions on the market, making that decision can be a challenge. The good news is that we've done the hard work for you.
Here are your top 10 small business CRM options for this year.
Method:CRM is the #1 QuickBooks and Xero CRM for small businesses. From lead generation to invoicing and payment, Method:CRM connects your processes to save you time and create one smooth workflow.
Key features
QuickBooks two-way sync so that your data is always up to date.
Online customer portal for an improved customer experience.
Lead gen forms for simple lead management.
Mobile app to take your business on the go.
Custom reporting for detailed analytics.
Native integrations with apps such as Gmail, Outlook, Mailchimp, and more.
Pros
Instantly sync your data between Method:CRM and QuickBooks Online or QuickBooks Desktop.
Convert estimates into invoices with a few clicks to skip the paperwork.
Give your customers additional payment options with payment gateways and a self-service portal.
Build custom reports and reusable templates for helpful insights into your business.
Customization experts at your service to personalize your perfect solution.
Cons
For now, you must be a QuickBooks or Xero user to use Method.
The software is currently only available in English.
Pricing
Method offers a Contact Management plan at $25 per user per month, and a CRM Pro plan at $44 per user per month. However, you can get started today with a free trial.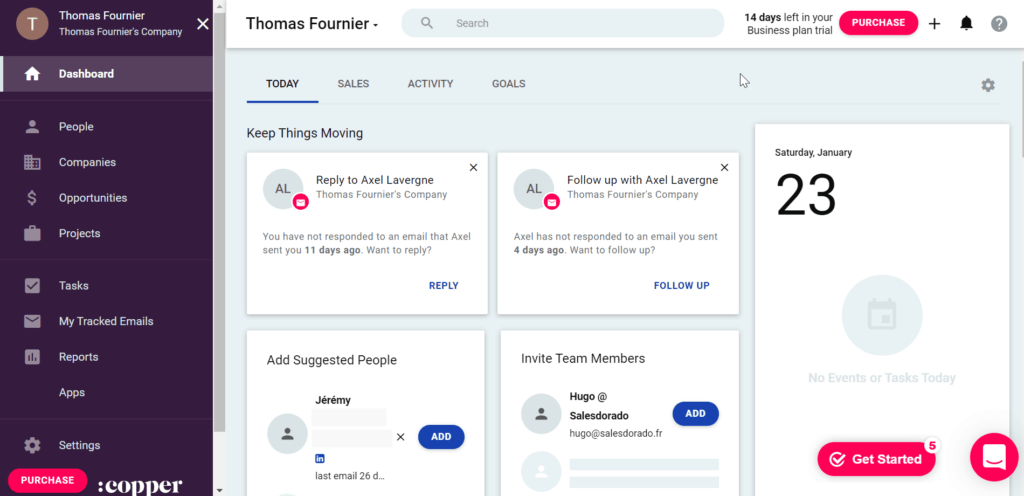 Image credit: Salesdorado
Your next small business CRM option is Copper. Known for its Google Workspace integration, Copper is a good choice for those who primarily use Google Suites to operate their business.
Key features
Contact list manager.
Integrations with Google, LinkedIn, Slack, and more.
Mobile app.
Pre-built email templates.
Pros
One of the top Google Workspace CRMs.
Services a variety of industries.
The ability to set up recurring tasks.
Cons
Lacks native integrations for email automation.
Pricing
Copper's basic plan starts at $25 per user per month. They also offer a free 14-day free trial.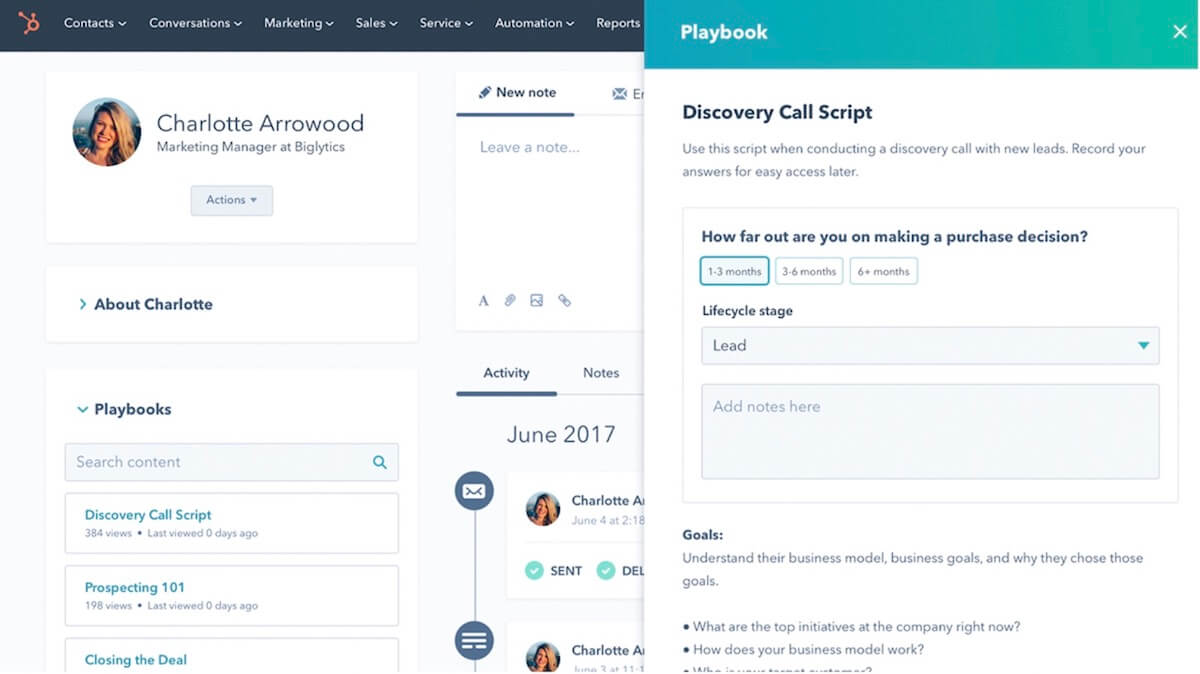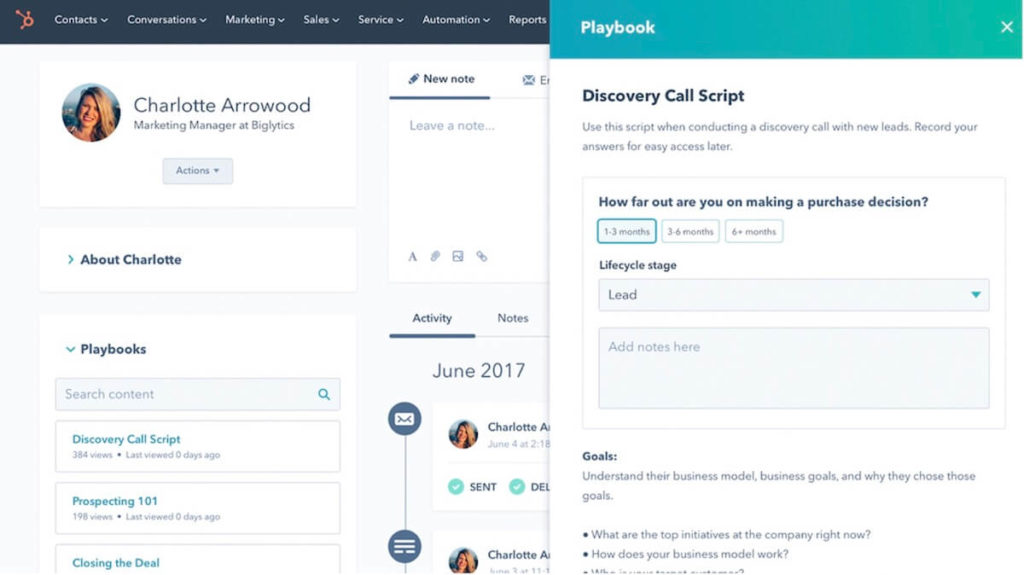 Image credit: HubSpot
HubSpot is known for their marketing software, but they also offer a free CRM solution.
This is a great option for small businesses looking for a starter CRM, but be aware that scaling with HubSpot comes with a dramatic price increase of up to $1,600 per month for five users.
Key features
Pipeline management.
Deal and call tracking.
Landing page builder.
Pros
Detailed reports on sales activities.
Up to 1,000,000 contacts.
Over 1,000 integrations available.
Affordable basic plan.
Cons
On the free plan, forms and landing pages all have HubSpot branding with no option for removal.
Pricey premium plans.
Pricing
HubSpot's CRM is 100% free. You can upgrade to their Starter plan for $50 per month, but the Professional plan jumps to $890 per month.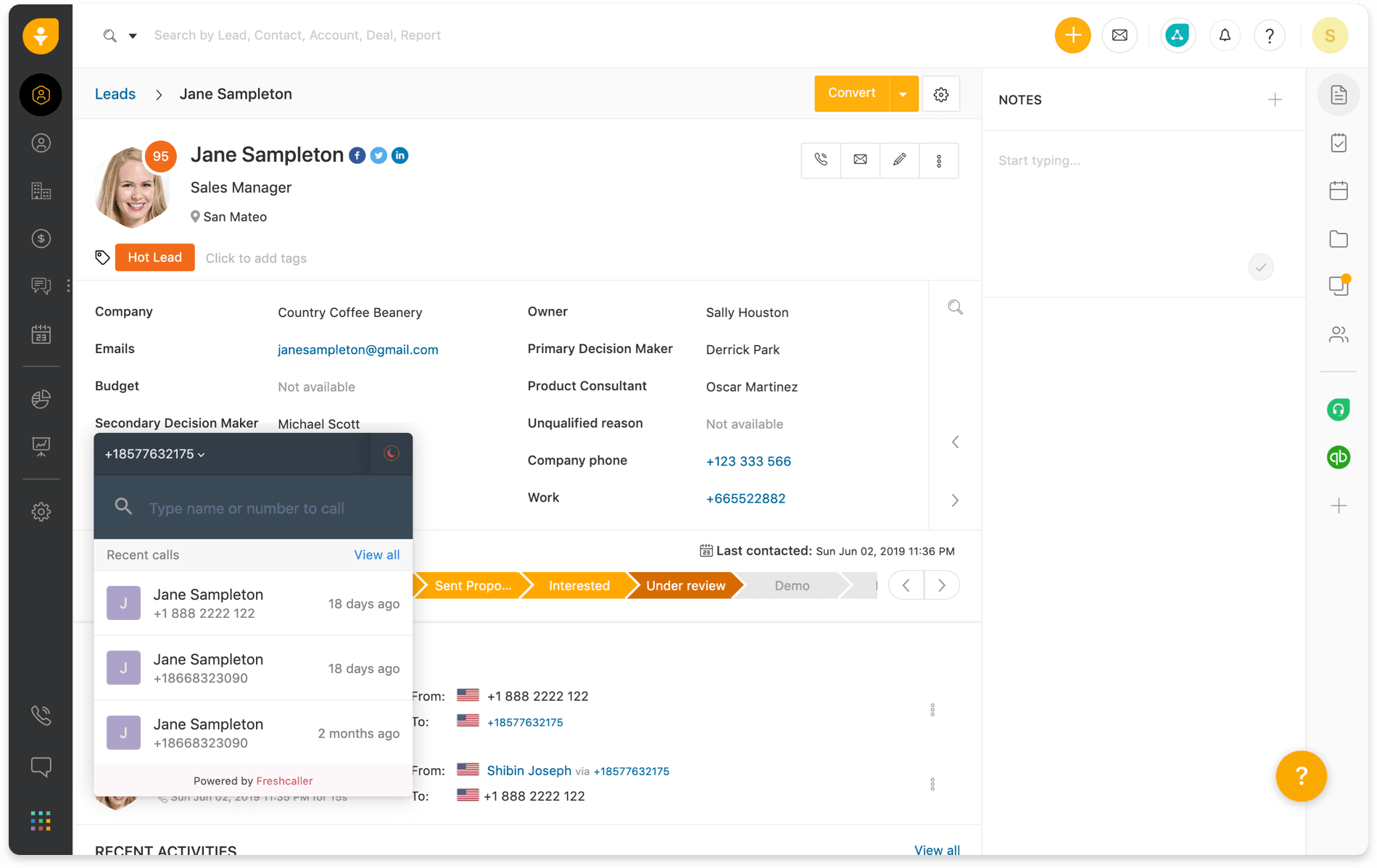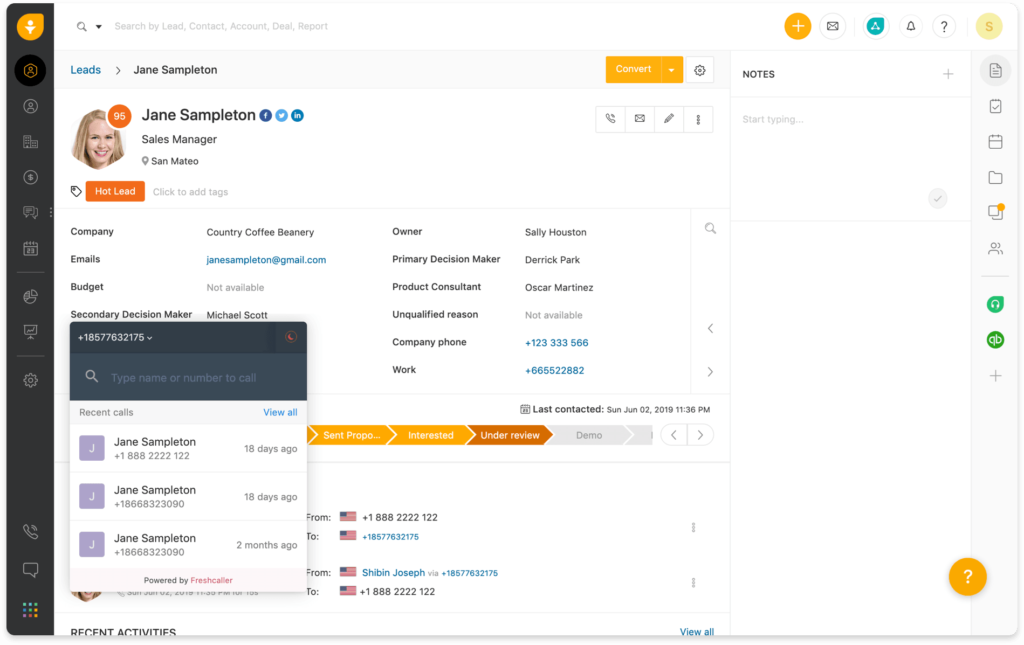 Image credit: Mailshake
Next, we have Freshales.
Powered by Freshworks, Freshsales offers features that give you a 360-degree view of your customers to keep track of each stage of the sales pipeline.
Key features
AI-powered chatbots to chat with visitors in real-time.
Customizable web forms.
The ability to track visits to your site.
Predictive contact scoring.
Mobile app.
Pros
The ability to communicate across phone, email, chat, and SMS.
AI-based deal insights.
Create automated sales campaigns.
Cons
Freshsales lacks some of the standard app integrations you expect across small business CRM solutions, such as email marketing tools.
Pricing
Freshsales offers a free basic plan to get started. To unlock additional features, such as AI predictive contact scoring, you need to upgrade to the Growth plan at $15 per user per month or the Pro plan at $39 per user per month.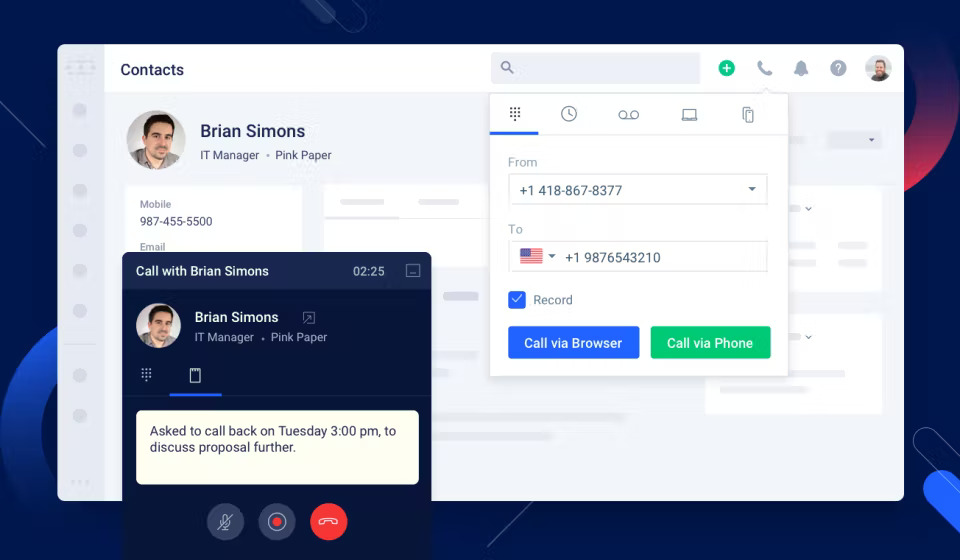 Image credit: Capterra
Our next small business CRM is Salesmate.
Salesmate aims to make providing quality customer service simple while making the lives of your sales teams easier.
Key features
Built-in calling and text messaging.
Customer journey automation.
Sales forecasting and reporting.
Shared team inbox.
Web forms.
Two-way Google Calendar sync.
Pros
Strong email automation capabilities.
A sales activity tracker monitors every step of the sales pipeline.
Starts every day with a personalized message.
Cons
Some users say that the system is occasionally slow.
"At times the product gets slow and takes time to recover. It takes multiple hard refreshes to fix this and their status page is not updated a the time of the incident."

Review via G2
Pricing
Salesmate's Starter Plan is $12 per user per month. Their most popular plan – the Boost Plan – is $40 per user per month.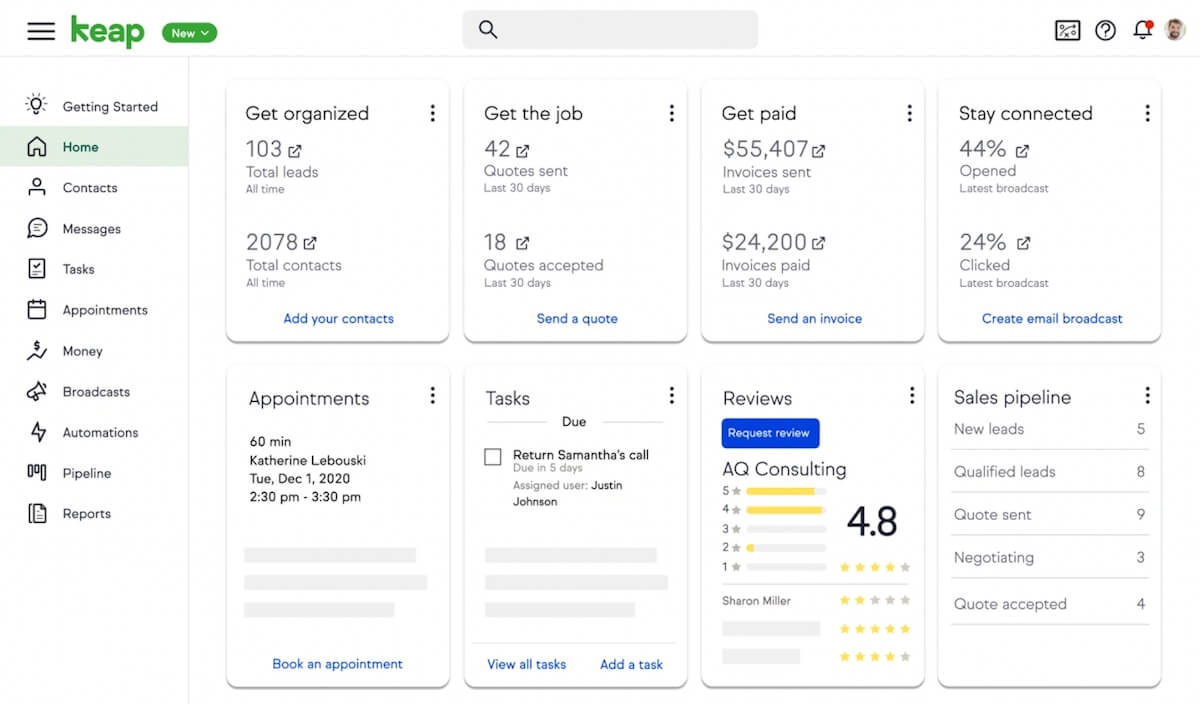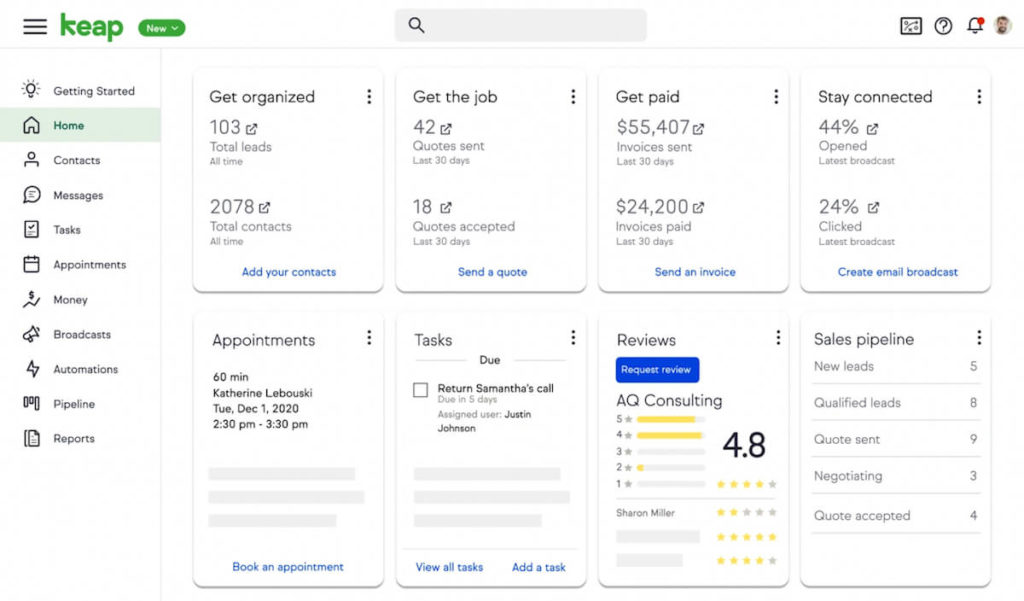 Image credit: Keap
Keap's software offers a range of solutions, from ecommerce to CRM.
Made for small businesses and entrepreneurs alike, Keap makes it easy to manage your day-to-day operations from one place.
Key features
Automated lead capture.
Automated email marketing.
Mobile app.
Native payment processors.
Pros
Easy migration from Mailchimp and Constant Contact.
Integrates with several everyday apps such as Outlook and Shopify.
Robust email marketing features such as A/B testing, reporting, and analytics.
Built-in appointment scheduling software.
Cons
One of the pricier options.
Pricing
Keap has three plans:
Lite: $59 per user per month.
Pro: $129 per month for two users.
Max: $199 per month for three users.
Keap also offers a free version of their software, but warns that it's only meant for small businesses just starting out.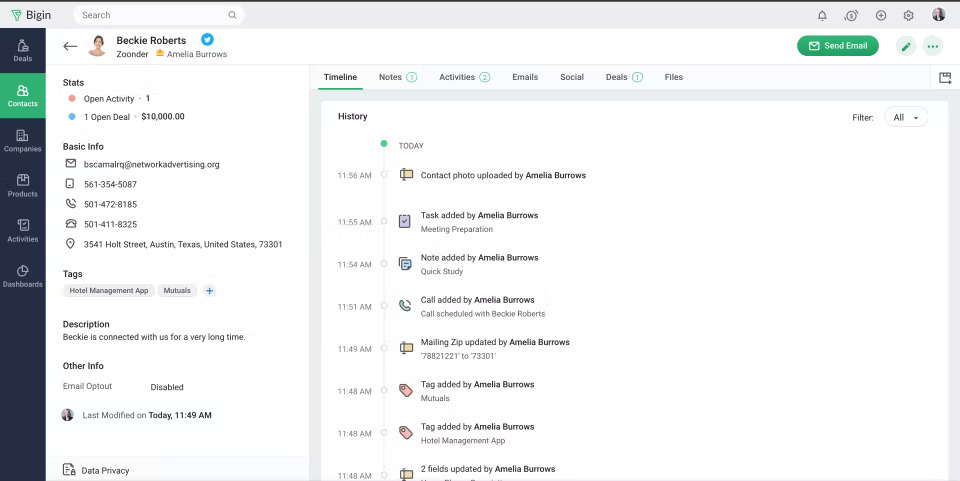 Image credit: Capterra
Bigin is a "pipeline-centric CRM" meant to level up small businesses.
Brought to you by Zoho, Bigin is a more affordable CRM that provides a great starting point for small businesses.
Key features
Real-time notifications.
Built-in telephony.
Twitter integration.
Customizable web forms.
Pros
Customizable deal stages and options for multiple pipelines.
Personalized list views and smart filters.
Easily create product lists and apply discounts.
Affordable.
Cons
Overall automation is weak.
Pricing
Bigin's pricing plans are as follows:
Free Plan: $0 per user per month.
Express Plan: $9 per user per month.
Premier Plan: $15 per user per month.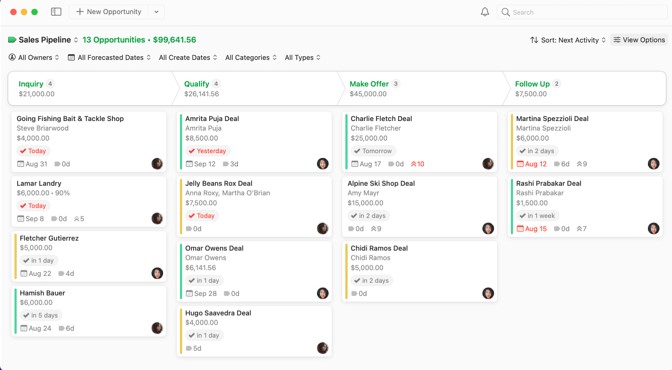 Image credit: Marketcircle
Daylite is a small business CRM for MAC. This software solution gives you one app to operate your entire business on your MAC, iPad, or iPhone.
Key features
Use Siri to add tasks on the go.
"Insight View" to access hundreds of patterns and details at once.
At-a-glance schedule view.
Pros
Supports CardDAV to have all of your contacts in one place.
Create tasks, appointments, and opportunities from Apple Mail.
Daylite support provides assistance for set up and configuration.
Cons
Pricing
Daylite costs $39.99 per month or $399.99 per year.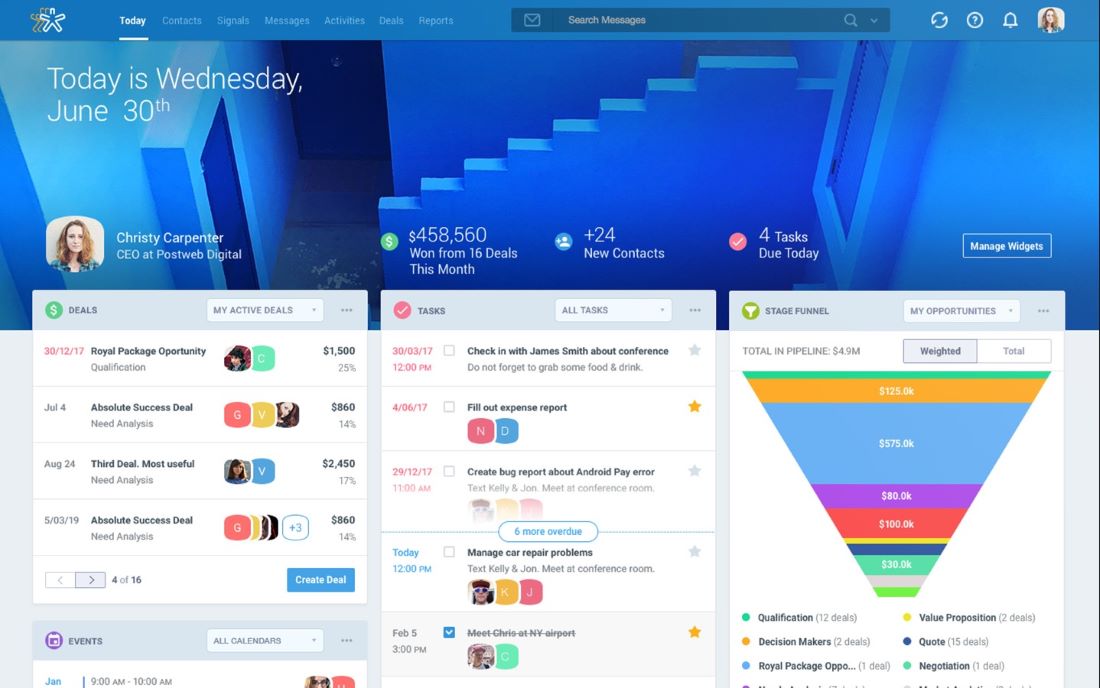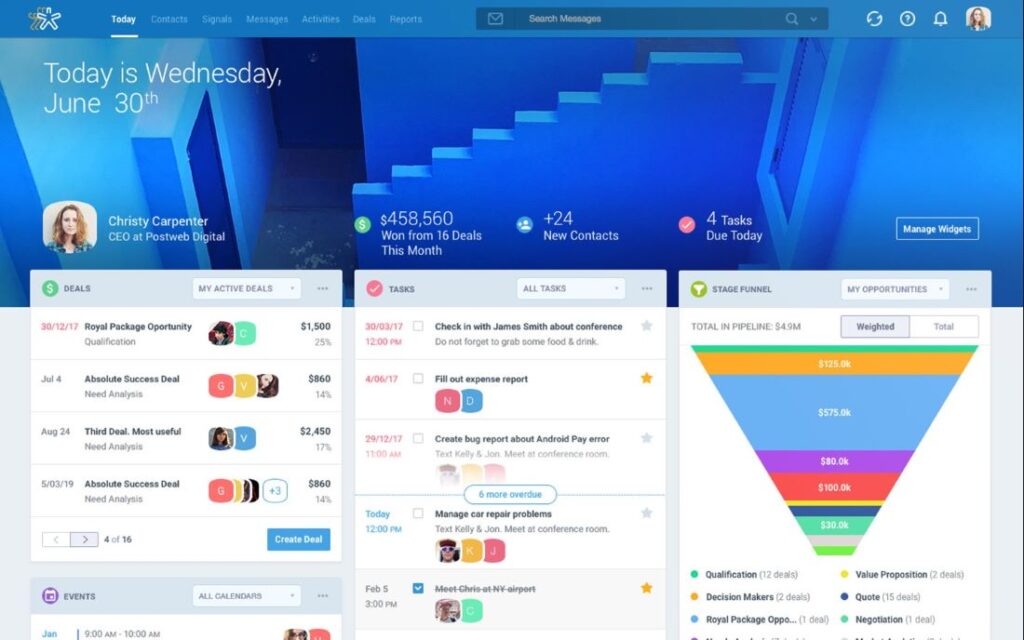 Image credit: G2
Nimble describes their solution as a "relationship-focused CRM." This software manages your team so that they can better manage your customers.
Key features
Compatible with Outlook and Gmail.
Customer segmentation.
Personalized email template with tracking, analytics and reporting.
"Today" page for an at-a-glance view of your day.
Pros
The ability to unify your contacts from over 160 apps.
Access to social handles in your CRM.
Automatically ties your team's tasks, events, and communications together.
Cons
Only compatible with Office 365 and Google Workspace.
Pricing
Nimble is $19 per user per month.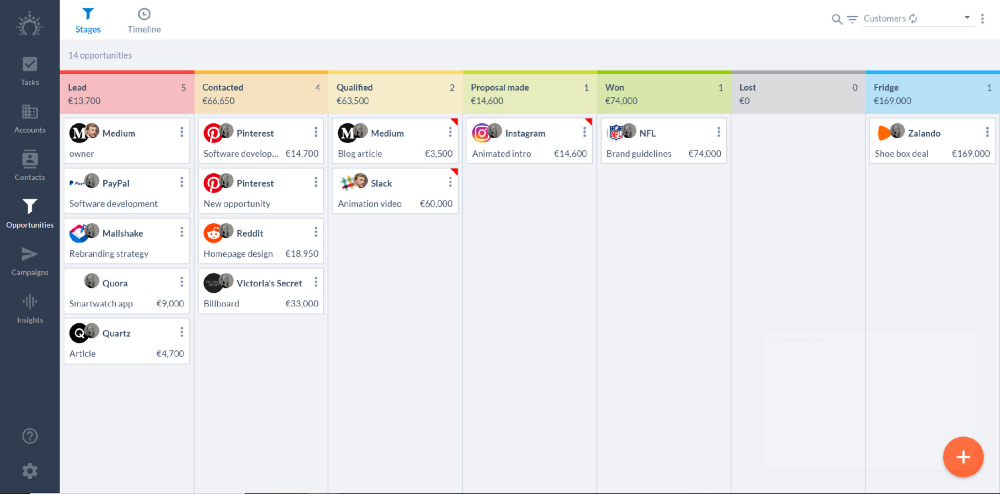 Image credit: Software Advice
Last on our list of small business CRM options is Salesflare.
What makes Salesflare unique is that their software is made for small businesses selling B2B. At the core of their solution is automation so that your business reaches peak efficiency.
Key features
Email, link, and website tracking.
Sidebar plug-in for Gmail and Outlook.
One central address book.
REST API to connect to your CRM or other systems.
Pros
Automatically gathers contact information into your address book.
Organizes opportunities by importance.
The mobile app has full CRM functionality.
Cons
Some users claim that it isn't the most intuitive solution.
"The only con of Salesflare is that it's not the most intuitive software. It took me a while to get used to some of the functions and how they interact with each other."

Review via Software Advice
Pricing
Salesflare starts at $35 per user per month.
So, which one should I get?
The best small business CRM depends on your needs and the future you want for your business. When choosing a solution, ask yourself:
Which tools do you use that you can't go without?
Which processes do you want to enhance or automate?
What's your budget for CRM software?
How much do you expect your business to grow in the next few years?
For QuickBooks and Xero users, Method:CRM is hands-down the best choice for robust features and powerful integrations at an affordable cost. Method:CRM allows your tools to grow with you and reduces the obstacles to your success.
Start growing your business today with Method:CRM! Sign up for your free trial.
Image credit: Brooke Cagle via Unsplash