From organizing your current jobs to making sure you follow up with new leads, customer relationship management (CRM) software gives your small business all the tools you need to manage your day-to-day.
This guide outlines the best CRM for small business Canada options to check out.
Read on to find out what the top 9 best CRM for small business software platforms have to offer. But first, here's a breakdown of what CRM is and how it benefits your business.
What is a CRM software?
Use a CRM software to:
Track your contacts.
Nurture leads.
Build long-lasting relationships with customers.
The best CRM for small business offer app integrations with other software platforms, so you spend less time on admin work and more time growing your business.
Your CRM is the foundation for your sales cycle and helps customer interactions flow effortlessly.
The best CRM for small business Canada solution goes beyond contact management. CRMs automate your workflows with capabilities that include:
Two-way sync with your accounting software, like QuickBooks or Xero.
Instant lead capture through your Gmail or Outlook inbox.
Automatic follow-up emails and appointment reminders.
Commissions calculator for your sales team.
24/7 access to customer portals.
Small business CRM Canada: When do you need one?
When you decide it's time to grow your small business by strengthening customer relationships, it's likely time to evaluate your best crm for small business Canada options.
Especially, since customer retention is crucial for small business growth. A CRM for small business gives you the tools to keep customers happy and returning.
The best CRM software for small business helps you work smarter by keeping all customer and sales activities in one software. Plus, through third-party integrations, connecting all the software you use has never been easier.
What does CRM software do?
The best CRM for small business Canada contenders:
Connect your business workflows.
Provide data and insights anywhere, anytime.
Automate your menial tasks.
Make your workdays as simple as possible.
These solutions capture and organize information from current and prospective customers, all in an integrated system. From your sales staff to your admin team, gain a single view of customer records, sales opportunities, and business operations.
Plus, your team gets tools that help them better collaborate and coordinate.
Why consider CRM implementation or upgrade?
There are many reasons to consider implementing a small business CRM or upgrading your current system. The best crm for small business in Canada is one that improves communication among your employees and customers.
Notably, your small business benefits from using a CRM by having:
A shared hub for customer data, interactions, and transactions.
Automatic data collection, report generation, and analytics.
On-the-go access to your lead and customer details.
Integration with accounting software and other apps for a shared sense of truth across your team.
How does a CRM help?
When your small business gets to a particular growth stage, memory or pen and paper tracking isn't enough. This is where choosing the best CRM for small business solution comes in to play.
A CRM keeps track of leads and customers, so you never miss a sales opportunity.
Not only does a CRM organize your contacts, but it also records activities and sales to help you develop an effective sales strategy.
Top 9 best CRM for small business in Canada
The best CRM for small business Canada software solution are among the following nine options. Below, you'll find the key features, benefits, and pricing for each one.
Method:CRM is your one-stop-shop for automatic lead capture and simplified sales processes. This small business CRM software solution tracks customer history and makes sure you never forget to follow up with your leads and customers again.
Simplify your sales process with Method:CRM to turn your leads into customers that keep coming back.
Method is also a leading force for workflow automation, meaning this CRM software for small business grows with you as your needs and processes evolve.
Key features
Method:CRM offers tools that go beyond customer management. Some of their key features include:
Two-way sync with accounting software, including QuickBooks and Xero.
Automatic lead collection to make your sales process effortless and win deals.
Customer portals to service your customers anytime without a 24/7 support team.
Contact management for a 360-degree view of each customer, their history, and all interactions.
Integrations with Gmail, Outlook, Google Calendar, and more.
Pros
Automation allows you to create CRM workflows that reflect how your business operates with a customizable, drag-and-drop solution.
Data that's connected and always up-to-date thanks to deep sync and integration with your everyday tools.
Enhanced customer service with online, self-serve portals.
Enjoy a free trial with full access to tools and an unlimited number of users to help you with your small business CRM Canada search.
Get a free hour of customization services with an in-house expert with your free trial.
Cons
Method is only available in English at the moment.
You must be a QuickBooks or Xero user to fully benefit from using Method:CRM.
Pricing
Method:CRM offers three subscription-based pricing plans:
Contact management plan at $28 per month.
CRM pro plan at $49 per month.
CRM enterprise plan at $85 per month.
These plans are available annually or monthly with no contract required.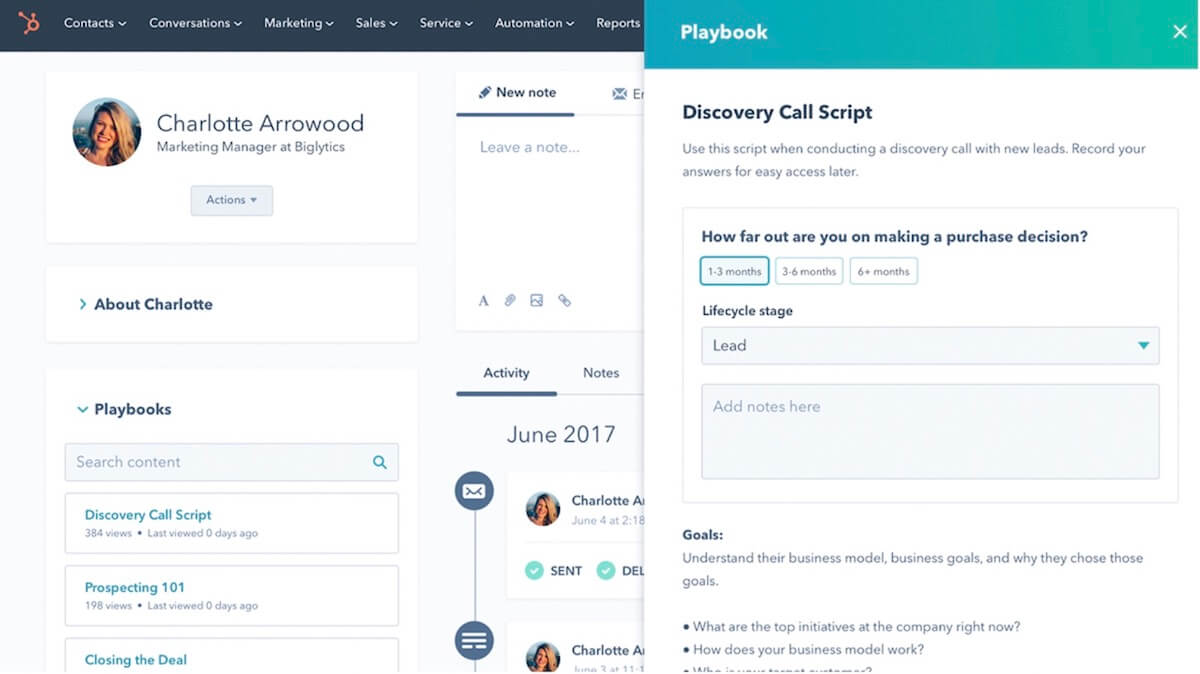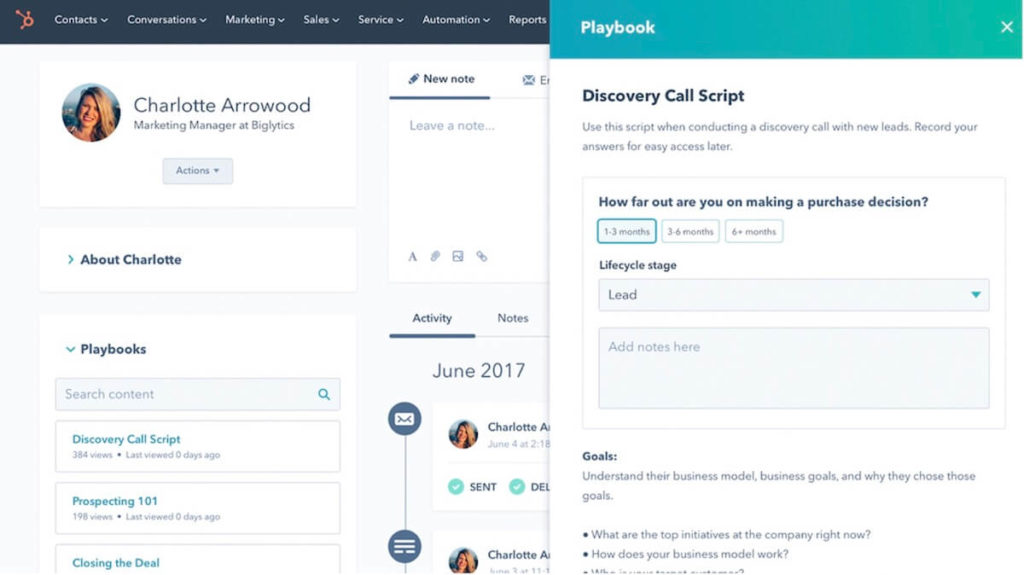 Image credit: HubSpot CRM
HubSpot is a well-known CRM software for small business that gives you the basic tools you need for everyday tasks. This CRM solution tracks leads, speeds up the sales process, strengthens your website, and more.
This small business CRM solution has marketing, service, sales, and CMS hubs. It also has an ad management tool for paid campaigns on social media platforms.
Key features
Some of HubSpot CRM's best features include:
Email and lead nurture.
Contact management and organization.
Support through live chat and chatbots.
Integration with over 300 apps.
Pros
Records every page a customer views to understand their needs.
Easy to use dashboard and user interface.
Internal content management software for website design.
Cons
Can be expensive for some small businesses.
Pricing plan is based on contracts, so you lose out on the flexibility growing businesses need.
It's hard to modify HubSpot CRM templates.
Difficult to transition from a website made in WordPress to HubSpot's CMS.
Pricing
HubSpot CRM offers a free version of its CRM tools, and upgrades can be purchased as your small business grows. They split their pricing plans into different hubs, including sales, marketing, customer service, and more.
Their Starter plan starts at $50 per month billed monthly or $540 billed annually. They also offer a Professional plan and an Enterprise plan for when your business is ready to scale.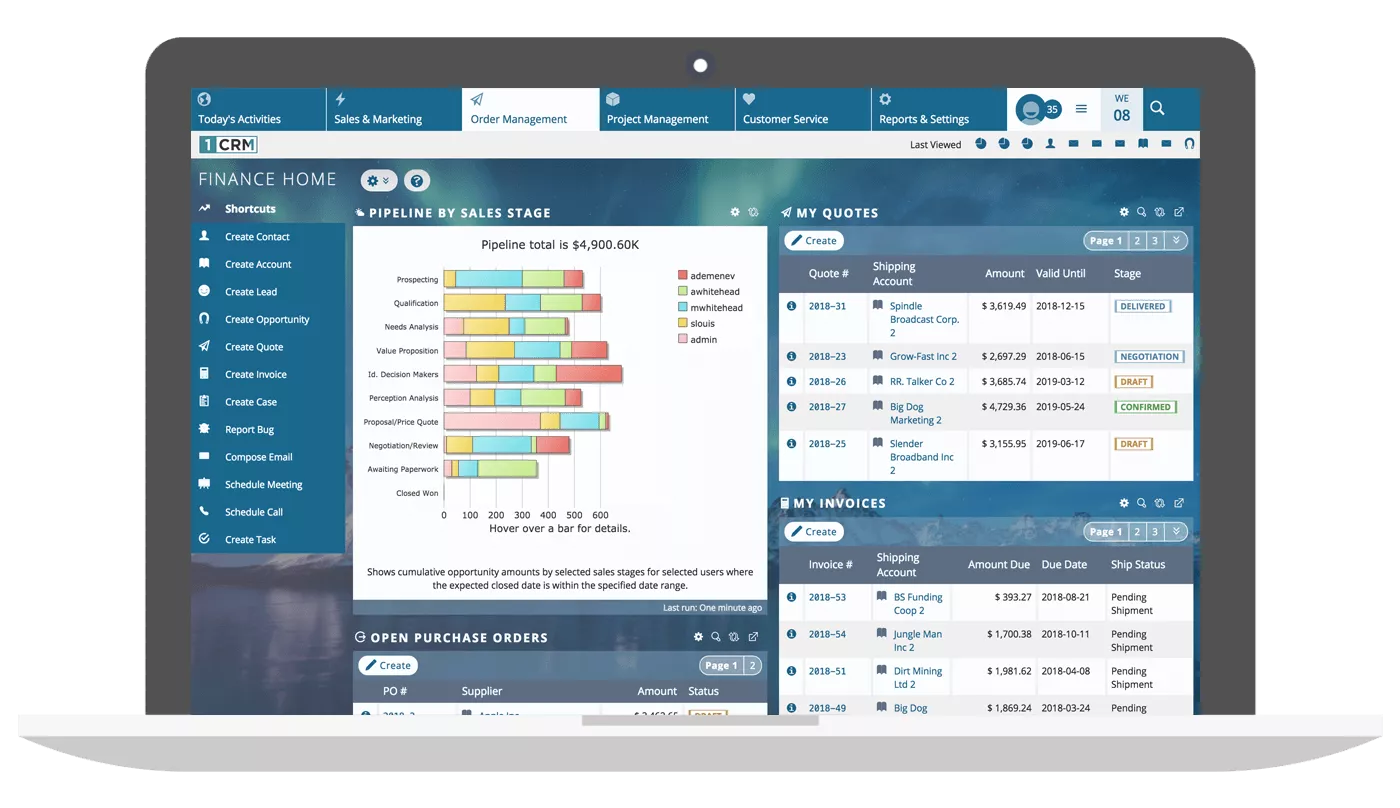 Image credit: 1CRM
1CRM is an all-in-one CRM for small businesses in Canada.
With it, manage your accounts, contacts, jobs, and projects from your computer or mobile device thanks to its cloud technology.
Key features
Some of 1CRM's best features include:
Automated marketing tools.
Sales forecasting and reports.
Custom dashboards.
Project and job tracking.
Pros
Supported in both English and French in Canada.
Manages and stores large amounts of sensitive data.
Personalized customer service for your small business.
Integration with third-party applications.
Cons
The user experience is not very interactive.
Complicated email marketing setup.
Project management tools are outdated.
Basic-level customization options.
Pricing
1CRM offers a free trial for their cloud service CRM and on-premise CRM.
They offer four pricing plans for their cloud service CRM which include:
Startup plan: $15 per month.
Startup+ plan: $23 per month.
Professional plan: $33 per month.
Enterprise plan: $39 per month.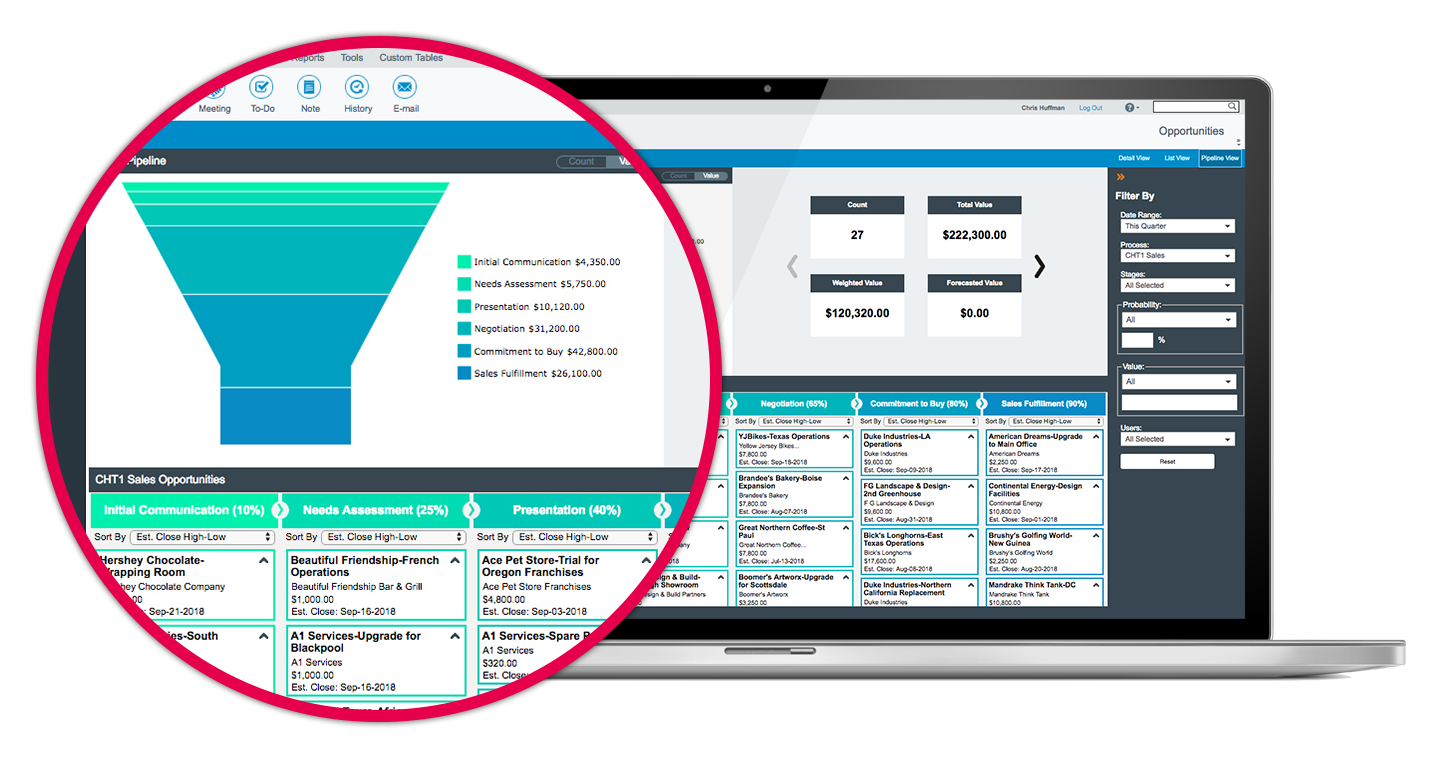 Image credit: Act!
Act! is a fully customizable CRM for small business with several subscription plans available. They offer a basic CRM solution that you can upgrade as your business scales.
Key features
Some of Act!'s most popular features include:
A 360-view of all your contact activities, interactions, and sales.
Connections with third-party apps like Outlook, Gmail, and Zapier.
Cloud-based or on-premise solutions.
An easy-to-navigate interface.
Pros
Caters to small businesses in a wide range of industries.
Adapts to your business's current workflows.
Personalized marketing campaign management.
Calls, emails, and other documents are all in one place.
Cons
A short 14-day free trial is available.
Customer support is limited.
Lacks educational material and help with building reports.
Pricing
They offer two pricing plans for their cloud service CRM:
Standard plan: $30 per month.
Expert plan: $45 per month.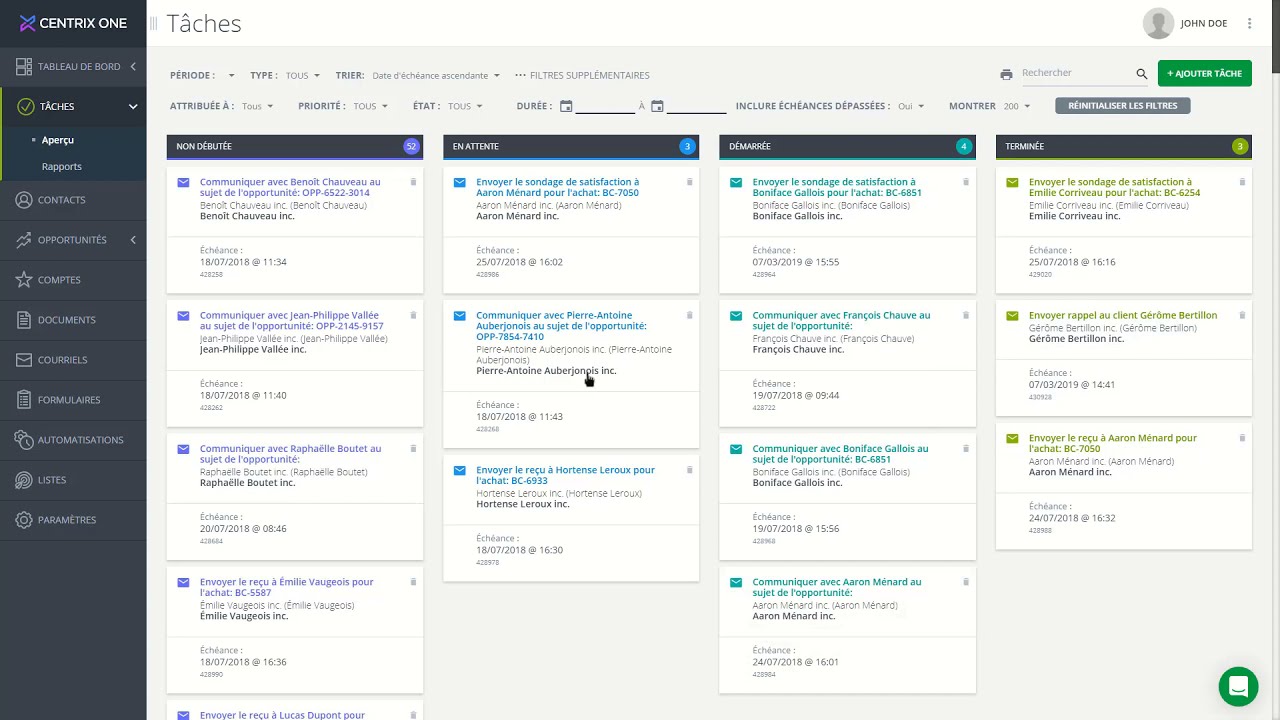 Image credit: SelectHub
CentrixOne is a CRM for small businesses looking to stay organized and gain an all-around view of their sales pipeline. They offer a subscription plan for every step of growth in your industry.
Key features
Some of CentrixOne's best features for small businesses include:
An all-in-one system for contacts and communications.
Marketing automation and ready-to-use email templates.
Access to your customer information from a mobile device.
Pros
Supported in English and French.
Specifically developed for small businesses.
Integrates with Quickbooks Online and Acomba.
Cons
Weak sales team management.
Only a 14-day free trial.
Pricing
CentrixOne offers four pricing plans for their CRM:
Solo plan: $19.95 per month.
Team plan: $39.95 per month.
Growth plan: $74.95 per month.
Enterprise plan: Starts at $99.95 per month.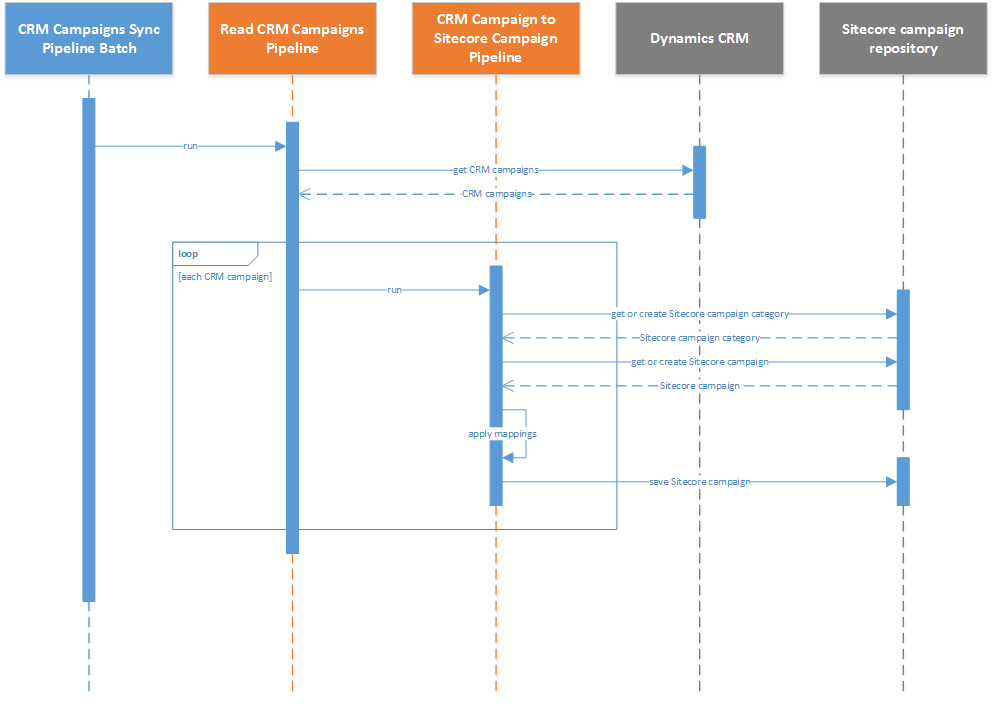 Image credit: Sitecore
Organize your customers, sales pipeline, products, and projects with The Fish Tank. This CRM software Canada solution is specifically designed for small businesses to help their daily operations.
Key features
The Fish Tank offers these key features:
Email marketing.
Access to CRM tools through a mobile app.
Social media integration.
Pros
Lead management and interaction tracking.
Keeps all of your contact histories in one place.
Internal chat integration.
Cons
Limited integrations with other tools.
Steep learning curve.
Limtied customer support.
Pricing
The Fish Tank offers a free trial for users to test the software before buying. They also offer a free version of their software. Their paid plans start from $40 per month per user.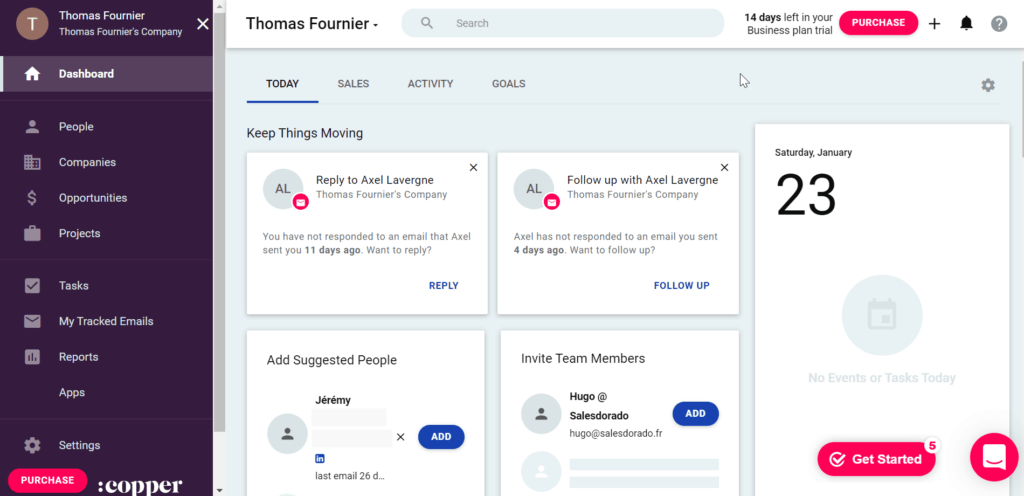 Image credit: Salesdorado
If you need a small business CRM system that integrates with Google Workspace, Copper is the right choice. Copper offers a lot of the CRM features that any small business would need.
Key features
Some of Copper's key features include:
Compatibility with G Suite business tools.
Email open tracking.
Integration with compatible mobile apps.
Reporting and forecasting.
Pros
Good value pricing plans.
Intuitive and user-friendly interface.
Integration with Google Suite.
Cons
Basic customer support.
Little customization compared to other CRMs.
Only offers a 14-day free trial.
Limited to Gmail email accounts.
Pricing
Copper offers three pricing plans:
Basic plan: $29 per month.
Professional plan: $69 per month.
Business plan: $129 per month.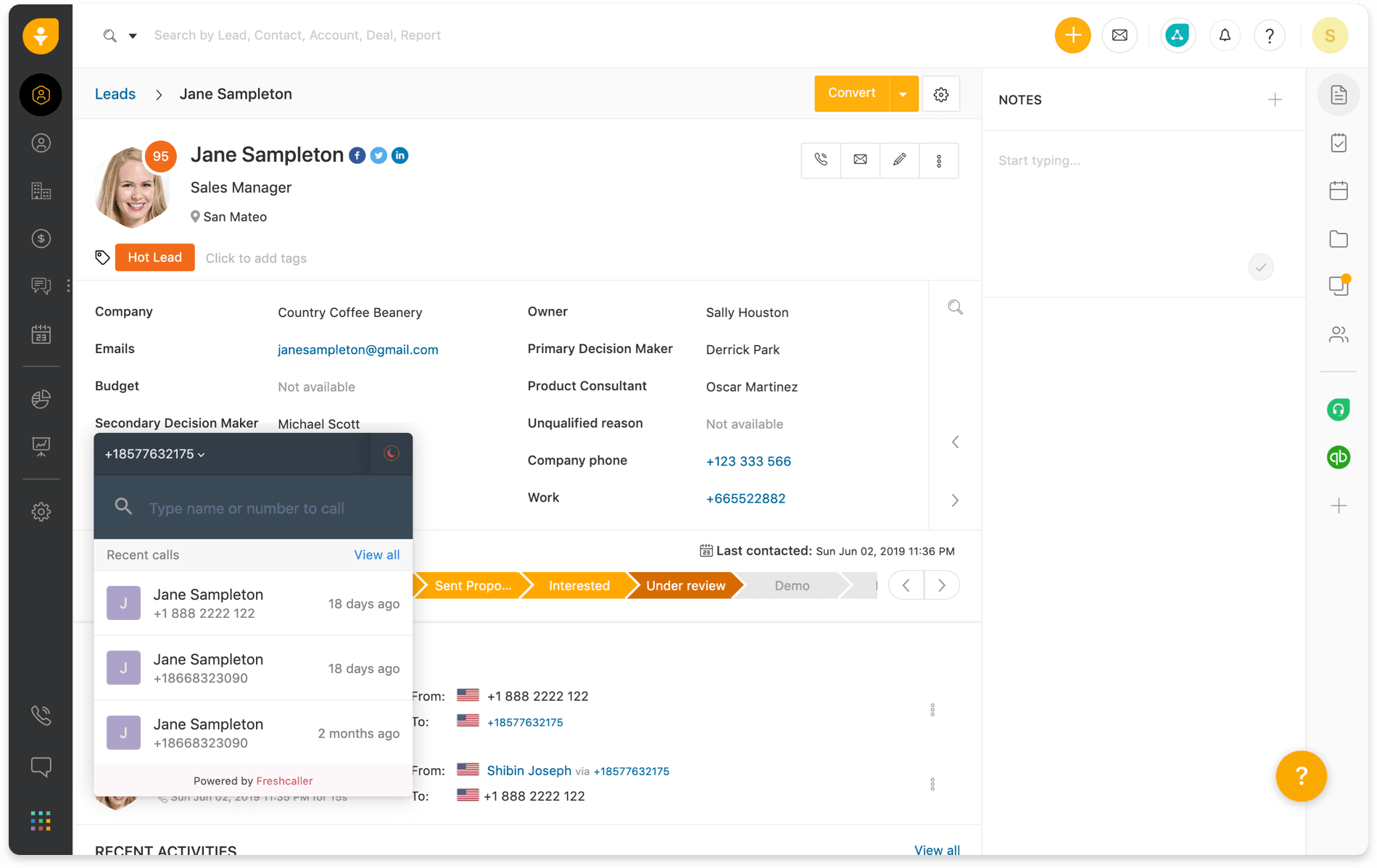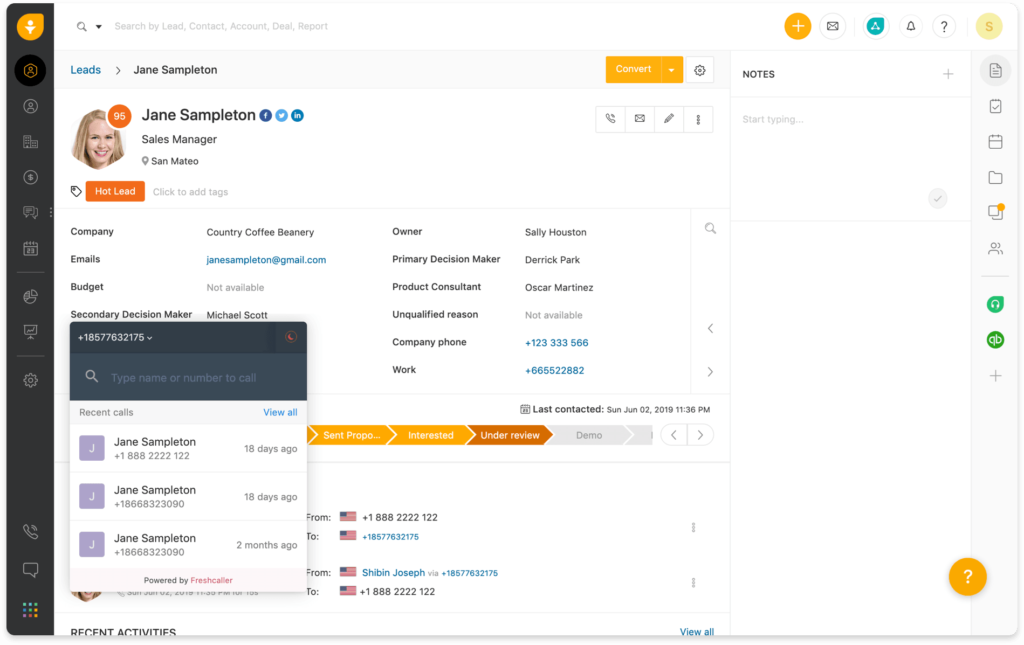 Image credit: Freshworks
Freshsales is for small businesses that find themselves juggling multiple tools to run their business. They offer an all-in-one CRM solution with many vital features that small businesses need for growth.
Key features
Automated lead capture.
Visual sales pipeline.
View your CRM data with their mobile app.
Automated sales campaigns.
Pros
Easily integrated with third-party applications.
AI-powered chatbots to chat with customers.
Integration with apps like Slack to improve team collaboration.
Cons
Unfriendly user interface.
Limited report creation capabilities.
Basic customer support.
Pricing
Freshsales offers a free version of its software with limited CRM capabilities. They have three paid pricing plans which include:
Growth plan: $18 per month.
Pro plan: $47 per month.
Enterprise plan: $83 per month.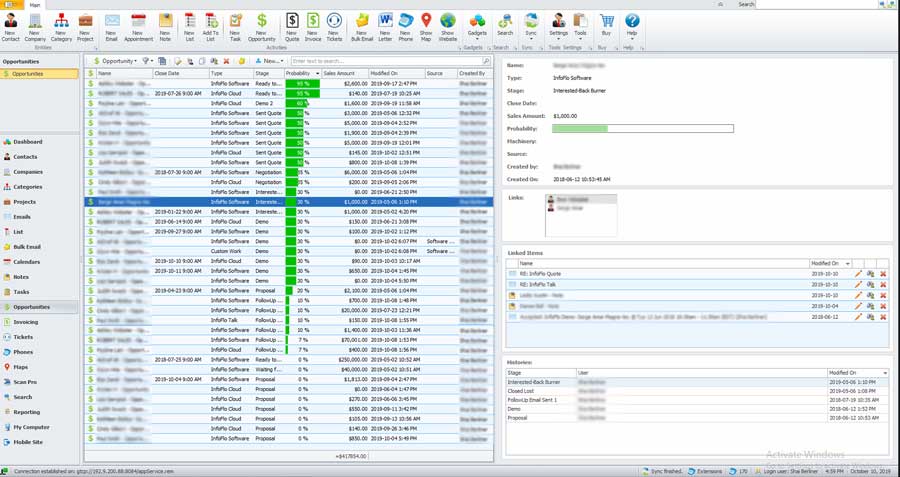 Image credit: InfoFlo
InfoFlo offers an affordable and easy-to-use CRM software for small businesses in Canada. They offer a monthly subscription for cloud-based CRM software, or an on-premise software for a one-time cost.
Key features
Mobile app to take your CRM on the go.
Sync all Outlook contacts, companies, categories, calendar events, and emails.
Pros
Integrates seamlessly with Outlook.
Offers a free trial.
Choice of a one-time fee versus a monthly subscription.
Cons
Difficult to sync previous data.
Lack of customer support.
Pricing
InfoFlo offers two pricing plans for cloud-based subscriptions and one one-time cost for an on-premise software solution.
On-premise plan: $99 per user with addons for $75 per user.
Cloud Starter plan: $30 per user per month.
Cloud Advanced plan: $35 per user per month.
So, which one should I get?
When choosing the best CRM for small business, it's important to consider the following:
Your current growth stage and budget for software.
Tools that your business can't operate without.
Where your business needs automation.
Your small business growth goals.
For QuickBooks and Xero users, the best CRM for small business Canada option is Toronto-based Method:CRM, which offers unbeatable features and powerful integrations.
With all the tools you need at an affordable price, Method is a CRM for small business that grows with you and upgrades are available as you need them.
Best CRM for small business FAQs
What is a small business CRM software?
A small business CRM is a customer relationship management platform that caters to small business needs. It can automate tasks such as customer onboarding, sales pipeline optimization, appointment scheduling and more.
It allows you to capture customer information, manage customer relationships and optimize your daily operations.
The best CRM for small business is one that provides features tailored specifically to your company's size, such as an easy-to-use interface and workflow automation, at an affordable cost.
Is a CRM worth it for a small business?
A CRM is a critical tool for any small business. It provides a comprehensive view of your customers and prospects, allowing you to better serve them and create more personalized experiences. The best CRM for small business owners enables intelligent automation, creates efficiencies and frees up time that can be used to focus on growth.
What can a CRM do for your business?
A CRM does a lot for your business. It allows you to capture, manage and optimize customer data, helping you target more effectively and generate more leads. It also automates tedious tasks such as appointment setting and lead qualification.
On top of that, the best CRM for small businesses will offer features that help you tackle the challenges specific to your business, so you can focus on growing confidently.
Take back control of your business with a free trial of Method:CRM!
Image Credit: Flamingo Images via Adobe Stock