Customer relationship management (CRM) software gives your small business the tools to better your daily operations, from organizing current customers to ensuring you follow up with new leads.
Don't know where to start when it comes to CRMs? Discover the top 8 small business CRM UK options for 2023 below. But first, let's go over what a CRM is and how it benefits your small business.
What is small business CRM?
Small business CRM is the central system for managing your customers, leads, and sales process. From finding a potential buyer to closing the sale, a CRM is there to help you along every customer's journey.
A helpful CRM system also prepares you for future engagements with current customers and new leads.
What does CRM software do?
You may have relied on spreadsheets or a pen and paper to do what CRM software does in the past. However, CRM software is more than just a place to store your customers and leads.
Your CRM software collects data from leads and customers and gives you the tools to categorize, clarify, and act on that data.
Some of the features found in a top-rated CRM system for small businesses include:
Two-way sync with accounting software like QuickBooks and Xero.
Automated lead capture through your Gmail or Outlook inbox.
Marketing and sales reports.
24/7 access to customer portals.
Commissions calculator for your sales team.
Why consider CRM implementation or upgrade?
Consider implementing a CRM to get back hours in your work week and grow your business. Automate your current workflows to save time on menial tasks and reduce the chances of errors or missed opportunities.
Using a CRM benefits your small business as it gives you:
A 360-view of customer data, interactions, and transactions.
Instant data collection, analytics, and report generation.
Access to your lead and customer details through a mobile app.
Integration with third-party apps and accounting software.
How does a CRM help?
A CRM helps your business manage relationships to enhance customer experiences, better sales, and speed up processes.
Not only do you know that your current customers are accounted for, but that leads, and prospects are captured instantly, so you never miss a chance to make a sale.
It's more than just contact management, as any useful CRM system offers an end-to-end solution to any hiccups in your sales process.
The 8 best CRM systems for small UK small businesses in 2023
We've done the legwork by comparing some of the best small business CRM UK software available. Here are your top choices:
If you're looking for a customizable software solution that automates your workflows and saves you hours, Method:CRM is the software you've been searching for.
This small business CRM UK solution tracks your sales process from the beginning and makes sure you follow up with every one of your leads and customers.
Plus, Method:CRM is a powerhouse for workflow automation. This CRM solution works to scale with your business as your needs and processes advance.
Key features
Method:CRM offers features for all of your small business workflows. Some of their key features include:
Two-way sync with accounting software such as QuickBooks and Xero.
Customer portals to serve your customers at any time, without a 24-hour support team.
Integrations with Gmail, Google Calendar, Outlook, and more.
Manage contacts with a 360-degree view of each customer, their history, and all interactions.
Automatic lead capture for a successful and effortless sales process.
Pros
Easily sync and integrate with your everyday tools to stay up-to-date and connected.
Strengthen your customer service with online, self-serve portals.
Mirror how your business operates with customizable, drag-and-drop workflow automation.
Take advantage of a free trial with full access to tools and an unlimited number of users to help you with your small business CRM UK search.
Get a free hour of customization services with an in-house expert with your free trial.
Cons
Method is currently only available in English.
To get the most out of Method:CRM, you must be a QuickBooks or Xero user.
Pricing
Method:CRM offers three subscription-based pricing plans billed in USD:
Contact management plan at $28 per month.
CRM pro plan at $49 per month.
CRM enterprise plan at $85 per month.
These plans are available annually or monthly with no contract required.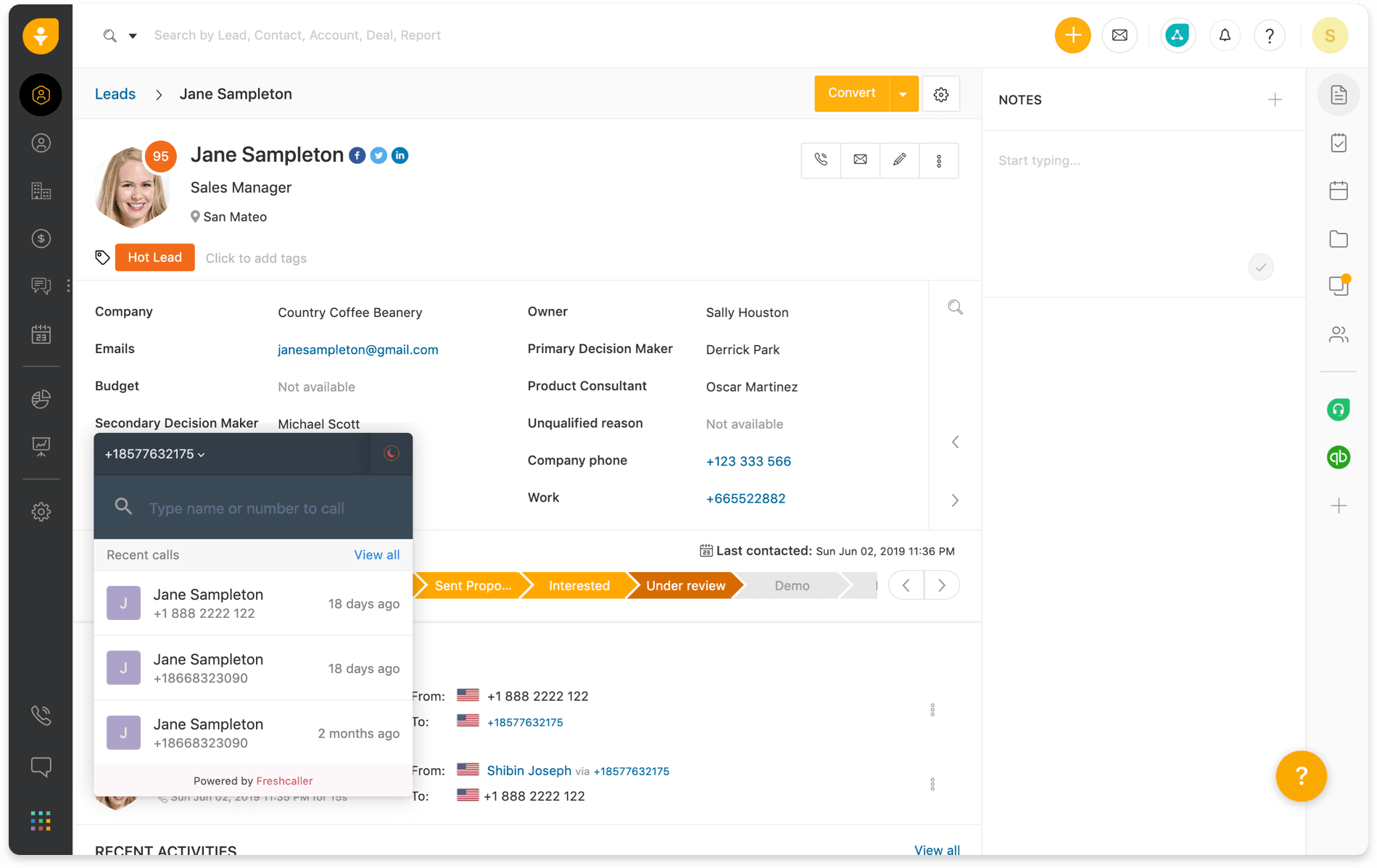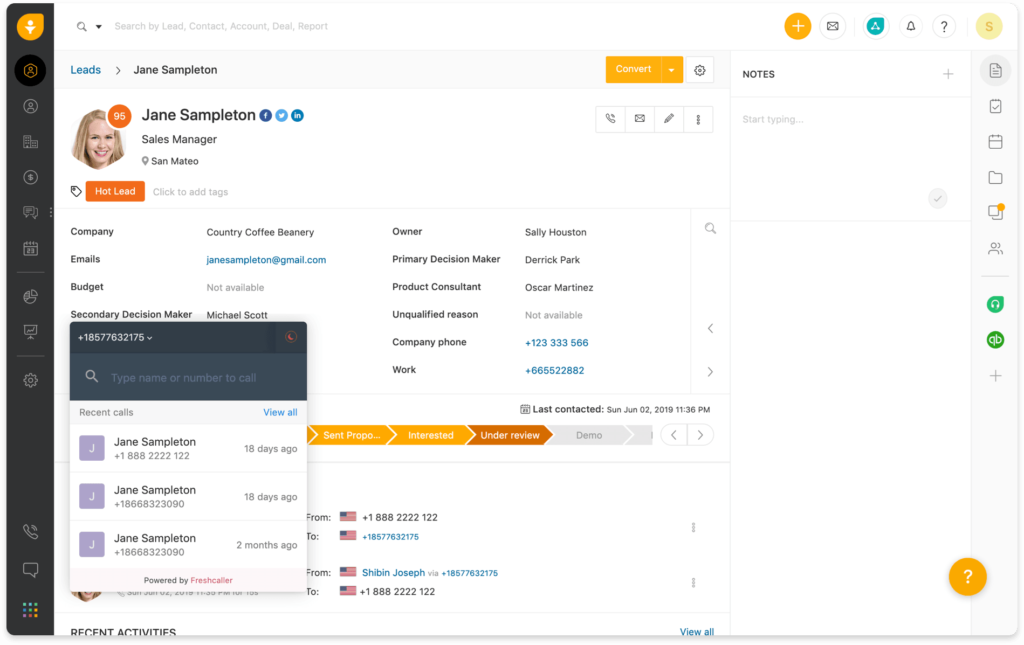 Image credit: Mailshake
Freshworks offers an all-in-one CRM solution with essential features for small businesses that constantly juggle multiple tools and want to automate a few of their workflows.
Key features
Automated lead collection.
Visual sales process view.
CRM data is viewable through their mobile app.
Automated sales and marketing campaigns.
Pros
Stellar team collaboration with integrations with apps like Slack.
Fast and easy integrations with third-party applications.
AI chatbots for customer support.
Cons
Difficult to navigate user interface.
Reporting capabilities are limited.
Pricing
Freshworks provides a free version of its CRM software with limited features. They have three paid pricing plans billed in USD which include:
Growth plan: $18 per month.
Pro plan: $47 per month.
Enterprise plan: $83 per month.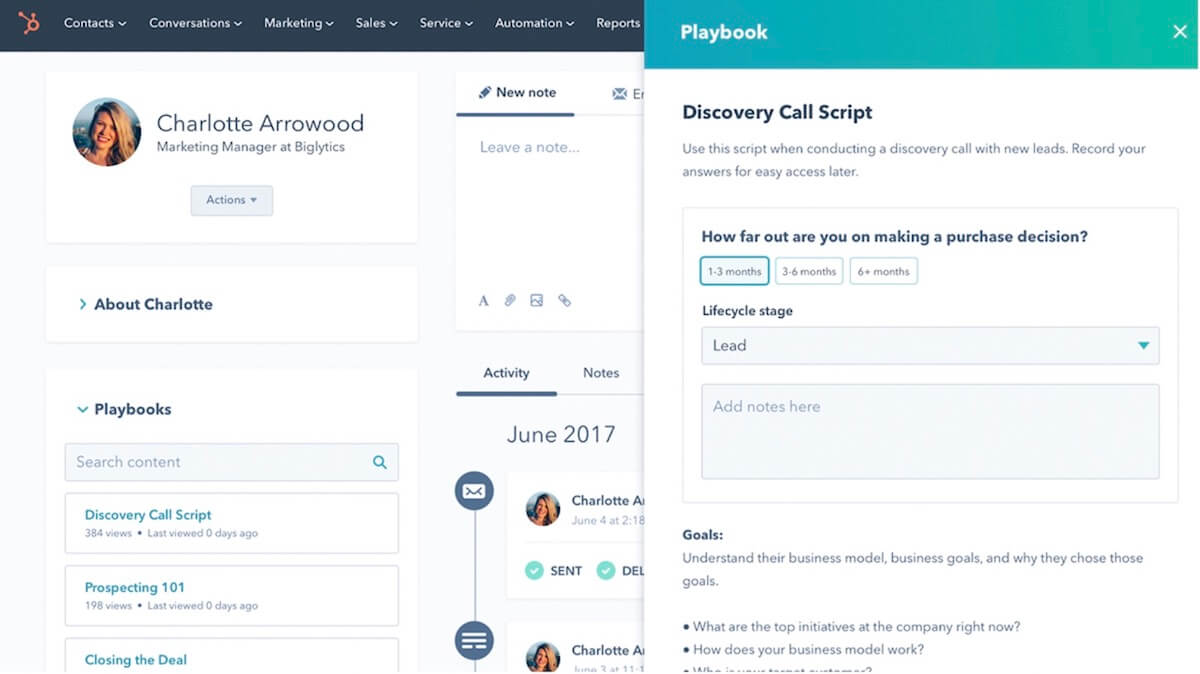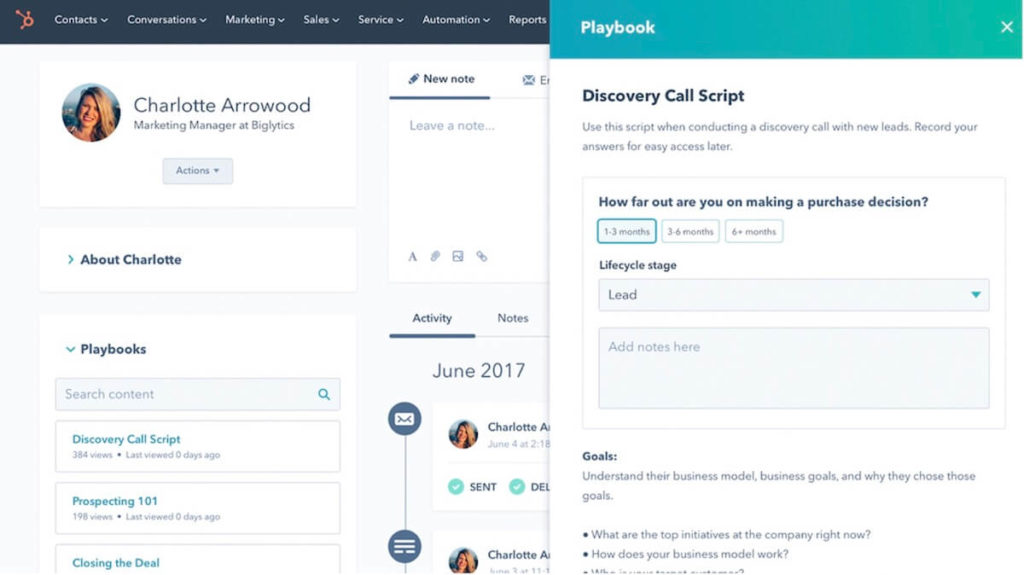 Image credit: HubSpot CRM
HubSpot is a small business CRM that offers basic CRM tools that track leads, speed up the sales process, strengthen your website, and more.
Key features
Lead capture.
Contact management and organization.
Support through live chat and chatbots.
Integrations with third-party apps.
Pros
Easy to use dashboard and user interface.
Records every page a customer views to understand their needs.
Internal content management software for website design.
Cons
Their pricing plans are more expensive than other CRMs.
You get locked into a contract.
Hard to change HubSpot CRM templates.
Transitioning from a WordPress website to HubSpot's CMS is difficult.
Pricing
HubSpot CRM has a free version of its CRM tools, and upgrades can be bought as your small business scales. They have different hubs, including sales, marketing, customer service, etc.
Their Starter plan starts at $50 per month billed monthly or $540 billed annually. They also offer a Professional plan and an Enterprise plan. All their plans are billed in USD.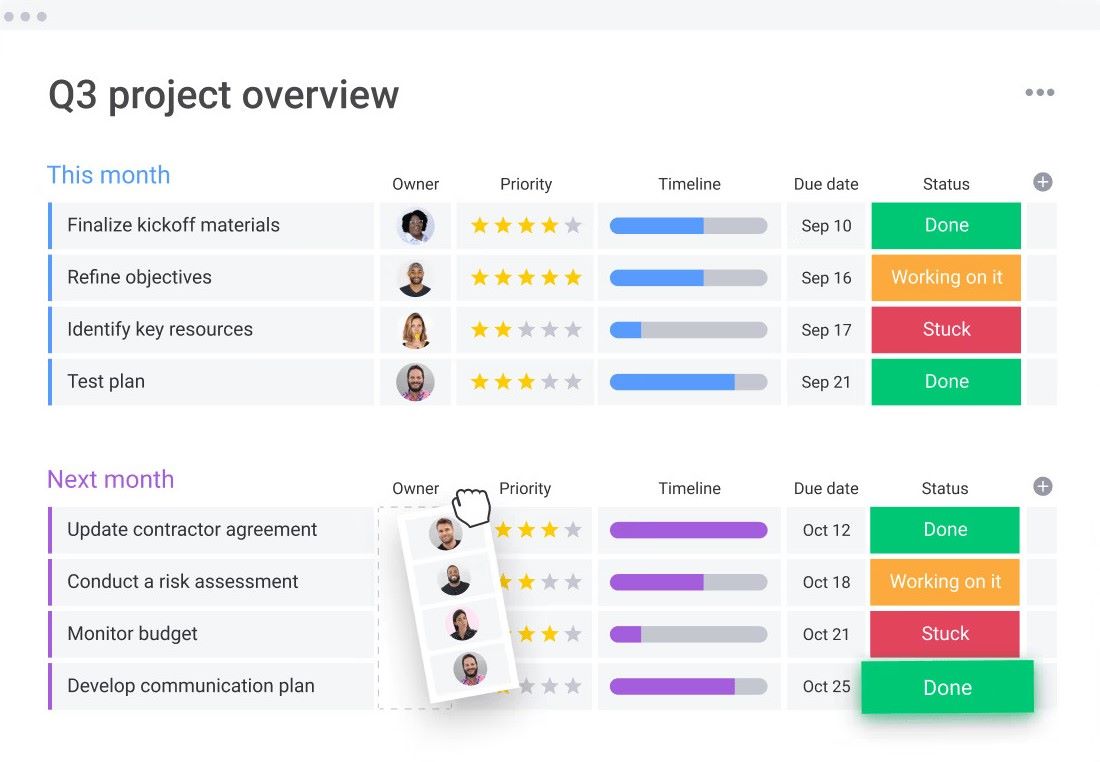 Image credit: monday.com
Monday.com is all about making sure you don't miss your deadlines. This small business CRM UK software lets you organize your workflows in one visual tool.
Key features
Some of Monday.com's best features include:
Customizable Kanban boards.
Detailed reports and analytics.
Extensive email integrations.
Pros
Track pre and post-sales processes.
Fantastic for team management and assigning tasks.
Organize tasks by color.
Cons
Not a lot of choices for pre-made templates.
Limited training and education for customizations.
Pricing
Monday.com offers a free version of its software for up to 2 seats. They offer four paid pricing options billed in USD, which include:
Basic plan: $8 per month.
Standard plan: $10 per month.
Pro plan: $16 per month.
Enterprise plan: Contact them.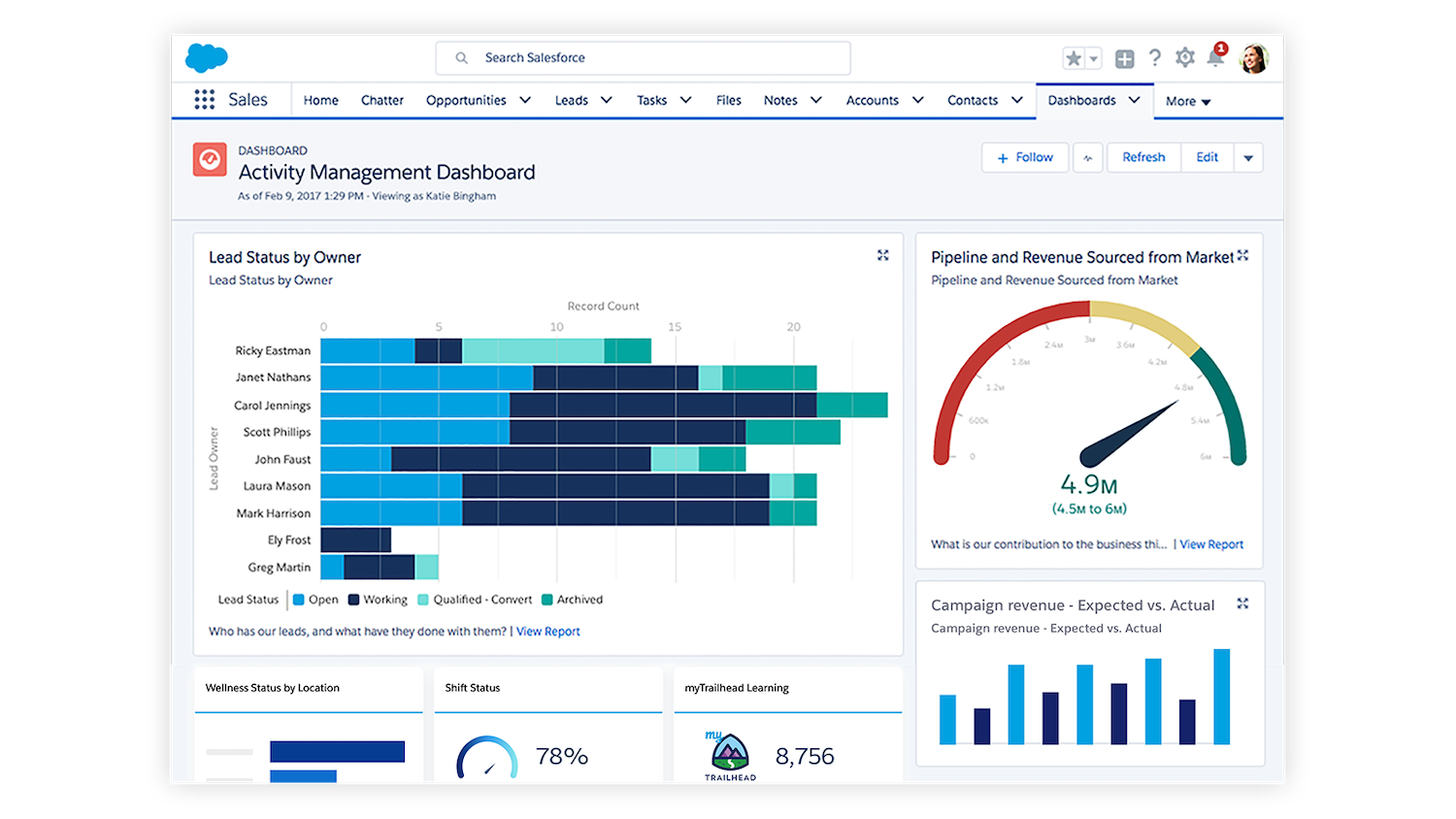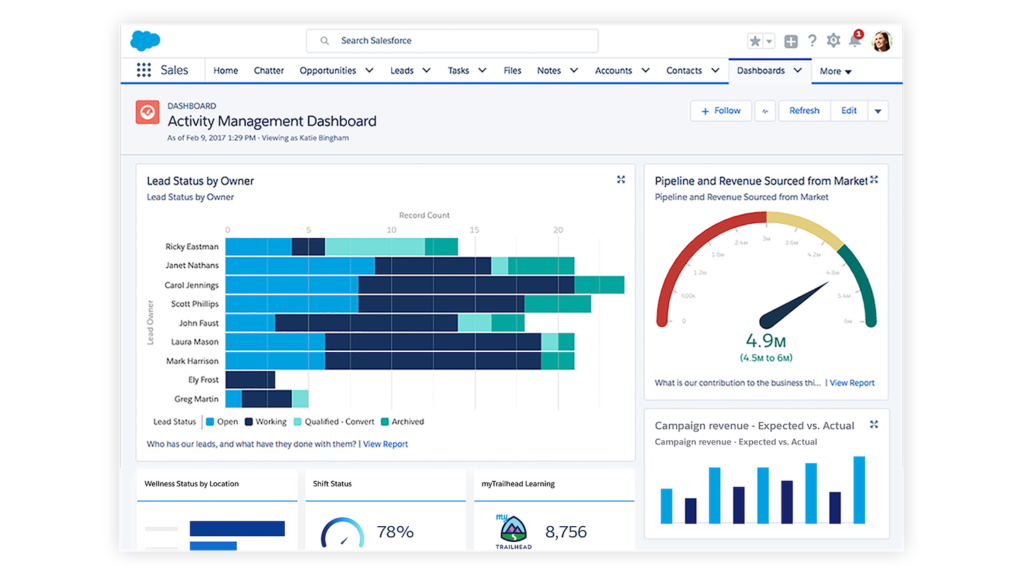 Image credit: Salesforce
Salesforce is a giant figure in the CRM space.
They offer many choices regarding features, customizations, and customer resources. Many businesses use Salesforce to accomplish various growth goals and basic CRM functions.
Key features
Some of Salesforce's key features include:
Built-in UI/UX features.
Automation tools to lessen manual admin work.
Templates and tools specific to different industries.
Pros
Highly customizable with point-and-click tools.
Flexible and accessible cloud software.
Advanced marketing automation tools.
Cons
Difficult to reach a real person for customer support.
You often need the help of a Salesforce specialist or consultant to benefit from the tool.
Higher costs compared to other CRMs.
Only offers a 14-day free trial.
Pricing
Salesforce offers small business pricing packages for their CRM software billed in GBP. These include the:
Essentials plan: £20 per month.
Professional plan: £60 per month.
Enterprise plan: £120 per month.
Unlimited plan: £240 per month.
Image credit: Mopinion
Zendesk is a cloud-based platform that offers useful CRM tools for small businesses. Their focus is on making sure their users understand how to use their tools and features.
Key features
Some of Zendesks key features include:
Many third-party integrations.
Customizable dashboard.
Built-in click-to-dial call and recording
Lead and customer tracking.
Pros
Offers customer analytics and segmentation.
Template creation with auto-fill capabilities.
Cons
Limited sync and integration capabilities.
Lack of training tools to use the software.
Minimal customer support options.
Pricing
Zendesk offers a free trial to test the software before buying one of these billed plans:
Suite Team plan: £39 per month.
Suite Growth plan: £65 per month.
Suite Professional plan: £79 per month.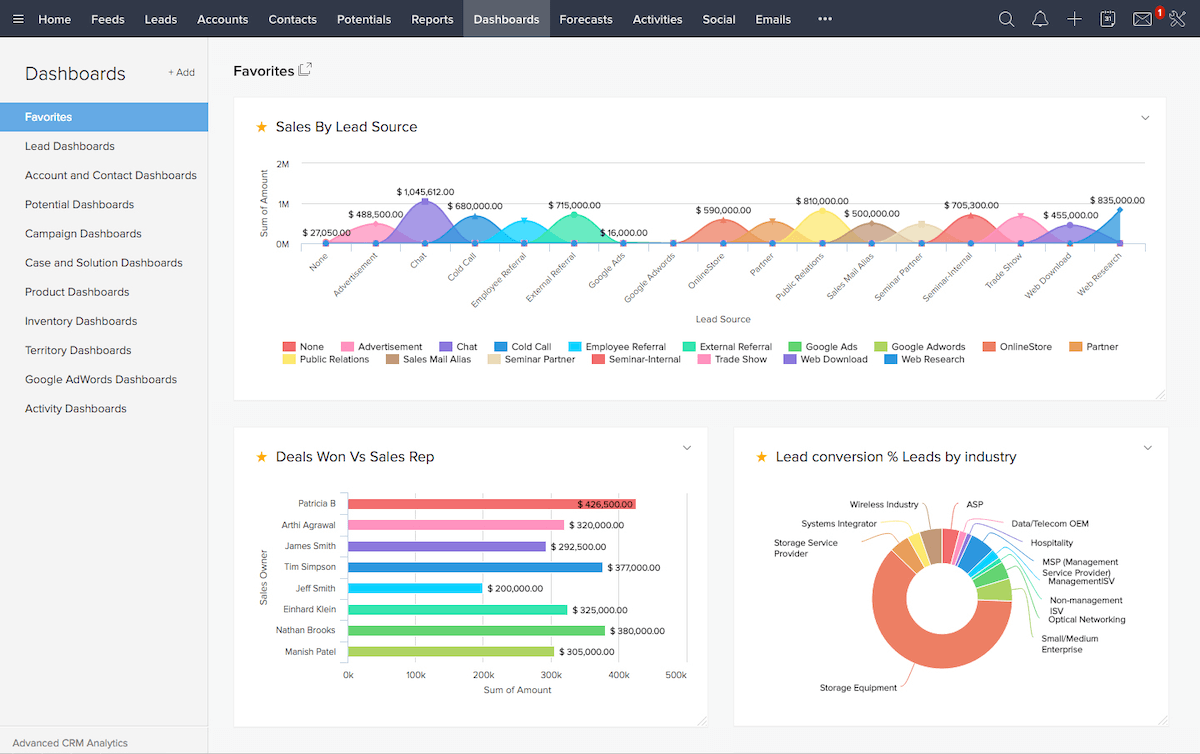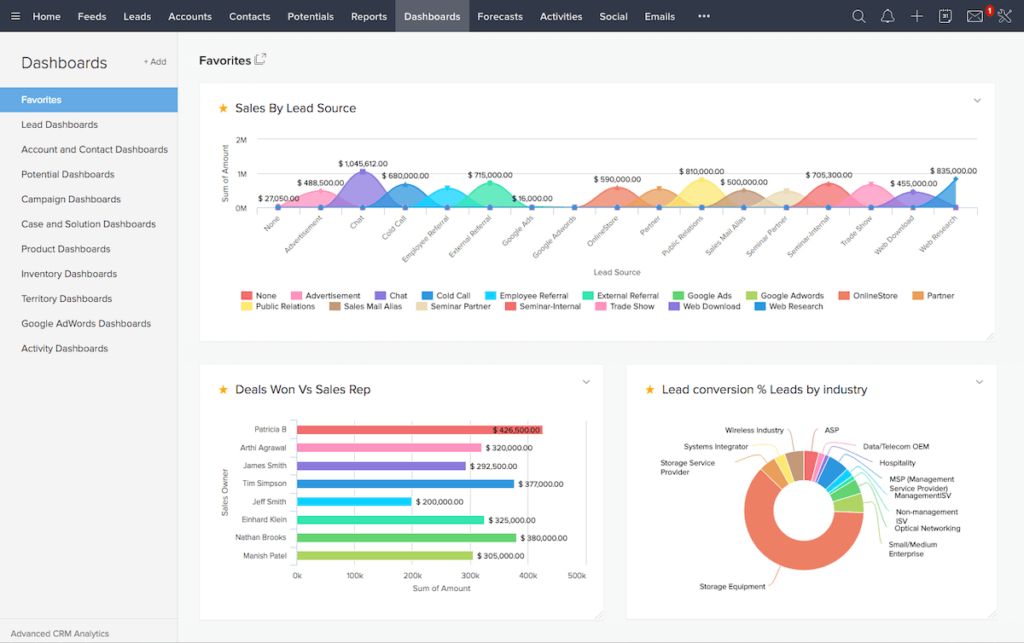 Image credit: Discover CRM
Zoho is a well-known small business CRM UK option because of its free version, allowing up to 10 users with limited CRM features.
Key features
Integration with other apps.
Organization tools for customers and leads.
Pros
Customizable form creation.
Stellar customer service.
Cons
Reports are not very detailed or tailored.
Mobile app is not as user-friendly as the web version.
Complicated user interface for those new to CRMs.
Pricing
Zoho offers a 15-day free trial and four pricing plans billed in GBP. They include the:
Free plan: £0 per month.
Basic plan: £39 per month.
Standard plan: £79 per month.
Professional plan: £199 per month.
Image credit: Medium
SugarCRM offers sales, marketing, and customer support automation in one easy-to-use system.
Key features
Some of SugarCRM's best features include:
Flexibility in customizations.
Highly intuitive campaign builders.
Pros
Great tech support services.
A lot of marketing automation tools.
Maps every customer's journey.
Cons
Weak integration capabilities.
Difficult to navigate dashboards.
Pricing
SugarCRM offers a few different pricing plans, including the:
Sell plan: Starting at £39 per month.
Serve plan: Starting at £64 per month.
Enterprise plan: Starting at £68 per month.
Market plan: Starting at £800 per month.
So, which one should I get?
Consider the following when deciding on a small business CRM UK solution:
Your current small business goals.
Which growth stage your small business is at.
Your budget for software.
Where automation could benefit your small business operations.
Keep in mind that Method:CRM is a small business CRM solution that offers unmatched features and powerful integrations for QuickBooks and Xero users.
Method offers pricing that scales with you and gives you all the tools your small business needs.
With a free trial of Method:CRM, you can achieve your growth goals right away!
Image Credit: Seventyfour via Adobe Stock