How to record commission payments in QuickBooks
Drawing from our experience, recording commission payments in QuickBooks isn't simple. While you can pay out commission through QuickBooks, calculating and tracking the commission is the hard part. More on this later.
For QuickBooks Desktop and QuickBooks Online users, the pay out process slightly differs. Let's dive into this first.
For Online users:
Depending on how your business operates, QuickBooks Online differentiates between commission as an employee's salary or as additional pay. To record commissions:
Go to "Employees", in the "Payroll" menu.
Select your employee.
In "Pay types", select "Start" or "Edit".
After trying out this product, this is where the process splits. If commissions operate as your employee's salary, select "Commission only" under the "Pay type" dropdown menu, and click "Save".
If commissions instead count as additional pay, select "Commission" in the "Common pay types" section. You can change the details of the commission by selecting "Edit". When you're finished, click "Save".
That's how you process commission payouts in QuickBooks Online. Now, onto QuickBooks Desktop.
For Desktop users:
After putting it to the test, adding commissions in QuickBooks Desktop is a two-step process. First, you must set up a commission pay item. To do so, follow these instructions:
In "Lists", select "Payroll Item List".
Under the "Payroll Item" dropdown menu, click "New".
Select "Custom Setup", then click "Next".
Select "Wage", then click "Next".
Select "Commission", then click "Next".
Enter the name of the item, then click "Next".
Select the appropriate Expense account for the item, then click "Next" and "Finish".
Once this first step is complete, you can then include this item in your commissioned employee's profile. To do so, follow this process:
In "Employees", select "Employee Center".
Double-click on the employee in question.
Select "Payroll Info".
In "Earnings", add the payroll item that you created in Step 1, and click "OK".
While it allows you to record commission payments, QuickBooks does not currently offer a commission tracker. Based on our observations, adding sales commission tracking in QuickBooks is a challenge that many businesses face when handling payout for their QuickBooks reps. 
Luckily, there are many workarounds you can use to give your QuickBooks reps the sales commission they deserve.
If you need a commission tracking solution to monitor the commission that you pay your sales reps, you've come to the right place. Based on our firsthand experience, implementing an employee commission tracking application eliminates accounting mistakes, payroll uncertainty, and keeps your employees happier. 
If you want enterprise sales commission reporting and a commission tracking app, Method:CRM is an absolute must.
This article will explain the importance of tracking commission and explain your options.
Let's begin!
Commission trackers: The basics
As the name suggests, commission tracking is the act of keeping tabs on the commission that your sales reps earn.
This process involves calculating the commission-based sales compensation that you may owe to your team and paying it out on time.
Since commission is often a substantial part of a sales rep's compensation, you want to make sure that you accurately track and pay their commission. This is best done using a commission tracker.
What is a commission tracker?
A commission tracker is a tool that you use to track sales commission amounts.
Using a commission tracker is the best way to stay up to date with the commission your sales reps earn. Whether that be with a spreadsheet, or through the use of commission tracking software. 
The most common way of tracking commission used to be spreadsheets like Excel and Google Sheets. Although Excel does provide flexibility when tracking commission, this method:
Is tedious and time-consuming.
Leaves room for error.
While spreadsheets are vital to many sales teams, they aren't reliable for. sales commissions tracking. As per our expertise, a more effective alternative to using spreadsheets is to use commission tracking software. 
If you want the best commission tracking for retail companies and other commission-based businesses, the right software is key. Commission tracking software automates the sales workflow of calculating commission and makes tracking a breeze.
Our research indicates that there are plenty of companies out there that offer free commission tracking solutions for small to medium businesses. Many others offer free trials for a limited time so you can get a good feel of the software before committing. 
However, our findings show that most free software comes with limited features and capabilities and requires a monthly subscription for full access. Very few free trackers integrate with QuickBooks, as well.
Here are some popular free commission tracking solutions:
Sales Cookie: This is a simple sales commission tracker that lets reps view their sales goals and payouts on an online dashboard. The free trial is valid for 14 days, but you can start a new one right after.
QuotaPath: This sales compensation tracker can integrate with CRMs like Salesforce, HubSpot, and Zoho. The basic solution is free for anyone to use.
EverStage: This solution allows business owners to create incentive plans for reps and forecast commissions for their deals. You can test the app for free for an undisclosed period.
Is it worth investing in commission tracking software?
Using commission tracking software will streamline the process of tracking and paying commission to your sales teams. Based on our observations, the right software will not only save you time and money, but will keep everyone on your team on the same page.
Based on our firsthand experience, here are some of the benefits of using commission tracking software. 
1. Time efficiency
With commission tracking software, you can save yourself hours of calculating, verifying, and recalculating commission payouts for your sales reps. Drawing from experience, with the right software, this process takes only minutes. 
2. Reduce mistakes
Have you ever made a spreadsheet error in Excel? If so, then you know that any mistake can be a headache to correct. This is especially true if it is one of your sales reps that catches the mistake on their paycheck.
Automating your commission tracking will minimize the margin of human error, resulting in more accurate pay for your sales team.
3. Transparency
Commission trackers allow everyone to have access to the same data, including managers, sales reps, and finance teams.
For sales reps, commission tracking software allows them to track their commissions and notice any discrepancies early on. With the right software, they will be able to see how much compensation they have earned on deals in real-time.
For managers, commission tracking software provides more insight into individual and team sales performance.
4. Higher sales
Commission tracking software allows you to instantly measure sales quota progress and give everyone in your company access to the data.
Through our practical knowledge, if your sales reps are able to see their progress, they will feel more motivated to hit their quotas. In return, this will drive more sales for your company.
How to structure sales commissions
There are several ways to structure a sales commission program, including:
1. Base rate only
This means only paying sales reps a flat salary based on an hourly rate. This isn't a very popular structure as it doesn't encourage competitiveness within a sales team. Sales reps may still have quotas, but they don't have a monetary incentive to reach their goal.
2. Base plus commission
Reps are still paid an hourly rate but also receive a commission on top of their base rate upon closing a deal. In this structure, the sales rep's base salary is usually too low to serve as the sole income source. Thus, reps are incentivized to close deals so they can earn more out of their commissions.
3. Residual commission
This plan lets sales reps get commissions as long as their clients continue to patronize the business. For as long as an account brings in revenue, the rep that signed the client will continue to get paid a certain percentage. This structure encourages reps to maintain good relationships with their clients.
4. Tiered commission
With this structure, a sales rep's commission could increase by a certain percentage once they surpass their sales quota. This incentivizes reps to continue closing more deals even after they've reached their quota.
5. Gross margin commission
Sales reps are given a percentage of the profits made from a sale. Their commission is calculated with the expenses incurred from production/distribution – reps will have to upsell products to earn more from this type of structure.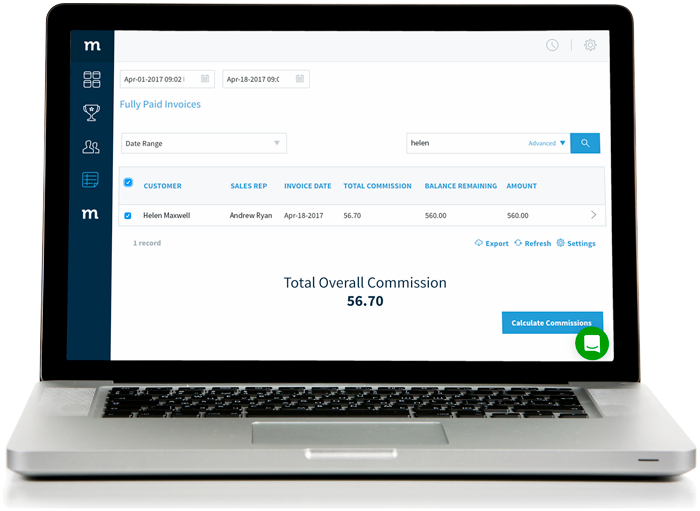 Now that you're all caught up on commission structures and how commission trackers work, let's get more specific and talk about QuickBooks.
The best way to track and calculate sales commissions in QuickBooks
Based on our observations, here's a common problem many businesses using QuickBooks face: not being able to track QuickBooks sales commissions on specific items, excluding any associated tax or shipping fees on an invoice.
This challenge arises because QuickBooks does not have a commission calculation feature. So, based on our firsthand experience, in order to calculate a commission payout, you need to create a class within QuickBooks. 
You must then create a subclass for every sales rep, manually calculate commissions for every item based on each person, and finally create a commission report.
Sounds tedious, right?
Well, as indicated by our tests, this is the reality of how to add commission in QuickBooks.
In many cases, our findings show that businesses manually calculate commissions with pen and paper or track numbers on spreadsheets to complete the payout for QuickBooks reps. But the larger your business, the more complicated this process will become.
Luckily, there's an easier way.
5 commission tracker apps on the market
If you don't want to be hassled with the additional task of transferring data from your spreadsheets to QuickBooks, you can always try any of the following commission tracker apps. These apps all integrate with QuickBooks, eliminating the need for double data entry.
Unlike Method:CRM however – which is a comprehensive customer relationship management software that comes with a range of tools for data management, job scheduling, and more – the following apps focus primarily on revenue management and commission tracking. In the next section, we explain how you can use Method:CRM to track commissions.
Based on our observations, many of the sales commission apps out there can provide reports on reps' performance, commissions, spending, and predicted profitability. But few integrate with both QuickBooks Online and QuickBooks Desktop. As per our expertise, flexibility is also an issue for some of these apps, as not all are customizable to fit each business' unique sales processes.
How to calculate commissions in QuickBooks with Method:CRM
Given the multi-faceted nature of QuickBooks commissions, a 'one-size-fits-all' commission tracker does not exist.
However, it is possible to condense endless spreadsheets, workarounds in QuickBooks, and time spent with your calculator into one simple click with Method:CRM.
Use the #1 QuickBooks CRM, to save hours by creating a fully customized commission tracker to automate your specific sales process.
This process can be carried out on your own or by Method's CRM customization services team, depending on the complexity of your commission structure.
The QuickBooks commission calculator app in Method will be unique for every business, depending on your design preferences and end goals.
You can include:
Date ranges for running commissions.
A search function to check commission amounts by customer invoice.
Reports specifically for your sales team.
Any other functions your QuickBooks reps need.
An added bonus is that Method has one of the best QuickBooks CRM integrations on the market. This means that Method:CRM automatically pulls your sales and customer information from QuickBooks to make your commission calculation process easier.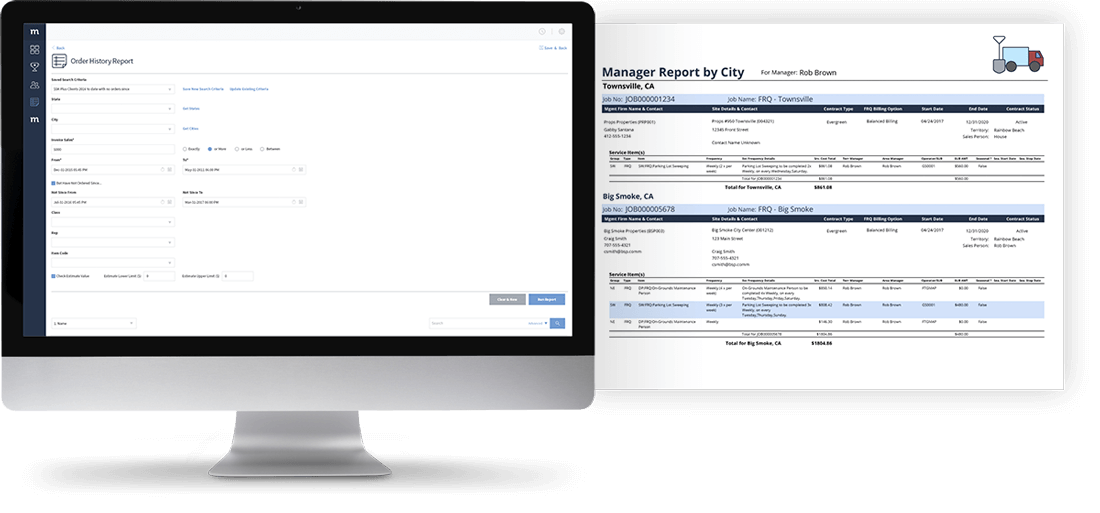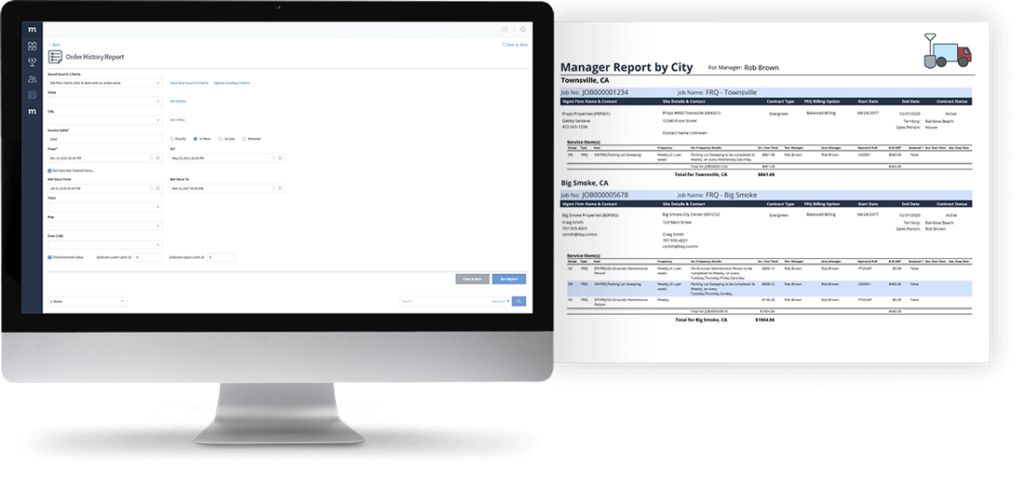 Tracking commission in QuickBooks: How do I get started?
If you've decided to use Method as your commission tracker, you can get started in minutes!
First, make sure you've integrated your QuickBooks sales data with Method:CRM.
If you don't have a Method:CRM account, you can start a free trial to explore the tool. During your trial, check out Method's other sales features, including lead management, customer management, and custom reporting.
Once you've synced your QuickBooks account with Method:CRM, chat with our customization team and share what you are looking for in a sales commission tracker. You'll receive 1 free hour of customization services as part of your free trial to help you get started!
Simplify QuickBooks commission tracking with a free trial of Method:CRM — the #1 rated QuickBooks CRM.