You already have:
A killer product or service
The right employees in place
A strong accounting foundation with QuickBooks Online or Desktop
The business plan to back it all up.
So what's next?
To bring your vision to life, you need to set your team of sales representatives (or sales reps) up for success.
And as the employees at the heart of your company, this is crucial as your sales reps secure the revenue you need to make payroll. 
So how can you empower your sales reps to achieve more? Keep reading to learn how to make sure your QuickBooks sales reps:
Win more deals 
Maximize productivity 
Keep your accounting data in order
Build quality, lasting relationships with your customers
QuickBooks sales reps: 3 tips to drive stronger results
1. Set and track customized sales targets
First things first: set your goals.
Every business has its own sales strategy but the next step here is to have specific sales targets that tee your company up for the growth you're aiming for.
Whether your QuickBooks sales reps focus on monthly revenue, cold calling, or lead to customer conversion, transparency with your team is the key to hitting your numbers.
You might be wondering if you can track your sales goals in QuickBooks Online or Desktop with your Company Snapshot.
The short and sweet of it is no as sales targets and detailed opportunity reporting isn't currently available in QuickBooks.
Not to worry though, as you have a great alternative solution — Method:CRM.
Enter Method:CRM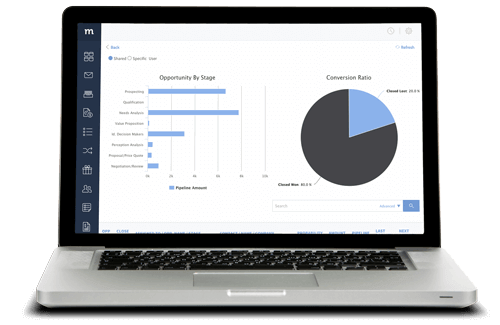 With Method:CRM's built-in Opportunities app, your team can easily:
See sales conversion ratios
View potential revenue at every sales pipeline stage
Compare pipeline volume for each QuickBooks sales rep
This makes it simple to see which employees are thriving as well as those who need some extra coaching. 
2. Support your QuickBooks sales reps with workflow automation
Now that your goals have been laid out, it's time to see how sales workflow automation can help your team hit target. 
And while workflow automation may seem daunting, it's something many CRMs like Method make simple.
Here's how
CRM software is all about your customers — both potential and new. This means that your CRM is designed to: 
Often, the way a CRM achieves this is by automating tedious tasks so that you can focus on what matters — your customers and leads.
Enter Method:CRM
One example of this is how Method:CRM reminds your QuickBooks sales reps to follow up with potential customers.
Another is the reminders it offers sales reps when it comes to collecting payment from existing customers.
Better yet, you can sign up for email notifications from Method:CRM for when a new sales opportunity has been assigned. These alerts are great because they make sure your QuickBooks sales reps don't miss out on new opportunities while in the field or out of the office.
Another plus is that as your lead moves down the funnel, Method:CRM lets you create automated email campaigns to nurture your sales prospects.
3) Stop sending sales transactions in QuickBooks
If you or your sales reps are constantly logging back into QuickBooks to send out estimates and invoices, it's time to find a better way.
Enter Method:CRM
With Method:CRM, your reps can send invoices directly to your customers without QuickBooks access. This is handy for growing small businesses because:
Your leads and customers get faster service from your sales team
Your sales process is shorter and more efficient 
You eliminate the risk of employees getting into confidential QuickBooks data
Your financials stay clean and organized with fewer cooks in the kitchen
Best of all, any sales transactions created and sent in Method:CRM automatically sync to your QuickBooks and vice versa. You can learn more about Method's QuickBooks CRM integration here.
The solution for your QuickBooks sales reps
There's no doubt that QuickBooks is a powerful tool that serves your business well. As your organization grows, however, you need more in your tech stack to ensure your QuickBooks sales reps excel. 
By using customer relationship management software, like Method:CRM, in addition to QuickBooks you:
Make it simple for your sales reps to follow up with leads and customers
Can easily track sales opportunities, pipeline, and activities 
Eliminate tedious tasks with workflow automation
Gain a 360-degree view of your sales process and customer base
All of which,  better your bottom line and help you grow your business faster!
Better manage your QuickBooks sales reps with a free trial of Method:CRM.