You already have a killer product or service, and a business plan in place to back it up. But to really bring your vision to life, you need a team that lives and breathes your business. Those people are sales reps, and they are the heart of your business.
So how can you help your team be the most efficient with their time, driving sales while building quality, lasting relationships with clients? Some businesses use QuickBooks Enterprise to manage leads and assign follow-up tasks, but using QuickBooks rather than a dedicated CRM software can limit your sales team's abilities.
Luckily, we can help with that. Here are three ways to better manage sales reps in QuickBooks CRM software.
1. Set and track customized sales targets
First things first: set your goals.
Every business has its own unique strategy and customer base, with unique targets to base your goals on. Whether your sales reps focuses on monthly revenue, converting leads to customers, or setting a number of cold calls to be made, being completely transparent with your sales team is instrumental in actually reaching your goals.
Once you've established your targets, set it up for tracking. You might be wondering why you can't get this done in QuickBooks on your Company Snapshot. Currently, neither sales targets nor detailed opportunity reporting is available within QuickBooks.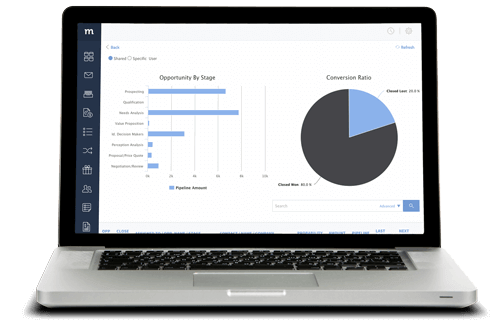 Not to worry, you have an alternative solution. With Method:CRM's built-in Opportunities app, your team can view potential revenue at every stage of the sales pipeline, see your sales conversion ratio, and compare revenue in the pipeline by sales rep.
You can also customize your data even further with personalized sales reports tailored to your business workflows.
Learn how you can set any sales targets up by asking the Method team.
2. Guide and support with e-mail automation
Now that your goals have been laid out, set up your CRM to establish best practices for contacting clients, and create alerts for when to reach out to leads. The better you prepare your team, the better they'll be prepared to close more deals.

With Method:CRM, you can set up email notifications once a new opportunity has been assigned and send automated reminders to follow-up on new leads. Once you have those alerts in place, your team will never need to worry about missing out on new opportunities if they're out of office or on the road.
Learn more about Method's e-mail notification feature here.
3) Stop sending sales transactions in QuickBooks
If you or your sales reps are constantly logging back into QuickBooks to send out estimates and invoices, it's time to find a better solution. QuickBooks serves a great purpose, primarily for balancing your company's books. But with Method:CRM, your reps can send invoices directly to clients, without requiring special access as they would with QuickBooks.
Best of all, any sales transactions created and sent in Method:CRM will sync automatically into QuickBooks and vice verca.
Learn more about Method's QuickBooks integration here.
At the end of the day…
There's no doubt that QuickBooks is a powerful tool that can serve your business well. But, working with a customer relationship management system like Method:CRM allows your sales reps to better follow-up with customers and in turn, help grow your bottom line.