Converting purchase orders to invoices is tricky and downright annoying. But it's critical for both your business and suppliers. Many companies get stuck in a cycle of manual paperwork that takes up valuable time and resources.
Along with the strain on administrative processes, matching invoices with purchase orders is also challenging. But with the right solution, you can easily automate your purchase order to invoice process to save time while improving accuracy.
This blog will cover everything you need to know about purchase orders including how to invoice a purchase order and how to match invoice with purchase order. You'll also learn about the best solution to automate the process.
Let's get started!
What is a purchase order?
A purchase order is an essential legal document for any business or individual making a purchase from a vendor. It outlines the goods and services that a buyer wants to receive from a supplier.
You can clearly define your needs and expectations by creating a detailed purchase order. This helps ensure that both parties are on the same page about the specifics around the transaction, such as:
Price.
Quantity.
Payment terms.
Delivery details.
What should you include in a purchase order?
When creating a purchase order, it's vital to include specific details so the supplier can accurately fulfill their obligations. Here's what you should have in your purchase order:
Your name and contact information.
Your supplier's name and contact information.
What goods or services you require.
The quantities you require.
A description of the goods or services to avoid confusion.
A timeline to specify when the order was placed and when you need it.
The importance of purchase orders
Ordering goods or services
Issuing a purchase order creates a contractual obligation — on the seller to deliver the goods or services and on the buyer to pay for them.
It formalizes the purchasing process so that you have a clear outline of the expectations and details around the transaction.
Purchase orders remove any confusion about who is responsible for what to make sure that orders get delivered on time.
Purchase order approval
Before purchase orders are issued, they need to go through an approval process. This typically involves reviewing the proposed purchase against your company's budget and objectives.
The approval process ensures that your company is using its budget efficiently and reduces the risk of fraud.
Order tracking
Purchase orders also help you keep track of what you've ordered. When you create a purchase order using software like QuickBooks, it's assigned a unique reference number that you can use to track its status. See what that looks like below.
This helps resolve disputes that arise and is especially useful when you're planning budgets or auditing.
The reference number on a purchase order matches incoming invoices, so you only ever pay for goods or services that you've ordered.
Inventory management
Tracking the products or services you order through purchase orders gives you foresight into the inventory you'll have in the future.
You can use this information to manage your warehouse space and schedule production runs. Most importantly, you can make sure you always have what your customers want.
Why do companies need purchase orders and invoices?
Purchase orders and invoices are crucial for companies to keep track of their money.
A purchase order creates a legal agreement for a sale before it happens.
It protects both the buyer and seller by putting in writing what's being bought and sold and for how much.
A bill or invoice comes after you have the goods or services delivered requesting payment from the buyer. It's especially important for managing accounts receivable.
When you use purchase orders and invoices together, it provides a clear audit trail of purchasing activities. You only ever pay for the goods or services you agree to.
This matching process is key in preventing the following:
Overpayments.
Duplicate payments.
Paying for unreceived goods or services.
The difference between 2-way and 3-way purchase order matching
Purchase order matching is critical for validating transactions and ensuring you only pay for what you've ordered and received. The most common ways to do it are by 2-way and 3-way purchase order matching.
In a 2-way match, you compare two documents: the purchase order and the invoice.
The goal of 2-way matching is to confirm that the details on the invoice match the purchase order. If there are any discrepancies, you need to resolve them before any payments are made.
A 3-way match involves an additional document: the receipt or delivery note.
In a 3-way match, you first compare the details on the receipt with the purchase order to ensure that the correct goods or services were delivered. Then, you match the invoice to the purchase order and receipt to confirm the billing is accurate.
A 3-way match provides an extra level of control compared to a 2-way match. By involving the receipt, you confirm that the billing is correct, which is more difficult in a 2-way match.
Challenges of manual purchase order matching
There are several pain points associated with manual purchase order matching.
For one, checking each line item across multiple documents is time-consuming, especially for large or complex orders. It also requires serious attention to detail, which slows down your purchase order to invoice process.
Also, tracking down the source of discrepancies is difficult, especially if different people or departments processed the documents involved.
Another challenge of manual purchase order matching is that it's more prone to error. Mistakes often result in incorrect or delayed payments, negatively affecting your relationships with suppliers and your purchase order to invoice process.
Not to mention, without a dedicated purchase order to invoice process in place, tracking and reporting on the status of purchase orders and invoices is challenging. Failing to have a system in place obstructs visibility, making it difficult to identify inefficiencies or fraud.
Finally, as your company grows, so do your number of transactions and challenges. Choosing an automated system that can keep up with your company's needs and scale with you is essential.
The solution: Automate your purchase order to invoice process with Method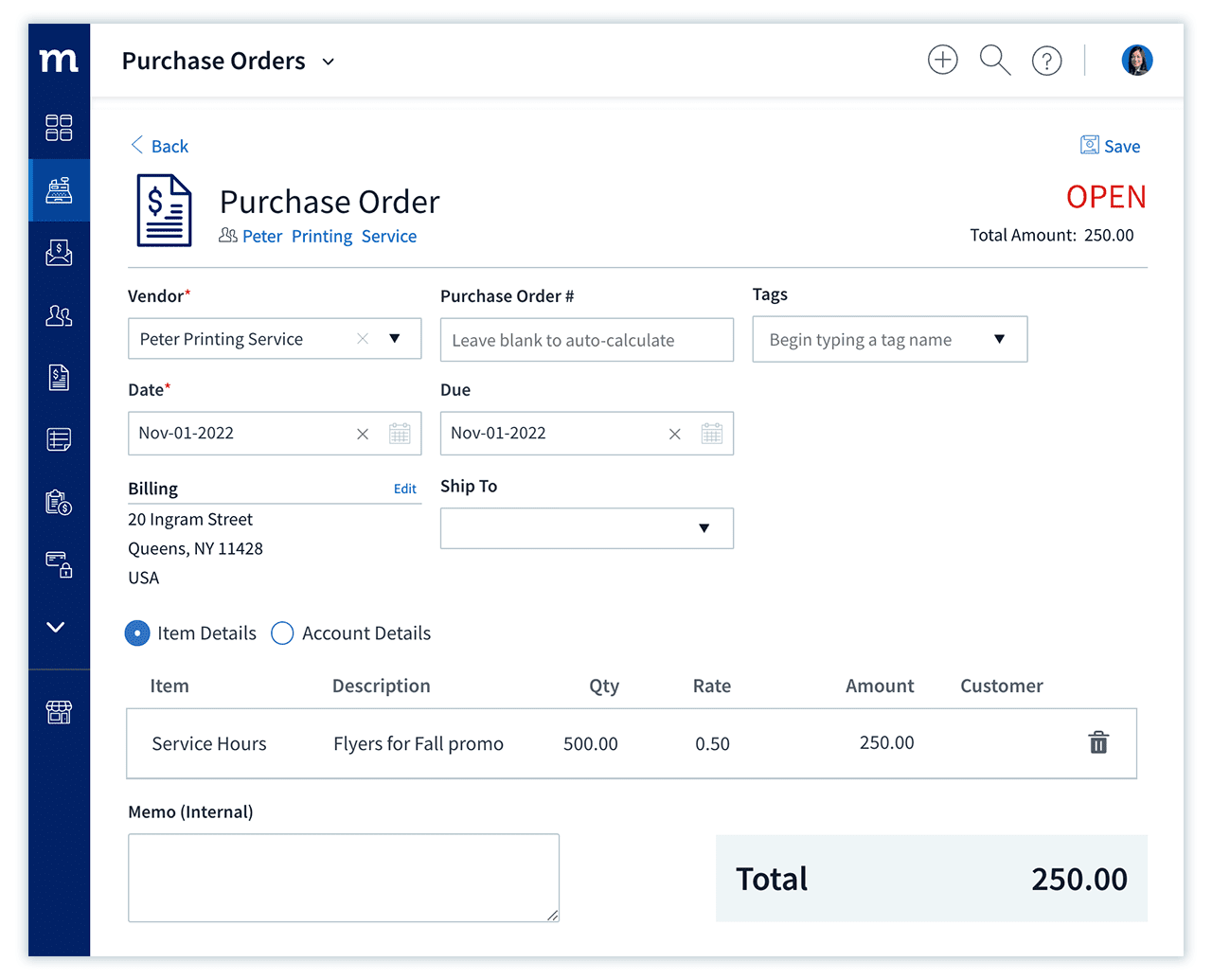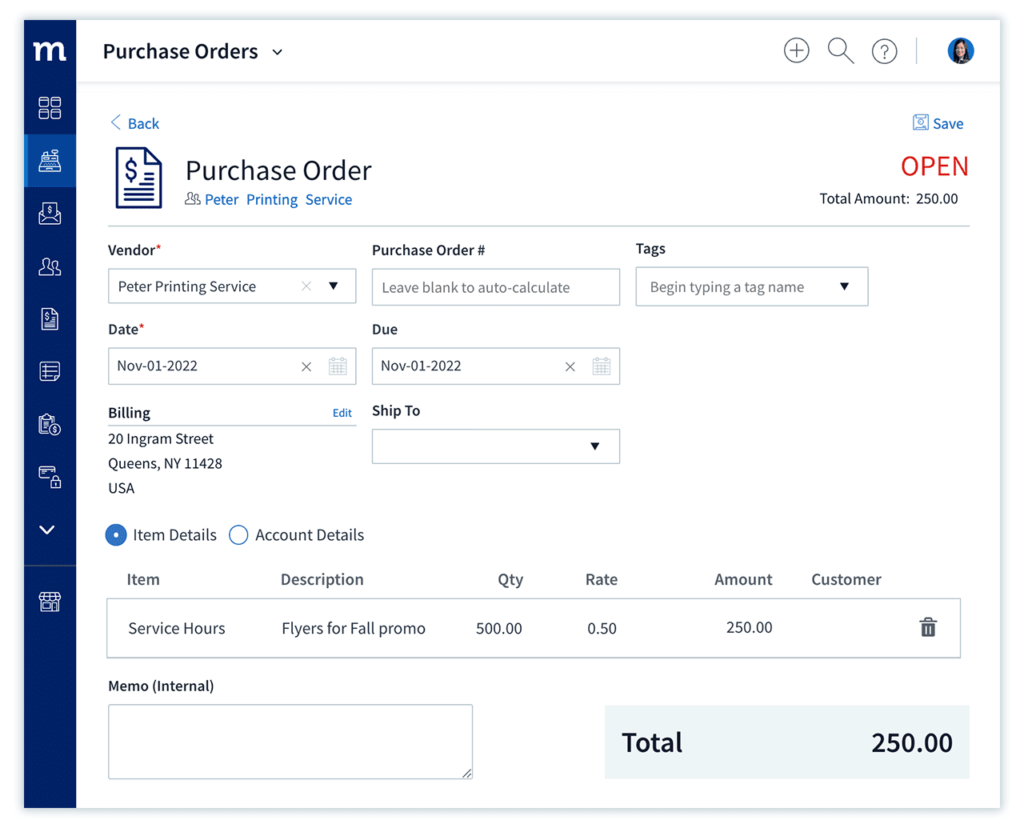 Method is the top choice for QuickBooks and Xero users looking to automate their purchase order to invoice process. With Method, you simplify your purchase order matching process to reduce errors and save time.
Here's how Method makes your life easier:
Automated creation of purchase orders, invoices, and receipts, eliminating tedious manual work.
Real-time syncing with both QuickBooks and Xero so your data is always up-to-date.
Scales with your business and its transaction volumes without missing a beat.
With Method, you can say goodbye to the challenges that come with manual purchase order matching challenges and focus on growing your business.
See how Method transforms your purchase order to invoice process.
Image credit: Svitlana via Adobe Stock