It's rare to find someone whose job is different every single day. From daily to-do's to weekly meetings to monthly check-ins, a lot of your tasks likely repeat themselves. But who wants to spend time repeatedly logging those tasks?
The answer is nobody. And that's why we're thrilled to announce that as of December 20, 2018, we have introduced recurring activities in Method:CRM. This new feature will help users save time and stay organized, no matter how long their to-do lists are.
What are recurring activities?
Method's activities app has always been a great tool for centralizing your tasks, interactions, and appointments. But up until now, every activity created in Method was a one-time occurrence. So if you wanted to schedule a daily reminder or a bi-weekly meeting, each activity had to be created individually.
Now, you have the ability to create a recurring activity — an activity that repeats on a regular basis. Recurring activities in Method can repeat on a daily, weekly, monthly, or yearly basis.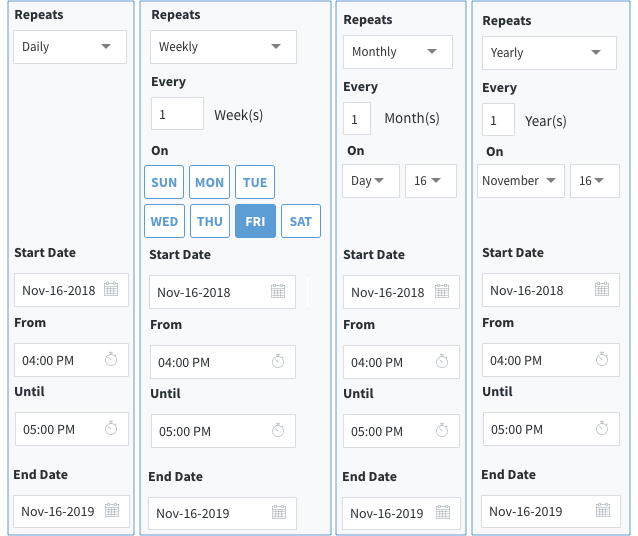 How can I use recurring activities?
Note: If you have customized the activities app in your Method:CRM account, you will not see the recurrence update. In order to use recurring activities, you will need to add the recurrence widget to your 'New/Edit Activity' screen. For more information, visit our help center.
The next time you create a new activity in Method, you will see a new field called Frequency. Clicking the pencil icon allows you to edit the frequency, start and end date, and start and end time of your recurring activities. After you save the activity you're working on, all of the recurring activities will be created automatically.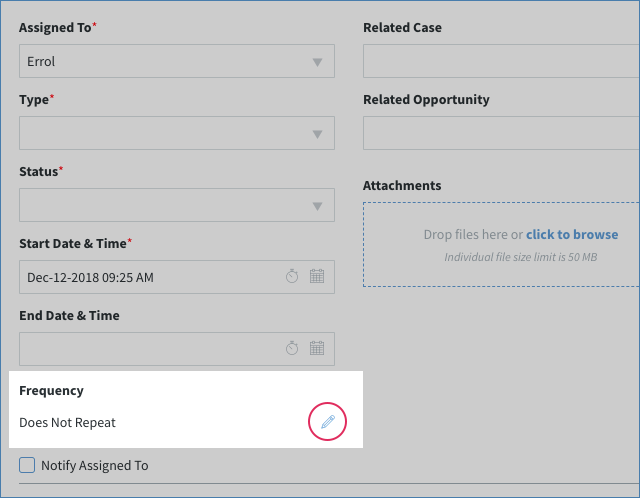 Once you have created your recurring activities, you can modify entire schedules or individual activities as necessary. For instance, let's say you created a dozen weekly client meetings — but you accidentally scheduled them for Mondays instead of Tuesdays. No problem! You can edit the master schedule for the meetings, and all of the individual meetings will update accordingly.
On the other hand, what if you just need to change the day or time for one of your weekly meetings? That's easy, too. Simply edit the individual activity as needed; the other recurring activities in the schedule will not be affected.
For more information on using recurring activities, visit our help center or contact our team!