Whether you're part of a small company or sitting at the helm of a large corporation, improving your business processes is essential for growth.
However, making real-time business decisions on top of managing the entire business can be challenging on your own. That's where the ERP software comes in.
From project management to automating core processes, these systems offer a suite of tools tailored to your business requirements. However, this isn't the only solution for fast-growing businesses.
As a result, many ERP alternatives have started to surface, leading many smaller businesses to opt-in to other single-platform business application solutions.
Below is what you need to know about the current state of ERP and the most effective ERP alternatives for your small business.
What is an ERP system?
An ERP system is short for Enterprise Resource Planning system, which is a production planning software that handles business operations across the board.
ERP systems have comprehensive business benefits, from inventory management to financial management and cash flow. Here are some of the most common features found in these programs:
Automation for essential business functions.
Order processing for eCommerce platforms.
Mobile access to the company file database.
Unification of complex systems.
ERP systems weave the threads of complex business processes together without the need for any external applications.
Some systems even use artificial intelligence to cater to the ever-changing needs of growing businesses.
Regardless of which one you choose, the right ERP system can help you achieve your business objectives.
What are the alternatives for ERP?
Some of the most popular alternatives for ERP systems are CRM software and specialized third-party automation systems.
Enterprise systems are one of the most comprehensive business solutions across the board, but there is one significant trade-off. ERP platforms tend to unify disparate systems into a single stream, so there isn't much space for small or specialized automation.
As a result, ERP alternatives usually are:
Quicker to implement.
More flexible to your changing needs.
Easier to onboard employees onto.
More affordable.
Why you need an ERP alternative
While an ERP system or enterprise resource planning solution might sound like the ultimate fix for all your problems, it is not always best for your company size — especially if you are a small to medium sized company.
Here's why. ERP system's advanced features are costly, which prices out even the most effective midsize businesses.
Plus, most scaling businesses have preferences regarding connected services and payment gateways. However, most ERP systems transform a business' whole workflow, which cuts out other services and tools.
So, if you want to use a specific platform that isn't compatible with more extensive ERP systems, you're out of luck. This is where an alternative to ERP comes into play.
How to select an ERP alternative
Once you understand the basics and evaluate your goals, selecting the right ERP alternative to bolster business performance is simple. Ask yourself the following questions when browsing different solutions:
What are your business objectives and what problems do you have to solve to get there?
Which smaller tasks can be automated to enable my workforce?
What features will my team benefit from?
How much am I willing to spend on an annual subscription?
Do I need a cloud-based solution to support a remote team, or am I content with locally installed programs?
How much time and money am I willing to spend on learning and maintaining a new system?
While this isn't a comprehensive list of considerations, it lays the groundwork for identifying your ERP needs.
Alternatives to replacing your ERP system
If you have an active subscription to an existing ERP system but are looking for a change, then you may not need to replace all the work you've done with a different platform.
Instead, consider the following alternatives:
Train your workforce: Day-to-day work can still be inefficient even with the most advanced accounting modules and ERP systems, usually because someone lacks proper training. Rather than being a one-and-done deal, training and improvement is usually a scalable and ongoing process.
Upgrade your existing ERP: Many platforms have options for an add-on subscription if you need more features or a little bit of help.
Reevaluate your processes: Sometimes, the main business bottleneck is human error, and correcting specific functions may enable your workforce to get more done in less time.
Best ERP alternatives
Every traditional ERP system has its advantages and disadvantages, so choosing the right one for your business comes down to your specific goals. With that in mind, here are our top five picks for an alternative to ERP in 2024.
Method:CRM is a cloud-based solution that helps you scale effectively. It offers robust CRM functionality that makes it ideal for businesses who need more than a CRM but less than an ERP.
The deep sync with QuickBooks and Xero combines your accounting data with customer information to give you a deep understanding of your operations.
With Method:CRM's lead generation capabilities and customer tracking, you can deliver a seamless customer experience efficiently. Plus, its no-code backend makes it possible to automate any workflow you need.
In addition, unlike more "traditional" alternatives to ERP, Method:CRM can be integrated with thousands of third-party programs, so it fits perfectly into existing workflows.
Begin your free trial of Method:CRM to get started with the best alternative to ERP for QuickBooks and Xero users.
Features
Quick invoice creation and approval.
Time tracking and workflow management.
Customer data analysis.
Pros
Outstanding support team
Cloud-hosted
Deep integrations with QuickBooks and Xero.
Cons
Only available in English.
Best suited for QuickBooks and Xero users.
Pricing
Method:CRM starts at $25 per month for the Contact Management package.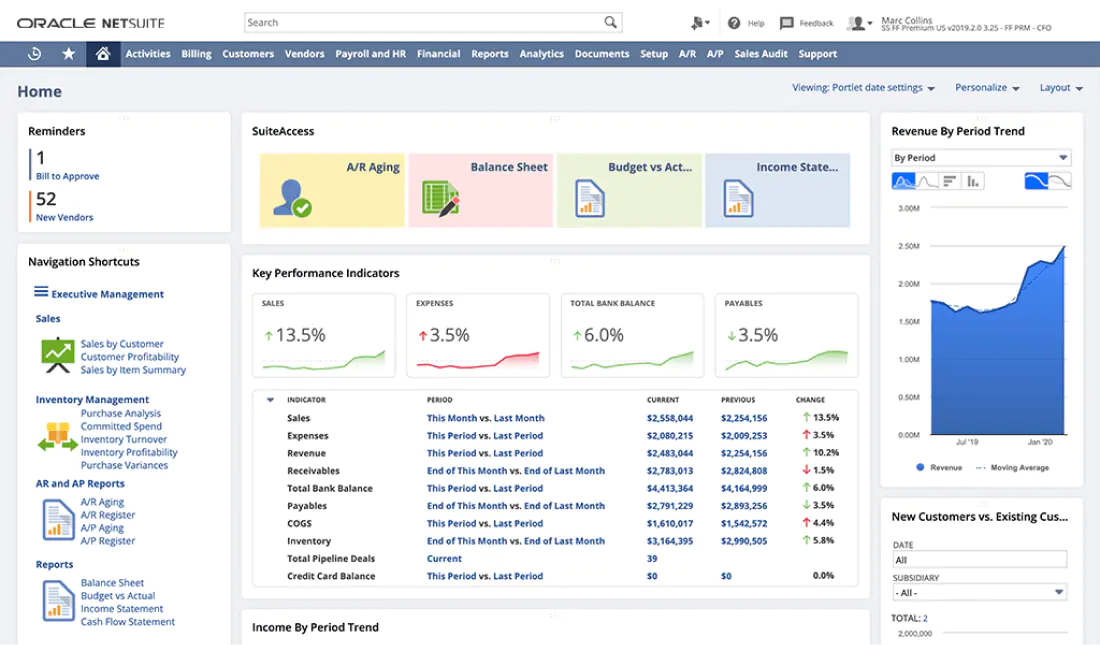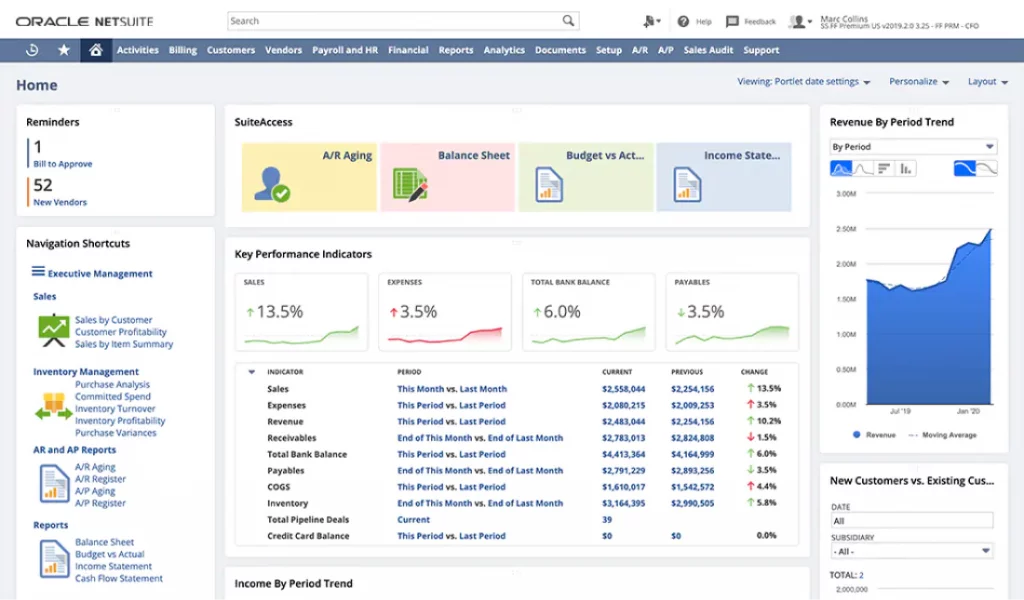 Known as one of the more prominent contenders in the ERP system arena, Oracle's NetSuite offers a full menu of automated business functions across departments.
It can streamline customer relations, manage inventory, and even process your orders. NetSuite also comes with an accessible real-time dashboard for a quick overview of operations.
However, with NetSuite, you get a full-fledged ERP system. So, if you're after an alternative to ERP, keep going through this list.
Features
Customer management.
Sales and financial forecasting.
Email and campaign marketing.
Lead management.
Real-time dashboards and reports.
Pros
Highly customizable feature set, specifically financially-oriented features.
Outstanding cloud support for remote employees.
Comprehensive reporting capabilities.
Cons
Challenging interface for less experienced users.
Pricey add-ons.
Lacks international shipping support.
Pricing
As a full-fledged ERP, pricing can add up quickly. You're looking at $99 to $999 per month.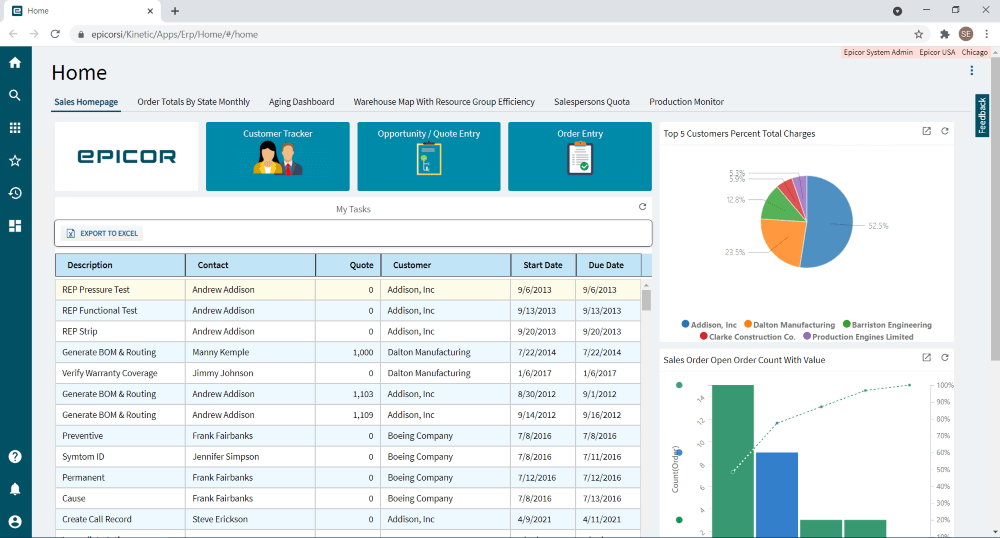 Kinetic is one of the most user-friendly options on this list, with its intuitive UI resembling a social media website rather than an overwhelming ERP system.
In addition, it has built-in communication channels that connect employees from all over the world that are perfect for remote teams.
Features
Detailed analytics and reporting.
Third-party integrations.
Workflow management.
Activity dashboard.
Pros
Extremely flexible parameters catered to your specific needs.
Updating and uploading data is straightforward.
User-friendly and intuitive.
Cons
Challenging setup.
Paywall-locked customization features.
Highly-customizable nature means there's more room for error.
Pricing
A basic license starts at $170.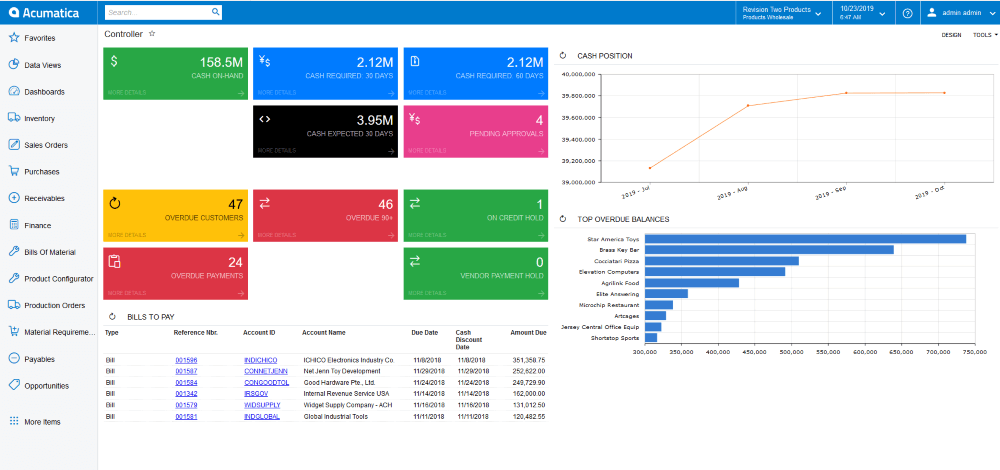 Acumatica isn't your run-of-the-mill ERP system.
One of its most significant advantages is its capacity for high-volume data processing, which keeps everyone in the loop.
Features
Manufacturing management.
Financial management.
Construction management.
Analytics and reporting tools.
Data tracking and trends.
Pros
Very responsive customer support.
Integrates with a vast selection of third-party plugins and programs.
Cons
Learning curve.
Work does not automatically save.
Lacking modules.
Pricing
The basic license fee starts at $1000 per month.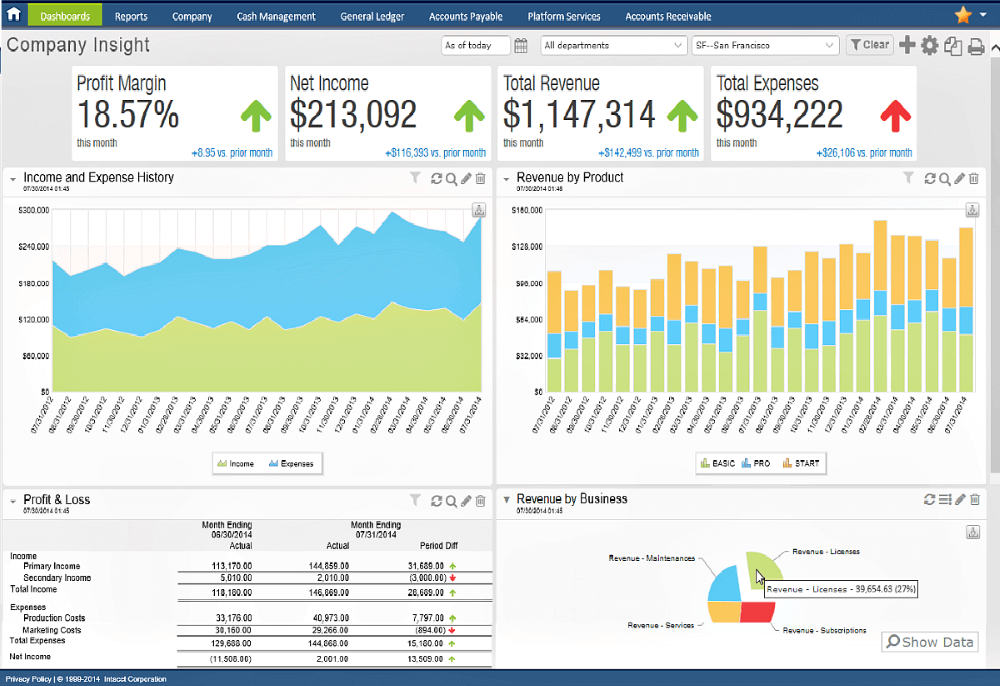 Sage Intacct distills complex information into one easy-to-read document that helps you make more informed business decisions.
Its pricing is flexible, which means that smaller businesses may be able to find what they're looking for, even with a limited budget.
That said, it doesn't post prices publicly on its site, so you have to contact them to get a quote.
Features
Financial records and data can be shared with an accountant.
Budget and workflow management.
Per-user security access.
Industry-specific solutions.
Pros
Has a free trial.
Consistent software updates.
Comprehensive training.
Cons
High learning curve.
Unclear pricing.
Weak archiving and search system.
Pricing
Pricing is strictly quote-based.
Key takeaways
Traditional ERP systems are a boon for most large and midsize businesses, but they may not always be the right fit for smaller companies. Luckily, there are plenty of alternatives that have cloud storage options, so you can access your data anywhere.
Our top pick for businesses of all kinds is Method because it's affordable, transparent, and does everything you tell it to do without much hassle. The best part? It has a free trial that you can sign up for right now.
ERP alternatives FAQs
What are the ERP alternatives?
CRM and industry-specific automation systems are often used as alternatives to traditional ERP systems.
Why are executives afraid of ERP?
Some executives have reservations about ERP systems being generally very costly in more ways than one. It takes thousands of dollars to purchase a license and dozens of hours for training for proper setup and implementation.
How to choose an ERP alternative?
Choosing an ERP alternative comes down to your budget (for both time and money), the specific issues you'd like to solve, and what tools you'll need to achieve your goals.
See what the best alternative to ERP for QuickBooks and Xero users could do for you.
Image credit: Reewungjunerr via AdobeStock