Electronic signatures refer to any electronic process that validates the acceptance of an agreement. Some spell it "eSignature" — others, "e-signature" — but all agree that electronic signatures make business processes more efficient.
Adding signature lines to your documents offers several benefits, including:
Workflow optimization.
Faster turnaround.
A smoother signing experience for everyone.
Getting your customers to sign their names is often one of the trickiest parts of any deal, so making it a seamless process is essential.
The first step is learning how to add a signature in QuickBooks. This blog article covers everything you need to know on how to add a signature line in QuickBooks Online (QBO) and Desktop by integrating with Method:CRM!
What you need to know about signatures in QuickBooks
Before learning how to add a signature line in QuickBooks, let's go over why you'd want to in the first place.
Why signatures matter
You only close a deal when your customer has signed a quote or contract. With that in mind, facilitating a simple signature process is crucial to landing every opportunity.
Businesses have cut down in-person operations in favor of digital workflows, and e-signatures are part of this change. Digital processes and automation tools cut costs and speed up transactions. So, switching from physical signatures to electronic ones gives you significant benefits. Examples include:
You don't spend time and resources collecting signatures.
Your customers and team members can sign vital documents in seconds.
Digital payments give you an online register of every transaction.
Whether you're authorizing work, approving estimates, or signing paychecks, e-signatures provide your customers convenience and security and make life easier for your team.
Signature vulnerabilities
Physical signatures can be easily copied and come with the hassles of printing and manually signing documents.
E-signatures, on the other hand, are easy to validate, and you won't lose them like you might a piece of paper.
Reasons to add signature to QuickBooks
Digital signature lines let you and your clients record signatures electronically, which spares you the time and aggravation of a manual signature process.
For example, e-signatures make taxes easier for your accountants and save them the hassle of printing checks when making payments to your vendors. They also make payroll accounting a breeze, as you avoid the arduous printer setup process whenever you send a paycheck.
With e-signatures, you can quickly sign estimates and other online documents. And your customers can do the same when paying bills or authorizing work.
Among others, documents that use e-signature lines include:
Sales receipts.
Estimates.
Credit memos.
Invoice templates.
Paychecks.
Service reports.
Here are some of the benefits of adding a signature line to QuickBooks Online and Desktop:
Enhanced security: Digital documents are more secure than physical ones because they're easier to validate and difficult to lose.
Faster turn-around: Signing agreements electronically closes the time gap to get authorized signatures and ensures a quicker closing of deals. This way, you can count on on-time payments for your products or services.
Improved organization: Keep signed documents online to minimize the stress of organizing multiple hard copies.
Increase team member productivity: Add signature windows to QuickBooks to let your accounting and sales team members sign documents and contracts more efficiently.
Seamless customer experience: Offer an easy and secure signage process to build trust in your community and keep customers returning.
Smaller carbon footprint: Every e-signature you collect is another piece of paper your business has saved.
The items on this list make it clear that e-signature lines are great for every business owner. Now, let's take a look at how to set them up.
Can I add a signature to QuickBooks?
Some companies add signatures on their documents by requesting that their customers provide an image or graphic file (i.e., a JPEG, PNG, BMP, etc.) of their signature. You can add external images to documents like invoices in QuickBooks using the "Attachments" field underneath the "Message on statement" dialog box.
But this method comes with its fair share of issues.
The main problem here is the size of these images. This issue is twofold, concerning both file size and the space these images occupy on a page.
Note that adding an image to a document often significantly increases your file size, so including an external electronic signature file will slow down most of the steps that make up your sales process.
Also, depending on these images' height, width, and aspect ratio, you can face many issues when formatting signatures.
With every print signature image that you scan and upload from the "File" menu bar, you'll have to go through the same process over and over again. This includes resizing and manually placing the image in the signature line in your document. And even when you're happy with it on your desktop, it's hard to ensure that it's properly formatted for mobile devices as well.
Another workaround your company might consider is importing custom form styles in QuickBooks. This is achievable through the "Settings" drop-down menu (the gear icon). Here, you can toggle the "Import Style" feature.
But this requires unnecessarily customizing countless form styles. These are, in turn, difficult to keep organized, particularly if you're self-employed or part of a small business.
What is a digital QuickBooks signature?
Digital signature functionality in QuickBooks lets you collect signatures online, directly through QuickBooks. This keeps your information organized in one platform and simplifies your internal and external approval processes to drive operational efficiency and boost cash flow.
With a digital QuickBooks signature, you can settle your accounts payable as soon as you're billed. You can also approve payments and other internal documents to simplify daily processes.
On the other hand, QuickBooks e-signatures simplify your quote-to-cash workflow and make doing business with you convenient and consistent. This makes customers happier and cash flow healthier.
So why isn't there a feature to add a signature line in QuickBooks?
We had the same question, so we came up with a solution.
Create and use electronic signature for checks and paychecks
Whether you use QuickBooks Online or QuickBooks Desktop, you can enable e-signatures to authorize payments. Let's explore your options:
QuickBooks Online
Depending on your plan, there are a few ways to leverage e-signatures in QuickBooks Online. Your best bet is to look at third-party programs that integrate with all versions of QuickBooks and offer comprehensive e-signature options, like Method. Apps like Method let you:
Sign unlimited documents electronically every month.
Personalize document templates and e-signature options.
Capture signatures through customized workflows.
DocuSign for QuickBooks Online Advanced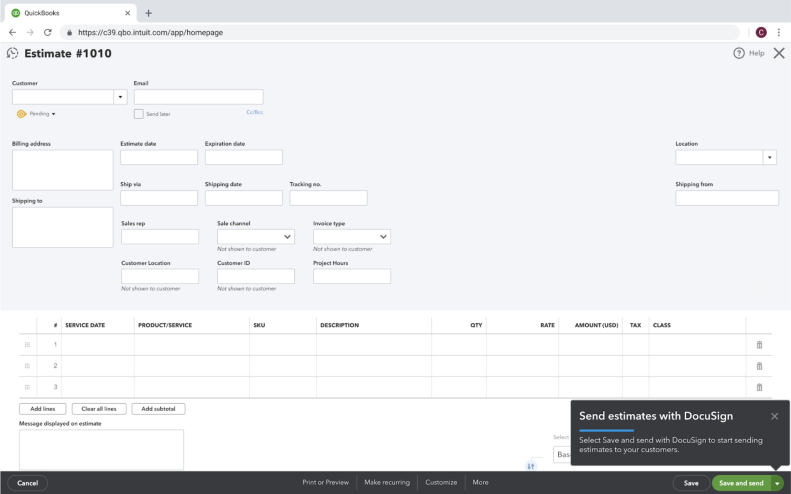 Image credit: DocuSign
DocuSign is an application developed by Intuit to let you implement e-signatures in QuickBooks. However, a DocuSign integration is only available to QuickBooks Online Advanced users. Linking this app to your QuickBooks account offers the following core features:
Unlimited templates.
Customizable signature invites.
Shareable documents with customers.
Batch signatures to reduce the time gap between signatures.
DocuSign for QuickBooks is a great way to manage e-signatures. However, it's pricey for a digital signature software that manages just one process. Its Standard plan lets you sign only 100 documents and costs $300 annually per user.
In comparison, Method:CRM is more cost-effective, as it lets you manage your entire lead-to-cash process and includes unlimited e-signatures.
QuickBooks Online app for iOS and Android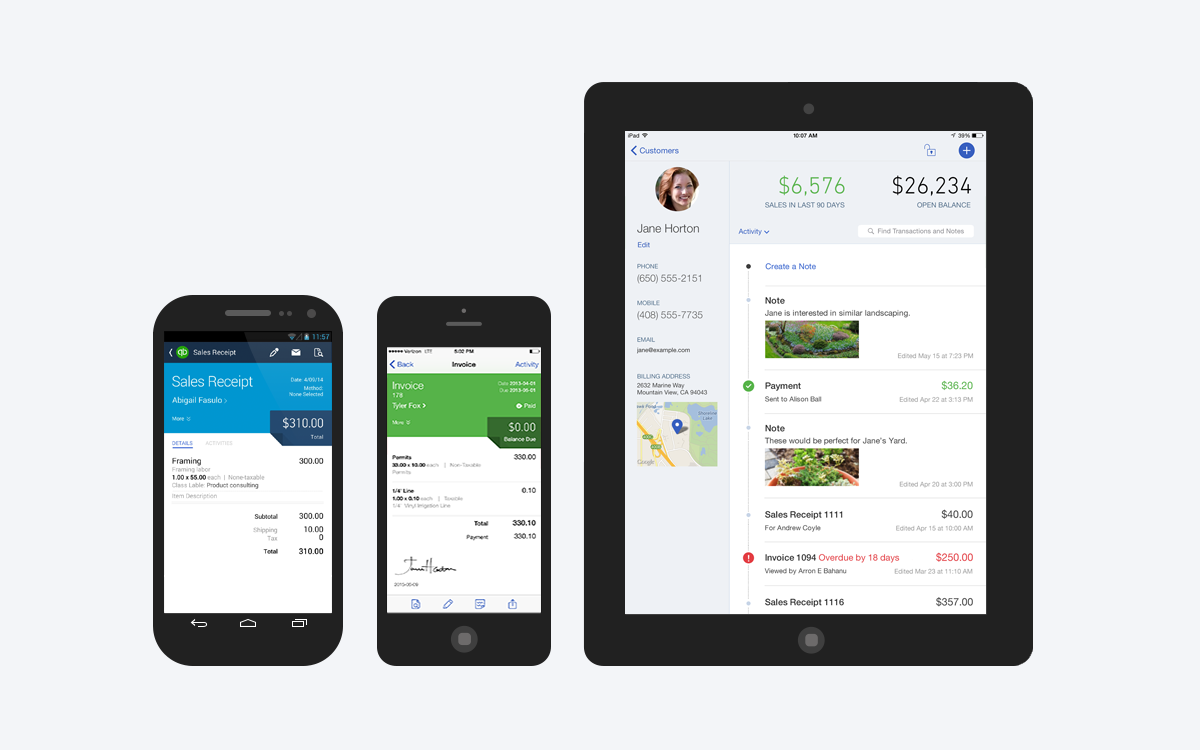 Image credit: Intuit
As a cloud-based program, QuickBooks Online comes with a mobile app that lets you manage your accounting processes on the go. This way, you can monitor your projects from your phone or tablet in a fast, easy way.
That said, this option is limited as it requires you to collect digital signatures in person. The app lets your customers sign directly in QuickBooks using the touchscreen of your mobile device, but you must be with them for them to sign.
QuickBooks Desktop for Windows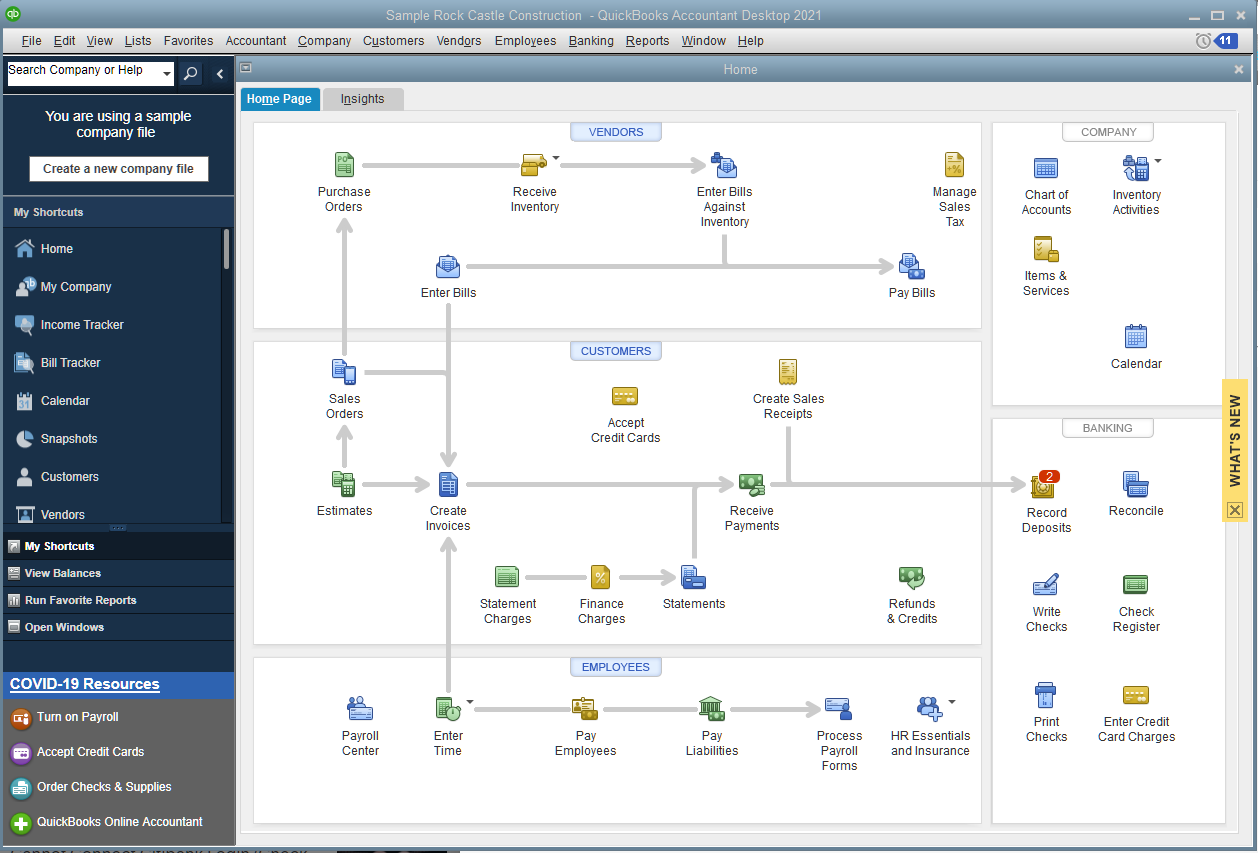 Image credit: GoGetGeek
QuickBooks Desktop has very few ways of providing e-signature functionality. You'll have to visit the Desktop app store and integrate external e-signature software. For example, Method is available for QuickBooks Desktop and Online on Windows.
QuickBooks Desktop for Mac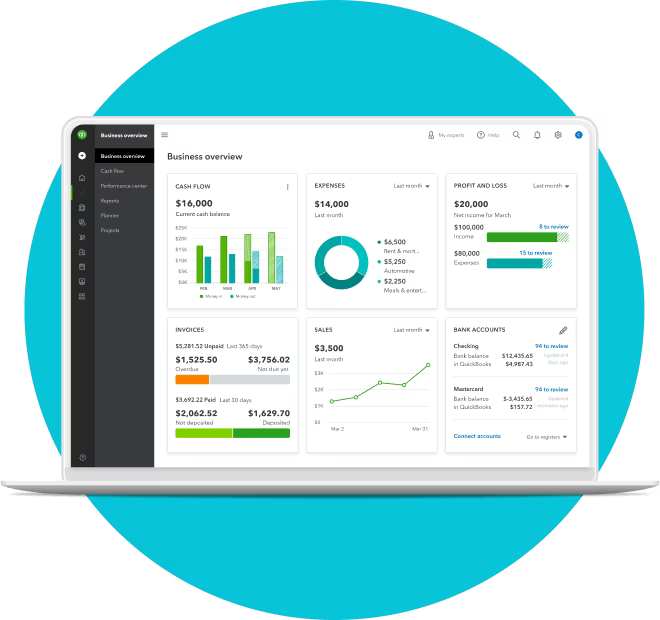 Image credit: Intuit
Similarly to Windows, e-signature capture options for QuickBooks Desktop for Mac users are limited. That said, there are third-party apps that sync to QuickBooks to make it possible, like Method.
The better alternative: How to add signature line in QuickBooks with Method
The million-dollar question is: How do I add a signature line in QuickBooks?
You may have noticed that there aren't any articles with that information. This is because, while it typically offers the features necessary to manage your whole accounting operations, adding an e-signature to contracts, estimates, and invoices is currently impossible in QuickBooks without a third-party app integration.
Not having this option creates a pain point in your customer experience for the following reasons:
You can't approve things online or sign contracts securely, so you'll take time and use resources to procure your customers' signatures. Spending opportunities to contact your clients on simple procedures such as this one adds unnecessary friction to your relationship.
Collecting manual signatures takes longer, so deals don't close as quickly as they should.
You're unable to track the status of business documents instantly.
It's more likely that fraud or signature copying will occur without knowing how to add signature line in QuickBooks.
Let's face it. It's the age of digitalization.
Your business looks unprofessional if you still have a long manual signage process that involves printing documents, faxing, scanning, and sending them by courier.
Here's how Method can help you learn how to add signature line in QuickBooks!
Avoid monotonous processes like menu navigation and dealing with one printer setup window after another with Method's robust e-signature capabilities.
Investing in Method:CRM for a signature line increases your productivity and allows you to enjoy continued success for years.
Importing e-signature lines into QuickBooks Online and Desktop is effortless thanks to Method:CRM's trusty customer success managers (CSMs).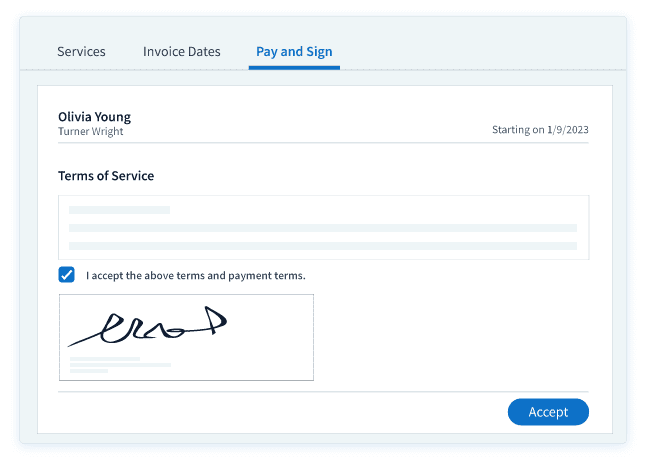 You can seamlessly create your e-signature lines in QuickBooks Online and Desktop using Method's two-way sync and email signature management solution. This works for Xero users, too.
No more having to convert files into PDF file format and sending them via email. You can even work around the limited number of electronic signature actions set by the DocuSign e-signature Connector. Method gives its users unlimited e-signature rights.
With easy formatting procedures, Method's signature approval automation tool offers:
Unlimited signatures on checks.
Unlimited signature requests.
Unlimited customer signatures.
Customizable signature preferences.
Method's dedicated customer success managers (CSM) can also help you build integrations to access more detailed client profiles in QuickBooks Online and Desktop. This includes:
The customer success managers offer all the support you need, including tips on how Method can help your business.
Enriching the quality of your data helps you create positive customer experiences so that you can leave a lasting impression.
Getting started: How to add signature line in QuickBooks
Method's electronic signature capture is a cost-effective way to automate your manual tasks and approval processes.
Create a Method account for free if you don't already have one, and add a signature to your QuickBooks account at no additional charge!
Just reach out to your Customer Success Manager to get the e-signature capability added to your account.
Once you've enabled the feature, you can seamlessly sign your name on company files at the click of a button and without delay.
Electronic signatures help close the window of time that signage requires and allow more manageable card payments for clients.
How to add signature line in QuickBooks Online and Desktop using Method
In order to learn how to add a signature line in QuickBooks using Method, you can connect with your customer success manager (CSM) and enable the feature once you've set up your account!
It's only necessary that you have accounts for:
Method:CRM.
QuickBooks Online or QuickBooks Desktop.
You can use both subscription-based software systems on any computer, too — they work on Windows and Mac.
It's that easy. Our team will handle it from there, so you can remain focused on the more critical, growth-oriented areas of your business!
How to add signature line in QuickBooks FAQs
How to add a signature in Quickbooks Desktop?
To add a signature in QuickBooks Desktop, you can't use apps like DocuSign or the QuickBooks mobile app. Instead, you need to implement third-party software that integrates seamlessly with QuickBooks Desktop, like Method. Method:CRM lets you easily upload a picture of a physical signature to approve documents.
How do I delete a signature from checks in QuickBooks?
To delete a signature from check in QuickBooks, follow these steps:
First, open the check you want to edit.
Click on the "Signatures" button.
Select the "No Signature" setting.
Click on the "Save" button to confirm your changes.
This will remove the signature field from your checks.
What are the requirements for an electronic signature to make it valid?
For an e-signature to be valid, your capture process must meet the following conditions:
The signature is created with the intent to sign.
Signing happens after the signer consents to do business electronically.
The process occurs after the signer had the option to opt out.
Both parties received signed copies.
There is a record of retention.
How do you edit the signature line on receipts?
To edit the signature line on receipts, you must:
Edit the receipt template you use.
Open the "Signature" options.
Select "No Signatures," then "Save."
Add a signature line to QuickBooks documents with your free trial of Method!
Image credit: Kelly Sikkema via Unsplash