No matter the industry, customer experience is a huge part of your business success.
You should never neglect your customers' wants and needs. If you do, you risk jeopardizing your relationships and the opportunity to develop new ones in the future. Instead, you should strive to exceed customer expectations.
An effective way to improve customer satisfaction is to incorporate a customer experience portal into your business.
But what exactly is customer experience, and how do portals improve it? Keep reading to find out!
What is customer experience?
Customer experience is how people feel when they buy or interact with your products and services. It includes things like customer service, the quality of the product or service sold, customer support, customer convenience, and more.
Enhancing the customer experience is crucial to your success. And it doesn't matter how good the current state of your customer experience is — you can always build on it and make it better.
How important is the customer experience?
Customer experience is one of the most important factors in becoming a successful company. Implementing a customer experience strategy demonstrates dependability and improves customer loyalty.
Even if you close a sale, those who have had a negative customer experience can do serious damage to your business. These customers might choose to:
Cancel future business with you.
Leave negative reviews online.
Choose one of your competitors instead.
Request a refund.
Damage your reputation by word of mouth.
On the other hand, happy customers help your business grow. They might choose to do repeat business with you or provide positive customer feedback online.
Is customer experience the same as customer service?
Customer experience and customer service are interrelated, but not the same.
You can think of customer experience as an umbrella term that includes customer service. In other words, customer service is just one part of customer experience.
You establish customer service in the way you interact with your customers and the support you provide them.
Consider the quality of your customer experience (and the crucial role that customer service plays within it) to stand out among your competition.
Why do you need a customer portal?
A customer portal is one of the most helpful tools you can implement when striving for better customer satisfaction. Customer portals specialize at enhancing the customer experience.
If you don't know what a customer portal is yet, don't worry — you'll be an expert in no time. Let's start with a visual of a customer portal.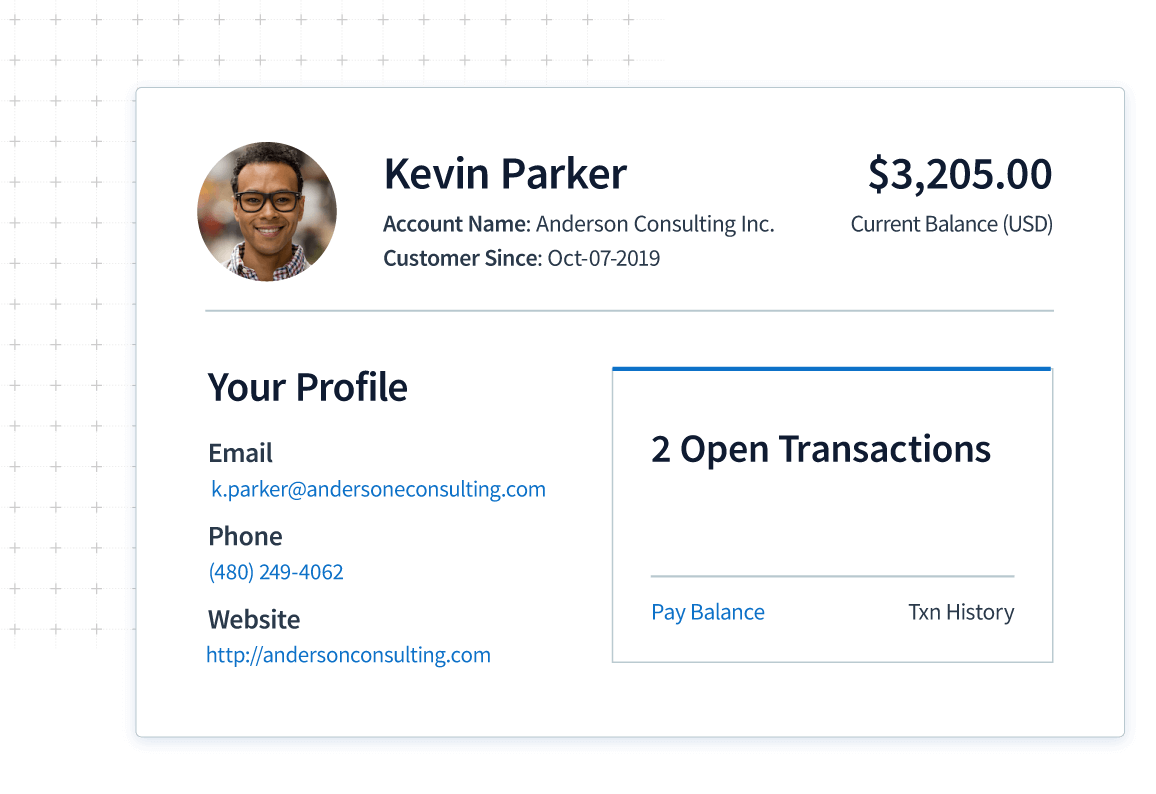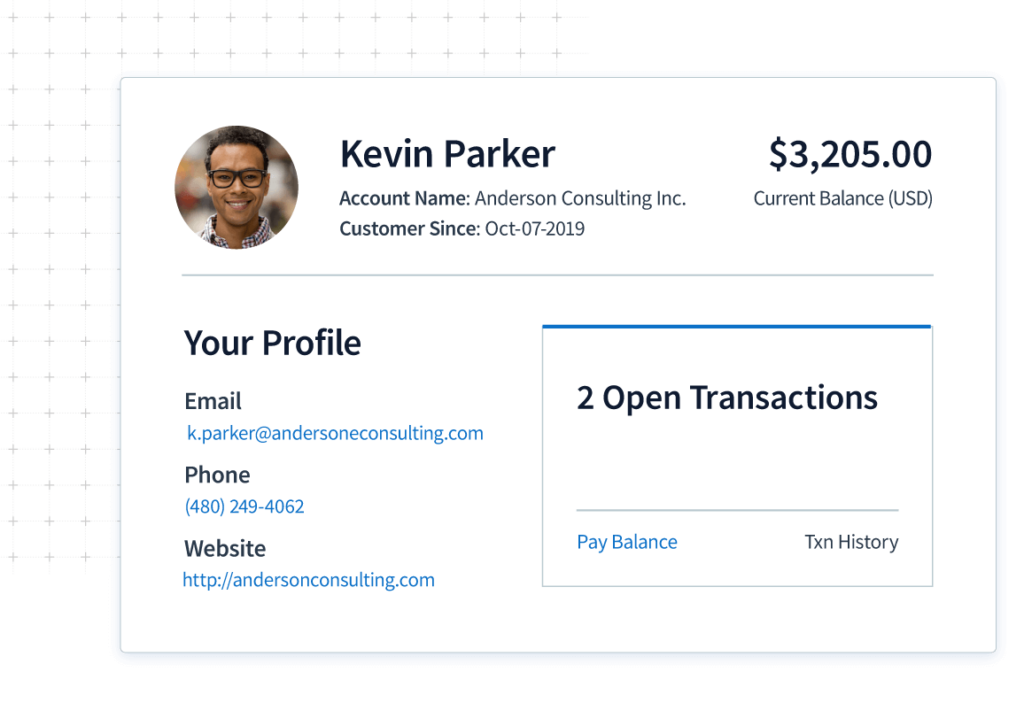 Essentially, it's a dedicated hub where your customers can access information and services from your company. This means that if a customer faces an issue, they can identify and solve it without the need for your support team.
Because they allow your customers to get help by themselves, customer portals ensure an easy and convenient customer experience. At the same time, this gives you and your staff more time and resources to focus on other areas of customer experience.
Benefits of a customer experience portal
There are many benefits to incorporating a customer experience portal into your business. With these portals, you'll:
Increase customer convenience.
Automate your operations.
Save time and money.
Provide personalized service at scale.
Store large customer files securely.
Customer convenience
A customer experience portal is one of the best ways to maximize customer convenience.
No one likes picking up the phone or drafting a support request email, especially for something that they've purchased.
With a customer portal, your customers can educate themselves on your product or services and self-serve. Portals are accessible 24/7, which means that your customers can find help even when your business is closed.
This also makes for a more efficient customer experience because it removes employee response time from the equation. Through portals, customers have instant access to the self-service options you enable.
Your customers are sure to appreciate this convenience, and it carries over to you as well. Customers will only feel the need to contact you once they've exhausted the options in their personal portal.
Automate your operations
Customer experience portals automate a significant portion of your customer support operations. The workflows you can automate include:
Reviewing and approving invoices.
Managing and paying bills.
Tracking orders.
Support ticket tracking.
Some customer portals also feature AI chatbots that manage incoming service requests. This saves your support team from sifting through a sea of requests every time they come back to work.
Customer portals come with most CRMs. Some providers like Method:CRM even offer to set up customer portals for you themselves.
Not to mention, because of customer portals' capacity for automation, your employees can refocus their efforts into other manual workflows that need improvement.
Save time and money
In the long run, customer experience portals save you time and money, which you can reinvest in your business to accelerate your growth.
Without a customer portal, you spend time and money on customer support on an ongoing basis.
One common approach is to hire more customer service employees. However, while it might mean that your customers receive support faster, your expenses will skyrocket when you factor in these new salaries.
The better option here is to take advantage of customer experience portals. Granting your customers the ability to self-serve saves on employee hires and gives you more time to focus on other areas.
Personalized service
Not all of your clients' wants and needs will overlap fully, if at all. This is why a personalized customer experience is crucial to your success.
In fact, an Accenture study found that 91% of customers are more likely to buy from companies that:
Know their name.
Provide personal recommendations.
Understand their preferences.
Customer experience portals are a great way to personalize your customer service. Since each customer portal is tailored to your respective customer, they engage with your business from a perspective that is uniquely theirs.
The result is that your customers feel seen and heard because you've provided them a space where they can get exactly what they need from your business instantly.
How to create a customer portal
If you're wondering how to build a customer portal, you have three options. You can:
Program it yourself from scratch.
Configure it using no code tools in a dedicated system like Method:CRM.
Have a company that specializes in customer portals set it up for you.
While the first option permits unlimited customization, it requires advanced programming skills and a large chunk of time to configure.
The second option is a much quicker and easier process. Since you don't need coding skills, a personalized customer experience portal setup is possible.
Here is an example of a custom portal built in a no-code platform, Method:CRM.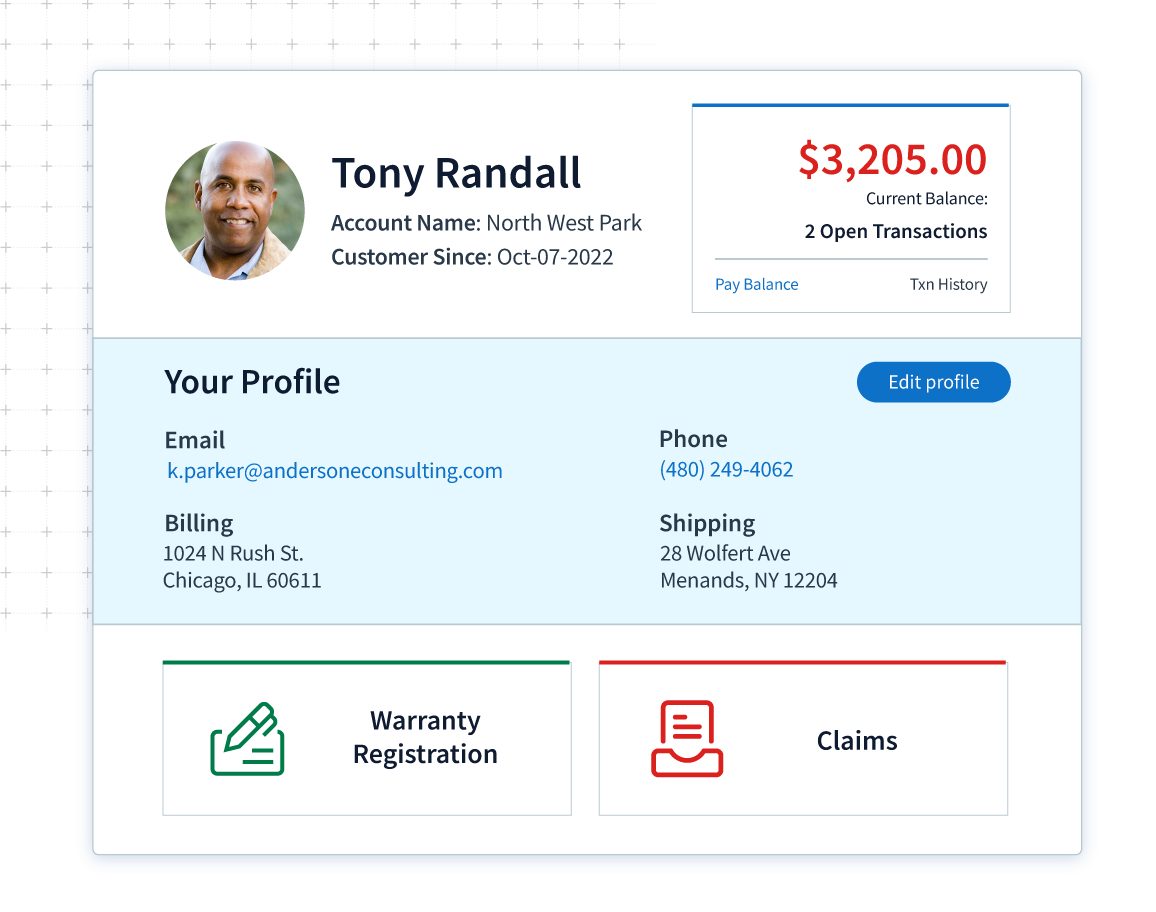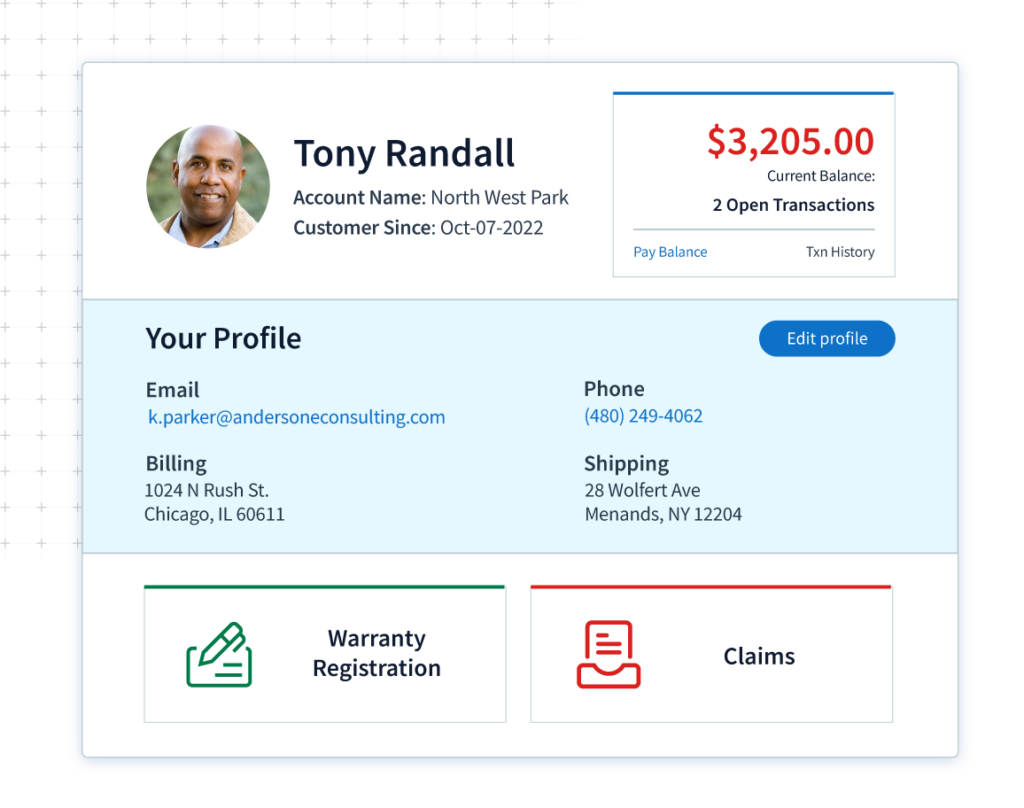 The third option gives you a nice balance between customization capability and practicality.. Some service providers that offer customer portals as a feature also do the setup process themselves free of charge.
Add ways for customers to engage with your business
Of course, the most important aspects of your customer experience portal are how it allows your customers to engage with your business.
Whether it's an educational resource or an area of self-service, every interactive element you give your customers betters your customer experience.
Some examples of how portals increase your customer engagement include:
Knowledge repositories, like help resources and guides for your products or services.
Informative blog content focusing on your target industries.
A community forum where customers can contribute their thoughts.
Access to bills and other relevant documents.
Updating payment methods.
Checking statuses on support requests.
Prioritize security
It's paramount that you prioritize the security of your portal users. If your customers don't feel safe storing and accessing their confidential information within their portals, then there's no point in implementing them in the first place.
Make sure that your customers feel secure by incorporating security measures into their portals. Examples include:
A secure cloud-based file storage system.
A password management system with multi-factor authentication services.
File encryption to protect sensitive data.
When your customers feel that you're able to keep their confidential information safe, their trust in your company stays strong. This results in more deals and customers down the road.
Update in real-time
Ensure that your customers always stay in the loop with live, real-time updates. A hub that displays outdated data is of no use to your customers, so consider how you can provide updated information on a consistent and timely basis.
Things at your business are bound to change at some point, no matter how small. Billing rules get revised, people switch addresses, and accounting information constantly evolves.
Nothing is set in stone, so it's crucial to ensure that your portals are adaptable.
This is not something you want to neglect, as your quality of customer experience regarding these portals hinges on their ability to provide accurate and up-to-date information.
Add your own branding
One thing that's often overlooked about customer experience portals is branding. Including your company's brand in your customer portals is beneficial for a few reasons.
A customer experience portal that uses a default layout is much less approachable than one that is clearly connected to your business. Especially with the rise of phishing attacks and cyber crime.
It's important that your portals feel unified to your business as a whole. Branding accomplishes this by linking your services so that they feel like they come from the same place.
This is the type of thing that is strictly visual, but goes a long way regarding user experience. Below is an example of Method:CRM's secure portals branded for the company Best4UServices.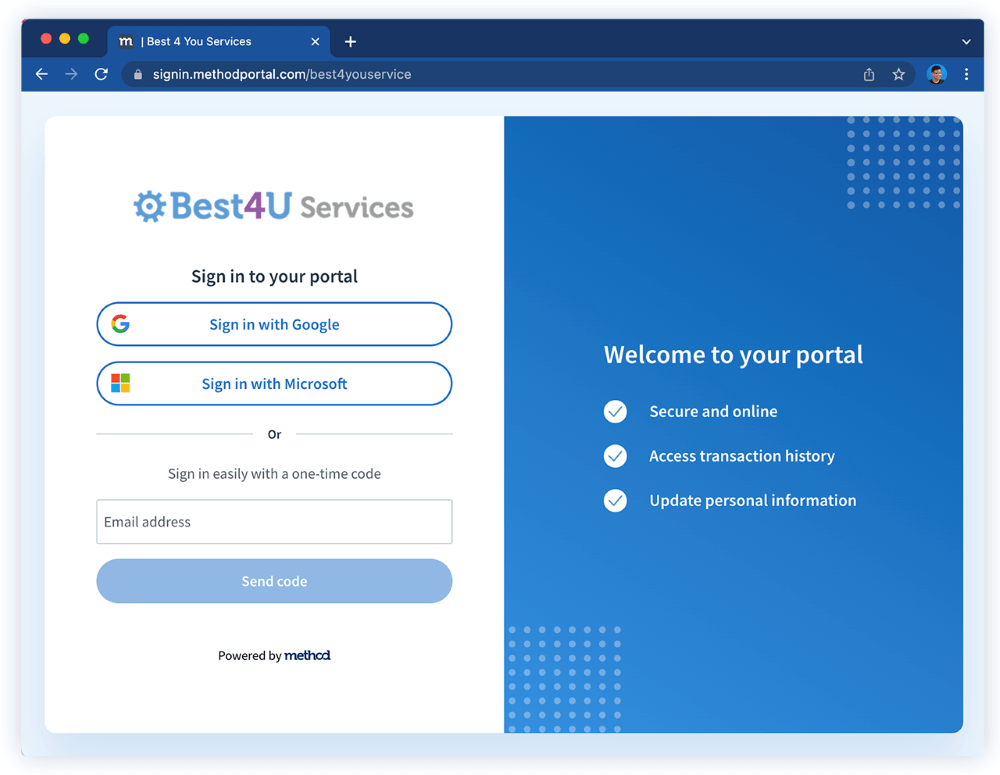 If your company's name, voice, and style stay recognizable across all of your designated tools, then it doesn't matter how differently those tools function. Your customers will feel more comfortable using these tools when they are visually tied together and to your company.
Create your customer experience portal with Method:CRM
Method:CRM is a customer relationship management software solution that sets its users up with a customer experience portal out of the box. It is best for small and mid-sized businesses that use QuickBooks or Xero to power their operations.
Here is an example of how portals work in this Method's CRM system.
Method:CRM gives you the benefits customer experience portals create without any of the hassle. You won't need to worry about knowing how to build a customer portal from scratch, but still get the flexibility to make the portal your own.
Plus, you can continue to automate workflows and improve organization using Method:CRM's other tools such as:
Lead-management.
E-signature capture.
Email campaigns.
Method:CRM understands the importance of customer experience, and works hard to optimize it for all its users.
Customer experience portal FAQs
What are the best practices for building a customer portal?
The best practices for building a customer portal are to:
Personalize your portal for each customer's wants and needs.
Focus on the education of your customers with help resources like guides.
Create a user interface that is approachable and easy-to-understand.
Why is a self-service portal important?
A self-service portal is important for several reasons, all of which revolve around enhancing the customer experience. Some of the perks of implementing a self-service portal include:
Quicker turnaround time on support requests.
Customers can fix problems themselves.
Takes stress off your support team.
Improved customer satisfaction.
A centralized view of customer information, for both you and your customer.
What are the features of a customer portal?
The features of every portal are unique, but generally, a customer experience portal offers:
Self-service options.
Online payment processing.
Educational content with categorized information about your products and/or services (i.e. how-tos, guides, and FAQs).
Secure cloud-based access to relevant data and documentation.
Get customer experience portals with your free trial of Method:CRM!
Image credit: Andrea Piacquadio via Pexels