It's no secret that providing excellent customer service is key to a company's success.
Today, customers expect more than just phone support and face-to-face interactions. They want convenience.
Especially if they're only calling to update an address or pay a bill.
Instead of calling customer support to be confronted with automated menus and awful hold music, your customers might be more satisfied with a self-service customer portal.
Read on to find out how and why you should set up a QuickBooks customer portal.
What is a customer online portal?
A customer online portal is a self-service platform where your customers can manage their account with your company.
"83% of consumers will spend more money with businesses that allow them to find the information they need without having to contact customer service."

— Zendesk, 2022
With a customer portal, your customers are empowered to do things like:
Update their contact information.
Make payments.
View account balances and transaction history.
Submit and track customer service requests.
Access exclusive content (such as user manuals or how-to videos).
Not only does implementing a portal cut down on admin work for the business, but it also provides customers with a more convenient and enjoyable service experience.
Now let's look into your options for a Quickbooks Online customer portal.
Does QuickBooks have a customer portal?
QuickBooks does have a customer portal feature that you can use to set up a self-service platform for your customers.
The Customer Account Management Portal (CAMPs) is available for both QuickBooks Online and QuickBooks Desktop users.
With this portal, customers are able to pay invoices and download receipts.
However, this native solution is not as flexible and customizable as an integrated solution.
Customers can update their billing information only when making payments. There is no option to review past transactions, update contact information, digitally sign documents, or approve invoices and estimates.
Small businesses instead need a CRM that can integrate with QuickBooks Online.
How your customers can benefit from an online portal
Before you learn how to set up your QuickBooks customer portal, let's first go over the benefits of doing so.
With an online portal, customers can do the following.
1. Access transaction history anytime
When I worked at a furniture store, we got plenty of calls from customers who had misplaced their receipts and wanted us to resend them.
This quickly became time-consuming if the person was a frequent customer or had no idea when they placed their order.
One advantage of having a QuickBooks Online customer portal is that it gives customers 24/7 access to their purchase history with you.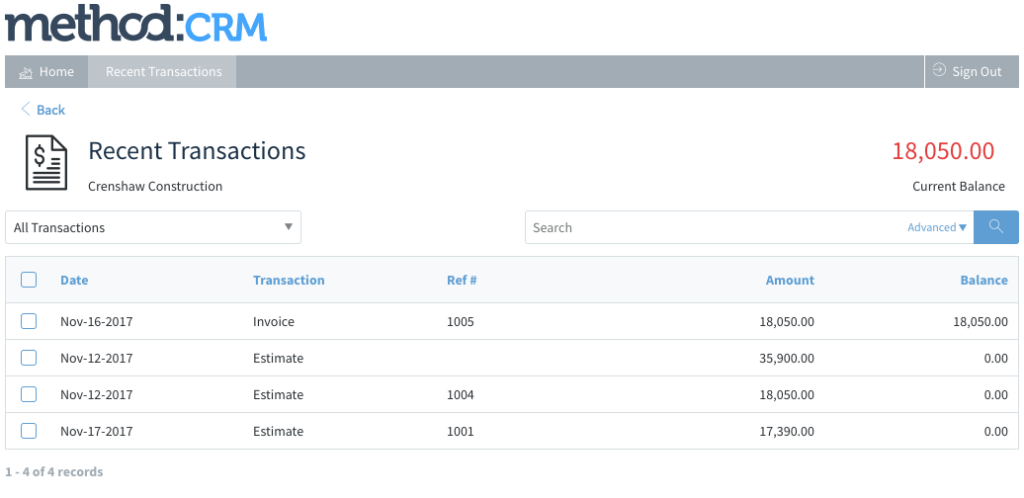 Your customers can view all their estimates, invoices, and payments in a single place. All without having to contact you or search through their records.
This self-sufficiency is especially useful if customers are in a time crunch to find documents (hint, hint — tax season).
2. Pay invoices online
These days, customers have the ability to pay many of their bills online.
It's easy to see why many people appreciate this option. After all, making payments in a few clicks is more efficient than mailing cheques or calling in credit card details.
3. Update personal information
If you've ever moved, you were probably astounded to realize how many businesses had your old address on file.
Now imagine how long it would have taken to call each business to give them your new address. If that were the case, you'd probably still be on the phone.
A QuickBooks Online customer portal gives customers the freedom to update their personal details (email address, phone number, etc.) anytime and anywhere, without having to contact your business.
How Method elevates QuickBooks customer portals to the next level
With Method's integrated QuickBooks Online customer portal, you reap all the benefits mentioned above and more!
Here are a few examples of how Method's portal lets you better serve your customers and increase your capacity.
Bring automation to your QuickBooks invoice portal
With Method's QuickBooks customer portal, your customers can easily pay their invoices online whenever it's convenient for them.
Beyond that, you can automatically send email notifications for when:
A new invoice is available.
Your customer has an outstanding balance that needs to be paid.
You need approval from your customer.
Plus, payments made through the portal automatically sync to QuickBooks once they're approved — so the sooner customers pay their invoices, the sooner you have money in the bank!
Extend the functionality of your QuickBooks client portal
The QuickBooks Online customer portal is great for taking customer payments but it doesn't do much more than that.
That's where Method comes in. From customer approvals to service history, Method automates your customer service workflows end-to-end.
Below is an overview of what's possible with Method's portals.
Better yet, personalize your Method portal so customers can submit support cases online.
Then, when you receive the details, you can have the appropriate person reach out to the customer, so they get the help they need as efficiently as possible.
How to use the Method portal
You can provide portal access to your customers with a unique portal link from the contact page.
And if your customers don't want certain contacts to receive invoicing notifications, they can check the box for "Do Not Send Billing Emails" on the contact screen right within the portal.
You can also stay on top of your customer support cases using the Reports feature in your Cases app. View cases by status, by assigned Method user, and more.
Thinking of another feature you'd like added to your portal? No problem!
Simply reach out to your Customer Success Manager (CSM) and work with them to bring your ideas to life.
Launch your QuickBooks customer portal with Method
It's no secret that customers want convenient purchasing experiences.
When you make it easy for customers to do business with you, you increase your repeat business.
If you're ready to launch your own QuickBooks customer portal, we can help! Our team will work with you to get your portal up and running quickly and easily.
Get started with a free trial today!
Image credit: Anna Shvets via Pexels