When you own a small business you want to ensure processes are streamlined, so each person is as effective as possible. 
When it comes to spending less time on admin, there's a strong case for putting some of the onus on the customer. And, even though it may sound like you're asking your customers to do work, self-service through customer portals is actually preferred by customers. 
But, today we're going to speak to the benefits of a QuickBooks customer portal, as the accounting integration means even more efficiency gains.  
So, without further ado, here are 5 reasons your team will spend less time on admin — and more time on profitable work — with a QuickBooks customer portal.
1. Your team isn't spending time printing invoices and stuffing envelopes
Invoicing through snail mail is a really inefficient way to get paid and it's costing you money both in time and in paper, envelopes and postage. Whoever is handling invoicing at your company has to print invoices, stuff envelopes, buy and apply stamps, physically mail the envelopes, check the mail everyday, open the envelopes, enter payments into QuickBooks, etc.  
If this is a practice your business is still relying on to get paid, it's time to move to digital invoicing. With a QuickBooks customer portal you provide a link to the portal in your customer invoice emails. The customer clicks on the customer portal link where they can view their invoices online and has a total of their outstanding balance.
The QuickBooks customer portal also prevents your team from spending time attaching invoice PDF files to an email, as customers can choose to download their invoices as PDFs from the customer portal.   
Method:CRM users: Brand identity is important, so personalize your customer portal by adding your logo to your Method account. This way when customers access their portal it looks like an extension of your website.
2. Your team isn't waiting on someone with access to QuickBooks to help a customer
Even if your company is emailing invoices, sometimes customers call or email your team asking for someone to re-send their invoices. But, when there are only a few people with access to QuickBooks, the customer has to wait for a response and your team has to wait for the business owner or your accountant to forward them copies of that customer's invoices.
With a QuickBooks-integrated CRM, your team can not only access a customer's entire transaction history, but can send the customer a link to their QuickBooks customer portal so the customer can view all outstanding invoices.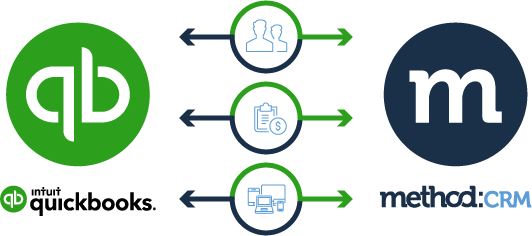 Method:CRM users: Every customer with a valid email address has their own personal customer portal. When you email a transaction to a customer, such as an invoice or sales receipt, the email will contain a link to their portal. Additionally, you can find the portal when you view the contact within the Contacts App.
If a customer ever wants access to their portal, you can always find their portal link by clicking Share under the Portal section of their profile in Method:CRM. A dialogue box will pop up with a URL link that you can then share with your customer in an email.
3. Your team isn't spending time accepting payments over the phone with a QuickBooks customer portal
The less time your team spends on the phone, the better. It's not that your team shouldn't be connecting with customers, but there are more effective ways your team could be spending their time than accepting payments.  
With a QuickBooks customer portal, your customers pay invoices online through payment gateways, such as Paypal. And when the payment is processed, it syncs directly to QuickBooks.
Method:CRM users: The payment gateways Method supports, which includes Authorize.net, PSIGate, Paypal Credit Card, and Intuit QuickBooks Payments (for US versions of QuickBooks Online). To access payment gateways in your Method account, click on the gear in the top right hand corner of your Method account, select Preferences, Integrations, and Edit Payment Gateways. 
4. Your team isn't spending time updating customer contact information
View and update all contacts that interact with your company so your CRM is always up-to-date. For example, have customers update who they want as their billing contact.
Tip: To ensure your customer contacts are up-to-date, send a yearly email with the account's portal link asking your customers to update their info.
Method:CRM users: Add the Cases App to your subscription to further streamline how customer issues are managed, so customers can use their portal as a communication resource with your company. The Cases App helps you keep track of all activities pertaining to a specific customer or internal issue (complaint, product request, etc), ensuring a consistent line of communication throughout your team and streamlining the path to a resolution.
5. Your team isn't spending time processing orders
When your QuickBooks customer portal is on a customizable platform you're able to open up even more self-serve options to your customers, which further reduces admin time for the team.
Many people choose Method:CRM specifically for it's highly customizable platform. Cameron Fleming of HealthLinc Medical Equipment worked with the customization experts at Method to enable their physical therapist customers to place orders through the customer portal.
The project was the first of its kind in Cameron's industry, reducing the team's administrative workload while improving the purchasing experience of his customers.
"The therapist logs into the portal, selects the required equipment, clicks submit and all of the information is captured in Method:CRM and queued for confirmation. The therapist receives a copy of the order, and can view all past and outstanding orders for multiple patients on their dashboard — instead of having 18 folders the therapist now has a single portal screen. And because the customer portal timestamps every submitted order, I can track order completion timeframes, and identify where further improvements can be made in the process."
— Cameron Fleming, President of Operations, HealthLinc Medical Equipment.
Providing a QuickBooks customer portal not only reduces your team's time spent on administrative tasks, it also improves service, which helps retain existing customers.
If your businesses doesn't yet offer a customer portal, why not give it a shot? Customer portals are included in the Method:CRM subscription, so if you're not yet a trial user or subscriber, sign up for a free 30-day trial.
Ready to get started?
Sign up for a free 30-day trial of Method:CRM, the #1 rated CRM by QuickBooks users on apps.com. 
Includes a free demo and 1 free hour of customization.