When you run a small business, you want to ensure that productivity is at its peak.
And when it comes to spending less time on admin work, there's a strong case for putting some of the onus on the customer.
A great way to accomplish this is by offering an online customer portal that's linked to your CRM software. Through this portal, customers access their information and complete tasks such as:
Paying outstanding invoices.
Approving QuickBooks estimates.
Updating contact details.
While it may sound like you're asking your customers to do your work for you, many customers actually prefer to have self-service options.
Better yet, some CRM customer portals connect to your other online tools, like your accounting software.
Method:CRM is a great solution for time-strapped businesses. Since Method has a two-way integration with QuickBooks, using the customer portal yields even more efficiency gains.
Below is an example of how Method:CRM's portals benefit businesses that use QuickBooks.
Next, are the 5 reasons your team will spend less time on admin tasks — and more time on profitable work — when you use Method:CRM's online customer portal.
1. Your team isn't spending time updating customer information
When you have out-of-date billing or contact information in your CRM, it slows down the entire process of doing business. And if you rely on your customers to get in touch to update their info, you may be waiting a while.
Luckily, providing an online customer portal solves this issue. Rather than calling or emailing your company, customers simply log on and update their details in their own time.
Not to mention that these changes instantly sync back to your CRM, so your team always has the most accurate information on hand.
Pro-tip: To make sure your customer information stays up-to-date, send a yearly email with the customer's portal link to review their profile details.
2. Your team isn't printing invoices and stuffing envelopes
Invoicing through snail mail is a really inefficient way to get paid. It costs you money — both in supplies (paper, envelopes, and postage) and in time.
Whoever handles invoicing faces endless manual tasks to do before entering the payments into QuickBooks. If your business is still going through this process to get paid, it's time to move to digital invoicing.
Digital invoicing is simple when your online customer portal integrates with your accounting software as well as your CRM.
Just email the invoice and provide a link to the customer's portal in the message. When the customer clicks on it, they access all of their invoices and outstanding balances online.
Customers download invoices from the portal, saving them from spending time attaching PDF files to emails.
Method:CRM users: Brand identity is important, so personalize your customer portal by adding your logo and brand colors to your Method account. When customers access their portal, it looks like an extension of your website. Like below!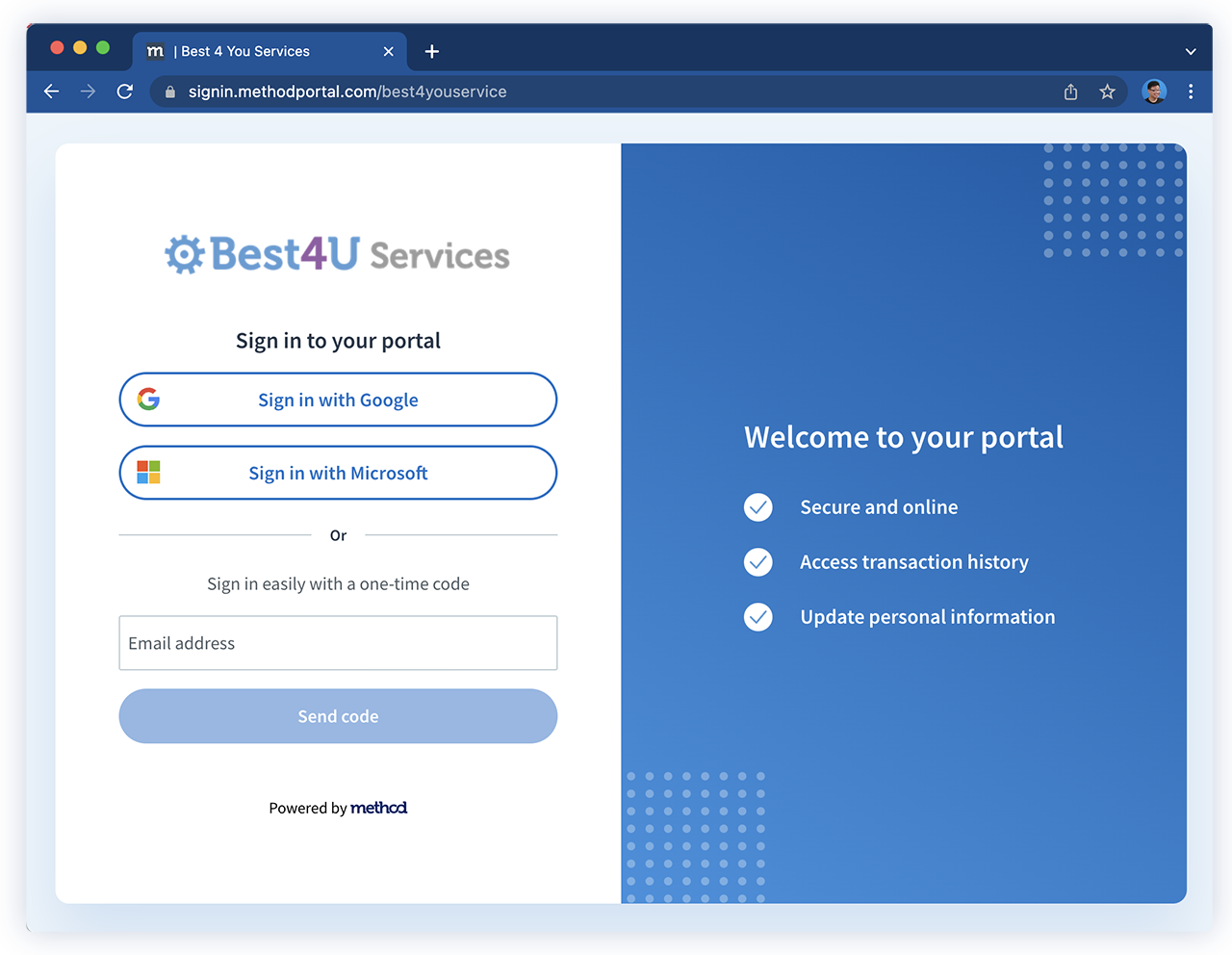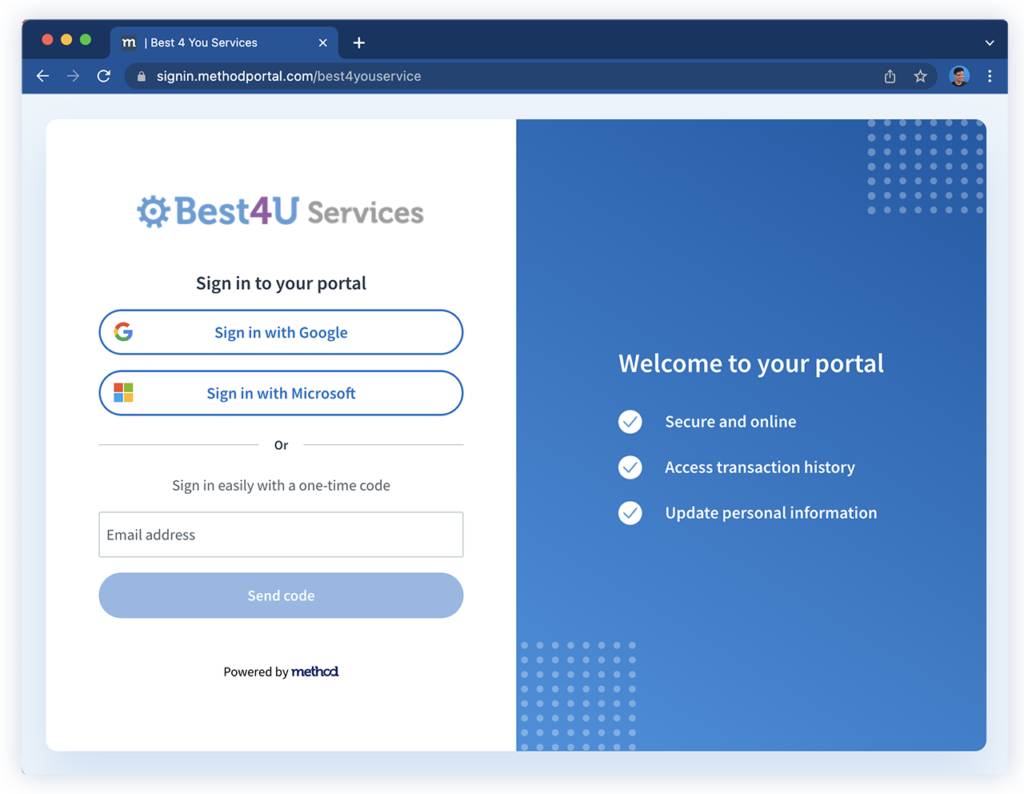 3. Your team isn't waiting on someone with access to QuickBooks to help a customer
Even if your company is already emailing invoices, customers contact you to re-send a copy.
But when there are only a few people with access to QuickBooks, you wait for the business owner or accountant to look up the information. This takes up valuable time.
The team member who took the message also has to schedule a reminder to follow up with the customer once they get a response.
With an online customer portal, these requests become non-issues. Simply send the customer the link to their personal portal, and they'll be able to view all of their outstanding invoices.
Method:CRM users: Every customer with a valid email address has their own personal customer portal. When you email an estimate or invoice to a customer, the email will contain their personal portal link. Additionally, you can find the portal link when you view the customer in the CRM.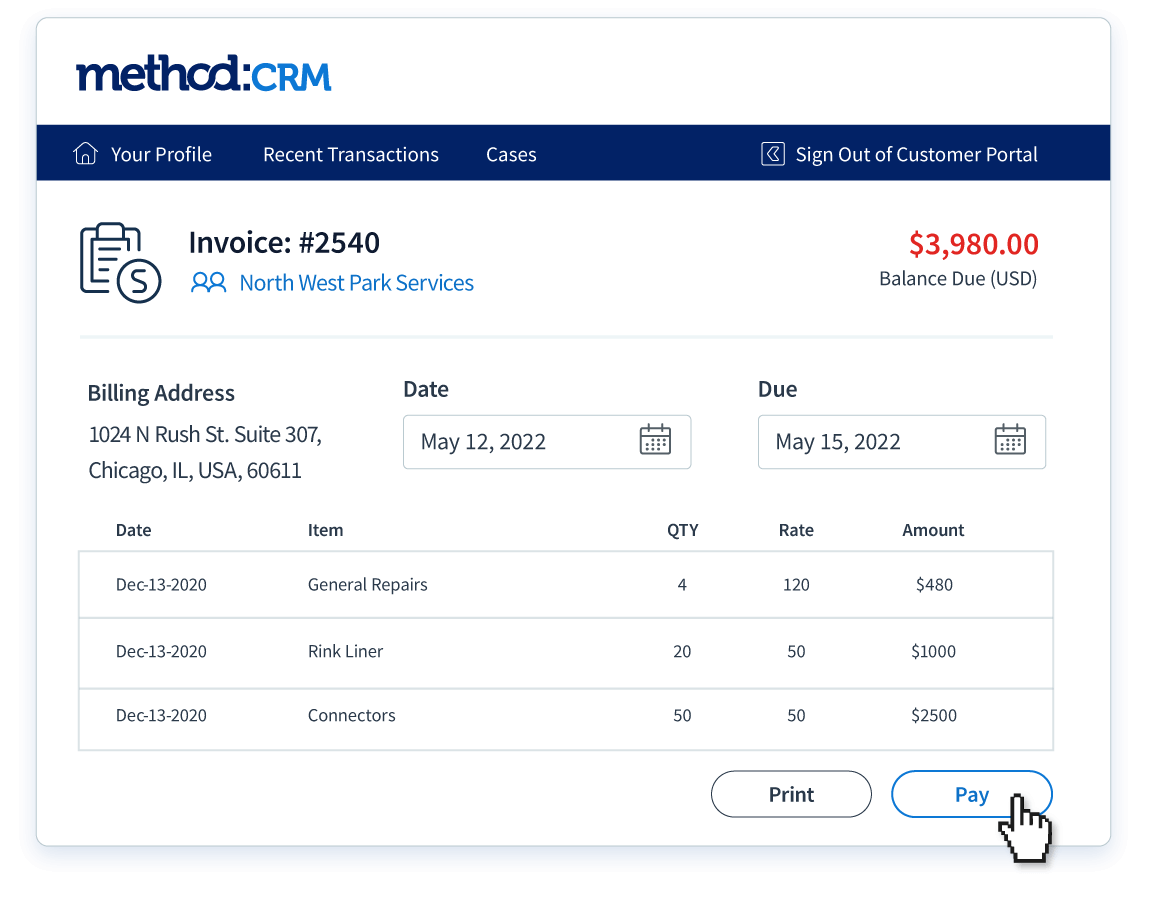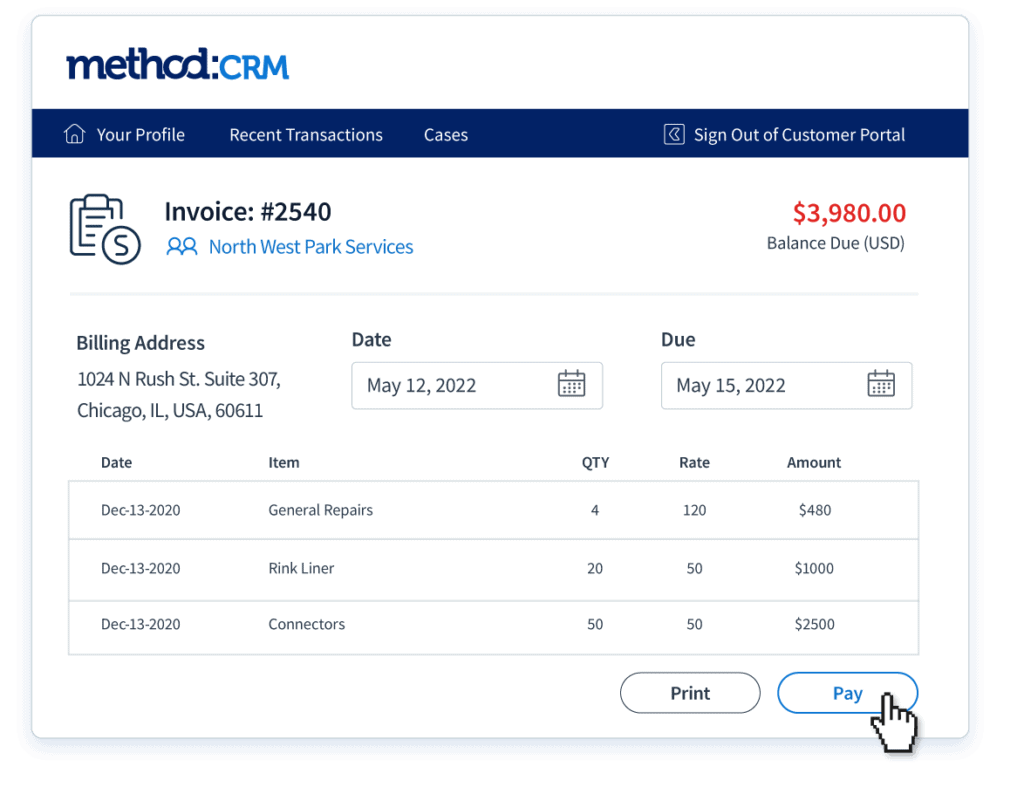 4. Your team isn't spending time accepting payments over the phone
The less time your team spends on the phone, the better. Connecting with customers is important, but there are better ways to do it than transcribing credit card information.
Instead, customers can pay their invoices online through the portal, using a payment gateway such as Shuttle or PayPal.
And as soon as the payment is processed, it syncs directly to your CRM and to QuickBooks.
Method:CRM users: Method supports a variety of payment gateways for customer portals, including Authorize.Net, PayPal, and Intuit QuickBooks Payments (for US versions of QuickBooks Online).
5. Your team isn't spending time processing orders
When your online customer portal is connected to a customizable CRM platform, you can open up even more self-serve options for your customers.
This simplifies your workflows even more and reduces the administrative burden for your team.
Consider the story of Method customer Cameron Fleming of HealthLinc Medical Equipment.
Cameron worked with Method's customization experts to allow physical therapist customers to place orders directly through the online customer portal.
The project was the first of its kind in Cameron's industry, reducing the team's administrative workload while improving the purchasing experience for his customers.
"The therapist logs into the portal selects the required equipment, and the information is captured in Method:CRM for confirmation. The therapist receives a copy of the order and can view past and outstanding orders for multiple patients on their dashboard. Instead, of having 18 folders the therapist now has a single portal screen. And because the customer portal timestamps every submitted order, I can track order completion timeframes, and identify where further improvements can be made."
— Cameron Fleming, President of Operations, HealthLinc Medical Equipment.
Providing an online customer portal that syncs with your CRM and your accounting software not only reduces the time your team spends on repetitive tasks, but also improves the service experience.
If your business doesn't offer a customer portal yet, why not give it a shot?
Client portal software for small business
There are several components to a good CRM for small business, including:
Separating your leads from your paying customers.
Maintaining communication with your contacts.
Keeping up with sales opportunities as they come up.
Ensuring customer satisfaction from first contact to close.
Although there is no shortage of CRM software on the market, Method:CRM is a popular choice for small businesses that use QuickBooks and Xero.
Its client portal takes productivity to the next level and keeps customers coming back.
With it, your customers have 24/7 access to their accounts online. They can view, and approve your invoices and even digitally sign documents as seen below.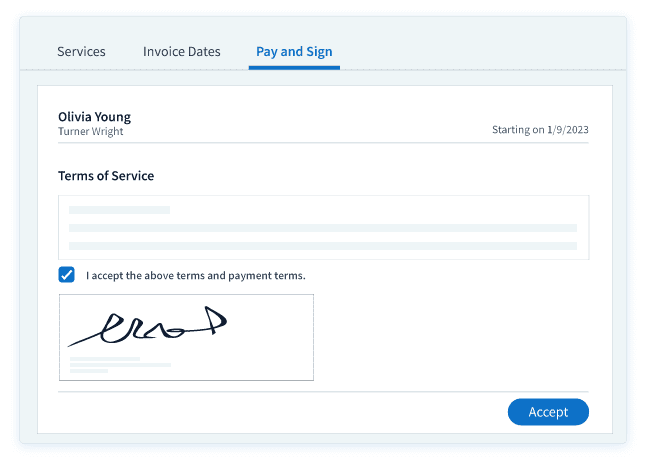 Beyond that, you can automatically send email notifications for when:
A new invoice is available.
Your customer has an outstanding balance that needs to be paid.
You need approval from your customer.
Not to mention that the payment and updated information is automatically synced back to QuickBooks, saving you from double data entry.
Additionally, the portal can be accessed through a personalized URL link on your website. You get paid faster, which results in a healthier cash flow to grow your business.
You spend more time growing your business, while your customers take care of their needs via Method:CRM's secure portal.
Recap
Without a CRM, your business processes face a significant slowdown.
The good news is that small business CRM software simplifies the process to create a smooth workflow.
Not only does a client portal reduce admin work, it also empowers customers with the convenience and flexibility they need by:
Simplifying customers' payment process through various gateways.
Syncing payments to QuickBooks in real time.
Allowing customers to connect with your business anytime.
Get started with a free trial of Method:CRM today!