Are you looking for ways to make your business more productive? With integrated CRM software, you can significantly increase efficiency by streamlining your workflows.
In this blog post, we'll explore the importance of an integrated CRM and the five main ways that integrating CRM software into your existing systems can help you work smarter and faster.
But first, what exactly is CRM software integration?
What is CRM integration?
CRM integration connects third-party applications with your CRM platform, allowing data flow to and from them. It merges all functions into one platform.
As a result, it expands the functionality of your software, so you don't need to switch back and forth between systems.
The importance of CRM software integration
There's no denying that accounting is a core function of every business.
For this reason, the first tool many small business owners adopt is accounting software like QuickBooks. With QuickBooks Online, you get access to the application and its entire ecosystem of apps, add-ons, and services.
But as your operations become more complex, your accounting software can't handle everything.
And if you're trying to grow your business, like most of us are, you'll want to focus on software capabilities that will help you find and retain your customers.
This is where CRM integration comes in.
When it comes to getting the most out of your CRM solution, CRM software integration is key. In fact, research has found them to increase sales productivity by 12.5%.
Let's take a deeper look at some of the benefits of CRM software integration.
Better customer communications
Combining email and messaging platforms into your CRM is one of the biggest benefits of CRM software integration.
CRM software with email integration allows you to email people directly and forward messages through your CRM software.
You can also use it to manage contacts more effectively and send automated marketing messages – but more on automation below!
Additionally, you can set communication thresholds for your integrated CRM, for example, by adjusting the response rate. This way, you get the most out of your existing relationships and email marketing software to increase customer satisfaction.
Workflow automation
Aside from sending automated marketing email blasts, an integrated CRM can help to automatically score the relationship between your company and your client based on pre-set metrics.
For example, it indicates customer value based on how much a customer interacts with communications from your business.
And ultimately, an integrated CRM automates repetitive and tedious tasks such as scheduling, billing, and logging hours so that you can focus on more critical tasks to grow your business.
Improved organization and efficiency
From billing to email, today thousands of applications that limit information sharing exist. But this causes you to waste time and lose out on potential customers.
With CRM software integration, you can combine enterprise resource planning (ERP) systems, billing portals, and more in a single platform to streamline your operations.
For instance, CRM software that integrates with ERP applications lets you view customer data such as:
Demographics.
Account history.
Contact information.
Aside from centralizing information, a CRM that integrates with apps like calendars, internal communications, marketing, and sales tools provides critical customer insights that boost productivity.
How integrated CRM helps you work more productively
So you've looked at how an integrated CRM saves you time.
Now let's dive into how to use the native CRM software integrations Method offers to increase your productivity.
1. Bring QuickBooks data into your inbox
A CRM and accounting software integration saves you time by combining the different systems to access customer information, invoices, and more from the same place.
Nobody wants to spend all day answering emails. But when your customers have specific questions about their orders, you inevitably lose time by switching between programs and searching for the required information.
To speed up this process, Method:CRM offers a convenient CRM software integration for both Gmail and Outlook. When you open an email, these handy sidebars display an overview of the sender's history with your company.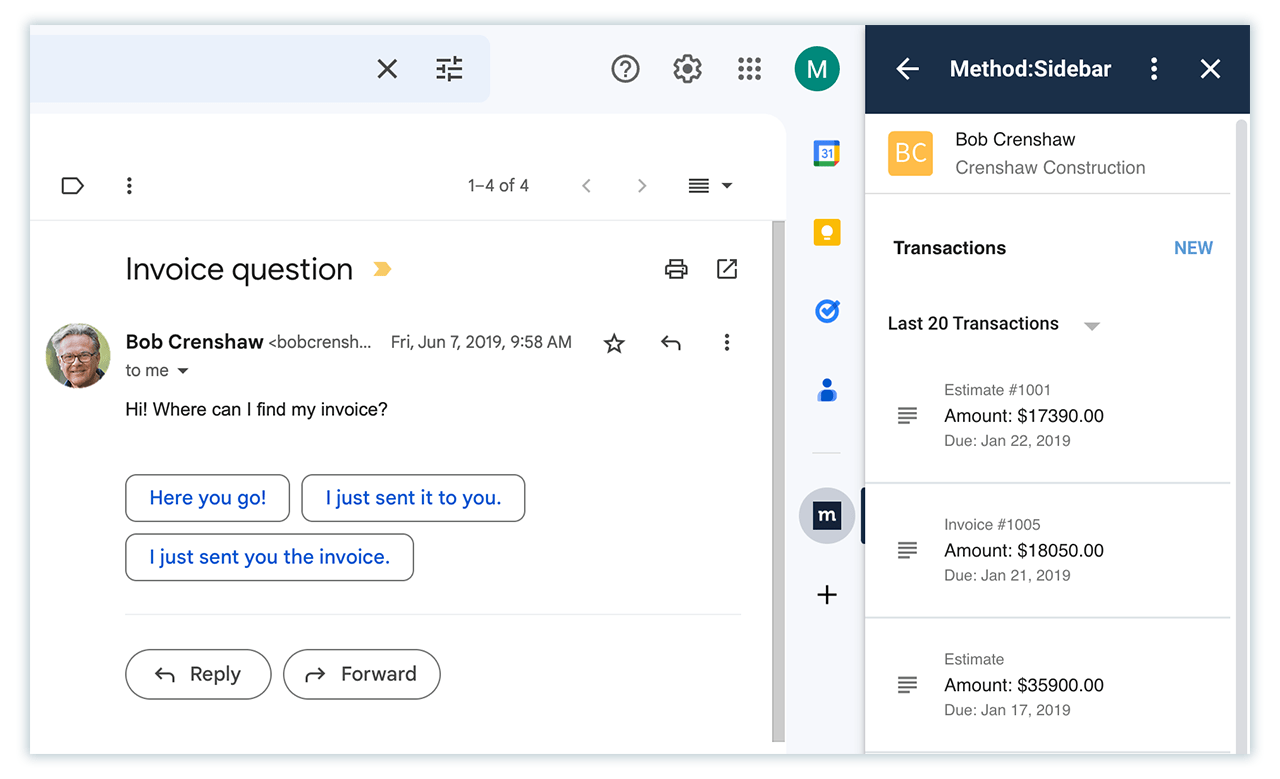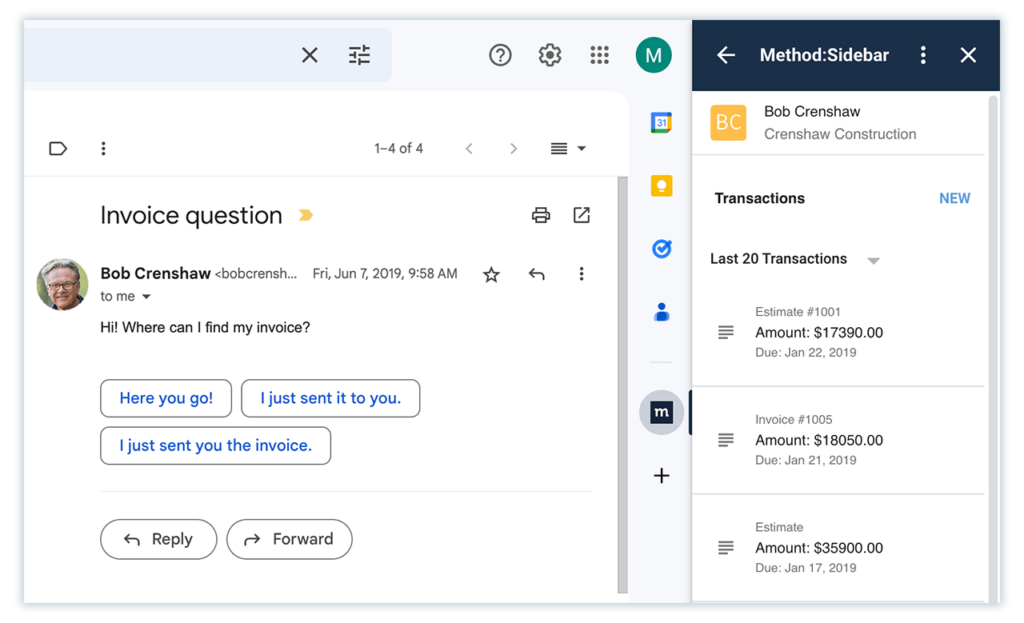 Moreover, it's a CRM software that integrates with Xero and QuickBooks as well, so it immediately adds context to every email. By letting you view all the customer data right in your inbox, Method:CRM makes responding to emails a breeze.
You can also easily save your email response to Method:CRM to ensure that your team stays informed about the customer's needs.
2. Build a comprehensive calendar solution
Like most of us, you probably have multiple calendars on the go. And while this lets you quickly schedule new activities, it doesn't guarantee you won't miss an event or double book yourself.
Luckily, the right CRM software integration can stop this from happening.
Method minimizes this risk by offering a two-way CRM software integration with Google Calendar. Using this CRM software integration, any events you create or update in Google Calendar sync with your calendar in Method:CRM and vice versa.


This means you can finally say goodbye to scheduling confusion for good.
You can also share your Method-specific Google Calendar with your teammates to make collaborating easier than ever.
3. Create targeted email campaigns
The key to developing effective marketing campaigns is to know who your customers are and what they want. Which is why seeing your sales data alongside your marketing efforts is beneficial.
Thankfully, good CRM software with email integration like Method:CRM makes it easy for your business to stay top of mind.
Method:CRM's software integration with Mailchimp allows you to develop targeted email campaigns based on real customer insights.
With your customer's QuickBooks transactions visible in Method:CRM — alongside detailed data on their preferences and interactions — you can build segmented mailing lists.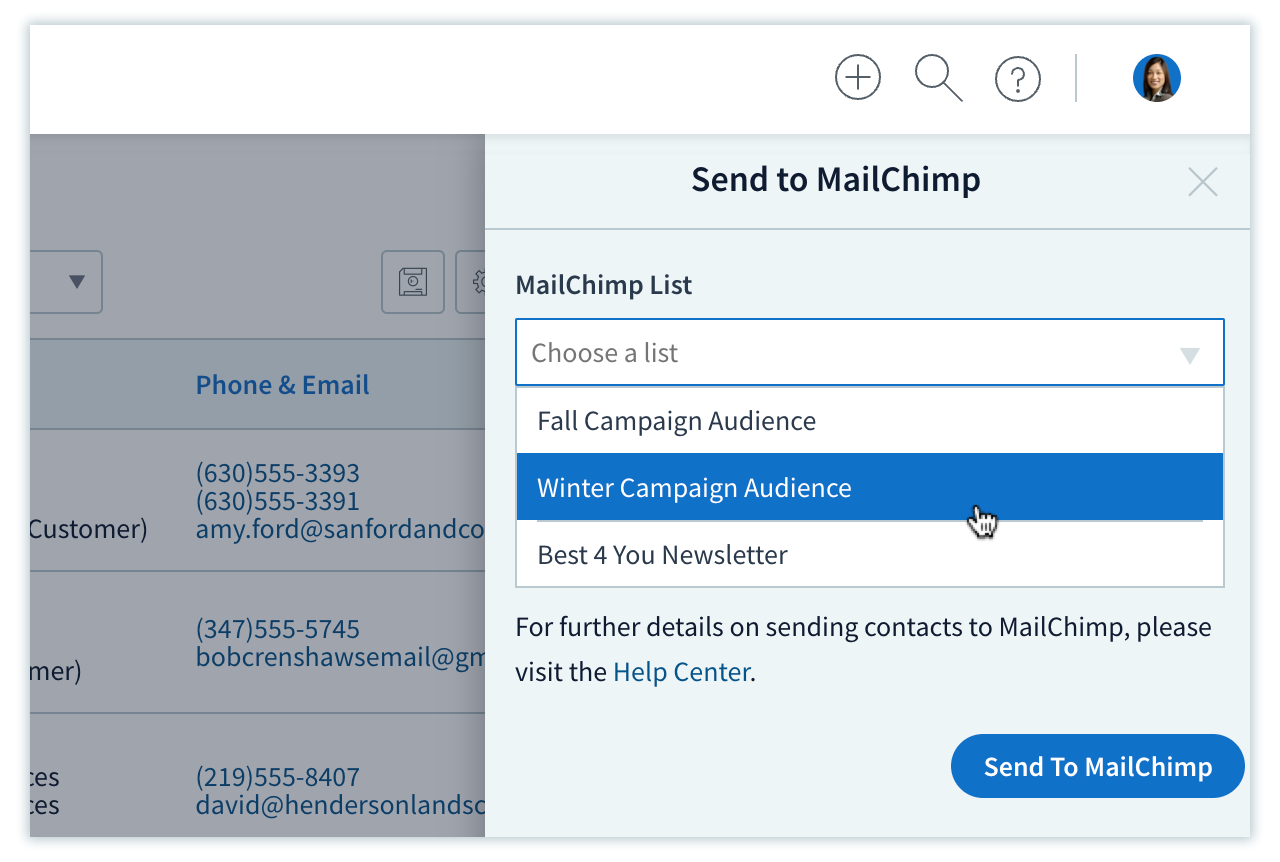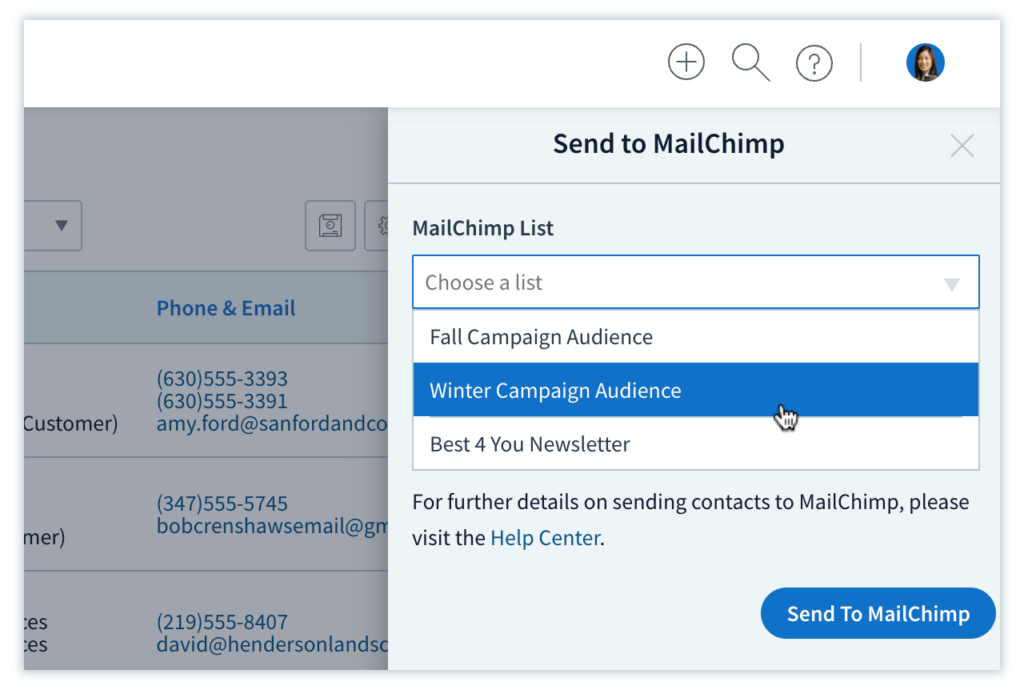 Then, send these lists to Mailchimp in just a few clicks to create email campaigns that keep customers coming back and strengthen your customer retention rate.
And if you're looking for a Gmail or Outlook CRM software integration, look no further. Method:CRM allows you to manage your leads and customers while in your inbox.
4. Empower your customers to self-serve and get paid faster
Everybody loves getting paid, but the same can't be said about payment collection.
If you're still manually processing credit card information, you're wasting time that you could use to grow your business. And if you have to call customers first to get that information, that's another drain on your productivity.
Instead, you can empower customers to view their invoices and make payments independently with Method:CRM's built-in customer portals.
It's fully customizable, so you can make it your own using drag-and-drop tools to include your intended services.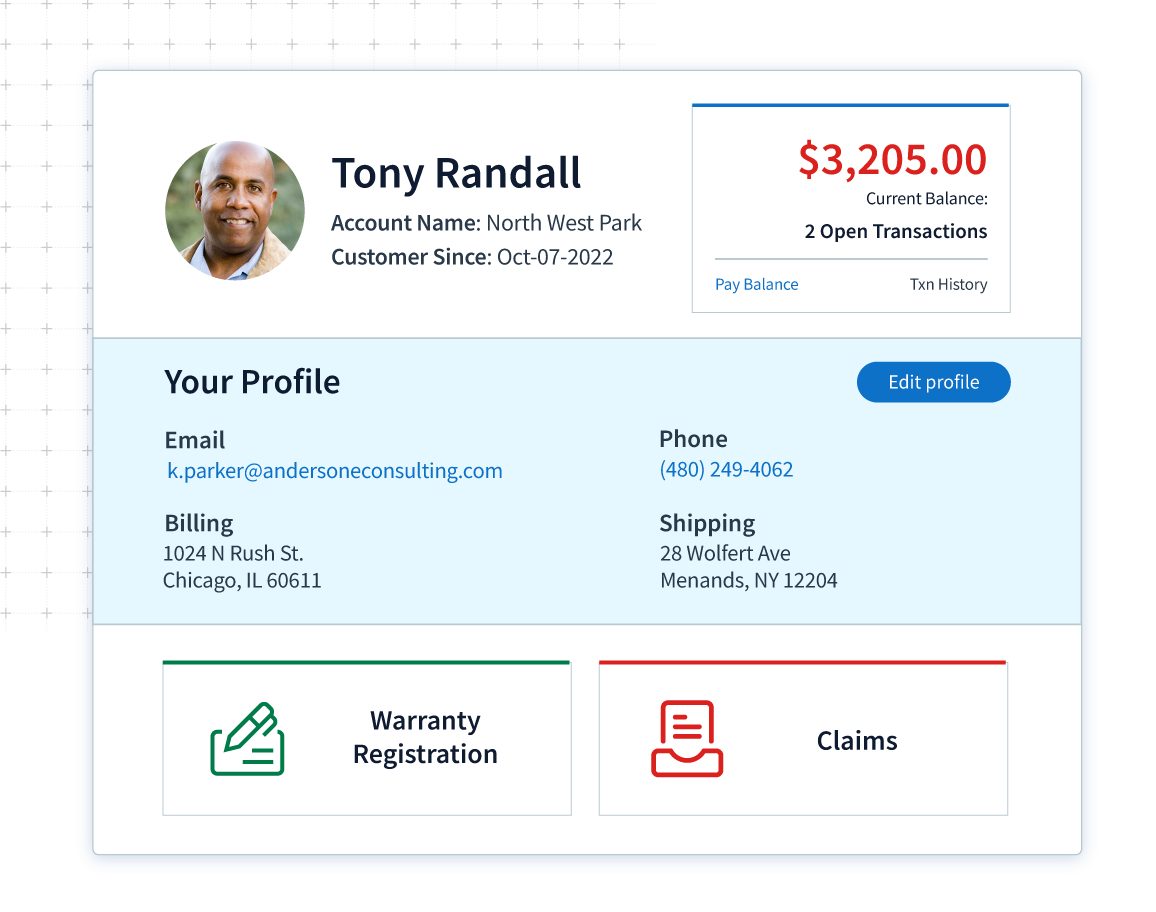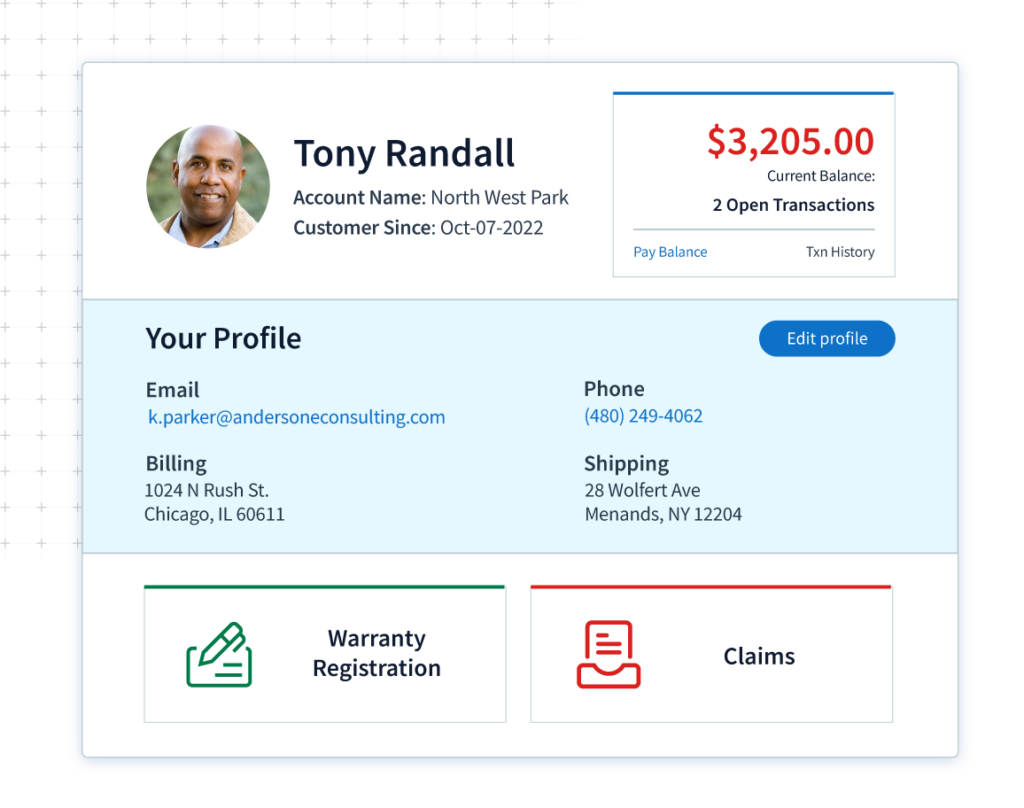 Within these portals, you can configure payment gateways to accept credit card payments. This way, when a customer makes a payment, it's automatically processed, and the data automatically syncs to Method:CRM and your QuickBooks or Xero software.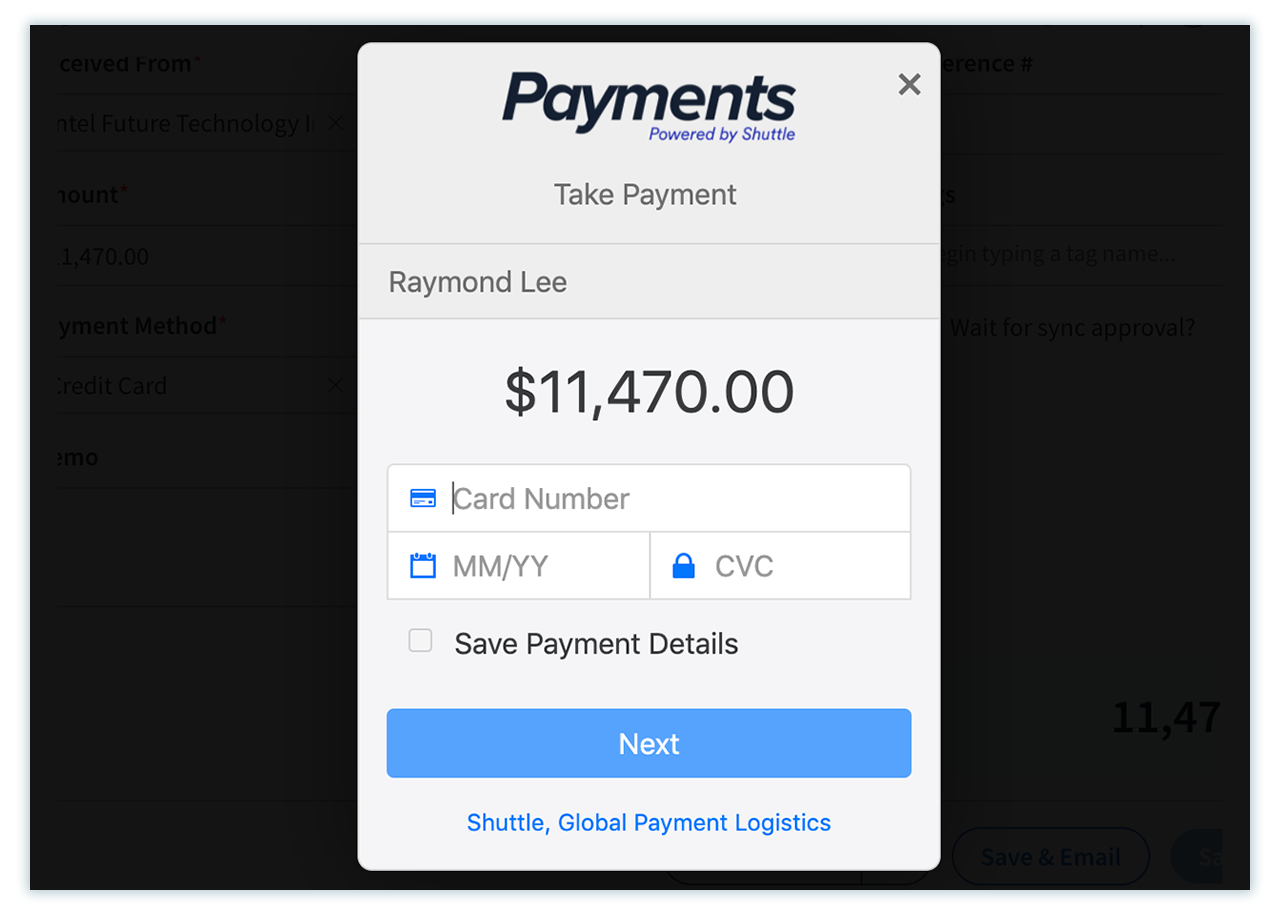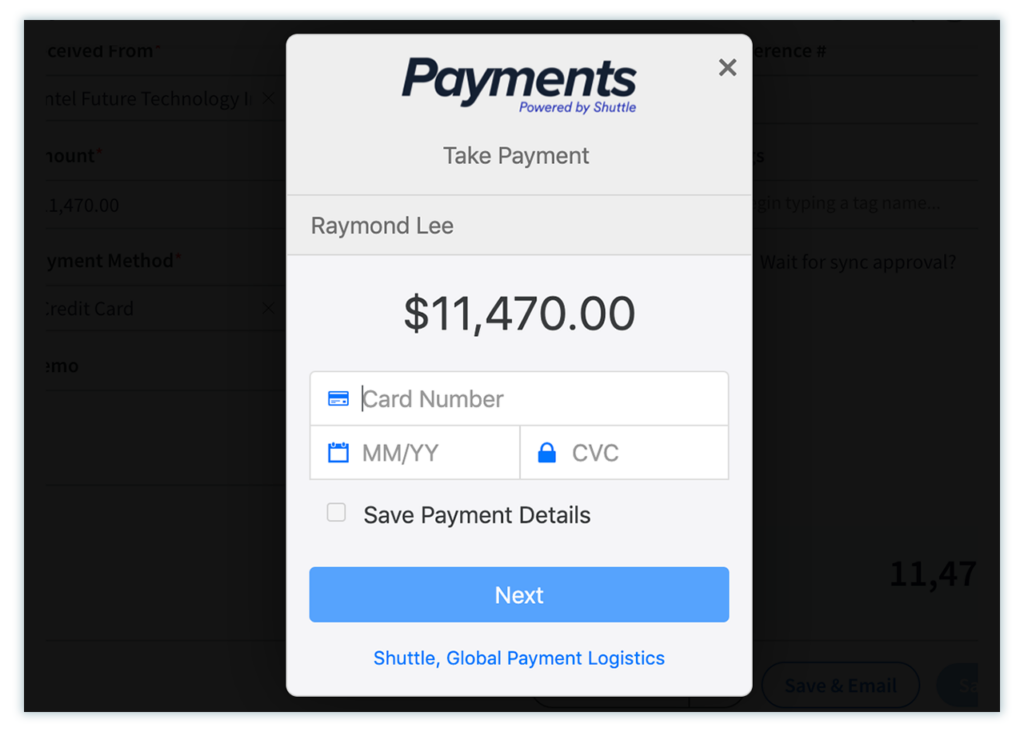 This means no more double data entry for your team!
And with 24/7 access to your business, your customers get the information they need when they need it. They'll love the convenience, and you'll love being able to literally get paid in your sleep.
5. Go beyond pre-built CRM software integrations
Every business operates differently. Every business needs a unique combination of tools to get the job done.
Although Method:CRM offers CRM software integration with tools like Outlook and Zapier, the possibilities don't stop there.
If you want greater connectivity between apps, Method:CRM offers open access to its API or application programming interface.
For those new to the term CRM API, it is the set of programming protocols and tools that dictate how other software programs can interact with Method.Developers can use the Method:API to integrate other web and desktop applications, allowing for streamlined workflows and more options for adding data to a Method account.
Harness the power of Method:CRM software integration and start your free trial today!
Image credit: Ann H via Pexels