Manufacturers know that inventory management is a massive part of the job. And as your business grows, controlling inventory only gets harder.
Thankfully, a robust manufacturing inventory management system simplifies your operations and scales with your business.
This blog looks into everything you need to know about manufacturing inventory management, including the:
Different types of inventory.
Benefits and challenges of inventory management.
Top seven manufacturing inventory management software.
Let's jump in!
What is manufacturing inventory management?
Manufacturing inventory management is the process of sourcing, storing, and selling inventory in the manufacturing sector.
It encompasses everything from tracking raw materials to monitoring finished products, ensuring a smooth process that meets customer demands.
With a manufacturing inventory management system, you:
Speed up your inventory processes.
Reduce waste.
Increase profitability.
The difference between inventory and stock
Although people use the two terms interchangeably, inventory and stock have distinct meanings.
Inventory refers to your items on hand, including raw materials. Conversely, stock pertains only to finished products ready for sale.
Types of inventory
Understanding each inventory type is crucial to your manufacturing inventory management.
Raw materials
Raw materials are the unprocessed items you turn into finished goods. Effective inventory management for a small manufacturing business starts with keeping an accurate count of these essential components.
Work-in-progress (WIP)
As products move through the production line, they become works in progress. This inventory type represents items that are becoming finished products but haven't gotten all the way there yet. To prevent bottlenecks, a robust manufacturing inventory tracking system ensures that WIP items stay organized and continue their path to completion.
Finished goods
At the final stage of your manufacturing process, products become finished goods, ready for sale or distribution. Proper inventory management ensures you're storing, tracking, and dispatching items effectively to maximize profits and customer satisfaction.
Non-inventory items
Not all items in a manufacturing environment are meant for sale. Non-inventory items, such as maintenance tools or office supplies, play a supporting role. While they don't directly contribute to production, tracking these items leads to smoother operations and improved organization.
Goods in transit
In the manufacturing industry, goods constantly move between locations. Whether it's raw materials coming in or finished products going out, goods in transit are any inventory items on the move. Effective inventory management systems ensure you're monitoring these items, enabling timely deliveries and reducing your risk of loss.
Inventory management challenges for manufacturing businesses
Inventory management comes with its fair share of challenges. Acknowledging these barriers before implementing software is crucial. Below are a few to have on your radar.
Demand forecasting: Accurately predicting future demand is tough, and errors lead to overstock or stockouts, both of which have negative financial implications.
Shrinkage: Inventory loss due to theft, damage, or mismanagement is detrimental to your cash flow.
Complex supply chains: Managing multiple suppliers, especially in a global context, creates tracking and quality control issues.
Quality control: Ensuring that the raw materials and finished products meet quality standards consistently is a persistent challenge.
Inventory valuation: Deciding on the best method (e.g., FIFO, LIFO) for inventory valuation can impact financial reporting and tax obligations.
Human error: Manual processes or data entry can introduce errors, leading to inventory discrepancies.
Regulatory compliance: Especially in industries like pharmaceuticals or food and beverage, adhering to regulations in inventory management is crucial and challenging.
What to look for in a manufacturing inventory management system
For any manufacturing business, finding an inventory management solution that's cost-effective yet comprehensive is essential. Your manufacturing inventory management system should offer:
Real-time tracking.
Intuitive reporting.
Scalability to adapt to evolving needs.
Inventory management for small manufacturing business: Top 7 options
Here are your top seven software choices to help with your manufacturing inventory management.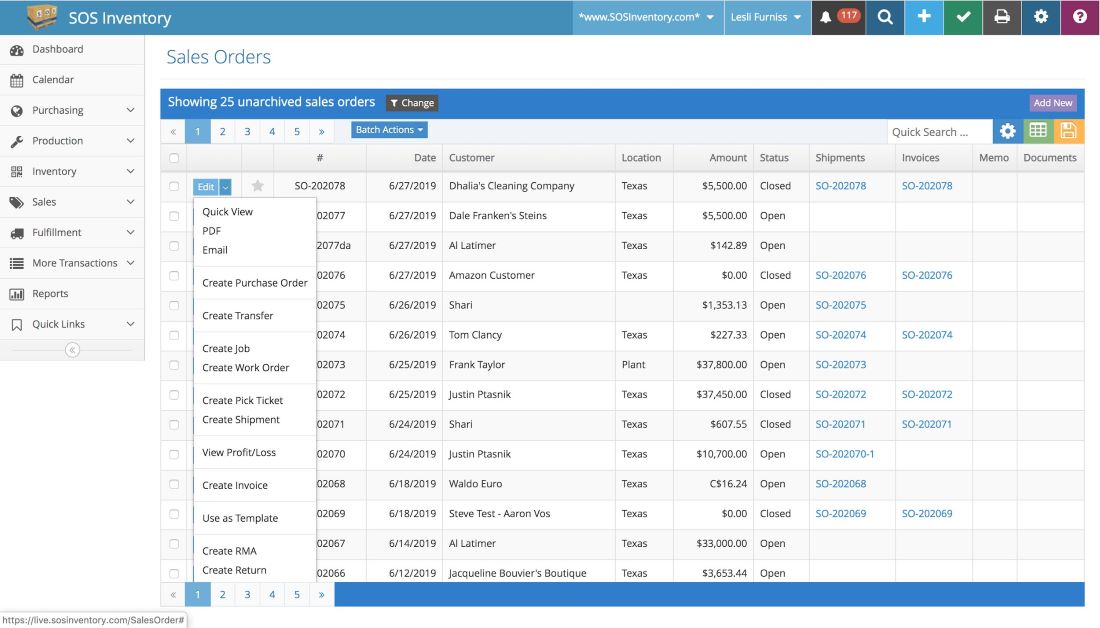 Image credit: Insightful Accountant
SOS Inventory is a comprehensive inventory management solution that integrates with QuickBooks Online. It's well-suited for small to medium-sized businesses looking to get a handle on inventory control and order management.
Key features
Central dashboard with real-time inventory tracking.
Multi-location and serialized inventory.
Order management and fulfillment.
Limitations
Limited customization for unique workflows.
Only integrates with QuickBooks Online versions.
Pricing
SOS Inventory offers the following three pricing plans:
Companion: $59.95 per month with two users included.
Plus: $119.95 per month with three users included.
Pro: $169.95 per month with five users included.
You can buy additional users for these plans at $20 each monthly. SOS Inventory also offers an annual discount and a 14-day free trial.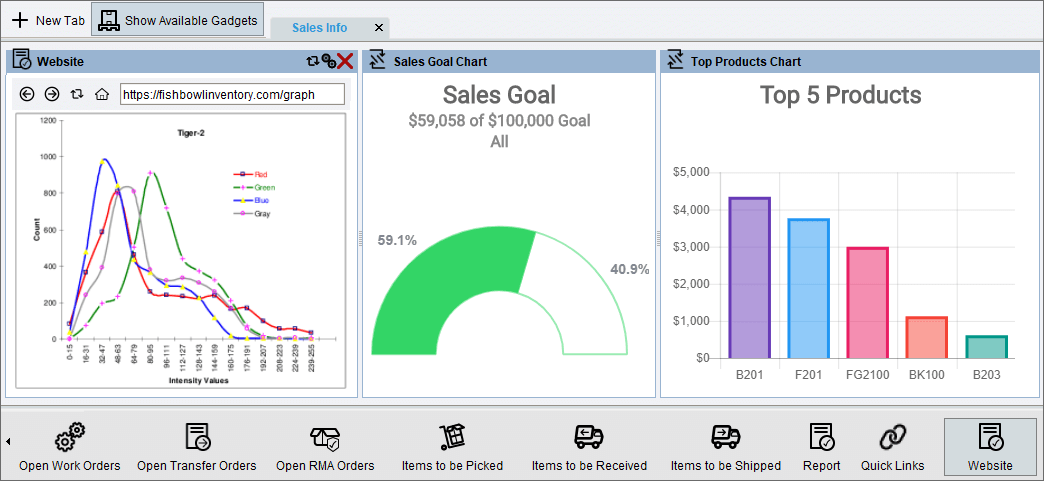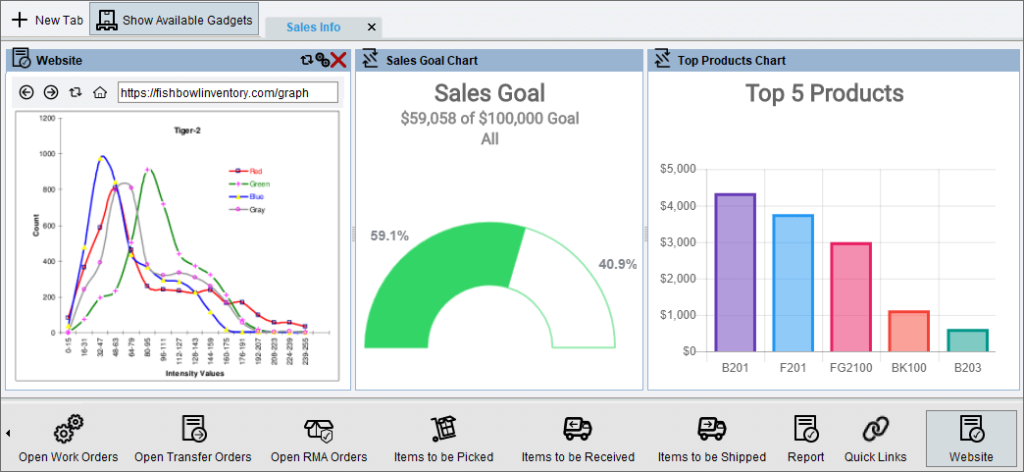 Image credit: Fishbowl
Fishbowl is a powerful manufacturing inventory management software that integrates well with QuickBooks. Its advanced tracking and forecasting give you a leg up on the competition.
Key features
Barcode scanning on your phone or tablet using the Fishbowl Go for iOS mobile app.
Inventory management across multiple warehouses with parts tracking, auto reorder points, automatic order creation, and more.
Optimized work order management.
Inventory requirement predictions based on sales trends.
Limitations
Limited reporting capabilities.
Slow customer support.
Pricing
Fishbowl software starts at $4,395, which grants you permanent access with unlimited users. They also offer a free demo.
You can request a demo or quote through Fishbowl's website for exact pricing information.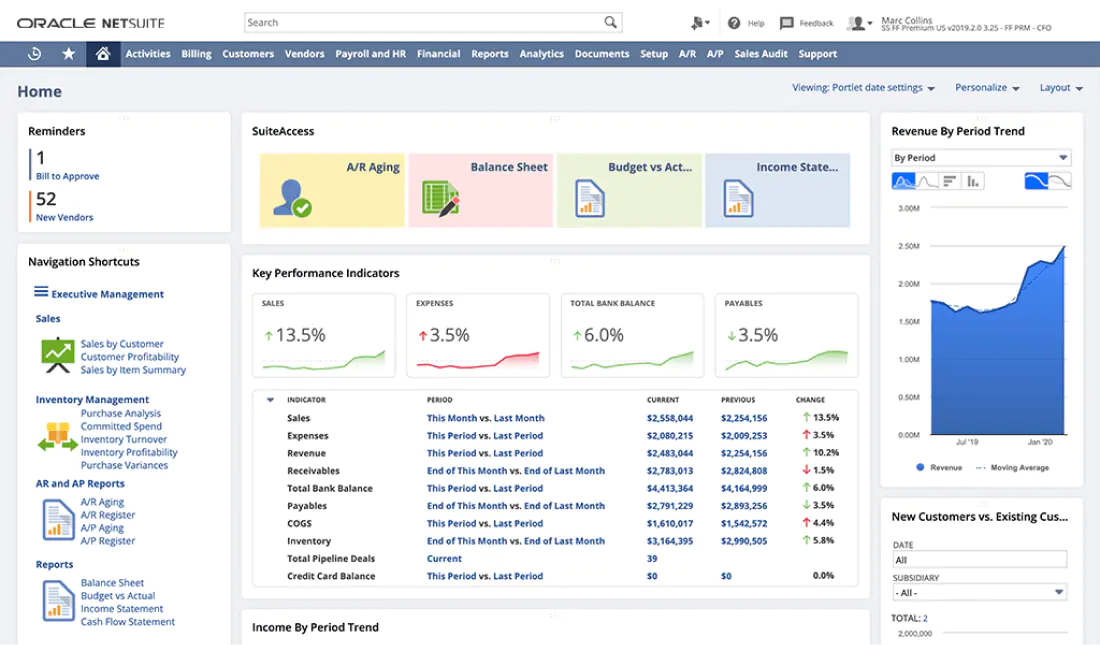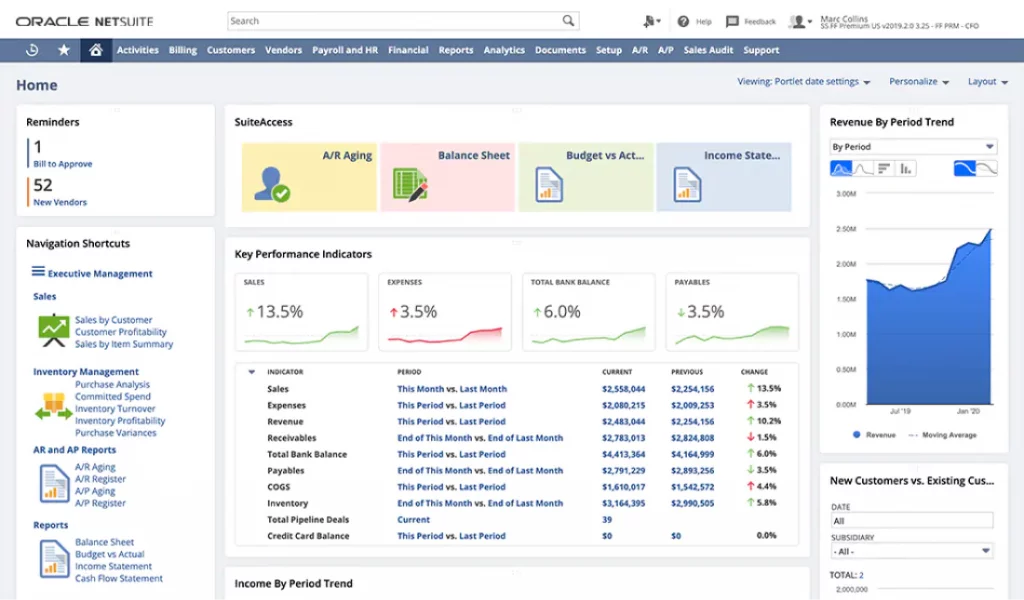 Image credit: NetSuite
NetSuite is a cloud-based ERP for manufacturing designed to help you coordinate, control, and manage all your manufacturing operations.
Key features
Intelligent order management tool with reporting and analytics.
Procurement and job shop floor control.
Advanced lead tracking capabilities.
Marketing, sales, and customer service features.
Limitations
Costly for small businesses.
Challenging third-party integrations.
Limited reports.
Complex and has a steep learning curve.
Help resources need to be more consistent and complete.
Pricing
Your total cost depends on three main factors: The core platform, optional modules, and the number of users on your account. Base NetSuite pricing starts at $99 monthly per user on top of a $999 monthly licensing fee.
Note, this is a premium manufacturing inventory tracking system most small and mid-sized businesses can't afford.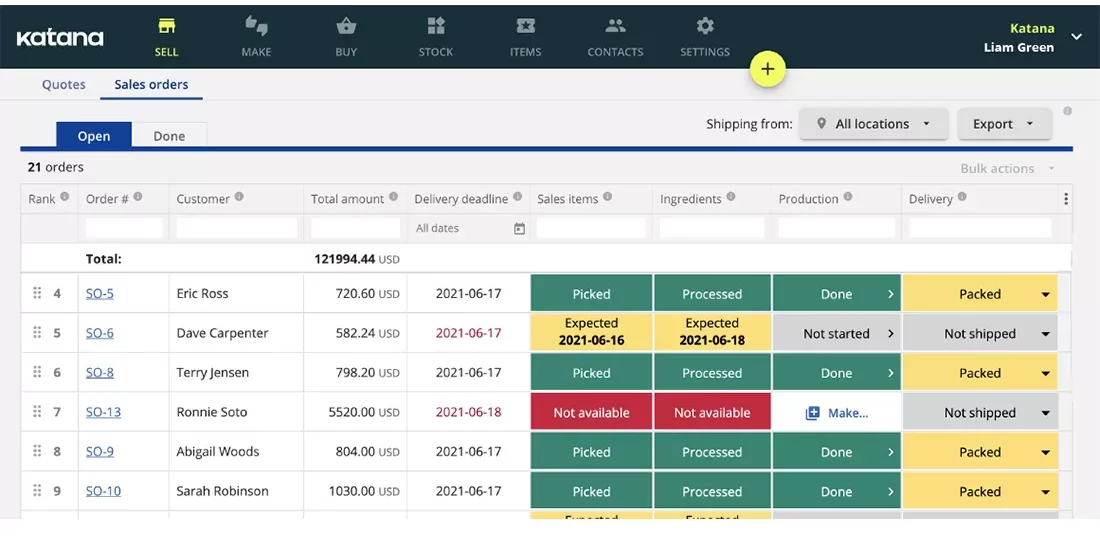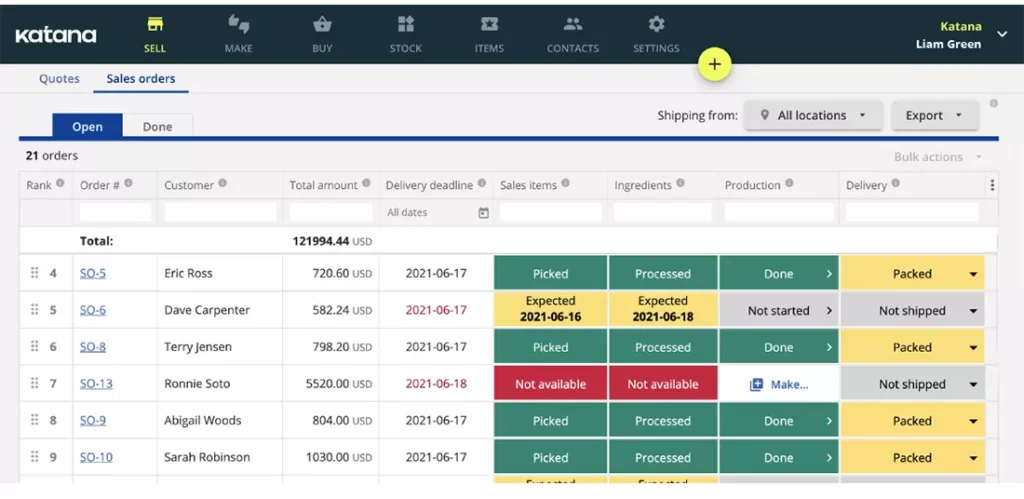 Image credit: Katana MRP
Katana MRP is a manufacturing ERP that helps with end-to-end manufacturing processes. It simultaneously supports made-to-order (MTO) and made-to-stock (MTS) workflows.
Key features
Live inventory management.
Purchase order management.
Integrations with Zapier and an open API.
Limitations
Complex workflows require clunky workarounds.
Lacks essential features like calendars and Gantt charts.
Pricing
Katana MRP offers three subscription options:
Essential: $99 per month when billed annually.
Advanced: $299 per month when billed annually.
Professional: $799 per month when billed annually.
Katana also offers a free 14-day trial.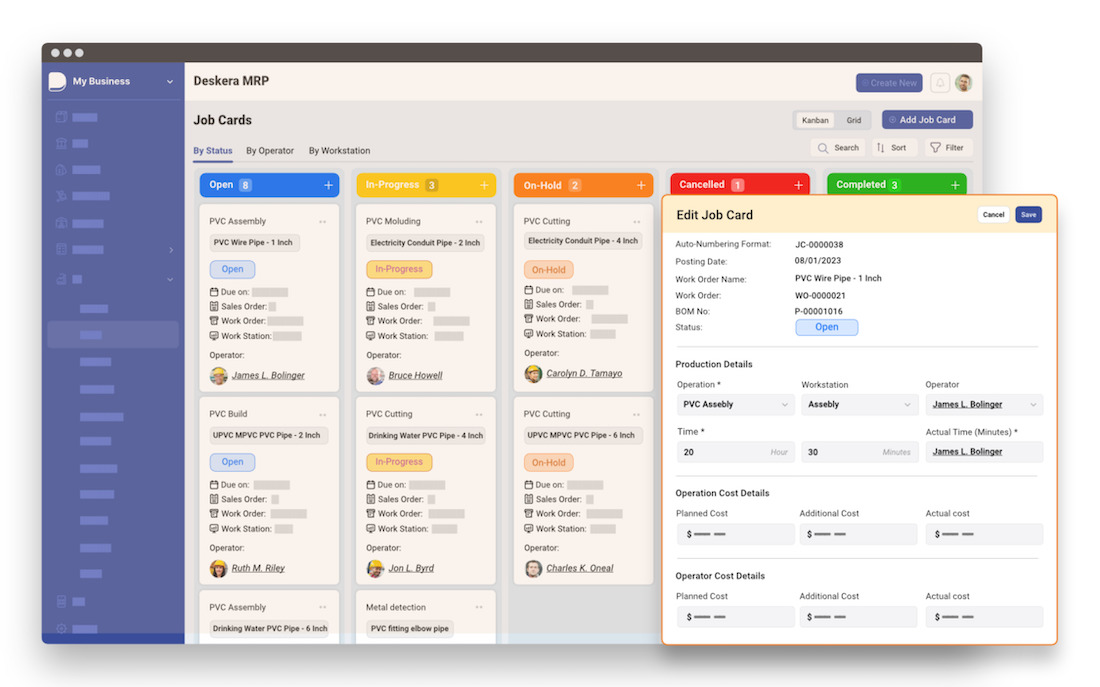 Image credit: Deskera
Deskera MRP aims to optimize your manufacturing process while reducing costs. It's popular for its comprehensive feature set and integrations with popular accounting, CRM, and HR systems.
Key features
Work order management and WIP tracking.
Demand forecasting and material requirement planning.
Multi-level bill of materials.
By-product and scrap management.
Machine management.
Limitations
Data exports are clunky and incomplete at times.
The platform needs to catch up on compliance requirements in some regions.
Customer service is slow, and help resources are limited.
Pricing
Deskera offers three pricing plans:
Growth: Starts at $1,000 per month annually for up to five users.
Mid Market: Starts at $2,000 per month annually for up to ten users.
Enterprise: Contact Deskera's Sales team for a quote.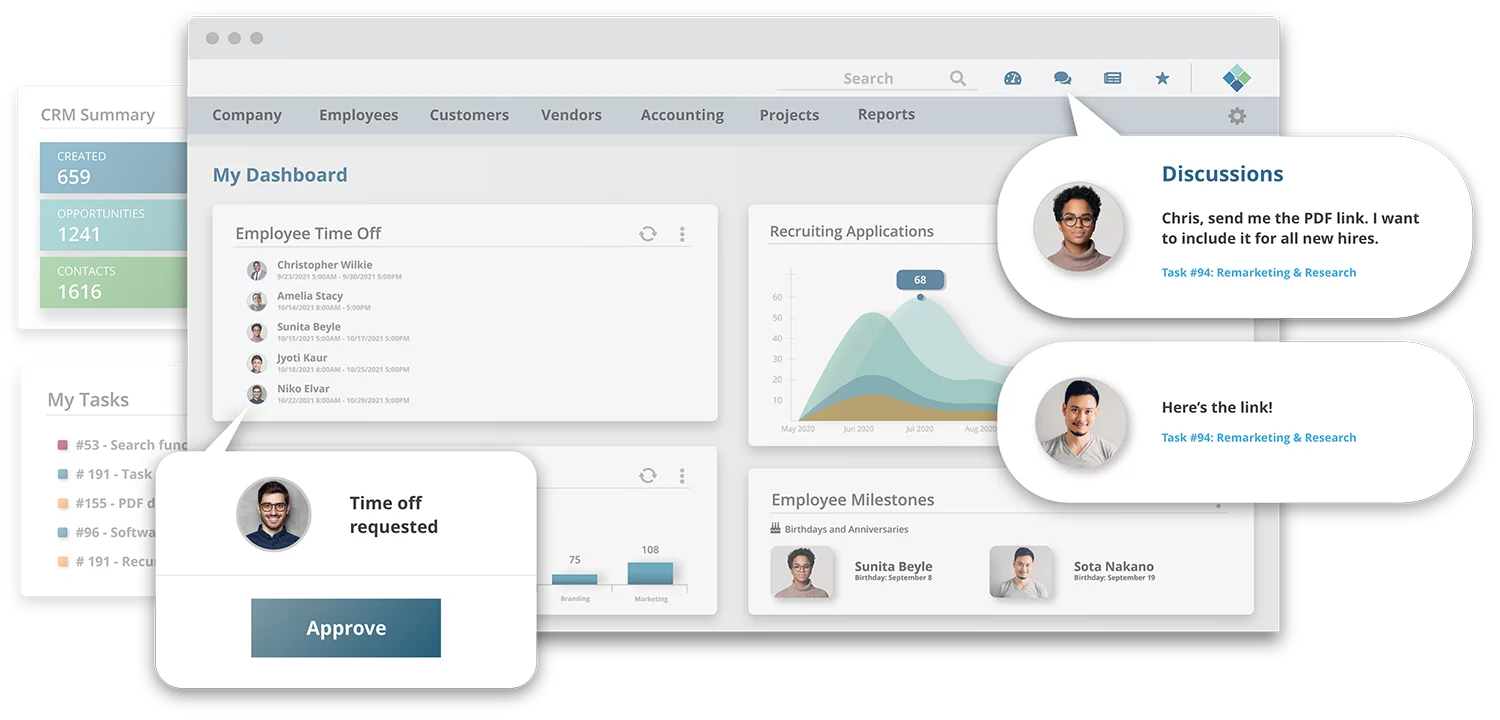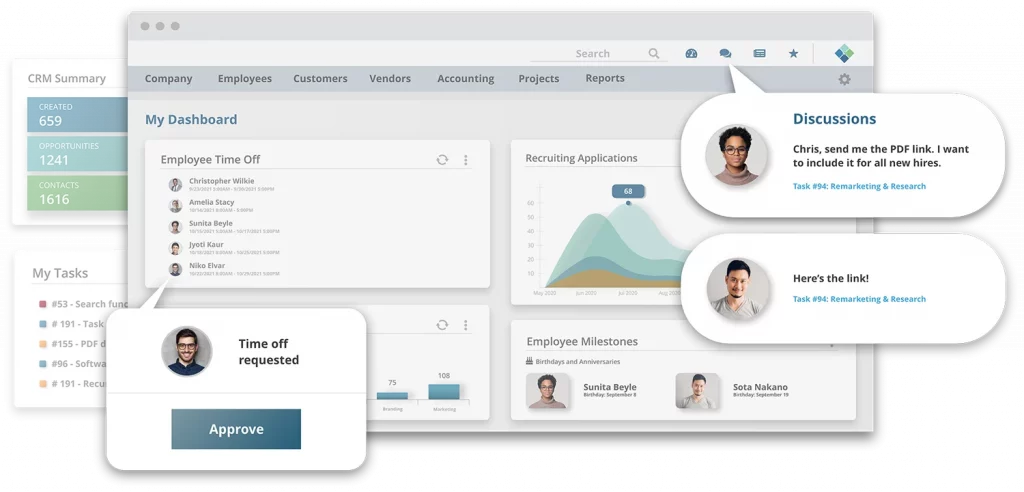 Image credit: Striven
Striven offers all-in-one solutions for all kinds of businesses, including those in the manufacturing industry.
Particularly helpful for small businesses, Striven simplifies your operations, from sending quotes to inventory control and management.
Key features
Customer, vendor, and career portals.
Project management with customer collaboration.
Built-in accounting system.
Lead tracking and management.
Instant reporting.
Limitations
Limited integrations (i.e., does not integrate with QuickBooks).
Performance issues and occasional crashes.
Complex due to many bells and whistles.
Pricing
Striven has three pricing plans:
$20 per user per month for up to 20 users, with $99 monthly hosting.
$15 per user per month for up to 50 users, with $299 monthly hosting.
$10 per user per month for unlimited users, with $499 monthly hosting.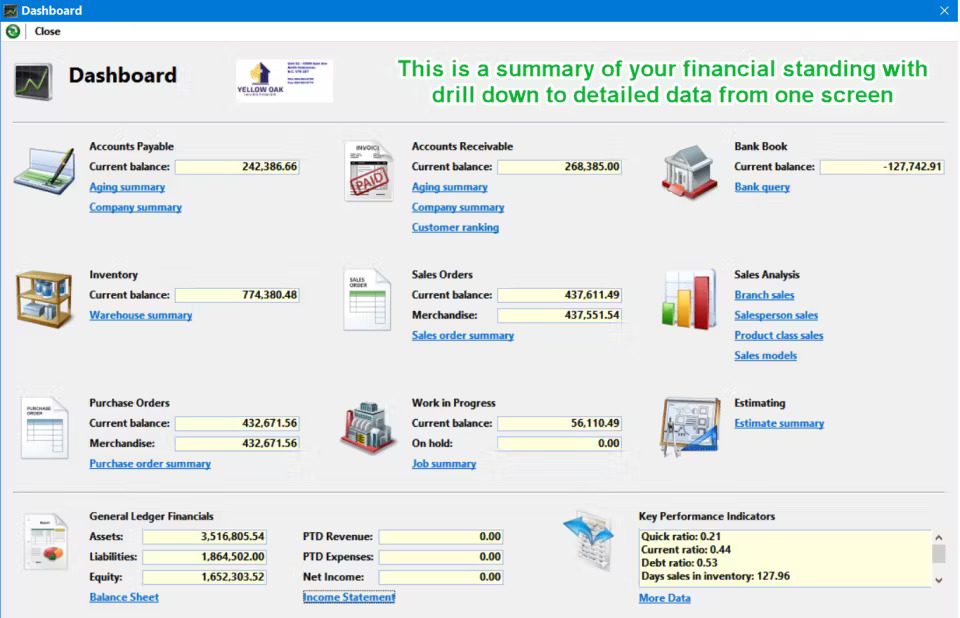 Image credit: Capterra
Aquilon is an all-in-one ERP system with a broad user base. It offers financial, distribution, manufacturing, supply chain, and CRM functions.
Key features
Centralized dashboard with 360-degree visibility.
Audit trails and drill-down analytics.
Role-based permissions for better security.
Document sharing and storage.
Limitations
Reporting options are limited without customization.
Missing some popular features, like a real-time general ledger.
Payroll is lacking, with no ability to generate T4s.
Steep learning curve.
Pricing
Aquilon's pricing starts at $120 per month. For a more accurate quote, you can contact their Sales team.
Strengthen your manufacturing inventory management with Method
You can't be everywhere at once, nor should you be. That's why you need a comprehensive business system that takes work off your team.
So meet Method, your next employee of the month! Method is the #1 lead-to-cash automation tool for manufacturers that use QuickBooks and Xero. Below is a preview of how Method lets you grow your business, not your stress.
Use Method to automate your key processes, including:
Tracking customers' transactions and interactions.
Invoicing and estimates.
Payment collection.
Customer support.
Follow-ups and reminder emails.
With advanced process automation and its two-way sync with your accounting software, Method refines your quote-to-cash cycle and strengthens your bottom line.
See how Method works wonders for manufacturers that use QuickBooks and Xero.
Image credit: Tima Miroshnichenko via Pexels