The day-to-day life of a small business owner is often chaotic.
Between generating leads, creating quotes, fulfilling orders, invoicing customers, and managing employees (if you have them!), it can be hard to find time to eat or sleep.
And some other tasks — like sending email campaigns to existing customers — may fall off your to-do list entirely. When you have limited time to devote to email marketing, your instinct may be to focus on marketing to leads.
However, the cost of acquiring a new customer is 5 to 25 times higher than the cost of retaining a customer. To maximize the ROI of time spent crafting email campaigns, your best bet is to focus on driving repeat business from your existing customer base.
In this post, we'll cover three essential email campaigns that keep customers coming back, plus tips on using your QuickBooks-integrated CRM to streamline the process. (As an added bonus: once the repeat business starts rolling in, save time by entering new sales directly in your CRM, rather than opening QuickBooks.)
1. 'New Offering' Email Campaigns
When you introduce a new product or service, chances are some of your existing customers will be interested in it. However, your customers are busy people and likely aren't checking your website daily.
Share the good news by sending an email campaign that highlights key features of the new release. You can even include a special deal to encourage people to try it out.
For instance, when the creators of a VPN service developed a password manager app, they sent existing customers an email inviting them to try the new service for free.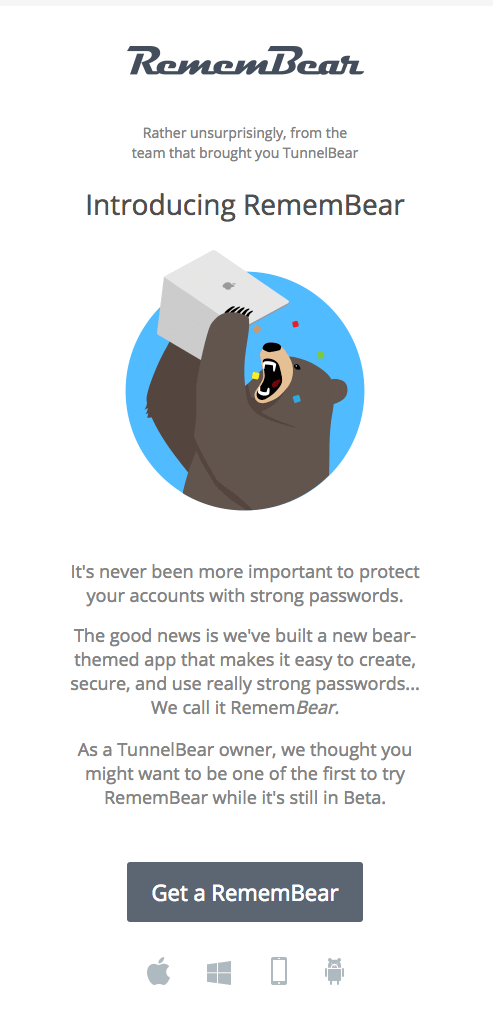 Method:CRM users: There are a million things to do when you're launching something new, but don't forget about the email campaign! Create an activity to remind yourself to send the campaign when things calm down.
2. 'Celebration' Email Campaigns
For many people, reading emails is a monotonous task — so why not inject a little joy into the process? Special occasions, such as birthdays, are great opportunities to reach out and send customers a small gift, like a discount or free item.
In the example below, Pizza Hut sent customers a limited-time offer to receive free cinnamon sticks with their next order.
Gestures like this will make your customers feel valued and appreciated, which helps build long-term relationships. Plus, birthday emails have a 481% higher transaction rate than other promotional emails, so you'll also reap the benefits of celebrating.

Method:CRM users: Add a custom field to the customer screen to track birthdays or other important dates. Then, streamline the process of sending celebratory emails by creating a custom template to reuse and share with your team.
3. 'Personalized Recommendation' Email Campaigns
When tasked with making a decision, many people turn to friends or family for advice. The logic behind this behaviour is sound.
Your loved ones know your personality and preferences, so they're more likely to give recommendations that align with your interests.
To generate new business from existing customers, put yourself in the role of an insightful friend. Use demographic and purchase history data to identify other items your customers might like, then send emails highlighting these items.
In the email below, Dollar Shave Club wisely presumes that someone who has ordered razors is interested in personal grooming, so they suggest other shaving products to add to the purchase.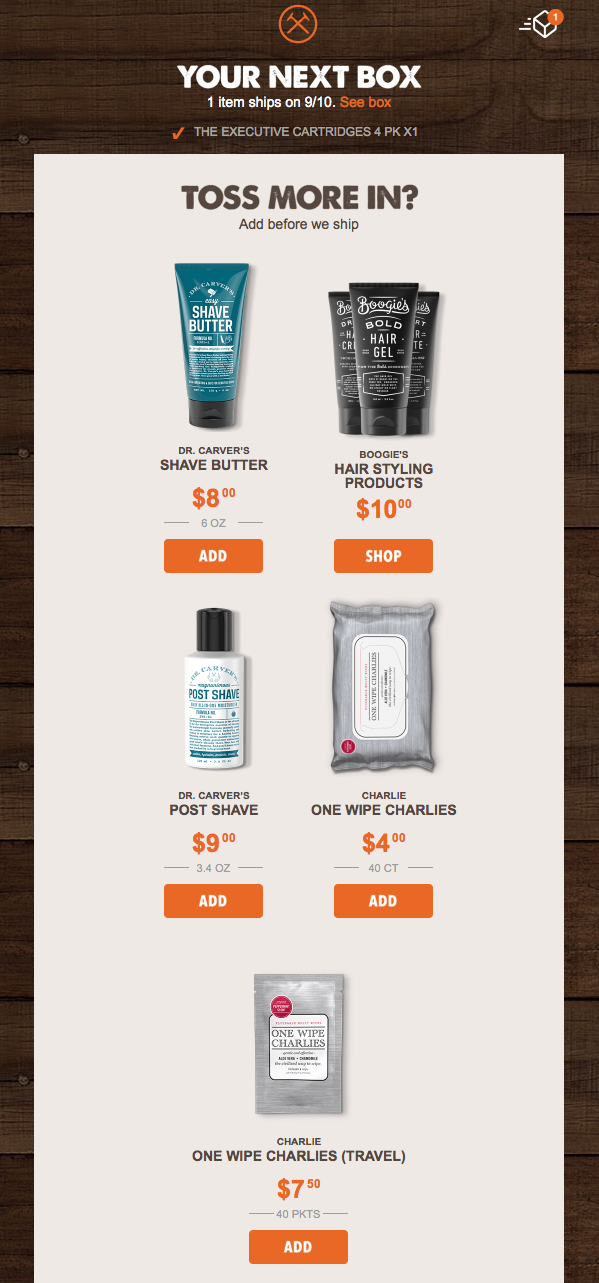 Method:CRM users: Use tags to categorize customers by age, location, purchase history, or other key characteristics. Then, use advanced search to filter by tags and send recommendation emails to targeted subsets of customers.
If you're ready to build stronger relationships with your existing customers, why not try one of these email campaigns?
With a built-in email campaign tool and a free Mailchimp integration, Method:CRM is here to help you generate repeat business. If you're not yet a subscriber, sign up for your free trial!