Working from home isn't anything new. It's been around for decades now, with some arguing its existence for centuries.
In recent years, however, we've seen large improvements in how people work from home and collaborate remotely. This is mostly because of advances in technology like the cloud, wifi, and work from home apps.
With many businesses shifting to flexible and remote work environments, we look at 8 work from home apps that will keep your team productive at home. Here we go!
The work from home apps you need to stay productive
1. Slack
A must for teams looking to stay connected, Slack is an instant messaging tool that lets you stay in touch with your teammates – without the pain of sifting through lengthy email chains.
From asking how they're holding up to where a project is at, Slack is an easy and quick way for teams to touch base.
Price: A freemium solution, the free version of Slack gets you access to video calls and 10,000 messages.
2. Jira
Just one of the work from home apps the Method team uses, Jira's Next-Gen project boards keep us organized and focused on the task at hand.
A staple of morning stand-ups at Method, Jira keeps us aligned, makes project progress clear and gives team members a chance to connect on roadblocks in real-time.
Price: Another freemium tool, you can have a team of up to 10 people on Jira for free.
3. Google Calendar
A crucial part of staying productive while working from home is blocking off time to focus on tasks and projects.
At Method, we schedule these periods into Google Calendar so our teammates know when we're in the zone and when we're free to connect.
Plus, with the option to include a Google Hangouts link in each calendar invite you create, it's simple to turn a phone call into a video meeting.
Price: Google Calendar itself is free and will let you share schedules and events with your team. For added security and collaboration capabilities, Google Calendar for Business may be worth the few extra dollars a month.
4. InVision
For creatives and planners alike, InVision makes it possible to whiteboard your thought process digitally. And considering most of us don't have a whiteboard handy while working from home, InVision fills an important niche.
A favorite amongst our design and product teams, InVision is a great way for remote workers to jot down their ideas and share them in real-time.
Price: InVision is free for small and medium-sized businesses, with paid plans available for enterprise companies.
5. Loom
A tool we just started using at Method to adapt to our new work from home protocol, Loom makes it feel like the person you're chatting with is right by your side.
By sharing a user's screen, voice, and face in a single window, nothing gets lost in translation for remote teams.
Price: In response to COVID-19, Loom has added bonus features to both their free and paid plans.
6. Google Drive
Nothing is worse than working with outdated files and this is why we've included Google Drive (G-Drive) as one of our essential work from home apps.
As G-Drive users both in and out of the office, the Method team knows firsthand how much of a lifesaver the G-Drive is when you need to access documents remotely and securely.
With live updates made to every file on the G-Drive, remote teams can work through problems, edit documents and crunch numbers together, in real-time.
Price: At just $6/user/month, the G-Drive is affordable for businesses of all sizes.
7. Zoom
One of our favorite work from home apps here at Method, we love Zoom for its ease of use, multi-user video calls, and funky background options.
Zoom is a great way for remote teams to keep culture alive and morale high with fun online company gatherings.
Here's an example of how we use Zoom to connect as a team at the end of each week during our Friday Beer O'Clock.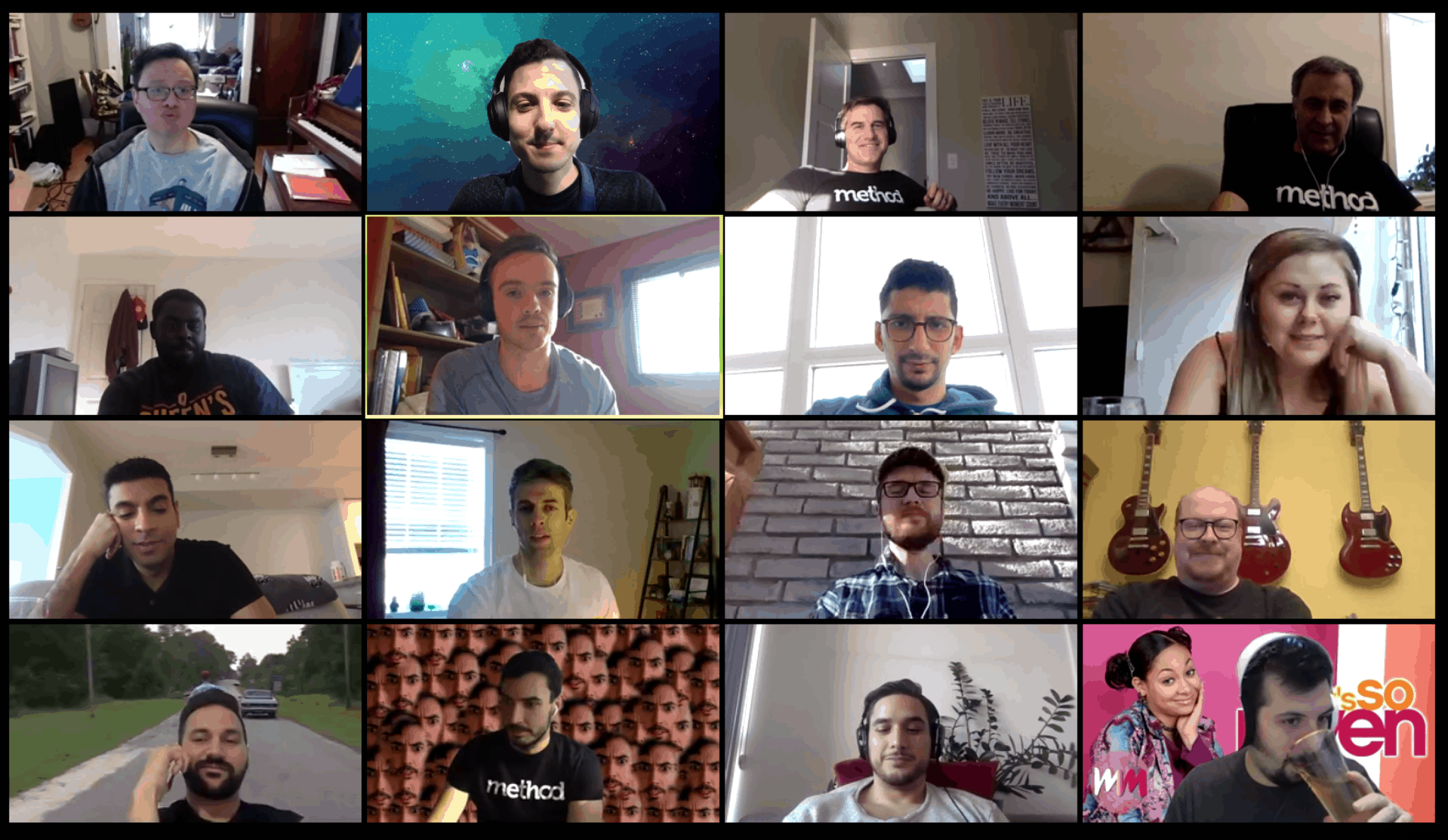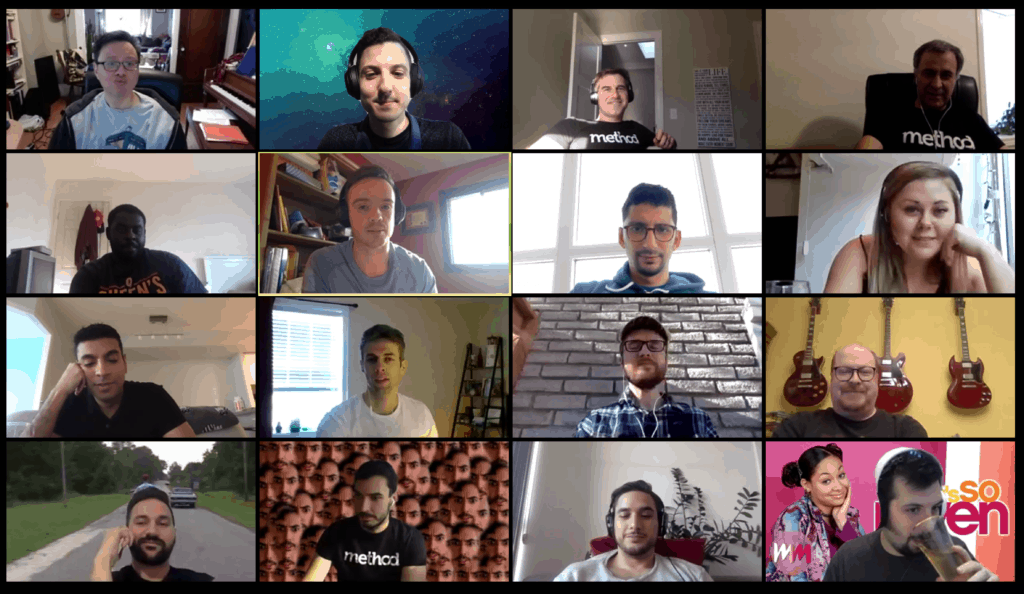 Price: Zoom's basic package is free and will allow you to host calls with up to 100 people for up to 40 minutes.
8. Method:CRM
While we may be a bit biased with this one, we wanted to share how Method:CRM helps teams stay productive when working from home.
An online CRM, Method allows teams to access QuickBooks data remotely and ensures everyone has access to the information they need to do their job. And thanks to our two-way QuickBooks sync, Method:CRM ensures your teammates work only with data that's accurate and up to date.
Price: Start using Method:CRM with a free trial and then select the pricing option that works best for you.
Wrap up
With many businesses transitioning to full-time remote work during COVID-19, the work from home apps you choose can make or break your success. 
To help you make the right selection, here's a rapid-fire summary of the work from home apps we recommend:
Slack for strong team communication.
Jira to keep projects on track.
Google Calendar for day to day organization.
InVision to let your creative juices flow.
Loom for clear communication online.
Google Drive to ensure everyone's working with up to date information.
Zoom for fun face-to-face chats.
Method:CRM to make QuickBooks data easily accessible to your team.
Start your free trial of Method:CRM and see why it's one of the best work from apps!
Image Credit: Bongkarn Thanyakij via Pexels