Good planning is key to running a successful business, and scheduling ensures that you stay on top of all your plans. This is especially true for field service companies.
QuickBooks has job scheduling capabilities that allow you to:
Build, modify, and share schedules with your employees.
Time track against jobs scheduled in QuickBooks Time.
Set alerts and notify teams via text, email, or push.
But is this enough for your business' needs?
For many, this is a great starting point — especially for field service businesses that need better scheduling. However, QuickBooks Time alone isn't the most efficient solution.
You can get more out of QuickBooks scheduling with field service scheduling software as this combination allows you to:
Attain a 360-degree view of each crew member's schedule.
Connect your field and office team with instant QuickBooks sync.
Create customer estimates and invoices on the spot.
Today, you'll learn everything you need to know about scheduling with QuickBooks and find out how to maximize QuickBooks' scheduling capabilities to make it work for your business.
How to improve your scheduling with QuickBooks
When it comes to simple job scheduling, QuickBooks Time gets the job done. But job scheduling software works best when it is tailored to your business, and that's where QuickBooks has its limitations.
Fortunately, there are several ways to improve scheduling with QuickBooks. Here are the top 5 ways that QuickBooks users can maximize scheduling efficiency.
1. Connect field crews with your office team
The best way to keep on top of your business is to stay in strong communication with your team.
Unfortunately, this is a major obstacle in field service management, as you can't be in two places at once. You're either on a job site or back at the office.
Even though you trust your crew to get the job done right, unexpected circumstances can happen and affect your team's ability to complete the work at hand. When this happens, your office team needs to be informed right away to contribute solutions to the problem.
Key updates you'll want to be notified about include:
Weather changes.
Delays in job progress or travel time.
Last-minute schedule changes or customer requests.
Informing customers about the status of their jobs.
If not addressed promptly, these factors drastically affect job completion time and your customer relationships.
Field service management software bridges this communication gap. According to Forbes, field service businesses need mobile solutions to deliver information to all workers on any device.
Using a mobile app allows you to get real-time updates from your crew as jobs progress and quickly share information. When scheduling with QuickBooks, make sure to download the mobile app and look for field service solutions that offer one as well.
Take Method's mobile app, for example. It lets your team update work orders and record job progress on the go. This means your staff always:
Know what the job at hand is.
Drive the business forward with on-the-spot work order and estimate creation.
Flag problems and delays as soon as they occur.
2. Work more efficiently by scheduling your jobs in bulk
When scheduling with QuickBooks Time, you have to schedule each job manually. This manual work takes time away from other revenue-generating tasks and leaves room for error.
While QuickBooks's drag and drop interface makes this process a bit less painful, there's a better way.
With Method, you can schedule and dispatch jobs in bulk. As a result, you will:
Schedule more jobs quicker.
Reduce your admin time.
Keep everyone on the same page.
What's more, Method lets you set up recurring work orders for jobs that happen on a regular basis. So, you can create work orders in the way that best meets your needs in Method.
These job scheduling features in Method result in various benefits for your business. Not only do these features save you time on scheduling, but they also demonstrate reliability to your repeat customers through the ability to pre-schedule recurring jobs.
3. Integrate automated routing into your scheduling process
QuickBooks lets you view GPS points for clocked-in employees, so when you get a call for a job, you can see who's close enough to be dispatched.
However, you can take this feature one step further with optimized routing. Make scheduling with QuickBooks more efficient by ordering jobs based on location and optimal route.
One way to make this happen is with Method. Use Method to create schedules that include the route that lets the most work get done and keeps your field crew on the job site vs. on the road. Just select the day's work orders and let Method do the rest.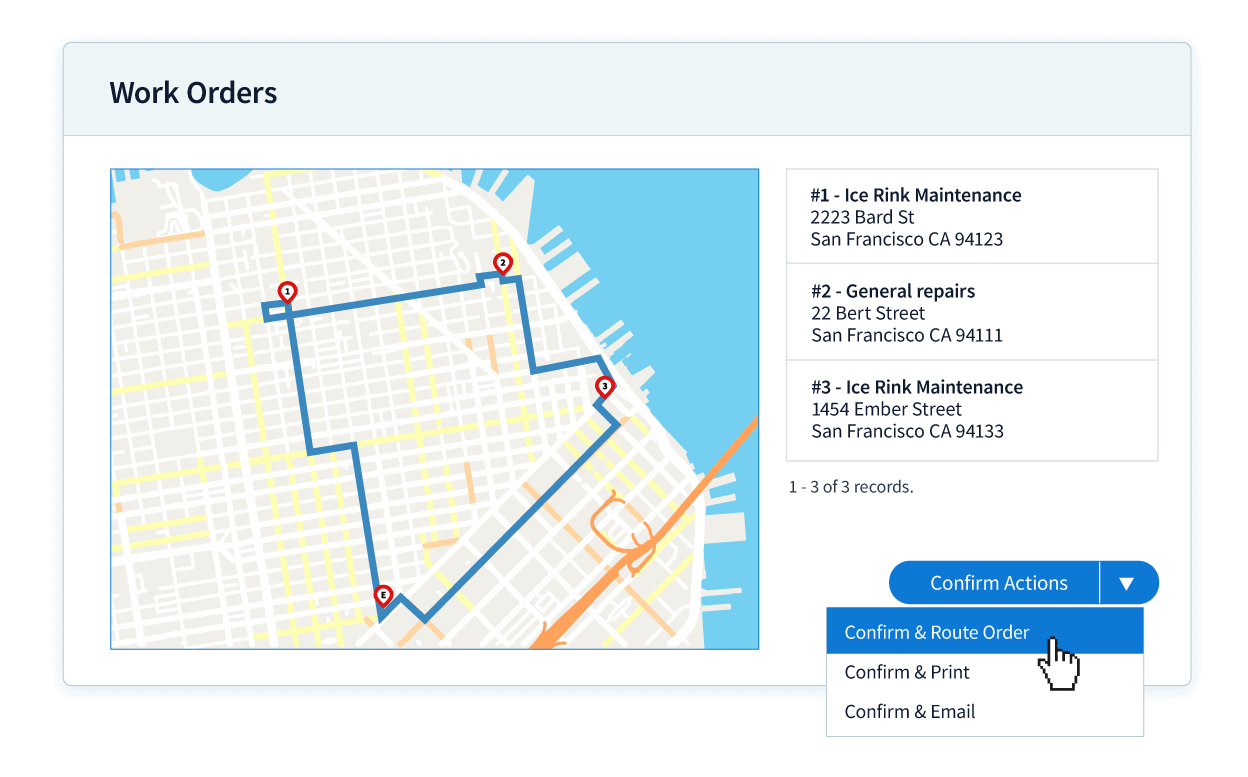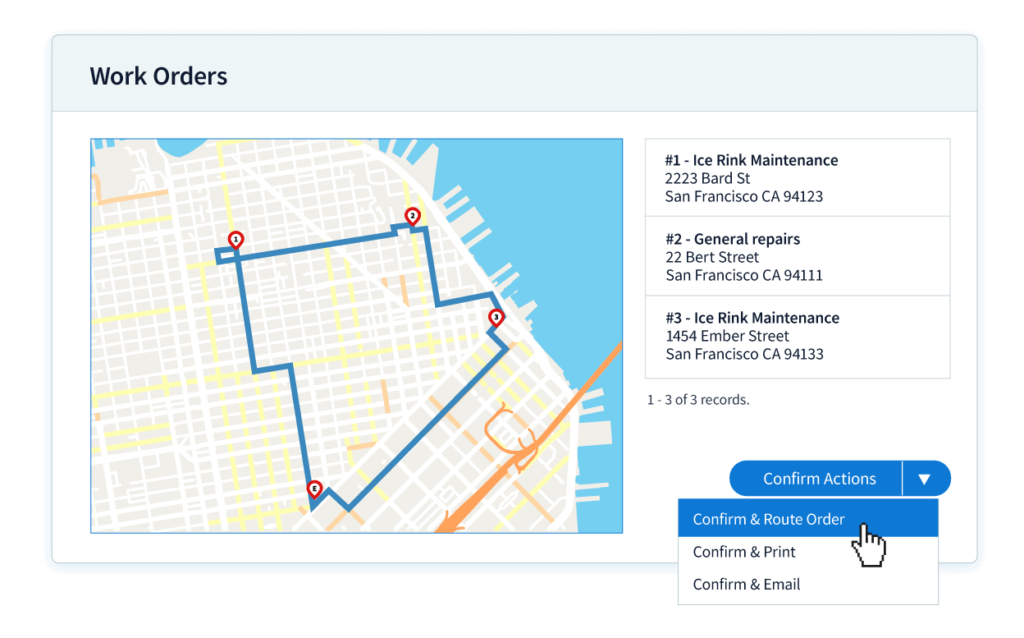 You can even plug in unique start and end locations to your route so that you can factor in whether your techs start and finish at the office, from home, or a mix of both.
4. Strengthen your billing process with time entry data
Your customers value transparency throughout the sales process, especially when it comes to billing. As a result, you need to ensure that every customer receives accurate estimates and custom invoices. Here's why.
Estimates are your customer's first impression of your business. They justify the cost of your service to customers and, if done well, build trust with customers since they know exactly what they're paying for.
Once the estimate is agreed upon, it's time to set up a work order and schedule for your crew to get to work. Of course, you need to keep track of time for billing and payroll.
Finally, the job is complete, and all that's left to do is to present your customer with an invoice detailing their remaining balance.
In the past, each step would be a time-consuming process. But with field service solutions like Method, you save time and money by converting data from time entries and work orders into estimates and invoices.
5. Use scheduling data to improve your overall operations
Your scheduling data isn't just useful in creating invoices. Your data tells you everything you need to know about your business and is key to its growth.
By taking a data-driven approach to job scheduling, you maximize productivity by:
Looking for the areas where bottlenecks arise and optimizing these gaps in the process.
Putting the employees that are most efficient together on the same crew.
Better yet, you can use this data to improve the accuracy of labor costs on your estimates to make job costing a breeze.
Method's built-in reporting provides an at-a-glance view of your data so that you can easily see what is and isn't working, then apply changes as necessary.
Recap: Take scheduling with QuickBooks to a new level
Scheduling is an important part of field service management, so you need to make sure you get it right.
Scheduling with QuickBooks is a great way to streamline your business, but QuickBooks Time leaves some gaps that prevent you from making the most out of scheduling.
By connecting Method to your QuickBooks scheduling, you ensure that your office staff and field staff are always on the same page.
Better scheduling helps you grow your business faster, so make sure you're using the right tools to maximize your scheduling with QuickBooks.
Start your free trial today to learn why Method is the only field service solution you need.
Image credit: RODNAE Productions via Pexels.