Whether you're a landscaper or plumber running your business on QuickBooks, you stand to benefit from using field service scheduling software.
An untapped gem, many field service companies don't realize this software's positive impact on business growth.
Luckily, this article covers:
What field service scheduling software is.
Who uses it.
How this solution improves your field service operations.
The best field service scheduling software for businesses on QuickBooks Online and Desktop.
Let's dive in!
What is field service scheduling software?
Let's all get on the same page by looking at what field service scheduling software is.
An essential part of successful field operations, this software boosts your productivity by automating many aspects of the job scheduling process.
From the auto-assignment of work orders to field service technicians to instant route optimization, field service scheduling software simplifies your workforce logistics.
What's more, is that it's a great way to connect your in-office team and field crews. This tool lets your office team know exactly what work your field teams have completed by providing live updates on service delivery.
This is helpful as you can adjust your service schedule if your field workforce falls behind or is running ahead.
Another benefit of this real-time connection is that since many service requests take place outside, field service scheduling software makes it easy to notify your technicians and customers if jobs are rescheduled due to the weather.
Who uses field service scheduling software?
Field service scheduling software is most useful for your:
Office manager.
Dispatcher.
Field technician.
Customer service rep.
While field service scheduling software offers a wide range of benefits, here's what each of these users has to gain.
Your office manager's goal is to keep your field service business running smoothly. This means ensuring your customers are happy and your employees are productive.
Field service scheduling software ensures this by giving your office manager:
Instant access to every field technician's schedule.
Real-time insights on job progress.
A 360-degree view of every customer.
Similar to your office manager, the duties of your dispatcher focus on setting your field workforce up for success. This includes scheduling and routing jobs in a manner that maximizes technician utilization and service delivery quality.
As the end-user, your service teams will use service schedulers to get assignments, important job details, and routes to each site. A mobile app is a key feature for these users as they're usually out of the office and need on-the-go access to job details.
Last but not least, your customer service team will use field service scheduling software to check on job progress and track technicians. This way, they can give inquiring customers real-time updates on:
Job progress and completion.
Where the technicians are.
Reasons for any schedule changes.
3 reasons to use field service scheduling software with QuickBooks
Whether you use QuickBooks Online or Desktop, achieving your business objectives becomes easier when you add a scheduling tool into the mix.
Here are just a few of the benefits of using a field management system that integrates with QuickBooks.
1. Real-time access to job progress
A job scheduler keeps productivity at an all-time high as you can update assignments as weather conditions change or jobs get booked, cancelled, and rescheduled. This way, your employees don't idle in the field and you can complete as many service requests as possible.
When changes to your service schedule need to be made, the drag and drop calendar view that many solutions offer makes this easy.
At a glance, these views allow dispatchers and office managers to adjust assignments as needed. Below is an example of this in Method:Field Services.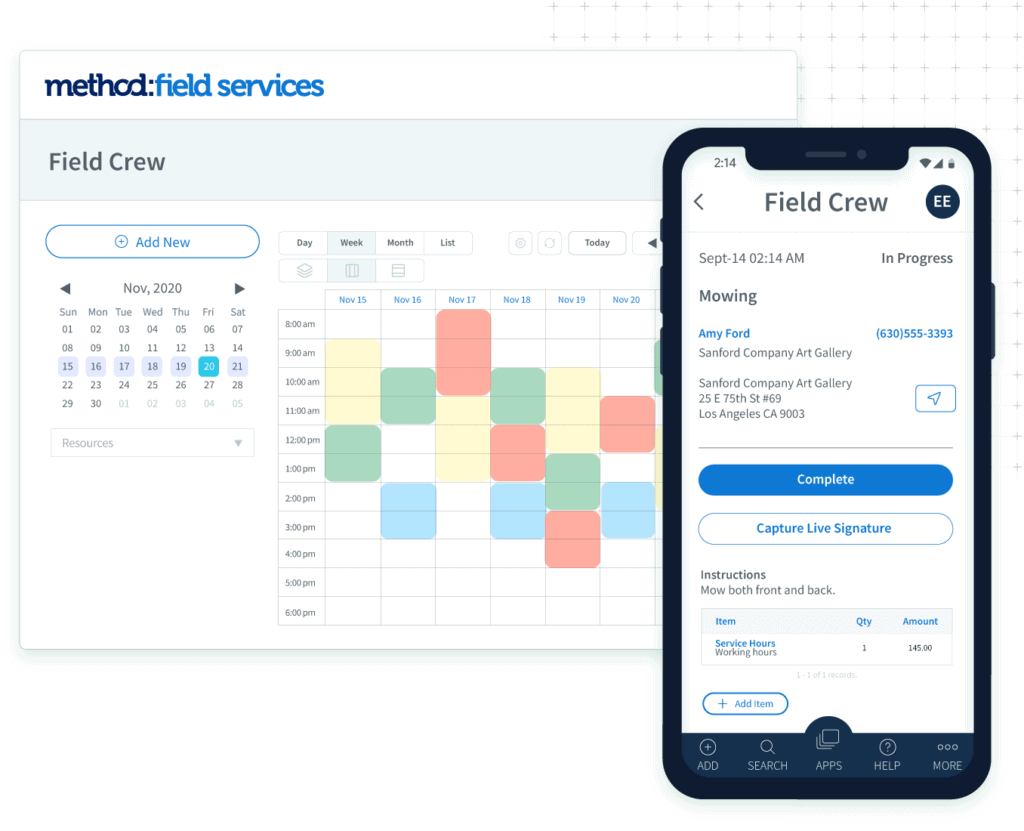 A feature like the above ensures no assignment conflicts for your team and makes last-minute changes an easy, less confusing process for all.
2. Track time and record project notes straight from the job site
Another advantage of using a field service management software solution is that your technicians have mobile access to a goldmine of information, like a customer's service history, that can be used to improve client satisfaction.
From recording travel time to getting GPS insights and route optimization, using a field service mobile app maximizes employee satisfaction, productivity, and accuracy.
What's more, the customer notes that crews log on the job are instantly available for other team members to use for future work orders. Now, that's smart service!
3. Automate dynamic processes for complex projects
Field service management software is powerful in conjunction with QuickBooks as it allows you to automate many of the tasks that arise between estimate creation and invoicing.
For instance, with a tool like Method:Field Services, it's possible to convert your estimate into a work order in just a few clicks. From there, you can auto-assign the work order to field techs with open availability.
With just a few more clicks, you can batch dispatch and route a day's work orders for each field tech. These scheduling features create a foolproof system that ensures jobs get completed and technician utilization remains high.
Once a job is done, field service management systems that integrate with QuickBooks Online and Desktop streamline your operations even more.
For example, Method:Field Services allows you to convert an estimate into an invoice and then sync this data to your QuickBooks Online or Desktop account.
Better yet, you can automatically send your invoices to customers and collect payment via online portals.
Believe it or not, your field operations really can be this easy with the right technology in place!
Recap: The benefits of field service scheduling software and how to get started
To achieve smart service, you need to say goodbye to physical work orders and start using field service scheduling software. Taking the leap ensures every work order gets scheduled and your field employees are as productive as possible.
And if you're a QuickBooks Online or Desktop user, there's no better choice than Method:Field Services.
See if it's the right fit for you with your complimentary free trial.
No credit card or contract required.
Image credit: Anete Lusina via Pexels