Many businesses use QuickBooks to manage their accounting, but few take full advantage of its features. Especially, when it comes to creating a QuickBooks estimate template.
Here are a few reasons why QuickBooks quote templates are worth your time:
An accurate estimate sets the foundation for a transparent and trusting customer relationship.
Templates keep your brand standard intact.
You save valuable time with repeatable accounting processes.
Read on to learn how to get the most out of your QuickBooks estimates.
How to create estimates in QuickBooks
Estimates or quotes are as crucial for most businesses as invoices are. They give your clients a clear idea of the costs associated with your services or products.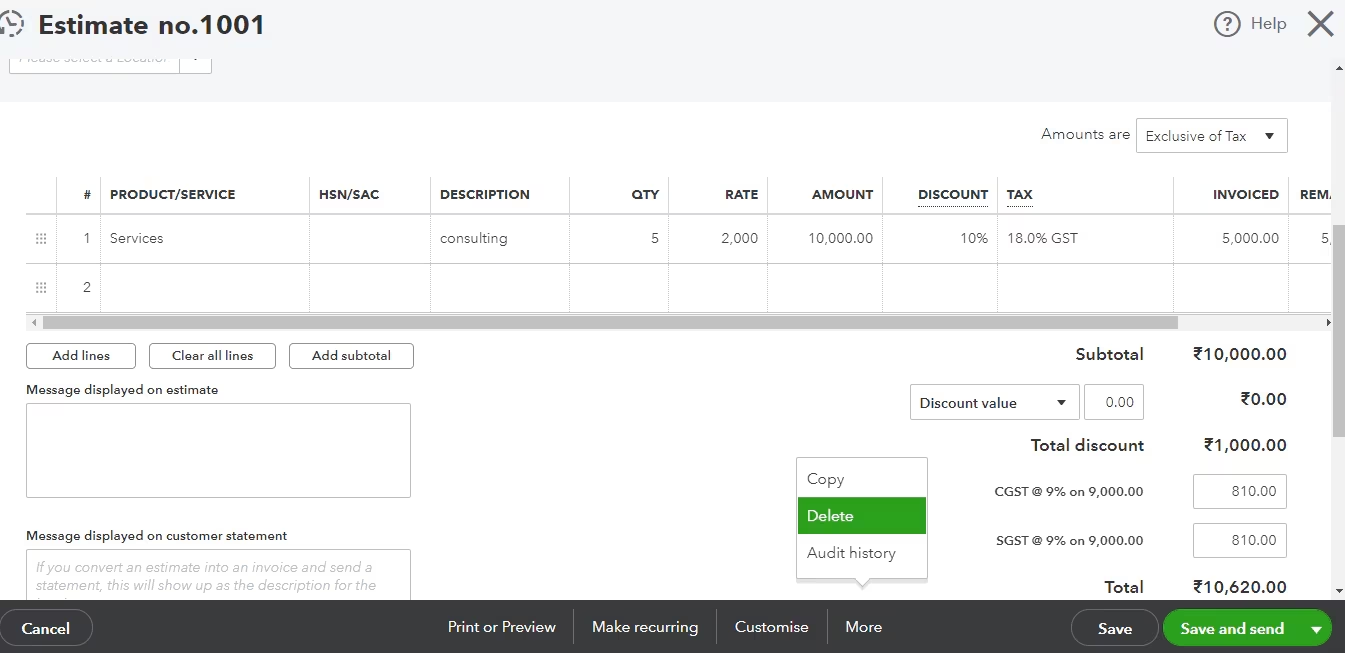 Image credit: Intuit
To create estimates in QuickBooks:
Click the Plus Menu and select "Estimates".
Fill out the prospective customer's details or select a name from the existing customer list.
Enter the items for the products or services you will provide. You can add new items by selecting "Add" in the drop-down menu.
Enter the Quantity, Rate, and Amount for each item you add.
Select "Save and Send" once you've reviewed the estimate to email it to your prospective customer.
You can also include specific line items, such as site work or material costs, by customizing your QuickBooks estimate template. Let's learn how to make this possible.
Can I create an estimate form template that includes specific line items?
Adding specific line items to your QuickBooks quote templates helps to clarify what your clients are paying for.
Whether you offer products, services, or a combination of both, itemization allows for clear communication and transparency, vital in building trust with your clients.
Image credit: Intuit
To include line items in your estimate template (also known as a form):
Navigate to "Sales" and select "Estimates".
Click "Create estimate" to create a new QuickBooks estimate template. To edit an existing form, select an estimate from the list and click "View/Edit".
Select "Manage" to add or remove line items.
In the side panel, select "Estimate settings".
Click the drop-down menu for each section to view customization options.
Toggle the switches on or off to choose what to display on your template.
When you finish customizing, click "Save".
What's next? Convert estimates in QuickBooks to an invoice
Once you've created and sent an estimate to your client, the next step is to get approval from your customer. After that it's time to convert your estimate into an invoice.
If you requested a deposit on your estimate, QuickBooks will automatically convert the estimate to an invoice once your customer pays said deposit.
When it comes to manually converting estimates in QuickBooks to invoices, it's as simple as a few clicks. Here's how:
Navigate to "Sales" and select "All sales".
Find the estimate you wish to convert.
If the status shows "Declined", you need to update it to "Pending" or "Accepted".
Select "Convert to invoice" in the Action column.
Update your invoice as needed before clicking "Save".
In addition to saving you time and reducing the risk of errors, converting estimates in QuickBooks helps maintain a clear transaction record.
But what if you could take your QuickBooks estimate template to the next level?
Enhance your QuickBooks estimate templates with Method
Method is the #1 estimate software for QuickBooks users looking to simplify estimate creation and management. It lets your sales teams create estimates easily without accessing your accounting software.
Not to mention that Method's instant two-way QuickBooks sync automatically records every sale you close and payment you collect, which:
Eliminates the need for double data entry.
Empowers your team with the data they need to do their best work.
Keeps your QuickBooks file clean and secure.
With Method, you can personalize your QuickBooks quote templates by adding as many custom fields and information as you want.
You can even collect e-signatures on documents that require approvals similar to what's pictured below.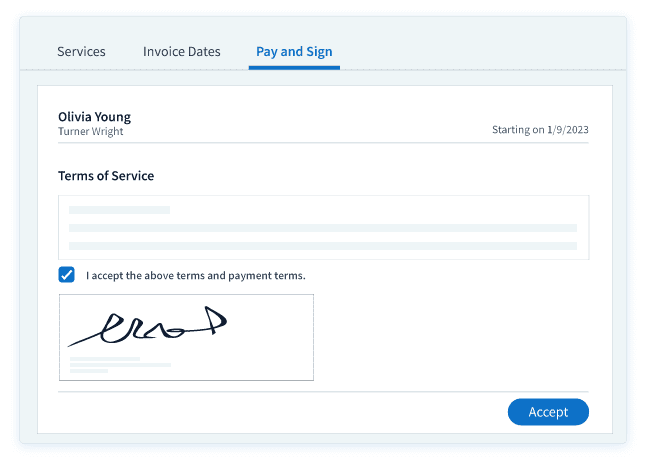 The best part? You can fully customize Method with no-code, drag-and-drop tools to suit your business's unique needs and automate your key workflows.
By automating your estimate process with Method, you elevate your customer service and customer journey. If you're not already a Method user, you can start your free trial today!
QuickBooks estimate template FAQs
What is a small business quote?
A small business quote, or estimate, provides a detailed cost breakdown for a job or project before it commences. It typically outlines labor, materials, and other costs.
Why should you send business quotes?
Sending quotes is a crucial step in your transaction processes. Quotes provide customers with a clear understanding of what they're paying for and establish trust between you and your clients.
A detailed quote demonstrates professionalism and sets you apart from competitors who may not provide as comprehensive a service.
In some cases, quotes serve as a legal agreement between you and your customer, outlining what is expected from both parties.
QuickBooks gets you started, but Method helps you grow. Start your free trial today!
Image credit: katemangostar via freepik