Many businesses start with just accounting software, like QuickBooks or Xero. But as your business grows, QuickBooks or Xero alone is no longer enough.
What if you had a customizable CRM that could do it all? That's what you get with Method:CRM — the #1 automation tool for QuickBooks and Xero users.
Out of the box, Method:CRM gives you a strong CRM and then takes things one step further with the deep personalization it offers.
You'll get into the key workflows that Method:CRM users benefit from later in this article, but let's start with the basics.
What is a CRM database?
A CRM database is a tool that businesses use to store, manage, and analyze customer data.
CRM stands for "customer relationship management", and the database is a central location to track customer details, including:
Contact information.
Purchase history.
Communication logs.
A customizable CRM helps you provide better customer service and target your marketing efforts more effectively. By storing your customer data in a single platform, you can easily access and analyze the information you need to make informed decisions.
What is workflow automation in CRM?
CRM workflow automation is the automation of repetitive tasks and processes in a CRM system. Workflow automation is a powerful CRM feature that saves you time and improves efficiency. 
Here is an example of the value of CRM workflow automation from Method:CRM user Cameron Fleming.
"We've cut down our order processing times by 20-30% and can find the information we need 66% faster than before. Method is the lifeline of everything that happens at HealthLinc Medical Equipment and lets us make 30% more deliveries each day."

— Cameron Fleming, President of Operations at HealthLinc Medical Equipment.
With Method's customizable CRM platform, you can automate:
Sending follow-up emails.
Creating invoices.
Collecting payments.
Managing leads.
By automating tasks like these, you free up your schedule to focus on higher-value tasks, such as nurturing customer relationships.
Benefits of CRM workflow automation
Now that you understand what workflow automation is, let's dive into how it helps you and your business.
The key benefits of CRM workflow automation include the following:
Save time: Let your employees focus on what matters by automating repetitive tasks.
Improve operations: Reduce errors and costs by supporting your processes with technology.
Enhance customer service: Provide a personalized experience for your customers with instant follow-up emails or appointment reminders.
How does a customizable CRM work?
The difference between a customizable CRM and a standard CRM is that it allows you to tailor the system to your specific needs. This can include custom fields, screens, and workflows that match your business' specific processes.
For example, you might create custom fields in Method:CRM to track additional customer information, such as preferred communication platforms or industry-specific details.
Below is a contact screen that's been customized in Method to include a customer's social media profiles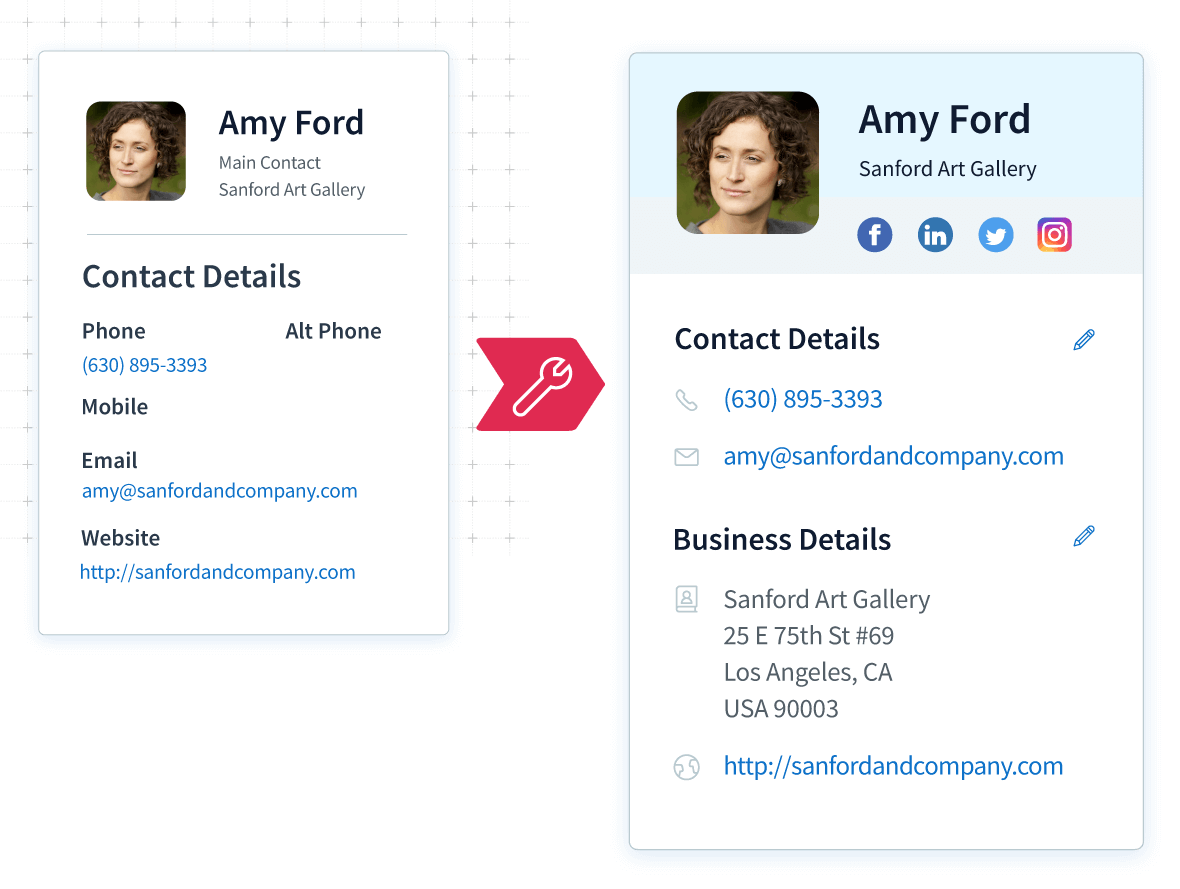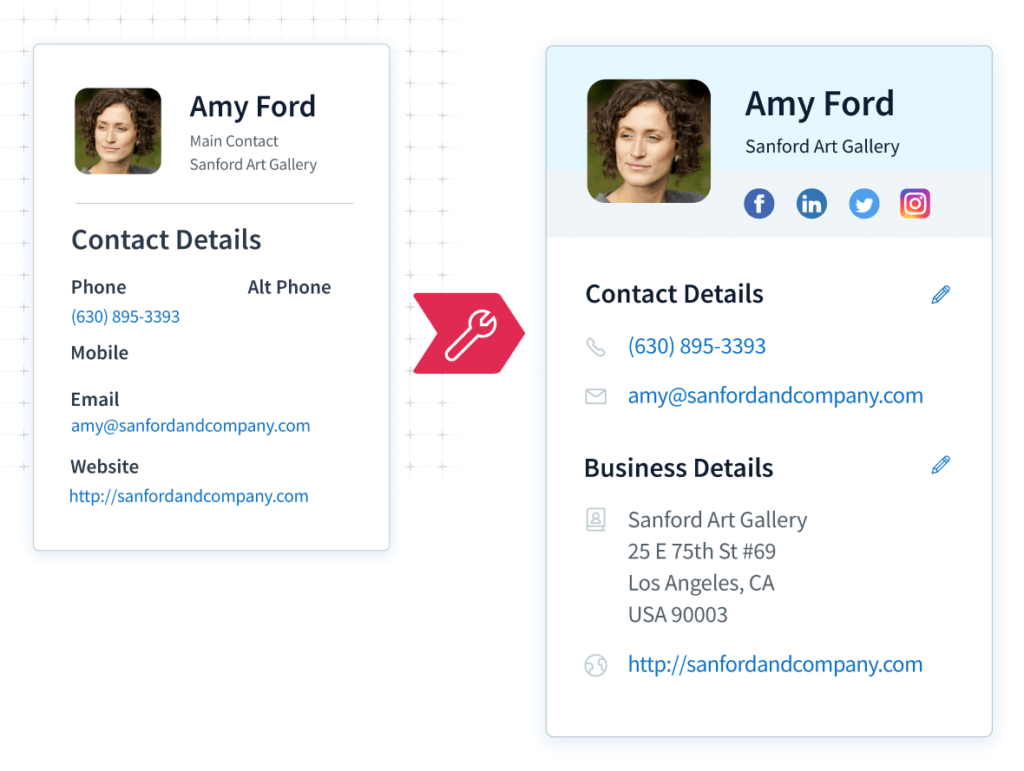 Go beyond CRM with Method
When you hear "customizable CRM" you probably think of minor tweaks — change a layout here, add a field there.
And while those tweaks are certainly possible in Method:CRM, that's not all it can do.
The deeper truth is that Method:CRM is built on a no-code platform — and this means it doesn't have to be just a CRM.
Instead, you can build on this customizable CRM to create a multi-faceted business management tool.
Method:CRM workflow automation examples
Two-way sync with QuickBooks and Xero
Method:CRM users love its real-time, two-way, sync with QuickBooks and Xero. Here are the top reasons why:
No more time wasted on double data entry.
A secure way to share critical business information.
Your accounting file stays accurate and confidential.
But don't just take our word for it. Here's what real Method:CRM users say about this feature.
"Method is one of the best tools made specifically for QuickBooks users. With Method's two-way, real-time QuickBooks sync, I'm confident that my accounting data is always up to date. If you're already using QuickBooks, it's a no-brainer to also use Method."

— Kayla Prusinski, Advanced Certified QuickBooks Online ProAdvisor.
"Method:CRM syncs great with Xero, all the data goes over without any problem. It has really good support systems in place and incredible troubleshooting articles when onboarding, which makes it easy. A great app to keep your information where it's needed and makes your work life that much easier."

— Amy DeVries, Hillsong Church Canada.
Lead management
With Method:CRM, you can track leads through each stage of the sales process, from initial contact to closed deal.
The customizable CRM empowers you to manage your leads with features like online portals, automated email campaigns, and lead nurture reminders. This allows you to focus your efforts on the most promising leads to improve your chances of closing.
Plus, if you connect your Gmail or Outlook account with Method, you can easily view contact details and transactions right from your inbox.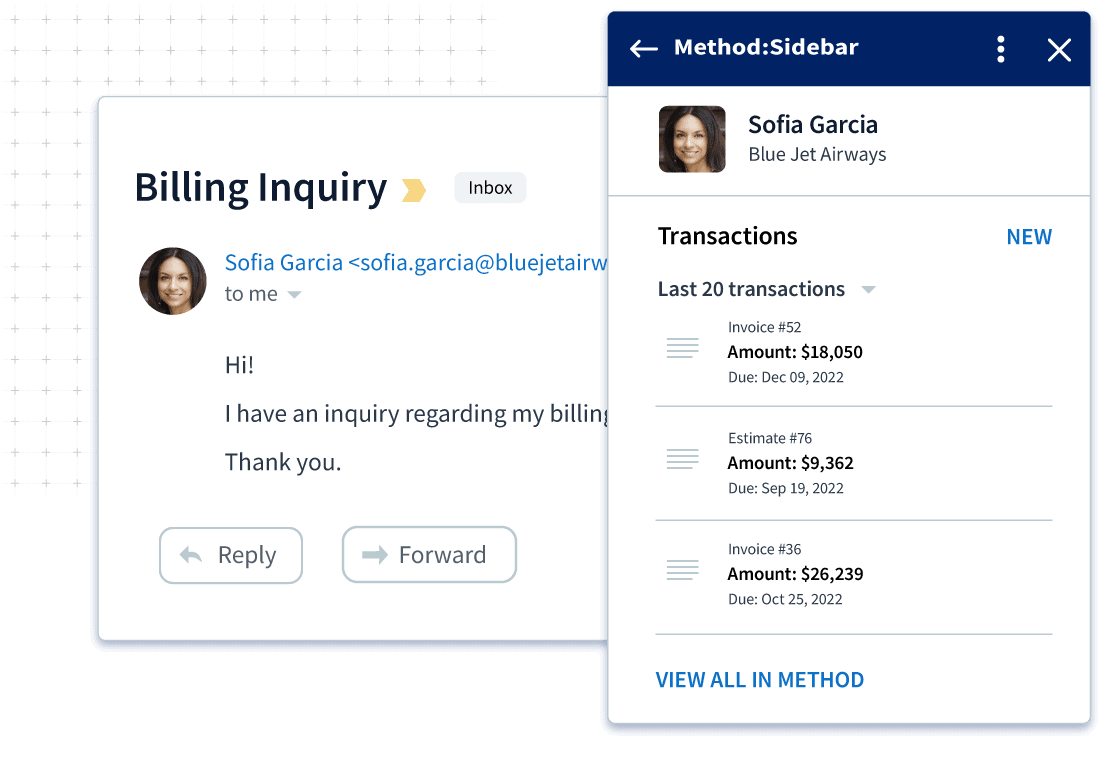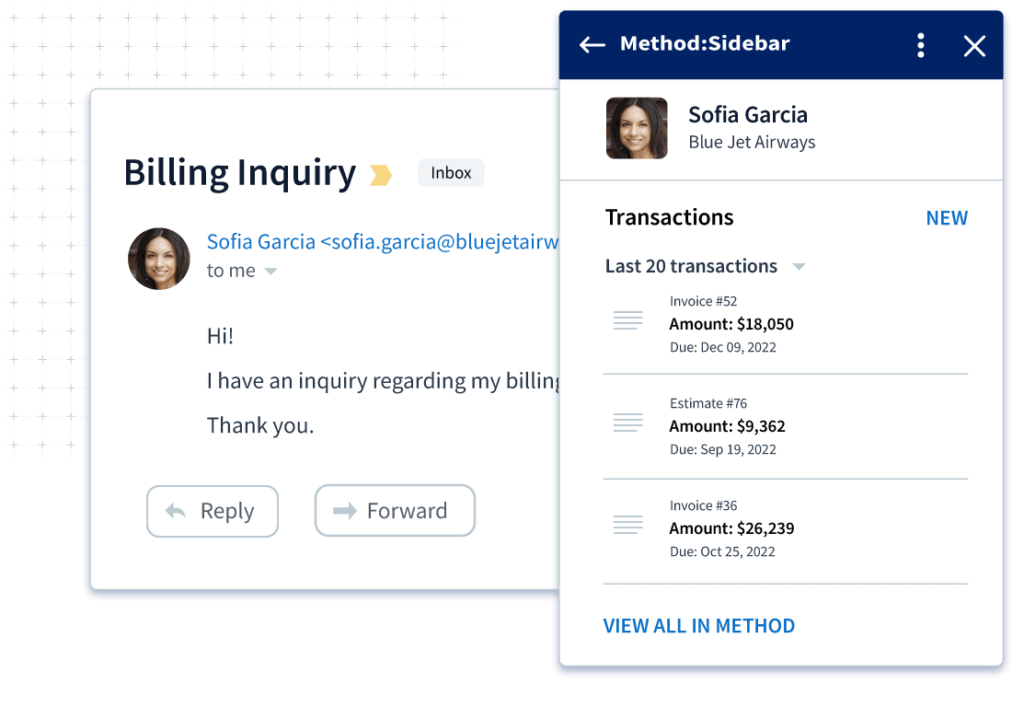 Sales process automation
An automated sales process increases your customer satisfaction and loyalty while boosting sales for your business. From capturing leads to qualifying and nurturing them, Method:CRM improves every step of your sales process.
For instance:
Instantly get contact information from interested website visitors with web to lead forms.
Automatically trackin customer purchase history, so your sales teams can make personalized, upsell recommendations for each customer.
Get paid faster by auto-populating estimates and invoices with customer details from QuickBooks or Xero.
Contact and account management
No matter what industry you work in, you have customers to manage. And since Method is a CRM, it comes with an app for that.
Here's a preview of what it looks like: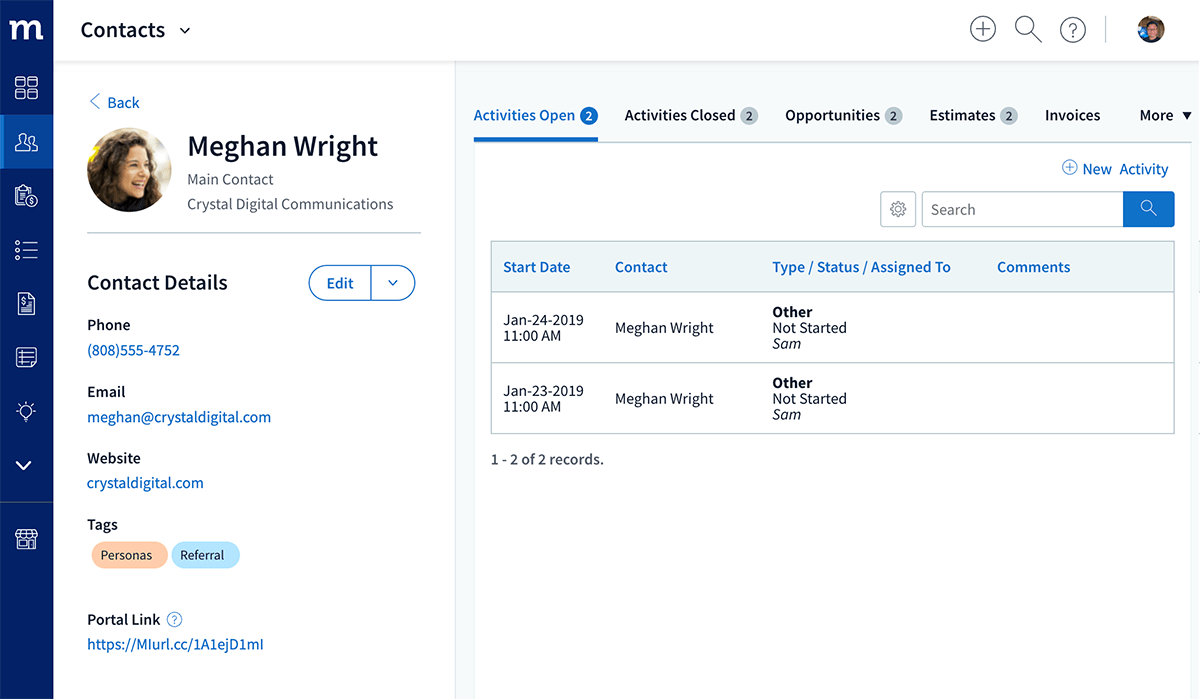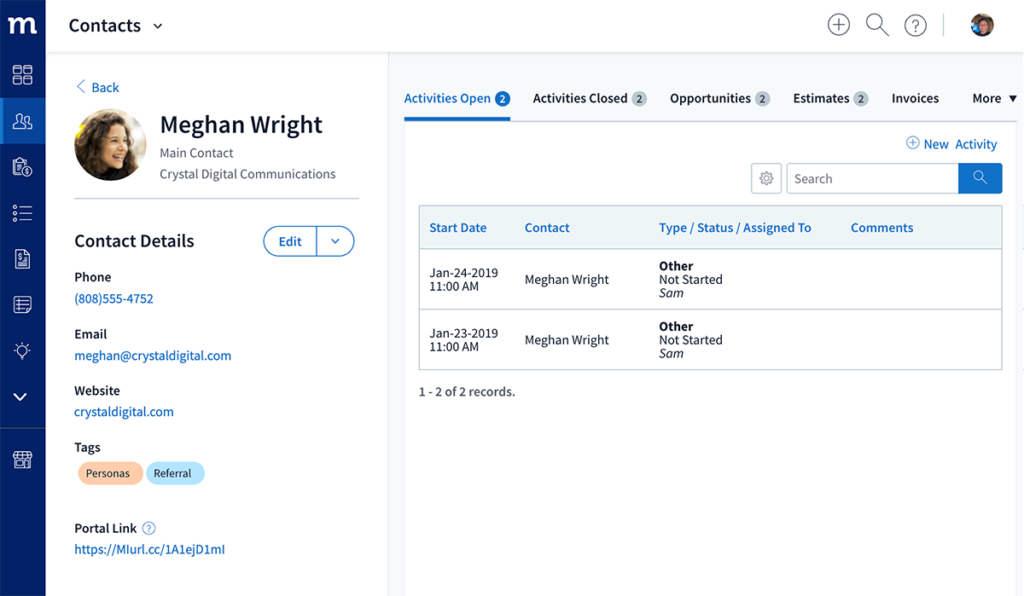 With Method:CRM, you can store and manage all your customer and prospect information in a single location. This includes:
Contact information, such as names, addresses, and phone numbers.
Detailed customer profiles, including preferences, purchase history, and communication history.
Transaction data such as estimates and invoices.
Method:CRM also allows you to categorize contacts into groups, such as customers, vendors, and leads, for easy segmentation and targeting.
Customer support
With Method:CRM, you can manage customer service tasks with online customer portals.
Thanks to its customizable CRM capabilities, your portal can be fully personalized to match your brand by:
Adding your logo.
Customizing the color scheme.
Choosing which services to offer.
Here's a preview of what's possible with Method's customer portals:
Why custom workflows are important
Customizable workflows are important because you can tailor them to meet your individual needs, and they help you simplify processes.
With a customizable CRM like Method:CRM, you have the tools to create automation rules that follow your specific sales process. This ensures no tasks go overlooked and lets you focus on growth areas.
Additionally, customizing workflows based on your business needs will help you make the most of your available resources.
Popular custom workflows in Method:CRM
The true power of Method:CRM is apparent when you tailor the solution to your company's unique needs.
Below are some of the most popular, customizable workflows Method customers use to grow their businesses with.
Sales commission tracking
With Method:CRM, you can simplify the entire sales commission tracking process by creating the commission calculator of your dreams.
With Method:CRM, you are in the driver's seat. Control:
Exactly who can see sales performance.
Commission payout structure.
How commission payments will be made.
Another plus is that you can give your sales team a real-time view of their sales commissions.
E-signature capture
E-signatures make it easy for your customers to digitally sign documents and accept payment terms. Not to mention that it shortens your sales cycle to get you paid sooner.
One of the most useful customizable workflows that Method:CRM offers is the ability for your customers to electronically sign invoices, sales receipts, estimates, and other documents. See an example below!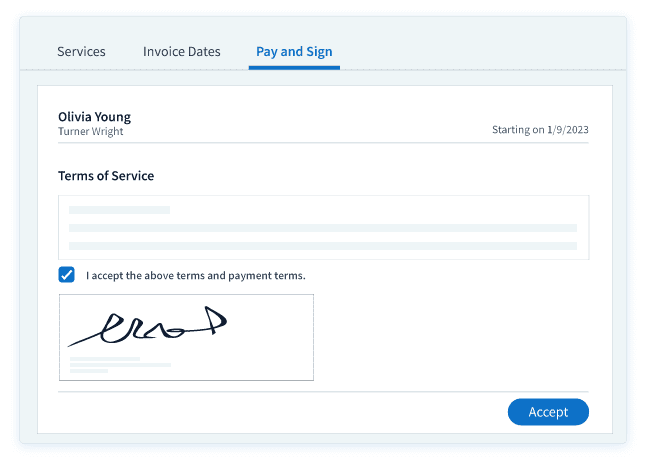 Estimate approvals
Another one of Method:CRM's most popular features among QuickBooks users is the ability to create and share estimates from anywhere.
You can set up Method:CRM so your customers can approve estimates online by clicking a button or checking a box in their customer portal. You can then have Method:CRM immediately notify your sales team so your prospective customer doesn't have to wait to do business with you.
Recap: Take your CRM workflow automation to the next level with Method
Your business has needs that go beyond simple customer relationship management.
From automating your approval process to nurturing customers and collecting payment, there are many moving parts in your day-to-day operations. Method:CRM is here to take these routine tasks off your plate.
If you want highly integrated and automated workflows, Method:CRM and QuickBooks or Xero is an unbeatable combination.
Start your free trial of the #1 CRM for QuickBooks and Xero users!
Image credit: LinkedIn Sales Navigator via Pexels