Are you still using a punch clock, Excel, or timesheets to track how employee time is spent? In the digital age, employee time tracking software is the only way to go for businesses with teams out in the field completing work orders.
In this post, you'll learn:
The importance of employee time tracking.
How employee time tracking software is different from the other tools you use.
How a time tracking program is used by your team.
The role of employee time tracking software in your payroll process.
How time tracking software can make you more profitable.
So let's get to it!
Why time tracking is important for small businesses
Tracking the amount of time and personnel it takes to finish tasks helps you plan, budget, and staff more efficiently on future jobs. It also helps you give more exact estimates in the future, something your customers will appreciate.
Keep reading to learn why tracking employee time is essential for your small business.
Eliminate payroll errors with accurate time entry
It's important to get payroll right for your team and business. But, this doesn't always happen as payroll mistakes have led to 33% of employers getting penalized by the IRS.
By keeping track of what your employees work on and their hours, you reduce your chance of making payroll mistakes. Which is a win for both employee satisfaction and your standing with the IRS.
As a business owner, having a record of what an employee does every month also confirms that you are paying employees for work done and not just for a certain number of hours.
Reduce your costs and inefficiencies
A precise breakdown of what tasks your staff spend time on helps you identify problem areas.
For example, this can highlight that a certain task is an issue for several employees, which means a system tweak is needed. And on the other hand, if a task is an issue for just one or two of your team members, you may realize extra coaching is needed.
Either way, if you're not tracking time spent on tasks, these issues can be a lot harder to uncover.
Avoid mistakes and headaches with one source of truth
There's a reason the whole world is going paperless.
For starters, having multiple documents that measure the same thing is a waste of time. Not to mention that you then have to check each document against the others.
And if they don't match, how do you know which is the right one?
Thankfully, there's a better way. Having one, central place for your time entries is a better approach because it:
Saves time for your team.
Reduces confusion and stress.
Cuts down on the risk of data entry errors.
Increase customer trust with precise and detailed invoices
If you bill your customers by the hour, you can win your customers' loyalty by keeping accurate records of the time spent on their jobs.
For example, your customers may or may not be at home or keep notes on how much time your team spends on the job. So, how do they know they're being billed fairly?
The answer is by you being transparent with time tracking on your invoices.
A best practice when it comes to customer service is to create invoices with a line-by-line description of items, so your customers know what you're charging them for.
This way, you and your customers know that you're only charging them for real, billable hours.
The benefit of this is that your reputation stays credible and more referrals and repeat business comes your way.
The difference between employee time tracking software and other methods
If you're considering a time tracking tool, chances are that your current time tracking method isn't working for you. Here's a deep dive into the alternatives that push many to start looking at other solutions.
Swipe cards — Swipe cards are great for controlling who gets in and out of the office and recording the times people come and go. The problem is that they don't track the time spent on actual work. This system also doesn't track any jobs being done in the field or by your remote teams.
Employee timesheets — Even if your team fills these out diligently, they still need to be entered into a computer for analysis and payroll. If you have more than five employees, this becomes a time-consuming job in itself and is not an efficient use of your time.
Spreadsheets — While spreadsheets can be useful for lists, charts, tables, and calculations, they aren't ideal for time tracking. In fact, they give you many of the same issues as timesheets. Also, spreadsheets don't integrate with other software you use for project management, payroll, or invoicing. This means you're stuck rekeying data into different tools when you could be doing more important work.
In a nutshell, these approaches hold your business back from reaching that next level of growth. If you can relate, it's time to look into other time tracking options.
What is employee time tracking software?
First, let's be clear on what employee time tracking software is.
As you can tell by the name, this software lets your staff record how much time they spend on tasks and projects. You may also hear this type of solution referred to as:
Time trackers.
Employee time tracking apps.
Employee time clock apps.
Project time tracking tools.
Now that you have an understanding of what time trackers are, let's dig into how these solutions work!
How do you record hours in time tracking software?
While every time tracker has its subtle differences, most have similar workflows. Since we know our own solution best, we'll use that to explain how you'll use this type of software.
With Method's Time Tracking app, you would complete the following steps when you arrive on-site or start working on a project:
Open the app and go to the Time Entry screen.
Enter your name.
Enter the name of the customer you're doing the work for.
Choose the billable hours status (if applicable).
Select the task or job you're working on.
Press the Start the Timer button.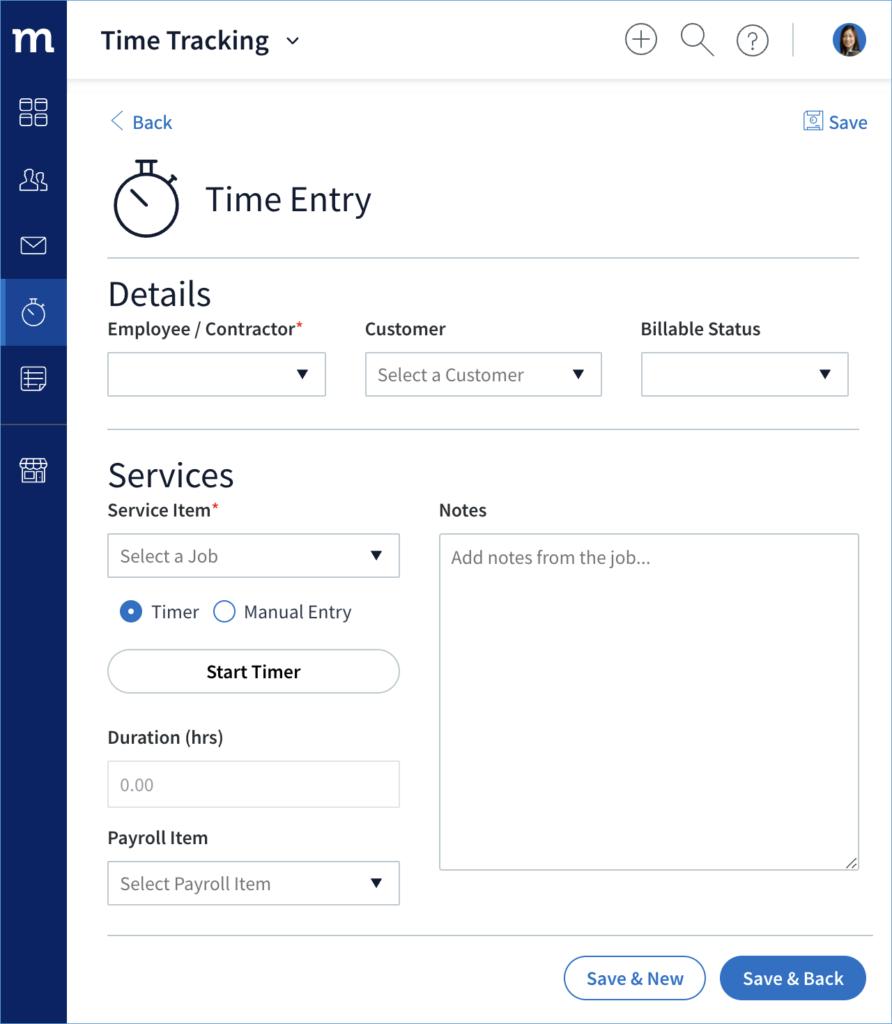 When you are done working on a job or taking a break, you simply stop the timer.
That's it!
If any issues arise during the job, you can add notes to the time entry. This is great because it gives your office team a line of sight into job progress and keeps them in the know about any challenges you face.
It seems so simple, and it is. But taking the less-than-30-seconds to start a time entry can make a huge impact on your:
Efficiency.
Customer retention.
Bottom line.
How does employee time tracking software support payroll?
So far, you've learned how important time tracking is for accurate and fair payroll but how do time tracking applications help you with your payroll?
Well, for one, your Office Manager doesn't have to constantly chase after employees to get timesheets filled out and in on time. And that's not even half the battle.
Without employee time tracking software, your Office Manager has to manually enter all those time entries — which can easily lead to mistakes (especially if you use paper timesheets).
So, the question becomes: Why spend so much time and effort on data entry when there's a solution that does the work for you? The answer is simple, you don't — you use a tool instead.
Better yet, you can connect your time tracking and payroll software with a software integration or via Zapier, to automatically update time entries across your tools. The benefit is that processing payroll becomes faster and more foolproof for your business.
Let's take Method for example. Method integrates with QuickBooks so that when you use the Time Tracking app, that information gets synced over to QuickBooks.
In other words, you can process your payroll immediately with a few clicks. No more double data entry!
The top 4 benefits of employee time tracking for growing businesses
For businesses in growth mode, the name of the game is making sure that every dollar spent and every hour worked move the business forward.
Employee time tracking software helps you grow your business faster as it gives you the following advantages over traditional time tracking methods.
1. Higher productivity
You learned above about how employee time tracking software can save your Office Manager or HR team from hours of manual admin work. These are hours that can now be spent on training, hiring, and other tasks that improve your business.
2. More accurate time tracking
With an employee time tracking app, you get a precise total of the time spent working on each specific job that includes any breaks taken!
By contrast, having employees fill out timesheets at the end of the day or week leaves too much room for guesstimating and forgetting chunks of time.
Whether this results in too many or few hours being accounted for, this approach is bound to cause errors in your payroll and invoicing.
Not to mention that having an exact record of how long each task takes is a fundamental part of project management. You need this information to help you when planning employee schedules and to keep project costs down.
In other words, employee time tracking software lets you:
Maximize team productivity.
Pay your employees fairly.
Bill your customers correctly.
Reduce your operational costs.
3. Real-time reporting
How often have you wanted to know the exact status of a project at any given moment? To know right away about delays that were holding your team back? Or about a mistake or accident that needed an immediate solution?
If your time tracking app has real-time reporting, this is possible as you're looped in to what's going in the field as it happens.
This way you can proactively take steps to get ahead of any issues and keep customers happy if there are delays or issues reported on the app.
Take Method's Time Tracking mobile app, for example.
It acts as a live feed from the job site to connect your in and out-of-office teams. This way you can support your field crews with a solution that stops hiccups from turning into disasters.
4. Simpler, faster, and more detailed billing
An integrated time tracking tool can instantly add employee hours to your invoices so that an itemized bill for services can be done in seconds. A bill, mind you, that doesn't charge your customers for breaks or idle time.
Taking this approach:
Earns customer trust.
Makes you look more professional.
Builds brand credibility.
With Method, you can provide each customer with a precise, itemized, custom invoice in just a few clicks because our Time Tracker Tool integrates with QuickBooks.
Putting it all together: The importance of employee time tracking software for your business
To run a successful business you need to make sure that all your resources are spent wisely — including labor.
Keeping track of how your employees are spending their time:
Minimizes your payroll errors.
Gives you a better picture of where the sticking points are in your workflows.
Reduces your time entries to one source of truth.
Empowers you to give precise and detailed invoices to your customers.
There are many ways to track employee time, but none are as accurate and easy to use as employee time tracking software.
Maximize your productivity and reduce costs with a free trial of the Method:Field Service Time Tracking app.
Image credit: Joshua Olsen via Unsplash