Managing multiple platforms and software applications for various divisions is challenging, even for a small business. Fortunately, enterprise resource planning (ERP) software brings your inventory, sales, finance, and customer relationship management together into one platform.
However, ERP is usually geared toward larger businesses and you may have different needs as a small business owner. Read on to learn what you need in a cloud ERP for small businesses and discover our top software picks!
What is cloud ERP software?
Cloud ERP software systems merge all your business processes so you can run them on a single platform instead of having a different app for each aspect of your company.
Cloud ERP small business solutions also eliminate information silos by promoting communication and transparency between divisions.
Cloud ERP software systems differ from on-site ERP because it's hosted on the vendor's server instead of installed physically on-site at your company's premises.
Cloud ERP is becoming increasingly popular because it offers lower startup costs and is easier to set up than on-premise ERP systems. Companies typically pay for cloud ERP through a monthly or annual subscription model, which includes software maintenance and updates.
Cloud-based ERP for small businesses
These days, ERP isn't just meant for large companies. Implementing ERP for small businesses in the cloud helps owners monitor business growth and identify inefficiencies in their operations.
Cloud ERP for small businesses is split into several modules based on their functionalities. Common ERP modules include:
Accounting and finance.
Human resource management.
Customer relationship management (CRM).
Inventory and warehouse management.
Project management.
Material requirements planning.
Small business owners can take any combination of modules necessary to support their company. For instance, somebody building a small manufacturing business ERP may adopt inventory management and material requirements modules.
Small business cloud ERP software benefits
Cloud ERP small business solutions support your company in many ways. Here are some benefits you get by implementing a cloud ERP.
Reduce operating costs
On-premise ERP systems usually require high upfront setup costs for the infrastructure. Cloud-based ERP systems are typically more affordable because your vendor provides all the infrastructure.
Enable information sharing
Cloud ERP small business software suites eliminate information silos that impede data transparency and teamwork. You'll improve collaboration between employees by improving information visibility.
Save time on administrative tasks
Tasks like bookkeeping and data consolidation are time-consuming and slow many activities down. Cloud ERP systems give your employees the tools they need to finish the job efficiently, freeing them up to do the money-making work.
Create more accurate reports
Cloud ERP small business systems ensure a single source of truth for all your data. Unified databases lead to faster and more accurate report generation, which results in better-informed decisions.
Scale with your business
Cloud ERP systems are modular, consisting of several modules with different features. You can purchase new ERP modules as your company grows to add extra functions to your software suite.
Key features of cloud ERP software for small business
Due to limited budgets, small and midsize businesses often don't have much to spend on ERP software. While affordability is essential, your ERP platform of choice needs to have key features like the following.
Customer relationship management platform
Customer management is important for all businesses. The best cloud ERP small business solutions have robust customer management systems that handle customer data and sales funnels automatically.
Order management system
A small business cloud ERP platform typically comes with an order management system to assist in order fulfillment. It creates quotations for the customer to approve, then converts the approved quotes into sales orders for your staff to prepare.
Project management dashboard
A good project management dashboard gives you a comprehensive view of all critical business functions. A helpful feature to keep projects on time and within budget.
Your ERP organizes all relevant data and reports to help you make the right decisions.
Accounting system
Accounting and finance is a key ERP feature.
Your cloud ERP software must provide basic accounting functions like bookkeeping, payroll management, and accounts receivables.
Additionally, you need an accounting system that's tax-compliant according to local regulations to avoid issues in the future.
Marketing campaign management
Cloud-based ERP systems help you manage marketing campaigns to ensure their effectiveness. Important campaign management tools include budget estimates and performance tracking.
How we selected the best cloud ERP for a small business
There are dozens of cloud ERP small business systems on the market.
Here are the criteria used for selecting the best ERP cloud platforms on this list:
Features.
Price.
Scalability.
Best cloud ERP software for small businesses
With dozens of cloud ERP small business options available, it's challenging to pick the right software. That's why we've put together this list of the top choices for small and midsize businesses.
If you're a small business hesitant to jump into a full-fledged ERP, Method is an excellent option for you.
Method is a powerful automation tool that integrates deeply with your QuickBooks or Xero account to connect your accounting and customer data.
It offers flexible workflows out of the box like:
Lead and customer management.
Reporting.
Estimates and invoices.
Online portals.
Here's an overview of how the solution helps small businesses like yours.
Beyond this, you can tailor the solution to automate workflows from order management to approvals.
Features
Quick estimation tool: Method allows you to create, send, approve, and sign estimates anytime, anywhere.
Automatic job scheduling: Schedule, route, and assign your work orders in bulk.
Pricing
Method's pricing starts at $25 per month per user. You can also sign up for a free trial.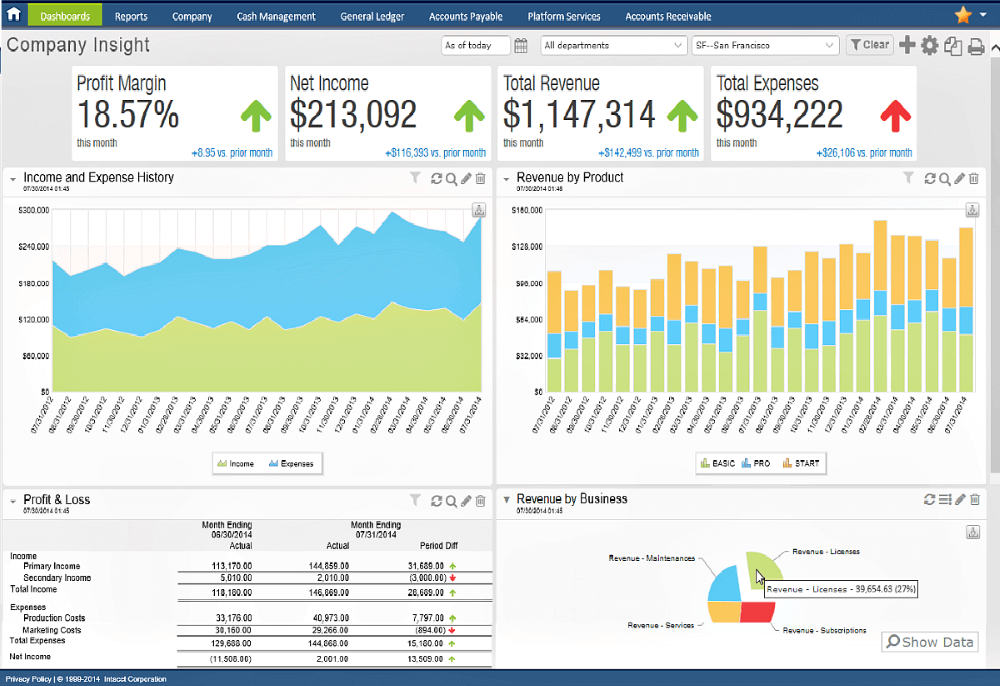 Sage Intacct is an accounting and financial management software built for established companies. It lets you consolidate company data into one hub, so you don't have to open multiple files when making decisions.
Features
Financial planning dashboard: Sage's what-if scenario modeling gives you insights to assist in financial management.
Interactive data visualization: Sage's data explorer tool helps you summarize information to fuel your decision-making.
Pricing
Sage Intacct does not list pricing information on its website, but you can request it from a sales representative.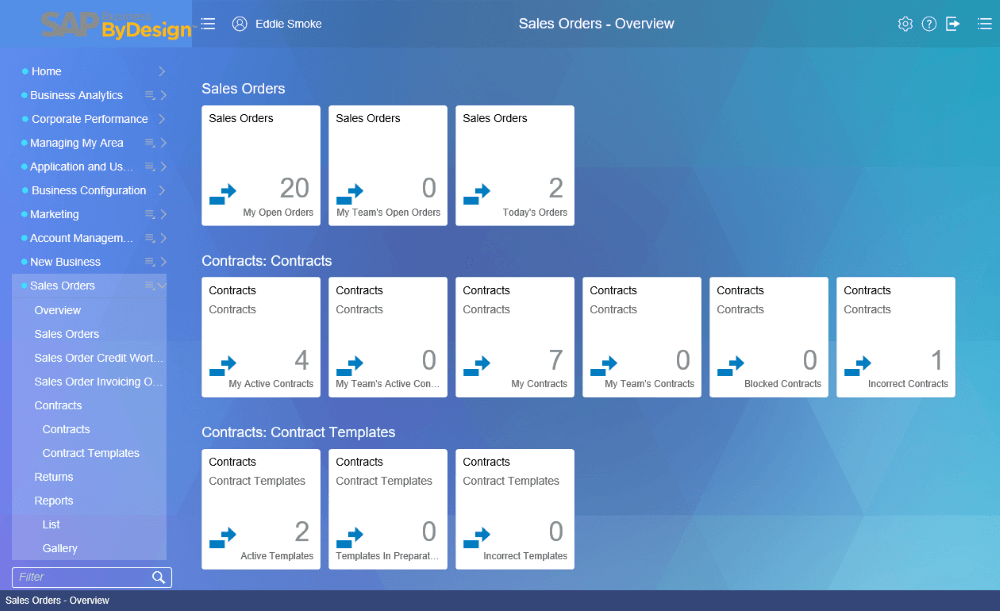 As one of the most prominent brands in the industry, SAP offers business management software that scales alongside your company and helps you adapt to unexpected changes.
Features
Self-service HR portal: Allow employees to self-manage their personal information and work schedules.
Microsoft Teams integration: Users can access the SAP Business ByDesign system from Microsoft Teams to save time.
Pricing
The cost of this tool varies depending on the plan you select. For instance, the self service user only costs $19 per month, where the base package is over $1600 monthly.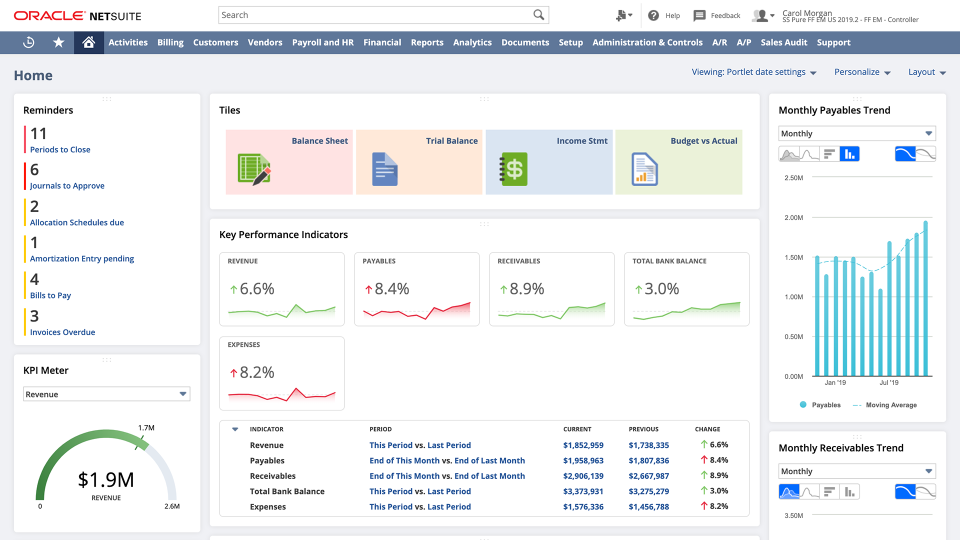 This ERP platform from major cloud services provider Oracle promises an all-in-one management suite that covers ERP, CRM, and e-commerce. NetSuite offers real-time data analytics to help you make the right decision.
Features
Supply chain management dashboard: You can use NetSuite's dashboard to maximize product availability and minimize production delays.
Detailed financial reporting: Use NetSuite's financial reporting tools to examine key details that help in making informed decisions.
Pricing
NetSuite doesn't provide pricing information publicly, but you can register for a free product tour on its website.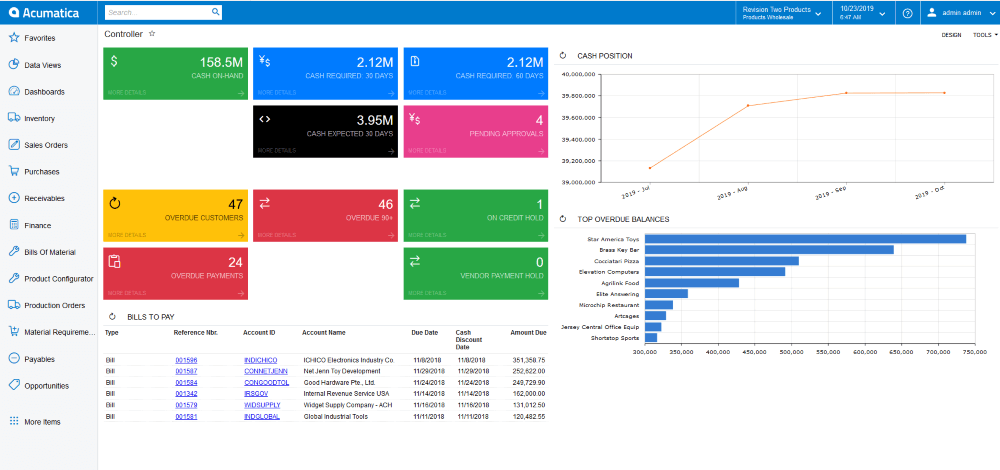 Next on this cloud ERP small business list is Acumatica — a cloud-based solution that boasts an easy-to-use user interface. It enables cross-team information transparency by allowing everyone to share data easily.
Features
Real-time business insights tool: You can access Acumatica's insights 24/7.
Mobile field service dashboard: Get details about fieldwork through an iOS and Android app.
Pricing
Acumatica offers custom pricing depending on the modules you implement. Contact its sales representative for more information.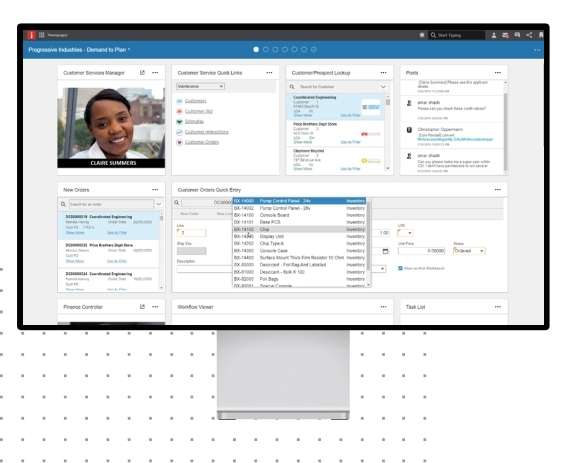 Infor CloudSuite Industrial is an enterprise resource planning solution made for manufacturing companies. It promises a simple deployment process that won't disrupt your work, minimizing your downtime.
Features
Robust scalability: Infor allows users to create new services, manufacturing plants, and revenue streams, which means the platform grows alongside your business.
High customizability: Users can add fields and create dashboards on the Infor ERP platform.
Pricing
Infor CloudSuite doesn't provide pricing information on its site, but you can contact a sales representative by submitting an online form.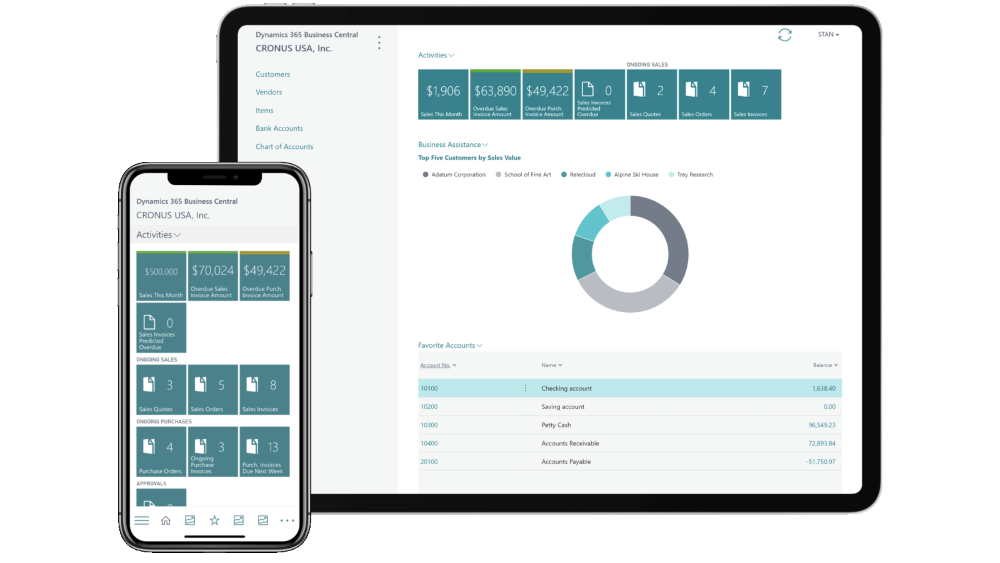 Microsoft's entry into ERP offers an all-in platform with a Teams integration. Microsoft Dynamics offers on-premise ERP alongside its cloud software offerings.
Features
Cross-device compatibility: Team members can access this ERP platform from laptops, tablets, or smartphones, so they can work from anywhere.
Various customization options: Businesses can install extensions from the Microsoft AppSource marketplace to tailor the ERP platform to their needs.
Pricing
Microsoft Dynamics 365 Business Central costs $70 per month per user.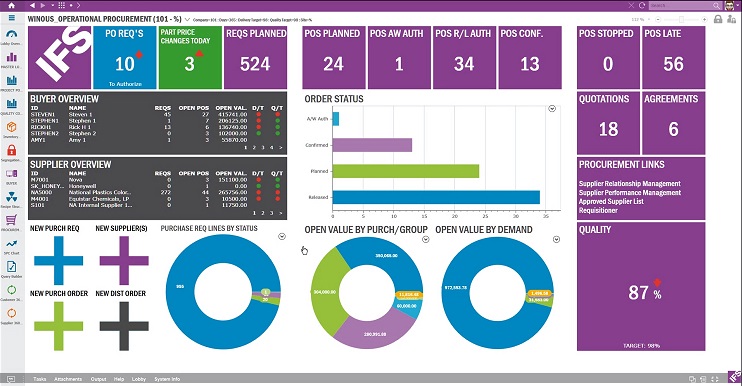 The IFS ERP platform offers excellent customizability by letting users create workflows and data models. IFS provides users with cloud and on-premise ERP options.
Features
Talent management dashboard: Your HR team can use IFS Applications to hire, onboard, and manage employees from one dashboard.
Material and resource tracker: Your manufacturing division can use IFS Applications to keep track of material used to prevent a shortage.
Pricing
Pricing information isn't available for this cloud ERP small business solution online. Instead, you need to talk to a sales representative to get a quote.
While not technically a cloud ERP small business software, many try to mold QuickBooks Enterprise with workarounds. However, workarounds often break and don't hold up long-term — especially when it comes to complex, ERP-type workflows.
If you're just starting out, this is a great tool to handle things like your payroll, inventory, work orders, and accounting, but is not a full-fledged ERP.
Features
Assisted payroll tax management: QuickBooks Enterprise saves time by handling payroll tax filings automatically.
End-to-end inventory tracking: QuickBooks Enterprise lets you track the entire sales order fulfillment process in one dashboard.
Pricing
A QuickBooks Enterprise subscription starts at $1740 per year.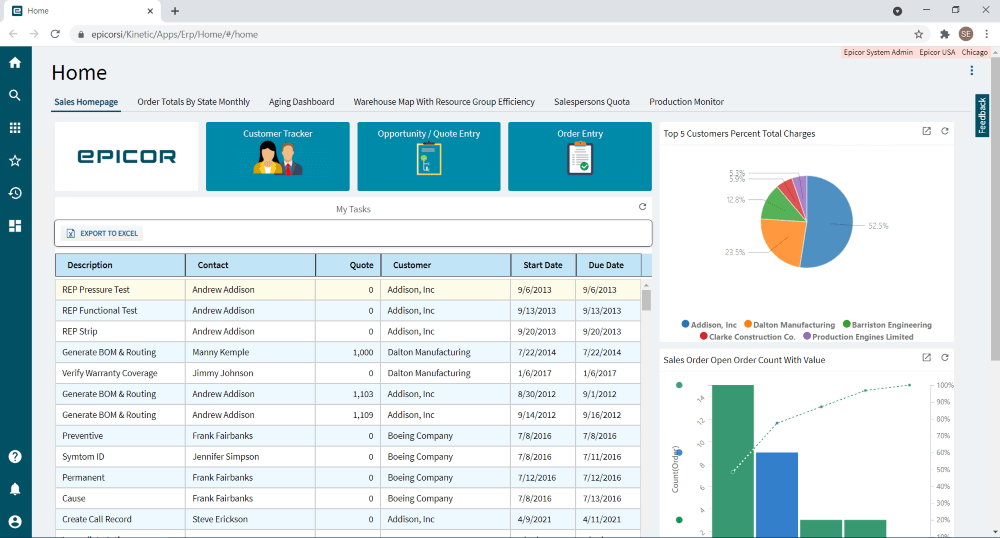 Epicor Kinetic is a cloud ERP small business platform for manufacturers. It helps your team communicate through a social network-style app and manages multiple departments in one dashboard.
Features
Data analysis tool: Epicor's business intelligence dashboard analyzes raw data and turns them into insights to assist you in making decisions.
Real-time quality management: Epicor captures production metrics from machines in real-time to help you determine which products pass quality control and which ones you should scrap.
Pricing
Epicor Kinetic offers a single pricing plan at $175 per month per user.
Which cloud ERP for a small business is best for you?
The best cloud ERP small business software unifies your business processes, so you have a good overview of your company. It should also promote information transparency and improve collaboration between employees.
Cloud ERP for small business FAQs
Do small businesses use ERP?
Like large companies, small businesses can use an ERP to manage key elements of their businesses like accounting, inventory management, and work order tracking. However, many small businesses are not ready for the implementation and functionality of an ERP.
In this case, it's best to slowly build the functionality you need with point solutions that integrate with each other. This way, you can keep software costs low, avoid overwhelming your team, stay agile, and only pay for the capabilities you need.
Take Method for example. It integrates deeply with accounting software like QuickBooks and Xero to give growing businesses the following capabilities:
Lead and customer management.
Estimate and invoice creation.
Online portals.
Reporting and analytics.
Financial management.
Plus, as a no-code solution, Method lets you build more functionality as you need it.
Can ERP be cloud-based?
ERP can be cloud-based, meaning the vendor provides all its infrastructure through the internet.
The other option is on-premise ERP, where vendors install the infrastructure on-site at the customer's office.
Some use a hybrid ERP, which combines the accessibility of cloud ERP and the stability of on-premise ERP.
How much does cloud ERP cost?
Cloud ERP prices differ depending on the vendor, so you should get quotes and compare them to find the one that fits your budget.
Kickstart your ERP journey with a free trial of Method!