2019 was quite the year at Method. From hosting brand storytelling workshops to attending small business conferences across the continent, there wasn't a dull moment.
This is especially true for our development team, who've been busy building the top CRM features our customers have asked for. Today we share the latest improvements to Method:CRM and explore the benefits of our CRM features for growing businesses.
Let's get started!
CRM Features Roundup
1. Portals
Method:CRM's portals feature empowers your customers to self-serve as they can autonomously:
Check account balances
Edit contact details
View support requests
Review purchase history
Beneficial to customers and employees alike, portals increase customer convenience and satisfaction without requiring 24/7 support teams. With portals, your team can focus on tasks that add the most value to the business without risking a poor customer experience.
For us, that's a win-win. Below is a video that highlights how portals can help small businesses elevate their customer experience.
As you can see, portals make it possible to provide excellent customer service while still having time to focus on what matters – growing your business.
2. Web to Lead Forms
A crucial component of any CRM solution, our web to lead form makes it easier than ever to convert your website visitors into paying customers. With this feature, you can now capture lead contact details seamlessly.
Here's an example of what a web to lead form looks like on our website.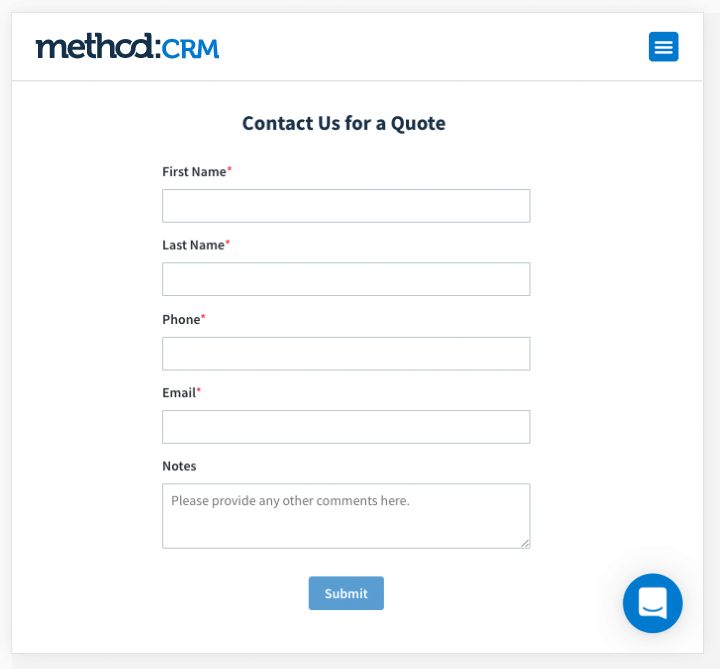 Fully customizable, you can edit these forms to include fields such as industry and company size, allowing you to gain market insight while capturing new leads.
How it works
Once a lead comes in through a website form, Method:CRM automatically:
Makes the lead a contact
Creates a sales opportunity
Generates a follow-up activity
Sends a "new lead" notification to your Sales Rep
With Method's web to lead app, you can be sure that no information goes awry and that all leads get the attention they deserve.
3. User Permissions
With data security a top concern for 80% of small businesses, we're keen to share how our user permissions feature keeps your confidential information safe.
Rather than assigning users permission to view, edit, delete or approve items on an individual basis, you can replicate the permissions of other Method:CRM users in similar roles.
So instead of having to manually adjust permissions for every new Sales Rep you on-board, you can copy their permissions to be the same as your other Sales Reps.
With Method:CRM, your Sales Reps are equipped with the information they need from the get-go and your Office Manager isn't bogged down with access requests whenever a new team member starts.
CRM Features Recap
Here's a rapid-fire summary of the CRM features we're most excited about in 2020.
Portals. A one-stop-shop for all your customers' needs, portals increase customer convenience and satisfaction without requiring extra resources from your team.
Web to lead. Simplify your sales cycle with automated lead collection, creation, and assignment.
User permissions. Assign permissions based on role, not user, and maintain data security in a way that's efficient and scalable.
Ready to see these CRM features in action? Schedule a 1:1 demo with one of our Customer Success Managers today!
---
Learn how these CRM features enable small business success!
Image Credit: John Schnobrich via Unsplash