Have you ever wondered what a lead generation system is and why it's so important for businesses?
With proper lead generation strategies, you can grow your business, as well as the value of each customer you secure. Generating leads is key for any business, big or small.
What is a lead?
In the marketing world, a lead is a customer who has shown some sort of interest in the product or service you have to offer.
What is a lead generation system?
A lead generation system helps companies expand their customer base and grow sales.
How do these systems work? They collect information from potential customers from online sources such as forms, websites and emails to generate leads.
The best lead generation systems feature automation.
An automated lead generation system is a powerful tool for businesses as it allows you to capture information quickly from your website or other online marketing channels, such as:
Contact forms.
Opt-in lists.
Registration pages.
This information then comes in handy during sales calls to help you step up your game.
Is lead generation a marketing tool or a sales tool?
At first glance, it can be hard to tell whether lead generation is a marketing tool or a sales tool. This is no surprise as it's actually a bit of both!
In terms of how one fits into your sales and marketing strategy, there's a few things to consider. Lead generation helps businesses engage with consumers with valuable content and offers in exchange for contact information.
It does this while helping form a genuine human connection rather than just a one-time sale.
Automated lead generation systems employ tactics such as email campaigns to increase the visibility of your brand and secure new customers.
Often, your sales team takes over once leads have been created to focus on closing deals and converting leads into customers.
As such, lead generation can be thought of as both a marketing tool and a sales tool. Marketers need to create these leads initially before passing them off to sales teams for follow up.
Why do you need lead generation software?
While lead generation is an important part of sales and marketing, it is time-consuming to manually search for contacts and log each one.
That's where lead generation software comes in.
Here are some reasons to use lead generation software:
Reduces your sales and marketing teams' manual workload.
Attracts and prioritizes qualified leads that can actually turn into potential customers.
Updates leads' contact information automatically.
Reduces wasted time and money spent tracking cold leads.
Nurtures leads with less effort.
How does a lead generation platform work?
Every business has its unique approach to lead generation. And so, do lead generation tools.
Some simplify the sales process for you, while others increase customer engagement.
Regardless of how you approach it, the main purpose of lead generation is to attract leads and to turn prospects into customers, before your competition does.
Here are some of the most popular lead generating systems:
Gated content such as infographics and ebooks which boost engagement and encourage leads to provide their contact information.
Lead scoring to save time and prioritize leads by automatically assigning values.
Lead nurturing tools to collect data for targeting your contacts with personalized messaging.
Lead distribution to pass high-value leads to follow up.
Sales analytics and reporting to see what's working and what's not.
What are the features of lead generation software?
Every lead generation system has a unique feature set. Below are the must-have features to watch out for.
Integrations
A good lead generation software integrates with your existing marketing tools.
This will allow you to share data with your CRM, email apps, and more without having to go back and forth between browsers and platforms. This saves you from inaccuracies as well.
It's important that any new business apps connect with your lead generation software for the above reasons as well.
Intuitive interface
Even the most powerful software is ineffective if you can't use it. Your lead generation system should have an interface that's simple and easy to use.
A great software system offers multiple training options as well so that anyone on your team can use it without struggling through technical headaches.
Analytics
A good lead generation system offers an all-inclusive analytics and reporting feature. Having up-to-date data is key to make better business decisions and identify areas for improvement.
Customer relationship management
Lead generation is usually included as a feature of customer relationship management (CRM) software. CRMs are excellent ways to nurture customers in your sales pipeline and build a loyal customer base.
For exampler, Method:CRM makes it easy for small businesses to automate lead generation, contact management, sales commission payouts, and activity tracking.
What are the benefits of using lead generation tools?
Better qualified leads
Having more leads isn't always a good thing, especially if most of them are cold leads. You'll end up working harder with less return.
That's where an automated lead generation system works its magic. It uses lead scoring to identify the leads that are most likely to turn into customers.
Lead generating systems figure out who's really worth your time by tracking your leads' activity and engagement with your company.
Save time across the board
An automated lead generating system saves you time. Here's how.
Your sales efforts become easier since you don't have to spend time researching leads and chasing cold ones. Instead, you only follow up with prospects that check the right boxes.
All the guesswork is removed and you're no longer fishing in murky waters when you have a clear picture of who your best leads are.
Refined marketing tactics
Lead generation software includes powerful analytics and reporting tools that allow you to see how the highest value leads were brought in.
This way, you can prioritize your time by working on the marketing campaigns that resonated with those leads.
This will reel in even more high-value leads, leading to more customers and less cold leads.
How to select the best lead generation program?
With so many options available on the market today, choosing which software is right for you can be tough.
The best lead generation software depends on the:
Size and scope of your business.
Budget constraints.
Specific type of leads you handle.
For example, Method:CRM has powerful capabilities that suit many business needs. It's a popular lead management tool because it effectively captures and organizes your leads.
Rather than passing disconnected spreadsheets and emails back and forth, Method:CRM captures prospects automatically through a web to lead form. See how below.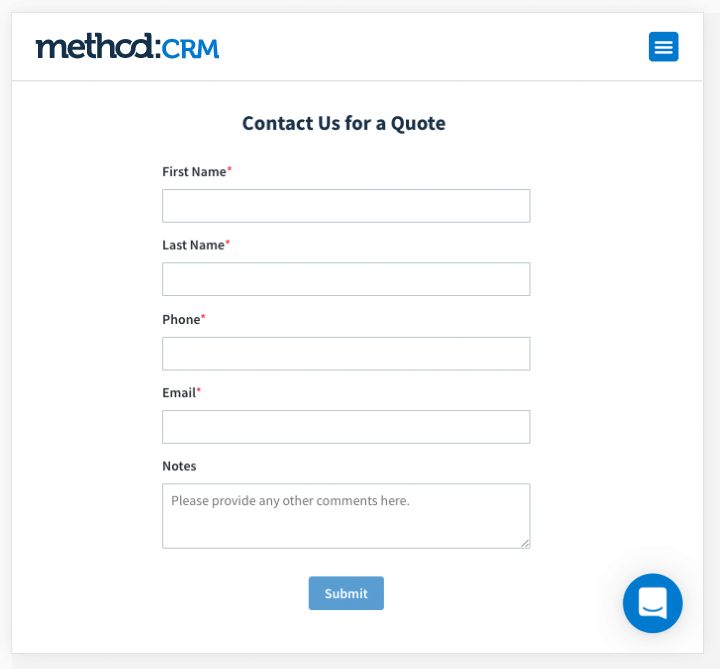 Method: CRM also offers powerful integration with QuickBooks and Xero.
Instead of cluttering your accounting data in QuickBooks or Xero with leads, you can manage your information in Method:CRM. Then, have leads sync to your accounting software when they become customers.
Next, Method turns estimates into invoices in just a few clicks. Then, this data automatically reflects in QuickBooks or Xero.
As a result, your time is no longer consumed by repetitive administrative tasks.
Key takeaways
An automated lead generation system identifies the best qualified leads, so that you can turn more leads into customers.
If you're ready to reap the rewards of an automated lead generation system, consider Method:CRM. Here's why.
A follow up system like Method:CRM enhances your sales process with capabilities such as:
Web to lead forms to capture and organize leads effectively.
Powerful workflow automation.
Two-way, real-time sync with QuickBooks and Xero.
Lead generation system FAQs
How do you create a lead generation system?
Creating and maintaining a successful lead generation system doesn't have to be overwhelming. By following a few key steps, you can get started quickly and achieve great results.
The first step is to identify target customers — who is your ideal customer and what do they look like?
Once you've identified the target customer, find out where they hang out online and how they like to consume content.
This will give you an idea of the channels that you should focus on.
Next, create compelling content that resonates with your target customer base; this could be anything from blog posts, ebooks or webinars!
Once your potential customers are engaging with your content, turn them into leads by providing forms for them to fill out. An automated lead generation system helps with this.
You can also use existing CRM systems that allow customers to sign up for services or subscribe for notifications.
Finally, it's important not to just try once, but "nurture" or continue engaging with both new and existing leads regularly — email campaigns are a great way of doing this.
Which are the 4 steps of the lead generation process?
The lead generation process can be broken down into four steps.
The first step involves an automated lead generation system that collects lead contact information from different sources, including web forms and social media platforms.
Next is lead segmentation, which involves classifying leads into specific market segments or target audiences based demographic, geographic, or psychographic criteria.
After this, conversion tracking takes place. This is when businesses track the efficiency of their lead generation campaigns to monitor which leads are high-value and will convert into sales.
Lastly, lead nurturing takes place.
This involves staying in contact with leads through emails or phone calls that foster relationships and increase the chances of turning leads into customers.
Follow these steps in place to create a successful lead generation system that increases your customer base and maximizes profits for your business.
What is an example of lead generation?
An example of lead generation would be content marketing, which involves promoting your business' message through articles, videos, podcasts, webinars, etc.
This type of strategy helps you reach potential leads who may have an interest in your offerings. Ideally, this lead generation effort sparks conversations that lead to inquiries or conversions.
Accelerate your lead generation with a free trial of Method:CRM!
Photo credit: Los Muertos Crew via Pexels